Nice & cosy room in a house in the country side. Parking in front of the house; kitchen, bath, garden, etc. for shared use, seperate toilet. The room has a comfortable double bed in it and is heading east so in the morning the sun will wake you up... if it's not too cloudy.
Excelent hostess! All ok in your house. Good local to parking a car, breakfast very well.
Roberto
2015-04-02T00:00:00Z
Unkompliziert und freundlich
Michel
2017-03-13T00:00:00Z
Super nette Frau mit tollen Kindern !!
Mathias
2013-06-08T00:00:00Z
habe bei einer wunderbaren Gastgeberin in einem liebevoll eingerichteten Haus übernachtet. Morgens saßen wir dann gemütlich bei einem üppigen Frühstück im molligwarmen Esszimmer während draußen die Schneeflocken fielen und haben uns angeregt unterhalten. Wird mir als eine besondere Begegnung in Erinnerung bleiben. Vielen Dank für deine herzliche Gastfreundschaft! ulrike
Ulrike
2015-02-08T00:00:00Z
Barbara ist eine tolle Gastgeberin und es war sehr gemütlich bei ihr zu übernachten. Am Morgen gab es ein kleines Frühstück mit selbstgebackenen Zopf und Konfi auch selbst gemacht. Sehr gerne würde ich wieder kommen wenn ich eine Unterkunft suche.
Martina
2017-03-10T00:00:00Z
sehr sympathische Gastgeberin, kommunikativ und unkompliziert! Nur zu empfehlen
Sylvia
2017-04-05T00:00:00Z
Room Type
Private room
---
Property Type
House
---
Accommodates
1
---
Bedrooms
Dürrenäsch, Aargau, Switzerland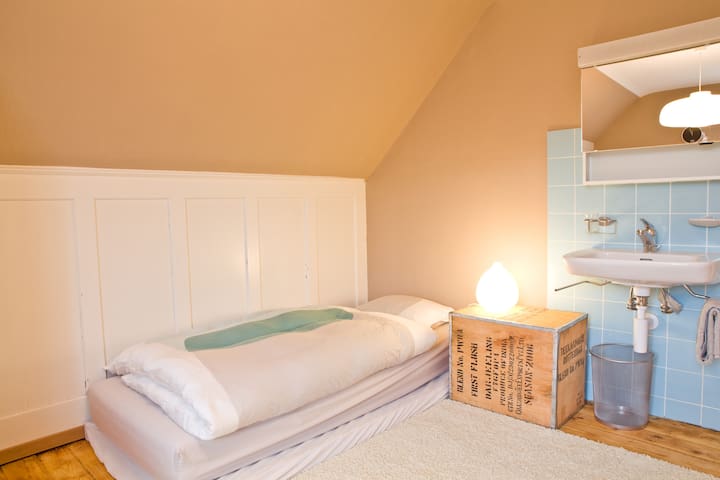 nice room in the attic of my house with a bed (90 x 190 CM), TV, W-Lan, an armchair and two big windows. In a renovated old house with a lovely garden in a quiet neighborhood, three minutes walk to the old town of Aarau. We will have to share the bathroom and the rest of the house, what means a little bit coordination. But that should not really be a problem. I look forward to welcome you, and give you some hints about the things to see or do around Aarau. Probably you will meet also my tomcat in the garden.
Die Aare ist gleich um die Ecke, es hat auch schöne Badestellen im Sommer. Das Wohnquartier ist ruhig, aber nahe zur Innenstadt.
The reservation was canceled 26 days before arrival. This is an automated posting.
Michael
2015-02-25T00:00:00Z
The communication with Alan was very pleasant and without any problems. I arrived much later than expected and I did not have the time to see him much. His house is very nice and I felt comfortable. The guest room is also very cozy. Everything nicely made and clean. Would like to go back there.
Yota
2014-06-13T00:00:00Z
Alan kindly invited us into his beautiful home on a moment's notice when we arrived in town on our cross country tandem tour. We shared good conversation, and a beer for energy (mandatory on bicycle tours!)
Geoffrey
2014-07-16T00:00:00Z
I really appreciated to all of Alan's coordination. he is gentle and Attic room is comfortable.
Kyoko
2015-08-21T00:00:00Z
Alan has a kind soul. He shared his dinner with me, took me to a viewing of the World Cup and was overall a fantastic host.
Bart
2014-07-15T00:00:00Z
cozy room and bed in a nice house, clean, quiet. great location in Aarau. Alan was super nice and very accommodating. would recommend staying with him to anyone visiting Aarau.
Marius
2016-03-16T00:00:00Z
Everything was perfect! Great communication to start with, Alan responded quickly and thoughtfully. The room is lovely, bright and comfortable. It was quiet and in a lovely neighborhood by the river and close to the old city, which was perfect for me. Everything was very clean and tidy. I would recommend Alan's place without hesitation. I would stay again if I visit Aarau.
Desiree
2015-03-21T00:00:00Z
Great house, very nice decorated, very minimalistic, beautiful garden and nice location in a very quiet and lovely neibourhood. Everything is super clean.
Séverine
2014-10-26T00:00:00Z
Room Type
Private room
---
Property Type
House
---
Accommodates
1
---
Bedrooms
Aarau, Aargau, Switzerland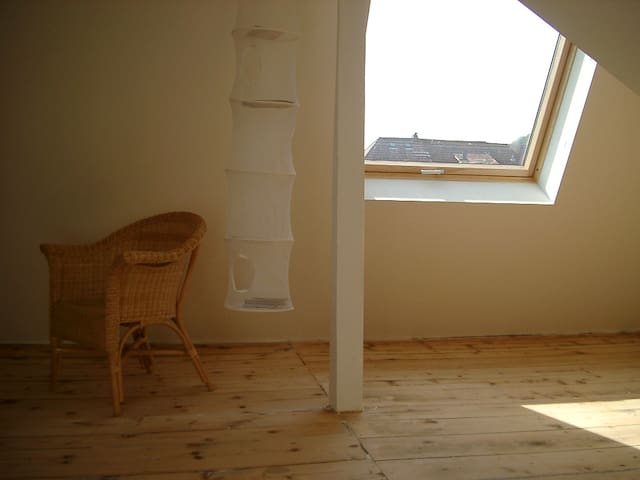 In our beautiful, decorated house you will feel well from the first minute. A large garden is enchanted to you and you can relax and enjoy the time! In less then 40 Minutes you are in each larger city in Switzerland as Zurich, Lucerne, Bern...
The dreamlike detached house is situated in a very quiet yet central district of Aarau. From Aarau, you can reach by train or by car all other major cities (Zurich, Lucerne, Bern, Basel, Interlaken) in the Midlands within half an hour! The central location and the great attention to detail furnished with single family invites you to dream, lounging, cooking, grilling, football table tennis or badminton, jump around on our large trampoline and much more ... 3 large bedrooms with a total of 8 beds available to you (possibly also available for 10 people / mattress). One bedroom is furnished in the romantic attic and offers plenty of privacy ...
Very nice, tolerant neighborhood in a quiet, yet lively neighborhood in the immediate town center. Aarau is a small, lively and vibrant city on the Swiss Plateau. Many interesting museums, great parks and a varied nature will make your holiday unforgettable! In addition to the traditional events such as the Maienzug, the Bachfischet or Rüeblibmärt various cultural events and sports events, music and theater festivals are held. One particular highlight is the Aargauer Marathon.
Estive com minha familia na casa de Samuel, em Aarau.Lugar excelente, confortavel, recomendo. Além da beleza da pequena cidade em si, outros pontos de interesse são proximos,por trem,que sem dúvida é excelente meio de deslocamento, sendo útil e econômico o Swiss Pass.A casa tem todo o necessário e o anfitrião gentil.
Caetano
2015-07-18T00:00:00Z
Room Type
Entire home/apt
---
Property Type
House
---
Accommodates
8
---
Bedrooms
Aarau, Aargau, Switzerland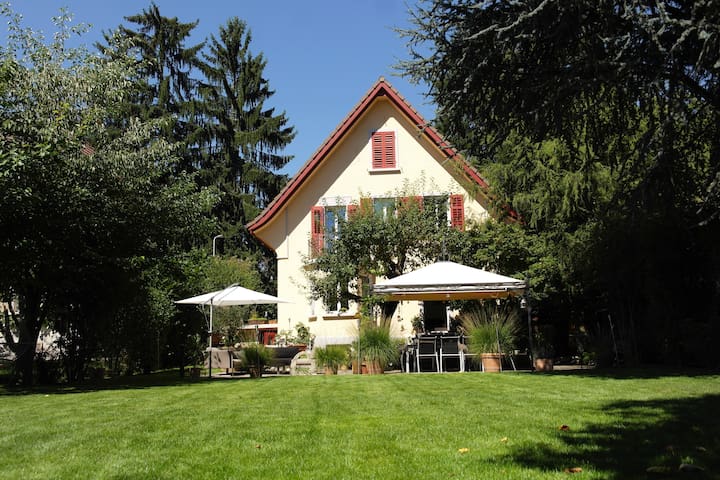 Ich liebe den Ausblick auf den Garten, die Ruhe, die Moeglichkeit fuer Spaziergaenge, den nahen laden und den Bus (3 Min vom Haus) zur Stadtmitte. Das Zimmer ist gemuetlich und geraeumig mit Bett, Tisch, Schrank, Kommode und Buechergestell.
Aarau ist ein hervorragender Ort, um in der Schweiz zu reisen. Zuerich, Basel und Bern sind mit dem Zug in ca einer halben Stunde zu erreichen. Viele Busverbindungen zu Ausflugszielen im nahen Jura sowie die naehe zum Fluss Aare sind ein weiterer Bonus.
Room Type
Private room
---
Property Type
House
---
Accommodates
1
---
Bedrooms
Aarau, Aargau, Switzerland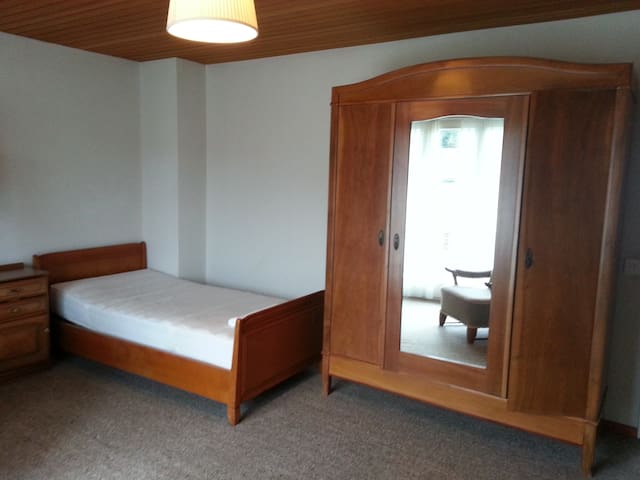 The room is located in a house with garden. Room is furnished. The price includes all additional costs such as Internet, heating, electricity, included. We are looking for someone who prefers the live together, has a sense of order and engaged in an employment or study. Mutual respect is of course with us. The garden can be shared ;-)
The house is centrally located between Baden and Brugg. Also Zurich, Basel, Bern, Lucerne are within a short time
++++ 5 Star HOST: Excellent Clean House Excellent large Room Very Helpful Good Internet Connection Nice Area ONLY NO PARKING PLACE
Veysel
2015-09-26T00:00:00Z
Roland was a very polite and accommodating host. The house and agrden are nice and situated walking distance to the beautiful Reuss river.
Marc
2015-09-14T00:00:00Z
Roland was really the perfect host. the house was quiet. lovely and clean, easy to get to by bus and in a nice neighbourhood. Roland respected my privacy and was very nice to talk to, always a pleasure to greet. (plus delicious apples in the garden aswell)
Harrison
2015-09-21T00:00:00Z
Preis Leistung stimmt sehr gut überein. Roland war sehr hilfsbereit , habe zum Beispiel meinen Adapter -Stromanschluss vergessen, Roland wusste sofort wo einer ist , obwohl er gerade beim Arbeiten war.
Claudia
2015-10-30T00:00:00Z
Meine erfahrung bei Roland ist posetiv den es ist dort sehr leise wo man sich gut ausruhen kann und das Bett hat eine angenehme Matraze ohne Metall also keine Federkernmatraze gut zu ruhen.
Siegfried
2015-11-09T00:00:00Z
Room Type
Private room
---
Property Type
House
---
Accommodates
1
---
Bedrooms
Gebenstorf, Aargau, Switzerland
Herzlich willkommen in unserem frisch renoviertem kleinen Häuschen in Aarau Rohr. Wir bieten Gästen aus "Nah und Fern" fünf schöne Zimmer. Küche, Bad, WC, sowie Ess- und Wohnzimmer stehen zur gemeinsamen Benützung allen Gästen zur Verfügung. Zur Zeit entsteht auf der Nebenparzelle eine neue Überbauung. Dies kann während der Woche zu Lärmemissionen führen.
Everything worked out as agreed, house very nice and clean, I felt like at home. I can recommend it to anybody visiting Aarau as the city center is within easy reach by public bus.
Karel
2016-10-16T00:00:00Z
Alles war super, ausser die Dusche nicht so sauber
Simon
2016-10-22T00:00:00Z
Hallo zusammen, ich bin sehr zufrieden mit der Unterkunft. Die Schlüsselübergabe und alle Formalitäten haben super geklappt. Meine Gäste haben sich sehr wohl gefühlt, das freut mich total. Beim nächsten Besuch werde ich wieder auf airbnb zurückgreifen. Vielen Dank und bis bald
Fikret
2015-12-06T00:00:00Z
Der Kontakt mit dem Gastgeber war im voraus sehr nett. Mir wurden alle Fragen sofort und korrekt beantwortet. Die Unterkunft war wie beschrieben und alle Räume gemütlich und sehr sauber. Das Preis-Leistungs-Verhältnis ist super. Ich hätte mich gefreut, wenn ich auch den Gastgeber persönlich kennengelernt hätte.
Gabi
2015-11-22T00:00:00Z
Wie immer alles bestens!
Clemens
2017-03-17T00:00:00Z
*** Super Super Super ***
Oliver
2016-09-01T00:00:00Z
Guten Abend Michaël, Vielen Dank für Ihren Vertrauen. Alles war super, das Quartier sehr ruhig und das Haus luxus. Schade dass ich nur für eine Nacht da war. Aber sehr gerne wieder. Mfg Christiane Bonvin
Christiane
2015-11-15T00:00:00Z
Ich habe den Aufenthalt, sehr genossen! Alles war genau so wie beschrieben und sogar noch besser. Alles ist sehr sauber und toll organisiert. Komme gerne wieder.
Clemens
2017-01-20T00:00:00Z
Room Type
Private room
---
Property Type
House
---
Accommodates
1
---
Bedrooms
Aarau Rohr, Aargau, Switzerland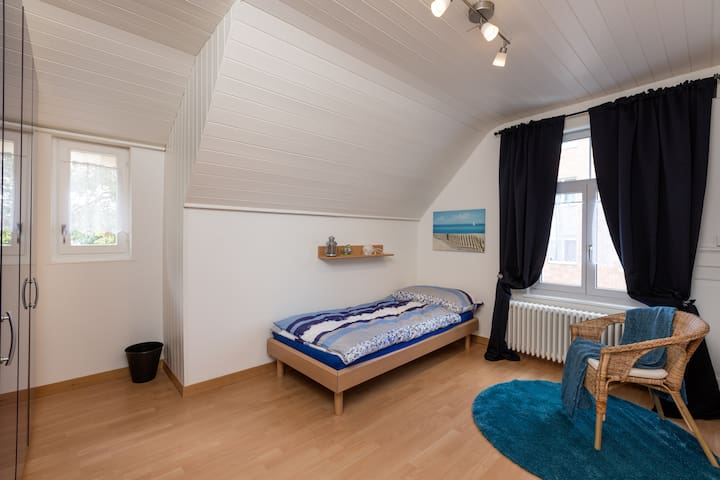 Cheap flat share in Villmergen with private toilet, near Hallwilersee, very quiet. Shopping and bus stop in 8 minutes on foot, good train service to Zurich 40min, 60 min Luzern, Aarau 25min. For A2: 9 km. Cute Family, uncomplicated
Quiet location in the countryside, 30km to Zurich-City, 70 km to Basel-City. Peace, mindfulness and appreciation is important to us in our Urbanization. For a small extra charge there is certainly a nice breakfast with us.
If you stand under the shower, you can write to a beautiful orchard with cows see.
Gerd & biggi were the perfect hosts. We stayed up late watching the Euros listening to music and shared a wonderful breakfast. Dragi their almost adopted daughter is also friendly and charming.
Christian
2016-06-20T00:00:00Z
Very nice and polite hosts. Everything was good and the room is very confortable. I recomend
Thiago
2016-11-21T00:00:00Z
Gerd' house is located in a beautiful country area just 30 min from zurich. the room is very large clean and confortable with a small private bath. Gerd is very kind and friendly, i strongly suggest this house.
andrea
2016-08-25T00:00:00Z
Nice room in a lovely house, with a beautiful garden. The neighborhood is very calm, you enjoy the peace and quiet of the countryside (car needed to move freely, there is space to park it). Host very friendly, full of little attentions that make you feel at home. The small private bathroom in the room is definitely a plus of the accommodation. Excellent quality-price ratio.
Constance
2016-07-09T00:00:00Z
Gerd and his wife are very welcoming ! The room is big, pleasant, very clean and has own toilet. The house is also quite vast and has a beautiful garden. I highly recommend this listing :)
Marc
2016-08-12T00:00:00Z
Nice couple, They were very friendly. The room clean and big.. everything was okay thanks
Fahad
2016-04-18T00:00:00Z
Nice, cozy place. Was hard to find because it was dark at night but Gerd made sure I arrived safely.
Jenny
2016-06-11T00:00:00Z
Gerd and Bigi were perfect hosts throughout my stay there and could not have done any more for me.It was like living with my own family.I had full use of all the facilities,including the kitchen and my room was warm and comfortable. Their house is in a nice,quiet location,overlooking an orchard and just a 5 minute walk to the centre of Villmergen. I was working in nearby Wohlen and found the whole experience enjoyable and relaxing. Highly recommended. Thanks very much Gerd and Bigi.
Steve
2017-01-21T00:00:00Z
Room Type
Private room
---
Property Type
House
---
Accommodates
1
---
Bedrooms
Villmergen, Aargau, Switzerland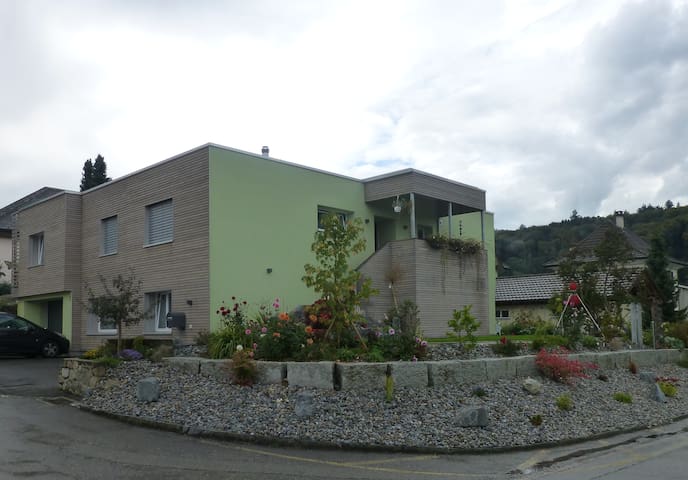 The room can be rented weekly monthly manner. We are a flat with 2-5 residents. WiFi, meeting room and Fitted kitchen are included. Garden, barbecue and table tennis table included
Uncomplicated WG in a family home near Baden, Zurich, Brugg, Basel. River Delta and beautiful recreational area in the immediate vicinity.
Quiet Einfamilienhausquatier with direct access to a recreational area.
Alles Reibungslos!
Bastian
2016-01-12T00:00:00Z
Room Type
Private room
---
Property Type
House
---
Accommodates
1
---
Bedrooms
Gebenstorf, Aargau, Switzerland
Bright, detached house in a quiet and safe location. Public transport and shopping centre within walking distance (12 minutes). The connection to the public transport is excellent; in every direction you will have every 30 minutes a fast train connection and additional regional trains and buses. From the house, various recreation areas are within walking distance (river Aar in 6 minutes, forest in 12 minutes)
Room (13m2) with double bed (1.40 x 2.00m), located on the first floor. You reach the first floor over a in-house stairway. Bathroom including Toilet, sink and shower, to share with owner. An additional guests toilet is available. Kitchen, living room, balcony and garden for shared use
house with garden, neighbourhood is quiet and open minded
Really nice and comfortable place. Very friendly owner. Recommendable
Martin
2017-03-10T00:00:00Z
Great place to stay, close to the old town. Phillip is a saint
Elias
2017-02-26T00:00:00Z
Alles war wunderbar! Danke!
Антон
2017-03-14T00:00:00Z
Wunderbar, Vielen Dank!
Антон
2017-02-24T00:00:00Z
Philipp ist ein großartiger Gastgeber und hat uns gleich mal mit einem Abendessen begrüßt, war super hilfsbereit und hat sich sich um alles gekümmert. Wir haben uns sehr wohl gefühlt und kommen gerne wieder!
Lene
2017-02-17T00:00:00Z
Room Type
Private room
---
Property Type
House
---
Accommodates
2
---
Bedrooms
Brugg, Aargau, Switzerland
My place is close to public transport, the city centre of Baden, Zurich airport. You'll love my place because of the ambiance, the big terrace or the cosy fireplace.
It is hard to find such a motherly host. She was at the station with my name board. She brought us to her home and asked us to treat ourself as at home. The house is so nice until you wont feel like going out. She is very humble and helpful person. Never felt we were far from home. She also helped on the last day by sending us to the airport. Hope to see her soon. Her house is far from Zurich but it is a place must visit. Her house is in very strategic area where buses are stopping right in front of her house will connect to railway station. From there you can go to Zurich. We enjoyed a pleasurable stay. Thanks for making our honeymoon trip a memorable one!
Karthik
2016-12-24T00:00:00Z
The way we were welcomed and giuded through the property was very good and made our stay quite convenient. As we were travelling with two small kids and there were some toys as well for the kids to get engaged with it made us feel as if we are staying at our own place. Renate guided us about the locality and what can we expect in the surrounding neighbourhood like grocery shop etc. Overall we are very satified with our stay and can confidently recommend Renate's property to anyone.
Muhammad
2016-11-06T00:00:00Z
Renate's place is excellent! It is clean, spaceous and quiet. I strongly recommend it for those whom wish to stay in a calm and relaxing accommodation.
André
2017-01-11T00:00:00Z
We had an absolutely fantastic stay at Renate's. She is a wonderful host and her house is very welcoming. Sitting on a hill, the flat overlooks Swiss mountains and is located in a very peaceful area near Zurich. The room is bright and spacious and we had one of the most relaxing stays ever. I definitely recommend staying with Renate to experience Switzerland at its best.
Egle
2017-02-19T00:00:00Z
I have been twice already by Renate, the place if very nice and Renate very kind and helpful.
Hernan
2017-01-05T00:00:00Z
I've rented Renate's room for my parents and they were delighted. Renate is very friendly and welcoming. Lovely apartment and very clean. I would definitely recommend the apartment and Renate as a host!
Gabrielle
2017-01-29T00:00:00Z
Everything was just perfect. Everything was easy plus she was very very helpful and was a great host and every basic necessity was provided without any difficulties. I definitely recommend her as your host. Plus the view is breathtaking.
Kamran
2016-10-09T00:00:00Z
The experience was wonderful and Ranate was a very inviting host. She had a lovely place and the best two nights of sleep in 14 days.
Gail
2016-11-02T00:00:00Z
Room Type
Private room
---
Property Type
House
---
Accommodates
2
---
Bedrooms
Oberrohrdorf, Aargau, Switzerland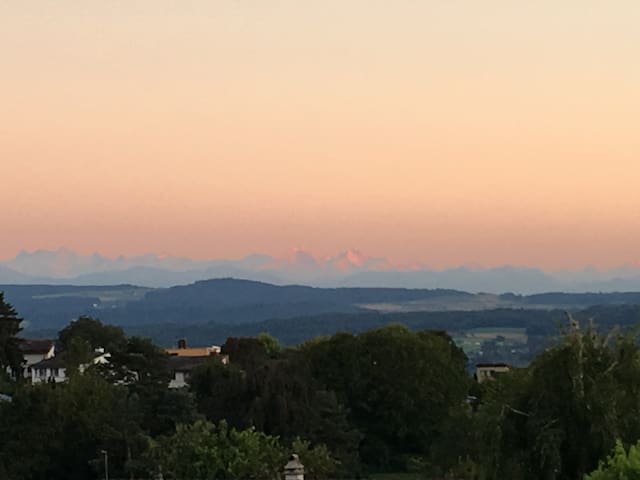 Kleines gemühtliches und ruhiges Zimmer im Kellergeschoss mit Fenster und Heizung. Geeignet für Reisende ohne grosse Ansprüche.
Incredible room and location, just 100 metres away from the bus that takes you to the train station. Roland is a really cool guest. Upon arrival we had good talk and understood each other. The room is really great, perfect if you are travelling, private and cozy. After that he even made home made jam, just great!
Roberto
2015-10-02T00:00:00Z
I couldn't meet the host at my arrive because he wasn't at home, and actually it was a bit difficult to have not a check in from anybody..I had not "life time" in the house cause I was all day long outside and I was going there only to sleep. The biggest problem I had in there it had been the cleaning, the bathroom was not clean, and that should be an essential condition.
Alvise
2016-01-18T00:00:00Z
Simple acoomodation, stricked rules. Good communication.
Miroslav
2015-10-26T00:00:00Z
The host canceled this reservation the day before arrival. This is an automated posting.
Monica
2015-11-24T00:00:00Z
Ich wurde von allen super freundlich empfangen, die Unterkunft war genau wie beschrieben. Ich fand sie sehr gut und für mich ausreichend. Küchennutzung und Bad Mitnutzung war auch ok. Alles war sehr unkompliziert und freundlich. Ich kann dieses Hostel nur empfehlen und werde sicherlich wieder kommen. Vielen Dank noch an alle WG Bewohner für die freundliche Aufnahme
Uwe
2016-03-10T00:00:00Z
Roland ist ein super unkoplizierter Gastgeber. Gerne wieder, vielen Dank. Sehr zufrieden. Preis / Leistung stimmt. Roland is a very easy Guestholder. I like to join him again, Im very very much statisfaitet. Price / Offer perfect.
Roman
2015-10-18T00:00:00Z
屋主人熱情大方,相處沒壓力。屋子位在一個離蘇黎世車程大約四、五十分鐘的地方,從蘇黎世去須搭火車再轉乘公車。不過瑞士大眾交通系統很發達,轉乘都很快速簡便,所以不排斥通勤去蘇黎世的人可以考慮。房間在地下室,不過有窗戶,採光不錯,看起來甚至比照片好一點。網路沒有非常快,但也算堪用。整體而言還蠻舒適,地點雖然遠離市區但不會有荒涼感。
翊軒
2015-11-10T00:00:00Z
Alles Bestens. Trotz kurzfristiger Buchung, hat mit der Schlüsselübergabe alles super geklappt. Vielen Dank noch mal! Auch sonst alles sehr gut! Roland war sehr hilfsbereit und ein überaus angenehmer Gastgeber und Gesprächspartner.
sirko
2015-11-20T00:00:00Z
Room Type
Private room
---
Property Type
House
---
Accommodates
1
---
Bedrooms
Gebenstorf, Aargau, Switzerland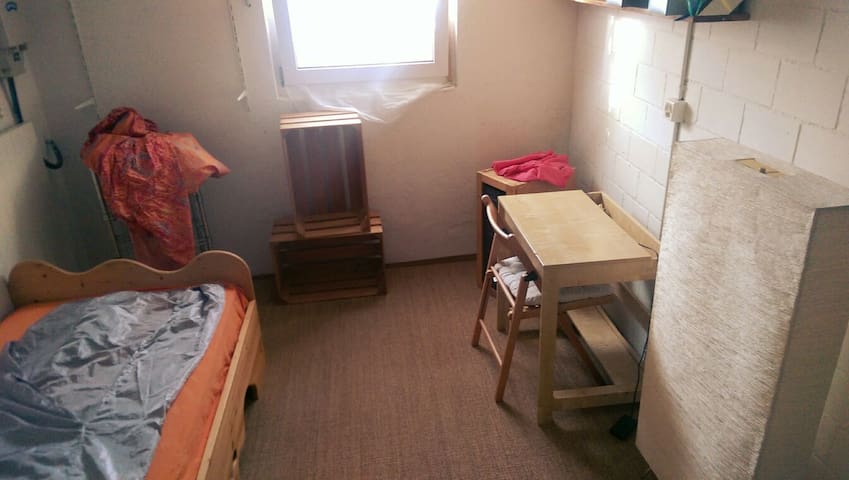 Herzlich willkommen in unserem frisch renoviertem kleinen Häuschen in Aarau Rohr. Wir bieten Gästen aus "Nah und Fern" fünf schöne Zimmer. Küche, Bad, WC, sowie Ess- und Wohnzimmer stehen zur gemeinsamen Benützung allen Gästen zur Verfügung. Zur Zeit entsteht auf der Nebenparzelle eine neue Überbauung. Dies kann während der Woche zu Lärmemissionen führen.
Tip Top
Ulrich
2017-02-19T00:00:00Z
I just moved to Swiss and I stayed long at Michael's house for the first period. Michael is really gentle and the house is comfortable and clean. The house is really spacious so it's perfect to share with other people but you can still have your privacy in your room. Bed sheets and towels changed every week. The house is in a residencial area but really close to the motorway and to the city center. Bus stop at 200 mts. I'll take soon my own apartment but i will remeber this cosy house forever.
Francesco
2015-12-01T00:00:00Z
Mit den ankommenden Wünschen und die kleine Schokoherzen habe ich mich willkommen gefühlt. Das Quartier war über Ostertage sehr ruhig und das Zimmer genau wie angeboten. Es war eine grosse Freude wieder in diesem Haus zu kommen (es ist mein 2. Aufenthalt). Alles ist so sauber, das hat mich begeistert! Vielen Dank und zum nächsten Mahl
Christiane
2016-03-27T00:00:00Z
Die Gastgeberinnen Judith und Sandra waren sehr umgänglich und haben sich bei Fragen sehr schnell zurückgemeldet. Das Haus ist sauber. Die Nachbarschaft ist leise. Handtücher werden zur Verfügung gestellt. Bettwäsche wird wöchentlich gewechselt. Die Räume sind schön hergerichtet.
Claudia
2016-05-04T00:00:00Z
Es war alles tip top! Wie auch schon beim letzten Mal! Gerne wieder super unkompliziert und sehr zuvorkommend!
Julia
2016-03-10T00:00:00Z
sehr gut, sehr unkompliziert, einfach perfekt
rudolf
2017-02-03T00:00:00Z
Es ist nun der vierte Aufenthalt bei Judith, Sandra und Michael. Einfach prima. Meine Tochter fühlt sich so richtig wohl. Vielen Dank
Susanne
2016-05-28T00:00:00Z
Es ist nun unser fünfter Aufenthalt bei Judith, Sandra und Michael. Kann nur sagen, was ich bereits bei der ersten Beurteilung erwähnte. Einfach schön. Sehr sauber und alles funktioniert Komplikationslos. Vielen DANK
Susanne
2016-06-10T00:00:00Z
Room Type
Private room
---
Property Type
House
---
Accommodates
1
---
Bedrooms
Aarau Rohr, Aargau, Switzerland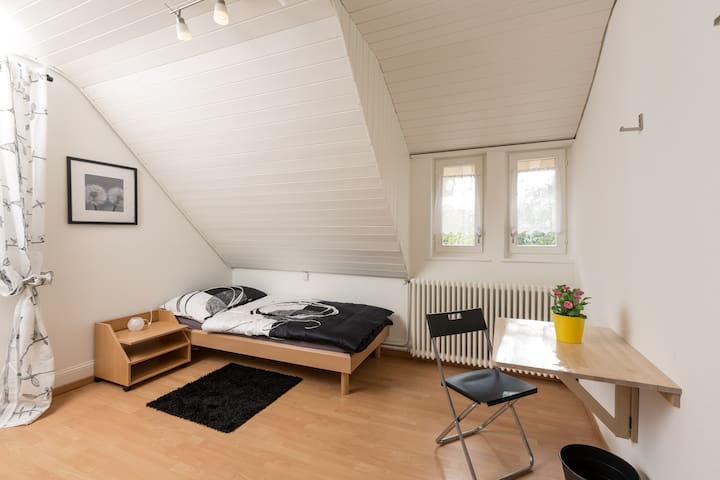 The house is perfect for sommer thanks to the pool! In winter it is a pure relaxation after winter sports due to the whirlpool, sauna and fitness area. It takes 1,5h to ski runs and 30min to Zurich. The nearest cross-country ski run is 25 min away.
Three bedrooms are on the top floor. 2 bedrooms with a 180x200 cm bed and 1 bedroom with 140x200 cm bed. The fourth bedroom with 2 beds (a bed sofa 140x200 cm and a bed 180x200 cm) is in the basement. We can provide a baby cot too. 8 adults and 2 children are allowed to stay (+ a baby). The prices shown on the Airbnb are valid for 8 guests or less. In case of more than 8 guests, every further guest pays CHF 45.-/night.
Very, very quite and safe area. No traffic! Perfect for children and pets.
We spent 5 days in Leon's wonderful house in Aargau. The place was perfect for 4 couples, each having a private bedroom. The kitchen and bathrooms are fully equipped and the outdoor jacuzzi is great.
Bart
2016-12-29T00:00:00Z
the house was very big and beautiful . They left us a manual on how to work everything in the house that was very useful for us. also they leave you full kitchen with everything you need to eat there thing that will save you money(the restaurans in Sweden are expensive). They have a jacuzzi a pool and sauna for use and the manual says how it works. Sweden is small so te area of the house is no far from anything. my family really enjoyed staying in this house leon thanks for everything.
Estefania
2015-06-21T00:00:00Z
We had a very nice stay in this outstanding and spacious villa. Everything worked to perfection and was easy to operate. The hosts were very pleasant and made us feel very welcome. The swimming pool and jacuzzi were great - top standard and the pool long enough to exercise by swimming. The area was very peaceful but still close to shops and supermarkets that could be reached by foot (via the path) in just 5-7 minutes.
Jesper Holm
2015-07-29T00:00:00Z
Our stay in Dottikon was just perfect.. The house was extremely comfortable with a wonderful pool and jacuzzi.. All equipment was in great condition.. The host was extremely helpful.. We couldn't have asked for more...
Aditi
2016-05-29T00:00:00Z
We are very happy with our stay in Dottikon. It was the perfect location for us close to our relatives and an easy drive to Luzern, Zurich and Appenzell. The house is huge and is in a quiet neighborhood. There is a very detailed manual for everything in the house and the owners left a Swiss parking disk that was very useful. Thank-you for having us !
Nathalie
2015-07-04T00:00:00Z
Anyone who has been to Leon's villa will want to go back. The place is clean and quiet. I met there with family and it felt like home. With temperatures over 35C, we couldn't resist the swimming pool. The neighbors were nice. Even when we asked to check out later than scheduled, Mr. Leon made it happen. Thanks. Robert Chonia.
Robert
2015-08-30T00:00:00Z
My family spent six wonderful days at this villa. There were six of us: my wife and I, our adult children (son, 24 and daughter, 30), our son-in-law and their daughter, 6. It was our first experience with Airbnb, and we were concerned, above all, about communicating with our host. But there was no problem at all. Predrag expeditiously responded to all our requests and questions, however minor or frivolous. No emergency service could hold a candle to Predrag in terms of speed and quality of response. We were extremely satisfied with every aspect of our stay. Every detail in the villa is thought-through done with love and care. Out only task was to relax and to enjoy - which we did with pleasure. I highly recommend this place to everyone who wants to spend a few days, a vacation, or a longer period in a nice and quiet environment and I will certainly come back there again. In short, it's a fantastic place. And believe me, I know what I am talking about because I spend more than 200 days per year traveling on business and staying at upscale hotels.
Alexey
2016-05-10T00:00:00Z
It is a very nice villa with 4 bedrooms and large swimming pool, close to Zurich and Lucerne. It is 1.5 hours from Interlaken and black forest and 4 hours from Munich. Mr. Predrag (the host) was very helpful and we were able to communicate with him at any time.
BASSAM
2016-09-10T00:00:00Z
Room Type
Entire home/apt
---
Property Type
House
---
Accommodates
10
---
Bedrooms
Dottikon, Aargau, Switzerland
Large family home with a big fenced garden. Quiet location in a small village, half an hour from the heart of Zurich by car or train. Big reception area. The house sleeps 10 people. 1 master bedroom and 4 double bedrooms. 2 baths and 1 guest toilet.
Experience the way of life in a large family home in the countryside near Zurich. Land is very scarce and large homes with spacious gardens are hard to come by.
The house has good vibes and is very quiet. You will sleep very well there. From the masterbedroom you can step out into the garden. It is located in a small village, easily accessed by car and commuter rail. The local supermarket is only 2 minutes walking distance away. Nature lovers will discover lovely walks in the nearby forest. From spring to fall you can enjoy our boat on Lake Hallwil, 21 km away. That's always a major highlight for all the kids of my friends and family. For more information please have a look at the guidebook. Thank you!
Jakob was very helpful, he had help to settled us in upon arrival despite his busy schedule, very lovely and nice place with lot of rooms to move about. Great for families and friends to gather. Children loved the backyard where they can play freely. Fully equipped house, kitchen was large, beds were comfy and bathrooms were sparkly clean. The place looks better than the picture shown. Will definitely stay in Jakob place if we've the opportunity to visit Zurich again.
Yeo
2015-06-20T00:00:00Z
Jakob´s house is the perfect place to stay if you are planning a trip to Switzerland. Me and my family stayed there for a whole week and had an amazing time. The house is spacious, comfortable, rooms are big, beds are great, the kitchen is fully equipped and if you travel with kids, as we did, they will have lots of places to play inside of the house or outside in its great garden. The location of the house is also really good since it is in an small and very quiet town. Supermarket is just 2 minutes walking, if you want a bigger supermarket you can find one in a short trip by car. There are also a few restaurants, parks, lakes, castles.... And Jakob, the host. It was my first Airbnb experience as a guest and I think it will be difficult to find, in the future, a better host than him. From the first message I sent him he was absolutely kind, gave us a lot of information about the house, the town, sightseeing... He even helped us to find better flights from Spain. At our arrival, he gave bread, cheese, jam... to us, showed the house, made a little tour by car through the village... It was a great experience we would love to repeat in the future.
Fede
2015-06-28T00:00:00Z
What a wonderful home! Jakob was such an amazing host! Our family had such a wonderful Christmas in Othmarsingen. The place was even better then imagined. Plenty of supplies and room for a huge family. We felt as if it was our home! Hoodie our toy poodle had a blast with the big yard and was greeted with many treats from Jakob. Thank you Jakob for a wonderful and very memorable stay!
Cristy
2016-12-29T00:00:00Z
I cannot say more about one of the great persons I have seen in my entire life. This is the truth. Regarding the house it was worming, charming and full of memories for a great successful person with his family. As a group of a family we loved the idea of keeping everything that reminded Jakob and his family about their family's house. In addition, the back yard and the balcony were fabulous as well as the neighborhood it is calm with lovely people. Finally, it was an honor to meet such a person like Jakob and the house will be our direct distention in Switzerland.
Abbas
2014-08-12T00:00:00Z
Our entire experience with Jakob was wonderful! He was so attentive and considerate of our needs, providing us with all we needed and more! His gorgeous home is spacious and serene and is perfect for large groups, we all felt very comfortable in our home away from home. The village is quaint and offers basic amenities, which is lovely for an authentic Swiss experience. It's also conveniently located, close to sights and cities. Unfortunately, we did not get to meet Jakob but he made sure that we were warmly welcomed and all of our interactions were nothing but kind and genuine. We'd highly recommend Jakob and his lovely home to anyone looking for a convenient and authentic lodging in Switzerland!
New
2014-10-07T00:00:00Z
We are a group of 11 friends who stayed at Jakob's place. The house is huge, homely, clean and comfortable. Everything was ready when we got there - a nice welcome of 2 bottles of wine!!! :) The place is quiet, clean and the right warm temperature of the rooms. The kitchen is modern and has everything you need to cook your meals. The rooms are spotless and well prepared. The showers have good pressure and again, very clean toilets. I guess what we really enjoyed are the nights we spent in the fireplace. Just with music, conversations about anything and everything, with the fire on, until we all feel sleepy. We can say we made memories here as friends that we will never forget. Jakob has been a fantastic host, he was always readily available to answer our queries. One very pleasant and intelligent man. He even very kindly drove us to the train station so we wouldn't miss our train! We thoroughly recommend his place. Superb experience. Thanks again Jakob!!!! And we wish you all the best in life
Erwin
2016-11-07T00:00:00Z
Jakob was a great host. Booking and check in was easy, and he even delivered fresh bread and pastries for our first breakfast. The house is big, clean and perfect for our trip. Thoroughly recommend!
Elliot
2014-09-08T00:00:00Z
Host was there to greet us , stocked up on bread and other essentials - little touches that were much appreciated. The area is residential but perfectly suited.
Anita
2016-03-19T00:00:00Z
Room Type
Entire home/apt
---
Property Type
House
---
Accommodates
10
---
Bedrooms
Othmarsingen, Aargau, Switzerland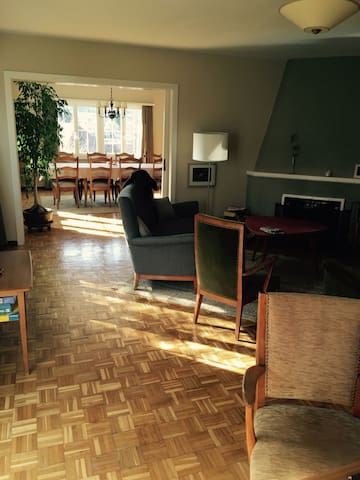 Meine Unterkunft ist an zentraler Lage in der Schweiz (50km nach Basel, Luzern, Zürich) in der Nähe von öffentlichen Verkehrsmitteln, Autobahneinfahrt Aarau West, 45km zum Flughafen, 4 km zum Stadtzentrum Aarau, Tennis und Squash-Center, 18-Loch Golfanlage im Dorf. Du wirst meine Unterkunft lieben wegen der schönen Umgebung, Platz im Freien, Unabhängigkeit. Meine Unterkunft ist gut für paare, alleinreisende abenteurer und geschäftsreisende.
Ausflüge von zu Hause mit dem Fahrrad möglich.
Das Haus ist in einem ruhigen Wohnquartier.
Oberenfelder è una cittadina molto bella, immersa nel verde. Tra a Basilea e Zurigo. Si possono fare belle camminate nel bosco dietro casa, visitare un dolce fabbrica di cioccolato a pochi km di distanza. Siamo stati a Basilea come suggerito da Brigitte ed è stata meravigliosa. La stanza è molto curata , pulita,, e comoda. Brigitte è un host perfetta, attenta e disponibile. sicuramente ritorneremo e lo consiglio per un week end rilassante.
Michela
2017-03-16T00:00:00Z
Room Type
Private room
---
Property Type
House
---
Accommodates
2
---
Bedrooms
Oberentfelden, Aargau, Switzerland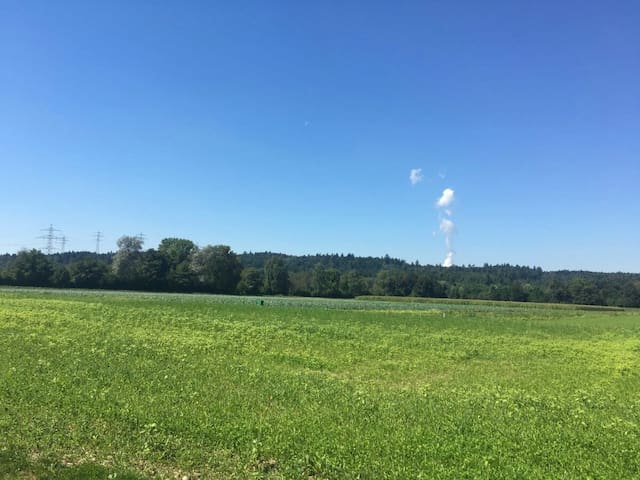 Free Parking, Free Wifi Queen size couch-bed - 196cm X 160cm (77in X 63in) Your own Bathroom/WC 5min walk to Bus station 20km to Zurich by car/aprox 30min to Zurich by Bus+Train Quiet neighborhood Close to the nature
We can provide a real bed for 1 Person in a separated room, or the bed-couch for two. The room with the couch bed is on ground floor.
The house is located in a good area and Philipp also recommended visit Baden. It is a small and quite town but very beautiful to spend the morning and the visit Zurich for the whole day.
Gustavo
2016-10-04T00:00:00Z
Everything was like visible on the pictures. Philipp was very nice and he prepared everything perfectly prior to my arrival. He even put a sheet into the room which showed the WIFI password, some places of interest close to his house (fuel station , MC Donalds, bakery etc.) and all what I can use in the house like e. g. fridge, washing machine, iron etc.. Also towels he gave me directly and a carafe filled with water waited for me with a glass in the room. The bathroom I used was reserved for me (there are more bathrooms in the house) so I did not have to wait until someone was finished there. The bed I had was quite big and there was also a wardrobe in the room where I could put my suits as well as shirts. Great was also to have a desk with an office chair in the room which enabled to more perfectly with my laptop. Even an adapter for the power supply waited in my room since he knew that I came from abroad. I forgot to mention that I parked my car directly in front of the house on their private parking space. Philipp and his family were very nice to me and I can highly recommend him and his family; they were very friendly and polite towards me. Thanks Philipp (also to your family) for making my first Airbnb experience so good.
Christoph
2015-10-28T00:00:00Z
I could not think of a better place to stay in around Zurich. Peaceful, great surrounding, clean room, all equipped with anything you might need. Stay at Philip's place was wonderful. Though we could not meet but he was always available via mails to tell us anything we should know. We met his brother and also his mother, they were really friendly to us. His brother helped us with places that we can visit in our short time period of stay. We were even offered breakfast in the morning which was really sweet of them. We were also allowed to check in early and also check out late. Thank you so much for hosting us, and would definitely contact you accommodation for our next trip :) Highly recommended.
Divya
2016-09-14T00:00:00Z
Philipp was the perfect host. I felt right at home in his lovely backyard eating my breakfast, to hanging out with his sweet dog Annie, to sampling his homemade beer.
Anna-Maria
2016-08-27T00:00:00Z
We drove there and we liked the suburban neighbourhood and the house. It's very quiet, room is of good size overlooking a beautiful garden. The living room and kitchen are spacious and with classy modern fittings reflecting the high standard of Swiss people. Though we hadn't talked for long but we felt that Philippe was nice and friendly. We actually had more interesting chat with his brother at the breakfast table. Overall a very nice experience. A lot of privacy. We enjoy it very much. Thank you for hosting us Philippe.
Tianchun
2016-09-28T00:00:00Z
Es war genau so, wie wir es uns gewünscht haben. Unkomplizierte Leute, sehr nett, schönes Zimmer, sauberes Bad. Alles Top! Danke nochmals und bis ein anderes mal.
Benjamin
2016-01-17T00:00:00Z
Room Type
Private room
---
Property Type
House
---
Accommodates
2
---
Bedrooms
Fislisbach, Aargau, Switzerland
2 guest rooms for rent: 1 kept single room (Room 1) equipped with a single bed 90x200cm and 1 separate single room (Room 2) equipped with a single bed 90x200cm Shared use of bathroom Shared use of dining and living room Relaxation and recreation in a private garden incl. breakfast and free wifi, free parking 10 minutes from the A1 (Zurich-Bern) Well maintained property is centrally located and quiet walk 1 min. from SBB station clock Trains to Lenzburg (10 ') Zurich (35') airport (60 ') or Aarau (5') Bern (60 ') Basel (50) Lucerne (60') Suhr is situated in the Swiss Central Plateau and is to take optimal for day trips in all directions. Price per person per night
Daniel is a recommended owner, precise in communications, full of attentions to make sure my accomodation were welcoming, showing me over all information needed. Very close to the railway station, parking available in front of the house. A modern bathroom, comfortable bed and good free of charge wifi. Highly recommended considering the convenient price.
Francesco
2015-03-04T00:00:00Z
First time with Daniel, I'm sure it will not be the last. Thanks a lot!!
Sergio
2017-03-17T00:00:00Z
Daniel was a great host. The room was nice, clean and the location is in a quiet neighborhood of town. The breakfast was very nice as well. We would be happy to use Daniel's accommodation again next time.
Manfred
2015-02-17T00:00:00Z
My husband and I stayed with Daniel on our first trip to Switzerland. Daniel was a wonderful host. He made sure we had everything we needed for our 3 nights there. The house was very clean, the bed comfy and the shower was fantastic. Not a lot to do in the surrounding neighborhood but the train station is practically right out the front door. Super convenient. We would certainly go back and stay again.
Kari
2013-10-25T00:00:00Z
Welcome!
Anja
2014-11-20T00:00:00Z
Daniel was an excellent host. He put out a wonderful breakfast every morning and was very helpful with suggestions on what to do in Suhr. The room is great and I had a very relaxing time.
Amie
2014-10-16T00:00:00Z
Daniel was an excellent host! He was very knowledgeable and helpful about the area around him. I had a lot of work to be done, so I stayed in my room after arriving to get things done, and then left the next morning. The breakfast was really good, as well. The room is comfortable and his home is clean and attractive.
Micah
2016-04-30T00:00:00Z
Daniel made us feel good from The first moment. He helped me for The trains And buses. He is a Nice person The room And The house is very clean. I recommend it.
nadia
2015-07-29T00:00:00Z
Room Type
Private room
---
Property Type
House
---
Accommodates
2
---
Bedrooms
Suhr, Aargau, Switzerland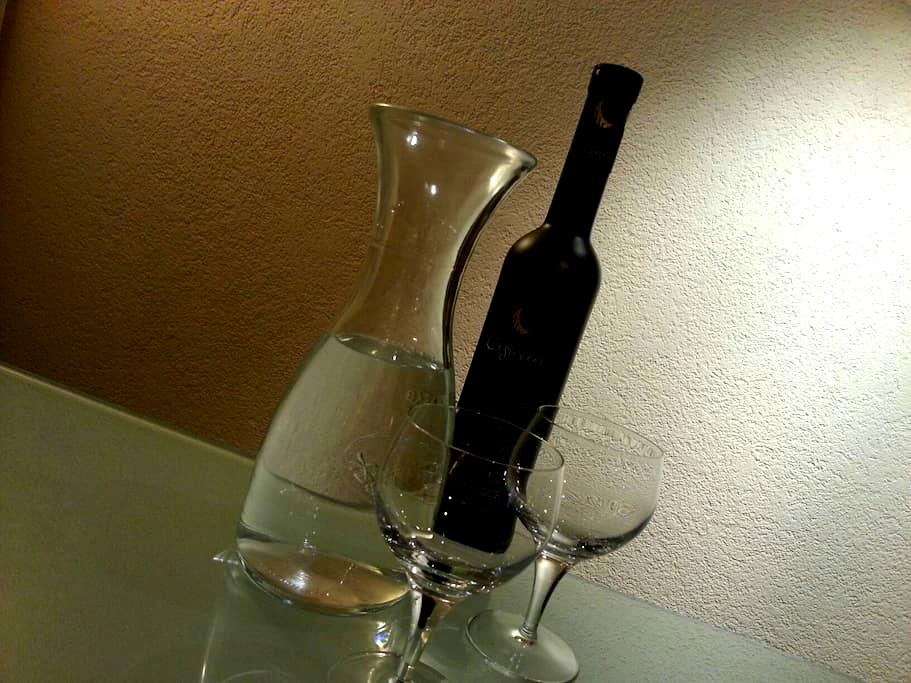 Come and enjoy a few quiet days in a small, cozy house with garden. Zurich is only 30 kilometres away. When you like colours you will feel just at home in my Rainbow room. Bus and grocery store are just around the corner.
One colorful room in purple and gold for up to 2 people. The room has a small balcony with view in the tiny garden (and the gardens of the neighbors). If you come by car, there is a parking lot for no additional cost. Wifi is free.
We live in the country, so it is rather quiet but nonetheless central. There is a restaurant and some stores just 100 m nearby. More restaurants can be found in walking distance. If you like to hike there are nice areas to walk to from here. Zurich, Lucerne, Basel can be reached in only one hour by car. And since I get this question a lot: Zurich is about 30 kilometers away from my place.
Nice stay and very nice neighbourhood (as everywhere en Switzerland...), Sabine is very kind and gave me good advice for visiting Zürich and Lucerne. Danke !
Anselme
2015-05-17T00:00:00Z
We were like family.
Olivera
2015-09-21T00:00:00Z
Sabine greeted me even though I arrived quite late, she allowed me to have some toast, and apple juice. The room is large and very colourful. Getting to the house is not hard at all as there are buses that stop nearby. Her son is also friendly, as is the cat.
Jamie
2015-05-29T00:00:00Z
Sabine was such a wonderful host! She greeted us with such warmth and hospitality upon arrival. She even shared with us on how to get around in Switzerland. I would definitely stay with her again if I make my way back. The beds and the room were super comfortable too. Loved our stay!
Joanna
2016-07-17T00:00:00Z
Marianna was one of the best hosts I've met of many hosts! She was amazingly helpful allowing us to do laundry and also made us coffee in the morning and regaled us with the most interesting stories about her time in the Swiss foreign service. we loved it!
Carl
2016-06-26T00:00:00Z
Sabine is a perfect host. It was our first experience on Airbnb and the expectations are very high now after being hosted by Sabine. Perfect rainbow room and kitty was as friendly as Sabine.
Asif
2015-08-02T00:00:00Z
Sabine is such a happy and and positive Person, making this stay a joy. Lovely room, colourful and very clean. Great meeting you Sabine, would be happy to stay at your place again!
patrica
2016-07-11T00:00:00Z
Sabine was an amazing host! We only stayed one night but would have loved to stay more. The room was cozy, and the bathroom was very clean and well kept...but Sabine is what made the experience great. She immediately welcomed us to use the kitchen, boiled water for us when asked if we could make tea that we had brought, let us borrow playing cards, recommended and provided directions to a near-by chocolate factory (very fun), and offered us a croissant in the morning. We felt right at home. Two thumbs up!!
Trent
2015-11-08T00:00:00Z
Room Type
Private room
---
Property Type
House
---
Accommodates
2
---
Bedrooms
Mellingen, Aargau, Switzerland
1

–

18

of

40 Home Rentals
Enter dates to see full pricing. Additional fees apply. Taxes may be added.