VISIT "LOON LURE" Come watch the loons and fish off the dock while enjoying the BEST sunsets on the lake! Newly- renovated studio basement efficiency located on Milton Three Ponds. This rental has a shared dock with owner- bring your boat!, large sandy beach, swim raft, fire pit and comfy accommodations for up to four people. Included in the rental are two kayaks! There is also excellent fishing and wildlife viewing across the street at the pond/floating bog. Beavers and eagles.
This efficiency apartment has everything you need for a comfortable overnight stay or getaway. Kitchen includes: Induction cooktop Toaster oven Electric griddle Microwave Oven Also private use gas grill Keurig coffee maker Refrigerator/freezer Also includes all bedding, and bathroom towels.
Room Type
Entire home/apt
---
Property Type
Guest suite
---
Accommodates
4
---
Bedrooms
Milton, NH, United States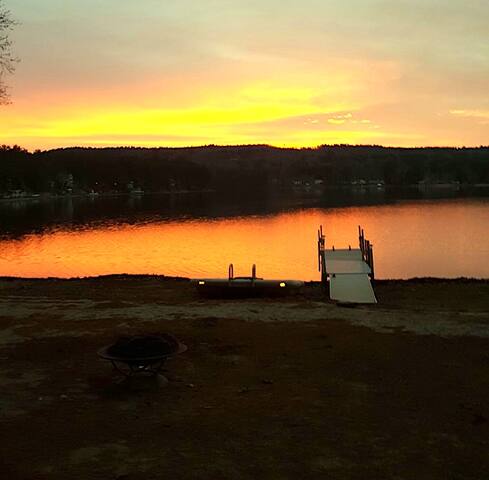 old world craftsmanship and charm with immaculate landscaping. completely redone with every amenity possible. incredible 50' diameter stone courtyard with huge fireplace, satellite bar, swinging chairs,private deck with custom grill. 2 person hot tub set under a stunning mature cluster of white paper birches and wrapped in Christmas lights for an amazing nitetime experience. this is a true post and beam cabin. when you see the palm trees you have arrived. yes you read that correctly!
very few cabin/ cottages were ever built with the character of this one. this property also hosts weddings and other events on some weekends and yes we are pet friendly. see our website 7-continental for a ton of pics mostly related to weddings at this cool property. tons of art in various forms from carvings to recycled metal art and just interesting architecture. the inside is decorated in a Jamaican/African theme and loaded with interesting antiques and art
very quiet neighborhood and good people but you cant see any of them when the place leaves out
The hosts provided us with timely responses and useful information via email throughout our stay. Although we were hoping to meet them in person, our paths unfortunately never crossed. However, they were able to give us excellent feedback and tips about the cabin. They provided everything we needed for a fun labor day weekend!
Ryan
2016-09-05T00:00:00Z
David & Barb were wonderful hosts. The cabin is beautiful & the landscaping is exquisite. Highly recommended! If you're looking for a place to host a small to medium sized event, this is a fantastic option.
Andrew
2016-08-22T00:00:00Z
We loved our time away in Rochester, NH this winter. The cabin was beautiful and spacious inside. It was also plenty warm. Outside, the property has lots of creative and artful sculptures. The outdoor hot tub is surrounded by large birch trees that are all beautifully lit up at night. Dave and barb were very accommodating in showing us around the cabin, as well as giving us our privacy. They also checked in periodically to make sure we had everything we needed. There are lots of great antique shops and hiking options in Rochester and surrounding areas. We highly recommend this cabin if you're looking for a private and relaxing weekend away, no matter the time of year.
Gregg
2016-02-08T00:00:00Z
My girlfriend and I spend two nights here and can definitely say it was an amazing location, even with it raining most of the weekend.
Sean
2016-10-23T00:00:00Z
We stopped in for a night on our way back to New York from Maine, and had a wonderful time. The cabin is cozy, and the hot tub and outdoor fireplace are really cool. (Though it was a really hot day/night, so we didn't enjoy as much as if it were, say, a cooler autumn evening. I imagine this place being absolutely perfect when the nights cool down.) I'm from Maine, so I have a particular idea of what it means when you call something a "cabin". This place is located in a residential area, so it's not exactly a cabin in the sense of being off in the rural woods. That said, it is very secluded from neighbors (big awesome beech and cedar trees, if I remember correctly), and by the time evening fell it really did feel like we were off in the woods all by ourselves. Great spot to stop for a night or two and have a relaxed, romantic time.
Ian
2016-07-23T00:00:00Z
Dave & Barb were great hosts. They were very helpful and accommodating when we arrived. The cabin is cozy and well put together. Dave & Barb definitely put a lot of work and thought into this little getaway home. There are interesting things to see everywhere you look. The cabin is behind their main house, but you forget it's even there as it's so secluded you feel like you're in a far away destination in the middle of the woods. The hot tub, the ambience with the night time lighting and the large patio area with the fireplace were perfect for an evening getaway with my boyfriend and our dog. Dave & Barb were even kind enough to set up the fire for us and we are super appreciative they allowed us to have our dog as it's tough to find places to take him with us when we look to get away. Thank you thank you for the wonderful weekend getaway! We wish we had more time there. We will be back!
Danielle
2016-05-23T00:00:00Z
An amazing stay! Very nice people. Enjoyed the hot tub very much.
Kelsey
2016-02-28T00:00:00Z
My boyfriend and I really enjoyed staying at David and Barb's place. We were coming from quite a distance and they were very accommodating with our later arrival time. They are very easy going and gave us some good local spots to hit during our stay. We loved the hot tub and fireplace and made us feel very welcome. We would definitely recommend this place to others and if we're ever in the New Hampshire/Maine area we'd stay again with them
Ilyse
2016-07-06T00:00:00Z
Room Type
Entire home/apt
---
Property Type
Cottage
---
Accommodates
3
---
Bedrooms
Rochester, NH, United States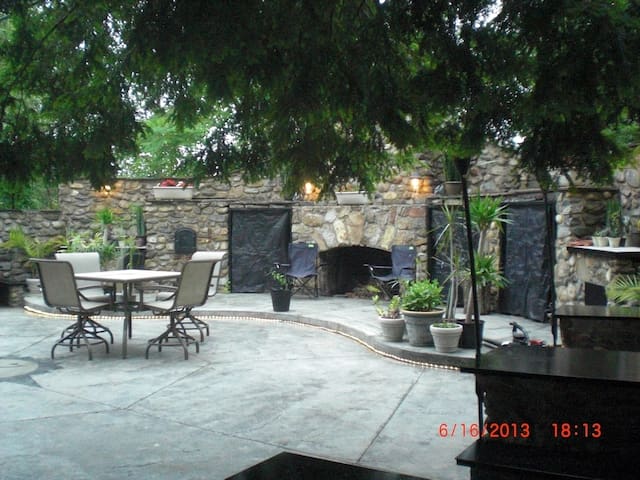 Beautiful secluded cottage with comfort and privacy. Just 250 feet to lake. Easy access to both ME and NH Snowmobile trails. Hike, mountain bike, enjoy a family retreat or a quiet week-end for two. All new and sparkling clean.
Luxurious secluded "Cabin in the Woods." Just bring your clothes and groceries, we have provided everything else. There are 3 private bedrooms and comfortable sleeping for 8 with new hotel quality linens. Enjoy the acres of woods from the rockers on the front porch, then mix a beverage at the wet-bar while fixing dinner in the well-equipped kitchen. The open-concept living space is warm and inviting, with cable TV so that you don't miss the big game. The perfect spot for a family retreat or a private week-end for two. Swim at the private association beach, just 250 feet from the front door. Take a kayak, and fish or paddle down the rivers that feed the lake. You may see eagles, turtles, or any variety of wildlife. We are at the northern end of our lake, and the fishing here is the best. The lake is 5 miles long with 3 rivers that feed it. A wonderful spot for hiking, swimming, or kayaking in summer; or XC skiing, skating, snowshoeing, or snowmobiling in winter. Board games, books, and DVDs are provided.
Ridgewood Acres is a small, close-knit neighborhood, with 13 houses and a private beach. The road itself is private, at the end of a sparsely populated, mile-long dirt road.
Our stay was wonderful! The Cottage was beautifully appointed and the hosts were very attentive to anything we needed. They knew we were coming in late and were thoughtful enough to make sure we had stuff for breakfast, as well as other little nicities. The kitchen was fully functional for everything we wanted to cook and never had to go out to eat unless we wanted to. The hosts and cottage get a 10 from us and we can't wait to come back in the summer!
Laurie
2016-01-05T00:00:00Z
The cottage was perfect for our family of 3. It was clean, had everything you could possibly want/need, and the perfect place for a relaxing getaway. Jennifer went above our expectations. She made sure we had everything we needed from locations of local grocery stores and restaurants to tv channel lineups and a diagram of where everything is located in the kitchen! We definitely recommend this to anyone!
Jennifer
2016-08-24T00:00:00Z
Jennifer was easy to get in touch with before and during our stay. She really went out of her way to allow us an easy entry, which was particularly kind since we were arriving fairly late (9pm. BTW, highly recommend driving in for the first time where there is still light remaining as I think it would become more difficult to find the house in the dark.) The house had a more than adequate supply of basics... paper towels, dish soap, toilet paper, as well as more luxurious offerings such as spices, condiments, Keurig coffee pods. She even gifted us some half n half and fruit!! Also plenty of towels. The house is very clean, and the owners have done a beautiful renovation. The photos are very accurate. The house runs on well water. We had a full crew so she did advise to space out our showers. We didn't run out even when there were several taken in a row, although pressure was sometimes low for short periods and there is a slight mineral smell and taste to the water. The lot is beautiful and I loved the smell of pine trees. Fire pit was fun. We were able to sit on the porch several evenings to talk and read, which was wonderful. There are bugs (it is the woods in Maine!) but wonderfully strange they seemed not be be a bother on the porch. However walking to lake, especially in the morning, they were definitely noticeable. We did kayak one day, so was wonderful to have use of 2. The lake was pretty, although somewhat grassy/ lilly pad filled so we only waded at the small spot near where the boats go in, no swimming. We saw a giant turtle while out in the lake! However Lake Winnipesauke is a super easy day trip, so we got our swimming done there. All in all, a nice stay in a nice home with a nice host. Definitely met our needs.
Heather
2016-07-16T00:00:00Z
Great setting, peaceful, private and very quiet. House was spotless, kitchen had everything we needed. One of our party cut themselves preparing dinner and first aid kit was well and appropriately stocked. All was just as described.
Mary Ellen
2016-08-29T00:00:00Z
The house was even more beautiful and well appointed than it looks in the photos. Jen was very helpful and hospitable, making herself available if we needed anything, while also giving us space to stretch out and feel as if the place was our own for the weekend. She lives down the street a little ways and made sure to be available when needed. The house is about a block distance from the lake and we took Jen's kayaks out onto the lake and it was absolutely dreamy. We also swam in the lake on an unusual 95 degree Memorial Day weekend Saturday and it was so refreshing and relaxing. The house appears to be new construction because of how thoroughly it has been renovated. Jen warned us to go grocery shopping before we arrived, because the nearest full grocery store is a half hour or so away. So we did a full grocery shopping for the weekend and ended up having all the utensils, pans, and kitchen implements that we needed in the kitchen to cook three meals a day. The accommodations (beds, sheets, towels, etc.) were up to hotel like standards, but in an absolutely charming and private environment. We can't say enough nice things about this Airbnb getaway. We loved the rural character and beauty of the area, loved Jen, and loved this house that Jen and Mark have so thoughtfully toiled away at and perfected as a Maine/New Hampshire lake escape!
Michael
2016-05-30T00:00:00Z
Great host, nice place. I was disappointed that the kayaks/canoe is not available, but rented a boat at the marina. Jennifer was very open and honest about it so I was not surprised. However, I found that it is far more convenient to have boats available at the rental rather than requiring transport. The beach is a very short walk.
David
2016-06-28T00:00:00Z
Jennifer was very responsive yet gave you privacy. She was waiting for us and had a wonderful manual for us that spelled out everything available, from spices in the drawers to restaurants and their locations nearby, to lake maps and depth outlines! The place was very clean, everything was exactly as described. It was a wonderful peaceful weekend away, and we would definitely come back! Thank you!
Misty
2016-09-25T00:00:00Z
Jennifer is a wonderful host! She was there to greet us within seconds of our arrival. After a short your of the house, which is beautiful btw, she informed us of the bagels and cream cheese in the fridge as well as the creamer for the Keurg coffee! So thoughtful.. But that's how Jennifer is
Lisa
2016-08-22T00:00:00Z
Room Type
Entire home/apt
---
Property Type
House
---
Accommodates
8
---
Bedrooms
Lebanon, ME, United States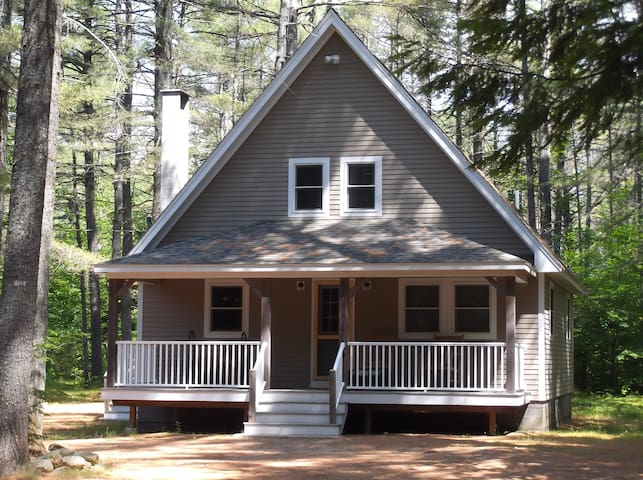 WELCOME TO CAPE GUINEVERE ON BAXTER LAKE Enjoy this fantastic lake house in New Hampshire. Surrounded by trees, Cape Guinevere is the perfect retreat for a peaceful getaway with scenic beauty everywhere you look. Centrally located on Baxter Lake, Cape Guinevere is about 30 minutes from both Portsmouth and Lake Winnipesaukee, and Gunstock Mountain, Loudon, Laconia, Kennebunkport, Wolfeboro, Concord, Newburyport, Manchester, and Hampton Beach are all within 1 hour.
Cape Guinevere is situated on two floors above ground, with almost 2,000 square feet of comfortable living space. 4 bedrooms (2 queen beds, 1 full bed, 2 twin beds), 2.5 bathrooms, a full kitchen with plenty of utensils and kitchenware, a giant table that seats 10, and outdoor seating on picnic tables. We have hosted a full Thanksgiving dinner at Cape Guinevere for 14 people, and everything turned out great!
Cape Guinevere is about a 5 minute walk to the beachfront on Baxter Lake along a quiet and safe road. From here, you can swim, launch kayaks, launch a boat, or just enjoy the views. We are located right on the town line of Farmington and Rochester, and you will find plenty of amenities 15 minutes away by car in Rochester (large grocery stores, Home Depot, Lowe's, restaurants, gas stations, services, etc.)
This house was very comfortable, well furnished and well stocked, including the kitchen. Carpeted bedrooms were great for traveling with small kids. Location was a perfect distance for us to get away for a wintry weekend but without having to drive all the way into the white mountains. Lake was beautiful frozen over.
Alex
2017-01-16T00:00:00Z
Jason's house was wonderful! Great location, quiet and relaxing, comfortable living room and great dining room space for large groups. We cooked several full meals there and it had all of the supplies we needed. I would definitely recommend this place for a getaway for up to eight adults!
Sophie
2017-02-19T00:00:00Z
This baxter lakehouse was an extremely cozy beautiful house, perfect for our stay! Every little detail in this house was just beautiful - from the fluffiest blankets to the kitchen equipments. It was a mix of perfectly decorated, very clean, cozy, and homey all in one. I went there with a couple of my college friends for a weekend get together and we couldn't have picked a better place! It was super spacious, very cozy and had everything we could possibly need. We made dinner/breakfast and had a bonfire/smores night right outside and it all went perfectly! The location is very pretty as well! Jason and Rory were great hosts and are very welcoming! We had a wonderful time there, and I cannot wait to back there in future!
Tayyaba
2017-01-08T00:00:00Z
This is a great location if you are looking for that escape from your busy schedule. Very cozy, very warm, beautiful home. I came here with my friends to celebrate my birthday. The location was perfect for us as we had planned to get in some skiing and snowboarding. Gunstock mountain is where we went which is about a 45 minute drive from the cabin. Very lovely home, well stocked kitchen, the most comfortable beds and great space in the lounge and dining area. Jason is an amazing host who ensured we were all set up (the house was spotless when we arrived) and the carpeted rooms gave that extra cozy feel! Thank you so much for being readily available in case we needed anything. Looking forward to our next visit.
Sakhile
2017-01-29T00:00:00Z
We went up to Jason's for the NYE weekend. This was my first booking on airbnb so I was a little pensive, but from start to finish it turned out to be a great experience. The house was really perfect for us. It was ready when promised and was spotless. There is a lake directly across the street so we are already talking about coming back in the summer. The house was an easy 35-40 minutes to Gunstock which makes its great for the winter too. House was fully equipped with towels sheets, etc. and the kitchen had everything we needed as far as pots and pans Highly recommend the house. The owner (Jason) was great to deal with as well (we had one question about the TV that was answered in literally 5 minutes) Thanks for the hospitality! We'll be back!
Tom
2017-01-02T00:00:00Z
Room Type
Entire home/apt
---
Property Type
Cottage
---
Accommodates
8
---
Bedrooms
Farmington, NH, United States
A nice step up from outdoor camping. A rustic hillside camp with an amazing water view for your vacation. Lakeside cottage with use of boats included. A hammock for relaxing, grill, picnic tables and a small fire pit. Both an upper and lower patio.
Your accommodations include a 1 queen-sized bed, 1 full-sized bed, 2 bunk beds and a small couch. With cable TV, wireless internet, and a small kitchen, a full EXTERIOR bathroom with running toilet, sink, shower and running hot & cold water. There are a couple of space heaters used in the fall for chilly mornings so dress accordingly. Our camp is in the lakes region of Southern Maine 30 mins. from the ocean as well as the White Mountains. Use of kayak & paddle boat included. This summer cabin is a place to kick back and relax and leave your worries behind. The location being lakeside, the generous patio and picnic area are what many guests come here for. Many have enjoyed get togethers with friends and family here. The cabin has a full, working kitchen (though very small and not much counter space). It has a fridge, an apartment sized stove. Pots and pans and always supplied with cooking utensils, plastic eating utensils, paper towels, paper plates and paper cups for easy clean-up. :) There is also a brand new Brinkman grill to cook with on the patio. Also, we have a small tabletop charcoal grill. It has a breath taking view of the lake and when the moon is full the nights are breath taking as well. We have a small stereo, a VHS/DVD player and an extensive movie collection for night time or any rainy weather. Guaranteed to be the rustic and relaxing stay you're looking for.
Lakeside. Surrounded by trees. On a well maintained dirt road. There are eight camps on my road but the neighboring cottages aren't too close. I've seen many lakeside cabins where the neighbors are 20 feet apart. Ours are a couple hundred feet apart. The neighbor on one side is never there and there other side is year round but just one person lives there. Portland and Portsmouth are both one hour away. Boston is two hours away. The White Mountains, Kennebunkport and Wells are about thirty minutes away. You are directly on the lake with a private swimming area. It's not a sandy beach but there is a public beach and also a private sandy beach very close by, use of the boats are included. It's also a great fishing spot. There is a small fire pit for cooking s'mores. Plenty of parking available.
We had an absolutely amazing time. Our youngest said "I actually don't mind putting the iPad down and enjoy this beauty." We spend a large majority of our time in and on the lake. If you are looking for a naturally beautiful and peaceful place, this is the place for your. Simple pleasures.
Brandi
2015-08-31T00:00:00Z
To second what I saw another reviewer post, this camp is not for someone looking for more than a camp. It is true to the 'step up from camping' description, and would not be for someone that is looking for pristine living quarters. The camp is fantastic and full of character, but where anyone staying here should truly be spending their time is down at the water and out on the lake! The majority of our time was spent playing water games out on the sandbar a short swim in front of the dock, and lounging in floaties in the wonderfully protected section of the lake. We saw lots of loons, herons, hawks, and fish, which is just what we were looking for. We would caution anyone in the water about the muscles and shells. There are lots of them in the lake (which is great for a healthy lake!) but they can slice your feet open if you are not careful. The path down to the water is very steep, so I would caution those with small children or those with disabilities, but the water is not far from the camp. We put my 12 foot kayak down there, and pulled it back up to the camp without too much effort. There is also a landing overlooking the water, slightly above the dock which I did yoga on, but could be just a great hangout spot as well. In the evening, we grilled and enjoyed the fire pit. It is a camp in the woods, so I would highly suggest citronella candles or table top tiki torches in combination with some bug spray to fully enjoy your evening bite free. The picnic tables were wonderful and spacious for food prep and eating, and you cannot beat the view out onto the lake. We loved our extended weekend getaway, and plan on returning for another weekend in the future!
Lindsey
2015-08-02T00:00:00Z
Andy was a great host, though we never met, he was available VIA phone and email readily. The cottage is rustic and cute. There are 2 beds in the front sunroom with beautiful view of the lake, its really nice to wake up there! The lake itself (when we were there) was really warm and clear and great for swimming, we also did make use of the boats which was fun. The location is private but not isolated (there are neighbors and its near the main road) and also not too far from Portland which we explored as well! We had a lovely weekend.
jenn
2014-07-28T00:00:00Z
I rent quite a few homes on (SENSITIVE CONTENTS HIDDEN), VRBO, Airbnb, etc. and Andy stood out as an unusually attentive host. I requested to rent his camp at about noon on the day of check-in, and he got right back to me and said yes. He checked in with me several times to see if I had everything I needed and to make sure I knew where to find things, and he was flexible about my departure time since he didn't have anyone checking in right away. I really appreciated his high level of service. For those who might be wondering about specifics on the boats (I was), there is a kayak, a paddle boat, a rowboat and a canoe. Great selection! I had a wonderful time paddling the kayak around this beautiful lake.
Anna
2015-09-23T00:00:00Z
Hey family and I (including our three-year-old daughter) had a great time here. The cabin is steps from a beautiful lake, and we loved waking up to the gorgeous view every morning. In addition to the lake, the cabin is located within a half hour of some of the most beautiful ocean beaches I have ever seen. Andy was so helpful in leaving us a welcome note on the table with some info about shopping, wifi, etc. When we couldn't find the paddles for the canoe he told us to just buy some and he refunded me the cost that night! So nice. The cabin is very well-represented by the photos that Andy has posted. It is rustic but very cute, totally comfortable and affordable. Loved it! Thank you Andy!
Jeffrey
2014-09-06T00:00:00Z
Andy was wonderful. He was available and very quick to answer emails and texts and texts. The cabin has a very cozy feel and it was exactly what I was looking for. It's a nice place to get away from it all over the weekend and just relax. There is an extensive VHS collection with an array of titles, if you want to get nostalgic, I know we took advantage of it. Our stay was great and although we had a small problem with the hot water in the showers, Andy was very attentive and did everything to get someone out to get the issue resolved. Andy even offered to comp another stay in order to make up for the trouble. I can't stress enough how attentive he was during our stay. I cannot recommend this host enough.
Franci
2015-05-31T00:00:00Z
Andy was a very sweet host. He stayed in touch right from the time of my inquiry, to locking in and throughout my stay. However, before I booked, I explained to Andy that I was looking for a getaway for just myself that offered peace, quiet, privacy and seclusion. This was extremely important to me. Andy assured me that his lakeside camp would be perfect for what I was looking for, therefore I booked it from Monday - Friday. From the time I arrived until I left, there was a screaming child and barking dog two cottages down from me. They also had a teenager/young man who rode his dirt bike joy riding back &forth past the house each morning and then again each afternoon for hours. Andy did offer my money back if I wanted to leave on the first day however, I just got there and wanted to give it a chance. By Wednesday it was so awful I cried, and Andy then called the Sheriff to place a complaint. He did express his apologies and stressed that the lake is usually quiet. By Thursday, the neighbor on the other side had visitors arrive and with 2 dogs and small children running around, both their large dogs jumping in the water and running through Andys camp and dock and on me!! Hence, I had enough! I packed up, left and went home and forfeited the rest of my stay. It was a horrible experience. I wasted a lot of money and left more stressed than when I arrived. I was so disappointed. If you're looking for peace and serenity, your rolling the dice on this one. There are obvious neighbors on this road so you don't know what you may be getting around you. I feel I was misled when I was told that there was one neighbor to the side of me thats far enough away. There are actually Eight cottages on that road. All close to each other. On a positive note...I do believe he meant well. The detached bathroom is quaint and comfortable. The hammock is wide and sturdy. The lake is very busy with fast boats and jet skis. However, if you stay to the side, you can really enjoy the Kayak Andy provides. The boat was nice but the oars are in desperate need of replacement as well as the mattress out in the porch; Very uncomfortable and you can feel the coils. I didn't cook or use anything indoors but the bed, dvd & cd player. But the electronics were in great condition. The inside is as Andy describes....Rustic. Nothing fancy nor new. However, the beauty of the water, jumping fish, hawks, loons, dragon flies and trees around you make it a great camping experience if that is what you are looking for; especially if privacy and quiet is not your goal. I would rent here again IF I was coming for "camp" and fun, NOT for Peace and Meditation.
Dawn
2015-08-07T00:00:00Z
Great place! I wanted to take my kids camping, but I didnt want the full commitment:) This was perfect! Our nights were spent around a fire, and our days were spent playing around the lake. The last day we decided to take a ride to old orchard beach which was only 45min away. We even stopped at Higgins beach on the way there and it was just beautiful! We felt we really experienced Maine.
Alyssa
2016-06-16T00:00:00Z
Room Type
Entire home/apt
---
Property Type
Cottage
---
Accommodates
6
---
Bedrooms
Shapleigh, ME, United States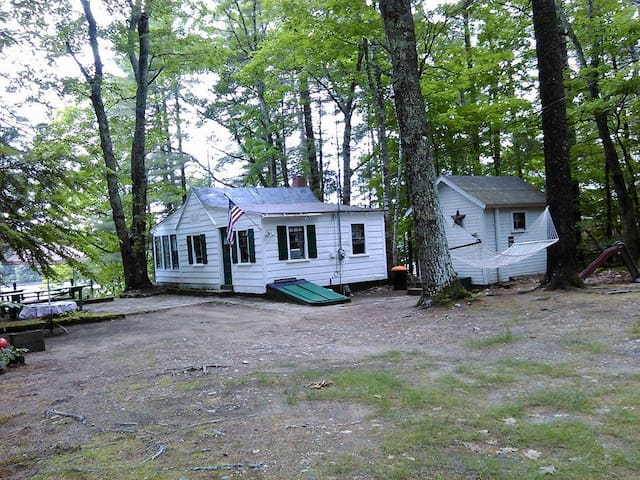 Enjoy the beauty and nature of Maine (and NH) from this beautiful log cabin on a quiet lake (kayaking, canoeing, fishing and ice skating) and steps from walking trails (+ X-country skiing and snow-shoeing). The perfect place to get away.
This is the perfect place to get away, decompress and spend quality time with friends and family. Everything that nature offers is just outside the door - canoeing, kayaking, fishing, snow shoeing, X-country skiing and hiking. Enjoy watching the stars from the hot tub at night. And the cabin is the perfect place to relax, play games (including air hockey and many board games) or just read a book or watch a movie. And, the kitchen has everything you need for the most exquisite meals. If you do want to get out, the house is also easily accessible to more "touristy" attractions in Maine and New Hampshire - most are no more than a 1-hour drive.
It's a very safe and quiet area. There are just a few houses around the cabin and we all know one another well.
We loved our stay in July 2015 so we came back again for July 2016! Jeff's home is wonderful and we are already planning for another trip back in 2017, assuming it will be available. Truly a gem.
Diane
2016-07-06T00:00:00Z
We stayed at the cabin 2 families adults and children (9 in total) for 5 days and had a great time. Jeff is a great host, arriving on the first day we found that the house was not cleaned (the cleaning crew didn't show up), we called Jeff who arrived personally as soon as he could and took care of it. The house it self is very large and fully quipped, there is plenty of room for a large group and the full bunk beds were a big hit with the kids in the group. The cabin is right on the lake and Jeff allows the use of his canoe and kayak as well as fishing gear and even had life vests for the kids on hand. We mad use of the fire pit as well as the jacuzzi and everyone had a blast.
Limor
2015-08-21T00:00:00Z
Beautiful home, has everything you need for your stay! Hosts quickly responded and were very accommodating. We had a wonderful time, rented a boat on the pond and took it out one day. We also just loved cooking in their amazing kitchen and playing yard games by the fire. And the hot tub was a great addition after getting rained out on our boat ride. It was truly a beautiful weekend.
Shanette
2016-07-25T00:00:00Z
We had a fantastic long weekend in this cabin in February 2015, and plan to return in the summer to try out the kayaking, swimming and hiking nearby! The location is as stunning as it looks in the pictures, on the end of a beautiful and wild lake with a forest across the other side. The hot tub is large and right by the house, but overlooks the lake - what luxury! The snowshoeing, X/C skiing and walking around the lakeside and across the lake was fantastic. The cabin itself is really nicely furnished, very spacious and well-kept and clean. We were 10 people, and we fitted comfortably (6 people in double bedrooms, 2 people in the double bunk bed room, and 2 people on the fold-out bed in the office and a bed in the basement). As well as a huge variety of kitchen equipment, there were great games equipment for the evenings or rainy days - board games, books, a Wii and an air hockey table. The house is easy to find and easy to reach from Boston. Although it is on a relatively quiet lake, it has neighbors nearby in case of problems! Jeff and Jane were always really helpful and responded extremely quickly to all our emails. After particularly cold winter, our (non-four-wheel drive) car did not get up the hill out of the house and had to be towed, and Jeff and Jane kindly offered us some compensation for this. [Small note: For large groups planning trips, it is worth noting that the bathrooms are only accessible through the office or through the double bunk bed room, so if there is someone sleeping in the office they may need to prepare to be disturbed in the night!] Overall - a really fantastic place, in a stunning location! We would thoroughly recommend it.
Anna
2015-02-16T00:00:00Z
The house was perfect for me and my friends this winter. Plenty of space, a well set up kitchen to cook in and that classic cabin feel. Because I planned the trip, I didn't feel bad taking the master bedroom sure which is enormous. Loved it. Would rent again.
Russell
2015-02-22T00:00:00Z
Had a great weekend at Jeff's cabin. The place and area was beautiful. Jeff was very friendly and easy to reach. Definitely would recommend this cabin to others!
hayley
2017-01-16T00:00:00Z
Staying at this house was great, the place was clean, cozy and big enough for all of us. There was 11 total. The neighborhood was quite and relaxing, and will be planning on going back again.
Emily
2016-08-08T00:00:00Z
Beautiful place, beautiful views !!! The perfect ending for 2015! There's always something to do and explore! the host was always very helpful and attentive and the house had everything that we needed. Ideal for a group of friends and family / adults / youngsters / kids!!!
Debora
2016-01-01T00:00:00Z
Room Type
Entire home/apt
---
Property Type
House
---
Accommodates
12
---
Bedrooms
Lebanon, ME, United States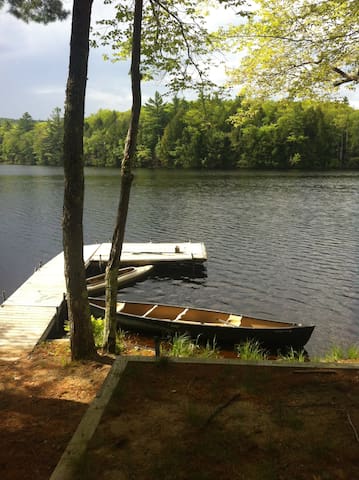 3 upstairs guest bedrooms, each w queen bed. There's a full bath for guests' use only. Goats, Shire horses,chickens, vegetable+flower gardens, hiking trails, inground pool, 35 min to ocean, 45 min to major city, 1.5 hr. to Boston.
We are an active farm, with animals and lots of beautiful land with trails to walk near to beaches, cities, fun things to do
Kathy was very warm, accommodating and laid-back. She runs a great place and loves showing off her animals and handmade products. She was making some goat cheese, but it wasn't ready for consumption until the day after we left, which was disappointing, but a good reason to go back in the summer when the farm is bustling with activity. We got the whole upstairs to ourselves with a private bathroom so we felt more comfortable and felt like we had our own space even though we didn't rent the entire house. She had Netflix and was always up for conversation. She prepares a yummy breakfast and makes you feel right at home. We'll be back for sure!
Jinny
2016-05-10T00:00:00Z
I would recommend a stay at Spiritwind Farm to anyone looking for a relaxed stay in the country. We spent a weekend at the farm to attend a nearby event and Kathy made us feel welcome and at home right away. She showed us around the farm; her animals include chickens and goats and a dog named Rue and two Shire horses. Breakfast was great and our room was lovely. I would stay here again.
Cindy
2015-07-26T00:00:00Z
It is hard to find the right words to describe how amazing and wonderful our entire stay was at Kathy's home. As a host and as a person, Kathy was so sweet and so attentive to our needs. She was very open to introducing her animals to us as well. My wife and I enjoyed petting the goats and watching Kathy masterfully milk the animals. This was such a unique experience beyond any regular hotel stay. The location was far away enough from Boston MA, but not that far (less than 2 hrs) so that we were able to be home the next day. It was also close to many other Maine cities that had amazing food. Kathy even made us a home made breakfast in the morning; and as a gift, she gave my wife and I two bars of soap that she makes and sells at farmer's markets. Kathy and her farm is an amazing experience that everyone should be so fortunate to do. The value of the stay and what you feel overall is a no brainer. Kathy, thank you so much for inviting Ivy and me into your lovely home. You and your home are amazing and we plan to return. You were so kind to us, and really appreciated your time. If/When you visit Kathy's farm, be sure to make a stop at Ogunquit Maine. They have so much good food there!
William
2016-07-04T00:00:00Z
The farm is absolutely lovely. Such a treat to mingle with goats and chickens and friendly dogs after a horse-drawn sleigh ride and a great night's sleep. The homemade breakfast was an extra nice touch!
Briana
2017-02-05T00:00:00Z
Kathy was an extremely friendly host. She even made us blueberry cobbler on our first night! The food was delicious,t he animals adorable.
Kathryn
2016-07-29T00:00:00Z
The stay at Spirit Wind farm was wonderful! Kathy was super hospitable, showing us around all the farm and the animals. She even let my son up close with the baby goats that were adorable for hours! We loved it and want to go back again. She is very down to earth, being friendly and kind. She is great with kids, teaching my son all about farming and the animals. she made us breakfast in the morning with her fresh eggs, goats milk and cheese. We picked squashes and vegtables in the garden and took a nice stroll around. She has 2 nice dogs (allergies beware if you are allergic) who are very welcoming as well. Overall wonderful stay and I look forward to going back! Ps--she also makes lovely soaps and creams from the goats milk--gotta try it! So nice:)
Michele
2016-10-09T00:00:00Z
We spent a short time at Spiritwind Farm with our two children. It's a quiet, paced environment and Kathy was down to earth and hospitable. We purposefully chose a farm that was small scale with the opportunity to engage with the animals, and this was the perfect environment for it. We were able to spend as much time interacting with the goats as we liked, which our kids certainly enjoyed. This is not the place to visit for people who would like to be entertained or continuously engaged; however, for people like us who are seeking a place to relax, it worked well. With children, the presence of a pool was a plus, and there is plenty of area for outdoor activities.
Ryan
2016-06-22T00:00:00Z
Kathy made us feel at home right away...but of course we were still on vacation! This is the best sort of feeling to have on a holiday getaway. We were in a quiet environment with lots of attractions for us and the kids. The farm animals were interesting and fun for all of us and the natural surroundings (field and forest) offered a sense of beauty. The swimming pool was great for our son--it was a nice bonus. Our room was big enough for us and the bathroom was very nice. Having our own entrance and section of the house was an additional option. We were able to have nice breakfasts with Kathy on the mornings and get to know her and her farm. The farm workers also interacted with us and the kids and provided more insight on the farm and the area. Travelling to Wells beach or Ogunquit was easy and Kathy gave us advice on routes and times. We were allowed to park two cars where we wanted and come and have access to the whole house and grounds whenever we wanted. Overall, this was a wonderful vacation for us and the kids. We'd like to plan a return trip in the years to come! Adam, Marzena, Mati and Dalia
Adam
2016-07-07T00:00:00Z
Room Type
Private room
---
Property Type
Bed & Breakfast
---
Accommodates
6
---
Bedrooms
Lebanon, ME, United States
This home is an amazing authentic log cabin with lodge decor and breathtaking views of a beautiful quiet lake. It's Alpine style features large windows, a stone fireplace, a magnificent great room with dining area, bar and kitchen and a loft with two bunk rooms. Every season offers opportunities for a relaxing getaway whether it's swimming or kayaking, hiking or snowshoeing. Bruce and I are your bnb hosts. We live in our own quarters with a private entrance and never intrude on your getaway.
We will be at home in our own living space. We are there if you need assistance or information but otherwise seek to be invisible! You will have access to a well- equipped kitchen, the great room with fireplace, dining room with a classic cabin appropriate table and a bar with 8 bar stools. There are two beautifully appointed bedrooms upstairs on the loft that overlook the great room and the lake - the best view in the house! Also upstairs is a bathroom with a small shower stall. The home is decorated in grand fashion to truly capture the essence of log cabin living. There is also a half bath on the first floor with laundry facilities. In warmer months you can enjoy the outdoor deck with picnic table that seats 12, the gas grill, two kayaks, a canoe, two paddleboards, an antique rowboat, and the dock. Year round enjoy the pool table downstairs and the outdoor firepit. Optional extras are yoga classes taught by a certified instructor, paddleboard instruction, paddleboard yoga classes, and also a sunset cruise on a 12 person party boat with champagne and hors d'oeuvres. Enjoy the haunting sounds of the loons during the summer months, the beauty of autumn colors on the lake, an enchanting Christmas season or snow falling in winter. Year round there is something for everyone but always a warm, cozy getaway retreat.
This is a lake community where most residents (85%) are seasonal. We chose to retire here and live here year round enjoying the beauty of all the seasons. The log cabin is on a town-maintained dirt road and walking around the lake (just over 4 miles) is a common pastime. The lake has excellent fishing and motor craft are permitted. The lake is rarely busy even on the 4th of July weekend. There is a public launch but it is not heavily trafficked.
Our family of 4 had a most delightful six day vacation at the log cabin. We arrived to a warm welcome from our hosts and delicious refreshments that they provided. What a nice surprise after our drive north! The cabin is clean, quiet, cozy and inviting with an unbelievable view of the lake. We were pleased that all linens, towels, life jackets etc. were included in the stay. The hosts are a wonderful friendly couple. They will engage you if you would like and are not at all intrusive. If you have never tried paddle board yoga this would be the time to try. Susan is patient and an excellent yoga instructor, and her energy is impressive and inspirational. We enjoyed the paddle board yoga, sunset cruise, kayaking, use of the row boat and all that the property had to offer. Bruce was an excellent captain on the cruise and provided interesting history of the lake. Susan provided dessert and wine. If you have any questions about booking, DON'T! You will love it. We wholeheartedly recommend the home and the hosts! Thank you Susan and Bruce for a wonderful vacation! Michele and Dan
Michele
2016-08-07T00:00:00Z
How can anyone resist being greeted with yummy cookies upon arrival! Everything is exactly the way it's described and Susan is a gracious host who thinks of everything. She makes sure we are comfortable, and very prompt in her reply. The lake house is gorgeous and cozy, prefect spot for a R&R get away. Thanks Susan and Bruce for such a great get away for us!
Jess
2016-11-14T00:00:00Z
Susan's cabin was amazing! We had a nice relaxing winter weekend away. I would definitely visit again, no matter the season. Susan and her husband were very inviting and accommodating and we had absolutely everything we needed for our say. Great place!
Lindsey
2017-03-05T00:00:00Z
Our stay at Susan's cabin was truly a quintessential lake experience! The campfire, pontoon boat ride, kayaks, canoe and SUP board as well as other assorted lake toys all contributed to a terrific time had by all. Susan provided every amenity imaginable and was a helpful and friendly hostess.
Patricia
2016-08-24T00:00:00Z
This was my first airbnb experience and let me just say any other rental I consider in the future will have a lot to live up to. Everything was above and beyond what I expected. I looked into this house as a birthday trip getaway for my sisters birthday weekend. There were five of us, (my sister and I, her two best friends and her boyfriend) who made the trip from NYC to Maine and when were arrived we were in awe of the beauty. The decor was everything you would expect of a nice lake cabin. Susan and Bruce greeted us with fresh cookies, milk and champagne really making us feel welcome and at home. Susan then proceeded to give us a tour of the home so we would know where everything was. We started in the kitchen, dining room and living open area. The kitchen was very spacious plenty of room for cooking, eating around the kitchen island and storing food for the week. The dining area had been set with settings for our us (we had chose not to disturb because it was so beautiful). The living space had a television beautiful fireplace which was set up for us every night, and ample seating space. The ceilings were high and the decor was very rustic definitely what we were looking for trying to get away from the city. The view of the lake from inside was amazing to wake up to every morning. Our bedrooms were right upstairs on the loft and the beds were very comfortable. We did have access to two bathroom, one including a shower. The shower is quite small, so might be trouble for the bigger built types but it did its purpose. We had the perfect weather and a bunch of us used the paddle boards and kayaks to enjoy the lake, while some took advantage of the 5 mile walk around the lake-it was gorgeous. Honestly we had an amazing time and would definitely consider coming back. We were skeptical about sharing the home and feeling like we were intruding but it was not weird at all, Susan and Bruce live in their own area, but at the same time were always there for when we needed them. One night Susan even joined us for a game of Banana Grams and even offered to bake us an apple pie with ice cream but we had to politely decline as we didn't want to stray too far from our fitness lifestyles. It was comforting knowing people were there in case we needed them-being from NY isolation can be scary, so we loved it! We would have to say this house and the owners were perfect and we would definitely book another stay here! My sister had the best 21st birthday and a big thank you goes to Susan and Bruce for providing such hospitality.
Michele
2016-10-18T00:00:00Z
My husband and I thoroughly enjoyed our long weekend at Susan and Bruce's lake house! The location really can't be beat. The house is comfy, clean and cozy, and the lake is just amazing. The water was warm enough that we swam every day, even when it was cool and rainy. We started off each relaxing morning with coffee and breakfast on the porch, overlooking the lake. During the day, we took full advantage of the paddle boards on hand, which was great fun. In the evenings, after eating dinner at some of the recommended restaurants, we would lounge on Susan and Bruce's comfy leather couches for some Netflix. Communication with Susan was quick and easy, she and Bruce were even kind enough to allow us to bring along our 6-month old puppy, who also had a great time! We definitely recommend this place to all :)
Bryndis
2016-08-15T00:00:00Z
Wow!! Where to begin, from the second we walked in the door we knew we had chosen the perfect place!! From the fresh baked apple pie that Susan baked for us to the fall decor that enriched the atomsphere. We begin the evening with a wonderful sunset cruise on the beautiful private lake that the house overlooked (thanks Capt. Bruce). Susan provided a wonderful cheese and cracker spread accompanied with mojitos and champagne that we enjoyed as we sat upon the "glasslike" mirror lake. The home was filled with all essential amenities including comfortable beds, towels, a beautifully set table, family room, not to mention a fire that Susan built for us as we settled in for the evening. Each morning as we awoke, coffee was setup and waiting for us. We also had all the essential materials to make and enjoy our own homemade breakfast. I surprised my parents with this destination and they were more than thrilled that we were able to find a destination that felt so much like home. If you are looking for a place that feels just like home, do not overlook the hidden gem on Peacock Rd. Thanks for everything Susan and Bruce!! Cheers and Happiness Kyle, Mom, & Dad
Kyle
2016-10-13T00:00:00Z
We just spent 3 days at this delightful cabin & just loved it; the setting was perfect! We were a large party, 4 adults & 4 teenagers but there was plenty of space for us all, & lots to do. We enjoyed walking/running around the lake each morning, hanging out on the hammocks or sun loungers, paddle-boarding & using the row boat & kayaks. The teens were able to make use of the pool table & play games & cards in the basement while we could find quiet spots to read or just sit & take in the scenery. We all enjoyed watching the 2 black labs Wilson & Chester chase their balls & jump into the lake! It was wonderful to listen to the haunting sounds of the loons & the crackle of the fire at night, while toasting our marshmallows! Susan & Bruce are the perfect hosts. I had lots of questions before booking our getaway & Susan was very accommodating. She made us very welcome upon our arrival with drinks & snacks before showing us around her well decorated & comfortable home. Even when Susan & Bruce were home they were there if we needed them but did not intrude on our family time. We would highly recommend the sunset cruise on their new party boat. We all enjoyed drinks while touring the lake & watching the sunset, & Susan had made a delicious blueberry pie & ice-cream upon our return. If you want to make wonderful memories, this is the place to stay- thank you again Susan & Bruce!!
Sarah
2016-07-21T00:00:00Z
Room Type
Entire home/apt
---
Property Type
House
---
Accommodates
6
---
Bedrooms
Acton, ME, United States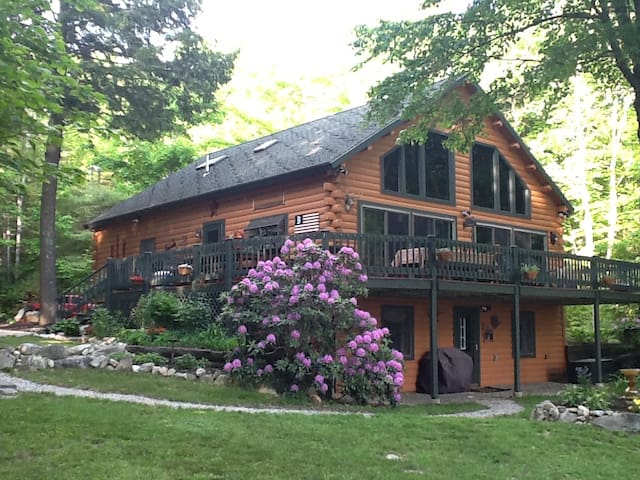 My place has great views, it is quiet, and peaceful. This house is your perfect relaxing getaway. You will be close to many attractions in southern Maine, but just far enough away to enjoy the peace and quiet. My place is good for couples, solo adventurers, small families, and furry friends (pets). It is a waterfront property, and we do have a paddle boat available for use. It is best suited for smaller parties, being only 500 sq. feet. You do have to bring your sheets and towels with you.
This is a smaller cabin that was designed in a very smart way. The upstairs is a loft. There is a separate bedroom, with no door, and an open loft area with 2 beds in it. Downstairs is very open. There is a full kitchen with coffee pot, blender, pots, and pans for your use. Including a lobster pot. Glasses, dishes, etc are all available at the house. There is one bathroom, it is a nice size. We do run off a small well and a septic system. We do ask you use caution with the septic system. There is a small porch on the front of the house with a gas grill for your use. Around the back there is a large porch and steps that lead down to our dock. The dock is out of the water October - end of April. There is a paddle boat that you may use at your own risk, and an outdoor fire pit, please use this with caution. We do have a dog runner off the side of the house for your furry friend. We do of course ask you pick up after your fur babies. There stairs in the house are a winding staircase, if you struggle with steps, this may not be the house for you. We do ask you leave the house in a similar condition you found it in. We do always have a cleaner come in just to do a follow up cleaning, but we try and leave everything perfect for your stay!
Attractions & Activities: Approximate Travel Time Old Orchard Beach (OOB): 45 minutes • Just off the I-95 north bound, you will follow the signs right to OOB. • OOB is known for their beach boardwalk, Pier Fries, and an amusement park. • They have lots of events throughout the season. They have Mini Golf, Kayak/Canoe Rentals, and some hiking trails. York's Wild Kingdom: 50 minutes • Located at 1 Animal Park Road, York, ME 03909 • A family oriented zoo and amusement park. • (URL HIDDEN) Funtown Splashtown USA: 40 minutes • 774 Portland Rd, Saco, ME 04072 • (URL HIDDEN) • Amusement and water park☺ Aquaboggan: 45 minutes • 980 Portland Rd, Saco, ME 04072 • (URL HIDDEN) • Maine's Original Waterpark located near OOB. Seeing the Six Lighthouses: Time Required: 2 hours Instructions are in the house:) Portland Museum of Art: 55 minutes • Seven Congress Square Portland, ME, 04101 • (URL HIDDEN) Balloons over New England: Kennebunk • (URL HIDDEN) • Hot Air Balloon Rides Saco river Canoe & Kayak: Just over an hour • (URL HIDDEN) • 1009 Main St. Fryeburg, ME 04037 Scarborough Downs: 45 minutes • (URL HIDDEN) • Live Horse Racing Southworth Planetarium: 55 minutes • 70 Falmouth St. Portland ME, 04103 • Phone: ((PHONE NUMBER HIDDEN) • (URL HIDDEN) Children's Museum of Maine: 55 minutes • 142 Free St. Portland, ME 04101 • Phone: ((PHONE NUMBER HIDDEN) • (URL HIDDEN) Victorian Mansion Tour: Portland: 55 minutes • 109 Danforth St. Portland, ME 04101 • Phone: ((PHONE NUMBER HIDDEN) • (URL HIDDEN) • A true piece of history built between 1858 and 1860. The Beaches: • Crescent Beach State Park, Cape Elizabeth: 1 hour • Long Sands Beach, York: 55 minutes • Ogunquit Beach, Ogunqiut: 45 minutes • Laudholm Beach, Wells: 40 Minutes • Goose Rocks Beach, Kennebunkport: 55 minutes • Old Orchard Beach, Old Orchard: 50 minutes • Scarborough Beach State Park, Scarborough: 55 minutes Ogunquit Playhouse: 45 Minutes • 10 Main Street (Rte 1), Ogunquit, ME 03907 • Phone: ((PHONE NUMBER HIDDEN) • (URL HIDDEN) Whale watching or deep sea fishing tours: • The Bunny Clark: Perkins Cove, Ogunquit ME: 40 minutes o Deep Sea fishing: Reservations recommended: ((PHONE NUMBER HIDDEN) • Morning Flight Charters: Portland, ME: About an hour o Off shore fishing for stripers, Cod, Haddock, Shark, and "Football" Tuna. o 1⁄2 day and Full day charters o Phone: ((PHONE NUMBER HIDDEN) • Odyssey Whale Watching: Portland ME: About an hour o Offer Whale watching, 1⁄2 day fishing trips, & 2 hour Mackerel fishing trips o (URL HIDDEN) o Phone: ((PHONE NUMBER HIDDEN) • First Chance What Watch & Scenic Lobster Cruises: Kennebunk, ME: 45 minutes o (URL HIDDEN) o Phone: ((PHONE NUMBER HIDDEN) Antiquing: • Maine Antique Trail Route 1: (URL HIDDEN) Coastal-Route1-Region Restaurant Recommendations: Willy's Ale Room: 1060 Maine Route 109, Acton, ME 04001 • ((PHONE NUMBER HIDDEN) Publick House: 481 Main St, Springvale, ME • ((PHONE NUMBER HIDDEN) Ted's Fried Clams: 227 Emery Mills Rd, Shapleigh, ME 04076 • They leave their number unlisted" Maine is filled with AMAZING food. We are massive foodies, if you love food I would encourage you to venture out!!
Room Type
Entire home/apt
---
Property Type
Cottage
---
Accommodates
5
---
Bedrooms
Acton, ME, United States
My place is close to great views. My place is good for solo adventurers and business travelers.
Nice clean room in great country home.
Dan
2017-03-11T00:00:00Z
Taryn was an exceptional host. Communication prior to my arrival was clear and accurate and her hospitality warm and inviting; she even greeted me my first night with a meal. Her home was charming, and the location nicely secluded without being far removed from major towns. A wonderful experience all around.
Cole
2017-04-04T00:00:00Z
Taryn was a wonderfully gracious host. She was very responsive regarding my check-in time and even prepared a scrumptious dinner for me! Anyone who stays here would agree that there's a kind warmth to her. Her house has all the charm of an inviting rustic country cabin. She even has a horse out back! The bedroom met my basic needs - a twin bed to rest my head on for a night. Taryn - thank you for opening up your home to me!
Andrea
2017-02-20T00:00:00Z
Room Type
Private room
---
Property Type
House
---
Accommodates
1
---
Bedrooms
Berwick, ME, United States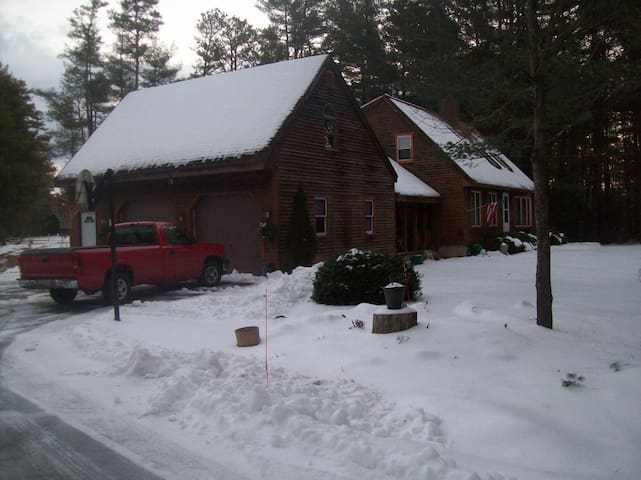 This place is a place I will be renting to go out and relax and talk about the community only charging $10 for who ever wants to come and get lit .
Room Type
Entire home/apt
---
Property Type
Earth House
---
Accommodates
16
---
Bedrooms
Boston, MA, United States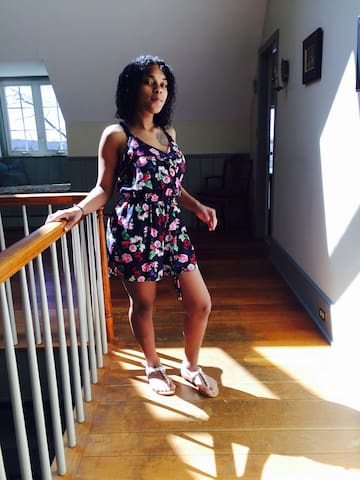 Enjoy a knotty-pine cottage on Bauneg Beg Lake - minutes from Wells Beach, the shops & restaurants of Ogunquit & nearby Kittery. Cottage sits on a level lot with sandy beach amidst the pine trees. Equipped with paddle boat and row boat. Gas grill and outside eating as well.
It's a beautiful pine tree lot with no backyard neighbor and full sandy beachfront. The lake is swim able, fish able and boat able. No need to travel once you arrive just relax and enjoy Maine living.
The cottage sets in a cove with three other houses with your own beachfront.
Bill's cabin is fantastic place to stay! Very quiet, and very well maintained!
Richard
2016-09-13T00:00:00Z
We had a delightful time at the cabin. The setting was peaceful and beautiful and the cabin was perfectly set up for our family. We loved swimming on the lake and driving to Wells for the ocean.
Francesca
2015-08-22T00:00:00Z
We were there in late June, which is, in our experience, the last chance before the crowds descend starting with July 4. The houses are really close, so when your neighbors are in, you'll hear them, but the lake itself was pretty quiet -- only the occasional jet ski or motor boat. Our girls had a grand time playing on the beach and peddling the peddle boat. It was a very kid-friendly space. 15-30 minute drives to the coastal towns, 10 minutes from grocery shopping, 15 from South Berwick with Hamilton House and a state park. The house was immaculate, and actually had two pull-out couches. Bill met us at check-in and -out and was very welcoming.
Jeffrey
2016-07-01T00:00:00Z
My husband and our friends stayed here for a week. We loved it! It's quiet and relaxing, but still close to plenty of activities. There was also plenty of space for everyone. Exactly what a Maine cabin should be.
Cassie
2016-08-14T00:00:00Z
Bill communicated with us several times when we ran into reservation problems and acted to make it work in the end. He was always available when we had questions.
Judy
2016-08-28T00:00:00Z
Bill was a great host. He made everything very easy. The cottage was perfect for my family. It was very clean, great views of the lake and provided us access to many great port towns along the coast.
Michele
2016-07-16T00:00:00Z
This cabin is great! Easily sleeps our family of 6, with room to spare! Several beds, two pull out couches, and a chair were all great! The kitchen worked great and provided much ease for breakfasts and dinners. The bathroom was clean and worked well. The interior of this cabin is nicer than most homes! I love the pine interior. The paddle boat and row boat were great touches for an amazing private beach. I can not say enough great things about this place. I have recommended it to several of my friends, family, and coworkers. Thank you so much!
andrew
2016-06-22T00:00:00Z
Room Type
Entire home/apt
---
Property Type
House
---
Accommodates
6
---
Bedrooms
North Berwick, ME, United States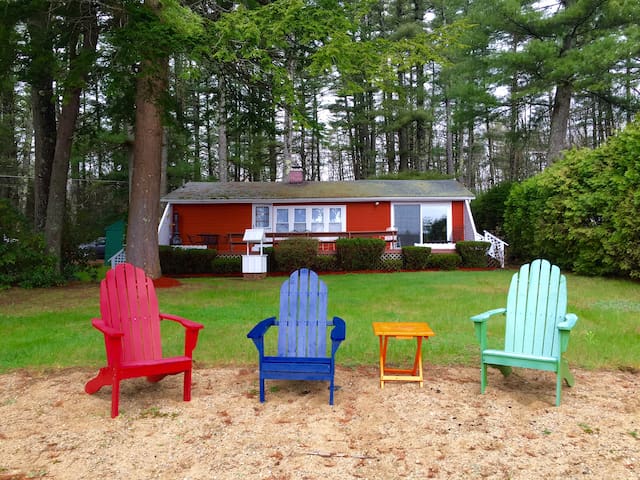 Welcome to our cozy lake house located on Baxter Lake in Farmington, NH. Our house is a great place to spend a week with the family boating, swimming, fishing, snowmobiling, ice fishing, ice skating, skiing, cross-country skiing, or hiking!
• Private 300 Acre Lake centrally located for your enjoyment • Fully furnished completely renovated 2 bedroom four season home with large deck overlooking lake with garage • Sleeps six comfortably • Across the street from one of three association beaches and boat ramp • Swimming raft • Enjoy boating, swimming, fishing, snowmobiling, ice fishing, ice skating, cross country skiing
There is so much to do nearby! Local attractions include(URL HIDDEN)Alton Bay – Lake Winnipesaukee • Mount Washington Cruises • York Beach • Water Country • Gunstock Ski Area • Mount Major • Blue Job Mountain • Farmington Country Club • Great snowmobile trails • Lee Speedway • Rochester Opera House • Many local restaurants A listing and brochures of all the local attractions and restaurants are available at the house. We are also close to the following stores for all your essentials: • Hannaford's • Market Basket • Home Depot • Lowe's • Frisbee Memorial Hospital
Sue and Ron were wonderful hosts! We texted back and the day of arrival, we were a little late getting there. They were out too so I told them it wasn't too late so come on over.They gave us a warm welcome and showed us a few things around the house we should know.Everything was the way it's described online. Everyone we met in the neighborhood was very nice, even other renters we met! The 2 kayaks provided were used every day, thanks Sue and Ron! ,the lake is clean and clear!Awesome fire pit,too! I hope we get the chance to stay there again, but this time the Harley's going with us! I'll let Ron show me around on his!
Michael
2016-08-07T00:00:00Z
Ron and Sue were amazing and the house was perfect - right across the street from a private lake. The house itself has updated features throughout and was very clean when we arrived. Sue and Ron allowed us to bring our yellow lab, and I think she had more fun than anyone; there is a dog beach just a one minute walk down the street where we brought her everyday to swim and play with the other dogs and people there. The house itself is in a nice little private community and a lot of the residents know each other, so there was always this sense of neighborly camaraderie. We did a lot of grilling and kayaking (there is a gas grill and two kayaks at the house) and ventured out into the town of Farmington where there are surprisingly some really cool things to do (check out Hilltop Fun Center). Sue and Ron were super accommodating and made us feel right at home since day one. Sue and Ron, thank you so much for being such great hosts, we really needed a little getaway and you guys nailed it. Alex
Alex
2015-08-23T00:00:00Z
Sue and Ron were amazing hosts and very helpfull. We felt at home long before arrival and once there we had everything we needed. The house was a perfect space for a holiday and close to lots of awesome things to do. We spent full days snowboarding, antique hunting and relaxing by a fire. It was quiet and private and a great expierience all round. Thanks again you two. :) I am trying to give a 5 star rating but the app seems to default to a 1 star (air B&B please adjust this for Sue and Ron) My rating is 5 regardless of what the app says.
Nancy
2015-01-03T00:00:00Z
Cute place, exactly as advertised. The house is in a friendly neighborhood and right across the street from the lake. Sue and Ron were great about communication and very welcoming and eager to help. Kayaking was great. It's an easy trip to places like Portsmouth, Portland, and local hiking areas.
Mary
2015-05-24T00:00:00Z
This is an exceptional experience for me. My hosts Sue&Ron are very very nice and friendly people. The community are friendly and the environment is stunning. If I got another chance to come back to the area. I will for sure stay in their house again. If you are looking for a quiet,refreshing,lakeside,place with tons of stars in the night. This is it! Amazing and thank you!
longtao
2016-12-23T00:00:00Z
Wonderful time. The cottage was perfect. The hosts were there to great us and were very gracious. Went out of their way to print out golf course info for us. Six ladies stayed there with no issues. The lake was spectacular! Can't wait to rebook again with another couple sometime.
JoAnn
2016-08-21T00:00:00Z
Sue and Ron were great hosts, accommodating and excellent communication. The house was as described, beautiful and clean in a nice quiet neighborhood. I hope to stay again in the future and get some use of the lake and kayaks.
Heather
2016-05-19T00:00:00Z
We had a great time at Baxter lake. The house we rented was perfect and as described. For several nights, we fit six people (three couples) comfortably. The area was very accessible from Boston and it had many local conveniences including a grocery store, Dunkin' Donuts, and a great local ice cream shop down the road. Sue and Ron were terrific hosts, offering recommendations on the area and were helpful when we had a few questions. The lake was beautiful and perfect for kayaking and swimming. It was a beautiful place to spend the Fourth of July. We're hoping to come back again next year!
Courtney
2015-07-09T00:00:00Z
Room Type
Entire home/apt
---
Property Type
House
---
Accommodates
6
---
Bedrooms
Farmington, NH, United States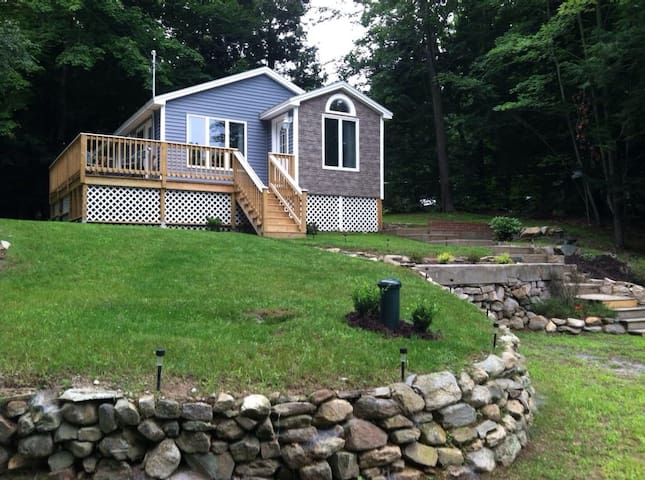 Come and enjoy our sun filled cottage and sandy beach directly on Loon Pond. This is a beautiful younger cottage with an open kitchen/living area, a great screened in porch overlooking the lake, and a separate deck.
towels and sheets are not provided
Room Type
Entire home/apt
---
Property Type
Holiday home
---
Accommodates
7
---
Bedrooms
Acton, ME, United States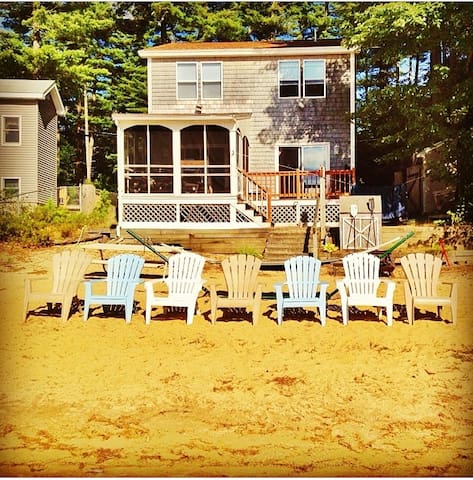 South of Portland Maine, on a quiet rural road, is a private, relaxing, peaceful & charming 1 bedroom apartment with queen bed, private bath (with washer & dryer) kitchen/eating area, Living room/common area, Cable TV, WiFi, & deck area with grill available and a large backyard. To Portland or Kennebunk is approx. 20 miles. Ideal for single or couple (approximately 12 miles inland off of Route 95.) Restaurants, shopping and movie theatre close by in Sanford.
This special Maine private apartment, built in 2006 is attached to our 200 year old home. The exterior purposely looks like a barn, but the interior is furnished with a living room with Hearthstone propane stove; Cable TV; WiFi; kitchen with bar seating; private bath with large shower and W/D; separate bedroom with queen bed and decent closet space; all linens included. For your comfort, this space fits a single or a couple, maximum. Sorry no pets. Great spot for relaxing and exploring. We have a large deck with grill for sharing and a large backyard with chairs for relaxing. A good spot for a business traveler with an easy commute into Portland, or a great temporary set up for any executive relocating to the Southern Maine area while looking for a new home. We do provide some breakfast foods and beverages to get you going for the day. There is always a sweet treat for you on arrival and the snack might be home-baked (time permitting).
Our home/apartment is located on 4 acres off a very quiet dead-end street in the historic town of Alfred, Maine, in York County. There is only neighborly traffic and sounds. It is a peaceful spot and lends itself to relaxing, walking, reading or sitting and observing nature. Approximately 30 minutes from Kennebunkport and ocean adventures, or the City of Portland, now known as a foodie town. Try a Maine Foodie Tour around Portland, the Portland Museum of Art, or just strolling around the Old Port.
Susan and her husband greeted as upon our arrival and instantly made us feel right at home. Susan is such a thoughtful host, with breakfast items and other treats awaiting us. :-) We felt so lucky to have found these peaceful retreat for our Maine Marathon weekend. Best part - it was only 5 minutes from the YMCA where the event was being held! As cute as the pictures are, the place was even better than we had expected. A definite gem!
Kelly
2015-08-25T00:00:00Z
We stayed with Susan and Ralph during our visit to Maine and we are really glad that we made this decision. Such a beautiful house, private, cozy and perfectly done up. It's tucked away in a nice quiet neighbourhood, yet it was just a short drive away to some of the well known beaches & Portland. We felt very much at ease, like we were at home. The pantry was stocked up with breakfast goodies, and her coconut cake was absolutely delicious! Susan & Ralph were handy with suggestions on things to do, and very friendly - just really fun, nice people! They made our stay very welcoming, and we would gladly live with them again. One of our most comfortable stays to date.. Thank you Susan & Ralph for being such kind and exceptional hosts!
Namrata
2014-08-05T00:00:00Z
Nestled in the woods, the place is lovely. Clean, comfortable, and central (for Alfred), we really enjoyed our stay there. Susan was a fantastic host, and we could not have asked for a more positive experience.
Wayne
2015-11-02T00:00:00Z
This being our first trip to Maine and using airbnb, we didn't know what to expect. Susan and Ralph may have set the bar so high, it may have ruined any possible return to stay anywhere else. All new, modern amenities in a rustic setting, and close to everything we wanted to do. We were greeted by Susan who was well prepared to answer any questions and had thought of things we hadn't. From the local whoopie pies, the well stocked kitchen, the comfortable bed and the entertaining hummingbirds right outside the door, everything was a delight. Their home is less then 25 minutes to Kennebunkport, Cape Elizabeth and Portland - all easy drives to sightsee - and then return to the peace and quiet of the quaint town of Alfred. But on our next trip we might just stay in our new home away from home.
frederick
2015-07-04T00:00:00Z
This is a true gem! It is spotless and the hosts are fantastic. If you want a great place to stay in Maine this is it. There were goodies left for me and beverages, even good coffee. This was my first experience with Airbnb and I must say I was not disappointed. I would book this place in a second.
Heidi
2016-04-25T00:00:00Z
Susan and her husband were so welcoming and warm to us-- we were greeted with some sweets and a quick introduction into the space. The space itself was positively immaculate-- completely dust-free & all surfaces shiny and clean. The bed was comfy and the bedroom was stylishly appointed. Any toiletry that you forgot was provided. The refrigerator was even stocked with breakfast goodies and refreshments. We ate breakfast on the back porch both mornings and enjoyed all the hummingbirds flitting about. We loved this space and wish our own home were this lovely!
Emily
2016-07-27T00:00:00Z
My sister and I stayed at Susan's apartment while visiting Portland. The house is beautiful with a quaint feel. We had our own private room and bath, with a kitchen stocked with goodies and delicious Maine blueberries. Susan greeted us kindly and gave us good recommendations for our visit to Portland, which is only about a 30-40 minute drive from their place. We're very glad we had the chance to meet Susan and stay at her place for our weekend trip to Portland! This turned out to be the right choice for us compared to other options and it had been a fiasco trying to book a different place for our first airbnb experience. We were happy at how smoothly the trip turned out, with Susan being so accommodating with check in and check out and the use of their apartment! Thank you for a great first airbnb stay!
Sarah
2014-08-18T00:00:00Z
Great place, quiet,super clean, lots of goodies. The house had everything we needed and more. Susan and Ralph made us feel just like at home. Around 30 minutes from the ocean. This place is great.
Odile
2015-08-22T00:00:00Z
Room Type
Entire home/apt
---
Property Type
Flat
---
Accommodates
2
---
Bedrooms
Alfred, ME, United States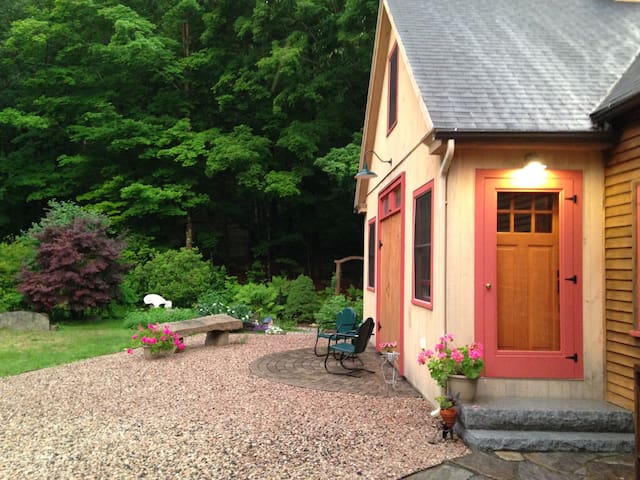 The house is 15 minutes from the beach, a little over an hour to the White Mountains, and quick trips to Portland and Boston. We have spectacular views, great restaurants and family-friendly activities nearby. Swimming and boating with dock space is available right at the house. The house sits only 45 feet from the lakes edge, is cozy and has great sunsets. It is good for couples, solo adventurers, business travelers, families (with kids), and furry friends (we prefer dogs only).
Like visiting family on the lake, we really enjoyed our stay. The host was responsive and helpful, kind and informative. The cabin on the lake is rustic like camping but with all the amenities and convenience of a house. Peaceful and comfortable, it was a great week away.
Emily
2016-08-08T00:00:00Z
Room Type
Entire home/apt
---
Property Type
Flat
---
Accommodates
6
---
Bedrooms
Sanford, ME, United States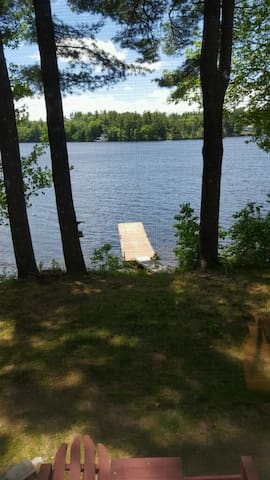 2-story home in Somersworth NH. Private location but still only 20 min from Portsmouth NH. 3BR but can sleep up to 16 ppl (i.e. bunk beds, futons, couches, air mattresses etc). Finished basement w/bar. and 139" theater. Very large outdoor deck w/8 person hottub. Kitchen w/granite countertops; second dedicated barroom for relaxing. 6ft tiled walk-in shower. Large backyard w/games. Koi pond. Woods and walking paths. Covered patio off from basement for additional activities.
Great location for large, private gatherings. Perfect for bachelor and bachelorette parties. Private location (with 5 acres of woods) and a vast outdoor space for lawn games, BBQs, volleyball, horseshoes, cornhole, lounging in hammock, pitching a tent, enjoying a campfire, etc. Paths have been created through the woods with clearing and fountain. There is also a large koi pond and mini-waterfall on the property for quiet reflection. Note: there are 3 private bedrooms and 2 sets of bunkbeds - so a total of 10 people can sleep in a bed. Additional guests can use sofas, futons, and air mattresses to sleep (which I can provide). Plenty of towels, bedding, pots/pans for cooking. Additional needs/questions? Just ask. NB: There are the following animals on premise (neither need any care or attention): * 2 ferrets (cage in garage) * fishtank in dining room
Quiet, private location. Home is tucked away from from any main neighborhoods, so it is reserved. Typically you can be as loud as you want without issue (within reason). But I do have a neighbor around 800 feet away so please be courteous of he and his family after 1am (i.e. turn down the music so it's not cranking full volume). NH MEALS AND RENTALS LICENSE NO: 061846
Great place to stay for a group gathering - awesome backyard, grill, hot tub, and fire pit. Sean was super accommodating, and the neighborhood was quiet and nice. Sean also has an amazing sound system in the house. Would definitely go back!
A.J.
2014-09-13T00:00:00Z
We rented Sean's home for the weekend and had a fishing charter out of Kittery ME on Saturday. The house was spacious and Sean was very accommodating. He also communicated regularly via cell and the Airbnb app. We got some great use out of the yard and fire pit, which Sean had stocked with wood and plenty of outdoor activities. He also provided plenty of blankets and air mattresses. Overall very happy with the accommodations and Sean throughout.
Matthew
2014-07-29T00:00:00Z
Thanks to let us live in your house, It was perfect for our 2 family (4 adults and 5 kids). The kids like the gaming room, the badminton and the vast outdoor space. The outdoor deck is very safe. The hottub is perfect for the parent to relax when the kids are sleeping. The house is perfectly located near (least 30 minutes) of a full of family activities (beach, zoo, amusement park, water park. shopping). Sean was very friendly. We had a great summer vacation in his house.
Jean-Francois
2014-08-02T00:00:00Z
We stayed at Sean's house for my Bachelorette weekend and there were 10 of us girls. Overall, the house was sufficient with plenty of nice amenities, with enough room and bedding for all 10 of us girls. The hot tub was a great treat, but not great lighting in that area if you're planning on going in the evening. In regards to the decor, I'll quote another user who noted the decor was an "experience." Something you just have to see for yourself! Lastly, Sean is very attentive and communicates quickly whenever I had a question.
Laya
2016-08-08T00:00:00Z
Had an awesome time again. New shower was unreal. Seans house never disappoints
Jake
2015-05-17T00:00:00Z
Sean's house was great! It was a perfect setting for a large group. We went for a girls weekend in Aug 2015 and we had a wonderful time. Sean was a very responsive host and even while he was on vacation he answered any questions we had on the house. He has done a wonderful job with the house and the grounds. I would totally go back again!
Melissa
2015-08-09T00:00:00Z
I stayed at Sean's place for a weekend with 7 other friends and had an awesome time! The house is awesome: huge deck, hot tub, fire pit, lots of outdoor space, etc. Sean was a great host, checking in to make sure we had everything we needed each day of our stay. During the time of our stay, the basement was being renovated, which meant fewer beds than originally expected. However, Sean was quick to solve the situation through setting up additional mattresses/air mattresses throughout the house. Overall, a great house and even better host.
Logan
2016-06-20T00:00:00Z
Sean Dempsey - he's a great host. We arrived there and he greeted us and went over some things about how to work the sound system, the nearest liquor store, the closest beaches, etc. This trip was an awesome experience for my friends and I; one of the greatest trips we've had - and there's a big thanks that needs to go to Sean for letting us stay at his place. Some things that were just awesome about the house - the outdoor jacuzzi was key. We had stayed for a couple days during pretty warm weather but scattered thunderstorms. Jumping in the hot tub in the rain with a cooler full of beers with all of your friends was awesome. Did I mention? Sean also left us a cooler full of beers from the last group that stayed. So naturally, we payed it forward with a 10 lb bag of pancake mix, more than 30 beers, and half a bottle of fireball. All in all, I would definitely stay here again. The price can be a little steep with his cleaning fee, but if you get a group of 10 people or so, you're not looking a huge amount of money per person. The location is alright in the small town, but it's half an hour away from everything - the beach, hiking trails, Maine lobsters, Boston. But really, you don't need to leave - the piece of land is 3 acres with plenty of woods to explore and things to do. Sean pretty much provided everything we needed for our stay - but we came with $300 worth of food and ended up leaving more than half of it for the next group. If you're looking for a nice house you can enjoy a weekend with some good company, this is definitely where you want to be. Thanks again, Sean!
Bryan
2014-07-05T00:00:00Z
Room Type
Entire home/apt
---
Property Type
House
---
Accommodates
16
---
Bedrooms
Somersworth, NH, United States
Great for singles, or couples of all genders, from all walks of life. We are 45 minutes south of Portland; 25 minutes north of Portsmouth; 12 miles due west—as the crow flies—from York Maine beaches, 10 min from Dover, NH & Spittin' distance from Rollinsford. Off the beaten path on 13 acres. This 14' X 14' cottage is rustic, featuring a dry "Loveable Loo" toilet. (Beats going to an outhouse at night.) 50 feet away in the main house is a shower and a flush toilet available for guests to use.
What makes this space unique is that we are at the delightful end of a gravel road surrounded by trees and field. Except for the occasional train that rumbles through, or flies by, depending on whether it's the Downeaster, or a freight train, It's a pretty quiet area. If you're trying to finish writing that book, or are an artist working on a painting, want to do en plein air, or just want some serenity away from the hustle and bustle, this place is certainly quiet enough to hear yourself think. You may even catch a glimpse of a colorful rose breasted grosbeak, or hear the laughter of a Pileated woodpecker. Occasionally a doe and her fawn may walk through to feed on apple drops from the small orchard behind the cottage. The back field is tenting friendly, and great for stargazing.
We are just a mile outside of South Berwick where there are 3 local restaurants; Thistle Pig; Isidore On the Rocks, and Fogarty's. There are also a few fast food establishments, Dunkin Donuts; Aroma Joe's; Subway; take out Chinese food; as well as a small market, Natures Way, in town center that sells a little bit of everything. South Berwick House of Pizza has eat in, take out, or delivers.
Room Type
Private room
---
Property Type
Guesthouse
---
Accommodates
2
---
Bedrooms
Berwick, ME, United States
Enter dates to see full pricing. Additional fees apply. Taxes may be added.