Contemporary house in the countryside. Free access to terrace and garden. Tea and coffe corner at the kitchen's bar. You will enjoy a peaceful home with large open spaces, the splendid view and the light. One double room, two rooms with bunk beds, perfect for couples, alone travellers and families (+ kids). Liège, Namur, Bruxelles, Hasselt, Leuven within less than 45 min drive). Price/room/night, reduced price for the booking of 2 to 3 rooms.
House situated at the heart of Hesbaye, in a quiet village. Ideal for long walks or bike rides. Ideally located to discover Belgium, several cities within less than 45 minutes drive (Brussels, Liège, Namur, Leuven, Hasselt, ...).
What an awesome place to stay. Karelle is very open and enthousiastic. She made is feel welcome from the moment we arrived and respecten our privacy same time. Beautiful house and a chance to feel child again!
Dennis
2016-08-27T00:00:00Z
Karelle nous a très bien reçu avec le sourire et grande disponibilité, sa maison est situé un petit village de campagne , très calme. La maison est très lumineuse et très propre. L'hôtesse nous a montré notre chambre, et donnez toutes les explications requises. Nous étions proches de la destination qui nous intéressait et facile d'accès par les renseignements donnés par l'hôtesse de maison. La chambre est spacieuse ainsi que la salle de bain , la literie impeccable et très propre et le grand lit est super. Le petit déjeuner que nous avions demandé était bien fourni et nous avons eu un bon contact avec Karelle. C'était une première réservation AirBnb pour nous, nous adorons ce concept et je le conseille vivement à mes amis ainsi qu'aux voyageurs d'un jour .
Brigitte Brijou
2016-10-30T00:00:00Z
Alles was prima
Mira
2016-12-31T00:00:00Z
Très belle maison, lumineuse, agréable et très propre ! Karelle est super. Nous recommandons vivement ce Airbnb !!
Elsa
2017-01-01T00:00:00Z
Room Type
Private room
---
Property Type
House
---
Accommodates
6
---
Bedrooms
Hannut, Wallonie, Belgium
The former workshop of the station was recently renovated and transformed into a spacious loft flat with a surface of 80m², so that it can comfortably accommodate up to five people
Refurbished to a stylish loft on two floors you can even find some of the authentic decoration of the old times when it was still a train station. Your hosts will put effort into making all aspects of your stay enjoyable in this comfortable and charming location! On the ground floor level, there is a modern and fully equipped kitchen with a cooker, an oven, a fridge with freezer, a dishwasher and all needed cooking and eating utilities. A cosy lounge is arranged on a split level and offers the opportunity to watch TV or DVD, to listen to music via CD-player or to make use of the wireless internet connection, if you bring your laptop. Under this split level you'll find enough space for a wardrobe and a storage (washing machine and dryer). The first floor consists of the two major bedrooms, each with a double size bed. These two adjoining rooms can be separated by a sliding door. Climbing up a short ladder, under the rooftop, you will reach a small and cosy gallery where two children or one adult may sleep as well. Luggage can be stowed away in a big and a smaller cupboard. The very modern bathroom has a shower, a wellness bathtub, a sink and a toilet. Towels and a hairdryer are to your disposal. The former platform of the train station, where travellers got on and off the train, serves as a private terrace of the holiday flat, inviting to have a nice BBQ, placed at your disposal. Feel also free to discover the generous garden! Lots of helpful information, brochures as well as maps, locating the regional biking and walking itineraries, are located for you in the loft, so just enjoy your free time! The price for the loft depends the nights you will be our guests: 3 nights: 350 euro (or 117 euro each night) 4 nights: 395 euro (or 99 euro each night) 5 nights: 440 euro (or 88 euro each night) 6 nights: 485 euro (or 81 euro each night) 7 nights: 520 euro (or 74 euro each night)
Excellent stay, great location. The kids loved the station and the rails + cycling activities. The place was very clean and spacious. Thanks again.
Jean-Marc
2016-05-30T00:00:00Z
The apartment is modern and complete. There are toys for children, everything is very clean and organized, the host ordered and also picked up food for us (we don't speak French). It was very nice! Jo is very strict to rules and Hilde is one of the most kind person I've ever seen. I think such mix makes everything works very well.
Ricardo
2015-02-15T00:00:00Z
Jo and Hilde have an amazing place in the middle of the country side of Belgium. It is the most lovely house made from an old train station. Fully serviced with every detail. The scenery in the morning was amazing and Jo was very friendly and helpful, provided us with everything we needed. Completely recommend this place and will stay there next time
Luis
2015-12-19T00:00:00Z
Wow. What a fabulous place, owned by fabulous people. We were made to feel extremely welcome - given a tour of the place, even fresh herbs from the garden to spruce up our carb loading supper! Highly highly recommend staying with Jo and Hilde in their beautiful train station!
Suzi
2015-09-09T00:00:00Z
I stayed here with a group of 6 (which last minute was expanded to a group of 7), and Jo & Hilde were very accommodating. The apartment is exactly like in the pictures; modern, clean, quiet, and the property is absolutely stunning. Unfortunately we did not get the chance to relax on the property that much as we were fully booked with a wedding. I will definitely try to come back again one day, and then armed with a bicycle and a good book!
Laura
2015-07-05T00:00:00Z
We rented the old Racour Train Station for one night to celebrate my boyfriend's birthday with his children who live nearby. The space was very neat and exactly as in the pictures. The communication with Jo and Hilde was really good and they were super friendly. The house is equipped with literally anything you need, from a cable extension to a tumble dryer, umbrella, washing machine, stereo, baby bed- and chair. We broke a plate and they were very friendly about it! I would certainly come back here.
Janine
2016-01-29T00:00:00Z
Train stay was amazing experience! So much thought, love and passion has been put to Jo's project. Detailing of the entire train was mind blowing and Jo and hilde were very friendly, approachable and generous! Checked on us and provided bicycles for us to cycle around his garden (which was huge!) Its a home on a train! *thumbs up!*
Celeste
2015-03-17T00:00:00Z
It was a special experience to stay in an old station in Begium. Jo & Hilde are very nice hosts and the place is wonderful. There is huge backyard with an old train and a small swing on the tree. We enjoyed the scenary around the house and had a great vacation. Very silent, peaceful, nature-oriented, and also fancy interior inside. I would like to recommend this place and definately want to visit again.
Hyun C
2014-10-17T00:00:00Z
Room Type
Entire home/apt
---
Property Type
House
---
Accommodates
5
---
Bedrooms
Landen, Flanders, Belgium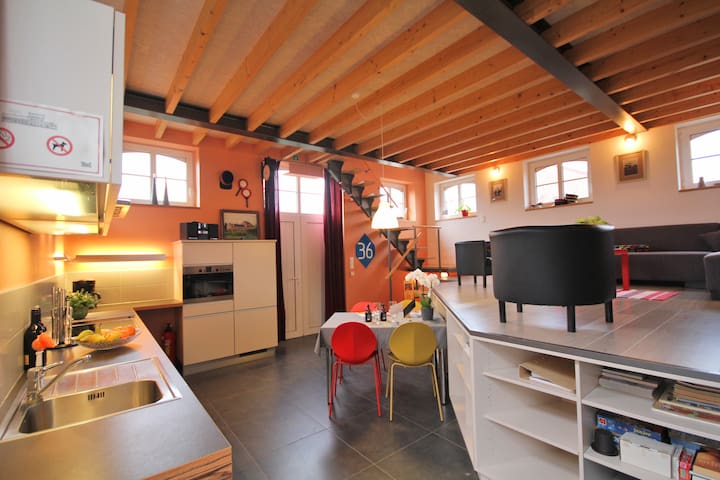 Ik woon vlakbij het centrum met leuke restaurants en gezinsvriendelijke activiteiten en achter mijn huis vertrekt het fietsroutenetwerk, langswaar je prachtige tochten kan maken door het mooie Haspengouw.. Je zult genieten van deze gezellige woning met veel licht. Mijn ruimte is geschikt voor stellen, solo-avonturiers en gezinnen (met kinderen).
Very nice and calm house. The bed is very confortable.
Audrey
2016-09-26T00:00:00Z
We really enjoyed our stay at Miets house. It is located in a quiet neighbourhood, easy to find. The house was clean and comfortable. Miet was very helpful with all our questions and overall a friendly hostess. Highly recommended :)
Maja
2016-07-30T00:00:00Z
Miet's place is value for money -- the prices were generally quite high in the area and this was a cheap alternative. The communication was excellent and the check-in, check-out very flexible. The house is large, comfortable and quiet in a residential area. The second bedroom is a kid's room in the attic and the two children single beds are quite small for two adults. Cleanliness can be improved (compared with other Airbnb places I've visited) -- this is a typical place that is inhabited by the owner and hence some dust and small things here and there are evident.
Akis
2017-02-27T00:00:00Z
The host canceled this reservation 10 days before arrival. This is an automated posting.
Carmen
2016-07-03T00:00:00Z
Modern, cozy house with all amenities in a very quit neighborhood. Excellent value for money.
Luc
2016-08-02T00:00:00Z
Vlotte communicatie, net en leuk huisje, aangenaam verblijf.
Lisabeth
2017-04-09T00:00:00Z
Mooi huis met tuin in een rustige buurt. Van alle gemakken voorzien. De communicatie met Miet was uitstekend. Prima uitvalsbasis voor een bezoek aan de omgeving.
Madeleine
2017-03-31T00:00:00Z
Prima geslapen bij Miet. Ze kon er zelf niet zijn en heeft gezorgd dat ik toch soepel binnen kon komen en weer weggaan. Ik kwam laat aan en ging al weer vroeg weg. Dus meer dan geslapen heb ik er ook niet.
Monie
2016-11-07T00:00:00Z
Room Type
Entire home/apt
---
Property Type
House
---
Accommodates
4
---
Bedrooms
Sint-Truiden, Vlaanderen, Belgium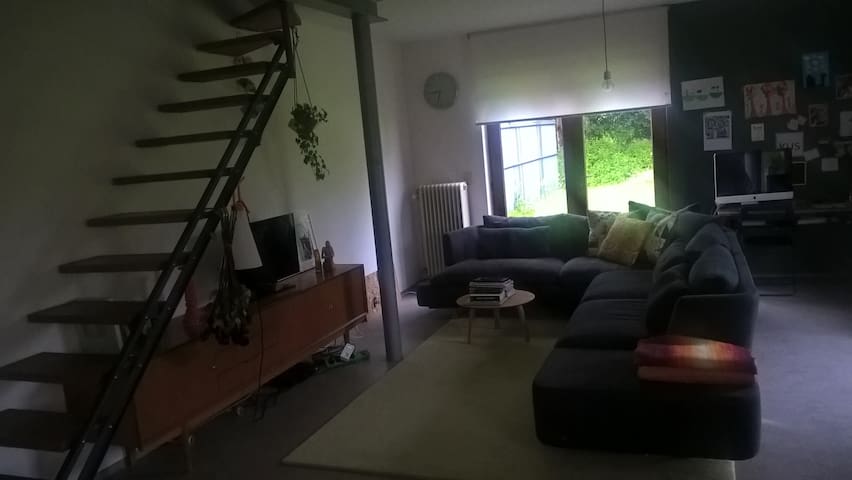 Ons vakantiehuis is gelegen in Berloz (Corswarem), het hartje van de Haspengouwse fruitstreek, die bekend staat om zijn glooiend landschap, kastelen en fruitbomen. In de nabije omgeving vinden we Sint-Truiden; Hasselt, de hoofdstad van de smaak en Tongeren, de oudste stad van België. Fietsliefhebbers hebben onmiddelijke aansluiting op het Euregio fiets-en mountainbike netwerk. Voor de fietsers die houden van een klimuitdaging ligt de muur van Hoei op 25 km afstand.
Room Type
Entire home/apt
---
Property Type
House
---
Accommodates
2
---
Bedrooms
Berloz, Wallonie, Belgium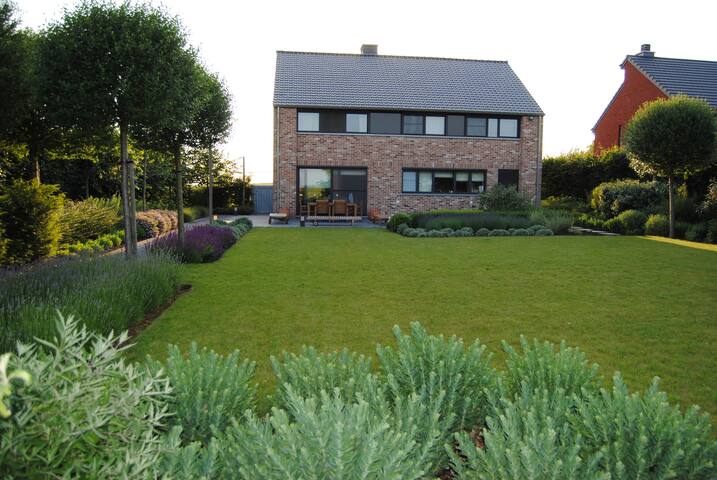 Onze charmante vakantiewoning in art-decostijl is het voorhuis van een oude vierkantshoeve van 1649, met gebruik van tuin en natuurzwembad en met oude boomgaard in het zuiden van Limburg, op 10' Sint-Truiden, 20'Tongeren/Hasselt en 30' Maastricht
Our holiday home is part of a farmhouse with a big garden and terrace and natural swimming pool. The holiday home itself has no direct access to the garden only by fence next to the house. We are not always living here so you often have this domain all for yourselve! But in any case, we will always give you a warm welcome and are always at your disposal! Sheets and towels are not provided but can be asked for. No washing machine and hair dryer provided. Washing facilities in Sint-Truiden! 1 bedroom with 1 double bed of 1.40 by 2.00 m. 1 bedroom with 2 single beds of 90 by 2.00 m
Rustige straat aan eind van dorp.
We had a nice time in this old restored farm house/apartment with a gorgeous garden with a pool. The apartment was clean and well equiped and the host Niko was very friendly and helpful.
Anita Esther
2016-09-14T00:00:00Z
Niko was a welcoming host who met us upon arrival. The house is amazing! It's an old farm house that has been beautifully renovated but still has a lot of charm. We traveled with our dog who had plenty of space to run around in the fields that are walking distance from the house and who felt comfortable in the quiet neighborhood. St Truiden is a stone's throw away and has everything you could need (restaurants, grocery stores, shops, etc.) It was a great stay!
Livia
2015-12-26T00:00:00Z
A lovely house close to the old city Tongeren. We received a warm welcome. If you do not mind sharing the garden then for sure you will enjoy this place.
Jenny
2015-05-17T00:00:00Z
We were welcomed by the friendly owners. They were flexible upon arrival time. It's a wonderful home with a great garden. Unfortunately it was still quite cold and we couldn't enjoy it too much. We noticed the heating inside didn't always work well. Maybe because the sensor is in the other side of the house? We thought it was a pithy some basic things like toiletpaper, sheets, towels and product to do the dishes by hand weren't provided. Nonetheless we had a great time and slept very well. We went for a bikeride one day and the area is also really lovely.
Tine
2016-04-25T00:00:00Z
Fabulous stay in a wonderfully renovated old house between Sint-Truiden and Tongeren. Our host Niko and her family are very friendly and extremely welcoming. We are a family with two children and the home and gardens were fantastic. The house is beautifully decorated in an Art Deco style, the bathroom is stunning and both bedrooms are of a good size and very light and airy. The kitchen dining room has a small kitchen area but again is really well equipped and the lounge is extremely relaxing, each evening we watched dvds with the curtains left open as the road is so quiet. The garden to the back of the property is stunning and wonderful for kids to play hide and seek and for checking the local wildlife. The family sheep in the paddock are extremely friendly and the kids loved giving them bread daily, which they took from their hands! We were also able to pick fresh fruit each day from the fruit orchard. The natural swimming pond was just the icing on the cake, it was enjoyed by all the family each day and we had lots of fun chasing the fish around the pond! The house is perfectly positioned to enable you to visit some great cities and towns each day, it is also close enough to the borders of Germany and Holland to country hop; we visited Cologne, Maastricht, Liege, Namur and Belgium's capital city Brussels as well as the local towns of Sint Truiden and the amazing street market in Tongeren. Lots of waffles and ice creams were consumed and the street café cultural has to be seen to be believed! Finally…… Niko and your wonderful family; thank you so very much for opening your home for others to enjoy, we have had the most wonderful family holiday and can't wait to return… Dank U!
Simone
2015-08-19T00:00:00Z
We hebben een hele fijne tijd gehad. Na een gastvrije ontvangst kregen we van Niko, de vrouw des huizes, een uitgebreide rondleiding door het huis en de tuin. Alles was groter dan we hadden verwacht. Het huis, een onderdeel van een grote vierkantshoeve, heeft veel charme en we voelde ons direct thuis. De tuin overtrof alles: een wilde bloementuin met een natuurzwembad en daarachter lagen nog weiden met fruitbomen en schapen. We konden in de tuin wandelen, zitten en doen alsof we thuis waren. We hebben genoten van ons verlengde weekend. Zowel van ons verblijf in dit bijzondere huis, maar ook van de prachtige streek. Het stelt gerust dat er in eigen land nog zulke mooie rustgevende plekjes bestaan én je hoeft er geen kilometers voor te rijden.
Johanna
2016-05-24T00:00:00Z
Het is een prettig en voornamelijk groot verblijf! Het natuurzwembad is fascinerend aangelegd en heerlijk. Picknicken tussen de schapen in de achtertuin is een grote aanrader. We hebben heerlijk ontspannen, dank voor de rust, vrijheid en flexibiliteit.
Siegfried
2016-09-04T00:00:00Z
Niko nous a très bien accueillies , à l'heure qui nous arrangeait le mieux , et en mettant à notre disposition tous les produits d'entretien et de confort indispensables ( sac poubelle , produit vaisselle , papier toilette ...) . Nous avons eu du mal à trouver le logement à cause du manque de précision de AirBnB : le numéro de la rue n'était pas indiqué alors que Niko nous a dit l'avoir signalé car elle avait déjà eu des Anglais perdus !
Anne
2015-10-30T00:00:00Z
Room Type
Entire home/apt
---
Property Type
House
---
Accommodates
4
---
Bedrooms
Sint-Truiden, Vlaanderen, Belgium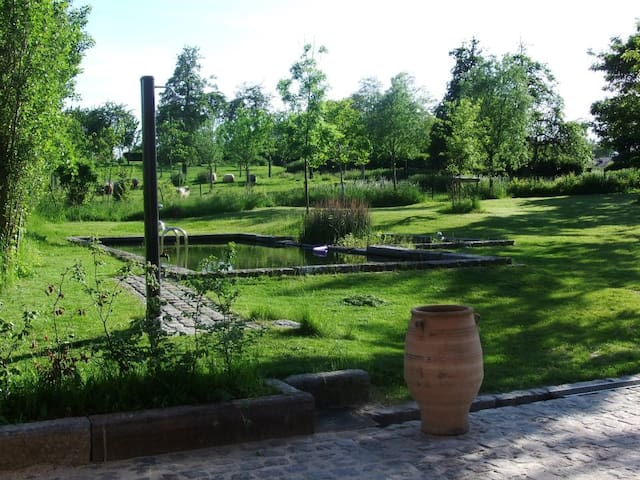 Spacious apartment with 3 bedrooms in a former farm , located in the peaceful Boekhout parish, nearby Sint-Truiden & Tongeren, in the middle of the Haspengouw fruit region. It has a large garden and its own terrace with a view of the orchards.
zeer ruime woning (110m2) :hal, toilet, woonkamer, keuken, 3 slaapkamers, badkamer
veel steden relatief dichtbij : Tongeren :10 km ; Sint-Truiden :5km ; Brussel:60 km ; Leuven:40km ; Maastricht:50km
Nice stay at this place! Cosy and well equipped house. Els was a great host. Communication was without problems and she had no problem to prolong our stay. Recommended!
Leona
2015-12-23T00:00:00Z
We hebben een leuk verblijf gehad in het ruime, nette vakantiehuis. Een bezoek gebracht aan de wekelijkse antiekmarkt in Tongeren en aan Namen. Heerlijk gewandeld in de prachtige omgeving van het huis. We mochten ook gebruik maken van de prachtige, ruime tuin. Het was heel fijn dat Els flexibel was met de uitchecktijd, waardoor de laatste dag rustig af konden sluiten.
Mariëlle
2016-05-17T00:00:00Z
Wij waren hier vanwege werk. Maar het is een prima locatie en een mooi huis. Zeker een aanrader!
Manon
2017-01-27T00:00:00Z
Zeer aangename vakantiewoning in een prachtige omgeving. De verhuurders zijn gemoedelijke, vriendelijke mensen. Onze 3 kindjes hebben genoten van de mooie tuin!
Cindy
2016-11-07T00:00:00Z
We genoten van een zeer verzorgd verblijf in Sint-Truiden! Dit was de eerste keer dat we een verblijf boekten via airbnb en het is ons zeker bevallen! Bij aankomst bleek het huis veel ruimer dan verwacht. Alles was ook netjes en proper. Achter de woning is een prachtige tuin, waar we door ons drukke prograama zelf niet echt van hebben kunnen genieten. De hertjes tegenover de voordeur waren een leuke extra. Dit verblijf is zeker een aanrader!
Riet
2015-12-31T00:00:00Z
Een heerlijke vakantie gehad met veel rust en ruimte! Geweldige, warme en hartelijke ontvangst en erg genoten van hoe onze jongens hebben kunnen spelen met de kinderen van Peter en Els. Dank voor het meedenken voor activiteiten, het gebruik van de tuin en zwembadje en de lekkere kersen!
Maarten
2016-07-22T00:00:00Z
Wij hadden een zeer aangenaam verblijf in de vakantiewoning. De ontvangst was hartelijk en de communicatie op voorhand verliep ook vlot. De grote tuin met buitenspeelgoed maken de woning ideaal voor gezinnen met jonge kinderen.
Bert
2016-07-25T00:00:00Z
Godne polecenia miejsce dla kogoś kto szuka spokojnego wypoczynku lub osoby na wyjeździe służbowym. Tomek
Tomasz
2017-03-31T00:00:00Z
Room Type
Entire home/apt
---
Property Type
House
---
Accommodates
7
---
Bedrooms
Sint-Truiden, Flanders, Belgium
Dans un quartier résidentiel et proche des commerces, je propose une chambre avec une salle de douche indépendante. Les draps vous seront fournis, ainsi que les serviettes. Vous aurez accès au WiFi. La maison se situe à 5 min de l'autoroute de Liège
Chambre avec un lit 1m60 avec nouveau matelas et avec salle de douches indépendante. Les draps vous seront fournis, ainsi que les serviettes. Wifi disponible. Dans un quartier résidentiel proches des commerce. Situé à 5 mn de l'autoroute Liège Bruxelles, 30 minutes de Liège et 30 minutes de Namur. Le calme et la tranquillité. Votre arrivée se fait à partir de 17h00 et départ à 07h00. Le tabac est interdit dans toute la maison. Si vous souhaitez fumer, la terrasse couverte vous le permet. Il faut vous déchausser avant de monter à l'étage. Si vous utilisez la cuisine, merci de la remettre dans l'état dans lequel vous l'avez trouvée. Merci de ne rien jeter dans les wc hormis le papier wc ;-).
Very very nice stay. Room was clean and comfortable with private bath. Home was located on a nice quiet street not far from city center. William was a wonderful host and was very helpful with sightseeing and traveling suggestions.
Marsha
2016-08-27T00:00:00Z
Airbnb as it should be.
Alain
2016-09-05T00:00:00Z
The host canceled this reservation 26 days before arrival. This is an automated posting.
Jean-Luc
2015-12-05T00:00:00Z
Really friendly host.
laetitia
2016-03-04T00:00:00Z
Willian est très accueillant et très serviable . Nous vous recommandons vivement d y passer quelques jours
steeve
2017-02-25T00:00:00Z
Très propre endroit. Chaussons, serviettes, café, thé et eau à disposition. Nous n'avons pas rencontré William, mais son amie, très gentille, était tout le temps là au cas où. Nous avions la salle de douche avec toilette et fer à repasser. La chambre était grande et propre. Lit confortable. C'était comme à la maison.
Christophe
2016-09-25T00:00:00Z
William nous a accueillies très gentiment le soir de notre arrivée. La chambre est simple était parfaite pour nous donner un point de chute pour dormir confortablement et nous permettre de visiter la région. La maison est située dans un quartier calme mais très proche du centre de Hannut, avec de nombreux magasins tout proches.
Marie-Chantal
2016-06-26T00:00:00Z
William est un hôte prévenant et très sympathique. Le logement est calme, très agréable et propre.
celine
2016-08-08T00:00:00Z
Room Type
Private room
---
Property Type
House
---
Accommodates
2
---
Bedrooms
Hannut, Région wallonne, Belgium
Gezellige slpk in onderste verdieping van gerenoveerd huis. Gelegen aan de stadsrand van Sint-Truiden,Limburg. Fruitstreek en fietsparadijs bij uitstek.Parking voor de deur en station te voet op 5 min.
Host was really enjoyable, interested, helpful and accommodating. Breakfast was lovely, he offered a lot of options, we only had a sandwich and he served really good coffee!
Monika
2016-10-01T00:00:00Z
Great host if you need a bed in St Truiden!
Will
2017-03-05T00:00:00Z
Prima plek voor sleep and go
Tijs
2017-04-02T00:00:00Z
Oke kamer, prijs-kwaliteit een beetje duur, communicatie en aankomst verliepen zeer vlot.
Thomas
2017-04-11T00:00:00Z
Bijzondere hartelijke ontvangst gehad bij Jean Luc. We felt very Welcome!
Jan-Willem
2016-08-25T00:00:00Z
Een bescheiden maar correct aangeboden ruimte van een vriendelijke gastheer. Jean-Luc is vlot bereikbaar, zeer flexibel om mee af te spreken, en gastvrij. Kamer is (zoals te zien op de foto) aan de straatkant, dus oordopjes kunnen van pas komen als je een slechte slaper bent.
Peter
2016-10-06T00:00:00Z
accueillant et volonét de nous accueillir chez lui (café coca ) disponible sans etre envahissant parfait
cauhape
2016-12-30T00:00:00Z
Gebruik het tijdens een stage periode bij een bedrijf in Sint-Truiden, eenvoudig, proper maar perfect voor wat ik nodig heb.
Maarten
2016-10-19T00:00:00Z
Room Type
Private room
---
Property Type
House
---
Accommodates
2
---
Bedrooms
Sint-Truiden, Vlaanderen, Belgium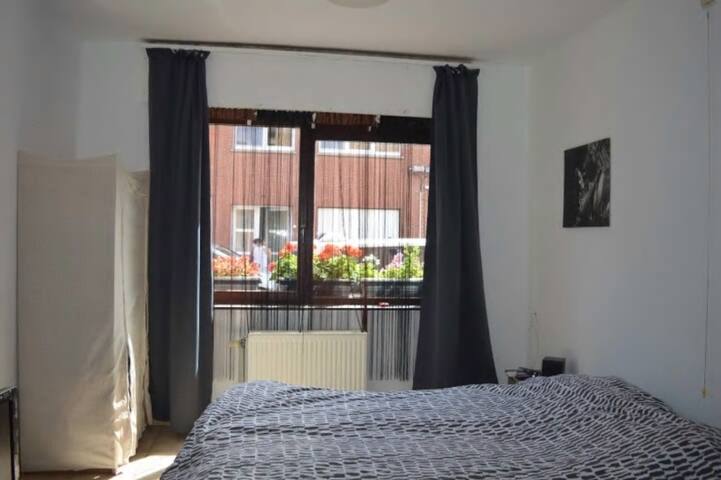 We 've been living in Helecine, Walloon Brabant, in this house for 16 years. We love our village because many activities in the castle every week end, the nature is nice and the people are always ready to welcome visitors.
House with all modern comfort ( wi fi, television, computer, ... )
Nice, quiet , near big cities ( around one half hour drive from Brussels, Liege, Namur )
The host canceled this reservation 4 days before arrival. This is an automated posting.
Aurélien
2016-10-19T00:00:00Z
Nous recommandons ce lieu. Atmosphère familiale et champêtre. Hôte très accueillante. Animaux pittoresques et sympathiques. Bravo
Jean
2017-03-23T00:00:00Z
Excellent accueil de Sabine, bonne présentation des lieux et bons conseils, Sabine est très ouverte et facilité les échanges, elle est au petits soins pour les hôtes et a une très bonnes connaissance de l'environnement touristique, la maison est très agréable, bien chauffée et on s'y sent bien.
Brigitte
2016-12-22T00:00:00Z
het was een prima en gezellig verblijf bij Sabine. Ze doet er alles aan je thuis te laten voelen bij haar. Bijzonder prettig dat je aan kan schuiven aan tafel!
Mirjam
2016-12-07T00:00:00Z
Room Type
Private room
---
Property Type
House
---
Accommodates
3
---
Bedrooms
Hélécine, Région wallonne, Belgium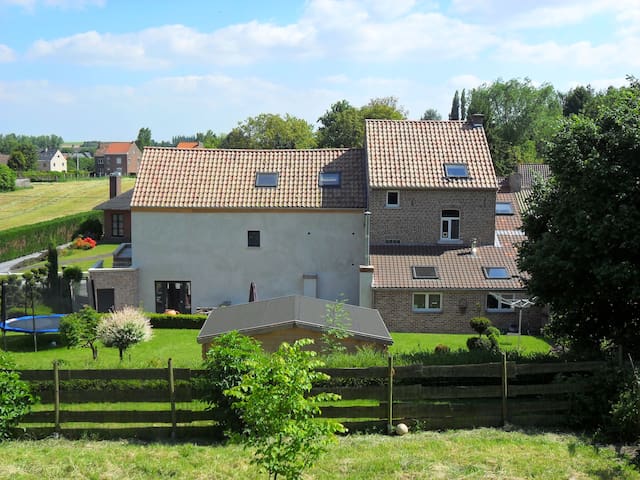 Dit ruime vakantiehuis, voorzien van alle comfort, situeert zich in het Limburgse Haspengouw. Sportievelingen komen hier aan hun trekken, maar de streek nodigt ook uit tot leuke uitstapjes. En waarom eens geen Vespa tochtje maken of een ballonvaart!
Het huis is zeer ruim en voorzien van alle comfort. Er zijn ook twee kinderbedjes en stoeltjes aanwezig. Buiten is een groot terras + partytent. Beneden is een fitnessruimte maar ook voor jongere kinderen is er een voetbalspel, air hockeytafel,...
In de buurt zelf (Gingelom, Landen,...) is er een bakker, slager, ijssalon, tankstation, broodjeszaak, frituur, restaurant, diverse groot warenhuizen,...
The host canceled this reservation the day before arrival. This is an automated posting.
Ron
2016-06-03T00:00:00Z
Room Type
Entire home/apt
---
Property Type
House
---
Accommodates
10
---
Bedrooms
Gingelom, Vlaanderen, Belgium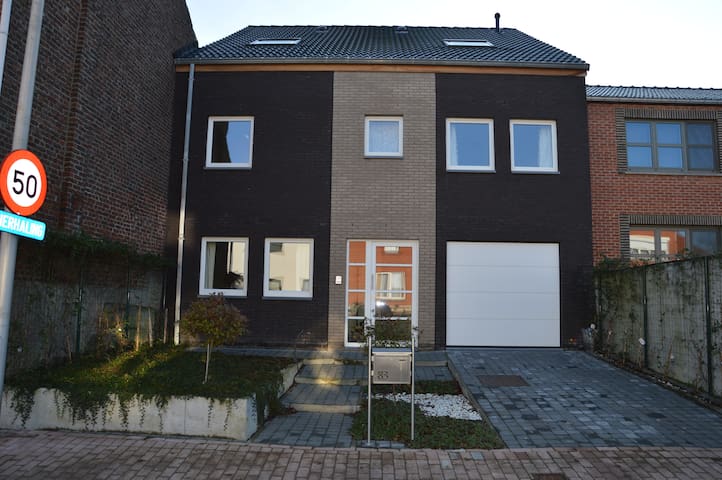 Metstermolen is een heerlijk erfgoed logies voor 6 personen. Het huis heeft 3 comfortabele slaapkamers met eigen sanitair. Het gelijkvloers heeft een knusse huiskamer met houtkachel, een ruime woonkeuken met alles erop en eraan,... Er is een eigen terras met bbq en je kan er heerlijk genieten in de tuin.
Metstermolen "Molenhuis" is lovely guesthouse for 6 persons. The house has 3 bedrooms, each with bathroom / toilet. The
We actually stayed in the Bakery (see https://www.airbnb.nl/rooms/1776306, we originally wanted to stay there, but it was taken and we then booked this one, but it freed up again so Frank offered us the Bakery to stay in). Frank was very nice and friendly, the location is very peaceful and quiet, but I would definitely recommend coming by car (buses exist, but go only every thirty minutes). Sint-Truiden is more of a collection of small villages than one small town. If you want some peace and quiet with your partner for a short time, I can definitely recommend it! The house has much more flair and character than a soulless hotel room you can get for the same price. Plus, I definitely recommend the breakfast (10€ pp), which is definitely worth it!
Jan
2014-10-05T00:00:00Z
Een heerlijke uitvalsbasis om een aantal toeristische attracties van Limburg te verkennen. De kinderen vonden het ook heel leuk en wilden liever nog iets langer blijven. Het huis is veel groter dan je zou denken en heeft echt authentieke charme. De tuin is een gigantisch pluspunt, wat is die prachtig!
Evelien
2017-04-09T00:00:00Z
Superleuk huis, branden haardvuur, gevulde koelkast en heerlijke bedden. Een aanrader!!
Edward
2015-02-28T00:00:00Z
We hebben van een heerlijk weekend genoten in het prachtige molenhuis van Frank. Bij aankomst op de sfeervolle binnekoer van het huis werden we harteleijk en met een brede glimlach ontvangen door Frank. Meteen kregen we een rondleiding door zijn pand. Het bleek veel groter en nog indrukwekkender dan de advertentie deed geloven. Ook de tuin was enorm. In de advertentie staat een prachtig terras, maar verder door is er nog een gigantische vijver met kikkers en een terrasje middenin.We mochten overal gebruik van maken. Frank was een fantastische gastheer. Hij informeerde meteen naar speciale wensen, haalde nog een parasol en vroeg ons hoe laat we wilden ontbijten. Daarna liet hij ons in alle rust verder genieten van al het pracht en praal van zijn huis en tuin. We wilden graag in de buurt gaan wandelen, maar we zijn niet verder geraakt dan de tuin zelf. Met een apperitief op de vijver en een bbq op het terras aan huis waren al onze wensen al voldaan. Het was een heerlijk moment van rust en kalmte waar we met volle teugen van mochten genieten. s'Morgens hebben we genoten van het ontbijt. Zoals afgesproken kwam Frank om 9uur met verse fruitsla, yoghurt, lekkere pistoletjes, sneetjes brood en croisants. En ook nog eitje, wat kaas en hesp en lekkere confituur. En daarbij een tasje koffie en thee. De vogeltjes op de achtergrond en een zonnetje door de zacht ruisende populieren. Zalig! Rond half twaalf zijn we vertrokken met een warm afscheid en de belofte om veel reclame te maken. Het was meer dan geslaagd.
katrien
2015-06-14T00:00:00Z
Alles was tot in de puntjes georganiseerd. Mooi en schoon. Geweldige omgeving om te fietsen. Gezellige jongens die je ontvangen en antwoorden hebben op alle vragen.
Harry
2016-10-18T00:00:00Z
Room Type
Entire home/apt
---
Property Type
House
---
Accommodates
6
---
Bedrooms
Sint-Truiden, Flanders, Belgium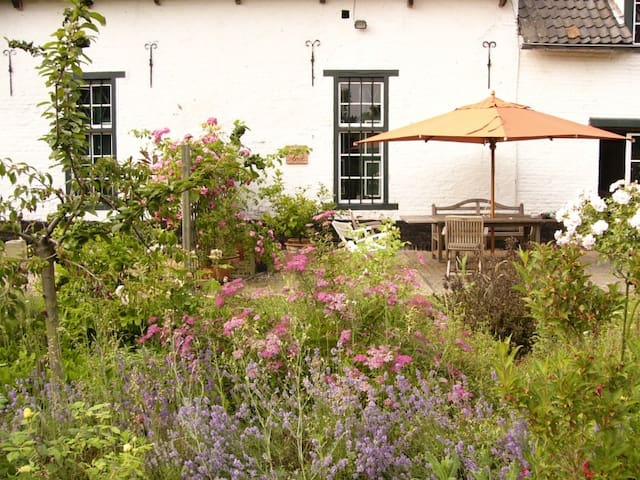 Very nice and quiet room in a house nearby Jodoigne (30 minutes from Brussels). 1 room for 2 (1 single bed 1,9m x 2m) Station : Tirlemont (15')
Be careful : non smoking room ! After 3 nights, cleaning fee, 50€
Accueil chaleureux de Marina, la petite maison est très tranquille, tout est à la fois propre et convivial, belles couleurs, très bien équipé, je recommande vivement, j'y retournerai avec plaisir si mon chemin repasse par Jodoigne...
Claire
2016-01-27T00:00:00Z
Mon mari et moi avons passé un très agréable séjour chez Marina! La petite maison est fraîchement rénovée et décorée avec charme. Le village de Saint-Jean-Geest est calme et les nuits y sont douces. Nous avons eu la chance de prendre l'apéro du soir sur la terrasse, au soleil.... délicieux. La cuisine regorge de tout le matériel nécessaire! J'y ai même fait de la pâtisserie. Notre hôte vit dans la maison attenante, avec sa famille. Elle veille à notre tranquilité et répond à la moindre demande! Nous y reviendrons, c'est sûr!
Caroline
2015-06-28T00:00:00Z
Hartelijk welkom. Zeer vriendelijke en behulpzame tweetalige gastvrouw. Heel rustige locatie. Je kan beschikken over een heel huis (salon, eetruimte, slaapkamer, badkamer...). Dikke aanrader!
Jan
2015-09-20T00:00:00Z
Room Type
Private room
---
Property Type
House
---
Accommodates
2
---
Bedrooms
Jodoigne, Région wallonne, Belgium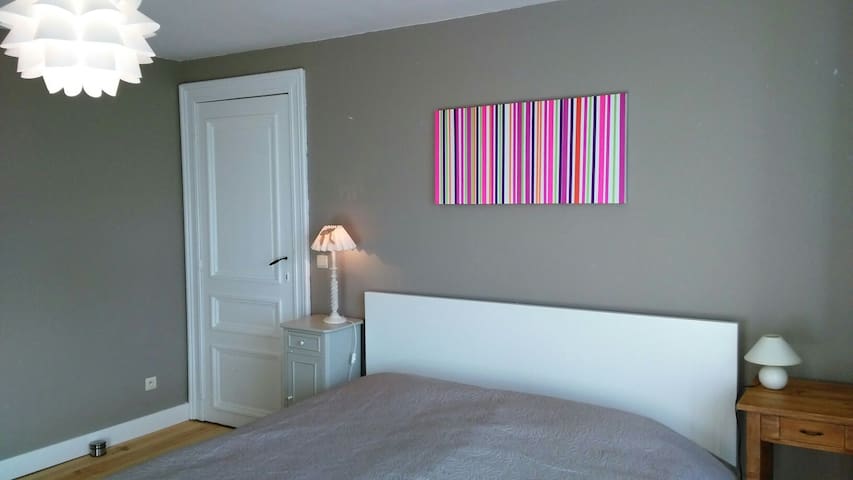 De par sa capacité pouvant aller jusqu'à 12 personnes, la combinaison des 2 gîtes est idéale pour se réunir entre amis ou famille en respectant l'intimité et le confort pour chacun. La convivialité des repas est possible autour d'une grande table pouvant accueillir jusqu'à 12 personnes.Un parking sécurisé pour les véhicules est disponible.
Chaque gîte vous propose un thème différent ( années 1970 et murs d'Antan) et un équipement complet. Une entrée commune pour 2 Gîtes.
Situé dans un quartier riche en architecture (bâtiment classé) et dans la campagne hesbignonne. Promenade pédestre et à vélo possible.
The host canceled this reservation 11 days before arrival. This is an automated posting.
Mony
2016-03-14T00:00:00Z
Great place to stay with a group, and a perfect host. Nadine always replied quickly and nicely. Thanks!
Jasper
2015-11-02T00:00:00Z
Nadine et sont maris ont été des hôtes formidables. Ils ont répondu à toutes nos questions pour préparer notre voyage et lors de notre séjour ils ont été plus que serviable. Le gîte est formidable, il dispose de tout le confort nécessaire pour accueillir un groupe d amis ou une famille. Je recommande fortement ce gite et remercie encore Nadine pour sa disponibilité et sa gentillesse. De la part de Xavier et tous les toulousains ;)
XAVIER
2016-08-25T00:00:00Z
We konden binnen voor de incheck tijd. Er stond in elke woning een fles eigen gemaakte appelsap in de koelkast.
Marno
2016-05-17T00:00:00Z
Wij hadden een bijzonder prettig verblijf bij Nadine in Hannut, waar we met twee gezinnen verbleven in de 6-persoons gite en de 4-persoons gite. De gites zijn smaakvol ingericht en ruim en beide voorzien van twee badkamers. De 6-persoons gite heeft een ruime woon-eetkamer en keuken, waardoor je daar heel goed met 10 personen kunt verblijven en eten. Nadine en Luc zijn een zeer attente gastheer en gastvrouw die alles in het werk stelden om het ons naar de zin te maken.
Mariken
2016-05-09T00:00:00Z
Le 20 décembre, quand nous avons été accueillis dans le gite par Nadine et Luc, nos hôtes, ils y avaient installé les décorations de Noël et c'était tout de suite la fête avec quelques jours d'avance ! Les hôtes ont ainsi été aux petits soins pour nous durant les 15 jours de notre séjour, nous avons bien apprécié leur présence discrète mais efficace pour que nous ayons un bon séjour. Le gite, très agréable, est idéalement situé, à quelques kilomètres de Hannut (petite ville bien sympa où le marché du lundi est superbe et les divers commerces ou restaurants bien agréables), dans un petit village hyper actif : une librairie, une pharmacie, une cave à vins, une boulangerie, une 'tarterie' (sucré et salé!), un fleuriste... et un comité des fêtes bien actif, le village est plein de vie ! Bref, un excellent séjour à tous points de vue
Bénédicte
2016-01-05T00:00:00Z
Nous avons réservé les 3 gîtes chez Nadine pour loger quelques invités à l'occasion du mariage de notre fille. Les appartements correspondent en tous points à l'annonce, ils sont très agréables, parfaitements propres et très bien équipés. Rien ne manque. Nadine a même pensé au café, sucre, huile, vinaigre, produits lave vaisselle, lit bébé, table à langer. Tout était parfait. De plus Nadine et son mari sont des personnes accueillantes et très sympas, la conversation se fait simplement et naturellement. Nous avons suivi leurs conseils pour des visites et nous avons été enchantés. Vous pouvez réserver les yeux fermés. Toutes nos amitiés à Nadine et Luc. Sylvie et Bernard (français et canadiens)
Sylvie
2016-07-09T00:00:00Z
Room Type
Entire home/apt
---
Property Type
House
---
Accommodates
10
---
Bedrooms
Hannut, Région wallonne, Belgium
The studio is a very quiet place . contains everything to stay independent separate toilet, separate bathroom. Open living room and kitchen. nice terras
there is a nice double bed below and a one person bed on higher level
the use of the playground is free of charge upon request. The studios are also plenty of information brochures about the area. as well as walking and cycling routes
Steve was a great host, he's always ready to help with anything that you may need! The Studio its in a very quiet area and had everything we needed, we stayed for 6 weeks.
Nuno
2015-12-06T00:00:00Z
The host canceled this reservation 27 days before arrival. This is an automated posting.
Stuart
2016-03-27T00:00:00Z
The host canceled this reservation 2 days before arrival. This is an automated posting.
D.
2016-12-29T00:00:00Z
The host canceled this reservation 4 days before arrival. This is an automated posting.
Emmy
2016-08-08T00:00:00Z
zeer leuke ontvangst,hele rustige omgeving, en lekkere ruime woning met prachtige natuur
Anton's
2016-10-31T00:00:00Z
Room Type
Entire home/apt
---
Property Type
House
---
Accommodates
3
---
Bedrooms
Heers, Vlaanderen, Belgium
Guesthouse (also for horses and riders) 3 keys. Fully equipped independent little house, with private garden and terrace.
Independent from the owners' house, but really close to it, you will be charmed by the rural environment and view, and the proximity of the natural garden and the horses.
Rural neighbourhood, even if the guesthouse is located in the center of Crehen. Very easy access to motorways in all direction (towards Brussels, Namur/Luxemburg and Liège).
We stayed at t'Cauterven for two nights during the course of the annual 24h jigsaw competition. We were 4 adults, a 4 year old and a 1 year old. The kids loved the toy corner and the little table they could eat their meals at. The rest of the house was pleasant and the beds were comfortable. The kitchen was well equipped, and Ariane came around as soon as she could when we had a query. There was lighting around the path to the house, very useful as we were going backwards and forwards at all times of the day and night! Thank you for working to make our stay hassle free!
Ed
2016-10-30T00:00:00Z
Room Type
Entire home/apt
---
Property Type
House
---
Accommodates
6
---
Bedrooms
Hannut, Région wallonne, Belgium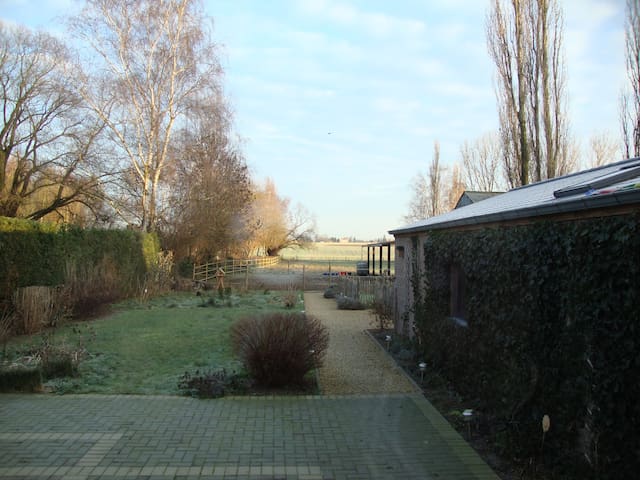 Studio de charme tout confort fraîchement rénové idéal pour les amateurs de calme et de verdure! Les amateurs de promenades à pied ou à vélo y trouveront leur bonheur puisque la maison se trouve en bordure du Ravel (ligne 147). Une petite terrasse privée vous donne accès au vaste jardin. Nous mettons un barbecue à disposition. Resto Ligne 147 et espace spa (Hôtel Koru) à proximité...
Room Type
Entire home/apt
---
Property Type
House
---
Accommodates
4
---
Bedrooms
Ramillies, Wallonie, Belgium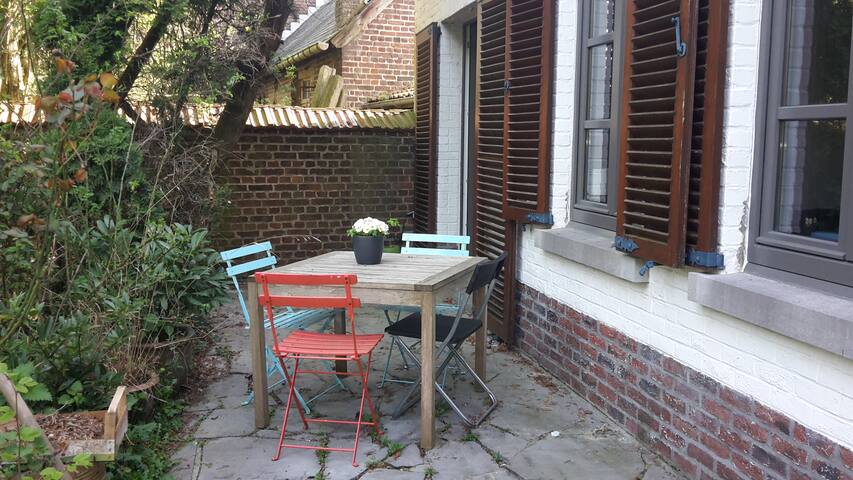 You want peace, tranquility for your weekends with family or friends? You might want to do some outdoor sports? So come visit us! **Students are not allowed**
Located in the Natural Park of Mehaigne-Burdinnale, our cottage is situated in an old 17th century farmhouse
Our stay at Cynthia's and Marc's place has been a pleasant experience. Although Marc himself was speaking French, one of his employees helped us communicate. The location of the place was as expected; secluded from the village itself. This means a trip to the supermarket will take you slightly longer. However, this is something you choose for when you book this place. The building also is much larger than we expected, which was great! It had a vintage feel to it and was well maintained. The place itself was reasonably clean, except for the kitchen. The pots, plates and glass was dirty from time to time, and the pots were filled with a layer of water when we took them out of the cabinet. A less pleasant experience. The rooms were nice and lots of bathrooms were available. The beds were okay, but nothing to write home about. The bed linen are quite old, and may need to be replaced soon. And then there's the swimming pool. The pool itself was pretty decent. The temperature of the water was fine, but there was one thing we didn't like about it: the dead rat that was inside it. Oh well, things like this happen. We were assisted by a nice guy who is also responsible for the paintball area behind the garden. He was extremely helpful and really improved our overall experience. We didn't get his name, but he was a great host and more helpful than the actual hosts. Summed up: - Nice -big- place - Clean except for the kitchen - Okay beds with decent bathrooms - Fireplace - Nice pool, broken jacuzzi - Friendly staff - Excellent for large groups
Charlotte
2015-08-29T00:00:00Z
Perfect place to stay and very friendly hosts!
Cedric
2017-03-26T00:00:00Z
Very big house in old farm style. Nice pool, clean and with lots of space around to relax. Rooms are spacious. House is a bit cold, even in summer. It's not like a hotel but it is a very good place to get out of the city! Owners are very friendly, thanks for checking out a bit later on Sunday so that we could stay in the pool-area a bit longer!
Suzanne
2016-09-12T00:00:00Z
Cythia and Marc were wonderful hosts. They were around enough to help, but also left us to our own devices to enjoy the property. We enjoyed an apero with them one evening where we got to hear the fascinating story about how Marc built up the propery from scratch, whilst also enjoying some delicious Belgian beers provided by the hosts. The property itself was stunning and as we were lucky enough to enjoy the mini heatwave, we made full use of the gorgeous pool. The house was extremely well-equipped and the 12 off us felt right at home for the week we stayed there. For those feeling energetic, there is paintballing and quad biking right on site. Thank you Cynthia and Marc!
kirsty
2015-08-08T00:00:00Z
We booked this place for a weekend away with a group of friends. Looking at the pictures, I have no doubt that it must be a great place to stay in summer, but also with the most terrible weather (like we had), the place is fantastic. Plenty of space inside, huge kitchen, cosy atmosphere and a great fireplace made it a nice house to take shelter from the rain ;). We'd love to come back in summer to enjoy the terrace and pool as well! Free suggestion for future guests: With the lights off at night, the house makes a more than perfect place for advanced-level indoor hide and seek!
Daan
2016-03-06T00:00:00Z
Great place to spend 2 days teambuilding! We enjoyed the pool and the large kitchen. Rooms are exactly like the photo's. We booked a 2hr epic paintball session. Good to know: You can just walk to the back of the garden to enter the big paintball terrain.
Jynse
2016-07-07T00:00:00Z
She was a very nice and friendly host. The place on the other hand could be cleener and was very cold. We tried to use the open fire but then the room was full of smoke. So overall not the best house to spend a weekend
Sofie
2014-11-09T00:00:00Z
We had a fine time in Braives at Marc and Cynthia's place. The arrival was hospitable.. all was ready for a nice weekend with our 3 families. During the stay all went well, many utensils in the kitchen for rich cooking and plenty of space for the group. We enjoyed using the fireplace.
Mark
2015-12-30T00:00:00Z
Room Type
Entire home/apt
---
Property Type
House
---
Accommodates
15
---
Bedrooms
Braives, Walloon Region, Belgium
Gezellige woning voor max. 4 personen in een bijgebouw vd voormalige pastorij. In de Haspengouwse natuur op 15min van St-Truiden, Luik en Tongeren. De woning beschikt over een keuken, een slaapkamer met dubbelbed en een living met 1 dubbel en 1 enkel zetelbed.
De woning bestaat uit een keuken, gelegen op de gelijkvloers. Ook is er een afwasmachine en een toilet. Op de eerste verdieping bevinden zich een slaapkamer met dubbelbed, een bad en een wc en een living met 2 zetelbedden. Er zijn keukenhanddoeken, afwaszeep, wasmachineblokjes, basiskruiden en koffie. De bedden zijn gedekt en er zijn badhanddoeken
Te midden van de velden maar op slechts 15min van Sint Truiden, Luik en Tongeren.
Nice, quiet neighborhood, very close to the antique market at Tongeren. Great pizza place 7 minutes away. Host was super communicative and easy to deal with. Great value!
Margaret
2016-12-18T00:00:00Z
Everything went well. Thank you very much John. Place is nice with a lot of space.
Daniel
2016-09-07T00:00:00Z
I stayed a weekend at John and Hanne's place with two friends. The house, and the kitchen in particular, is well equipped. The house was rather cool despite the warm weather in the weekend we stayed here! Communicating with John and Hanne upon and at arrival and departure was easy going and clear. Hanne showed us the house and garden (the patio in front of the house was perfect to have coffee in the morningsun and the backyard has a picknick table for the guests). The village is quiet and only a few minutes by car from a somewhat larger village with grocery shop and bakery. When visiting this part of Belgium again, I would certainly return here!
Eva
2016-08-29T00:00:00Z
Great start to discover the surroundings, John is a lovely host who welcomed us with selfmade apple juice. Recommended!
Bernard
2017-01-01T00:00:00Z
Hôte très accueillant, maison et chambre conformes à la description.. La maison est très confortable. Recommandé
Dominique
2016-05-02T00:00:00Z
Aanwezig bij aankomst, kleine rondleiding en uitleg. Piekfijn in orde en heel vriendelijk. Alles wat vermeld stond op de site was aanwezig en zelfs meer. Ik had gemeld dat ik met mijn zoontje kwam: kinderstoeltje, bed en zelfs speelgoed stonden klaar. Keuken perfect uitgerust en gezellige woning gescheiden van het huis van de huurders met parking. Uitstekende ligging (autosnelweg, centrum, winkels in de buurt. Een aanrader!
Virginie
2016-10-29T00:00:00Z
Het bijhuis'je' van John en zijn gezin is eigenlijk geen huisje maar een ruime, super gezellige en erg smaakvol ingerichte woning. Niet alleen het huis maar ook de omgeving is één en al schoonheid. In de keuken vind je alles (en meer) wat nodig is om te kunnen koken. De living, de kamer, de badkamer, alles is een combinatie van comfort en oog voor detail. Je kan buiten zitten voor en achter het huis en het zicht vanuit het zolderraam van de slaapkamer is adembenemend. In de buurt kan je lekker uit eten, bloesemwandelingen doen, toffe steden zoals Maastricht en Hasselt bezoeken... We werden flexibel en sympathiek onthaald door een toffe familie die ons anderzijds 100% privacy gaf. Een echte aanrader!
Stefanie
2016-04-19T00:00:00Z
Bon accueil malgré nos horaires difficiles. Quartier calme propice au repos nécessaire entre nos compétitions de karting.
Patrick
2016-08-21T00:00:00Z
Room Type
Entire home/apt
---
Property Type
House
---
Accommodates
5
---
Bedrooms
Heers, Limburg, Belgium