The department has a look, modern and welcoming. with excellent finishes and equipment in each area, the room is spacious and has its own bathroom, in the best area as it is located very close to the most important commercial center around Guanajuato
It is unique because you will feel in a clean, friendly, modern and comfortable, with designer furniture and unique look space. What you will find -A Room with queen bed. -Linens And towels Fully-equipped and furnished -system Distributed sound throughout the room Smart home -Theater (Netflix, Spotify, Youtube, etc) and Blu-Ray -Projector With automated 80-inch screen TV -private 55-inch TV and DVD -living And dining room furnished -private Room with washing machine -Swimming pool -Fitness center -sky bar -Business Center with printer -WiFi Within the department and throughout the building. All set for an excellent stay :)
The neighborhood is located in the best area of the city, the equivalent of Santa Fe Mexico City, San Pedro Garza Garcia or Puerta de Hierro in Guadalajara
Our stay was really nice. The apartment is beautiful and the views are amazing, since the apartment building is in a very high point in the city and on the 17th floor. It's really close to Metropolitan Park, which is worth the visit. Our host was really kind and helpful and it was easy to contact her.
Delia
2016-10-21T00:00:00Z
Hola. Magda and Kike were great hosts. Very hospitable and made my stay very comfortable. Great place, view, and experience.
Bryant
2016-04-17T00:00:00Z
Well where do we start! The apartment was full of "student like guests" that partied and screamed until 3am! The apartment itself is beautiful but people like that staying there just ruin the entire stay! Luckily we were staying only 1 night. To make things worse the next morning tired because we had no sleep the secruity was not at the gate! We waited for 45minutes to get out of the car park and the gate is controlled by a remote that the secruity guy has. Our bedroom door did not close at all so we had to put a chair agaist the door to be able to have a little privacy. The toilet does not flush properly. There is not transportation near by. Terrible experience!
Andrea
2016-08-28T00:00:00Z
Very nice apartment with a great view! 5 stars!
Joseph
2016-09-29T00:00:00Z
Excellent appartement with a beautiful view.
Luis Sebastian
2016-06-10T00:00:00Z
Could almost say this is the best place to stay in Leon.
Hans
2016-07-21T00:00:00Z
Absolutely fantastic in every way
Carl
2017-02-02T00:00:00Z
All I have to say is simply amazing, Magda and Kike's place is located in the best location ! The apartment is clean, spacious, with confortable and private room. It overhangs the entire city from the top of the Gran jardin residance (which is undoubtedly the most secure place). The view is just amazing...you can believe the pictures! But it's even more beautiful once you're there. Concerning Kike and Magda, they were terrific hosts, super friendly, nice and available ! I hope to see you again guys! Once again thank you :)
Etienne
2016-05-07T00:00:00Z
Room Type
Private room
---
Property Type
Flat
---
Accommodates
2
---
Bedrooms
León, Guanajuato, Mexico
Our department is a cool and welcoming place, where you can rest your trip, near main square and the most beautiful area of Leon restaurants just 5 min walk, safe and quiet. If you need to communicate my cel is + (PHONE NUMBER HIDDEN)
safe and quiet area
Very safe and quiet area, close to all restaurants and most important shopping plaza lion
Lizete and her husband are awesome hosts. The place was really nice and clean. They were really nice and the chilaquiles she made for breakfast are delicious. Thanks for everything.
Karen
2017-03-09T00:00:00Z
Enjoyed my stay at Lizette's place. Her and her husband were very nice and hospitable, making sure I was comfortable and knew where things were in the city. Bed was comfortable, wifi was excellent. My only issues were the door got stuck and was hard to close and there wasn't a three prong plug in my room for my computer. Other than that, great value for the cost. Stay and enjoy Leon!
Trey
2017-02-10T00:00:00Z
Fue un alojamiento super cómodo, bien ubicado, bonito y en general todo bien. Sin duda si regreso a León me hospedaría con Lizette.
Eva
2017-02-26T00:00:00Z
Excelente ubicaciòn? Muy buen anfitrión y el depa muy bonito
Diego Eduardo
2017-02-06T00:00:00Z
Excelente lugar, muy buena atención
America
2017-01-15T00:00:00Z
Hogar muy limpio y seguro para disfrutar la estancia en Leon
Ismet
2017-02-11T00:00:00Z
El hogar más cálido, la atención y recibimiento incomparable, el mejor lugar que se puede encontrar en león
Iván
2017-03-05T00:00:00Z
Todo excelente muy atentos los dos, lo recomiendo.
Cindy
2017-01-20T00:00:00Z
Room Type
Private room
---
Property Type
Flat
---
Accommodates
2
---
Bedrooms
León , Guanajuato, Mexico
Cómodo y acogedor apartamento de 2 recamaras ubicado en la mejor zona de Leon. Ideal para visitas de placer o negocios. Condominio privado a tan sólo 10 min de la zona de Poliforum y a 2 min de plaza mayor, parque metropolitano y Tec de Monterrey
The host canceled this reservation 2 days before arrival. This is an automated posting.
Renato
2016-10-05T00:00:00Z
El departamento es excelente, ubicado en la mejor zona residencial de León. Ningún hotel se compara con la comodidad que brinda el departamento en relación a su precio.
Gerardo
2016-12-17T00:00:00Z
Buena ubicación, muy cómodo, limpio.
Xavier
2017-04-02T00:00:00Z
Excelente lugar. Limpio y cómodo. Buena ubicación.
Adriana
2017-01-30T00:00:00Z
Todo excelente, al departamento no le falta nada y tiene una muy buena ubicación. Ulises siempre estuvo al pendiente. Lo recomiendo ampliamente.
Luis Jonathan
2016-09-18T00:00:00Z
El lugar se encuentra en excelentes condiciones, las instalaciones del departamento están mejores físicamente que en las fotos. La ubicación es de lo mejor. Ideal para personas que no van de turismo a León y van a estar por varios días en la ciudad. El departamento es para tener a una pareja cómodamente. La cocina cuenta con todas las amenidades necesarias para cocinar.
Diego
2016-09-23T00:00:00Z
Excelente estancia! Ulises el anfitrión contesto de inmediato mis preguntas y siempre fue muy atento! El departamento es muy lindo y cumple con todo para que tu estancia sea placentera.
Bárbara
2016-08-12T00:00:00Z
Todo perfecto, muy amable y muy atento
Alex
2016-12-12T00:00:00Z
Room Type
Entire home/apt
---
Property Type
Flat
---
Accommodates
4
---
Bedrooms
Leon , Guanajuato, Mexico
Attractions: Its location has the best roads all León, is located about 20 steps from Explore Park about two minutes. Poliforum, 5 min. Expiatorio Temple of Hermosísimo and Historical Center, 12 min. the best shopping centers Altacia and Plaza Mayor,
Impeccable apartment with new furniture, two bedrooms and a sofa bed in the TV room, dining room, two bathrooms, one with jacuzzi tub, has cable system for national and international programming and movies, Internet, local phone calls and national, garage for one car. Can comfortably accommodate six people, has plenty of ventilation and day lighting by opening blinds, cleanliness and location are excellent, have safe and cot. Everything is fully equipped to make your stay the best.
It is a quiet, downtown and several restaurant around place.
Es un departamento muy acogedor, está muy equipado, comodo y limpio, tal y como aparece en las fotos
Fabiola
2017-03-19T00:00:00Z
Excelente lugar, excelente ubicación y excelente anfitrión. Altamente recomendable!!
Amado
2017-04-10T00:00:00Z
Fue una estancia muy comoda, es un depto. que esta muy bien ubicado y en una zona muy tranquila. Yo lo recomendaria ampliamente
Aurora Elvira
2016-12-26T00:00:00Z
El departamento está en una zona céntrica de muy fácil acceso. El vecindario se siente seguro. El departamento es exactamente igual a las fotos, está muy bien equipado e impecablemente limpio, es muy cómodo. Estuvimos alojados por trabajo, casi 3 semanas y la experiencia está dentro de las mejores que hemos tenido. Gracias María por ser una gran anfitriona!
Laura
2017-02-09T00:00:00Z
Agradecemos a María por la atención y su servicio, el departamento muy bonito muy bien ubicado y una estadía genial, nos sentimos como en casa
Eduardo
2017-01-01T00:00:00Z
El departamento tiene una ubicación excelente, de muy fácil acceso, está impecablemente limpio, es amplio y seguro, María es una gran gran anfitriona con quien hemos quedado muy agradecidos y volveremos en menos de 2 semanas!!
Laura
2017-01-23T00:00:00Z
El departamento de Maria es perfecto, gran ubacion y en un vecindario tranquilo. Cuenta con lo indispensable para hacer de tu estancia lo mas comoda posible. Sin duda recomendamos quedar con ella. Tanto Maria como su esposo mantubieron comunicacion para hacer nuestro ingreso y salida sin problemas.
Ivan & Alexis
2017-03-05T00:00:00Z
Excelente ubicación, todo lo que indica tener es verdad, muy cómodas las habitaciones y el lugar en general.
Karina
2017-03-24T00:00:00Z
Room Type
Entire home/apt
---
Property Type
Flat
---
Accommodates
6
---
Bedrooms
Leon, Guanajuato, Mexico
Strategically located in a quiet neighbourhood in the south of Leon Guanajuato, Mexico. Just a 10 min drive to the convention center "Poliforum", 15 mins to the shoe outlet, and Plaza Altacia (the ultimate destination for all your shopping needs!). The apartment has a nice distribution, and is very comfortable.
"Fiery Cherry" apartment is our attempt at reddish decoration! We intend this for professionals traveling to Leon or couples (as opposed to "Mystic Lavender" which is best suited for families or groups of friends).
The neighborhood is very calm and peaceful. It is strategically located on the south, so that you can relax from the highly vibrant night life of Leon. But it's fairly close to the center, about 10 mins drive.
This place is the best! Both Modern and comfortable, Oscar is one of the most gracious of hosts. The apartment is local to the entire city. You can Uber, taxi or find the public transit to just about anywhere at an affordable rate. The decor is great, the kitchen is well equipped and the cleanliness is top tier! Thank you Oscar and family!
Omar
2016-11-28T00:00:00Z
Not only was Oscar exceptional at communicating but the place was immaculate! It has such a romantic feel to it, extremely clean and so much attention to detail. It's also centrally located - no more than 30 min to the airport (without traffic). I throughly enjoyed my stay in Leon. Best of all, Oscar's mom treated us like family, gave us a tour of Leon and introduced to the best leather bargains in the city. If I'm ever in Leon, this is where I will be staying!
Karen
2016-02-04T00:00:00Z
Hands down a very amazing place to stay! The host Oscar, replies immediately to any questions or concerns we had. The place is spacious, very clean, it has an AC which is much needed here in Leon. You have access to all kitchen utensils, a computer, wifi, television. Pretty awesome place and super cheap! Thank you Oscar and to your mom for being so great to us ❤️️
Fernanda
2017-04-05T00:00:00Z
Awesome apartment!! I will stay there every time if I go back to Leon! Oscar is an pretty much a person laid-back person. The place is very clean and pretty cool! Gotta love the red decorations. 5stars!!!!
Jozé
2016-01-19T00:00:00Z
Oscar picked me up from my appartment along with his brother from where I was checking out.. Extremely friendly guys . The appartment was amazing, better than any 5 star hotel suite room because of two reasons.. 1/ The amazing ambiance and decorations 2/ The fine hospitality given by both brothers and their mother when I reached their appartment. Very secure, in a quiet neighbourhood. I had to stay just for 14 hours and had my flight onwards.. but if I had come back to Leon, this would be one of the reason to come back ! They are not just tenants or hosts, they are just beautiful people to meet . Oscar's mother cooked a small dinner for me and also rode me to airport early in the morning when it was difficult to find a taxi in leon.. she came up with his son at 6 in the morning and drove me to the airport. If you have no priority to stay in the center, Oscar's appartment is the only choice I can recommend to people coming in to Leon.
Muhammad Junaid
2015-10-25T00:00:00Z
Oscar and his family are very attentive and welcoming hosts. I highly recommend their property, it's very clean, modern, fully-equipped and aesthetically pleasing to boot. Oscar also included a lot of little courtesies that I was not expecting, such as some breakfast cookies and coffee when we checked in. This sort of attention to detail and service was something that made my stay all the more comfortable. Oscar made himself available should I need him, and he checked in periodically to make sure that all of my potential needs were attended to. The location was great as well, the neighborhood was very quiet and comfortable. There is a nearby convenience store and laundromat and a Wal-Mart is a short 5 minute drive from the apartment. The neighborhood is serviced by taxi and Uber's that never took longer than 5-10 minutes to arrive. Overall, staying at the property was a very pleasant and comfortable experience, and Oscar and his family are great hosts and wonderful people, and I look forward to seeing them again in the future.
Erick
2017-03-19T00:00:00Z
Oscar and his family gave me five star service. I can't say enough good things about how they treated me like family. Incredible place clean very modern safe and comfortable. A kitchen with all the pans plates glasses etc etc you need to cook. First aid kit which I needed just like being at home. Oscar checked in with me several times to see how I was doing and if I needed anything. All through emails always respecting my personal space. When I mentioned I wanted to rent a bicycle Oscar and his brother worked on a old bike and got it to me in working condition at no cost. To Oscar his mother and brother thank you. When I come back to Leon I hope one of your places is available. I highly ️️️️️ recommend Oscar and his apartments. Take care. Patrick
Patrick
2016-08-28T00:00:00Z
Fantastic place and the best host! Oscar was charming and very welcoming. I unfortunately had to transfer to Guanajuato from Leon and had to cancel my stay after only staying for 3 I had booked, but he was so gracious about making me feel okay about canceling. I would have loved to stay all 21 days I had originally booked. The apartment was the cleanest, most stylish and comfortable. Oscar even stocked the place with a variety of coffees and teas, and gave me recommendations on what to see and where to go out for dinner, though the kitchen is very well stocked with dishes to cook. If you are considering this apartment, don't doubt it and book it. If I ever come back to Leon, I will book it myself. Fantástico departamento con todo lo que quería y más. Oscar es un chico simpático y muy generoso con su tiempo y atención. Gracias.
Cris
2016-07-10T00:00:00Z
Room Type
Entire home/apt
---
Property Type
Flat
---
Accommodates
3
---
Bedrooms
León, Guanajuato, Mexico
Te va a encantar mi lugar debido a The private room is located in Blvd. Ibarrilla, very close of two of the main Boulevards of Leon (Blvd. Morelos and Las Torres). For those people environmentally-friendly and enjoying excercise, all mentioned roads have ciclovia, so you can use bike to go around. By car, you are pretty close to the Zoo, to Parque metropolitano (Festival del Globo place) and to plaza Mayor (one of the the main shopping centers of the city). There is also public transportation to San Jeronimo, one of the biggest local bus stations where you can go almost everywhere. . Mi alojamiento es bueno para parejas, aventureros y viajeros de negocios.
Room was well adapted to receive travelers. I was working during that week, so a good internet connection and a calm area was necessary. It's not too close to down town (which is beautiful), but transportation, public or private (uber/taxi), made things easier. Also, Ulises was nice enough to lend me his bicycle, which was very useful because this place is several steps from the main entrance. Ulises was not present physically, but he answered all my messages almost instantly.
Sebastian
2016-08-12T00:00:00Z
This place was a great little stop, private bedroom and bath, the kitchen was avaibke to use if necessary. Didn't have time to use the pool but heard it was great. Very secure area, guards checked you in and out of the complex.
Lori
2017-01-18T00:00:00Z
Great place. Well organized. A bit secluded, so perfect for couples that like to be away from the craziness and business travelers!
Andrew
2017-01-20T00:00:00Z
The host canceled this reservation 264 days before arrival. This is an automated posting.
Lisandro
2017-02-26T00:00:00Z
I'm not overacting when I'm saying that Ulises's place is the best of the best in Leon Gto. It's Nice, it's clean, It's very comfortable, it has everything, you'll feel like in home and you will really love this place. Ulises, once again thank you for your support!!(URL HIDDEN) No estoy exagerando cuando digo que el lugar que ofrece Ulises es el mejor de los mejores en Leon Gto . Es bonito , está limpio , es muy cómodo , tiene todo , te sentiras como en casa y realmente te encantará este lugar . Ulises , una vez más, gracias por tu apoyo!!!
Enrique
2016-09-14T00:00:00Z
excelente Internet
Yuri
2017-01-25T00:00:00Z
Lugar muy como y hogareño, muy limpio, simplemente me encanto la experiencia, MUY RECOMENDABLE
Lizzet
2016-10-16T00:00:00Z
Muy cómodo y con flexibilidad de horario!
Giselle
2016-08-14T00:00:00Z
Room Type
Private room
---
Property Type
Flat
---
Accommodates
2
---
Bedrooms
León, Guanajuato, Mexico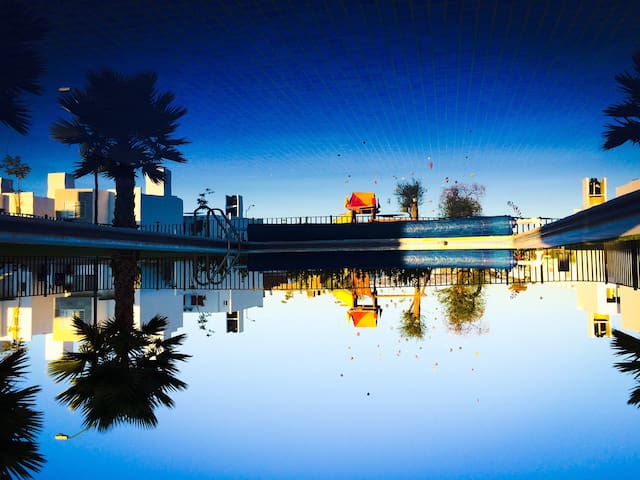 very spacious and comfortable downtown apartment in secure residential complex a few meters from small shops and transport
The apartment is very spacious and is very comfortable because the spaces will allow you to move very freely also has two bathrooms
Todo muy bien, muy cómodo y limpio, muy recomendable
Raymundo
2017-03-26T00:00:00Z
muy buen lugar, accesible, comodo y gran atencion
gerardo
2017-02-15T00:00:00Z
Agradable, limpio, ambiente familiar, accesible y pacífico. Muy recomendable para viajes familiares.
Christian
2017-02-19T00:00:00Z
Muy amables y muy atentas. El lugar es muy limpio, amplio y perfecto para descansar :)
Marito
2017-01-26T00:00:00Z
Todo perfecto. Recomendable
Andres
2017-01-23T00:00:00Z
Buena ubicación, el departamento cómodo y limpio, la verdad excelente trato y amabilidad
Armando
2017-02-05T00:00:00Z
Todo muy bien... espacio del depto amplio la anfitriona muy atenta... todo limpio con todo lo indispensable para la estancia... el unico detalle es el estacionamiento pequeño.
Erik
2017-04-02T00:00:00Z
Comodidad para una familia, limpia, equipada con todos los utensilios de cocina. Es un condominio con servicios cercanos. El estacionamiento muy pequeño para tomar sus precauciones.
ROBERTO
2017-03-12T00:00:00Z
Room Type
Entire home/apt
---
Property Type
Flat
---
Accommodates
6
---
Bedrooms
León, Guanajuato, MX, guanajuato, Mexico
Confortable, pretty and with all the comodities, full equiptment kitchen. A half block from the bars and restaurants zone in the Madero Street. You have everything you need very close to you. to 4 block from the Poliforum and Nou Camp futbol stadium. Did you saw the decoration? Cómodo, bonito y con todas las comodidades, cocina equipada. A Media cuadra de la zona de bares y restaurantes de la Madero. Tienes todo cerca. A 4 cuadras del Poliforum y el Estadio de Futbol. ¿Viste la decoración?
Laura is an excellent host!! My brother and I felt like we were at home. She greeted us warmly and gave us excellent tips about the city of Leon. Her apartment is very comfortable! Laura really makes you feel like you're part of the family and it almost seemed like we've known her for a while. We will definitely stay again with her when we visit Leon again. Laura es maravillosa!! Mi hermano y yo nos sentimos como en casa. Ella nos dio una cálida bienvenida y nos dio excelentes consejos sobre la ciudad de León. Su apartamento es muy cómodo! Laura realmente te hace sentir como si fueras parte de la familia y casi parecía como si la conociéramos desde hace tiempo. Sin duda nos alojaremos de nuevo con ella cuando visitemos de nuevo a León.
Jose
2016-07-08T00:00:00Z
Everything was great... the location is perfect if you're Interested in Leon's nightlife.. safe and everything at walking distance.
Sergio
2016-12-18T00:00:00Z
Laura is horrible!!!!! horribly nice !!!!!!!!!! She greets me more like greeting a friend that never meet before than a typical 'host'. Before my arrival she is very helpful and well thought of everything and willing to help all the time. She is not just accommodating me in Leon but also hanging out in her free time with me, show me around, greet some friend of her to me and give me some Espanol lesson too ! I enjoy every minute with her warm smile and very charming character! The location of her apartment is great, walkable to everything. Landmarks, bars, restaurants and cafes are reachable in 5-10min walk. The space is well equipped with essentials and kitchen that you may cook your own food. Highly recommend to stay if you visiting Leon.
Nic
2017-02-16T00:00:00Z
ENGLISH BELOW Excelente alojamiento en pleno Centro de León, no sé por dónde empezar, si por la seguridad del edificio, la limpieza del departamento, la funcionalidad y equipamiento de la cocina con estufa, microondas, refrigerador, hasta cafetera y todos los utensilios. Sin dejar de mencionar la conexión a internet, con línea telefónica para todo el país. Mención aparte, merece Laura, quien desde el primer contacto resolvía todas mis dudas y preguntas de forma casi inmediata, complementando la información con ligas y referencias, que me ayudaron al momento de llegar a León, sentirme más informado de cómo es la ciudad. Una vez en la ciudad, Laura siempre nos apoyó con conocimiento local de la ciudad, lugares de interés, eventos, etc. Outstaning accommodations in downtown Leon. It´s hard to choose where to start from, whether the gated premises, the clean and remodeled department, and the fully equipped kitchen, couldn´t miss there the microwave oven, coffee machine, fridge andevery cooking utensil you can imagine. The private landline with broadband connection worked seamlessly. Laura, on the other hand, was very informative and helpful answering since the first contact almost immediately. It was very easy to follow her links and city references, I felt I knew the city the moment I stepped there. It was very easy to find point of interest, events and local information thanks to Laura, who was a mere text away to provide very useful insight of the city.
Alfonso
2016-04-06T00:00:00Z
Excelente anfitriona y el alojamiento súper cómodo
Andrea
2016-08-21T00:00:00Z
Nos hospedamos con mi esposo en el departamento de Laura y lo súper recomendamos si estas buscando un lugar cómodo, limpio y bonito cerca al centro histórico. Laura es una muy buena anfitriona, nosotros fuimos con motivo del FIG 2016 y antes de llegar compartió con nosotros la información sobre la feria, los accesos y demás. Con respecto al departamento es muy céntrico, cerca de lugares para comer y bares, a pesar de ello, esta ubicado en una calle muy tranquila, por lo que el descanso fue óptimo. Aunque no usamos la cocina pude notar que está muy bien equipada y el baño muy limpio con todos los insumos necesarios. Espero volver pronto a León y cuando lo haga definitivamente me volvería a quedar en el departamento de Laura.
Johana
2016-11-21T00:00:00Z
Una ubicación maravillosa en una zona tranquila y llegas caminando a los principales puntos de la ciudad. El lugar, cómodo y limpio y Laura es increíble, siempre dispuesta a ayudarte. Lo recomiendo mucho
Eduardo
2017-03-13T00:00:00Z
EL lugar es genial, Laura es lo máximo, me senti como hospedarme con mi mejor amiga, me apoyo en todo la platica desde mi llegada, la limpieza, el baño hermoso, todo muy bien estipulado y organizado. Cada que venga a leon este sera mi alojamiento, ni en un hotel de 5 estrellas me había sentido así.
Isabel
2016-07-29T00:00:00Z
Room Type
Private room
---
Property Type
Flat
---
Accommodates
3
---
Bedrooms
Leon, Guanajuato, Mexico
Comfortable two-bedroom house, parking and balcony. It is located 5 minutes from Poliforum, explores park and the main shopping centers of the city. The area is very quiet and a few blocks are the main lines of public transport. The house has a cook, refrigerator and living room, plus a large balcony where you can relax in a hammock.
A 5 minutes from Poliforum and main shopping centers of the city. quiet and easily accessible place
It is a quiet neighborhood. A half block away is a small park where you can hang out or exercise. A couple of blocks away are the main bus routes.
The host canceled this reservation 2 days before arrival. This is an automated posting.
Perla
2017-03-08T00:00:00Z
Quiet location balcony in the Hamic
Tracy
2017-03-17T00:00:00Z
Excelente lugar, todo de acuerdo a publicacion. Muchas gracias por todo
Karla
2017-02-18T00:00:00Z
Un excelente lugar
Emmanuel
2017-02-27T00:00:00Z
Todo bien, el lugar es muy amplio.
Jorge
2017-02-19T00:00:00Z
Muy buen lugar para quedarse unos días
Jorge Arturo
2017-03-20T00:00:00Z
Brinda las necesidades básicas, un departamento suficientemente amplio
Kareny
2017-03-05T00:00:00Z
Tuvimos detalles con el boiler y no fuimos atendidos. La comunicación con Israel fue un poco complicada al inicio estuvo muy al pendiente de la llegada, pero estando ahí tardaba mucho en contestar los mensajes. Pero la casa está bien y el lugar muy tranquilo.
Rosa María
2017-02-05T00:00:00Z
Room Type
Entire home/apt
---
Property Type
Flat
---
Accommodates
3
---
Bedrooms
León, Guanajuato, Mexico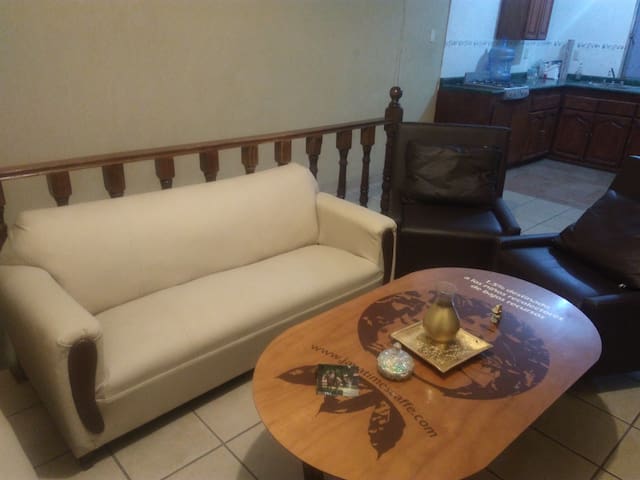 Attractions: Plaza Mayor, restaurants and food parks. You'll love my place because of the cozy space and location. My accommodation is good for couples, business travelers and families (with children).
Great place. Really comfortable and clean. In great location. Loved my stay here
Julio
2017-03-11T00:00:00Z
Very modern, clean and quiet unit. It's not walking distance to downtown but it's located in a newer part of town and close to a large mall and a number of upscale restaurants. The host was very nice and communication was very good. I'd return there again.
Diego
2017-02-20T00:00:00Z
The apartment was spacious and very comfortable for us. It was very safe for our one year old who loved roaming around. It is located to many restaurants and was perfectly placed for my work nearby.
Hannah & Caspar
2017-03-17T00:00:00Z
This is a comfortable apartment in a very good neighbourhood, close to a major mall and park. Jose was a kind and helpful host. We enjoyed our stay very much!
Patricia
2017-01-28T00:00:00Z
Excelente alojamiento, céntrico y cómodo. Recomendable.
Ana
2017-01-01T00:00:00Z
Muy amable y accesible en cuanto a la hora del check in, respecto al check out hubo un malentendido. Sin embargo todo muy bien.
Miguel
2017-03-05T00:00:00Z
Todo perfecto y siempre muy amable!
Carlo
2017-04-06T00:00:00Z
El departamento es excelente, en limpieza, ubicación y comodidad. Esta muy cerca de todo. Es genial y esta tal cual se muestra en las imagenes
Gerardo
2017-04-10T00:00:00Z
Room Type
Entire home/apt
---
Property Type
Flat
---
Accommodates
5
---
Bedrooms
León, Guanajuato, Mexico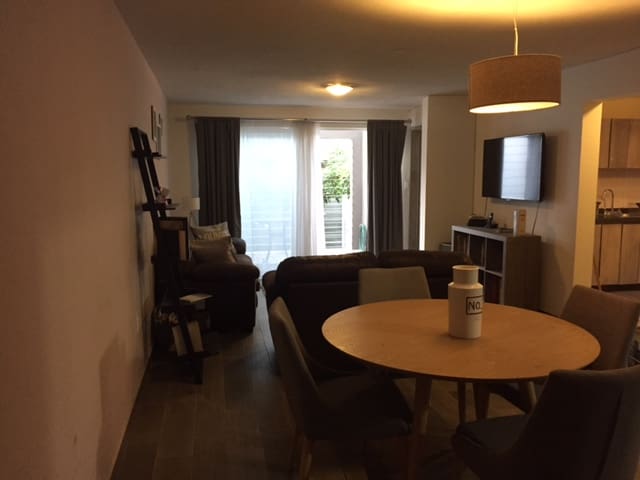 Complete furnished apartment with 2 bedroom, 1 living room with sofabed and 1 bathroom equipped with microwave, fridge and internet. 5 minute walk from downtown, and "calle madero" full with bars and restaurants. 15 minute drive from north and south the city. Best location guaranteed.
Location
Quiet and safe neighborhood
The appartement is very well located, many restaurant and bar in walking distance as well as quiet at night to ensure à good sleep. It was easy to arrange our arrival with Armando's mother. The Real + is the parking inside the building.
virginie dominique
2016-11-12T00:00:00Z
The host was available for questions and was open to communication. Was very helpful and thorough with the check in and check out process. Its a very minimalist stay. The location is great for shopping and dining. The only con and a pretty big con for me... the bed sheets, pillow cases and blankets were not clean. They smelled slept in and you can clearly see human hair on the sheets and pillow cases. The floor was not swept and very dusty. If that's not a problem for you, then this place is great.
Charlene
2016-10-31T00:00:00Z
The host canceled this reservation 17 days before arrival. This is an automated posting.
Anita
2016-08-21T00:00:00Z
We stayed at Armando's place for a month. We came to Leon for business and pleasure. We found Armando to be very pleasant and was very fast on communication before and during our trip. He picked us up from the airport because we were his first international guest and made it a point to show us around the great city of Leon. We feel that Armando's place in the absolutely best location possible. You have everything you need within walking distance. The apartment is located within a one-minute walk from the "El Arco de la Cazada". This one of the most famous monuments in the city, which makes a perfect landmark for anyone not familiar with the area. If you walk for two minutes it will put you on Madero Street which is the hip area full of bars and the best restaurants in Leon. Madero Street is full of pedestrians looking for a place to grab dinner and a bar to grab a drink afterwards. It is also blocked off for traffic on Sunday, when you will find many cyclist and street entertainment such as dancers and other arts. There is also an abundance of street fairs. Right near the apartment is a place where vendors come to sell handmade products. Leon is a place that always has some sort of social festivities planned most days of the week. People seem to really take pride in the beauty of the city as well. Each day you will see people sweeping the sidewalks and painting and trimming the trees. A lot of locals use the sidewalks to exercise and bike which is very motivating. Food is great and there is no lack of options. We must say that the taco stand just around the corner makes the most delicious Al Pastor tacos in Leon. The name is "Taqeria de Huitepec" , they are not just delicious but affordable . They open at around 7pm and close at about 6am! We enjoyed our daily walks to the Plaza principle. There you will find many shops, "lot of them shoes" and other activities within the plaza. I can go on and on…. Yes, we would for sure recommend this place and we will for sure stay once back in leon! Thanks Armando for being so patient with all of my questions and helping us with some business contacts.
cesar
2016-09-08T00:00:00Z
Excelente ubicacion y limpieza, accesible y comodo para hospedarse
Perla
2017-02-19T00:00:00Z
Más que excelente mi estancia aquí, Armando muy atento, siempre en comunicación para saber si necesitaba algo o podría ayudarme en algo. La ubicación, inmejorable a unos pasos de zonas turísticas, centros comerciales. El inmueble con todo lo necesario y más para tener una estancia placentera y cómoda sin importar si tu visita es de negocios o de placer.
Alberto
2016-12-23T00:00:00Z
Lugar cómodo con una ubicación ideal! Puedes caminar a muchos lugares para salir de bar/antro de noche y a muchos restaurantes de día. Muy tranquilo a pesar de estar tan cerca de los antros.
Elizabeth
2017-02-06T00:00:00Z
Una reseña con algo de detalles, el departamento es muy privado tiene todo lo necesario sobre todo parqueadero interno y te entregan el control para abrir la puerta automáticamente, el depar es algo antiguo pero muy limpio, si lo tuyo es pasar haciendo turismo está muy bien, tal vez le falta un televisor extra si van más de 2 personas de ahí todo perfecto
Edison
2017-03-13T00:00:00Z
Room Type
Entire home/apt
---
Property Type
Flat
---
Accommodates
5
---
Bedrooms
León, Guanajuato, Mexico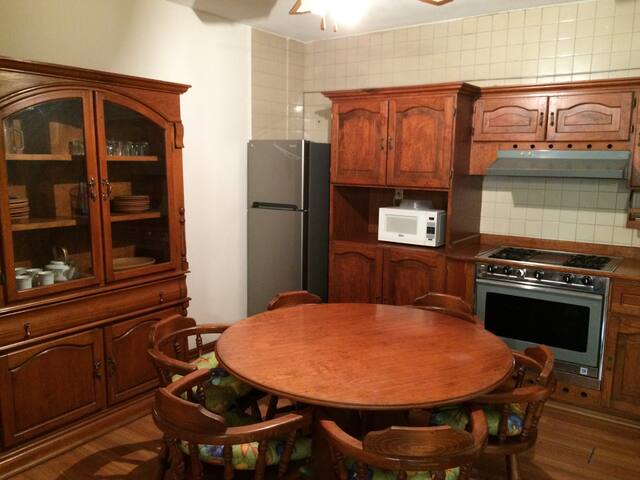 It is a very comfortable room. The area is very safe, with median kitchen and internet 5MB. You can walk to the central area (5 min), market (5min); park exercise area and lake (20min), bus station (20 min), film (20min), nice bars (5 min).
It's a very nice bedroom, with plenty of light and ventilation, a desk, chair, bed, clean sheets and blankets. Bottle of water, cookies or a snack. There is an outlet near the bed and another on the other side of the room. There are some magazines and yellow pages.
The neighborhood is very nice, very well connected and is surrounded by many tourist and commercial spots, has a lot of security. You can walk to these places: Explore Park (25 min), it has a lake with ducks turtles and fish, exercise areas, kayak rental, yoga in the mornings and organic market on Sundays. Science Museum (25min), children's museum and not so young, has an imax screen and temporary exhibitions. Within the Parque Explora. Area restaurants (5 min) Grant's international buffet restaurants, coffee Starlight (it is a beacon), mexican food, Dominos pizza (30min). cultural area (15min), Guanajuato State Museum, concert hall, sculpture garden, State Library, University of Guanajuato, theater bicentennial. Teatro Manuel Doblado 2 blocks. Area Shopping Center (15min), Cinemex, restaurants and hotel Plaza Stadium. Football stadium (10min) house home team "the beast", one of the great teams of the Mexican football today, next there is a Cinemex, restaurants, pizzerias, bars. Arch City (10 min) the symbol city LEON. It has a plaza with fountains at night, garden, a bridge and a beautiful view. Bus station area / skin (16 min) the bus station of the city and the commercial area of leather goods and footwear country's largest, with the best prices and variety. Poliforum (20min) the convention center of the city, venue of festivals and fairs of all kinds including leon fair in January. Palenque has two concert areas, government offices and showrooms. Downtown area (5 min) is the heart of the city, atoning temple founders plaza, fountain of lions, house of culture, cathedral, city hall and main garden. There are several bars in all directions for different tastes and budgets
This is place for all access to the best of Leon city
Bernard
2017-01-30T00:00:00Z
The host is extremely friendly and accomodating. His place is really special and the room is very comfortable. The location is close to restaurants, bars and shops. :)
Yosra
2016-11-19T00:00:00Z
Tuve una estancia muy cómoda, Sotero es de las personas más fáciles de trato. Siempre estuvo al pendiente y dándome recomendaciones para poder hacer mis actividades sin contratiempos. El lugar es céntrico y bien comunicado.
Luis
2016-11-13T00:00:00Z
Seguro, cómodo y confortable!!, como dice el anuncio y el trato del anfitrión muy cordial.
Yrazema
2016-10-25T00:00:00Z
Sotero es super buena onda. Me enseñó por la ciudad. El barrio está muy cerca del centro.cerca de su casa, hay muchas cafeterías, bares. El cuarto es limpio.
Ken
2016-10-22T00:00:00Z
Fue una excelente estadia, el lugar muy cómodo, Sotero siempre al pendiente de lo que necesitaba y estoy seguro que si regreso en otra ocasión a León, buscaré esta habitación para hospedarme. Todo a la perfección, super recomendado y amable. Si quieren pasar un rato agradable, hospedarse de manera segura y cómoda, y conocer León, estas en el lugar correcto. Muchas gracias por todo y saludos!
Edgar
2016-10-30T00:00:00Z
Sotero fue un excelente anfitrión, la habitación y el apartamento están muy cómodos, prácticos y bien ubicados cerca de todo, totalmente recomendable.
Luis
2016-12-19T00:00:00Z
Room Type
Private room
---
Property Type
Flat
---
Accommodates
2
---
Bedrooms
Leon, Guanajuato, Mexico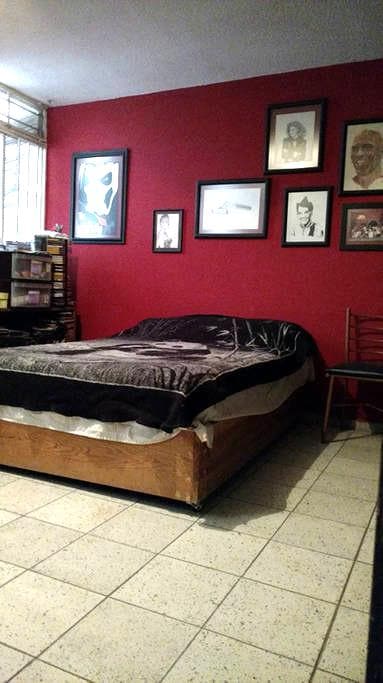 Nice apartment well furnished ubicado.con parking .Nearby the Poliforum. One block from the Expiatorio Temple and Arco de la Calzada, tourist corridor of the city of León, surrounded by excellent bars and restaurants. This place is perfect vacation with your partner, Family, Business and Groups.
My apartment is in an ideal location close to tourist and shopping areas
It's very safe. since it is in a tourist area and is constantly monitored
Room Type
Entire home/apt
---
Property Type
Flat
---
Accommodates
4
---
Bedrooms
León, Guanajuato, Mexico
Department really well located near public transportation mall and supermarkets. It has two single beds, a bathroom, equipped with everything necessary for use and utility room with washing machine.
Room Type
Entire home/apt
---
Property Type
Flat
---
Accommodates
2
---
Bedrooms
León, Guanajuato, Mexico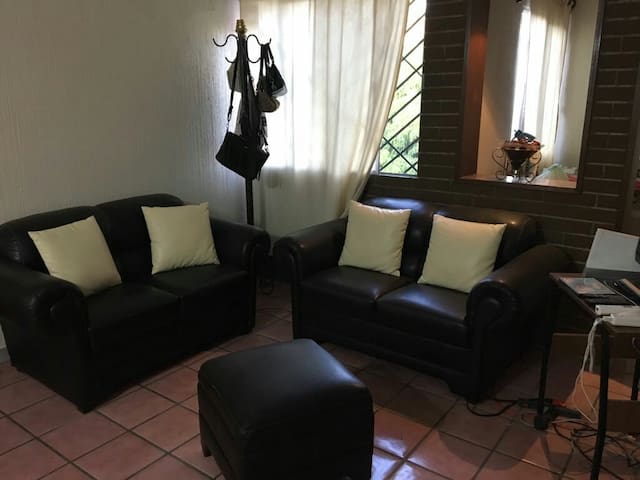 he apartment has 2 bedrooms and 1 bathroom, each room has a double bed making it ideal for 4 people. Located in the hotel zone, the department is: -5 min. By car from the central bus station -25 min. By car from the airport -6 min. Walk to Poliforum -8 min. Walk to the Parque Explora -10 min. Walk to the León football stadium -7 min. By car From the city center We guarantee a pleasant and ideal stay for any event in and around Poliforum.
In the apartment you will find: -2 Bedrooms, each with double bed -1 bathroom with clean towels, soap and shampoo for 4 -1 comfortable and decorated living room -1 Kitchen equipped to preserve, cook and heat up food -1 Dining room with all you need to have a pleasant meal -1 Parking Spot -1 Guard 24 hours except on Sundays
The Cluster is surrounded within a small industrial area and a popular neighborhood, in this area you will find places to eat like taquerias and Quesadillas shops, as well as the local stores where you can find anything you need. Leaving this industrial area you will find very good restaurants and all kinds of entertainment.
Excelente anfitrión y muy buena ubicación.
Miguel
2017-01-22T00:00:00Z
Muy agradable apartamento, tal cual se ve en las fotos. Magda y kike siempre atentos. Y lo mejor, muy cerca de poliforum, a sólo 7 min caminando.
Berenice
2017-03-17T00:00:00Z
excelente estancia el lugar es muy comodo y una gran atención de kike en cualquier momento
Javier
2017-04-02T00:00:00Z
Muy buenos anfitriones! Una grata experiencia, comodidad y servicio. Si algo fallaba estaban al pendiente para resolverlo de inmediato. Yo regreso de Nuevo con ellos!
Carlos
2017-02-02T00:00:00Z
El departamento es muy limpio y acogedor.
César
2017-02-05T00:00:00Z
El loft cuenta con una excelente ubicación, esta muy cerca de Poliforum y de centros de negocios. Para mi viaje el servicio y la estancia fue ideal!! Encantada con todo, es un lugar muy recomendable.
Paulina
2017-03-09T00:00:00Z
Completamente nuevo y tranquilo execelente ubicación
Luis
2017-02-07T00:00:00Z
Muy bonito departamento, está nuevo, y Kike siempre dispuesto para ayudar, muchas gracias por tus atenciones
Yolanda
2017-03-20T00:00:00Z
Room Type
Entire home/apt
---
Property Type
Flat
---
Accommodates
4
---
Bedrooms
León, Guanajuato, Mexico
It is a kind of modern rustic decor, for its location the fourth floor, is a very quiet place, away from the world average, nearby is a Mexican commercial, hospitals, super, 5 minutes is the large square.
Room Type
Private room
---
Property Type
Flat
---
Accommodates
1
---
Bedrooms
León, Guanajuato, Mexico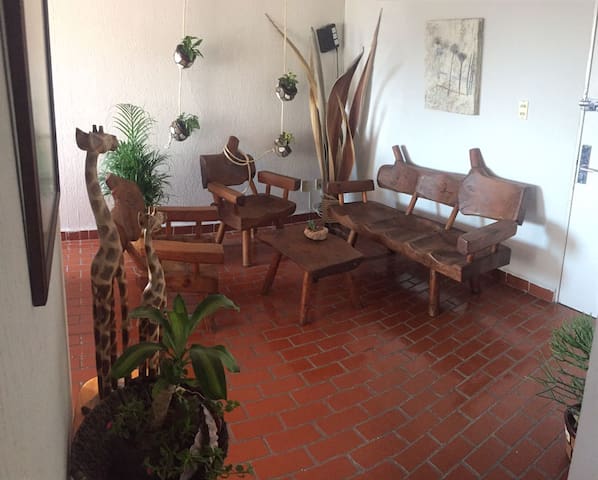 Everything went smooth. From the beginning the contact with Sandy was easy and quick, she replies to my messages in no time making the whole stay comfortable. The apartment is exactly as described - cosy, clean and located in calm neighbourhood. I recommend Sandra as a host and the apartment as a good choice.
Norbert
2017-04-03T00:00:00Z
Excelente estancia. El lugar es agradable. Tienen estacionamiento con seguridad y de fácil acceso a vías rápidas. Buena atención de la anfitriona.
Diego
2017-04-05T00:00:00Z
Room Type
Entire home/apt
---
Property Type
Flat
---
Accommodates
2
---
Bedrooms
León, Gto., Mexico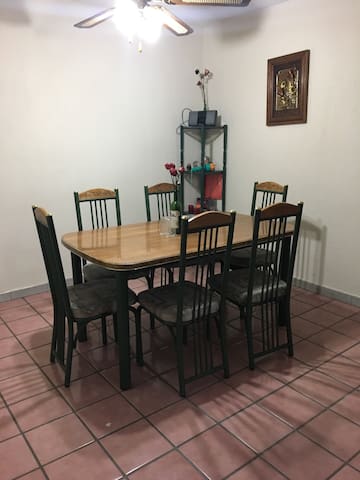 1

–

18

of

91 Flat Rentals
Enter dates to see full pricing. Additional fees apply. Taxes may be added.