This cosy bungalow is beautifully situated beside the little river with stunning view towards the Silver Cliff walls. For more information have a look at (URL HIDDEN)
The Rafflesia Bungalow includes: king-size bed, mosquito net, fan, hot shower, towel, balcony with Silver Cliff view
You might be looking for adventurous trips at day or night time, in the jungle or on Cheow Lan lake and the floating bungalows,or the the river of Klong Sok. Or you might be interested in excursions to learn more about local flora and fauna or get in touch with local culture. Last but not least you like to relax or recover from the trips made. Karen and her team are happy to provide you advice and organise your activities to make you a pleasant stay tailored to your wishes.
Karen was great, the communication level was spot on as well. The property and surrounding areas are beautiful. The notion of sleeping so close to the elements is quite intimidating but the experience is wonderful.
Roberto
2016-09-16T00:00:00Z
We had a very nice stay at the Silver Cliff Resort and do definitely recommend to stay there!! The bungalows are beautiful located in the jungle and Karen is a great host.
Rahel & Dominik
2016-11-01T00:00:00Z
when we arrived at karen's little resort we were welcomed very friendly and felt comfortable from the very first moment. the next days we rented bikes that were available for free and booked one of the many tours that karen offers. our little house was beautiful with a large bed and the food was very delicious. in general, karens resort is cheaper and more personal than other comparable resorts in the neighborhood. we would recommend karens place to everybody that is interested in a real jungle experience and wants to feel welcomed and not just like one more tourist in thailand :)
Hannah
2017-03-16T00:00:00Z
Karen and her staff were extraordinarily helpful. Karen was always ready to help with a smile. The food was also top notch! The place was very clean and welcoming. The bikes were really handy. A great place to stay!
david
2017-02-20T00:00:00Z
Our best stay in Thailand by a long shot. Karen is a world-class host, and the resort that she runs is bursting with magic that can be found but few places in the world. We were welcomed warmly into the lovely restaurant that serves as a hang-out spot and lounge for all residents of the resort, and we found both the food and the company there to be incredible. The room itself offers all of the needed amenities in a simple, but very comfortable package. It's also down the road from the more bustling tourism center of the park, and offers more peace and quiet than any offerings there. Ultimately, Khao Sok National Park is an absolute must for the nature enthusiast visiting Thailand, and the Silver Cliff Resort was the best place imaginable to call our home base while we were there. Thank you, Karen!!
Jeff
2016-12-29T00:00:00Z
Karen is an incredibly kind and generous host. She's a great conversationalist and you'll leave feeling like you're best friends. The place is also great! Really peaceful and quiet, and Karen's knowledge of the area is impressive. We will stay here again the next time we're in Thailand.
Sarah & Nick
2017-02-03T00:00:00Z
Karen is a beautiful person, she helps all the time, it feels like being at home. Oh and don't forget the kitchen! Amazing and tasty!
Anton
2016-12-22T00:00:00Z
Silver cliff retreat blew our minds! Karen was amazing, the staff was incredible and the retreat itself is out of this world!! The beautiful place was one thing, but the hospitality was what made it truly special. Karen makes it such a personal experience and helps get the most of your time in Khoa Sok. With priceless tours, free bikes, friendly vibes, adorable bungalow with a stunning view and lovely food (+ more)... We wouldn't change a single thing. Karen was more than helpful when it came to booking tours for us, buses and recommending bike paths for us to adventure. I absolutely, without a doubt, recommend it to every and any human being looking for a place to stay! You'll have such a memorable experience! Thank you Karen and everyone and Silver Cliff.
Sarah
2017-02-08T00:00:00Z
Room Type
Private room
---
Property Type
Bungalow
---
Accommodates
2
---
Bedrooms
Khlong Sok, Surat Thani, Thailand
Luxurious design surrounded by tropical gardens.The Room is on the tree. you can see riverside and mountain view. You will see variety of local fruit in our orchards along the way between restaurant to tree houses such as rambutans, mangosteens and long kong.
Tree House room is on the tree and close to riverside with mountain view.
Room Type
Private room
---
Property Type
Nature lodge
---
Accommodates
2
---
Bedrooms
TH, Thailand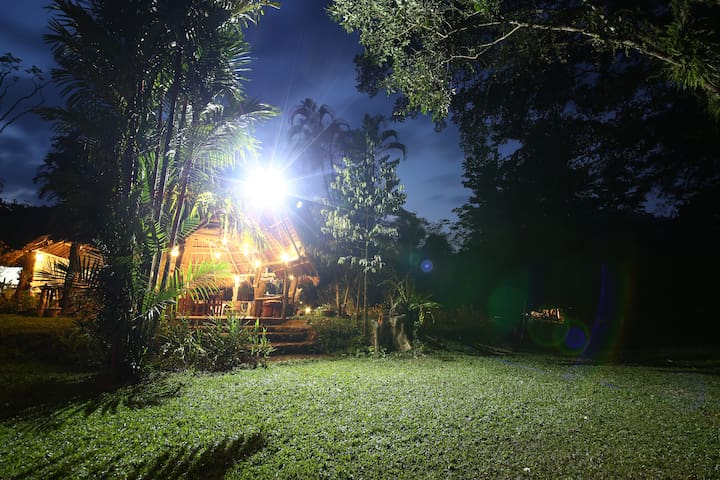 Enter dates to see full pricing. Additional fees apply. Taxes may be added.