come and stay in this cheeky modern apartment in netanya south just across over to poleg beach (3 min of drive) and less than a min of walk to the big shopping center in the city south. it will only take you 15 min drive to tel aviv centre with lots of public transport 24/7 just at your doorstep. the place have everything you need: secure parking belong to appartment,two big bedrooms with extra big comfortable beds,big living area and etc. close to the beach,wingate institute,restaurants... .
Место Рафаэли. Venez résider dans cet appartement moderne et agréable au Sud de Netanya en face du centre commercial Ir Yamim et à 5 minutes de Poleg beach. A l'entrée de la ville, il ne vous faudra que 20 minutes pour vous rendre à Tel Aviv gràce aux transports en commun disponibles 24h/24 à 3 minutes á pieds de l'appartement. Vous vous sentirez à l'aise dans ce beau 3 pièces au séjour très spacieux et lumineux. L'ambiance est sereine et apaisante. Vous adorerez séjourner dans mon appartement à l'emplacement de rêve! Plage, magasins et restaurants à proximité!
It was great to be at Raphael's place. It is well organized and furnished. we found everything that we wanted. very convenient place of living. Raphael was so nice and responded immediately and positively to all of our questions and requests. We enjoyed our stay very much and recommend the place.
Rifat
2016-07-29T00:00:00Z
The apt is very good. Very comfortable. It has free parking. The host was very nice but he didn't come. He gave us all the instructions on the phone . The toaster and the tap were broken. The towels and the sheet were enough. The location is good in the center of the country. The heating and kitchen supplies were fine.
Norberto
2017-02-22T00:00:00Z
He call me as soon as I arrived at the local so that I could enter the apartment. Everything inside the apartment was according to the pictures in the site. The local is shy and next to shopping, bus stations, relatively next to the beach. We enjoyed very much.
David
2016-12-07T00:00:00Z
Raphael's place is exactly as shown on photos and even more, we loved the place. Raphael himself really nice and willing to help with everything.
Yehuda
2017-03-25T00:00:00Z
We just loved Raphael's place. Everything was clean, Raphael always checked in and was very helpful! We will visit again!
Naor
2016-12-29T00:00:00Z
The apartment was clean nice there is a private parking are I enjoyed there and raphael was excellent an helpful
mahmood
2017-01-31T00:00:00Z
İts awesome !
Giovanni
2016-10-06T00:00:00Z
Close enough to industrial area to take a service taxi or to walk (30min). Internet at ~30mpbs download speed. Not much of a proximity to a beach. Bus stations are nearby and service taxis are frequent. Convenience stores and mini-market are nearby. Apartment appliances are in good condition.
Vlad
2017-01-12T00:00:00Z
Room Type
Entire home/flat
---
Property Type
Apartment
---
Accommodates
5
---
Bedrooms
Netanya, Center District, Israel
Our lovely and cozy penthouse apartment ,a few minuts driving from the beach in netanya. Pleasant comfortable and contains everything a small family or a couple needs ,on vaction in beutiful city of netanya.
The host canceled this reservation 13 days before arrival. This is an automated posting.
Leon
2017-04-03T00:00:00Z
Room Type
Entire home/apt
---
Property Type
Apartment
---
Accommodates
4
---
Bedrooms
Netanya, Center District, Israel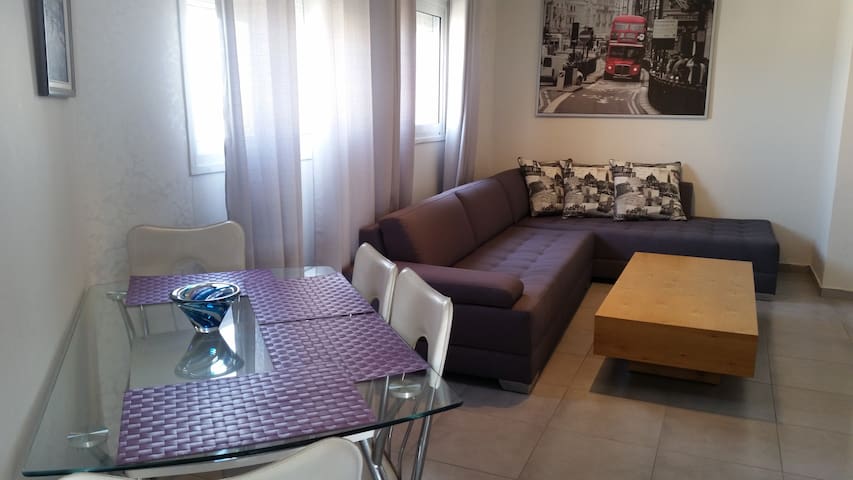 Nice and welcoming apartment. 65 ms, Small space, but with a lot of light and everything you need in it. 1 km from the see, 2 minutes walk from the big mall, near the food center with supermarket and vegetables. In the beautifull city of Netanya. All you need is to come! Great place for a couple plus kid or 2. (The single bed can be opened for two).
Room Type
Entire home/apt
---
Property Type
Apartment
---
Accommodates
3
---
Bedrooms
Netanya, Center District, Israel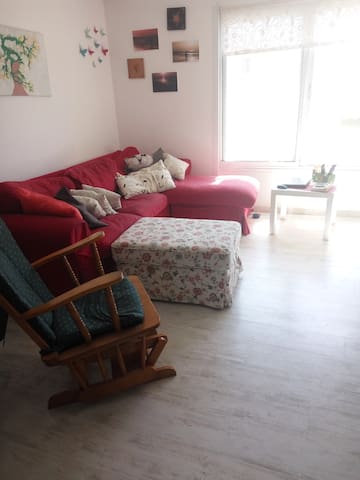 The best apartment for your vacation or business trip.
Just a walking distance from Poleg beach and from the huge shopping mall (Ir-Yamim Mall). Our beautiful apartment has all the requirements for a lovely vacation or a business trip. You will have a great night sleep on our 2 king size beds. We have two bathrooms. You will have an extraordinary sea breeze during most of the day coming from our sea view balcony on the fifth floor. If you wish you can use our full operating kitchen to cook an awesome meal, or relax in the specious living room while watching cable TV, or surfing the internet with our complimentary WI-FI. Enjoy!
Perfect for family with kids, great central location in Israel for the business person. 10 minutes from Poleg beach (16 min. On foot) 5 minutes from "Ir-Yamim" Mall which has great coffee shops with awesome breakfast/lunch, and many other shops. Public transportation stop in front of the building. 20 minutes drive from Tel-Aviv On the street below there is a small supermarket, laundry service, barber shop, bank and a McDonalds.
Apartment was great. Host is very helpful, will come back for sure.
Danny
2016-08-19T00:00:00Z
Great location at nicely designed residential area. Near by are a great beach and a large shopping mall. Quick access to the freeway. Easy parking.
Eyal
2016-05-16T00:00:00Z
Absolutely perfect stay in a beautiful and well-located apartment and with the kindest and friendliest of hosts! Shlomit was quick to answer all my questions, and provided everything one needs for a perfect holiday or visit with family, including some basic kitchen needs so we could have breakfast our first morning. The apartment is spotlessly clean (and I'm not easy to please), wifi was fast and reliable, showers were great with big fluffy towels and good hairdryer provided, beds super-comfy, kitchen nicely equipped. It's even more beautiful and spacious than the photos indicate. The neighborhood is lovely and we felt totally safe, even walking back late at night. Short walk to the spectacular Poleg beaches, also to the impressive modern shopping mall. We enjoyed our visit in total comfort (luxury, really, with air-conditioning though we didn't need to use it thanks to lovely sea breezes, and dozens of tv channels in many languages), and can't wait to return. Thank you, Shlomit, for all the thoughtful touches and for being such a wonderful host!
Tammy
2016-10-21T00:00:00Z
everything was perfect
dieter
2015-11-05T00:00:00Z
This is a modern and tastefully decorated apartment located in an upscale residential neighborhood. Close to the beach, shopping, and recreation. This apartment had all the modern amenities and comforts of home. Shlomit was always available to answer questions and help when needed. I highly recommend Shlomit as a host and her apartment.
Michael
2015-11-15T00:00:00Z
Shlomit was such a gracious host! She was very flexible and understanding with our check-in times that were constantly changing. The apartment is beautiful, stocked with everything you need and incredibly cozy and CLEAN! It legitimately felt like a home away from home. The balcony has a stunning view to the beach as well. There is fast wifi & loads of int'l cable channels, and we really enjoyed the water cooler--a nice touch to have in an airBNB. The apartment is a few minutes from the Yir Yamim Mall, coffee shops, the beach, just overall a very pleasant neighborhood and apartment experience!
Danielle
2016-11-15T00:00:00Z
A great place A great host, Thank sur Shlomit A great appartment very nice and confortable. Everything is like on photos Enjoyed to stay there
Gilles
2017-03-16T00:00:00Z
Shlomit was a really fantastic host, we couldn't have asked for more. The apartment is exactly as described and Shlomit was just around the corner for anything we needed. The flat is clean, spacious and was next door to where we needed to be so the location was perfect for us. When we arrived there was snacks and drinks waiting for us and the bathrooms were stocked with toiletries. Overall a great experience and we would not hesitate to recommend it to others and or to stay there again next time.
Anthony
2016-12-18T00:00:00Z
Room Type
Entire home/apt
---
Property Type
Apartment
---
Accommodates
6
---
Bedrooms
נתניה, מחוז המרכז, Israel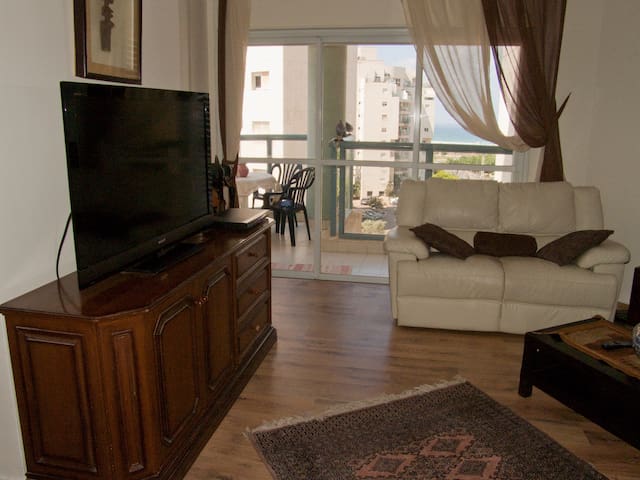 I live in Natanya, near the sea. I am offering one bedrooom in my house (an apartment). Available for 2 people to stay.
Nava was a kind host, who warmly welcomed me to her house. Nava was very helpful with everything i needed, her house is very clean and nice.
Barukh
2017-02-23T00:00:00Z
The house of Nava is a verry welkom and Nice place. She is verry helpfull and welkom for the visiters. So iT is a good adres for a view in the surrounding. We loved iT realo's and also Nava we a very hospital & Nice woman
Dirk
2017-04-02T00:00:00Z
The host canceled this reservation 4 days before arrival. This is an automated posting.
Naftaly
2016-12-26T00:00:00Z
So home and cosy. A perfect host. Attention to small things. Care for every need. Beautifull open sea view. What else do you need. We sure to come back:)*****
Smadar
2016-12-20T00:00:00Z
Me and my husband were staying here for one night. It was an incredible stay, we had an interesting conversation with a cap of tea and a homemade cake. The flat is much better than you see on the photos - it was clean and comfortable with an excellent view from the balcony. We wished to stay there for a long time, but we needed to leave this place, unfortunately. Nava is the best host I have ever met!
Maria
2017-02-19T00:00:00Z
I stayed at Nava's overnight, as booked, on Dec.23rd,2016. It was incredible! Nava is a very pleasant person. The atmosphere she creates is warm and welcoming. Coffee/ tea was offered upon arrival and in the morning too -no charge. Nava stands up for everything she offers in her listings, an beyond. Accomodation: room, bed, bathroom, lounge all neat & tidy to make you feel comfortable. Superb view from 7th floor! I definately recommend stayin at Nava's. Mazal Hurwit(URL HIDDEN)
mazal
2016-12-24T00:00:00Z
Nava warmly accepted me to her home. She is a kind host and was caring to all my needs. I would whole heatedly recommend her to anyone.
Barukh
2017-03-02T00:00:00Z
Je remercie Nava pour son accueil et sa gentillesse personnellement très correcte qualité prix .petit espresso au matin très apprécié merci encore
Olivier
2016-12-23T00:00:00Z
Room Type
Private room
---
Property Type
Apartment
---
Accommodates
2
---
Bedrooms
Netanya, Center District, Israel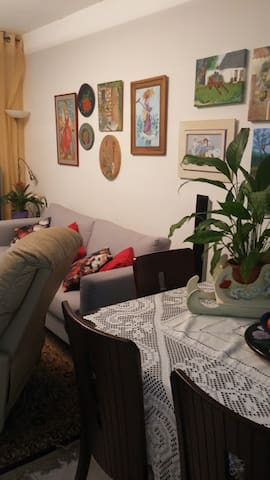 A lovely cozy, colorful vivacious apartment. It is well lit with great sea breeze, filled with positive energy. its only 5 min driving distance from the beach (10 min by foot). 1 bedroom, 1 spacious living room- both have air conditioning. comfortable couch in the living room.4th floor apt, no elevator): located between 2 vibrant commercial zones within walking distance. Very close to #2 Highway with easy access, and close to public transportation .Free parking lot.
The cozy apartment feels good from the moment you enter. Sigal welcomed me personally in a friendly way and helped with the luggage. The apartment is excellent for one or two persons. It is not large but everything that is needed is present. A comfortable bed helped to sleep well. Ir Yamim shopping mall and restaurants at 5 minutes walking distance and lots of busses stop nearby. Highly recommended.
Daan
2017-03-09T00:00:00Z
We had a very nice time at Signal's lovely appartment. Everything was great!
Malvin
2016-10-02T00:00:00Z
Accueil et appartement très chaleureux . Photos conformes . Sigal est extraordinaire,agréable, gentille,souriante, répondant à toutes vos questions dans l'immédiat. Niveau qualité prix rien à dire c'était parfait . Je recommande cette appartement!!!!
Judith
2016-08-19T00:00:00Z
Room Type
Entire home/flat
---
Property Type
Apartment
---
Accommodates
3
---
Bedrooms
Netanya, Center District, Israel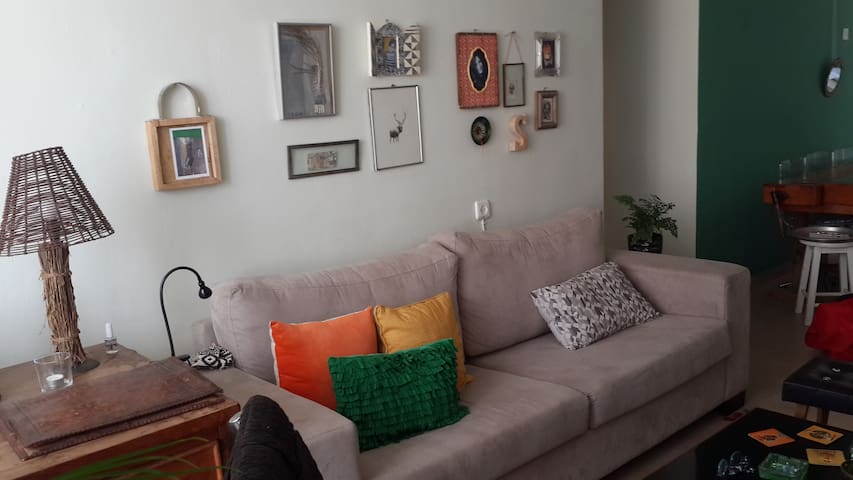 My apartment is well lighted and comfortable for 2 adults and 4 children It is situated is close to a big shopping mall, 10 minute walk to the beach, public transportation to center, to the train station and to Tel Aviv. Very friendly and relaxing neighborhood, family-friendly activities, restaurants and dining. You'll love my place because it is very comfortable and airy and light, quiet building and the location. My place is good for couples and families (with kids).
Room Type
Entire home/flat
---
Property Type
Apartment
---
Accommodates
6
---
Bedrooms
Netanya, Center District, Israel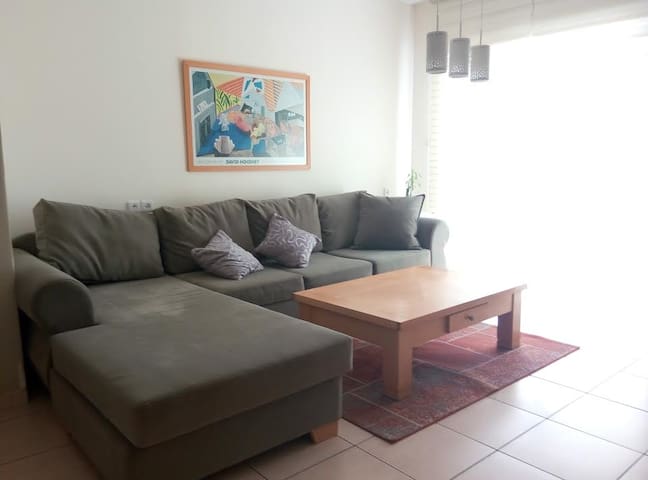 Situated on the tenth floor of a brand new block, offering a sea view & walking distance to a fabulous mall. We have a large living area, 3 bedrooms, two bathrooms and a guest toilet. Beautiful communal spaces - lounge, fish pond, table tennis and more. Perfect accommodation for a carefree beach and sightseeing holiday in Israel.
We offer a large three-bed-roomed apartment. There is an en-suite bathroom and walk-in wardrobes in the master suite which includes a queen size bed. The other bedrooms each have a single bed with an additional bed underneath that raises to the height of the other. There is also a desk and chair in each of these rooms. There are fitted wardrobes in all rooms. There is a family bathroom and an additional guest toilet leading to the utility room. There is a large living and dining area (suitable for 8 people) with a fully fitted modern kitchen. We also have a great sized private balcony with comfortable furniture and view to the sea. There is also a 2nd private balcony off one of the smaller bedrooms. Included is great wi-fi, central air-conditioning and cable tv. The building has communal space which includes a furnished lounge area, a sitting area in the foyer. In the gardens there is landscaping, fish ponds, giant chess board, pétanque court, table tennis table, as well as sitting areas and lawn. The beach is only 7 minutes' walk away, although, if you prefer to drive there, there is a car park (additional charge).
Room Type
Entire home/apt
---
Property Type
Apartment
---
Accommodates
6
---
Bedrooms
Netanya, Center District, Israel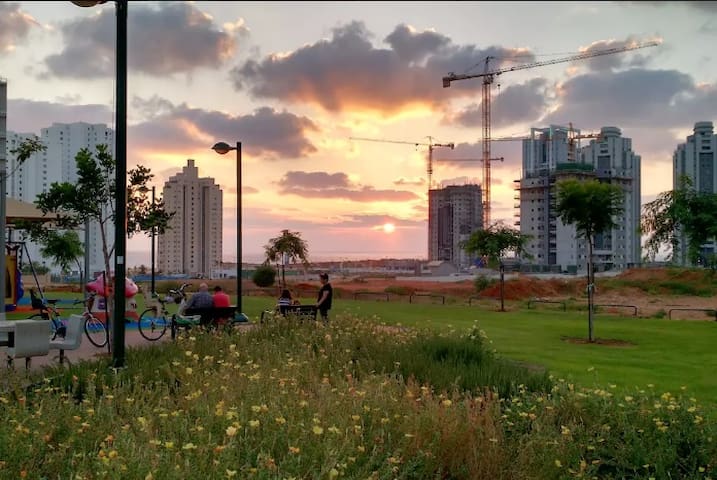 Your apartment is the perfect place for a relaxing break. Have a relaxing time in the pool to cool off or get some tan while enjoying the beach scenery. Visit the gym to tone your muscles, while sometimes shooting balls on the billiard table. 5 min walk to the beach. Enjoy a sea view from the apartment
Beautiful, attractive and well-furnished apartment located in Ir Yamim, a minute walk from the beach. This comfortable apartment accommodates up to 2 adults and 2 children, with one bedroom, a bathroom, and a kitchenette. Has one bedroom, with a double bed with sofa bed, a closet, and hangers. The accompanying bathroom has a shower, toilet and sink. It is additionally fitted with all basic toiletries including soap, shampoo, linen, towels and toilet paper. There is a fully equipped kitchenette with a dining table, toaster, kettle, fridge, freezer, and a microwave.
Located in a breathtaking neighbourhood, right at the corner of the beach, you require just a minute walk to get to the beach.
Yes
Chaim
2017-01-05T00:00:00Z
We had a very nice stay at Laura's place in Netanya. For us a perfect location as it is located right next to our parents' apartment block in Ramat Poleg. Laura's flat is situated in of one of the nicest buildings in the area, and is within walking distance to the beach, some nice cafe's/bakeries as well as a large mall. The place itself is fairly small, but well set up to maximise the space. It is exactly as advertised on Airbnb, with all amenities and utensils one would need for a few days. Laura has been exceptionally responsive during the whole process, and both check-in and check-out were very smooth. As we had our 10 month-old baby with us, Laura immediately organised a baby bed without us even asking... I can highly recommend Laura as a host.
Arnold
2017-01-15T00:00:00Z
The apartment suited us just the way we wanted, images were identical to what is real. The hosts were very kind and made sure that everything lined up and we enjoyed our holiday. Even when we were short of sheets, they came specifically to make everything neat and good. Thank you!
noa
2016-06-05T00:00:00Z
Laura was excellent great communication, apartment was clean and well described. Definitely recommend when in the poleg Netanya area .
Morris
2016-09-07T00:00:00Z
The place itself was in an excellent location for the beach, with good shopping in a mall about a 10 minute walk away. It suited my purposes very well, and served as a great little base for while I went out and about to explore. Laura, who looks after the place, was very helpful and ensured everything was all set for me to just start enjoying myself. All good!
James
2016-07-21T00:00:00Z
The apartment is located near Netanya beach. Fairly clean and equipped with the needed appliances. Swimming pool, sauna and nice gym. The shower wasn't covered with appropriate curtain and each time the bathroom floor was filled with water. The host wasn't reachable enough to our opinion. Overall I would recommend this apartment for business visit.
Arik
2017-01-02T00:00:00Z
Terrible. There is no apartment. It is a security room of an apartment and has a door that connects the apartment owner. The owner listens to very high TV and it is terrible to sleep. There is one good bed to sleep on the sofa bed is inappropriate to sleep in comfort. The bathroom is flooded when taking bath and there is no way to take water as there is no equipament and not enough trap. There was no toilet paper in the apartment when we arrived and after we complained was delivered 2 rolls for 11 days! There was no change of towels and sheets for the 11 days we were staying. The apartment was dirty and unwashed glasses. We were 4 people and had only 3 forks and no knives to cook if you need. I rented this apartment so there is in the building but the pool is very cold. The beach in front is ok but like all beaches in Israel it is very dirty. In short, a bad experience.
michel
2016-07-12T00:00:00Z
Nous avons passé un bon sejour, appartement propre, immeuble avec piscine, salle de sport et salle de jeux tres pratique pour les enfants , bon emplacement en face de la mer et centre commercial a proximité. Laura tres reactive a nos demandes. a recommander
Hanna
2016-06-17T00:00:00Z
Room Type
Entire home/apt
---
Property Type
Apartment
---
Accommodates
4
---
Bedrooms
Netanya, Center District, Israel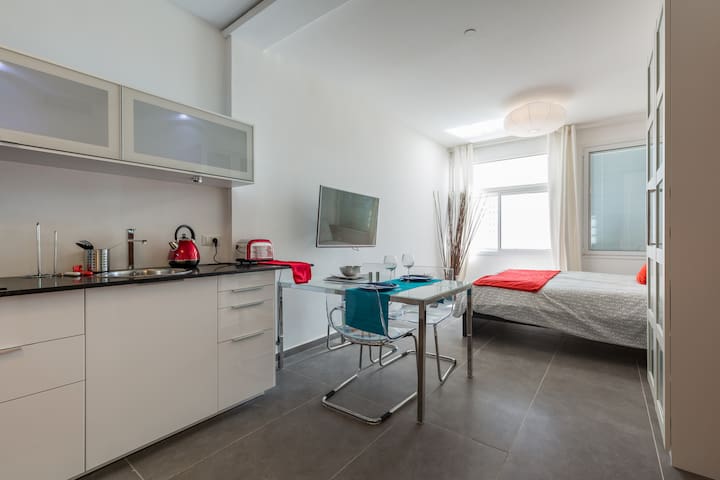 offer a3 cozy rooms in private 5-room apartment in Netania, just walking distance from the beach ! In your room you'll find a convertible couch -opens into two separate beds, office table wardrobe and all the necessary bedding and bath accesso
В Нетании К вашим услугам ! 3 отдельные комнаты в доме в пешеходной доступности от моря. В комнатах к вашим услугам: кондиционер,удобные кровати с ортопедическими матрасами, шкафы, телевизор, постельное бельё, полотенца, холодильник, микроволновая печь и все, что может Вам потребоваться. Также мы предлагаем экскурсии по всему Израилю по экономным ценам с профессиональными русскоговорящими гидами. Идеальный выбор для отпуска ! Мы ждем вас !
The apartment has a well-equipped kitchen, a fairly large living room, a nice sunny balcony, 2 toilets-one with a bathtub.
I am a little challenged here to review because I actually arranged the room for my son who was in Netanya between apartments. I was very pleased that Yair was very accommodating on extremely short notice. My son Solomon reported that it was a "great" place to stay.
Stephen
2016-04-03T00:00:00Z
The host made us feel very comfortable. The host is friendly, warm and welcoming. The apartment has a separate section for the guests , so there is full privacy for the guests. Thank you very much.
ilana
2015-10-30T00:00:00Z
Everything went well. My parents loved the place. Thank you.
Maria
2015-06-01T00:00:00Z
The reservation was canceled the day before arrival. This is an automated posting.
Aaron
2015-05-01T00:00:00Z
Room Type
Private room
---
Property Type
Flat
---
Accommodates
6
---
Bedrooms
Netanya, Center District, Israel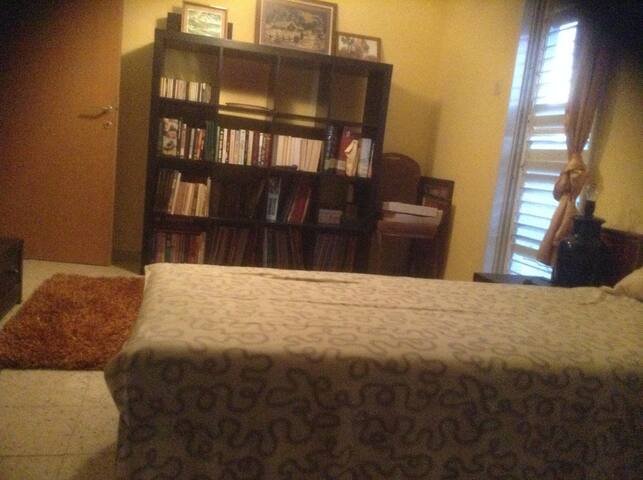 My place is close to The Beach, Restaurants, Supermarket, shops, bank, hairdresser, Shul. You'll love my place because of Beautiful uninterrupted sea views, tastefully furnished, excellent linen, spotlessly clean. My place is good for couples and families (with kids).We are proud to have been awarded the "Tripadvisor Badge of Excellence"The apartment is situated on the 8th floor of Ir Yamim, on the seafront of Poleg with magnificent unobstructed views of Poleg Beach and the sea
We are proud to have been awarded the "Trip Advisor Badge of Excellence" The apartment is situated on the 8th floor of Ir Yamim, on the seafront of Poleg with magnificent unobstructed views of Poleg Beach and the sea The location is ideal; just a stones throw from the Beach, Shopping Mall, Restaurants, Coffee Shops, Bank, Hairdresser and the local Synagogue We maintain the apartment in pristine condition and the beds and furnishings are of the highest quality BEDROOMS - The apartment has 3 bedrooms and sleeps 5 guests comfortably The main bedroom is en suite and has a king size bed and walk-in dressing room The second bedroom has a queen size double bed The third bedroom has a three quarter bed, desk and computer We have a baby's cot available on request APPLIANCES - The apartment is fully air-conditioned and includes the following • A Nespresso coffee machine (remember to bring your favourite pods), Kettle & Toaster • An oven, hob, refrigerator & microwave • Dish washer, washing machine, tumble dryer, iron & Ironing board INCLUDED IN THE RENTAL - The rental fee includes the following • Fast Wi-Fi internet (30mbs) • Cable TV in both the lounge and the main bedroom (a full bouquet of news, sport & entertainment) • Portable phones (local mobile & landline calls included at no additional cost) • The apartment is fully equipped with fitted sheets, duvets and bath towels (no beach towels) • Crockery, cutlery, glassware and cooking utensils • Remote controlled secure parking conveniently situated near the liftsPLEASE NOTE • Although the apartment is not strictly kosher we request that guests do not bring non kosher food such as shellfish into the apartment • This is a non smoking apartment … smokers may use the outside patio • Please bring your own beach towels … bath towels may not be removed from the apartment
Room Type
Entire home/apt
---
Property Type
Apartment
---
Accommodates
5
---
Bedrooms
Poleg, Netanya, Center District, Israel
Brand new app' located 500m from the beach with a Clear sea view . 4 badrooms,all of tham are stylish equiped. 3 toilets and 2 bathroom (1 in the master bad room), big storage room and free parking places. Huge balkony will allow you to drink coffee infront of the beach. The app' is located 500m from the main mall, Resturants, coffee shops, beach bar and more. The place is highly decorated and fits family or 4 couples. Every morning with the rising sun u will wake up smiling. Perfect for you!
The place is located 500m from the beach and the main mall. Public transportation are located 5 min walk. Coffee shops, resturants , bars , beach bars , shops , all are 10 min walk from the house.
The place is in the center of everything. Great great location!
The host canceled this reservation 2 days before arrival. This is an automated posting.
David
2016-12-12T00:00:00Z
Room Type
Entire home/apt
---
Property Type
Apartment
---
Accommodates
8
---
Bedrooms
נתניה, מחוז המרכז, Israel
3 rooms apartment in Poleg - Netanya for 1 month rent - 10Sept-10Oct. The apartment is in a great condition - 4th floor(out of 18) with 3 elevators and 2 private parking underground lots. 2 min walk to beautiful Beach.
Room Type
Entire home/apt
---
Property Type
Apartment
---
Accommodates
2
---
Bedrooms
Netanya, Center District, Israel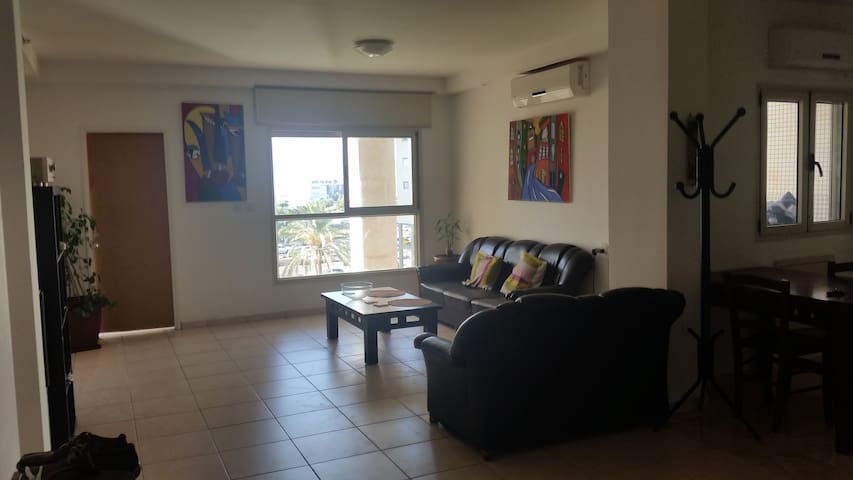 My place is walking distance to the beach, has nearby great views, restaurants and dining, family-friendly activities, and art and culture. You'll love my place because of the beautiful beach neighborhood, the comfy bed, the coziness, the bright fully equipped kitchen, balcony with sea view and the light. My place is good for couples, solo adventurers, business travelers, and families with kids. I have a 2nd guest room available with a double bed. (See other airbnb listing)
Private bedroom and bathroom in separate corner of apartment that has its own private entrance. Comfortable full size new bed for 1 or 2 persons with nightstand, spacious closet and chair. Wireless internet, printer, hangars, beach chair or chaise lounge available, wheeled bag to transport groceries.
Ir Yamim is an amazing, beautiful beach neighborhood. Walking out of the building is the beach to the right on the street and a newer mall and public transportation 5-10 minutes walk to the left. There is a wonderful cafe on the beach and plenty of restaurants, 2 supermarkets and a convenience store you can walk to.
Room Type
Private room
---
Property Type
Apartment
---
Accommodates
2
---
Bedrooms
Netanya, Center District, Israel
Apartment in luxury building amazing location near the beach cliff in residential neighborhoud in the South of Netanya (Poleg, Ir Yamim). The apartment includes: Air conditioning, Wifi, Tv and Cable tv, showers, Iron, Hair dryer and Essentials. The kitchen is fully equipped with Electric stove, Microwave, Refrigerator, Congelator, Cooking pots and Skillets and allow to cook comfortably. Accross the building there is accessible Mall that open from 9 to 11 pm. and the building always secured.
Magnifique appartement, spacieux, clair, calme, vue partielle sur la mer. Immeuble luxueux. Toutes commodités, centre commercial derrière l'immeuble (Banques, Coiffeurs, SPA, Pharmacie etc...
L'appartement est situé en face d'un des plus luxueux centre commercial du pays, et en face d'un parc protégé naturel ou vous pourrez faire de trés belles ballades. Le soir avec un véhicule ou avec un taxi ou la navette au pied de la residence, vous pourrez aller manger des sushi ou aller au Cinéma City de toutes beautés. Vous avez deux supermarchés à 3 minutes a pied, pharmacie, poste, docteurs, bowling. Quartier residentiel avec beaucoup d'arbres et de fleurs. Synagogues à 2 minutes à pied.
Room Type
Entire home/flat
---
Property Type
Apartment
---
Accommodates
6
---
Bedrooms
Netanya, Center District, Israel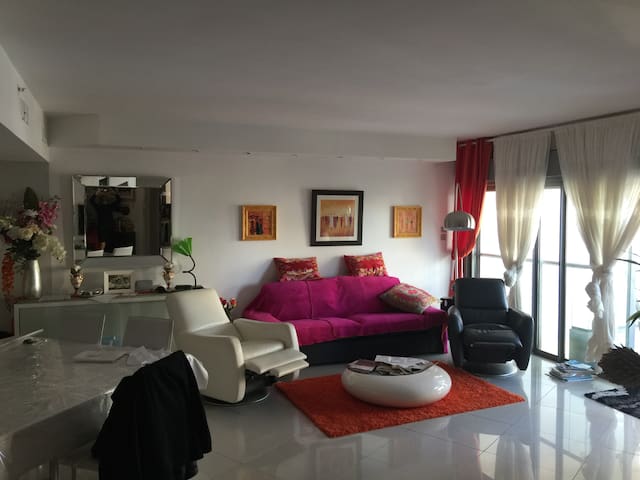 Looking out to the sea, enjoy a drink on the terrace or a walk to the sandy beach. With three bedrooms and a fully equipped kitchen, feel at home in this place with great weather and new furniture.
Room Type
Entire home/apt
---
Property Type
Apartment
---
Accommodates
6
---
Bedrooms
Netanya, Center District, Israel
Bord de mer, à 30mn de Tel Aviv au cœur de Ramat Poleg au sud de Netanya très bel appartement familial entièrement refait en 2016. Appart traversant, 2 terrasses dont une vue mer, belle pièce à vivre avec cuisine américaine et îlot central, 3 chambres à coucher et 2 sdb
Quartier résidentiel, proche tous commerces, à 5 minutes à pieds de la superbe plage de Ramat Poleg Appartement très lumineux, double exposition, beaux matériaux
This apartment is newly renovated , to a high level . We were very happy & comfortable there for the week. Sweet little balcony facing the sea , and another one where we dried our clothes. Hosts are very friendly and helpful (offered us toys for my daughter , extra towels etc.) . Location is very good, in the centre of Poleg , a few minutes walk from the beach & shopping centre. I would definitely recommend this place & would stay again on my next visit.
Lili
2016-10-25T00:00:00Z
Dan and Emanuella, Thank you so much for the GREAT apartment. the Apartment was clean, Close to beach and to shopping Mall, A coffee shop and a grocery just near by and Parking. Very bright house and Great hostes, really made us feel at home!! Thanks once again.
Aya
2017-02-08T00:00:00Z
We have stayed at Dan's flat in Netanya for a week (family of five with young children). Dan's daughter was communicating with us prior to our arrival and through our stay. she was always available and extremely kind. There was no problem with late check in or check out, it was smooth and extremely flexible. The location of the flat was convenient and close to everything we needed, the mall, the sea, local shops, main highroads etc. There are two parking spaces, which was excellent! The flat was very spacious with a great view, it was clean and comfortable. There are plenty of beds and even a cot if needed. We will definitely consider going back there again. Staying at the flat made our visit to Israel very welcoming and comfortable, so thank you very much Dan and Emmanuel.
Keren
2017-02-19T00:00:00Z
Avant toute chose je voudrais remercier Dan pour sa disponibilité, son accessibilité et pour tout ce qu'il a fait pour nous avant et pendant le séjour. Franchement, l'appartement était conforme à l'annonce! AUCUNE mauvaise surprise mais le point fort de notre expérience fit indéniablement la relation avec Dan. Il a tout fait pour nous aider à rendre notre séjour agréable. Seul point mitigé POUR NOUS est le quartier un tantinet trop résidentiel pour nous. Mais nous sommes des citadins et à cela Dan ne peut rien y faire. L'appartement était propre, grand, lumineux, bien équipé avec vue sur la mer... En conclusion, vraiment rien à dire et si nous devions revenir sur Poleg, nous reprendrions certainement cet appartement en location. Merci Dan!
Alexandre
2017-01-02T00:00:00Z
Maravilhoso!! Tudo limpo, bonito, perfeito!! Completo! Atenção dos anfitriões é muito acolhedora!
Kalanit
2016-12-24T00:00:00Z
Room Type
Entire home/flat
---
Property Type
Apartment
---
Accommodates
6
---
Bedrooms
Netanya, Israël, Israel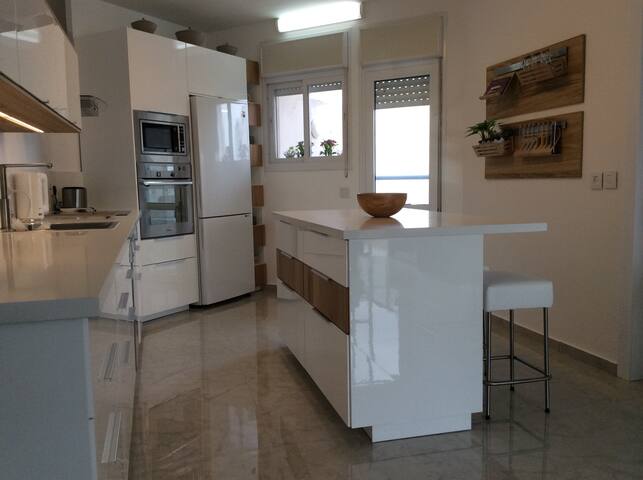 This apartment gives you 100% satisfaction. It is the most luxurious building of all Netanya with benefits that are better than that of a luxury hotel.A tunnel is made so that people do not cross the road to go to the beach and it is ideal for children.The sea is just opposite in 5 minutes, with coffee, transat, chairs, surfing courses, the atmosphere is young and dynamic.The highway is 2 minutes away, the IR YAMIM shopping center is 5 minutes with plenty of restaurant, Mac Donald's kosher...
Our accommodation is design, our furniture is new, the television is very big with a BOSE home theater, Nespresso coffee machine, super functional kitchen with fridge, freezer, microwave, oven, 2 taps for milk and meat This accommodation is one of the most beautiful of the residence.There is even a swing in the balcony so you can rest
Our apartment is ideal for your holiday by the sea and also the ideal solution if you plan to visit Israel from its location in the middle of the countryside very close to the main road to the north or the south.There is an outside parking for two cars in a closed car park. The sauna and hammam are available free of charge, depending on the time of yearPlease note that smoking is not allowed in the apartment. The building is of high quality with a large hall, common garden, three high speed elevators, including a Shabbat elevator. The building is close to shops, cafes, synagogues, train station & public transport.
The host canceled this reservation 23 days before arrival. This is an automated posting.
Xi
2017-04-06T00:00:00Z
Room Type
Entire home/apt
---
Property Type
Apartment
---
Accommodates
9
---
Bedrooms
Netanya South, Center District, Israel
1

–

18

of

300+ Flat Rentals
Enter dates to see full pricing. Additional fees apply. Taxes may be added.