New studio apartment with bathroom for two, attractive location in the centre of Kaštel Sućurac, by the sea. Included in the price: Room with bed for two Bathroom Air conditioning Mini kitchen with fridge Tv Water heater Free Wi Fi Studio apartment is very close to the sea, market, bakery and bus station. 10km from Split and 15km from Trogir
Room Type
Entire home/apt
---
Property Type
Flat
---
Accommodates
2
---
Bedrooms
Kaštel Sućurac, Splitsko-dalmatinska županija, Croatia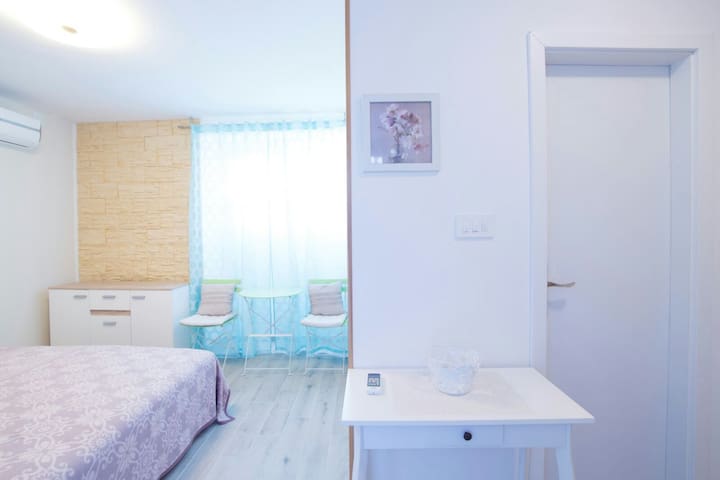 Newly decorated studio apartment ideal for two located between Split and Trogir (15 minutes away by car ).The apartment provides an ideal base from which you can plan your visit to the Dalmatian coast. Marina Kaštela, restaurants,caffe bar, bus station,supermarket are all in 400 m radius, and beach is just 10 minutes walk. Apartment is fully equipped and have everything you need for a relaxing holiday. Parking is free and it`s on property. Single bed- seater for child and cot available.
Room Type
Entire home/apt
---
Property Type
Flat
---
Accommodates
2
---
Bedrooms
Kaštel Sućurac, Splitsko-dalmatinska županija, Croatia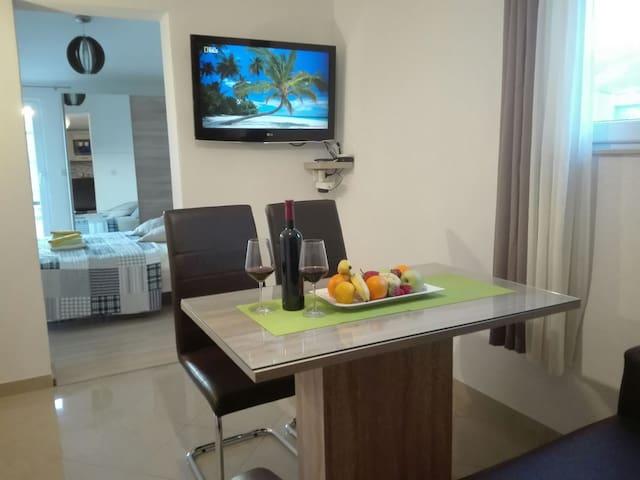 Modern apartment ideal for a family, located on the first floor of the house. Offers a splendid view on the nearby towns and islands. Just 10 minutes (800 m) from the beach , and all major towns like Split and Trogir are 15 minutes away by car. We are located just 10 minutes walk from the Marina Kaštela .If before traveling by boat you want to get to know our area, we are the ideal destination for you.
Enough far away from the noise of the big city , yet close enough to visit it. Only 100 meters from the first shop and 200 meters from the bus station.
Great location. Super great host! Quick in her communication. Would have loved to stay longer
Tatiana
2016-07-24T00:00:00Z
Daniela was very accommodating, considering our late arrival. The apartment was in immaculate condition and just as advertised. Loved the place and would definitely stay again if we have the pleasure of traveling back to the area in the future.
Michael
2016-07-17T00:00:00Z
Wonderful place, really clear, with a lovely host. The appartement is perfect. The location is good if you want to be between Split and Trogir, two really good cities. The appartement have a beautiful view of the sea and is situated at the top of daniela's house.Thank you Daniela
Julie
2016-07-17T00:00:00Z
This host made us feeling very welcome in their place. The apartment was very well equiped and very clean.
Manuel
2016-07-31T00:00:00Z
Daniela is very nice, she lives just below the appartment, and she offered to help us in anything, but never disturbed our holidays the slightest. The appartment is comfortable, beautiful and clean, the pictures are representing accurately how it looks like. It takes a bit of walking to reach the beach, but it's also possible to go there by car and arrive in a few minutes.
Krisztina
2016-08-21T00:00:00Z
It was a wonderful short stay. Mostly recommended if you need to be close to marina Kastela.
Ankit
2016-08-14T00:00:00Z
Gospodarze bardzo mili, przyjaźni i pomocni. Bardzo miły gest ze strony gospodarzy to przygotowana przez nich jednego dnia kolacja:) Mieszkanie, które wynajmowaliśmy bardzo czyste, zadbane, nowocześnie urządzone - zupełnie "jak w domu" . Kuchnia wyposażona w pełni. Miejsce godne polecenia ze względu na spokój i widok z tarasu - na horyzoncie zatoka. Warto podkreślić, że najbliższa plaża mała, ale dzięki temu nie było dużo ludzi. Miała kamieniste a nie skaliste dno więc nie było JEŻOWCÓW, co bardzo ważne dla dzieci!!!!
Piotr
2016-08-27T00:00:00Z
Room Type
Entire home/apt
---
Property Type
Flat
---
Accommodates
4
---
Bedrooms
Kaštel Sućurac, Splitsko-dalmatinska županija, Croatia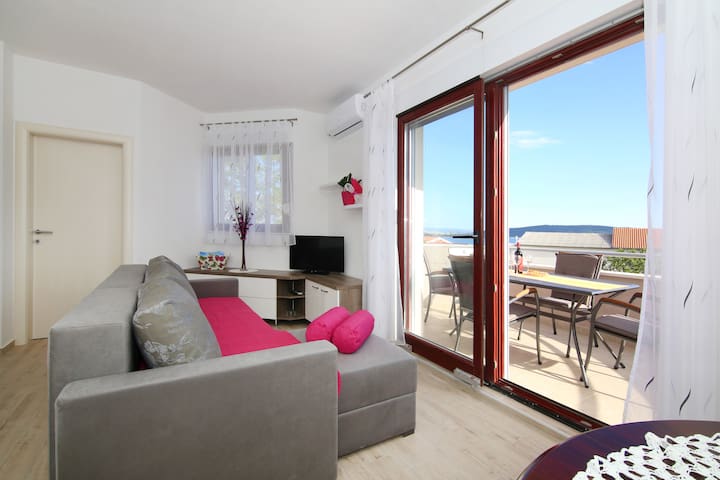 Apartment Kiriginac Lavander set in a traditional stone house. Free Wi-Fi, A/C and PARKING. It is situated between Split and Trogir ( 15 minutes by car to Split and 20 to Trogir ). Apartment Lavander is situated in the historic seaside town of Kaštel Sućurac. It offers self-catering accommodation with a garden. It is ideal for families with two children or couple. Only 5-10 minutes walk to the beaches.
This apartment will enchant you, is located in a quiet neighborhood surrounded by green oasis. The apartment has garten with barbecue and garden furniture that will make your stay even more pleasurable especially at night. Free pararking place is available.Near the apartment there is a grocery store, the beach is 200 meters, bank, post office , bars, pharmacy and supermarket 300m.
The town of Kaštela has over 40 000 inhabitants, and it is the second largest town in the Split and Dalmatia County. It stretches over the length of 17 kilometers. The town is specific because of the fact that it developed around 7 castles. Kaštel Sućurac is first of 7 castels from East. Kaštela are situated between two historical cities Split and Trogir. The historic city of Trogir has a bridge conected with island Čiovo. Čiovo has wonderful beaches in Slatine, Beach Duga in Okrug Gornji, Quarry etc.. Since 1997, the historic centre of Trogir has been included in the UNESCO list of World Heritage Sites. Lot of famouse people come to Trogir with their yachts. Split is one of the oldest cities in the area. It's 1,700 years old town with construction of Diocletian's Palace. It has big old basements you must see. If you want you can go with ferry to the island Brač, Hvar, Vis, Šolta, Korčula. Hvar is very popular, but Vis have most beautiful beaches in the Mediterranean (like Srebrena, Cove Stivina, and Blue Cave in Komiza).There is lots of nice places like Primošten, Makarska, Šibenik...etc. but you need transport to see it.
Accueil très chaleureux de la part de Vesna qui avait même prévu quelques attentions dans le réfrigérateur et un petit présent le jour du départ. L'appartement est très propre, très confortable et décoré avec beaucoup de goût sur le thème de la lavande. Le petit jardin sous la treille est très agréable pour prendre le petit déjeuner et se détendre. Le quartier est très calme et proche de toutes commodités. Les villages de Kastela sont une situation idéale pour découvrir la région de Split. Un grand merci à Vesna!!
Catherine
2016-08-18T00:00:00Z
Room Type
Entire home/apt
---
Property Type
Flat
---
Accommodates
4
---
Bedrooms
Kaštel Sućurac, Splitsko-dalmatinska županija, Croatia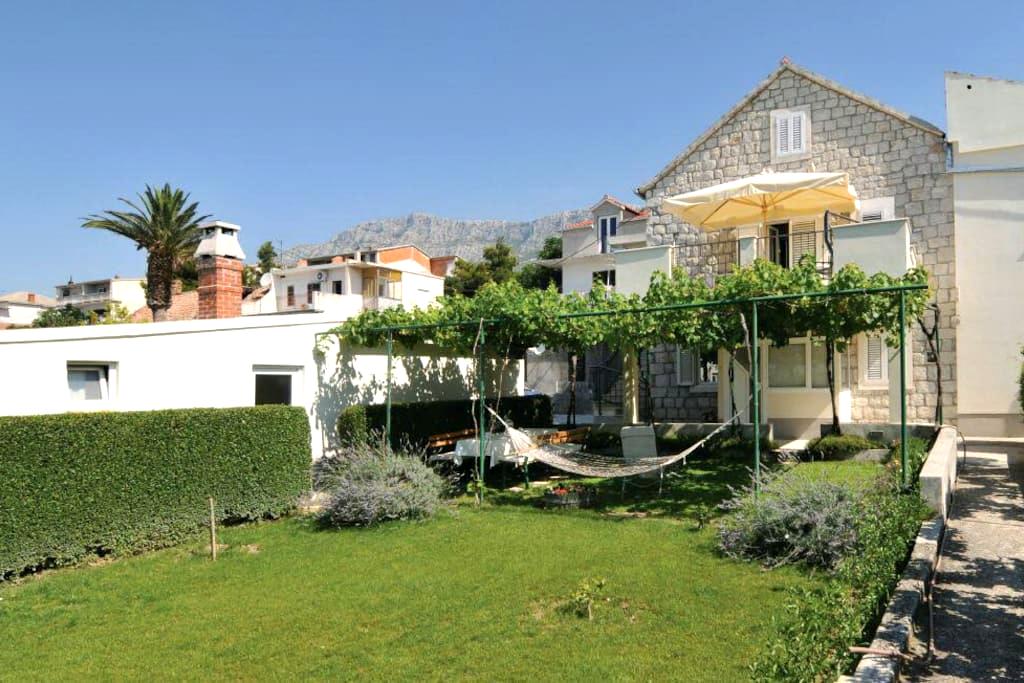 A newly renovated modern yet traditionally built hacienda with three apartments. Located between two UNESCO cities, to the left Split and to the right Trogir, both 15min driving distance away, overlooking the Kastela bay. In a quite and peaceful surrounding with all necessary services by walking distance.
A newly renovated modern yet traditionally built hacienda with new and fully equipped apartments.
The property is offering the perfect environment for a peaceful and relaxing stay.
This was our first airbnb experience and we were very surprised! The apartment was very nice and spacious. The swimming pool was built this year and is very welcome during the hot summer months (30-35 degrees). Goran and his family are very kind, helpful and did everything they could for us to have a great holiday. Goran is always willing to give you great advice. Although they also live in the house, you still keep your privacy. We would recommend this apartment to everyone!
Djurre W.
2015-09-08T00:00:00Z
My friends and I had a wonderful time staying here and Goran was such a great host. He gave us lots of advice on how to spend our time in the area and where to go out to eat. He was very welcoming and friendly. The apartment was also very modern, clean and comfortable - I would definitely stay again.
Emerald
2015-08-28T00:00:00Z
We had a great time at Hacienda Corluka. Goran is an excellent host. The apartment is excellent. The location is great and the garden with pool is fantastic. I would recommend it to anyone!
Flore
2015-07-27T00:00:00Z
Beautiful place, great host, great holidays! We spent nine days at the Hacienda and we will never forget it. The pictures of the villa are perfectly true, no bad surprises, the maintenance is perfect. Don't hesitate to ask Goran about things to do in the area, he knows the best addresses and he's very good advice. Sarah & Co
Sarah
2015-08-13T00:00:00Z
Perfect venue for a vacation; very nice and tidy apartment, yard and pool area. A big thank you for the kind hospitality for the whole family!
Tia
2016-09-14T00:00:00Z
Goran was an excellent host, very welcoming and friendly! We had everything we could possibly need for our stay and the apartment was just as described. A good location for visiting Split, Trogir, and Krka National Park - we had a great time and would not hesitate to stay again!
Cassie
2016-09-21T00:00:00Z
The appartement is very well located. 15 minutes to Trogir, 15 minutes to Split. View is very nice, as well as the pool. Appartement is very clean and very useable :) Beware if you are 4 people : only one room.
Anthony
2015-09-23T00:00:00Z
Goran and his family were excellent hosts. Nothing was too much trouble and they made our first experience of Croatia very enjoyable. The apartment was perfect and just as described. Clean and well equipped. It is located in between Split and Trogir, both beautiful places that are accessible by car or regular buses. Goran's knowledge of the area meant that we were able to go to the best local restaurants and how best to spend our week in Croatia. A great holiday in Croatia and I would recommend this Hacienda to everyone.
Nicholas
2016-06-27T00:00:00Z
Room Type
Entire home/apt
---
Property Type
Flat
---
Accommodates
4
---
Bedrooms
Kaštel Sućurac, Splitsko-dalmatinska županija, Croatia
Mariniva is a charming apartment! Fully equipped for a pleasant stay! The center of Split is 10min airport 15 min marina 5 minutes and the center of Trogir 20 minutes drive! Nearest beach 10 min walk! The bus station is 5 min timetable every 20 minut
Felicia and her family were wonderful and welcoming hosts. They made us feel like home. The apartment was very nice and clean. The location is great if you don't want to have the busy city life, but it's just a 25-30 min bus ride to both Split and Trogir. Two wonderful cities. We had a great stay, and Felicia really are a great host! Thank you for the great experience!
Daniela
2016-08-03T00:00:00Z
Felica is the best host we have ever met. She is vey kind and generous and really helpful. Her apartment is one of the greatest places we every stayed in. It is very clean, spacious and has got everything we need. It feels just like home. Thanks, Felica, for your hospitality. We enjoyed our stay with you so much!(URL HIDDEN)
Chih Chang
2016-07-20T00:00:00Z
Szupr jól éreztük magunkat, nagyon jó volt a szállás tiszta kényelmes, minden megvan benne amire szükség van. Jól jött a mosogatógép.
Virág
2016-08-20T00:00:00Z
L'appartement est entièrement conforme au descriptif et très cosy Un grand merci à Felica et Ivan pour leur Acceuil plus que chaleureux nous n'avions encore jamais été reçu aussi bien .
Fabrice
2016-07-17T00:00:00Z
Room Type
Entire home/apt
---
Property Type
Flat
---
Accommodates
6
---
Bedrooms
Kaštel Sućurac, Splitsko-dalmatinska županija, Croatia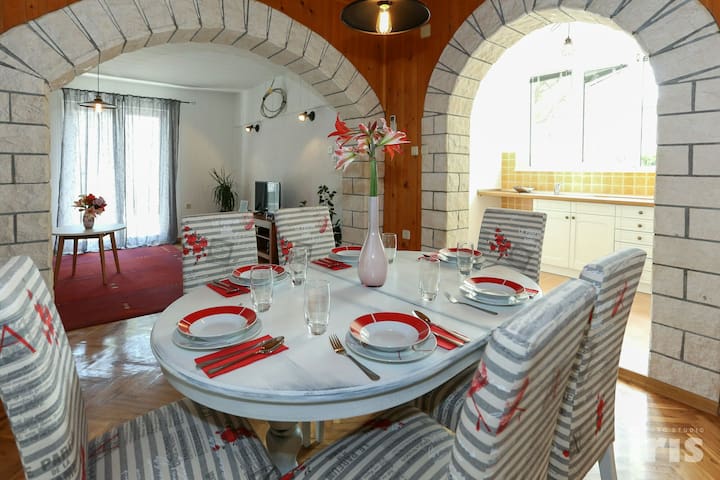 Villa Gordana Apartman Gordana 6+(2) person! Located 400 metres from the centre of Kaštel Sućurac and pebbly beach. Surrounded by greenery and family homes, it features a shared terrace with a barbecue, free Wi-Fi , terrace , and a barbecue!
This is a great house to stay seven guests who require a lot of space in and around the house. The environment is suitable for children without fear of high traffic near the house. There is a large grill for pleasant company until late in the evening with a glass of local wine. The house is situated between the historic towns of Split and Trogir with its historic cores that keep you coming back to the past. Nearby there are lots of walking trails, restaurants and beaches.
The neighborhood is very quiet, and away I recommend visiting the cities of Split and the UNESCO protected town of Trogir, and local food and wine. 60 km away is a beautiful national park on the river Krka!
They were very kind and there's no word for how helpful they were. The apartement was well equipped and the clima was positive surprise and it was very comfortable for six of us. We really recommend them since we had a great time.
Dániel
2015-08-01T00:00:00Z
We've spent 5 lovely days in Villa Gordana. The family who hosted us was very kind, helpful and open. We've got everything we needed and even more - fresh vegetables from the garden and home made beverage :) The apartment was exactly as described but in reality it looked even larger. Three big bedrooms, living room with AC and big couch and of course beautiful terrace where we spent most of evenings surrounded by grapes and lime trees. Everything well equipped. Very, very comfortable and we recommend it very much. Thank you one more time for the family.
Rafał
2016-07-19T00:00:00Z
We rented a villa for two weeks in mid-August. Rested with 2-year old child. We madly loved the place. The villa is located near the towns of Trogir and Split, where you can find different entertainments. The small beach is just a short walk from the villa. We rented car and it was not problem to visit different another beaches near. The apartment is very comfortable, spacious rooms. Amazing veranda. Around the house is a garden planted with apple, grapes, figs and plums. The garden is very pleasant, green, there is a place where children can play. The hosts are very responsive, can help with any question. During our stay there, they cooked us a lovely dinner, treated fish, which Ante fished, treated to homemade wine. Our child found friends -children hosts . We are very happy with the choice this place and would advise our friends this place if they are going to have vacations in Croatia.
Gelena
2014-08-20T00:00:00Z
The best and most amazing place to stay in Croatia! Stayed with a group of friends for 2 days and was extremely sad to leave the kindest most wonderful people ever. Apartment was a great location, very clean, all the amenities you need. The owners were one of my favorite parts of staying in Croatia. So helpful and nice ! We miss you already!
Christine
2015-07-04T00:00:00Z
Logement conforme à la description, bien équipé et bien situé .Nous avons même eu le plaisir de profiter des légumes et fruits du jardin. Des hôtes à l'écoute de nos besoins tout en restant discret.Merci
bernard
2015-07-19T00:00:00Z
Tutto meraviglioso! Perfino l'orto che potevamo usare tranquillamente
Sandy
2016-08-01T00:00:00Z
Room Type
Entire home/apt
---
Property Type
Flat
---
Accommodates
6
---
Bedrooms
Kaštel Sućurac, Split-Dalmatia County, Croatia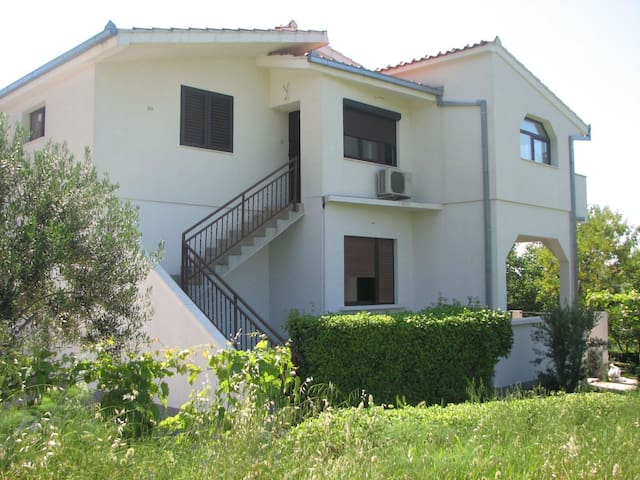 Brand new apartment (56 m2) is in a great location, with a terrace (12 m2), sea view, free WI-FI and A/C. The location is in a quiet area. Only a 15 minutes by car to Split, 10 minutes to the airport and 20 minutes to Trogir. Marina Kaštela, restaurants, caffe bar, bus station, supermarket are all in 1 km radius.
Room Type
Entire home/apt
---
Property Type
Flat
---
Accommodates
5
---
Bedrooms
Kaštel Sućurac, Split-Dalmatia County, Croatia
Accommodation Renato is located 200 m from the sea, 70 m from the center in the town Kaštel Sućurac. This accommodation offers a view of the Busy street. Type of beach sandy beach and concrete slabs. Accommodation is equipped with: Television, Heating, Air conditioning, Radio, Internet. To make the hot summer days more bearable in the accommodation there is an Air conditioning. Pet friendly accommodation - only by prior arrangement with the agency (extra fee paid to host).
Room Type
Entire home/apt
---
Property Type
Flat
---
Accommodates
2
---
Bedrooms
Kastel Sucurac, HR, Croatia
Our apartment is close to Split And Trogir. You'll love my place because of the ambiance and the outdoors space. Families (with kids), and big groups will definitly enjoy the comfort and privacy.
Toni was very kind and helpfull all the time when we were there. The apartment was clean and ita even more beautifull as the photos shows. If you looking for apartment with pool around Split and Trogir I honestly say this will be the best choice.
Máté
2016-08-18T00:00:00Z
"Toni and his wife were great hosts. The communication was flawless and they were very punctual. Their manager Ivan was very kind and he was very helpful to us in special questions about the surrounding sights and events. This accomodation is brand new, modern and fully air-conditioned. Very spacious and very clean. What we liked the most is that only one unit is being rented, so here you don't have to share the pool or anything with other guests. That's pretty much a great comfort compared to other places where we've stayed. The spacious parking directly in front of the house is more than practical. The big clean pool made a big plus- you can get a nice refreshment after a long day of walking. We had everything we needed there. We would definitely stay at Toni's and Gordana's apartment anytime again! HIGHLY RECOMMENDED!"
Mladen
2016-07-12T00:00:00Z
Tony made us feel so comfortable and made our holiday stress free. Everything we needed in the villa was provided for us, and the views from the the balcony was breathtaking. Ivan helped us in organising the tours at the best price which we enjoyed.
Asmita
2016-08-28T00:00:00Z
Toni was very friendly and helpfull! The house was amazing but the best part was the pool! I recemond this house to every one who is in split! Great holiday!
Manfred
2016-07-31T00:00:00Z
We received an incredibly warm welcome from Toni and his family upon arrival. He offered assistance on good local beaches to visit, restaurants in the area & answered any other questions we had. He was incredibly attentive to a couple minor requests we had for the apartment, ensuring we were always very happy and perfectly comfortable. The apartment itself is recently renovated with all modern conveniences and amenities. The layout with bedrooms & bathrooms is very convenient for two families and spacious enough to all be comfortable. There is a great terrace with a view of the sea right off the kitchen which made breakfasts and late nights a luxurious holiday treat. The pool was perfectly maintained, and was immediately adjacent to an outdoor shower, toilet and BBQ/dining table making for a perfect summer evening outdoors. The apartment is set within a neighborhood on the outskirts of Split. The apartment is adjacent to neighbors on all sides but the pool & dining areas are completely private, courtesy of walls & fencing. This was honestly a wonderful, clean, modern apartment that we would return to again, with the added bonus of having an incredibly warm & friendly host! Thank you Toni & family for a really wonderful stay!
Johnna
2016-08-14T00:00:00Z
really Nice hoste, gave us everything we needed during the stay! and was easy to get in contact with! Nice apartment, clean and New! lovely to have the pool area to ourselves :-)
Caroline
2016-08-08T00:00:00Z
L'appartement est récemment rénové avec soin et qualité. Belle vue sur Split. Près de Split, Trogier, Kastela. Plusieurs restaurants dans les environ avec les spécialités locales. Mon fils a adoré la piscine et la trampoline disponible. Il a 4 chambres spacieuses et 2 salles de bain completes. Nous avons adoré!
Daniel
2016-09-06T00:00:00Z
Room Type
Entire home/apt
---
Property Type
Flat
---
Accommodates
10
---
Bedrooms
Kaštel Sućurac, Split-Dalmatia County, Croatia
My place is close to restaurants and dining and art and culture. You'll love my place because of the ambiance and the outdoors space.
friendly host and very clean and fine appartment.
Seija
2016-10-27T00:00:00Z
Room Type
Entire home/apt
---
Property Type
Flat
---
Accommodates
3
---
Bedrooms
Kaštel Sućurac, Splitsko-dalmatinska županija, Croatia
House 6079 in the town of Split, Split - Central Dalmatia has accommodation units of type Apartment (1) and is 700 m away from the sea. A beach is nearby (sand). As the house is divided into several accommodation units, other guests will most likely be present during your stay. The hosts will not be in the house for the duration of your holiday. The house owner is under no obligation to accept additional persons and pets that were not stated in the reservation request and it is necessary to report them in advance.
Apartment can accommodate 4 guests. Beds are situated in 2 sleeping rooms, within 49m2. This accommodation unit welcomes pets at an additional charge. Apartment has neither balcony nor terrace. INCLUDED IN THE PRICE: tourist tax, final cleaning, air-conditioning, internet, baby cot, iron, hairdryer. OPTIONAL ADDITIONAL COSTS: pets (€10.00 per night). The availability of additional services for your chosen dates of stay, as well as their prices (if none are listed) must be checked ahead of time. Any additional services not shown in the price calculation are payable directly to the property owner and only if used by the visitor. AMENITIES WiFi Internet, Hairdryer, Iron, Baby cot LOCATION AND ACCESS Main road between the property and the beach Car access possible: Yes The facility is not located in quiet surroundings The property isn't surrounded by greenery DISTANCES Sea: 700 m Beach: 1.6 km Supermarket: 150 m Restaurant: 180 m Emergency room: 1.7 km Post office: 380 m Disco: 1.7 km Diving Centre: 1.6 km Pharmacy: 400 m Internet cafe: 1.6 km Exchange office: 380 m Tourist info: 600 m No of people can fit in is 4
Room Type
Entire home/apt
---
Property Type
Flat
---
Accommodates
4
---
Bedrooms
Split, Splitsko-dalmatinska županija, Croatia
We offer you 4 beautiful apartments, only 100m distance from the sea. The apartments are fully equipped with everything you need to enjoy your hollydays. Apartments are located only 7 km from Split(historical Diocletian's palace, from Roman Empire)
Her place was comfortable and had all the amenities we needed. She was also very friendly and accommodating.
Tram
2016-07-16T00:00:00Z
Our group spent a nice long weekend at Adrijana's. There's a lot of space, even for 12 people. It's well equipped, even there is a telescope on the big balcony. The bigger cities nearby are close enough to visit with car in the evening.
Csabi
2015-08-24T00:00:00Z
The host canceled this reservation 204 days before arrival. This is an automated posting.
Stefany
2016-12-22T00:00:00Z
The experience in split was perfect!!! The house is very pretty and comfortable and andrijana is very nice. I absolutely recommend it..
Tati
2016-10-06T00:00:00Z
Bella casa dotata di servizi e comfort, Andrijana molto disponibile. Comoda a Spalato.
Monica
2015-08-19T00:00:00Z
Room Type
Entire home/apt
---
Property Type
Flat
---
Accommodates
12
---
Bedrooms
Kaštel Sućurac, Splitsko-dalmatinska županija, Croatia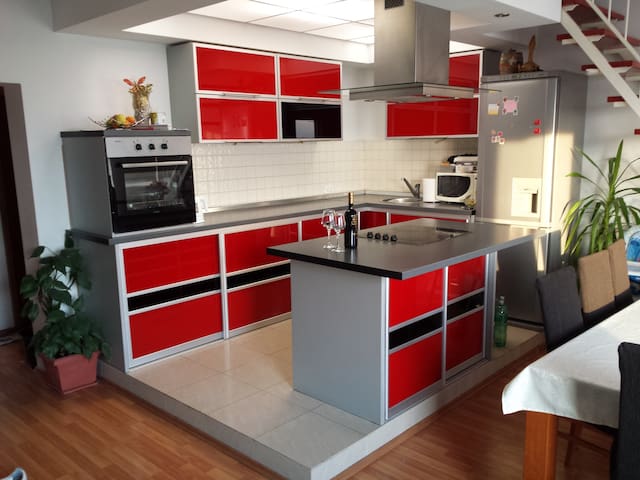 Surrounded by a lush garden, the intimate Guest House Tin offers ground-floor apartments with separate entrances. The Marina Kastela is just 100 metres south of the house. Each apartment has a patio, a free private parking place, and free Wi-Fi.
Nice, friendly and safe neighbourhood. Near our House (20 m, less than 1 min walk) you will find local grocery store and bakery. Just 350 m (5-6 min walk) you will find big supermarket (Konzum and Lidle). The old castel "KAŠTILAC" on the seaside in Kaštel Gomilica was one of filming spots for Game of Thrones and on the east side of the castel there is a local beach with the free drinking water and the showers.
Slavica was the most welcoming hostess! She really helped us around since we had trouble understanding the language. It was first night in Croatia when we arrived and we flew in pretty late and she greeted us when the cab pulled up to the location. She had a local assortment of breakfast items in the fridge and the room was very neat and clean. I highly recommend this booking! Slavica is very generous and is really helpful if you are not familiar with Croatia.
Anna
2016-07-31T00:00:00Z
Room Type
Entire home/apt
---
Property Type
Flat
---
Accommodates
3
---
Bedrooms
Kaštel Gomilica, Splitsko-dalmatinska županija, Croatia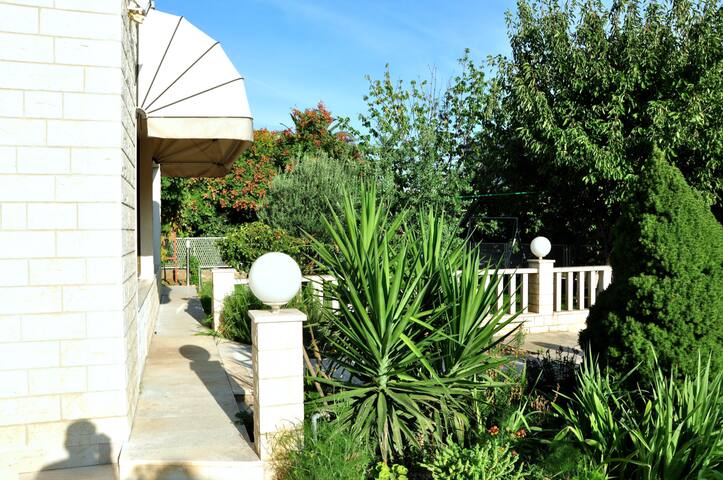 The apartment ( 37m 2 ) is in a great location,with a terrace( 38 m 2),sea view, free WI-FI and A/C. Ideal for a couple or a family with one or two young children . The apartment is in the old town of Kastel Sućurac. Very quiet place . Only a 5- minute walk to the beach.15 minutes by car to Split and 20 to Trogir. There are one bedroom with queen bed for two adults, living room ( is close to dining area ) with sofa bed ( 150 x 200) for one or two children, dining room , kitchen and bathroom.
Neighborhood is peaceful and you can enjoy your stay in easy walks in Kaštela , or romantic dinners in Split and Trogir. Marina Kaštela ( Kaštel Gomilica ) is only 5 min by car from the apartment. Games of Thrones were filmed in Kaštel Gomilica. Supermarket,fishmarket,greenmarket,bars,fastfood-shops,restaurant are all nearby. Various restaurants serving local and international dishes can be found within a 200-metre radius.The nearest beach is 5 minutes walk from the apartment. There is promenade too. There are many other beaches reachable in 20-30 minutes by car. The bus stop to Split, Trogir and Solin is only 300 from the apartment. There isn't private parking . You can either park your car on a public parking lot ( 1h is 4 kn ) or somewhere in nearby streets for free ( it is easy to find parking for free only 3 or 5 minutes walk from the apartment ).
Bozena was terrific! She could not have been more welcoming or helpful. Kastel Sucurac was exactly what we were looking for - quiet, quaint, family friendly. Beautiful local beaches. Walking distance to great seafood restaurants. Highly recommend the apartment. Note - remember to turn on the water heater before you shower.
Jane
2016-08-11T00:00:00Z
We've stayed at Kaštel Sućurac in this little appartment with my wife and my kid. Because we were mostly out and on the terrace, the appartment was big enough for us. On the terrace you have nice view on the see and the city Split. The Small village is the quietest of all the 'Kaštel' villages with friendly people. The owner, Bozena, did everything to make our stay to a succes. Fruit form her own garden, a bottle cold white wine in the fridge and some snacks for the first evening. Realy great! Our stay was too short!
Martin
2016-08-05T00:00:00Z
When I had booked this place there was no ratings so I had prepared myself for anything. By the time of my arrival there had already been two guests before me which helped calm me down. Another thing that helped calm me down was Božena and her daughter picking me up from the bus stop, after messaging me very helpful and important directions from the airport to the apartment, and then welcoming me with sweets and homemade cherry liquor upon arrival. I had arrived early (2h before the official check in time and Božena graciously let me come at that time). After getting a run down on everything from the nearby supermarkets to the local bus times, I was able to relax on the terrace with fruit and juice from the fridge with a view overlooking Kaštel Sućurac, the sea, and Split. I was traveling alone but this place can easily fit more (if you don't plan on hanging out inside, rather on the patio, as then it might get a little crowded). I had explained my plans for the afternoon and evening and then received helpful advice that saved me around 2h of walking. Both checking in and checking out went smoothly. I would recommend this place to anyone visiting Split or Croatia but wants to avoid the crowds and sounds of the city (With the bus it's a 30 min ride to split and it comes every 20 min). Also there are very many small gorgeous beaches with cafes really close to this apartment (a little rocky so bring shoes for the water if you plan on going in). Thank you Božena and family!
Lexi
2016-08-12T00:00:00Z
We visited Božena's place for 5 days and we had a very enjoyable stay. She, her husbands and his parents, who live right downstairs, are the loveliest guests. They brought us delicious food and drinks, suggested me every shop or touristic spot I was interested in and visited us to have a chat. The apartement is lovely, it's small but perfect for a couple or a family with young kids. It looks like a boat inside. It's cute. Overall it was one of my best experiences. Recommended!!
Artemisa
2016-08-19T00:00:00Z
Accueil très agréable, beaucoup de gentillesse de Bozena, adresse à recommander
Nathalie
2016-08-10T00:00:00Z
Bozena est une hôte charmante, qui vous donne plein de conseils pour passer un bon séjour et c'est vraiment appréciable. Le logement est petit mais très bien agencé. Sa situation est idéale, à deux pas d'une supérette et d'une boulangerie. Bozena is a gracious host, giving you lots of tips for a good stay and it is really appreciable. The accommodation is small but spacious. Its location is ideal, close to a supermarket and a bakery.
Clémence
2016-10-30T00:00:00Z
Room Type
Entire home/apt
---
Property Type
Flat
---
Accommodates
4
---
Bedrooms
Kaštel Sućurac, Splitsko-dalmatinska županija, Croatia
Apartman Petar with a balcony sea view is located 10min from centrum of Split. Guests can use free WiFi and free private parking. Well equipped kitchen with microwave. In each room is TV. Availabe free towels and welcome gift.My place is close to the airport, parks, the city center, great views, and art and culture. You'll love my place because of the views, the location, and the people. My place is good for couples, solo adventurers, business travelers, families (with kids), and big groups.
Ivana was an amazing host! She kept in great contact and even provided us with some meat from her father's shop and stocked the fridge with beer. She made our transition into Split, perfect! My friends and I are greatly appreciative and Ivana and her family are awesome!
Ryan
2017-04-02T00:00:00Z
Great stay. Clean apartment with a huge balcony which is good for relaxing nights. Furthermore the host has contacted me several times to ask if everything was good and even has welcome drink in the fridge for us. Comfy beds and quite surrounding is another plus point.
Anass
2016-07-21T00:00:00Z
Nice host, nice place, easy to town, easy to supermarket, clean, wifi, plenty of parking. Conclusion: Perfect.
澤
2016-09-17T00:00:00Z
Room Type
Entire home/apt
---
Property Type
Flat
---
Accommodates
10
---
Bedrooms
Kaštel Sućurac, Splitsko-dalmatinska županija, Croatia
Apartment is in very quiet area. Brand new and with everything you may need including free parking space, private heated pool with jetted tub, huge sundeck and BBQ area. Bus stop is close so you may travel to Split ( 20min ) or Trogir ( 30min ).
Our apartment is for 12 people but can easy fit more then that. It is in very quiet area but then again it very close to city center, Split and Trogir. It is great location if you are traveling with car and you want to see all near by places not just one and experience all sorts of beaches and great traditional dalmatian food.
It is 15 km to the center of Split and 16,5 km to center of Trogir. And i would recommend going to the beach Pantana it is before Trogir and it is 13,8 km from the house. It is Great place to relax and to experience different kind of beaches
We were 9 during our trip in Marco and Ivan's House. We all lived in a great confort, 3 closed rooms with 2 extra beds that we installed in the living room. It's a bit separated from the rest of the house, so no problem for 2 people to sleep there. The owner of the house was GREAT and really kind with us, we've never seen something like this. We found a splendid villa, clean and with all the stuff we needed. It was big enough for 9 people to eat inside or outside, with 2 bathroom (with toilets) and a 3rd toilets. The swimming pool is AWESOME and the terrace (+ bbq) is really cosy. The house is located at 15 min from Split, 15 min from Split Airport and 25 min from Trogir, and it's really easy to park 2 cars (they have their own parking spaces). Even if we spend nights outside with music, drinks, loud chats and night diving in the pool, the owner (who slept upstairs) never said a thing - actually he even came one night to offer us a vodka ;) ! He has always answered our questions through Viber really quickly before AND during our stay. Also he gave us great advices and tips for our trip and help us to book excursions. In summary: GO THERE WITHOUT ANY HESITATION!
Mathieu
2015-08-21T00:00:00Z
Spent a week here - we were a group of 7 friends at this lovely villa near the mountains - gorgeous views including the sea to the front. Inside was lovely and clean... Though we only in there for sleeping/cooking, and to escape the 30 + degree heat! Pool is amazing and very clean - it has in built lighting for those late night underwater GoPro sessions! Plenty of tables and chairs for lounging around too. Surrounding area is lovely, easy walk down to the beach, though a bit more difficult back up (especially when laden with shopping, get a vehicle!) Owners upstairs very helpful and even gave us some fresh vegetables for us to BBQ (plus a bit of grappa!!) - really delicious! They didn't mind us staying up late pretty much every night. Other owner (Ivan) great at sorting everything out we wanted to do - arranged cabs (even for late night partying), excursions to the blue caves (this is amazing, spent the day on a speedboat with a few other people visiting the islands) and hire of our own van to drive. Highly recommended, thanks for having us guys!! :)
Chris
2016-07-15T00:00:00Z
Such a lovely villa in which we felt very welcome! The taxi service that Ivan put us in contact with were brilliant and helped us get around. The villa was clean and comfortably fitted 10. Hosts very kindly arranged for some speakers for the poolside at our request. Overall, a brilliant first experience using Airbnb and we would certainly recommend Ivan and Marco's place!
Priya
2016-07-08T00:00:00Z
Very welcoming reception from Marco and his wife. They were very attentive and easy to contact. The villa is lovely, it was very clean and the pool was wonderful. 12 of us fitted comfortably as the hosts brought extra bed around.
Cassie
2016-09-05T00:00:00Z
Tutto molto molto bene !!! Appartamento perfetto come da descrizione e da foto. Proprietari molto disponibili in tutto. La consiglio a tutti ( famiglie e gruppi di amici ). Un grazie speciale per la bellissima vacanza che ci hanno fatto trascorrere.
Michele
2016-09-10T00:00:00Z
Tout c'est passé à merveille ! La maison est grande, la piscine également ainsi que propre. Marko et sa famille nous ont tous très bien accueilli et étaient très serviable. Il nous a proposé plus d'une fois de nous déposer au super marché ainsi que de revenir nous prendre ensuite pour que l'on ait pas a marché. Nous étions un groupe de 11 jeunes et je vous recommande cette maison !
David
2016-08-11T00:00:00Z
Room Type
Entire home/apt
---
Property Type
Flat
---
Accommodates
14
---
Bedrooms
Kaštel Sućurac, Split-Dalmatia County, Croatia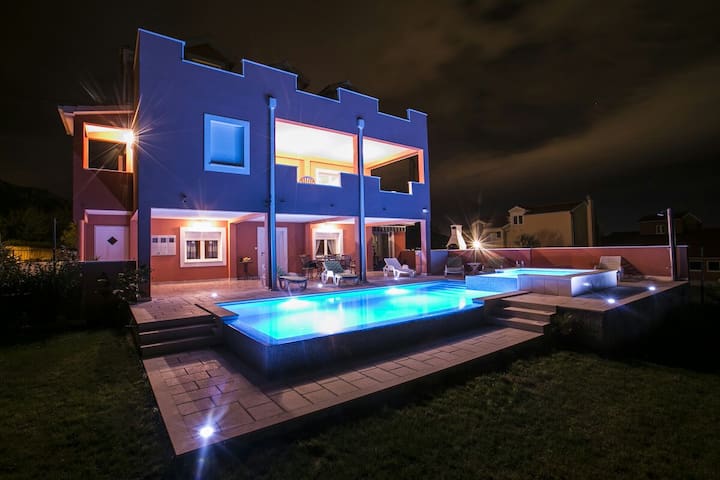 Apartment is a self-catering accommodation in Kaštel Sućurac. FreeWiFi access is available. You can enjoy sea view and mountain view. Here you will find a garden, barbecue facilities and a terrace. A patio and a terrace is provided. Air conditioning.
This is a great house to stay five guests who require a lot of space in and around the house. The environment is suitable for children without fear of high traffic near the house. There is a large grill house for pleasant company until late in the evening with a glass of local wine. The house is situated between the historic towns of Split and Trogir with its historic cores that keep you coming back to the past. Nearby there are lots of walking trails, restaurants and beaches. The apartment contains kitchen, living room, 2 bedrooms, toilette and bathroom. It has its own separate entrance so you will have your complete privacy. In front of the apartment is a beautiful garden with lots of greenery. The neighbourhood is friendly. Its the perfect place for cultural trips to Split, Trogir and Solin, Stobreč, Omiš and nerby islands. The apartment has a nice two-way access road with sidewalks and lighting. Also close to the main road Split - Trogir. Therefore, this apartment is connected to all the surrounding towns and cities.
In this town you will find "mašo", which means, roughly translated, an abundance of everything. Jokingly named "Mašograd" by the locals themselves, it is the largest and most plentiful village in Kaštela. Numerous sport clubs, cultural societies, fire-fighters and hikers' guilds form the tradition of this location. The old village of Kaštel Sućurac, with its traditional stone houses, is the best preserved historical site in Kaštela. In the exhibition area of the former bishop's summer residence you can learn all about the ancient history of this place and the local stories related to the old cannon. Throughout the year, and especially in the summertime, the living heart of the entire village can be found at the "Riva" on the seafront which bustles with life most of the year. This is the main venue for all public outdoor events. The numerous cafes shade their tables from the trees and make it a pleasant place for socializing, both day and night. The nearby market is the heart of the village, offering produce from local fisherman and farmers. An outing to the peak of Kozjak is welcoming alternative to the bustle of people on the beaches and in the village and the view from the top reveals and an awesome panorama of the bay of Kaštela and of central Dalmatia.
Очень чистый и красивый дом! Тео очень ответственно подошел к встрече гостей, еще задолго до нашего приезда очень помогал информацией, и так вплоть до отъезда. С удовольствием бы вернулся сюда!
Илья
2015-07-13T00:00:00Z
Room Type
Entire home/apt
---
Property Type
Flat
---
Accommodates
6
---
Bedrooms
Kaštel Sućurac, Splitsko-dalmatinska županija, Croatia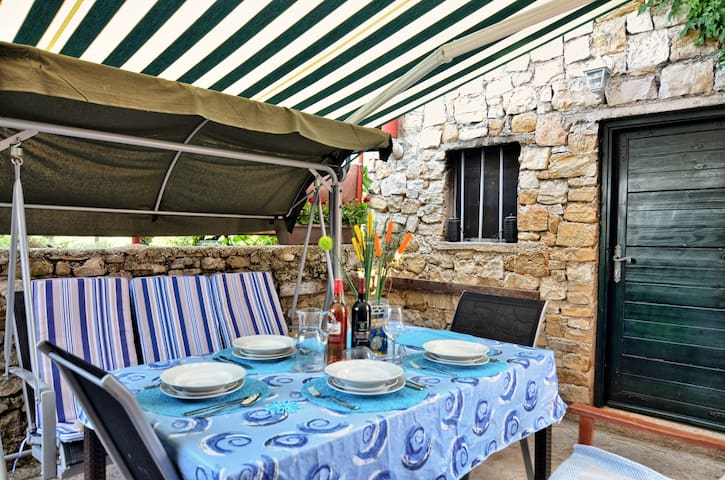 Kaštel Sućurac - Airbnb
:
Average

4.29

out of

5

stars from

61

guest reviews
1

–

18

of

300+ Flat Rentals
Enter dates to see full pricing. Additional fees apply. Taxes may be added.