Dear friends and visitors of The Wannes Suite. We will move to another location some hundred metres from our current place. It will be more quiet, more spacious, more bright and most of all we will be able to offer 2 guestrooms. From April 1st 2017 we stop our activities in the old house and we will start refurbishments to adapt the new B&B to the quality standards that you are used to. We hope to welcome you again from August 2017.
The Wannes Suite got recently renovated with a unique mixture of warm wooden floors and furniture, a design bath tub, colourful abstract paintings and stained glass elements. It comprises the full first floor and has a small entrance hall, a sleeping room, a living room, a bathroom and a separated toilet. From the sleeping room you have access to the roof terrace. The hosts live in the same house but the suite and all facilities got completely separated. The best feedback we get for our breakfast: fresh bread, different kinds of cheese and meat, jam, eggs, fresh vegetables and fruit. The breakfast will be put at the entrance of the suite on the requested time. It is a very convenient place for 2 to 3 persons to spend some quality time in Leuven. A third person can sleep on a bed/coach in the living space. We get couples for a romantic weekend, friends to spend nice time in the many pubs, tourists to discover all corners of Belgium, professors and others to participate in the numerous seminars, youngsters to go to festivals, bike lovers discovering the beautiful Hageland region and businessmen working in Leuven, Heverlee or Haasrode. The suite is called Wannes after the painting in the sleeping room: it gives an abstract impression of the giant fisherman Wannes in Wenduine at the Belgian Coast. The Wannes Suite is an officially registered B&B, compliant with all regulations.
The B&B is located at 10 minutes walking distance from the station and city center of Leuven. It is situated in a developing neighborhood, where all facilities are nearby. Within 500 metres you will find sports infrastructure (a.o. a swimming pool) and at 1 km a very big recreation area in which you will find the nicest jogging trail in Flanders.
The B&B is located in a quiet area within a short distance of the train station and Leuven's center. The owners are very nice people who went out of their way to accommodate us. Their hospitality and kindness made our stay quite enjoyable.
Ana
2014-05-06T00:00:00Z
My best accommodation by far in Belgium! Nice sized room with large bath and a terrace. Quiet. Hosts acting like friend. Fine breakfast. Easy parking on the street. To top it all, availability of a good bike, and Leuven on bike is perfect. This place will make you happy.
Ignacy
2014-06-23T00:00:00Z
Our host was great. Very informative and welcomed us.
LINDA
2015-05-14T00:00:00Z
Magda's place was very cozy and clean. It was a very nice stay and I enjoyed it. Especially the breakfast was very good, and she delivered it right on time. I was very content and would come back again!
Jing Jing
2016-11-01T00:00:00Z
This is one of the best places I have stayed in Belgium and I only wish I had been able to stay for more then one night. This is a totally luxurious experience. A very nicely decorated set of rooms. The most comfortable bed. A huge bath. The most lavish breakfast. A very nice touch is a mini bar at what seemed to be very cheap prices. The house is a little way from the centre of town which meant I could park outside over night. Magda was very friendly and welcoming. Really I would recommend this lovely place to anyone thinking of staying in Leuven, which is a brilliant little city.
Mark
2015-04-14T00:00:00Z
Magda was really helpul and flexible. She showed us where to safely park.
Julia
2015-07-23T00:00:00Z
Magda's place was amazing I had a really nice stay!
Dahia
2017-02-07T00:00:00Z
We thank a lot Magda an Gerardo. The house is very nice situated and we loved the bath tub the little outside terrace. The breakfast was tasty and plentiful. Magda and Gerardo were great and very welcomed coupled We like them and sure recommended them.
Elia
2015-09-21T00:00:00Z
Room Type
Private room
---
Property Type
Bed & Breakfast
---
Accommodates
3
---
Bedrooms
Leuven, Vlaams Brabant, Belgium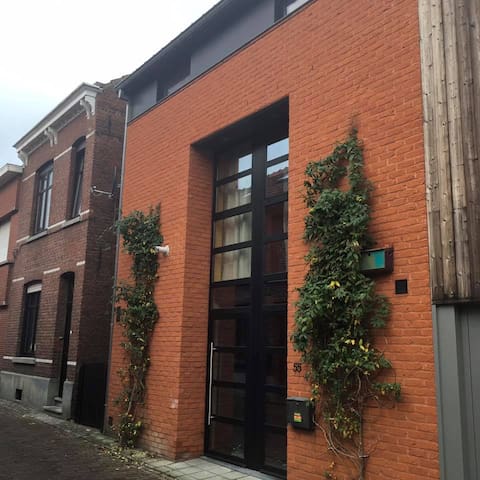 2 minute walk from the old market square. Illy coffee included + the best tips and tricks. Towels, shampoo, toothpaste, beers, even Netflix, I got you covered.
I speak Dutch, French, English and German to make it even easier for you
It's a quite street, but located in the middle of the centre however.
Room Type
Entire home/apt
---
Property Type
Flat
---
Accommodates
2
---
Bedrooms
Leuven, Vlaanderen, Belgium

Large 3 bedroom duplex apartment in the middle of a green park. Very quiet. Nearby the city center of Leuven. With public transportation (bus stop at 150m). 2 direct lines to the center (5km). Beautifully decorated apartment with high ceilings and a lot of light. Large fully equipped kitchen. Fantastic view over the park. Big garden. Perfect for family (there is a playground nearby) and business stay (close to business zone Haasrode/Heverlee).
It is a 3 bedroom apartment with high ceilings. There is floor heating in the living room and kitchen. The fully equipped kitchen has a gas stove with a large oven.
If you want to get away from the city and be in a nice comfortable appartment, this is the place to be. Everything was well-equiped and neat.
Matthieu
2017-02-12T00:00:00Z
One of my best !
Yousef
2017-03-08T00:00:00Z
Dit is een paleis(je). De foto's geven je al goede hoop dat het een mooi verblijf is en dat wordt werkelijkheid. Gesitueerd in een prachtig park (wat zomers ongetwijfeld nog mooier is als alle bomen in blad staan) ligt een prachtige authentieke villa. Het appartement van Audrey heeft een prachtige uitstraling met hoge plafonds en smaakvolle inrichting. Een heerlijke indeling van ruime woonkamer en geschakelde keuken met alle luxe aanwezig. Via het centrale trappenhuis ligt 1 etage hoger het slaapvertrek met luxe badkamer. Voor onze kleine meid van 8 voelde haar slaapkamer wel wat ver van ons als wij in de woonkamer zaten, waardoor ze in het begin onrustig sliep. Dank Audrey en Steven voor het beschikbaar stellen van dit prachtige appartement. Jullie vriendelijke ontvangst en royale onthaal met fruit en een drankje maken de beleving compleet!
Robert
2017-03-05T00:00:00Z
Een super vriendelijke ontvangst door Audrey en haar man. Het appartement is prachtig en zeer netjes. Ruim, veel licht. De omgeving is fantastisch om te wandelen. Je bent in geen tijd in Leuven centrum. Absolute aanrader! We were welcomed by Audrey and her husband. The apartment is beautiful, clean, spacious and a lot of light. The surrounding park is great for a walk. And in no time you can reach city center of Leuven. Definitely a must book!
Sophie
2017-03-31T00:00:00Z
We hadden een heel fijn verblijf: rust en ruimte, precies wat we zochten.
Judith
2017-03-16T00:00:00Z
Het is een geweldig appartement in een mooi park. Gezellig ingericht met een fantastische keuken met alle apparatuur. Er is een gezellig zitje in de mooie tuin. Ook Leuven is heel goed bereikbaar, de bushalte is binnen 200 meter.
Yvonne
2017-04-02T00:00:00Z
Een prachtig appartement in een fantastische setting met een warme ontvangst. Een aanrader!
Sara
2017-03-19T00:00:00Z
Unieke en naar verhouding goed betaalbare locatie in een prachtige rustige omgeving. Absolute aanrader, ook omdat er veel in Leuven en omgeving is te ontdekken
Cora
2017-03-27T00:00:00Z
Room Type
Entire home/apt
---
Property Type
Flat
---
Accommodates
6
---
Bedrooms
Bierbeek, Vlaanderen, Belgium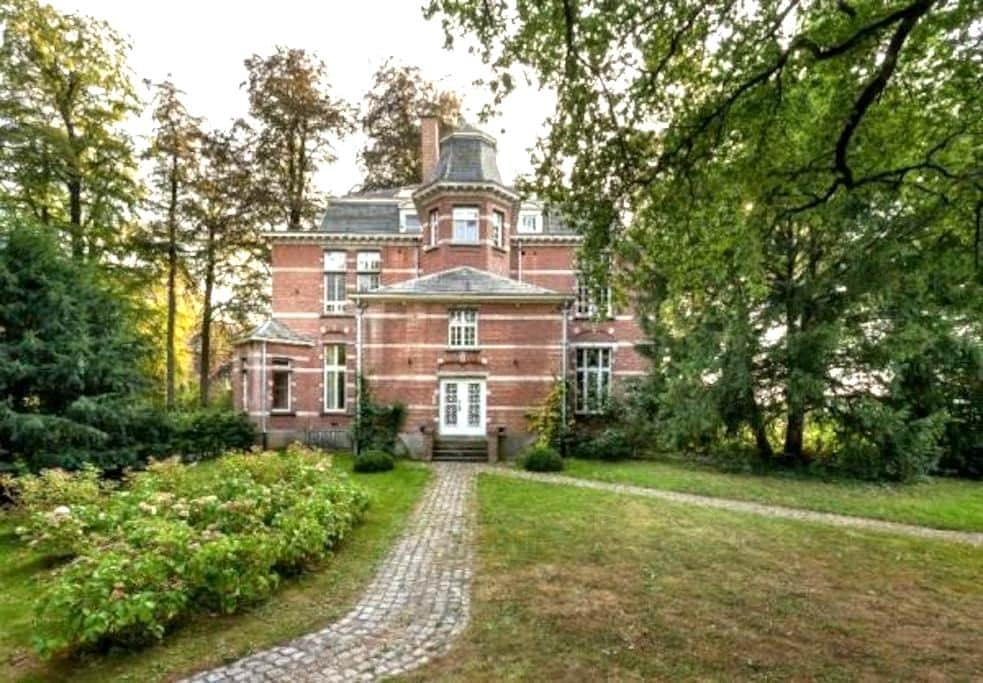 cozy room in the heart of Leuven. 2km from train station of Leuven. bicycle storage. easy transportation, and also free wifi.
In the middle of the downtown area. 2 min by walk to the Grootmarkt and the Oudemarkt of Leuven. Easy and close access to shopping and restaurant. Ideally situated for the University visitor. Also a restaurant open until midnight in the same building.
The Center of Leuven is the place to be for shopping and student life, by day and by night
The location is excellent, I could find restaurants, pubs, supermarkets and the touristics place. The room is confortable and Fethi is very friendly. I could use the kitchen.
Paola
2016-09-23T00:00:00Z
Fethi was a very nice and accomodating host. The room was very clean and well decorated in a convenient location. The minus side is that the sound insulation (interior and exterior) is not optimal, but it was not a serious concern as I was traveling with ear plugs. I would advise other traveler to do so (also take an eye mask). I would recommend to stay at Fethi's place.
Yael
2016-04-09T00:00:00Z
Nice host, uncomplicated procedure. The room is very clean and comfortable for 2 people. Thanks Fethi for your hospitality.
Hannah
2016-06-22T00:00:00Z
Received a warm welcome from Fethi on arrival. He handed us a map, keys and towels. The room was exactly as on the picture. Brilliant location to explore the town. The room is quite bright even at night time, so bring a sleeping mask if you need one. The room overlooks the street but there wasn't much street noise. Only on Sunday night there was some loud chats coming from the kebab downstairs. But we used earplugs and we slept very well. We would book this location again if we come back to Leuven. Thanks Fethi!
Noémie
2016-04-26T00:00:00Z
Fast and good comunication with Fethi.
Kamila
2016-12-05T00:00:00Z
Fethi was more than welcoming and was able to take time out of his workday to help me get settled and explain the rules and how things work. There were no issues and the place was a nice place to stay for the night. I would stay again if given the choice.
Mike
2016-08-02T00:00:00Z
Wonderful stay.
Massimiliano
2016-09-15T00:00:00Z
Such friendly host, flexible about keys, moment of arrival and leaving. Room was clean. Had access to the shower and kitchen. Fresh towels lay in the room upon arrival. Wifi available. City centre of Leuven. Recommended!
Nathalie
2016-06-06T00:00:00Z
Room Type
Private room
---
Property Type
Flat
---
Accommodates
2
---
Bedrooms
Leuven, Vlaanderen, Belgium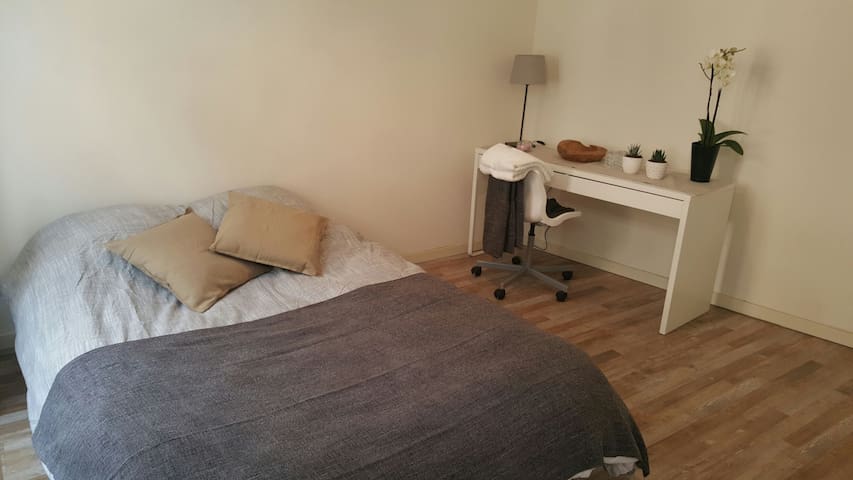 The loft is spacious and has lots of light through the roofwindows and high ceilings. The loft is located in the back and is as a result very quiet. It has a hyper equipped kitchen with island and built-in coffee machine, a warm and sunny patio, a big desk, ... The location is just perfect: close to the city center and in a green environment. With garage! The loft is suitable for couples, business travellers and families with children. Nearby: supermarket, parks, restaurants, bus stop, train
We renovated this loft with lots of energy and love. It has really everything you need for your stay in Leuven: it is quiet, has a garage where you can park your car for free (a second car can park for free in front of the garage), the loft has a sunny patio, is located close to the city center, with several nice parks just around the corner. You can enjoy the city and his nice restaurants, shops, museum, events, markets,... or just stay at home and prepare a nice meal in our fully equipped kitchen. With a big desk and iron possibilities the loft is also just perfect for a business trip!
The location is totally perfect: - only 10 minutes by foot from the city center - only 5 minutes by foot from several parks: Sportkot, Arenbergpark, Lambertuspark - only 2 minutes by foot from 2 supermarkets - pizza, kebab, french fries and money terminal next door - only 2 minutes by foot from several nice bars and restaurants - night shop in front of the street - only 5 minutes by foot from a big market on sunday - only 5 minutes by foot from tennis courts, athletics track and many other sports accommodation - only 20 minutes by car/train from Brussels - only 15 minutes by car/train from Brussels airport - near IMEC, Inbev headquarters - near Gasthuisberg hospital -...
Charlotte was very accommodating and responds to inquiries immediately. The place is wonderful and relaxing . If given the chance to visit Leuven, will definitely stay with soft loft again. We love the place. Will also recommend to friends and family .
Nelinda Catherine
2017-02-12T00:00:00Z
Charlotte's place was great and easy to get to. Also it had parking which was helpful. Would highly recommend.
Brian
2017-03-10T00:00:00Z
It's exactly what you see in the photos, but bigger. Bright, clean, comfortable home. If you have a car, this apartment is for you, as the garage is right outside the door. Convenient location - once we parked the car, we didn't need it again as everything is withing walking distance. A nice place to spend a few days. I would definitely stay here again. And Charlotte was very receptive to answering all my questions and offering assistance as we needed it. Lovely home.
Meredith
2017-02-22T00:00:00Z
One of the true gems of Air BnB. This loft is spacious, hip, comfortable and cosy with a wonderful bathroom, lots of quirky design features (notice one of the walls is fixed with Lego) and an incredible host. We will definitely be back again.
Syair
2016-12-29T00:00:00Z
The house is in a really nice location, just outside the ring and 1.5km from the city center. There is a supermarket very near by. The house was pretty clean, everything in the house is as described, it is quite spacious and well decorated. You can find everything you need at home. A pace that we would want to stay again.
Serhat & Chelsi
2017-03-24T00:00:00Z
Charlotte's place is absolutely amazing, its clean, it's beautiful, a very unique place to explore, to be advised if one needs to spend any time in Leuven of the surrounding area.
Laurie
2017-01-05T00:00:00Z
The loft is very spacious and is decorated really cool. The kitchen area is good fun if you liking long dinners. Also the bathroom is gorgeous. We had a very relaxing stay at this place. Charlotte was very fast in her communication. The city is just a 15 minutes walk away, which is perfect.
Inge
2017-04-09T00:00:00Z
Very spacious feelgood loft with great kitchen which was very clean and organised. We loved the peculiar way of decoration. Charlotte was always available on demand. The garage was very useful. We love the place.
Irene
2017-02-18T00:00:00Z
Room Type
Entire home/apt
---
Property Type
Flat
---
Accommodates
6
---
Bedrooms
Leuven, Vlaanderen, Belgium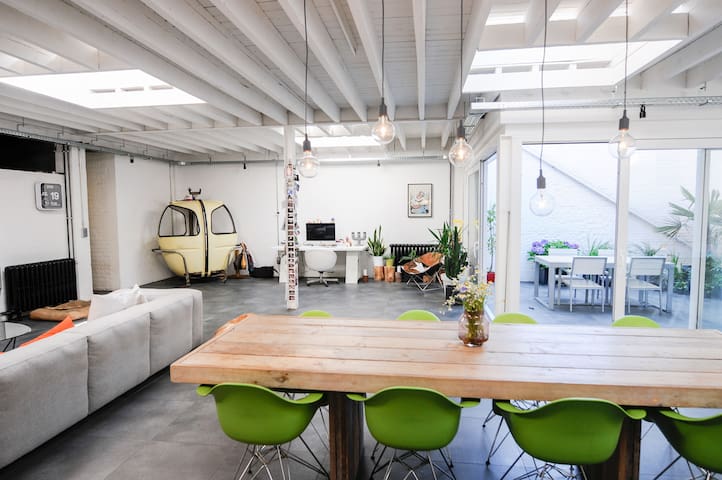 Beautiful room in a unique home in the city centre, garden view. The house is late renaissance and well-restored. Guests have access to a shared bathroom, well equipped kitchen and a large living lounge. Note my 2 lovely cats
This well-restored gem is one the the oldest houses in the city. A few minutes walking from Grote Markt and Oude Markt. Guests have access to a shared bathroom. A well equipped kitchen is at the disposition of guests as is the garden and the living room. The living room is large and cozy, offering both privacy and the option to mingle. The garden is open to guests if the garden room door is open. The room itself has a romantic vintage feel to it, colours are light and many aspects of nature integrated to the design. It faces the garden so it's rather quiet, you won't hear the street. Note that two young cats live in the house, let me know about allergies and I'll try keeping them out of your room. They are integral to the house though, so if you dislike cats, do consider other options because you're not welcome. Old houses like these have plenty of character, and were built for the needs and practicalities of 17th century people. One needs to love and appreciate them for what they are. This listing is a shared home and will never appear as spotlessly clean or be as practical as a newly built flat. Instead, you have exposed brick work dating from the 1650's, wooden beams and tiles from the same period and plenty of antiques. You may want to consider a more modern listing if your needs are sparkly and shiny surfaces and built in wardrobes.
The house is very central, yet tucked away just enough from the hustle and bustle, as such it's in an ideal spot for visitors. Many visitors will be in Leuven for the university, the campus is spread out through the entire city and many faculty buildings are near by.
Jessa was a great host! I very much enjoyed my stay in Leuven!
Samantha
2016-11-18T00:00:00Z
Everything went perfectly well during my stay. The house is very well located, very close to the center. The room was very clean and cozy - just like the pictures. And Jessa-Rebecca was great, always ready to answer questions and give suggestions. Highly recommend.
greice
2015-03-14T00:00:00Z
I went for a 2 day business trip to Leuven and enjoyed my (EMAIL HIDDEN)munication was great and Jessa was really attentive to notice me about a public transport strike on my day of departure. Although I did not meet Jessa, I felt welcome and would recommend this Airbnb to anyone.
Ivo
2016-06-25T00:00:00Z
We spent 5 days in Leuven, had a very good time. Her place is very nice and cozy, within minutes from the Grote Markt. Unfortunately we can not met personally, but she organized everything for our stay and cares with our comfort. The cats are cute, one is shy, the other is friendlier :)
istván
2015-10-25T00:00:00Z
Stayed a week in Sunny room after staying 5 weeks in Cozy; both very comfortable! Cozy has a desk and is slightly bigger so suitable for longer stay, Sunny is cozy and has a lot of light, recommend both!
Jente
2016-02-12T00:00:00Z
Jesse and her associate, Felix, did a good job letting us in early while Felix was doing the cleaning. The flat is well located and convenient for sight-seeing. It is also well priced. Unfortunately, a prior guest had jammed up the commode (a grinder type toilet that jambs easily) and so the only toilet available to us was two flights down the stairs. Moreover, the sewage back-up smelled a bit for the first half of our stay, since the repair took more than a day. Overall, the non-working toilet combined with a cramped tub with awkwardly placed (French style) shower head put a damper on our stay. This type of set up really requires a bath, rather than a shower, but the tub is very narrow. Also, I was also not expecting to be in a house shared by so many other guests (up to four rental rooms, it appeared). The bedroom itself was pleasant but extremely small -- smaller even it even appeared in the photos. We had access to the kitchen and living room, which were pleasant spaces although we didn't use them. The cats were as described--friendly to the friendly, otherwise you'd not notice them. For the price, this is a pretty good offering.
Shannon
2016-07-25T00:00:00Z
It was a warm hearted welcome and we felt home right away. Close to the city and a wonderful house. Thanks a lot!
Laura
2016-08-08T00:00:00Z
The location was pretty good and the house looks nice. But the room, the bathroom and the rest of the house didn't feel very clean. Jessa and Felix were very nice and they helped us with finding a free parking space which was great.
Max
2016-10-23T00:00:00Z
Room Type
Private room
---
Property Type
House
---
Accommodates
2
---
Bedrooms
Leuven, Flanders, Belgium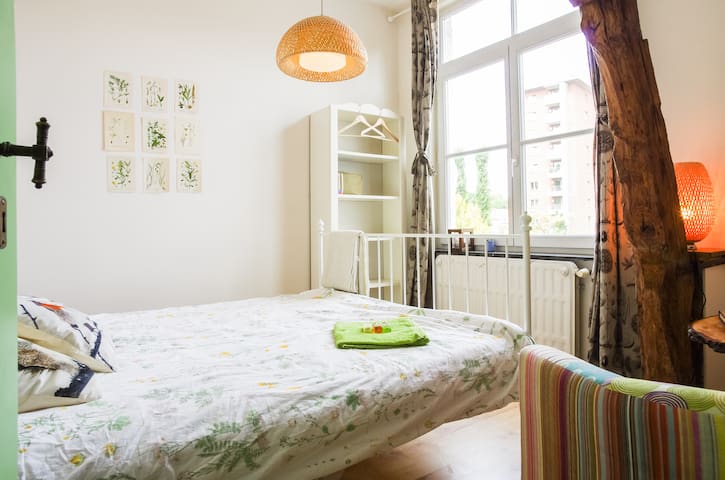 Leuven, Aarschot, Diest, Zoutleeuw, Rock Werchter, Kasteel van Horst. Het tuinpark grenst aan het uitzonderlijk waardevol natuurgebied van de Wingevallei, fauna en flora. Parkeerplaatsen, fietsenstalling, terrassen, fruitbomen, moestuin, BBQ, speelruimte voor kinderen. Historische steden, parken, wandelpaden, holle wegen, meanders van de Winge, ... Geruisloze nachten in een gerenoveerde Hagelandse hoeve. Grote tuin, moestuin, speelweiden. Drie kamers, twee badkamers en afzonderlijke WCs. Ruime kamers van min 20m2, parketvloer, alle comfort. Afzonderlijke WCs. Afzonderlijke badkamers met douche, ligbad, 2 lavabos, vloerverwarming in winter is hemels. Nachts echt geruisloos. Parking, fietsenstalling, buitenterassen, orangerie, keuken, tuin, bos, tuinhuis BBQ, fruitbomen: kersen, krieken, stekelbessen, bessen: zwart, geel, rood, etc. Wilde orchideeën in de tuin, watervogels op vijver in de (URL HIDDEN) ter plaatse over omgeving, woning, moestuin, natuurgebied, Kasteel van Horst op 3,2km, studentenstad Leuven op 7km, winkelstad Aarschot op 7km, mooie Diest op 19km, unieke Zoutleeuw op 24km. Speelpleinen, wandelroutes, gastronomie, Hagelandse streekproducten. Rustige vallei. Tuin sluit aan tot waardevol beschermd natuurgebied van de Wingevallei. Gratis fluitfestival van allerlei vogels. Beschermde fauna en flora. De Lijn 310: Leuven-Aarschot, stopplaats Dutsel op 200m. Leuven naar Rock-Werchter: direct vanuit Leuven. Broedgebied van IJsvogel, Wielewaal, Blauwe reigers horsten, watervogels, padden, kikkers, amfibieën.
Vriendelijke ontvangst. We waren gecharmeerd door de mooie omgeving en landelijke huis. Ruime kamer met een eigen badkamer dichtbij. Ontbijt in de tuin en zelf een eitje en spek bakken was de max.
Louise Marie
2016-09-03T00:00:00Z
Es waren wunderschöne 5 Tage in Holsbeek. Wir wurden super herzlich empfangen und konnten in diesen 5 Tagen intensiv unsere Seele baumeln lassen. Eine sehr familiäre Atmosphäre.Zimmer und Bad sind gut (URL HIDDEN) dem parkähnlich angelegten Garten , mit den schönen Sitzmöglichkreiten, haben wir schöne Stunden verbracht . Das Frühstück war sehr reichhaltig und liebevoll angerichtet. Einen ganz lieben Dank nochmal an Walter und Eliane!
Lea
2016-09-11T00:00:00Z
Zunächst war es ein wenig schwer die Unterkunft zu finden, was aber ebenso an der Nacht sowie am mangelnden GPS System hat liegen können. Als wir die Unterkunft dann dank Initiative unseres Gastgebers gefunden hatten war alles perfekt. Keinerlei Mängel weder an der Unterkunft, welche hervorragend ausgestattet war noch am Gastgeber, welcher höflich, hilfsbereit und zuvorkommend war. Ein überaus schönes Örtchen.
Benjamin
2016-06-27T00:00:00Z
We hebben het super gehad! Hebben ons thuis gevoeld en hebben goed geslapen en ontbeten! Walter en Elaine zijn twee heel lieve en aardige mensen, dank jullie wel voor het fijne verblijf, groeten John en Lucienne
luciennefotografie
2016-09-01T00:00:00Z
Hartelijk ontvangst van de gastheer. Een rondleiding en degustatie gekregen in de grote tuin. Genoten van een heerlijk ontspannend verblijf in de gerenoveerde hoeve. Veel dank
Wouter
2016-07-06T00:00:00Z
Zeer fijne overnachting ( goed bed, ruime kamer ) met verzorgd ontbijt. Walter is ook heel vlot te contacteren als je vragen hebt over je verblijf en alles is correct verlopen. De woning zelf is vlot te bereiken, er is parkeerruimte en rustig gelegen.
Sarah
2016-10-02T00:00:00Z
Mooie en zeer verzorgde B&B in een gerestaureerde hoeve. Walter ontvangt je hartelijk en zorgt voor een fijn verblijf en een lekker ontbijt. Hele mooie en rustig gelegen plek, ideaal als vertrekpunt voor wandelingen in de streek.
Peter
2017-01-14T00:00:00Z
Zeer welkome ontvangst! Mooie en schone kamer, schitterend huis met tuin vol vogels, heerlijk ontbijt. Wat wil een mens nog meer. Verrassende wandelomgeving.
Jaap
2016-11-13T00:00:00Z
Room Type
Private room
---
Property Type
Villa
---
Accommodates
3
---
Bedrooms
Holsbeek, Vlaanderen, Belgium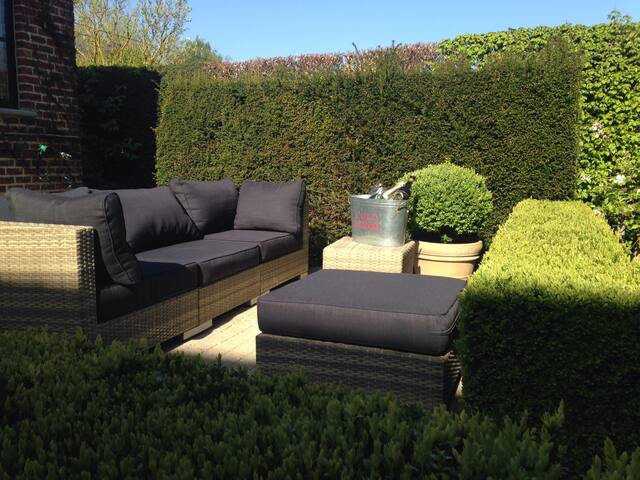 Studio Atelier is located near scenic hiking trails around the river the Dijle and the nature reserve De Doode Bemde. It is located near the center of Leuven (easily reached by car, bus or via a beautiful walking and bike path) You will enjoy the peaceful environment that will immediately get you in a holiday mood. Atelier studio is located in a natural and creative garden. Studie Atlier is suitable for couples, solo adventurers and business travelers.
We had a lovely stay at Anoë and Bruno's cabin. There are bus stops within a few minutes walk that take you to Leuven and larger travel links. The cabin itself is set in the hosts back garden and is very quiet and peaceful. It is well equipped with facilities for cooking and WiFi. We took a car, and found that the main places we wanted to visit - Brussels, Antwerp, Gent were within a 40 minute drive away. Anoë and Bruno were very friendly and welcoming, and left us some eggs for breakfast. Would definitely recommend.
Ian
2017-04-05T00:00:00Z
Anoe is a very friendly hostess. The Studio Atelier was lovely and warm for our stay in February. Close to Leuven which can be easily reached by car, the Studio Atelier has the advantage of offering a beautiful and peaceful countryside setting. We had a wonderful weekend and will definitely consider staying there again for future trips.
Eric
2017-02-26T00:00:00Z
We enjoyed a 4 night stay in this cosy cabin. It's in a semi rural location, a car is a must. The hosts were friendly & provided a lovely tray of food on arrival at low cost. We received fresh eggs from the hens on the property & the garden has some quirky artwork. The wood-chip burner keeps the cabin nice & warm in the winter. The cabin is spacious enough for 2, and could fit up to 4 for a short stay if a lot privacy is not required. The kitchen is well enough equipped to cook a one pot meal & has a great coffee maker. We used this as a base to visit Bruges, Brussels, Leuven & Luxembourg. So its in a good central location in Belgium. Overall, i'd definitely recommend this little place.
Bethany
2016-12-04T00:00:00Z
Anoe gave us a warm welcome and explained everything in our little home. We were welcomed with eggs from Anoe's chickens which were very tasty. The bus stop is a 5 minute walk up the lane on the main road so access is very easy. Definitely worth a stay if you need peace, quiet and privacy and Anoe answered any emails very quickly.
Alison
2017-02-11T00:00:00Z
It was a super nice place!!
미선
2016-12-22T00:00:00Z
they know how to welcome the guests, they are perfectly kind and cute. We couldnt ask for anything, because everything was perfectly okay. It was hot and romantic. Thank you for small and cute new year gifts which were for us. Especially the champagne =) As long as the home rented, exactly it is gonna be my Belgium home for years.
Mustafa Metehan
2017-01-03T00:00:00Z
Too good to be true! Never had an experience like this with AIRBNB's before! Wonderful hosts, very friendly atmosphere, a cozy home with everything you would need (including a great book selection!), an awesome garden, and a super cute dog! :) The neighborhood is lovely, too, very green, quiet, and picturesque, with friendly neighbors. If you need a place to stay in/close to Leuven, don't think twice! :)
steven
2016-09-03T00:00:00Z
Truly exceptional airbnb. I've stayed in more than 10 places around Brussels with 16-22 EUR/night and Anoe's was definitely among the best. HOSTS: Anoe and her partner are incredibly friendly and helpful people. They picked me up at the station late at night, brought me the newspaper after they had read it and borrowed me bikes when I needed them. Always there when you need them, also via text message, but never intrusive. Whenever I asked for something, like an extension cable, it was given to me immediately. BUNGALOW: Newly renovated, self-standing building. Very light, lots of windows but never cold as there is a pellet oven that allows fully customisable temperature regulation. Bed and furniture are super comfy. There's a big table for eating and working. Shower and toilet are clean and functional. WIFI works perfectly. TV with Belgian programmes available. KITCHEN: The kitchen contains an electric stove (stored in the cupboard), Italian espresso machine with free coffee, fridge, freezer, plates, cutlery, glasses. No oven but a microwave with grill function (enough to prepare a frozen pizza). Toaster. Fresh eggs from self-owned chickens are provided free of charge. While I was there, there only very basics like sugar and salt were provided but Anoe said she would consider putting more in (like Oil, flower, etc.) LOCATION: The airbnb is around 30 minutes from Leuven by bike, the bike path is absolutely gorgeous. Buses take 20min and go roughly hourly. The bus stations is 5min by foot.
Cornelius
2016-10-07T00:00:00Z
Room Type
Entire home/apt
---
Property Type
Bungalow
---
Accommodates
2
---
Bedrooms
Bertem, Vlaanderen, Belgium
My place is close to public transport, the city center, and parks. My place is good for couples, solo adventurers, and business travelers.
Very nice place! Adams a very good host!
Andrew
2017-01-13T00:00:00Z
Adam's apartment is well located. Close to supermarket, restaurants and cafes, about 1km from the train station, and with green space very close. It is good to spend a few days, but for those who want to dine at home they lack some amenities.
Susana & Pedro
2017-03-10T00:00:00Z
The host canceled this reservation 35 days before arrival. This is an automated posting.
Hannah
2017-01-13T00:00:00Z
The host canceled this reservation 72 days before arrival. This is an automated posting.
Melloney
2017-01-12T00:00:00Z
The host canceled this reservation the day before arrival. This is an automated posting.
Jonathan
2017-02-10T00:00:00Z
Clean appartement! We had a pleasant stay without any problems. Thanks Adam!
Charlie
2017-01-26T00:00:00Z
Adam was a great host. The place was clean and spacious and close to the center. I would recommend his place without hesitation.
Saranda
2017-02-01T00:00:00Z
The host canceled this reservation 12 days before arrival. This is an automated posting.
Luisa
2017-02-07T00:00:00Z
Room Type
Entire home/apt
---
Property Type
Flat
---
Accommodates
2
---
Bedrooms
Leuven, Vlaanderen, Belgium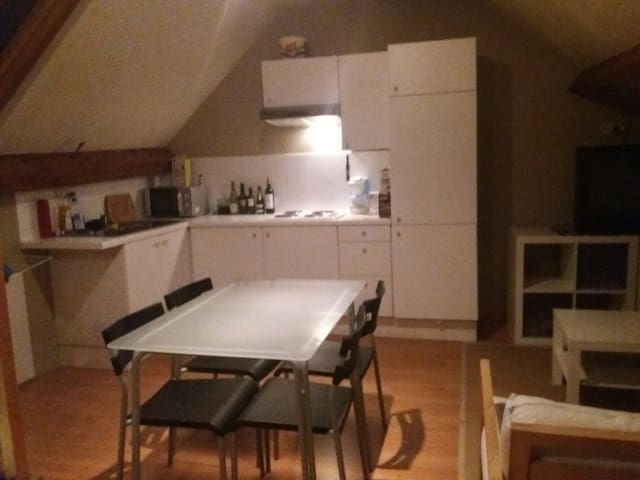 This brand new apartment is located right in the heart of Leuven right behind the "Oude Markt" The apartment has a sunny Large living/dining room with large terrace, a fully equipped kitchen with breakfast counter, two bedrooms and a spacious bathroom, with a large bath, separate shower and a double washing table. This is a non smoking unit. Also included are: - an underground parking spot. - Cable TV and Wi-Fi Location: Leuven, Belgium, Europe (20 min by train from Brussels) Accommodations: Large Apartment, 2 Bedroom, 1 Bath (Sleeps 4-5) Leuven is a nice-size city with direct train connections from Leuven to Brussels (17 Minutes to Bruxelles Nord, 25 minutes to Bruxelles Midi and), and direct bus connection to the airport (50 minutes). This 3th floor brand new two bedroom Apartment is located in the heart of Leuven right behind the "Oude Mark".. Vacation Rental Features •Amenities oFull size Washer & Dryer oLinens Provided oElevator (1) •Beds oQueen Bed o2 Twins oSofa Bed •Entertainment oHD Cable TV oDVD/Blue ray oCD Player oStereo System •Kitchen oKitchen oCooking Utensils Provided oRefrigerator oMicrowave oOven oDishwasher •Outdoor Features oBalcony •Other Amenities oFlat screen TV oWiFi oUnderground parking spot •Suitability oNo Pets Allowed oKid Friendly oSmoking Not Allowed •Activities (nearby) oShopping oRestaurants oFitness Center/Gym oHealth/Beauty Spa oCinemas/Movie Theaters oLive Theater oMuseums Rate Details (In Euros can be paid in Dollars) Rental Rates .. From: €95/night (minimum 3 nights) .. €550/week …€2100/Month Cleaning - Linen Fee of €95. Credit Cards through PayPal. For longer stays the monthly rate includes a once a month cleaning/Linen fee.
The apartment was clean, modern and well equipped. It's location next to the oude markt was ideal for access to everything in central Leuven. All our questions relating to our visit were answered by Carina. We thoroughly enjoyed our stay and would happily use the apartment again.
Peter
2016-03-22T00:00:00Z
Wonderful apartment and nice location near Oude Market. The apartment was clean, well equipped, and bright. We enjoyed our stay very much!
Vicki and Bob
2015-09-27T00:00:00Z
Excellent central location, but very difficult to find garage parking due to one way streets. Even the SatNav couldn't crack it.
Paul
2017-03-29T00:00:00Z
Very nice and clean apartment. Situated in the centre of Leuven.
Sarah
2017-02-14T00:00:00Z
Due to some delays in travel our arrival was a bit late but this was no problem due to the self service check in which itself felt like a treasure hunt at first but the prize was well worth it - a gorgeous apartment that was well equipped and ideally located. We had zero problems with any of it and would love to stay there again our next time in Leuven - highly recommended!
Bolek
2013-09-01T00:00:00Z
Carina's flat was fantastic: all new and clean, a great large lounge, two small bedrooms with very good beds and large closets, a bathroom with an exceptionally spacious shower cabin, and the kitchen was very well equipped. Fast internet access and a nice balcony are a welcome addition. The area is very quiet despite its closeness to the city centre: it's just a two minutes walk to the Oude Markt! We recommend Carina's flat unreservedly with highest marks.
Michael
2016-09-12T00:00:00Z
Carina's apartment is really big - you don't realise this from the photos. It is very well equipped, and location is fantastic - right in the heart of the action, but just off the busy student streets to mean you can still get sleep! I highly recommend staying here and would definitely come again if visit Leuven.
Martin
2017-03-01T00:00:00Z
Perfect location in Leuven! Just a few feet from the Old Market with tons of restaurants and cafes around the corner. Apartment is brand new and very nicely decorated. Bathroom was large, modern, clean and comfortable. Washer and Dryer were a wonderful addition which allowed us to prepare for the next part of our journey.
Samantha
2015-07-03T00:00:00Z
Room Type
Entire home/apt
---
Property Type
Flat
---
Accommodates
5
---
Bedrooms
Flemish Brabant, Flemish Region, Belgium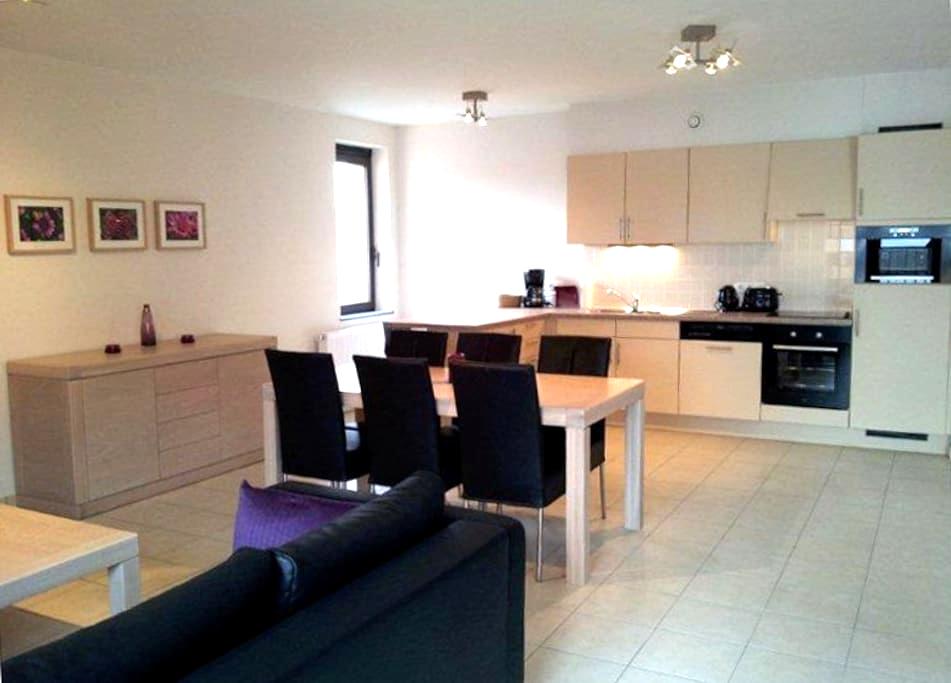 Cosy room with comfortable double bed Free parking nearby (+-50m) Self check-in/out possible (see detailed information after your booking). Convenient transportation: 2 min to bus stops, 5min to train station & 15min to city center Bedlinens, towels & shower gel provided Free Wifi & fresh tea/coffee
The house and guestroom: There is a living room, kitchen and a toilet in the first floor, a bathroom and two bedrooms in the second floor, one for the guests and one for me. Essentials such as fresh bed sheets, duvet, towels etc. are provided. It is not a modern house, but a clean one for sure. Fresh bed sheet, duvet covers and towels are guaranteed! There is a desk in the room where you can use the laptop, a rolling chair to relax in and a leisure corner where you can enjoy a cup of tee, coffer or just do some reading. The hosts: We work during the daytime and stay mostly in the first floor living room when back home. So the guests have enough privacy in the second floor. Of course we are willing to share any information if needed. The neighborhood: It is quiet yet convenient. Bus stops are wthin 200 meters and train station is just 500 meters away. Only 13 min train to Brussels national airport. It's also very convenient to other cities: 20min to Brussels city, 1 hour to Ghent and 1:30h to Brugge...
Shops for food, pubs, bakeries, restaurants are within 5 min walking distance and you are suggested to have a very nice walk to the Province Domain of Leuven, where some interactions with lovely sheeps, birds and boating are possible.
The house is very nice and clean, and the room is really quiet: it's perfect to get some rest after a tiring day! Moreover, the location is perfect to visit Leuven but also to reach the site of the Rock Werchter festival and other cities, because it is really near to the station! Finally, Chris is a perfect guest: he welcomed us with two beers, gave us everything we need, and he and his housemate were always kind and caring with us! I definitely recommend him as guest!
Francesco
2016-07-05T00:00:00Z
:) second time I stayed here. Good friendly hosts (thank you for remembering I like tea :) ) and it is a good place to stay if you are stuck at the Brussels airport late at night.
Melinda
2016-02-22T00:00:00Z
I was absolutely satisfied with Chris, his helpful behavior and nice character. The room was just perfect, I had everything what I needed! :)
Kateřina
2016-11-19T00:00:00Z
Chris was very welcoming, he let me come early as my flight arrived early in the morning. The room was very clean and he was very kind. The house is very close to the train station. I would stay here again!
Alyssa
2015-12-29T00:00:00Z
Clean and comfortable room, situated very near the centre of the town as well as the train station which helps you connect to all other major Belgian cities. Hosts were great and very helpful!
Eugene
2015-11-05T00:00:00Z
Nice and close to the station. Clear directions to reach the place. They prepped the room with a Belgium beer and Belgium chocolates waiting for me. Was able to use the kitchen and they also supplied a bicycle to use for free! All in all, great place great service.
Jonathan
2016-02-03T00:00:00Z
I had a great time in Leuven, the room was very pleasant and good prepared. The flat is in a quiet neibourghood but at the same time near to the central station (less than 10 min walking) and the center is near too. Chris and Li are very nice guests. I recommend all of it!
Nerea
2016-04-12T00:00:00Z
Chris was an excellent host. He wasn't able to be there while I was in town, but he left me thorough directions about how to get in and out, as well as lots of material for getting around the city. And beer and tea! Thanks, Chris, for making this visit peaceful and enjoyable!
Stephanie
2016-07-19T00:00:00Z
Room Type
Private room
---
Property Type
House
---
Accommodates
2
---
Bedrooms
Leuven, Vlaanderen, Belgium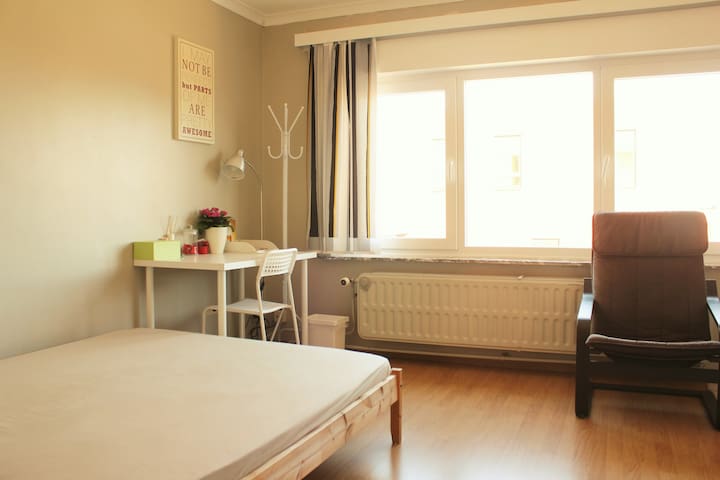 This elegant studio is conveniently located in a very quiet street of Leuven, in the second floor of a town house, close to Botanical garden (20m), just a few minutes walk to the historic City centre. It is very comfortable and quiet and looking out to a small park. The studio comprise an equipped kitchen and a private bathroom with a rain shower and free toiletries. Wine and dine facilities, supermarkets and shops for groceries can be found in the immediate vicinity.
Stay at this quiet and convenient studio which is at 10' walking from the historical centre of Leuven. Perfect location in a residential street within your walking distance to necessary places like restaurants, night shop, supermarkets, laundry, pharmacy, bakery and fast food shops! The studio is quiet as it is located at the back of the house and looks out to a small park.
Quiet residential street with green areas. This is a friendly and safe neighborhood with families and students. The Botanical Garden next door is a must see with thousands of plants and flowers. The campus and hospital UZ Leuven Gasthuisberg is at 5 minutes by bus or 15 minutes walking.
The studio was very clean and quiet. I recommend walking through the lovely botanical garden to get to the city. Thien was very helpful with suggestions about local restaurants and shops.
Siew-Lan
2016-09-23T00:00:00Z
Nice studio in a quiet location, great place to just relax. There was even tea! I also really enjoyed walking through Leuven's botanic garden that's really close by to and from my conference. The place was clean, nice bed and shower. Simple and practical. Thien was also really easy to get in touch with and checked in regularly via email to ask if I was ok or needed anything. Would definitely stay here again.
Marieke
2016-09-22T00:00:00Z
I would highly recommend this place! It was indeed light and bright as advertised, and it was about a fifteen-minute walk to the city center. I felt safe coming and going; it was cozy; and it was cleaner than most hotels I've stayed at. A fantastic place to stay in Leuven. Additionally, Thein was very easy to communicate with and checked in once during my stay to make sure things were going smoothly. He even left some bottles of water an a couple beers in the refrigerator and offered me the use of an extra bicycle. I would definitely stay here again!
Samantha
2016-11-10T00:00:00Z
The studio is inside old town, just beside the beautiful botanic garden. Very good location. The studio itself may be a bit small, but it is well renovated and basically has everything you need. Thien is very kind to let us use his two bicycles and even helped fix bicycle problems. We would give 5-star to Thien!
Jingwei
2016-12-09T00:00:00Z
The appartment of Thien was just perfect! The communication was very good and the flat was close to the city center (by bus 6-7 min, by foot 14 min). If I go to Leuven again, I'll repeat. Thank you Thien!
Josep
2017-01-15T00:00:00Z
Lovely, cosy and clean apartment, perfect location. Thien was an amazing host who even left us some beers, milk, fruit etc. Highly recommended!
Nicolette
2016-10-09T00:00:00Z
A wonderful place to stay! The studio had everything, was very clean and organized. Glass window is big and overlook the gardens. Sky view from the bed is wonderful! Big closet is a bonus; fit in all the clothes. The place is in a very quite area which also close to Town Hall main area in 10 minutes walking. Great restaurants, local supermarkets with fresh produce, and laundromat in minutes walking. The huge botanical garden next door is a must-see; so many different plants to see. Our hosts are wonderful; very kind and attentive! Such an unforgettable delightful experience with the city, the place and hosts! Thank you so much. Hoa & Jeremy
Hoa
2016-07-13T00:00:00Z
Really lovely light and quiet studio in easy walking distance of both town center and supermarkets. Thien was wonderfully helpful. The studio was spotlessly clean. Would certainly stay again.
Paul
2016-11-24T00:00:00Z
Room Type
Entire home/apt
---
Property Type
House
---
Accommodates
2
---
Bedrooms
Leuven, Vlaanderen, Belgium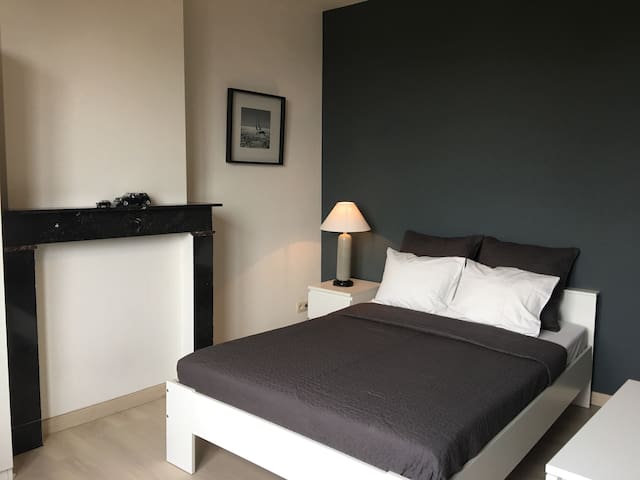 Warm, light and cosy double room in the heart of Leuven, close to most University Colleges and in the swim of art and culture, restaurants, bars and cafés. This stylish ensuite is comfortable with private bathroom located in the second floor of a beautiful building, just a few steps walking from Grote Markt, Oude Markt and most attractions. A common kitchen for self-catering is fully equipped with refrigerator, tea and coffee facilities. Free fast wifi. Free private parking (must be reserved).
Brandnew stylish decorated room with lots of light, located at the epicenter of Leuven's historical heart (side street of Hogeschool Plein). Interior is newly furnished with lots of care, very comfortable double boxspring bed, the bathroom received a classical touch with Italian travertine tiles and natural stone.
My place is at great location, at the epicenter of Leuven historical area next to a small park (Hogeschoolplein), at a few steps from Leuven's Old Market and Muntstraat with loads of local restaurants and differents cuisines including authentic Belgian, Italian, Japanese, Portuguese, Chinese and lots of lovely friendly cafés. Especially great is when the farmers market comes to town (every Friday morning), just a few minutes walk and you will have delicious and fresh produces.
Great place in the heart of the old city center! Nice room and bathroom with everything you need, including fresh fruit, mineral water and maps/info about the city :) The appartment is just around the corner of the lively Naamsestraat. And do not forget to follow the appartment's street (Standonckstraat) to the Hogeschoolplein and have a drink at terrace 'De Werf'! Checking in was easy using the key box at the front door. For light sleepers: there is quite some noise at night, since the main street with lots of cafes (Naamsestraat) is just around the corner.
Iris
2017-03-25T00:00:00Z
Wat hadden we een heerlijk weekend in Leuven! Dit, mede dankzij het geweldige appartement van Duncan. Het appartement is nieuw, sfeervol ingericht en is brandschoon! Het heeft een heerlijk bed, zonder randjes waar ook lange mensen prima kunnen slapen. Duncan was zelf niet aanwezig bij onze aankomst. Maar met de vooraf super duidelijke toegestuurde instructies over gebruik parking en toegang tot het appartement, was onze entree een fluitje van een cent. Het appartement is heel centraal gelegen. Je loopt zo de gezelligheid van de stad tegemoet. Het is een studentenstad, dus daar hoort wat meer reuring 's avonds laat op straat bij. Wij vonden dit juist heel gezellig. De stad leeft! Wij komen graag nog eens terug!
Paulien
2017-04-02T00:00:00Z
.
Paul
2017-03-26T00:00:00Z
Room Type
Private room
---
Property Type
House
---
Accommodates
2
---
Bedrooms
Leuven, Vlaanderen, Belgium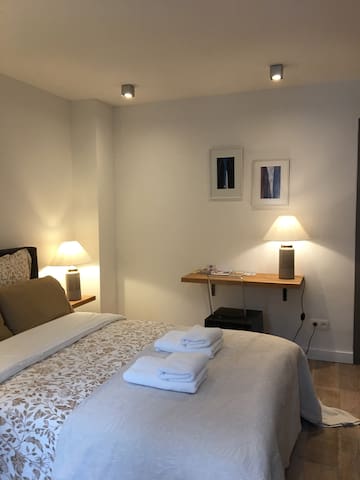 Beautiful private bedroom with a comfortable double bed. Tram and bus within walking distance (3 min). City Center within walking distance (10 min). Your room has a sun terrace, desk, storage cabinet, WIFI.
The room is 20 square meters with double bed, storage space and a desk. The room is located on the 5th floor (with elevator) and has a spacious terrace with panoramic views (including Abbeye). Near the train/bus station (3 min. walk) and the city center (15 min. walk) and all city highlights. Quiet location. Coffee, tea and water included De kamer is 20 vierkante meter met dubbel bed, opbergmogelijkheid en een bureautje. De kamer bevindt zich op de 5de verdieping (met lift) en beschikt over een ruim terras met panoramisch zicht (o.a. Abdij van Vlierbeek). Vlakbij het trein- en busstation (3 min. te voet) en het stadscentrum (15min. te voet) met alle bezienswaardigheden. Rustige ligging. Koffie, thee en water inbegrepen.
Nearby you can find a supermarket, bakery, etc. The historical center (Town Hall, St. Peter's Universiteitsbib, Begijnhof, Old Market, university buildings, etc) and several cafes / resto's are within walking distance. Nearby you will find a sports center with a tropical pool (Sportoase), a park (Provincial domain), Haasrode Research Park, Brabanthal, M-museum. Vlakbij is een supermarkt, bakker, etc. Het historisch centrum (stadhuis, Sint-Pieterskerk, Universiteitsbib, Begijnhof, Oud Markt, universiteitsgebouwen, etc) en diverse cafés/resto's bevinden zich op wandelafstand. In de omgeving vind je een sportcentrum met tropisch zwembad (Sportoase), een natuurpark (Provinciaal domein), Haasrode Research Park, Brabanthal, M-museum.
One of my best AirBnB experiences so far. Annemarie is a lovely host who made me feel very welcome and at home immediately. Very comfortable room, lovely furnished flat, a lot of attention to details which make the stay very relaxing. Includes very nice breakfast. Would love to come if ever in Leuven again.
Nora
2016-01-28T00:00:00Z
I was warmly welcomed to this lovely room and apartment by a wonderful, sympathetic hostess. Everything was neat and tidy, I would rank the room with five stars: very comfortable bed, nice terrace and nothing disturbs your dreams during the nighttime. Location is perfect, only couple of minutes to the train station and city centrum. And all the tips that I got from the hostess made my visit to Leuven even better. Thank you!! Warmly recommended!
Jaana
2016-05-01T00:00:00Z
Annemarie was very hospitable, and the room was very clean and comfortable, in a great location.
Isaac
2016-10-16T00:00:00Z
Very friendly and warm welcome of my parents and they felt at ease and at home.
Maria
2016-07-04T00:00:00Z
I stayed at Annemarie's home with 2 friends for nearly a week. The location was quite convenient to the train station and about a 15 minute walk to downtown Leuven. Very safe and secure building, extremely clean, lovely rooms, and nice outdoor patio. Only trouble for us was that there was an extreme heat wave in Levuen when we were visiting and there is no AC - it was QUITE warm at night! (obviously not Annemarie's fault and she provided a fan for us). Annemarie provided breakfast options (fruit, yogurt, juice, coffee, bread, etc) and was quick to bring a replacement coffee machine when one stopped working. She was quick to offer many suggestions about Levuen and Belgium and was extremely thorough during the checkin process to make sure we had no questions left unanswered. We appreciated her opening her home to us for the week to accommodate 3 of us. She is a kind, generous host.
Kaitlin
2016-07-21T00:00:00Z
Great Price and great location. Train station no more than 2 min walk. Annemarie was very welcoming and friendly.
Claudio
2015-10-22T00:00:00Z
Annemarie was a lovely hostess, and the room was impeccably clean, very quiet, lovely view and very comfortable. Annemarie's welcome was very warm and she went out of her way to be as helpful as possible. Strongly recommended.
Nicola
2016-03-11T00:00:00Z
Annemarie was a very lovely host. From the beginning on she ensured that I comfortable and welcomed at her apartment. The view from the terasse is brilling and the whole apartment is very well equipped. There was not a single thing I could complain about.
Joel
2016-09-25T00:00:00Z
Room Type
Private room
---
Property Type
Flat
---
Accommodates
2
---
Bedrooms
Leuven, Vlaanderen, Belgium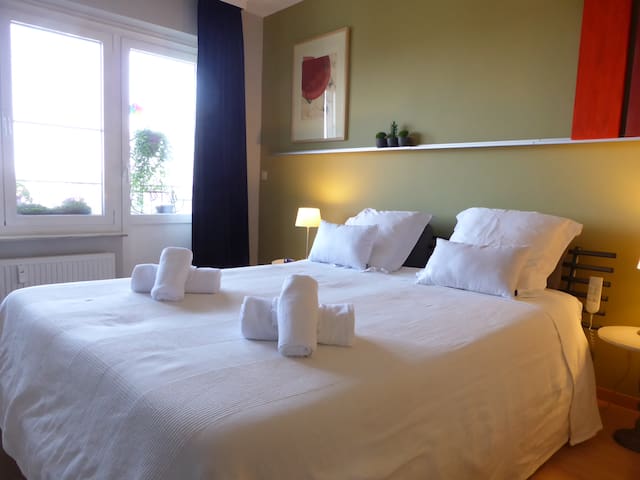 L'apartement se trouve tout près du centre à côté d'un petit parc. L'endroit est calme. Ce que j'aime tout particulièrement c'est la lumière et la vue. Il ny a pas des bâtiments que empềchent de regarder le coucher de soleil par exemple. Les magazins ne sont pas très loin non plus.
Le logement comporte un living avec des grandes fenêtres qui laissent pénétrer pleinement la lumière. Les chambres à coucher ne sont pas immenses mais normales pour un apartement. La salle de bain et la cuisine (integréé dans le living) ont été récemment renouvelées. La toilette est apart.
I received a warm welcome from Alice, who went out of her way to make sure that I had everything I needed, and knew my way around the place before she left. The apartment is large and bright, there is a small balcony with rattan chairs, on which I enjoyed the afternoon sun, and a well equipped kitchen and bathroom. The double bed is comfortable, and my friend who slept on the sofa bed in the other room reported that that was comfortable too. Alice's place is very close to the city center (a twelve minute walk to the cathedral square and main restaurant area), there is no noise from neighbours.
Harm
2016-09-06T00:00:00Z
Great location in a wonderful city. Excellent host and very nice apartment. Highly recommended!
Flavio
2016-08-07T00:00:00Z
Alice was very welcoming and explained the apartment to us. It was well appointed and located in a quiet neighborhood, convenient to the center of town.
Josefine
2016-09-22T00:00:00Z
Great well-furnished apartment: roomy and sunny; perfect location with easy access to the town center and to the Belgian freeway network; welcoming host
Philippe
2016-08-29T00:00:00Z
Great location for self driving and taking public transport. When driving, the apartment is 300 meters to the ring road of Leuven as well as the junction to E314 highway. The central train station is about 20 mins on foot and is well connected by bus. I have two couples visiting me and I do not have enough bed rook in my house. So I booked Alice's aparment. The two bed rooms well accomodated the two families. In fact my friends are very happily surprised to see the clean, well equipped rooms. The view from the main balcony is fantastic to see the lovely hills that are surrounding Leuven. The landmark secene of Leuven - the townhall and old market, is within walking distance. My friends visited it without me. Considering the convenient location and the 2 bed rooms, as well as the reasonable cost, I would definitely come back when we have similar request to accomodate more guests in town. Thank you, Alice and see you soon. David
David
2017-03-22T00:00:00Z
Bright and nicely decorated apartment, a short walk away from the sights of Leuven. The apartment is well-equipped and comfortable for a short or long stay. Communication with Alice was smooth. I can highly recommend this apartment and the host.
Smriti
2017-03-31T00:00:00Z
Nice and quiet place, walkable to all of Leuven's highlights, highly recommendable!
Bas
2017-03-26T00:00:00Z
Great spot! Very close to the centre. Beautiful apartment with big windows. Clean with everything you need.
Rachel
2016-08-01T00:00:00Z
Room Type
Entire home/apt
---
Property Type
Flat
---
Accommodates
4
---
Bedrooms
Leuven, Vlaanderen, Belgium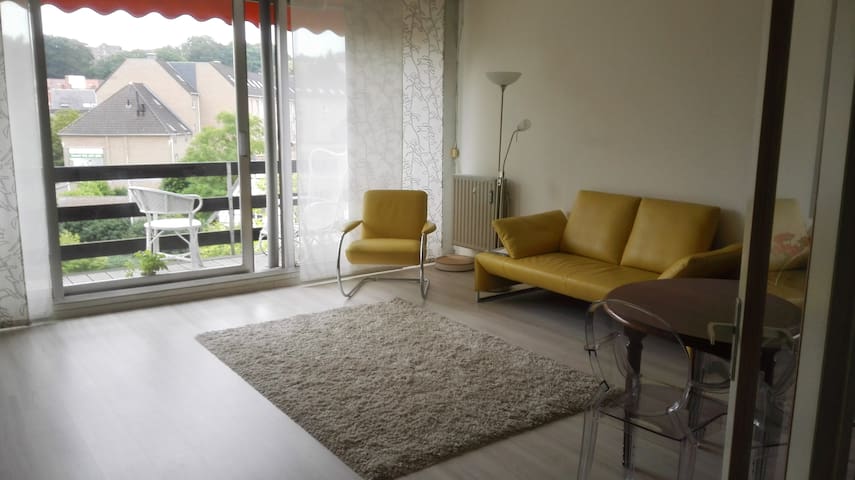 You have the choice of one out of 3 rooms (room 1 and 2 with wooden floor). Near KUL, railway and bus station, library etc. Shower, toilet and kitchenette are being shared. In the room there is warm and cold water and fast WiFi. We also provide a vacuum cleaner, iron and ironing board. Use of the washing machine upon consultation; Price is €4, once a week, other washing and laundry services also in the neibourhood.
This rooms contains a bed, chair, sofa, sink, cabinet, table and coat rack. Kitchen, toilet and shower are shared . There is a fridge, microwave, coffee machine, water boiler and a double hot plate for cooking.
Supermarket around the corner; open every day except on Fridays from 8 till 8pm. Nice cafes nearby; KUL, station and all sightseeing places in Leuven within walking distance.
Nice hosts, shaky wifi
Paul
2017-03-16T00:00:00Z
Nice light attic room, well equipped ;good lights -2 lapms, wash basin, coffee maker, radio, sofa, good wifi. Perfect for students.
Kamila
2016-11-21T00:00:00Z
Ray and his wife was very helpful and the room was cosy, very convenient with a carrefour express just around the corner of the street.
Nicholas
2016-09-25T00:00:00Z
Ray's place is really lovely, clean and warm. Ray and his wife are super nice and considerate. Highly recommended!
Jie
2016-12-09T00:00:00Z
I suggest this room. Ray, the host is very kind and helpful. The room perfectly fitted with the description. The position is very good, close to the cente and to the station. This part of the city is very quiet.
Marco
2015-12-19T00:00:00Z
A warm welcome, a great independent room, with access to a fridge, and a small but well equipped kitchen. Practically a small apartment. Located near the town center, the train station (10-minute walk), and there is a Carrefour Express grocery store just around the corner. Some guests might not like climbing the stairs up to the third floor (no elevator as in most traditional buildings in Europe especially space-tight Belgium and the Netherlands). But I saw it as welcome exercise!
Firouz
2016-07-05T00:00:00Z
De verhuurder Ray is heel behulpzaam en gastvrij. De kamer en het keukentje bevatten alles wat u nodig heeft voor een prettig verblijf: er is wifi, veel kastruimte, warm water op de kamer en u kunt heerlijk rustig werken aan het bureau. De kamer heeft uitzicht op de tuin en het is een prettige, rustige buurt. Het station en het centrum liggen op een steenworp afstand.
Ilse
2016-04-01T00:00:00Z
De locatie was prima, dicht bij het centrum. De kamer was netjes en schoon met alles wat je nodig hebt. Ray en zijn partner waren erg gastvrij, ik heb het prima naar mijn zin gehad.
Karen
2016-08-13T00:00:00Z
Room Type
Private room
---
Property Type
House
---
Accommodates
1
---
Bedrooms
Leuven, Vlaanderen, Belgium
We offer you a modern apartement, inspired by Scandinavian design. It offers 80m2 on the first floor of an apartment building in a residential neighborhood. It's a 2 minute walk to the train station of Heverlee. The centre of Leuven is only 2 km away, which is a 5 minutes bus ride or 20 minutes by foot. An indoor parking spot is available for free. 2 bikes are also available for rent. Access to Netflix, use of a hairdryer, free coffee and a box with touristic info is included.
This spacious apartment was recently renovated and is inspired by our love for Scandinavian design. We especially enjoy the simplicity, minimalism and functionality that characterizes Scandinavian objects. The apartment consists of an entrance hall, living room + kitchen, hall, toilet, bathroom (including hair dryer), master bed room and a small storage room. The living room, that consists of an open kitchen, offers a lot of space but is still very cozy. Guests can relax in the big sofa, where they have access to Netflix and Digital TV. A 15m2 terrace is also available to the guests, which is north-east oriented. This orientation makes sure that the apartment is always bright, but never too hot inside. Our terrace includes a small city garden where basil, chives, parsley, thyme and rosemary is offered to our guests.
The apartment is located in a residential neighbourhood in Heverlee, located in the suburbs of Leuven. Heverlee is a sub-borough of Leuven, but is attached to Leuven and therefore really close to the city centre of Leuven. In our neighbourhood, you will find some really nice restaurants, beautiful nature only yards away and especially peace and relaxation.
We loved this accomodation,the apt was very comfortable,spacious and clean. We stayed well and we had a very good rest (the bed is very comfortable). And also really appreciated the beers welcome-gift ! Thank u for everything and hope to come back! Franco and Mariella
Franco
2017-01-05T00:00:00Z
It was the perfect apartment for a winter visit to my friend who was studying in Leuven. Aside from the great design, our favorite part of our stay was the well equiped kitchen where we made our Christmas dinner.
Jessica
2016-12-27T00:00:00Z
Communication with Michael was very smooth and quick. Michael was very flexible in terms of checking in, we could check in at at night at 12 p.m. and stay until 5 p.m. The apartment was spotless and as described, the neighborhood quiet and some 20 mins walk from the city center. We could park our garage in Michael's garage box. There was a box of tourist information ready for us along with two Stella beers! We can definitely recommend this BnB!
Axel
2016-09-12T00:00:00Z
I have had a great time at Michael's apartment. Everything was clean and exactly as shown on the pictures. I didn't meet him but he sent me all the informations I needed and he left in the apartment even some tourist guides of Löwen. I highly recommend this place and I would like to come back soon!
marta amelia
2016-08-07T00:00:00Z
Didn't get to meet our hosts but they made our arrival painless. Great modern apartment close to all ammenities lovely and clean. Great to have secure parking.
Patsy
2016-07-12T00:00:00Z
Michael's place was perfect. Everything you need is there. !
Georgios
2017-02-12T00:00:00Z
Michael's apartment was a great place to stay. It is very clean with plenty of space for the 2 of us staying. The location is great, a friendly area which is a nice 25 minutes walk into the centre of Leuven or a very short bus ride. Michael himself was very friendly and showed us around the apartment when we arrived. He left us some good tourist guides for the local area and was helpful in answering any questions. I would highly recommend Michael and Charlotte's place.
Tom
2016-07-05T00:00:00Z
The apartment is really nice and comfy. We enjoyed our stay there. Michael is very good and helpful host. Highly recommend!
Yevgen
2016-11-06T00:00:00Z
Room Type
Entire home/apt
---
Property Type
Flat
---
Accommodates
2
---
Bedrooms
Leuven, Vlaanderen, Belgium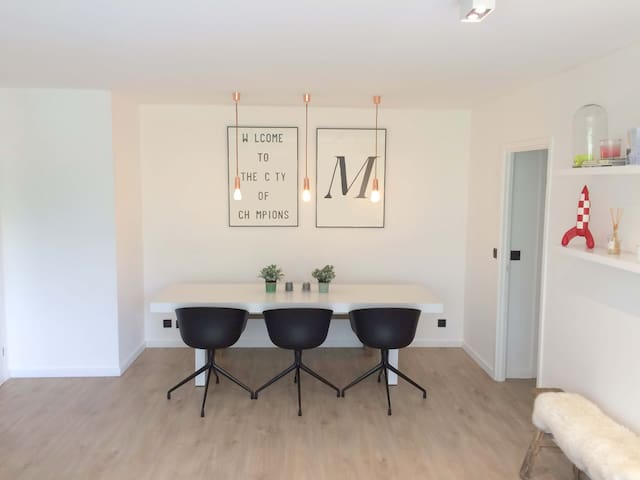 My room is close to public transportation, downtown, arts and culture and the airport. You'll love my place because of the atmosphere, the people and the location. My room is suitable for business travelers.
The host canceled this reservation 13 days before arrival. This is an automated posting.
Josefine
2017-04-10T00:00:00Z
Impecable!
Roksana
2017-01-16T00:00:00Z
Room Type
Private room
---
Property Type
House
---
Accommodates
1
---
Bedrooms
Herent, Vlaanderen, Belgium