A very nice, almost new 1 bedroom loft apartment near Great Falls High. Apartment was built in 2015, and features all of the comforts of home. One bedroom with queen bed, living space with small couch, flat screen tv, wifi, and a fully furnished kitchen with all appliances, including a Keurig coffee maker, and full bath. The couch is not large enough to sleep on, except for small children. There is floor space if you wish to use an airbed or sleeping bag. We can also provide an air mattress
The apartment was built new just over a year ago. It is above a new detached garage, so guests can arrive and depart without worrying about disturbing anyone. Private parking space provided next to garage.
Great neighborhood next to historic Great Falls High. Quiet area and especially nice during our long summer days.
We thoroughly enjoyed our brief one night stay at the Loft Apartment in Great Falls. Jason was very quick to respond to any and all communication and his thorough arrival instructions were spot on. Very quiet neighborhood and the apartment is nice and new and well decorated/furnished. Would be great for a longer stay. Private. Bright and sunny. Clean and cozy. Has everything you need! We would definitely stay here again if visiting Great Falls, Montana!
Pamela
2016-07-11T00:00:00Z
Immaculately clean, spacious apartment in quiet neighborhood. Perfect way to feel like a local in Great Falls.
Jay
2016-09-11T00:00:00Z
The loft was very spacious, with wonderful amenities and extremely comfortable! Working with Jason was smooth and easy! We wish we could have stayed longer and would love to visit again.
Jennifer
2016-07-07T00:00:00Z
Very nice place, loved it! The place is really cozy yet modern. The appliances are top of the line and the finishings in the kitchen are very nice. Really great value for such a nice place! Keyless entry made the check in very convenient and we didn't have to worry about a key. Jason was very welcoming and accommodating to our needs. Will definitely book again next time I'm in Great Falls.
Ivan
2016-11-27T00:00:00Z
Central location, gorgeous apartment, quiet neighborhood. We will book again
Tora
2016-09-18T00:00:00Z
Jason was an excellent host! The directions to The Loft were straightforward and we had no issues. The place was immaculate and had everything we needed. We came in town for a wedding and I was relieved to find a hairdryer and an iron and ironing board. It was nice and private and exactly what we needed. The neighborhood was very safe and the whole experience was much better than staying at a hotel! Jason was also very responsive when we had questions and readily available if we needed anything.
Chrissie
2016-08-28T00:00:00Z
A really great apartment In a great neighborhood. Jason was there to meet me & give me a tour. I would stay there again!
Karen
2016-09-09T00:00:00Z
Jason, Was extremely responsive and accommodating. The place is immaculate. It provides you with your own private space. Will definitely book again when I am in the area. Deb
Deb
2016-10-07T00:00:00Z
Room Type
Entire home/apt
---
Property Type
Flat
---
Accommodates
3
---
Bedrooms
Great Falls, MT, United States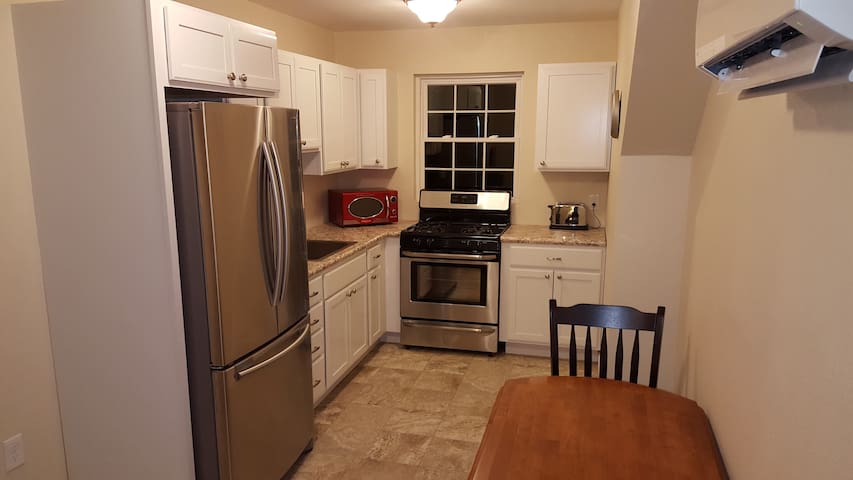 My condo is quiet and comfortable. Located 5 minutes from the airport and easy access to all entertainment in the city. Sleeps 6 with a queen, a double, and a pullout. You will also have access to pool in the summer months!
Room Type
Entire home/apt
---
Property Type
Flat
---
Accommodates
6
---
Bedrooms
Great Falls, MT, United States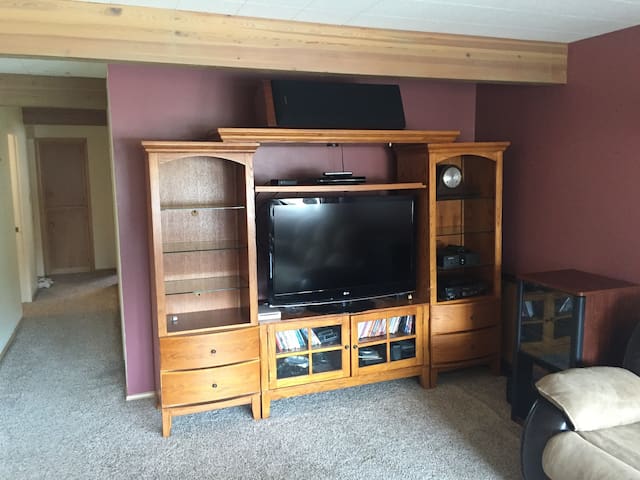 Driving thru MT? Skiing Showdown? Home between Monarch and Belt.
** Nightly price includes the master bedroom with master bathroom with jacuzzi tub. King & Twin bed. Twin bed for child only. Two additional bedrooms available. Queen bed in both rooms and shared bathroom. 20.00$ for additional person after 2 people. • I DO NOT rent out remaining rooms during your reservation. • No cleaning fee. • I except last minute reservations. Daylight walk out basement apartment. Two private entrances. New construction and very clean. Fully Furnished kitchen. Private patio with gas grill. Meals and groceries available upon request. Free wireless internet. Good cell service. However, N0 TVs Fire pit. Only if conditions allow. Views for miles and miles. Perfect for hikers and close to tons of national forest including Kings Hill for ATVs. Walking distance to Sluice Box State Park. Fish Belt Creek.
Cool things to check out on social media - - Into the Little Belts - Little Belt Montana - Showdown Montana - Belt merchantile & Art Gallery - Belt Brew Pub
April and her family were wonderful hosts! It was nice to just relax and they were more than willing to accommodate if we needed anything. I wouldn't have wanted to spend the new year any other way! Highly recommend.
amanda
2017-01-02T00:00:00Z
We were so impressed with April and her beautiful accommodations. April kept in contact with us prior to our visit and met us at the door even-tho our arrival was after 10pm. The house was everything we imagined and more. Because we arrived late at night, we really had little understanding of our surroundings. When we awoke in the morning we could not get over the view. Sipping coffee on the patio with a view that words cannot adequately describe was the delight of the trip. April checked on us and asked several times if there was anything we needed. She recommended different hiking areas that turned out to be perfect. The 3 bedroom house was immaculate. There was a lot of room and the picture window in the kitchen added to the beauty and atmosphere. There were close hiking trails and a creek to wade in. The bedrooms were large and the beds very comfortable. Everything we needed from coffee and coffee pot to towels and blankets were provided. I would highly recommend this property to anyone wanting quiet comfort, great views, hiking and a caring host, April.
Ray
2016-08-01T00:00:00Z
I was so sad that I only had time for a short overnight stay with April and her family. I felt so welcome, and the space provided is a large and well equipped basement with beautiful views of the Sluicebox; I wish I had more time to explore the area, as April's husband was telling me all about the mining history there! I would bring my whole family back here in a heartbeat because not only is the space furnished with anything you could need from cooking to a huge to a patio overlooking the beauty of Montana, but April is a wonderful hostess asking several times if I needed any food or anything at all. Thank you so much April for the wonderful stay and your thoughtfulness!
Morgan
2016-09-23T00:00:00Z
April has an awesome place! The view is spectacular! We were greeted by April when we arrived and she gave us a tour of her beautiful home. We had the whole lower level to ourselves and we started enjoying the views sitting on the patio overlooking the Sluice Box Canyon and the surrounding mountains immediately. The next morning we again enjoyed the view from the kitchen table that has a massive window that again, overlooks the canyon (did I mention that the views are spectacular). April was there to see us off in the morning to continue our journey. The best recommendation I can give is that we want to return, thanks for a wonderful stay April!
Nick
2016-09-12T00:00:00Z
April was there to greet us and showed us around. She had maps of the area, hiking books, etc to make getting around easy. A couple of days before we were to arrive, April contacted me to find out if I wanted her to pick up anything for us at the store. That was very considerate.
Debra
2016-07-05T00:00:00Z
April was absolutely lovely and the place was clean and very comfortable. Driving up at night made the views of the surrounding countryside in the morning even more inviting. We'll definitely be back next time we are through Montana!
Alan
2016-02-14T00:00:00Z
This was a wonderful place to stay. I wish we could have stayed longer, but it was just a quick trip through for one night. April was incredibly welcoming and wanted to be sure we had everything we needed. The place was clean, spacious, comfortable and bright.
Evie
2016-08-28T00:00:00Z
April was amazing and offered any assistance she could to make our stay more comfortable. The space is impeccably clean and the bath is a great size to sit and relax. The view is remarkable and we just truly felt at home there. I would highly recommend staying here if you want to be just out in the mountains and only a short distance of about 30 minutes to town.
Amanda
2016-11-13T00:00:00Z
Room Type
Entire home/apt
---
Property Type
Flat
---
Accommodates
8
---
Bedrooms
Belt, MT, United States
12.5 miles west of Simms right on the county line off of highway 200, sits this cute, bunkhouse. It is like a glorified forest service cabin but has more amenities which includes a full size bed with a small shower, toilet,sink, microwave, hot plate, table and dorm fridge. Cot available if you want to squeeze a 2nd or 3rd guest.
Centrally located in Simms, Montana 30 miles west of Great Falls in the beautiful Sun River Valley. Make our home your central, rural headquarters where you can enjoy all the facets of the Montana Rocky Mountain Front: From history at the Lewis and Clark Interpretive Center, CM Russell Museum, and First Peoples' Buffalo Jump, or hiking in the Bob Marshall Wilderness and floating and fishing on the Missouri River. Great Falls, Cascade, Choteau, Wolf Creek, Helena and Glacier National Park all are located within our immediate vicinity ranging from 30 minutes to 2 hours away.
Very rural and private with nearest neighbor 8 miles away.
Fun bunkhouse on this amazing cattle ranch. Have never had such an experience of being out in the country.
Paul
2016-07-21T00:00:00Z
Another fantastic stay
Patrick
2016-09-30T00:00:00Z
Very comfortable room. Their dog was playful, I had fun with him. Peaceful and quiet location .
Frank
2016-10-05T00:00:00Z
The bunkhouse is in an idyllic ranch setting with stunning views. It comes with a real friendly dog and a pair of horses to make the setting even more authentic. Carole is a super communicator and I highly recommend the bunkhouse.
PETER
2016-07-31T00:00:00Z
Comfy and cozy cabin. Hot water shower was great! Host was really prompt in answering messages and gave lots of information for arrival beforehand.
Jessica
2016-08-31T00:00:00Z
Wow, my husband and I loved this place, we didn't want to leave. You really get a feel for being on a Montana ranch, it was just beautiful! Everything was as described, clean, well stocked, ( Carol thought of everything) and with wifi we had good communication. We really hope to come back!
Janice
2016-08-21T00:00:00Z
I LOVED staying here. Carol was super communicative and the place was easy to find. Got to stay in the Ranch House rather than the Bunk House. It was super comfortable. Got a very enthusiastic welcome from Scrappy and played fetch throughout the vitis. Very good WiFi, kitchen is stocked with all the needed utensils and cooking implements. Road to the ranch is well kept and it was easy to find, even in the dark. The Ranch House is well designed and would be great for a small family gathering or vacation. Also a great place to just get away! No cell service for me, which was a even bigger bonus. Peeked in the Bunk House and it's super cute and perfect for a single person looking to get out into the country. Saw deer on the road to the ranch multiple times. Beautiful views, I would stay again in a heart beat.
Alicia
2016-10-08T00:00:00Z
Carol was wonderful in giving proper directions and making sure I felt comfortable on their property. I was met by their sweet dog Scrappy who watched the sunset with me. The bed was terribly cozy and the hammock was ideal. Thanks for a great night!
Anne Elyse
2016-08-18T00:00:00Z
Room Type
Entire home/apt
---
Property Type
Flat
---
Accommodates
2
---
Bedrooms
Augusta, MT, United States
Enter dates to see full pricing. Additional fees apply. Taxes may be added.