1 Crossroads is a quaint cottage situated in the village of Gilwern within the Brecon Beacons National Park. The 200 year old Monmouth & Brecon canal passes through the village which as many pretty pubs & canal boats meandering along this wonderful tree-lined canal. It is a great place to begin exploring the magnificent Brecon Beacons National Park.
Gilwern village is a lovely little place with your typical village pub, local convenience shop, fish & chip shop & other small independent shops. You can walk from the front door & within no time at all you can be on the Mon & Brecon canal enjoying the stunning scenery, local wildlife & winding down into your holiday.
A very pretty cottage ! We appreciated the cosy deco, the great quality of the beds and the bathroom linen at our disposition. We didn't have the chance to meet our hosts but they were easily reachable and answered very quickly to our questions. Fresh bread, welsh cakes and fresh flowers were very appreciated too ! Cory and Alex's book of tips gave us some interesting informations about where to go and eat. The terrace is a bonus as we enjoyed it every day thanks to the beautiful weather ! The cottage has a great situation to visit the south-east of the Brecon Beacons.
Muriel
2016-08-14T00:00:00Z
Alexandra's place is a delightful two bedroom cottage in an excellent location for exploring the Brecon Beacons and Black Mountains. The double bedrooms are comfortable and the cottage is very well presented. If you're walking or cycling, there is a garage and plenty of space to clean and hang clothes to dry. There's even a hose ready attached to wash the South Wales mud off your mountain bikes! The drive is big enough to get your car off the road and there is plenty of outdoor space at the back of the cottage for relaxing after a day in the hills. The canal is minutes away and there some great bridleways within riding distance if mountain biking is your thing. Talybont-on-Usk and the start of the classic Gap Road mountain bike route is only a short drive too. Recommended.
Daniel
2017-04-03T00:00:00Z
I spent a week at this lovely cottage with my girlfriend and overall we had a very good time. The main bedroom in particular is lovely, a very good quality bed, and the shower was also brilliant, had great pressure. The place is also very quiet (despite being near a main road) and the garden really nice. The only small disappointments were that the washing machine was broken and the bathtub had not been cleaned properly. The cottage is cosy and is a great base for exploring the area, especially if you are having an active holiday. You can walk along the canal for at least 15 miles and we also climbed some of the nearby 'mountains' such as Sugar Loaf. We stayed in Gilwern without a car and that was fine. There are buses once or twice an hour in to Abergavenny. However, most people would probably want to have a car. Gilwern itself is very quiet but there are a few small shops for the basics and a couple of pubs.
Johannes
2016-04-09T00:00:00Z
Alex and Cory were excellent hosts. Leaving home made baking for us and ensuring we had essentials like milk and bread on our arrival. The colltage was as described and clean. We had an extended stay and they were happy to clean and change laundry while we were there.
Michelle
2016-07-01T00:00:00Z
This listing was the perfect place to explore the beacons and the surroundings by car. Cottage was nice with a drive in to park your car in safely. The cottage was very homely and cosy. The host was also very helpful and responsive to some questions we had. I would definitely recommend this listing. Thank you!
John
2016-03-30T00:00:00Z
Lovely little cottage, we enjoyed our stay very much
Georgina
2017-03-27T00:00:00Z
Easy to find, quiet area (but with good road access) and equipped with everything you need. The hosts were happy to help with anything.
Mark
2017-01-22T00:00:00Z
Firstly we picked this location because it had parking with the cottage for our car. The property was easy to find, although on the main road it is quiet and you can not hear any traffic that does pass, not really busy at all. We had great communication from Cory and Alex and really enjoyed our stay. We enjoyed our welcome pack for an afternoon tea, with many thanks. Loved the features in the cottage such as the wooden doors and the small spiral staircase, lights around the cottage made it more cosey. TV had a DVD player and we made use of this in the evenings. Location of the cottage is perfect, a short walk up to fish and chip shop (which we recommend by the way) and a Spar newsagents and the local pub. A short drive away is larger supermarkets such as morrisons and the village of Crickhowell. Lots of country restaurants about if you like to eat out. Most things are only a short drive away from the cottage. Including Pen-Y-Fan, which we spent the day on, national trust has parking and toilets at the base. Great area for hiking and walks. Really enjoyed our stay here, cottage location was ideal and Cory and Alex were great hosts.
Emma
2016-01-25T00:00:00Z
Room Type
Entire home/apt
---
Property Type
House
---
Accommodates
4
---
Bedrooms
Gilwern, Monmouthshire, United Kingdom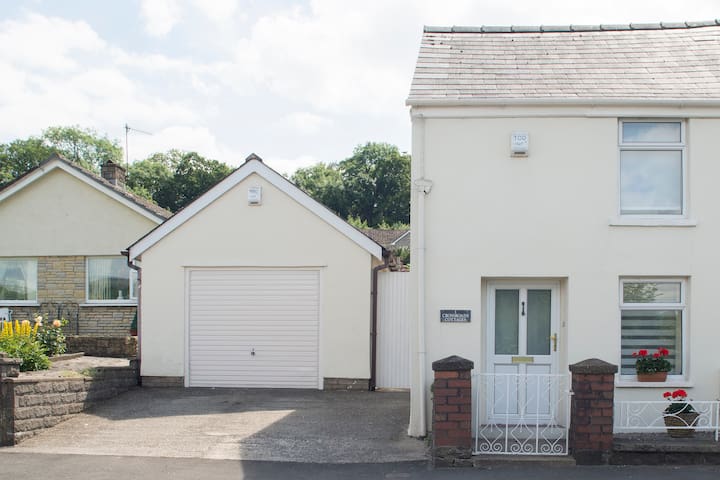 Our self-catering annex features its own entrance, a cosy bed-sitting room and a wet-floor spacious bathroom. It provides the perfect base for exploring the glorious Brecon Beacons, as well as the numerous beauty sites around Abergavenny.
A very comfortable, self-contained annex to the main house with its own access on the edge of the Brecon Beacons and three miles from Abergavenny. The accommodation comprises one main room with double bed, breakfast area and comfortable chairs. It also has its own wet room shower and toilet. The annex has full central heating plus a back-up gas fire if needed. Freeview TV is provided and there is Wi-Fi access. The kitchenette area of the room includes a sink, fridge, kettle, toaster and microwave. On arrival, guests will find a 'welcome pack', including fruit, cereals, jams, bread, butter, a supply of tea, coffee, sugar and milk. The courtyard, which is shared with your hosts, provides a regular sun trap and there is also a small garden. Annual events in the area include the Food Festival, wall2wall Jazz Festival and Cycle Rally in Abergavenny, as well as Brecon Jazz Festival and Hay Festival. The house is situated close to the canal and within easy reach of the Sugar Loaf and other high areas.
We live in Gilwern, which is three miles from Abergavenny and a half hour drive from Brecon. The village has three pubs and several small shops and it is quickly reached along the towpath of the Monmouth-Brecon canal, which is on our doorstep. We are surrounded by three high peaks, including the well-known Sugar Loaf.
Mike made us feel very welcome and left a lovely continental breakfast. Plenty of room... and space for two. Shame there was no view.. can't have everything and it was not promised...
Mary
2015-11-01T00:00:00Z
Mike's place was great and had everything we needed, the big fruit bowl, fresh tomatoes and fig tree in the garden were a lovely surprise. Best of all was location - a great base for Green Man festival just 10mins drive away.
Jamie
2016-08-22T00:00:00Z
Very comfortable and well presented. Independent access works well for late arrival and early departure. Nice hosts. Thank you.
michele
2014-07-14T00:00:00Z
Mike and Mal were extremely welcoming and helpful, and the room was so comfortable and a really relaxing place to come back to at the end of the day. Plus, the breakfast supplies were great! I was only in the area for a couple of days for the food festival in Abergavenny, but I would have loved to stay longer to explore the area further. I would gladly stay again if I make my way back to Wales in the future!
Emily
2015-09-21T00:00:00Z
Mike's self-catering cottage is thoroughly lovely and the (daily!) welcome from Mike was a pleasure. We learned lots of bits about Wales and the Brecon Beacons in our short conversations with Mike at the beginning and end of the day. The cottage itself is impeccably clean, the shower is great, the bed comfortable. It is just behind the main house, so quiet and private. Mike left us some basic food stuffs on our first day, which wasn't strictly necessary but was a great touch. Internet is a respectable (for rural) 5 Mbps down / 1 Mbps up.
Jeff
2014-07-24T00:00:00Z
Host Mike was welcoming and informative. The area was very limited for decent pubs/eateries so had to drive to Crickhowell which was not ideal. Took the offer of a lift from Mike's son in law which was decent of him as he is a long distance driver.
Jo
2015-05-25T00:00:00Z
Mike's place is exactly as the write up and pictures describe it. It's a nice, clean, spacious, cosy room - precisely what we needed for our short visit to the Brecon Beacons. Special mention has to be made regarding the welcome goodies supplied - breakfast enough for two days. Mike's information was spot on and we will be back.
Hanneke & Ian
2015-09-20T00:00:00Z
We had a lovely time at Mike and Marilyn's place. It was just what we needed: clean, comfortable, easy access without a car, walking trails. It's a lovely village as well, with a few pubs around for drinks/dinning. Will definitely come back.
Annie
2014-08-27T00:00:00Z
Room Type
Entire home/apt
---
Property Type
Flat
---
Accommodates
2
---
Bedrooms
Gilwern, Wales, United Kingdom
A double room in a comfortable cottage situated within the Brecon Beacons National Park, conveniently located between Abergavenny and Crickhowell. We especially welcome walkers and cyclists. Your bike and equipment will be stored securely. Check-in can usually be arranged from 1pm, however if you would like to check in EARLIER THAN 6pm, please send us a message in advance of booking, so that we can make sure we can accommodate your request.
Your room is equipped with a double bed, space for your luggage, space in a wardrobe for clothes, some books, games, as well as tea and coffee facilities. You'll also have access to the host's newly refurbished shared bathroom. The room is conveniently located just by the A40 for stop-overs or short breaks, and is close to Abergavenny (3 miles) and Crickhowell (2 miles).
Glangrwyney is a small village with a pub and village hall. Further out, you have the entire Brecon Beacons to explore, either with your own transport, or on foot.
The listing was accurate, everything as described! Clean and nice. Quick response. Fantastic experience.
Olena
2016-07-27T00:00:00Z
A perfect experience all around. The whole house is beautiful and perfectly situated for a trip to Brecon Beacons, and the room itself has every amenity one could want, including a coffee/tea maker. Matthew also provides an extensive binder full of activities, restaurants and nearby shops. Would definitely book a return trip!
Daniel
2016-10-22T00:00:00Z
Matt and Lydia were very helpful in letting us leave our things at their place both before and after our check in time. Nice house in a beautiful location.
Tom
2016-11-08T00:00:00Z
I stayed with Matt and his wife for a night while I visited the nearby Glangrwyney Court for a friends wedding and although the visit was brief they were the loveliest hosts. The room is excellent, comfortable and cosy and they were so kind to me, even giving me a lift to the wedding despite it being only round the corner. They have an adorable cat and beautiful home and are great hosts!
Lilly
2016-06-29T00:00:00Z
We felt like at home. Our host Lydia was very friendly and received us with kind welcomes. The room is exactly as advertised with an amazing view and location.
Jorge
2016-09-20T00:00:00Z
Thanks very much. Lovely place made very welcome. Comfortable night. Great facilities.
Bruce
2016-06-29T00:00:00Z
Matthew and Lydia's house was very comfortable, clean and well catered for guests. Great hosts, great communication and a lovely place to stay. Thanks very much!
George
2016-08-24T00:00:00Z
Although the host couldn't be in at my time of arrival, they gave clear instructions of how to get there and access the house and room. Lovely room and a comfy bed, with all i needed for my short stay.
Dave
2016-10-23T00:00:00Z
Room Type
Private room
---
Property Type
House
---
Accommodates
2
---
Bedrooms
Glangrwyney, Crickhowell / Abergavenny, United Kingdom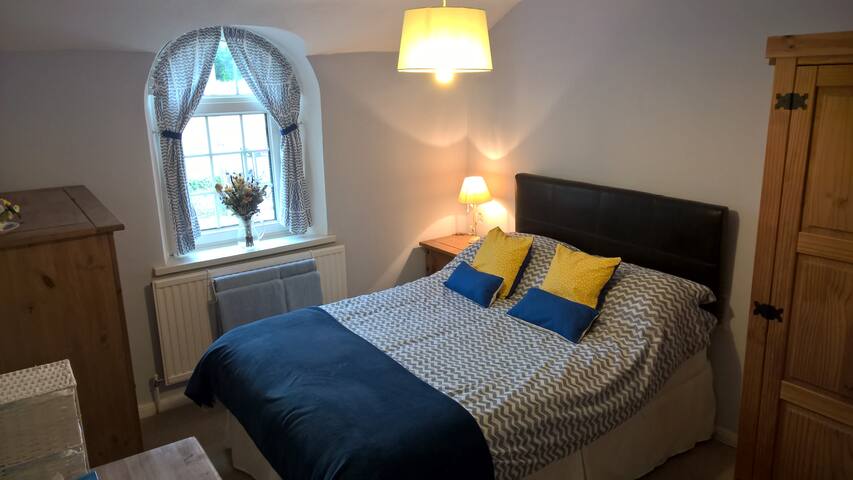 A beautiful 2 bedroom garden cottage stituated in the peaceful town of Gilwern with all its shops, pubs and ammenities. The cottage comes fully furnished and comprises: 2 double bedrooms (1 double bed and 2 single beds), a family bathroom with shower-over-bath, a living room with gas fireplace and a fully fitted kitchen which backs on to a large patio garden with a BBQ. The cottage is perfect for a family getaway and all are welcome. Please don't hestitate to get in contact with any questions.
Room Type
Entire home/apt
---
Property Type
Guesthouse
---
Accommodates
4
---
Bedrooms
Gilwern, Wales, United Kingdom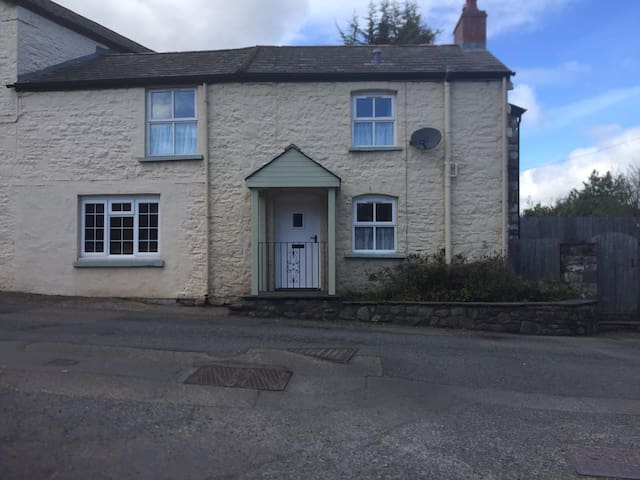 An old Baptist Chapel in the Brecon Beacons National Park with a secret musical story. It forms very basic accommodation with bare wooden floors and wood burner but it has a lovely feel to it and has access to hikes mountain biking and caving right from the door step.
We had a great time at the Chapel. It is a very picturesque place and well equipped with everything you need for a break away from technology and busy life! We were welcomed with lovely freshly baked bread and the fridge had everything you need for a proper English breakfast. We slept very well and had a lovely time. Ivan and his family were really kind and gave us directions to the Chapel before we arrived. The communication was very good from the moment we booked the accommodation.
Beatriz
2016-09-18T00:00:00Z
We spent a great couple of nights at Ivan's - the chapel itself was a really quirky, interesting building and the location was great for getting out and about for walks and biking. Ivan went over and above in making sure we had everything we needed (and more!) - we couldn't have asked for a better host. Thanks!
Abbey
2016-10-30T00:00:00Z
Even though Ivan was away during our stay, he was in frequent phone contact and did all he could to make our stay a pleasurable one. The chapel has a really interesting history, as does the whole Clydach area, which we enjoyed exploring during our stay.
janice
2016-08-08T00:00:00Z
Ivan is an excellent host, very helpful and informative. breakfast was great with more choice than you'd get from a b&b! the chapel is a great space and in a lovely location
Richard
2016-09-26T00:00:00Z
Great host, does a good spelt bread. A unique location but with a lot of work left to be done.
Neil
2016-05-04T00:00:00Z
At home
Graham
2016-09-16T00:00:00Z
Food, including fresh bread was there on arrival. Facilities are fairly basic, but everything worked well and we felt very welcome. The space is huge. Great location for cyclists.
John
2016-07-03T00:00:00Z
This was a last minute booking and we had the most fantastic weekend away in the Chapel. Ivan is really helpful and friendly, he was very organised and accommodating even though we booked this place on the day. He supplied tea, coffee and breakfast and gave us tips on some great local walks and a beautiful local swimming spot we wouldn't have otherwise known about! The chapel itself is charming, it's still having some renos done but the bed is really comfy and the kitchen has everything you need. We will definitely be back again!
Sarah
2016-06-06T00:00:00Z
Room Type
Entire home/apt
---
Property Type
House
---
Accommodates
4
---
Bedrooms
Abergavenny, Monmouthshire, United Kingdom
A country retreat in the Brecon Beacons national park in your own private spacious annex with a cooked Welsh breakfast using local eggs, our own home cured bacon and sausages made in our traditional family village butchers that the family owns.
Kick back and relax in our beautiful annex spaced over two floors. A large living area with a spiral staircase leading to a spacious bedroom with a high vaulted ceiling, bright and modern with an en suite shower room. You also have the convenience of a separate entrance and garden, so very much your own space. There is also a pull out sofa bed which would be ideal for a child/children.
Chris and Fay were wonderfully friendly and accommodating hosts. The annex was beautifully clean and very spacious. Our stay was very comfortable and the full english breakfast was fantastic! Highly recommended :)
Alison
2016-09-18T00:00:00Z
We didn't give Chris and Fay an exact arrival time and then were later than expected but this wasn't a problem for them, they gave us a fantastic welcome and stay overall. They are such lovely people that nothing was too much trouble for them. The facilities and rooms were immaculate and amazing. I would rate them 100% and definitely recommend them as hosts to everyone. Thank you so very much, shame we only stayed one night!
Kylie
2016-10-29T00:00:00Z
Chris and Fay were so welcoming and lovely from the minute we arrived! There was nothing more you could look for in a place to stay. Such a nice home and hosts. I would definitely recommend staying here.
Roisin
2016-12-30T00:00:00Z
Room Type
Entire home/apt
---
Property Type
Bed & Breakfast
---
Accommodates
3
---
Bedrooms
Gilwern, Wales, United Kingdom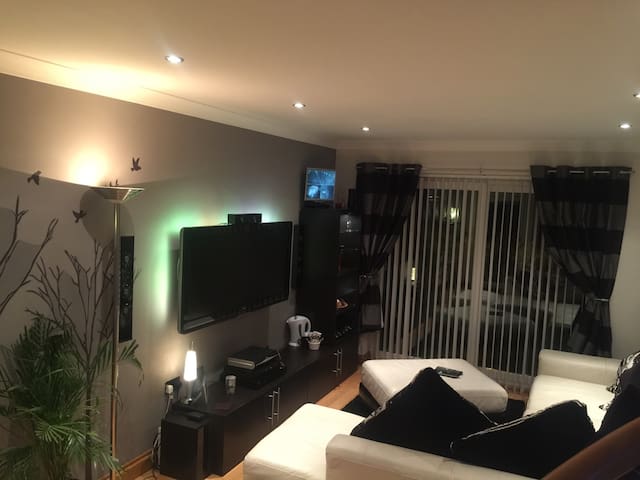 Our cottage is set in a stream side position, 2 miles from Crickhowell and 3 miles from Abergavenny. It's stone built retaining many original features. It benefits from central heating, a log burner 2 double bedrooms and off road parking. There are many outdoor activities in the Brecon Beacons National Park as well as other attractions including castles, museums and Cardiff city centre only 45 minutes drive away. The cottage is ideally placed for pubs and many of the award winning restaurants.
There are several pubs in the area which offer food. The Bell opposite the cottage and The Dragon's Head in Llangenny are the closest. The Dragon's Head is a 20 minute walk across the fields.
Superb cottage well equipped cosy and spotless A great couple of days to see The Beacons in the sunshine Enjoyed The Bear in Crickhowell muchly too!
Chris
2017-04-05T00:00:00Z
The cottage is in a lovely location, a short drive from Abergavenny and has all the things you'd hope for - comfy beds, a fire, a stream outside the kitchen, a great shower and 2 friendly hosts across the road. Would highly recommend. Thanks!
Anna
2017-03-19T00:00:00Z
Room Type
Entire home/apt
---
Property Type
House
---
Accommodates
4
---
Bedrooms
Glangrwyney, Wales, United Kingdom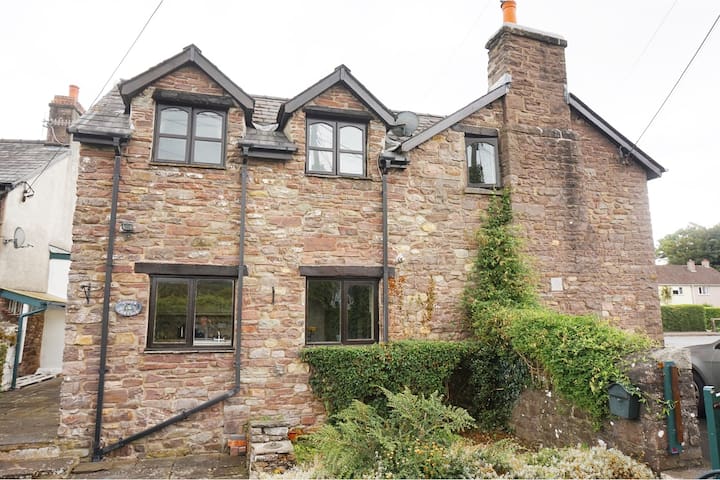 Featured in 'In the Footsteps of Alexander Cordell' by the author Chris Barber, Poppy Cottage is a charming 18th Century 2 bedroom stone cottage once occupied by quarry men and iron workers. The perfect country retreat and haven to discover....
Featured in 'In the Footsteps of Alexander Cordell' written by the author Chris Barber, Poppy Cottage is a charming 18th Century 2 bedroom stone cottage once occupied by iron workers. The perfect country retreat for those seeking a peaceful beautiful setting for both a relaxed or active getaway. Poppy Cottage is a haven to be discovered...Fantastic walks right outside your front door... Situated in a rural setting on the side of a mountain in South East Wales with Abergavenny, Crickhowell, and Brecon all within easy reach. There are countless activities in the area, from mountain biking to walking, and for those brave visitors, there are also more extreme activities nearby such as gorge walking & scrambling, caving, horse riding, sailing and climbing. With a courtyard garden offering stunning views and a myriad of mountain 'and' forest walks, and mountain streams running close by, the Brynmawr to Abergavenny cycle path is just a short distance away. The remains of the original iron works, viaduct, and the largest preserved forest in Europe are within walking distance, and the Monmouthshire and Brecon Canal is just a 5 minute drive away. Pure cosy cottage comfort 'Poppy Cottage' accommodates 4 - 5 visitors and caters for families, couples, or groups of walking or activity enthusiasts. If fresh air is what you're looking for this is the place to come. The main bedroom provides a luxurious king size bed, with comfortable bunk beds in bedroom two. If required an additional fold out guest bed and / or travel cot can be provided. The living area provides seating for all with the modern day convenience of a flatscreen 'Smart' TV and free Wifi. The fully fitted kitchen, and utility room, include a smoothie maker, bread maker, microwave, oven with hob, washing machine, dish washer and dining for a minimum of 4 - 5 people. Complimentary tea, coffee and milk is provided for all guests, and guests are welcome to help themselves to a bottle of wine from the rack (please replace before you leave) The cottage also has a separate shower and bath with ample towels and guest toiletries provided.
In a steep gorge west of Abergavenny is a magnificent, ancient beech wood with ferns, mosses, birds and a waterfall. Clydach Gorge is a hidden treasure. As you drive along the A465 through the Gorge, you may be unaware of the tranquil glories that are just a stone's throw away. Here, growing on steep slopes, is a magnificent woodland of native beeches. The surrounding landscape has been shaped and gouged by the forces of nature and the Industrial Revolution. Clydach Gorge has a fascinating history. From most parts of the reserve there are views of abandoned tramways, old quarries and industrial settlements. The former railway line along the side of the forge between Abergavenny and Brynmawr is now a cycle path leading into and around the reserve. Within the woodlands you will find rare whitebeam trees, distinguished by the white undersides of their leaves in summer and red berries in autumn. They occur nowhere else in the world apart from a few other locations in Wales and England. Abergavenny is situated just 10 minutes away. Known as the traditional 'The Gateway to Wales' this ancient and welcoming town is the ideal centre for a truly refreshing holiday, whether it be a short break at any time of the year, or a longer leisurely stay. Abergavenny hosts an array of events all year round. Ranging from the ever popular Food Festival, the Shire Horse Show, the Steam Rally and the Annual Festival of Cycling. In 2016 Abergavenny is also host to the Eisteddfod. The local area also boasts two 'Michelin Star' restaurants. Namely The Walnut Tree, and The Hardwick.
Lovely cottage in the hills of Wales. Such a quiet friendly area. Fast broadband, fire place, every kitchen appliance you'll need as well as a shower and bath etc. Not only that all the little things you need to help you get started including a fresh loaf of bread waiting in the bread maker when we arrived. Can't praise this cottage/host enough.
Mark
2016-08-26T00:00:00Z
Nicky was a very welcoming and communicative host. Milk, bread and butter were a lovely touch and the cottage was clean and tidy and we'll equipped. Thank you Nicky for a great stay. Open the windows to hear the sound of the gorgeous rushing water through the gorge - great for sound sleeping!
Robyn
2016-09-05T00:00:00Z
Poppy Cottage is a beautiful place. The location is fabulous for walking locally and for exploring further in the Brecons. The little extras Nicky puts effort into such as providing fresh bread, milk and other things were very much appreciated. Excellent communications. We all loved our visit!
Ross
2017-03-05T00:00:00Z
Fantastic cosy cottage a short drive from Abergavenny. Really lovely walks close by and an amazing place.
Elliott
2016-11-28T00:00:00Z
Nicky is a fantastic host and her cottage is the perfect getaway location. Thoroughly enjoyed my stay at the cottage. The views and local area are very peaceful and tranquil. The freshly baked bread waiting upon arrival was a very thoughtful touch. if your looking for a relaxing break away this is the ideal place.
Luke
2016-10-09T00:00:00Z
Everything was perfect. The cottage had every detail provided for and felt so homely and comfortable. Nicky was a beautiful host, so welcoming and made sure we were totally at home, which we were immediately. Amazing value for an incredibly well kitted out and spotlessly clean property. 10/10.
Jennie
2017-02-06T00:00:00Z
Nicky's place was perfect for my daughter and myself. The cottage has been beautifully renovated and was very cosy and comfortable. Loved the spiral stairs up to the bedrooms which were wonderful - good practice for visiting local castles! Super kitchen and great clear tv [!].
Gareth
2017-02-14T00:00:00Z
Nicky had baked a lovely fresh loaf of bread. There were basic goodies in the fridge, milk, butter etc. Cottage was warm and welcoming.
Kit
2016-10-16T00:00:00Z
Room Type
Entire home/apt
---
Property Type
House
---
Accommodates
5
---
Bedrooms
Abergavenny, Monmouthshire, United Kingdom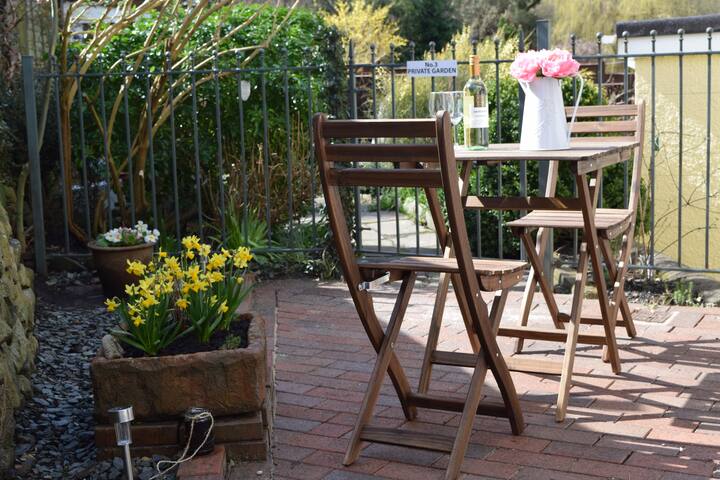 In the winding hills above Llangattock, a five minute drive from Crickhowell, with stunning views of The Sugarloaf and The Black Mountains, is Laswern Fach, an original stone house. The double room has its own private entrance with table and chairs on the terrace for drinking wine as the sun go down, with ensuite shower room and Egyptian cotton bedding. Ideal for couples on walking holidays, exploring The Brecon Beacons, or a peaceful romantic retreat.
The light and airy double room is on the ground floor in a separate annexe in the traditional stone house; with its own shower room, it gives you peace and privacy. The front door opens onto a terrace with table and chairs, and a beautiful well-tended garden which you are welcome to wander and take in the truly incredible views of The Black Mountains. Hotel grade Egyptian cotton sheets and towels, a kettle with tea and coffee, TV and wifi are all provided. A 'serve yourself' breakfast of fresh coffee, teas, toast and cereal is included in the price and available in the kitchen in the morning. You can eat at the kitchen table or take it back to your room.
We are nestled on a hillside above Crickhowell in the middle of The Brecon Beacons National Park. Crickhowell is a very pretty town, 15 minutes from Abergavenny, 20 minutes from Brecon, 35 minutes from Hay-on-Wye and 45 minutes from The Severn Bridge, perfectly situated for walkers or a Welsh weekend away. Crickhowell and Abergavenny have many lovely independent shops, pubs, restaurants and cafés.
We enjoyed our stay at Lucy's place. The room was nice, clean and very comfortable. The breakfast was excellent. We would happily stay there again.
Anita
2016-10-29T00:00:00Z
Lucy made us feel very welcome and the place is fantastic. The house is situated above Crickhowell, (a very scenic village with good pubs about 4 miles away), with superb views over the mountains. Actual room really nice as well.
Simon
2016-07-24T00:00:00Z
Lucy and co. were most welcoming and incredibly helpful. The room and amenities were great, and the view awesome. Great people, great space, great place. Highly recommended.
Rob
2016-09-23T00:00:00Z
Absolutely brilliant stay with Lucy at her fantastic home. Wonderful views and very peaceful location which was a much needed respite from the festival which brought us to Llangatock. Lucy made us feel very welcome and was very helpful with local info. We had a clean and very comfortable room with plentiful breakfast. Thanks again Lucy.
Sam
2016-08-22T00:00:00Z
Lucy was a very helpful host. She came out to collect us when we were trying to locate her house. The views from the room breathtaking. The room was very clean and had everything needed. Lucy was lovely enough to set up breakfast for us too. Highly recommended bnb.
Yasir
2016-09-17T00:00:00Z
A fantastic break in an amazing setting. Lucy was an excellent host, and ensured we had everything we needed for a relaxing stay. We would highly recommend Lucy"s lovely home.
Sandra
2016-10-06T00:00:00Z
We had a warm welcome from Lucy and her family. The house is ideally located in the hills, offering a stunning view on Brecon Bracons landscapes and Crickhowell. The room was very comfortable and is next to a nice terrace where we could enjoy a glass of wine, contemplating the view. It's been nice to be the first guests in this beautiful place, I strongly recommend. Thanks Lucy.
Maxence
2016-07-20T00:00:00Z
Beautiful place, the room was cosy, clean and very comfortable. And the breakfeast was perfect ! Thank you Lucy !
anne
2017-03-19T00:00:00Z
Room Type
Private room
---
Property Type
House
---
Accommodates
2
---
Bedrooms
Llangattock, Wales, United Kingdom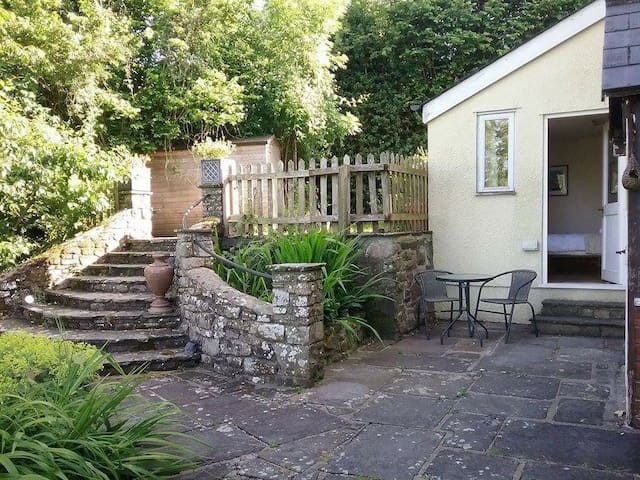 *Can be flexible with min night stay & check in time* Stunning Cottage situated under the Blorenge mountain, a perfect starting point for lots of beautiful walks/cycling amongst beautiful scenery. Cottage is close to Brecon Beacons, Restaurants & Dinning, walking routes, local towns Abergavenny, Crickhowell and Monmouth are 5 to 20 mins away, Brecon canal is approx 10 min walk from the property. You'll love my place because of the cosiness, rural location and beautiful setting.
On arrival I will provide a complimentary bottle of red/white wine or prosecco if you email me prior to your visit with your choice. Tea, coffee and other necessities will be available including a pint of milk. The cottage is a lovely base for a holiday of exploring, whether you venture into the brecon beacons, climb the local mountains (Blorenge, Sugarloaf, Skirrid, Table Top), or explore the local towns there is lots to do. The cottage is a lovely cosy environment where you can really make yourself at home. There is plenty of cupboard space, fridge, freezer, hob, oven and microwave with a table and chairs to sit four or if you don't want to cook I would be more than willing to recommend local restaurants. You can curl up on the large leather sofas and watch television or grab a taxi into the local town for a few drinks, there is even a local Indian restaurant within walking distance that I would highly recommend. We are a short distance from the local town Blaenavon which is home to Big Pitt, this was once a working coal mine which you can visit. We are in close proximity to the Brecon Canal, River Usk. Abergavenny has a beautiful castle and a museum that you can explore. There is a supermarket (Waitrose) in the town of Llanfoist or further into Abergavenny there are more options (Aldi, Iceland, Tesco). Abergavenny has lots to offer including an independent cinema, lots of beautiful boutique shops (one of which I am the manager of). The cottage is perfect for couples, friends, families and business purposes. When you arrive at the property you turn off the main road and go under a small bridge this was actually the old railway line and can be walked into the neighbouring villages Govilon and Gilwern (this is also how you can access the canal) - perfect for walking the dog.
Abergavenny is a historic market town with lots to offer, the Cottage is situated in a smaller village just outside of Abergavenny. The cottage is situated on the main property and is a peaceful place to stay.
Alison made me feel very welcome, it was like home from home. Property was immaculate, warm, modern,spacious and in a lovely location. Close to Abergavenny but also very quiet and handy to walk the dogs along the old disused railway line and canal close by. Had everything you needed to feel at home and Waitrose was only a few minutes away if you needed anything.
Gill
2016-11-06T00:00:00Z
This was a great location and Alison was a great host. The cottage was clean and warm and great for our 5 month old.
Nicki
2017-03-26T00:00:00Z
We stayed as a couple and our pup. The cottage was spacious yet cosy with everything we needed. Walking distance to the nearest shops and lovely river walks to the local villages and pubs. We would definitely stay here again. Host was helpful and the wine/chocolates is a great touch.
Will
2017-02-06T00:00:00Z
Lovely place and Allison was very helpful would recommend
stephanie
2017-04-09T00:00:00Z
Cosy and warm place-we had everything we needed :)
ashley
2017-03-12T00:00:00Z
Lovely cottage very clean and modern lovely walks and pub near by
Sharron
2017-02-12T00:00:00Z
Alison was great and very welcoming. Lovely cottage and well worth a stay!
Andrew
2016-12-30T00:00:00Z
We stayed for one night with our 4 month old son when we visited family in Wales. The cottage was ideal, very comfy and cosy and we hope to be back!
Jessica
2016-11-27T00:00:00Z
Room Type
Entire home/apt
---
Property Type
Other
---
Accommodates
2
---
Bedrooms
Llanfoist, Wales, United Kingdom
Superb cottage for two. Romantic get away for two. A location high in clouds. Walks to the Sugar Loaf from the Barn. Self Catering for Two With walk in shower, large ground floor double bedroom, small entrance hall, and a large kitchen, with an over tree tops view from window and the valley below. Wet room with toilet and hand basin. Towels and toiletries supplied. Superb new kitchen for two, large fridge, cooker and hob, white sink, dining table, small sofa, extra lighting, full heat control for guests. Basic groceries provided, salt, cooking oils, toilet and kitchen paper, detergents. Large very pretty bedroom with double bed, tiled floor, ground floor cottage, wardrobe, tv, dvd. The area around is part of the Brecon Beacons National Park and the Black Mountains and sits on the slopes of the iconic peak called the Sugar Loaf. Home to lapwings,red grouse, swallows, house martins, hawks, red kite, buzzards, hares, owls, badgers, foxes, and voles, along with sheep grazing the open heath land.
It is a great escape for two guests to explore the Brecon Beacons. Rolling fields surrounding the Barn, places to sit, enjoy a glass of wine, or a picnic. Winter walking and wet clothes, the barn has a clothes airer and a good heating system, helping to 'dry' guests clothes. It is a unique location, a peaceful location, a converted shepherd's Barn, situated high on the slopes of a hill farm, over looking the wide Usk Valley, with a broad view of Brecon Beacons National Park.
Brecon Beacons National Park is an area designated for its out standing natural beauty, the barns stand in a conservation area, a real plus for the guests. One of the Usk's tributaries flows below the Barn, Cwmgyffrudd Stream, down a vertical slope. We have Rugby in Cardiff, Crickhowell Walking Festival, Hay Literary Festival of Light where famous authors visit, Glanusk Green Man Festival, a must for music lovers, some times a light melody reaches the barns, this is idyllic, lastly Abergavenny food Festival where food producers and purveyors from all over Wales sell for two days their sumptuous foods and drinks and discuss food and life in a series of talks. Castles, from Llandovery to Chepstow stand, great places to explore, Raglan Castle is great for all ages. The Canal which hugs the mountain side winds from Brecon to Cwmbran, eighteen flat miles from Brecon to Gilwern, along some outstanding scenery. More ideas on booking.
Room Type
Entire home/apt
---
Property Type
Flat
---
Accommodates
2
---
Bedrooms
Crickhowell, United Kingdom
The 'Cwtch' meaning hug, is delightfully situated at the foot of the Blorenge. Conveniently placed on the edge of Llanfoist village it borders the Brecon National park. The cabin is located in the garden of the Coach House sharing the same parking area. The Cwtch has a spacious veranda which leads to the living space with kitchen and sitting area. From there, there is a bedroom and bathroom with a bed loft accessed by a secured ladder.
Included in the facilities offered by the Cwtch (pronounced coo - (as in cook) ch (as in church) , there is an attached utility room with washing machine and dryer, also large Belfast sink for washing dirty boots, fishing tackle, or kit. There is a TV/DVD player and access to our library of nearly a hundred DVD's, as well as satellite TV.
Llanfoist village lies on the edge of the Brecon Beacons National park and Blaenavon World heritage site. Follow the stream that runs through the garden up the Blorenge past the Monmouth to Brecon canal, or down to the river Usk, all within 5 minutes walk of the cabin. Abergavenny, famous for its food festival, is only 20 minutes walk. Or step outside and watch the Velothon come past your door, the Welsh national cycling event. All of these stunning landscapes offer a range of attractions from walking to hangliding, pony trekking and canoeing in the majestic Wye Valley. If you like to eat out, we recommend the Spice Lounge in the village or the Angel, Foxhunter bar in the Abergavenny. There are also Thai, Chinese, Bengali and Gurka restaurants or takeaways in the town. Waitrose is 10 minutes walk, and Aldi or Tesco is a short drive.
We loved our stay at Peter's place. We had everything we needed, it was clean and very cosy. The kids were very excited about the ladder going to their private bedchamber! Would definitely recommend this place.
Marie-Eve
2016-12-04T00:00:00Z
We had a lovely stay in Llanfoist, Peter and Karen had provided everything in The Cwtch, with lots of information about the local area and things to do. The location was ideal for walking in to Abergavenny and the surrounding countryside where there was lots to do. The Cwtch was clean and all the essentials were provided for us. Perfect for a short getaway in the countryside. Thanks!
Emily
2016-06-16T00:00:00Z
Gorgeous cottage; really beautifully built. Loved the personalized welcome note and gorgeous homemade Welsh cakes.
Lori
2015-08-27T00:00:00Z
My parents had a lovely stay, it was the perfect weekend getaway! Thank you :)
Aaminah
2016-11-06T00:00:00Z
Just got back from a lovely little break! Peter was extremely helpful and easy to communicate with before and during our stay. The cabin is clean and cosy and easily accommodates 4 people. It is a stones throw from the Brecon Beacons, which was lovely to explore. I would definitely recommend this experience! Thank you!
Laura
2016-01-24T00:00:00Z
Well what can I say other than hosts are great, friendly but leave you to your own thing. The cabin is spotless, cosy and even better than the pics. As for the area, it's perfect. Shop, pub and curry house all within at 20 min walk.
Loza
2016-01-17T00:00:00Z
This is a lovely little place to stay. The kids loved staying in the loft, and there is a stair gate to make sure no one falls down! My youngest is 3 and could manage the ladder, but any younger and and it might be a bit tricky getting a child up there. The cabin is really warm, the heating is good and so you don't need to worry about the Welsh weather. It is also walking distance to a large Waitrose and the centre of Abergavenny if you need to buy anything. There is lots to see/do near by and lots of ideas are in the information book and leaflets in the cabin. The cabin was closer to the main road than I had imagined, but I wasn't disturbed by any noise. I would definitely recommend for a family holiday, but would be a little too cosy for 4 adults.
Emma
2016-10-29T00:00:00Z
Perfect place to be to sleep and to be quiet. Chalet is beautiful thanks Peter for your flexibility I recommend
Fabrice
2015-10-19T00:00:00Z
Room Type
Entire home/apt
---
Property Type
Cottage
---
Accommodates
4
---
Bedrooms
Llanfoist, Monmouthshire, United Kingdom
Cosy one bedroom studio cottage based on a small family run welsh Vineyard. Set in stunning scenery, on the foothills of The Sugar Loaf Mountain, Abergavenny on the border of the Brecon Beacons National Park. A great base for exploring south wales and ideal if you have a love of hill walking. Set in a rural location but with the convenience of Abergavenny town only 5 mins drive away or 20 mins on foot. Lots to see an do in the area with top class restaurants on our doorstep.
We have 2 one bedroom cottages based on our small family run vineyard. The cottages are adjoined but completely independent from one another, so no interlocking doors, when you book your cottage it's all yours no common indoor areas, only the patio is shared.
The vineyard and cottages are based on the bottom of The Sugar Loaf Mountain but equally we're only a 5 minute drive from town, we are in the country so we have some narrow lanes approaching us but they don't last for long and then your back in town. Some people like to walk in it takes about 20 mins. We're surrounded by green fields and mountains ! It's beautiful here and very relaxing.
Fab stay, thanks Louise
Anna
2017-03-19T00:00:00Z
The host canceled this reservation 3 days before arrival. This is an automated posting.
Dago
2017-03-19T00:00:00Z
Room Type
Entire home/apt
---
Property Type
Other
---
Accommodates
2
---
Bedrooms
Monmouthshire, Wales, United Kingdom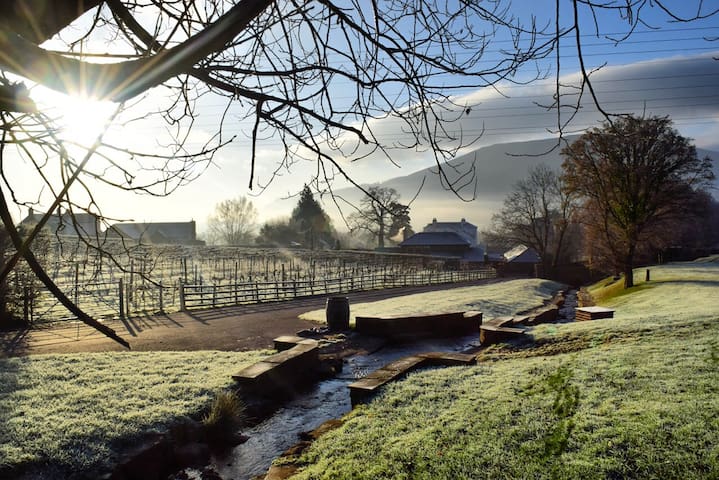 Come and join us in our lovely rural B&B, nestled in the Brecon Beacons within walking distance to the Sugarloaf Mountain. We offer a country retreat for those looking to get away, relax and soak in the beautiful surroundings.
Come and join us in our lovely rural B&B, nestled in the Brecon Beacons within walking distance to the Sugarloaf Mountain. We offer a country retreat for those looking to get away, relax and soak in the beautiful surroundings. The perfect country getaway! Located within 5 minutes of both Crickhowell and Abergavenny, Glangrwyney Court is situated in the heart of the Black Mountains and Brecon Beacons National Park. We have beautifully maintained gardens for you to explore onsite, offering you the opportunity to soak in the scenery without even leaving your accommodation. Further afield, there are many towns to explore such as the world-famous book town of Hay-On-Wye, as well as Brecon and Monmouth. The Welsh capital Cardiff is less than an hour away, and cities Hereford and Newport are also around a 45 minute drive. With countless activities in the area, from mountain biking to walking, there is plenty to keep you busy - and for those brave visitors, there are also more extreme activities nearby such as gorge scrambling, caving and climbing. We even have a tennis court in the grounds, if you fancy a spot of afternoon sport without venturing too far from your cosy room for the night. In the evenings, we can recommend many local pubs and restaurants in the area, some within walking distance. We are even lucky enough to have several Michelin Star restaurants right on our doorstep. In case you'd prefer a night in, we have a lovely lounge for you to unwind in with a large log burner and lots of comfortable seating. We also have an honesty bar, offering wines, beers and spirits for you to choose from.
Our location offers a great blend of country living in a rural atmosphere, with towns and villages still within a short distance to easily explore. The area offers the very best of nature, with plenty of lakes, hills, woodlands and rivers around, encouraging wildlife and visitors alike to the area.
Room Type
Private room
---
Property Type
Bed & Breakfast
---
Accommodates
2
---
Bedrooms
GB, United Kingdom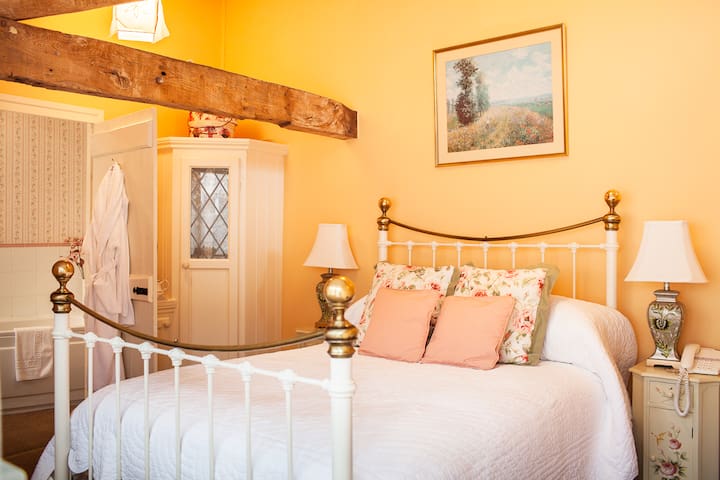 This rental is for a suite of 3 rooms (own entrance), plus private patio & hot tub (with no light pollution). Top quality breakfast included. We are at the top of a hill 1000ft above Crickhowell in the Brecon Beacons National Park. Your bedroom is a light, airy double with outstanding views. There is a private adjoining shower/steam room where you can both sit and have a herbal steam if you wish to. Your own sitting room which opens right up to the views. Comfy armchairs. Hot drinks.
Suite of 3 rooms plus private patio and hot tub. Light, airy double bedroom in our mountaintop home. Private sitting room which opens to the amazing views, private shower/steam room and outdoor hot tub and own patio. No light pollution. Beautiful walks and cycling literally from doorstep. Have chickens, ducks, ponies to enjoy if you like animals. I am vegan, hubby eats meat, fish, everything and we cater for all at breakfast.
The views, the air, the peace, the walks, the night sky, the owls, the riding, the caving, the foraging, the space to truly relax and just 'be'. Thats why we live here and that's what we hope you will enjoy when you stay.
The host canceled this reservation 14 days before arrival. This is an automated posting.
Hsiu Lye
2017-03-31T00:00:00Z
Room Type
Private room
---
Property Type
House
---
Accommodates
2
---
Bedrooms
Llangattock, Wales, United Kingdom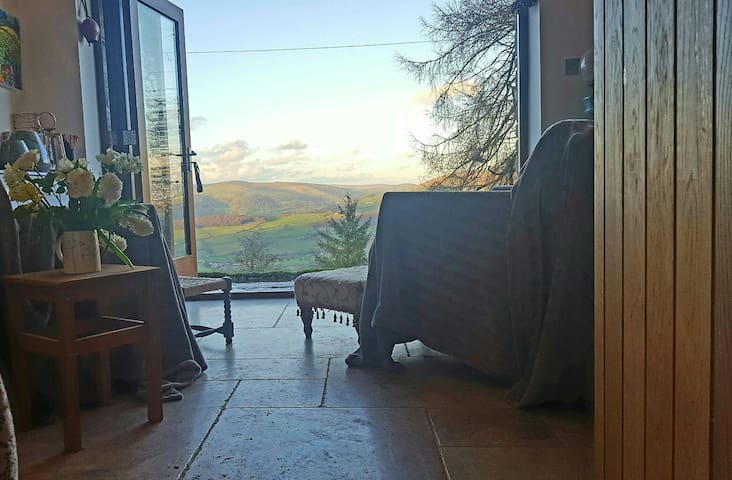 Arriving at Little Hare Barns, the clean interior, modern ceramic tiles, oak floors throughout, large kitchen and large lounge with wood burner, and views from glass barn doors to enjoy. With two buildings, the smaller barn has a window equal to any bird hide, tree tops some forty feet below, binoculars there at the ready. The smaller barn sleeps two, is a ground floor building, with large bedroom and wet room and a small new 2017 kitchen diner with cooker, fridge, and sink. The larger barn sleeps five guests, has a dining table to sit eight, a large well equipped kitchen with washer-drier, dishwasher, cooker and hob, under counter fridge and freezer, and a larger fridge. Well equipped with cutlery and blue china, good quality cooking utensils. Prices include towels, linen, basic groceries, salt, oils, pepper, sugar, tea, coffee, tea, toilet or kitchen paper, logs, fire lighters.
As part of the Brecon Beacons National Park, near Crickhowell, and situated in the Black Black Mountains, on the slopes of Sugar Loaf, the Welsh Barns are unique in design and location. A patchwork of green fields offer a fabulous location for guests coming to stay amid green fields and from where walks begin. We have the best shopping in Crickhowell, fine dining, near to public transport, train or bus, car hire too. Just fifteen minutes from Talybont on Usk, where the Beacons rise from wider valleys and longer walks can be planned to the Brecon Beacons and water falls. Across the Black Mountains five valleys reach Hay on Wye, where farms populate the mountain sides, and long distance walking enjoy historical and cultural places to explore. The area around Little Hare Barns is part of the Brecon Beacons National Park and the Black Mountains and sits on the slopes of the iconic peak called the Sugar Loaf. Home to lapwings, red grouse, swallows, house martins, hawks, red kite, buzzards, hares, owls, badgers, foxes, and voles, along with sheep grazing the open heath land. Electric charging station for cars or cycles.
The Georgian town of Crickhowell is unique, an escarpment behind frames the Southern side, the Northern side is flanked by the Table Mountain, a flat iron age fort. West are the Beacons, and East is Abergavenny Monmouth and Ross. Over the Southern hills lies the industrial past, Big Pit a mining museum, well worth a visit. Llangorse Lake or Talybont Reservoir has great bird watching, plummets and curlews. Restaurants in Crickhowell and Abergavenny offer fine dining, market towns of Abergavenny, Monmouth, Brecon, Hay on wye, Talgarth offer days out and exploration. The area around Little Hare Barns is part of the Brecon Beacons National Park and the Black Mountains and sits on the slopes of the iconic peak called the Sugar Loaf. Home to lapwings,red grouse, swallows, house martins, hawks, red kite, buzzards, hares, owls, badgers, foxes, and voles, along with sheep grazing the open heath land. The Brecon Beacons National Park are home to walking, cycling and visiting with open spaces to enjoy. Festivals through out the year - Crickhowell Walking Festival , end of February and the beginning of March, visitors book in November their walks, Hay Literary Festival during May half term, tickets on sale online, Wales holds the Royal Welsh Show in July, a large four day agricultural show, Green Man Festival held at GlanUsk Estate during August, tickets on sale online some time before event, and Abergavenny Food Festival during second weekend of September where food producers across Wales and further afield gather to sell and show case their unique products, well worth a visit. Tickets can be bought on the day or purchased online before visit. As food producing nation Wales holds Beer, Cider, Real Ale festivals through out the year.
Room Type
Entire home/apt
---
Property Type
Flat
---
Accommodates
7
---
Bedrooms
Crickhowell, Powys, United Kingdom
Well presented Semi-Detached with beautiful mountain views. Family and pet friendly. Short walk from the vineyard. The house, whilst it boasts a modern interior, feels very cosy. There are good views through the garden and into the mountains. A very friendly neighbourhood; the locals are lovely people. My place is good for couples, solo adventurers (particularly paragliders and hikers), business travellers, families (with kids), and furry friends (pets).
This is an easy living space. The rooms flow into each other and everything is in the right place.
You'll be staying in a quiet cul-de-sac not far from the town centre. Abergavenny and the surrounding area is known for its high quality and varied restaurant scene. We can recommend the Pizzorante if you like family friendly authentic Italian food. The Angel will provide you with fine dining and high tea during the daytime. The 16th century King's Arms often put on live music over the weekend and have a good selection of premium lagers and ales. There is a great butcher in Neil Powell's who source all their meats locally. If breakfasting out, then you will find plenty of decent places to start your day; Cwtch cafe and Nicholls both serve great eggs until 1130.
Warm cosy house in a great location, good access to town centre but in a quiet road.
Jessica
2017-02-12T00:00:00Z
Very comfortable house with a nice big open plan space downstairs with a new kitchen with all the appliances you need, the Kingsize beds are very comfortable and the shower is great, Abergavenny is a really nice town with friendly people, and well placed for walking in the Brecon Beacons.
Paul
2017-02-05T00:00:00Z
Great house, great value, great host
Luke
2017-01-29T00:00:00Z
We stayed just one night in abergavenny for a family get together , 5 adults and two babies and the house was perfect for us. Rory very kindly arranged for a travel cot and a few baby items which was hugely appreciated. So handy to find bread, eggs, milk etc already in the kitchen! Very clean, lovely quiet area. This is perfect if you're exploring the area with a family or friends We will lost likely be back!
Eleni
2017-04-02T00:00:00Z
A nice house very close to the center, with all the details and very clean. You can feel that the owners think of everything you could need. We will repeat!
Manuel
2017-02-26T00:00:00Z
Rory's place was great! Lovely quiet location with beautiful scenery and convenient for Abergavenny town. The house is a good size and has a well equipped kitchen. Thanks Rory!
Lucy
2017-03-12T00:00:00Z
Lovely comfy beds, lovely garden with swing for the little ones and great communication. Very much recommend.
Jess
2017-04-09T00:00:00Z
We needed somewhere to stay to attend a family funeral, given we had to change the date Rory was very accommodating. A good communicator, with a lovely house which was very comfortable, nice beds and a good size fully enclosed garden which our dog loved! Good central location, with lovely views especially the night sky. Appreciated the fresh bread, eggs and milk with all the condiments you could ask for. We will be back. Thank you Rory for looking out for us. Julie, Gordon, Ewie and Molly
Julie
2017-03-15T00:00:00Z
Room Type
Entire home/apt
---
Property Type
House
---
Accommodates
5
---
Bedrooms
Abergavenny, Wales, United Kingdom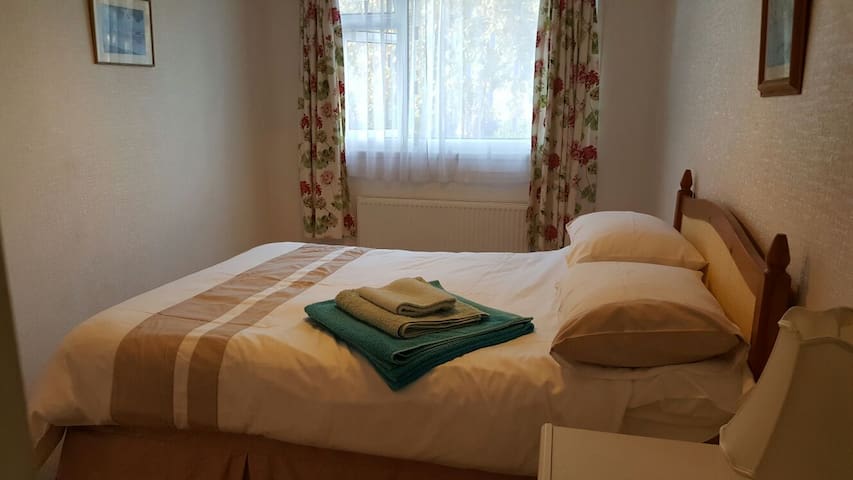 This cosy, welcoming cottage dates back to the 1800s and is nestled at the top of Lamb Lane. It has been lovingly restored with many period features retained. It is ideally positioned less than 200m from the centre of the attractive market town of Crickhowell and approximately 300m from Bullpit Meadow on the banks the river Usk. It is the perfect location for capturing the heritage of Crickhowell whilst enjoying the excellent local cafes, restaurants and independent shops.
The cottage has an extremely light and airy atmosphere with a spacious living room containing a large leather sofa, Freesat TV with DVD player and an extendable table and chairs that will comfortably seat three. The stable door, exposed stone chimney breast and original wood flooring adds further character and charm. There is a step down into the quaint kitchen which although compact is well equipped with Belfast sink, cooker, fridge with freezer compartment, microwave, toaster and digital radio. The kitchen leads onto a boot room with plenty of space for hanging coats. A short staircase leads to two pretty bedrooms with quaint windows affording views of the FFawyddog and Table mountains. The bathroom has a bath with handheld shower attachment.
1 Lamb Lane is a pretty little cottage ideally positioned less than 200m from the centre of the attractive market town of Crickhowell . It is also within 200m of a small park which was once the Bailey of the 12th Century Castle. The park is perfect for entertaining small children. Crickhowell has a good selection of independent shops, pubs and restaurants including the renowned 15th Century Bear Hotel. This quaint cottage provides a cosy, relaxing base for those exploring the Brecon Beacons, Black Mountains and surrounding area. Walks are available within a mile of the door including Table mountain and the historic Brecon and Monmouthshire canal. A picturesque five mile stroll along the canal to Llangynidr will be rewarded with excellent operational examples of the canal lock system. Slightly further afield at Blaenafon (10 miles) the World Heritage Site is available free of charge. This boasts the Big Pit mining museum and the Iron Works which played a pivotal role in the Industrial Revolution.
We spent two nights at 1 Lamb Lane in January, and it was perfect for the quiet weekend away we were after. The cottage is located steps away from all the local shots, pubs and restaurants. It's also located ideal to head straight out for long walks to the nearby Table Mountain and River Usk. The cottage's kitchen is really well equipped if you want to cook (we did). We also ate out, and can highly recommend the nearby pub The Bear. Julie was the perfect host, there on our arrival to explain everything we needed to know. She also provided some milk and welsh cakes, which was a lovely treat. Thanks, Julie! Josh & Phili
Josh
2017-01-22T00:00:00Z
A very comfortable and cosy cottage with tasteful decor. Great fireplace and gas fire which adds to the lovely atmosphere of the living room. The kitchen is small but well equipped. The bed is extremely comfortable and has lovely white sheets. Very quiet location with great access to the centre of Crickhowell.
Lynne
2017-03-07T00:00:00Z
Wonderful cottage, very close to the town, and increadibly helpful, and welcoming hosts. We will definitely be back.
Ben
2017-02-24T00:00:00Z
Really lovely cottage in great location in Crickhowell. Excellent communication with Julie. Would highly recommend.
Linda
2017-01-31T00:00:00Z
Sound people great location perfect house
Denis
2017-04-01T00:00:00Z
Our stay at 1 lamb place was perfect. The cottage was exactly what we were after and had exactly what we needed. Even a cosy fire! The village was idyllic and perfect location to get to many walks. Julie had great communication and was very friendly on arrival. We had a great stay. Thanks again!
Ben
2017-02-12T00:00:00Z
We had a great few days at 1 Lamb Lane. The house is lovely and close to the centre of Crickhowell which is a lovely destination. We would highly recommend staying here! Check in/check out plus communication was all perfect.
David
2017-02-17T00:00:00Z
A great place to stay for walking in the beautifully countryside around Crickhowell. The cottage was immaculate and couldn't be better placed for the town centre.
Lucy
2017-02-26T00:00:00Z
Room Type
Entire home/apt
---
Property Type
House
---
Accommodates
3
---
Bedrooms
Crickhowell, Wales, United Kingdom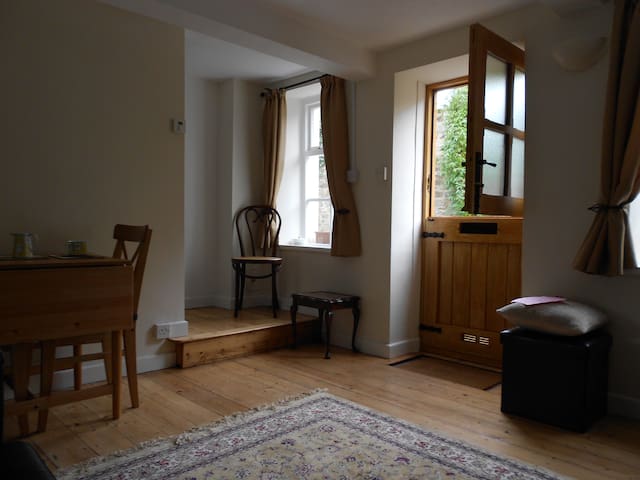 Enter dates to see full pricing. Additional fees apply. Taxes may be added.