Geniet van een heerlijk verblijf in onze vrijstaande woning aan een rustige straat in Oosterhesselen. U kunt hier prachtige fietstochten door 't Drentse landschap of leuke uitstapjes maken om na afloop lekker tot rust te komen bij huis of in de tuin.
Beneden is er een ruime woonkamer waar een 6-persoons eettafel staat, een zithoek met (kabel)televisie en een tafel met bureaustoel. Er is in de gehele woning toegang tot draadloos internet. Verder is er een volledig ingerichte keuken en een badkamer aanwezig op de benedenverdieping. Op de bovenverdieping vindt u 2 slaapkamers met in totaal 4 slaapplaatsen: een slaapkamer met twee 1-persoonsbedden en een slaapkamer met een 2-persoonsbed. Via de laatstgenoemde is er toegang tot een (kleine) kamer waar een extra bed en ledikant staat. Op de overloop is een extra wastafel.
Recht tegenover de woning is een speeltuin met trapveldje en op loopafstand zijn twee supermarkten en een ambachtelijke slagerij te vinden. In het dorp vindt u verder een drogisterij, restaurant en twee cafetaria. In 5 minuten fietst of loopt u naar landgoed De Klencke, waar u heerlijk kunt genieten van de natuur. Binnen een kwartier rijden met de auto bent u in verschillende staatsbossen en natuurgebieden, Wildlands Adventure Zoo, Indoor Plopsaland, beeldentuin "Beelden in Gees" en Spabron Hesselerbrug.
Lovely house set in plenty of space. Set in mature trees. Plenty of supermarkets closeby. Hosts live closeby and were very helpful from arrival to departure
Alex
2016-10-07T00:00:00Z
My fiance & I had a very relaxing stay at the Oosterhesselen house for 7 weeks. The house is clean and very spacious. The neighborhood is quiet and well-kept. There are 2 food stores within walking distance, as well as a great restaurant nearby, De Gastery. Jan & Hedy were kind, helpful and generous. They took good care of the yard & backyard pond and were there if we needed them. We both felt 'at home' here and would definitely stay here again!
Stephanie
2015-05-06T00:00:00Z
We felt immediately at home thanks to Hedy and Jan. They welcome as at our arrival and on the night before we checked out. The house is exactly as described and for us, has a family of 4, was so comfortable. It was spotless and well maintained. The outside garden was also great. Thanks Hedy an hope to see you again
lilach
2016-10-17T00:00:00Z
The house is very complete, very clean and has a great , well maintained garden with plenty of space to sit in the sun or, if preferred, the shade of trees and nice scenting flower beds . Not only we did enjoy the garden we had every evening wild rabbits grazing on the lawn and occasionally a squirrel hopping in the trees. There are two supermarkets on walking distance and a Health Center including family physicians and a pharmacy. Hedy assembled a folder with all kind of information and tips for day trips including discount vouchers. The beds were comfortable, the windows had mosquito prevention. We loved staying in this spacious house with all luxury that makes a holiday pure relaxing like a dishwasher, a washing machine, a tumble dryer. All together it made our stay wonderful and we returned home fully relaxed.
Marion
2016-07-24T00:00:00Z
The host and her husband, Jan, made us very welcome by greeting us as we arrived; we chatted for about an hour about many things, especially our visit to the country and what we hoped to find and accomplish. The listing is accurate and was quite sufficient for our North American grown family of four. Jan was careful to explain the workings of some unfamiliar appliances to us - the gas stove, and the clothes dryer which does not use a hot air exhaust. Hedy came to check on our satisfaction on the final evening; there was a rather loud party going on at the neighbours', which ceased some 4 minutes after after Hedy left! I assume she told them to be quiet. They looked after us very well! And you ought to see this quaint gorgeous village of Oosterhessellen. Also, there is two grocery stores within 200m of the house.
Kim
2016-05-03T00:00:00Z
Dear Hedi,  How can I describe in a couple of rows the feeling that being here has given to us? Everything has been so perfect that  the only thing I can say is a huge thank you. We had the unique experience to leave a fairy tale and this is something that we will bring with us forever. Your hospitality has been remarkable and we hope to see you again in the future.  Again, thanks a lot.
Antonietta
2016-06-28T00:00:00Z
Strongly recommend staying here! I have chosen it many times now,
Alex
2017-02-15T00:00:00Z
Always made to feel very welcome in the most charming and wuiet corner plot house in a lovely part of Holland. Always enjoy staying here and I HAVE been back twice!
Alex
2016-12-24T00:00:00Z
Room Type
Entire home/apt
---
Property Type
House
---
Accommodates
4
---
Bedrooms
Oosterhesselen, Drenthe, Netherlands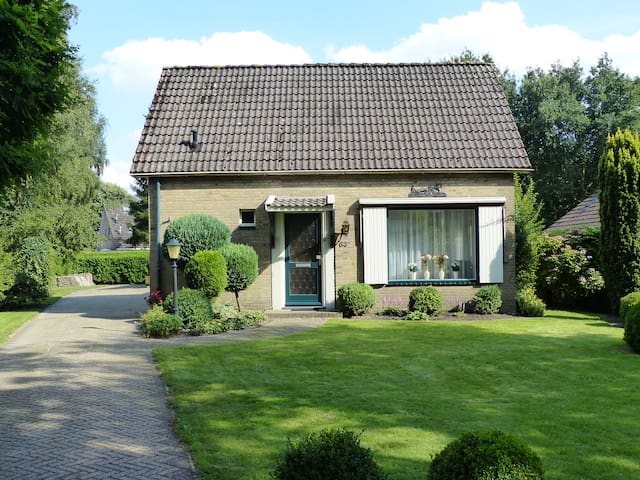 New spacious bungalow on Recreation park Ermerzand. The bungalow is suitable for 6 persons. There is a lot of privacy, feeling of space, peace and quiet. A bright home with a garden and a gorgeous overview. The lake/beach is 40 meters away.
Experience the ambiance of Recreation park Ermerzand! Newly build and designed holiday bungalow of 100m2 with floor heating and a spacious garden with multiple sun terraces nearby a swimming lake. Large windows provide daylight during the day and a beautiful view on the farmlands. The open kitchen is well equipped, it includes an oven/microwave, fridge, 5 burned gas-stove, kettle, and a coffeemaker. In the utility room are a freezer, washing-, and a drying machine available. The bungalow has 3 bedrooms, 2 toilets and 2 bathrooms with a rain shower. One bedroom has a private ensuite bathroom and a queensize bed 1.60m x 2.00m. The second bedroom includes two high singlebeds (2 x 0,90m x 2.00m) and the third bedroom has one bed of 1.20m x 2.00m. The fireplace on the picture is not suitable to kindle a fire. Coming soon: there is also a fireplace and firewood in the garden for the long warm nights! The whole bungalow and garden are made wheelchair friendly.
The nearest supermarket is 4 kilometers away. Address: Albert Heijn- Bannerschultestraat 7, Sleen Open from: Monday - Saturday: 8am - 8pm Sunday: 8am - 5pm
We stay there 6 nights. Rita was just a lovely host and the bungalow was excellent! Erm is a lovely small village! We can warmly recommend this place and definitely will come again someday! Thanks Rita 3
Maarit
2016-10-10T00:00:00Z
Rita was a very hospitable host. She met us with a bottle of cold sparkling wine, showed the house and left us in privacy giving advice where to do shopping. She brought also two boxes of toys which made our kids very happy. The bungalow looks like on photos very tidy and modern. In the end we got small presents from Rita as well. Very recommended!
Vyacheslav
2016-11-02T00:00:00Z
What a fab place to stay, Rita had thought of everything in the house, it was spotlessly clean. Very well located in the area with excellent connections, the beach and lake were lovely. Rita was super helpful, very informative and we had a lovely welcome! Thoroughly recommend it if your in the area.
Michael
2016-08-29T00:00:00Z
Modern and comfortable Bungalow in a small parc. Perfect for a relaxing weekend/week. Rita is very courteous lessor. Everything perfect.
Florian
2016-03-29T00:00:00Z
Great stay, perfect location for a nice and relaxed weekend with friends - thank you, Rita!
Martina
2016-08-08T00:00:00Z
We had an absolutely wonderful time at the bungalow. The bungalow is just as described, decorated beautifully, nice and spacious, modern amenities and with everything we would need for our stay. Rita was lovely and gracious. She even left us a nice box of food and wine to welcome us! We came with 3 young children and Rita even brought us some extra toys for them to play with while we were there. The only thing that was difficult with young children was that there was no bath - just showers - but if i would go again (which we definitely hope to!) we would just bring a baby bath with us.The area was beautiful - right near a nice lake with a beach, the children's play area is a 3 minute walk away and there are many other great things to do in the bungalow park itself. All in all, i would definitely recommend it and hope to go back myself! pretty empty in the winter which we really enjoyed!
ephraim
2015-12-30T00:00:00Z
After a very warm welcome by our host Rita, who lived nearby the house, we found a very modern and clean bungalow near the sea with a big terasse and a wonderful view. Groningen and Amsterdam are not too far away for a day trip. Rita organized a babychair and a baby bath for us and also toys were available. We defintily recommend the Bungalow and the holiday park emmerzand/emmerstrand and will come back.
jess
2016-07-16T00:00:00Z
Een heerlijk ingericht huis met veel ruimte binnen en buiten voor ons en onze meiden. Ondanks het slechte weer wat we troffen was er genoeg te doen in de omgeving en op het park zelf konden we lekker binnen zwemmen.
Barry
2016-08-06T00:00:00Z
Room Type
Entire home/apt
---
Property Type
House
---
Accommodates
6
---
Bedrooms
ERM, EMMEN, Drenthe, Netherlands
Welcome Welcome to my house in Gees, a small farming village in Drenthe located between Hoogeveen and Emmen. My farm is one of the thatched farmhouses which Lane here since 1800 in the old state. What you find here especially? Peace, space and inspiration. Who is to ensure your stay here is the right place. Come on in The outside of the farm is still as before with an original thatched roof and wooden shutters. The inside has been renovated into a beautiful light house with three bedrooms. The atmosphere is warm and rustic with a Mediterranean touch. Nostalgia meets modern conveniences such as wireless Internet, a home theater projector, dishwasher, washing machine and dryer. Weather permitting, the terrace is a pleasant place for breakfast in the sun. In the huge garden with apple and pear is a wood-fired Finnish sauna with outdoor shower for the ultimate relaxation. And in the immediate vicinity you can find endless meadows and forests where you can hike, bike and horse riding. Experiences I invite you to come experience it for yourself. I rent my farm to groups of up to 8 adults. My guests can take advantage of all there is: sauna, fireplace, wireless Internet, home theater, bed linen and towels.
This house is amazing if you like the country outdoor life you will not go wrong here, the scenery is amazing, located in a small farming community with plenty of walks and cycling paths to take, I cannot recommend highly enough...
Eoin
2015-06-29T00:00:00Z
It was a lovely house in a beautiful location! Abdellatif was a communicative host. Very relaxing weekend!
Rahima
2016-05-30T00:00:00Z
The host canceled this reservation 13 days before arrival. This is an automated posting.
Familia
2016-07-30T00:00:00Z
Abdellatifs beautiful redecorated farm in a stunning rustic setting offered a nice getaway to enjoy the silence, good food and good company. The house was well equipped, the garden was really nice and communication was clear and snappy. We can highly recommend this listing.
Sander
2014-09-22T00:00:00Z
We spent new years eve in this great house, together with some friends. We loved the house. All was well equiped and beds very comfortable. A good coffee machine is always a big plus. The living room is very spacious, something very required having young children with us. In the back yard there is also some great playground for the children. The small village is very cozy and looks like a movie set. Last, but important note, is the fact that Abdellatif is a perfect host. Only downside to our stay, was that there was no television available (there were dvd's though).
Bart
2014-01-03T00:00:00Z
We zijn heerlijk tot rust gekomen tijdens ons verblijf in dit fijne huis. Grote tuin, goed koffiezetapparaat, beamer en hele fijne bedden. Precies wat we nodig hadden voor een lang weekend relaxen! Bedankt en misschien weer tot snel
Emilie
2016-07-17T00:00:00Z
Bijzonder ruime en sfeervol ingerichte woning. Keuken van alle gemakken voorzien en een heerlijke houtgestookte sauna. Erg gastvrij en behulpzaam. Superverblijf gehad in het rustige en rustieke Gees.
Ineke
2017-01-08T00:00:00Z
Wij hebben heerlijke kerstdagen gehad in de prachtige boerderij in Gees. Alsof de tijd honderden jaren stil heeft gestaan, bijna een openluchtmuseum. De boerderij is van binnen juist weer heel modern en erg prettig om te verblijven. Heerlijk, geen tv, maar snel internet en leuke films (wel vooral voor volwassenen) die je met beamer op de muur kunt projecteren. Haardje, sauna. Top. Abdel was steeds snel en vriendelijk en we werden ontvangen door een aardige dame die snel wat uitleg gaf. Het dorpje Gees ligt in een prachtige omgeving, op loopafstand kun je boswachterij Gees in, met schitterende stroompjes, vennetjes, heidevelden. In zomer en winter mooi.
Jolanda
2014-12-27T00:00:00Z
Room Type
Entire home/apt
---
Property Type
House
---
Accommodates
8
---
Bedrooms
Gees, Drenthe, Netherlands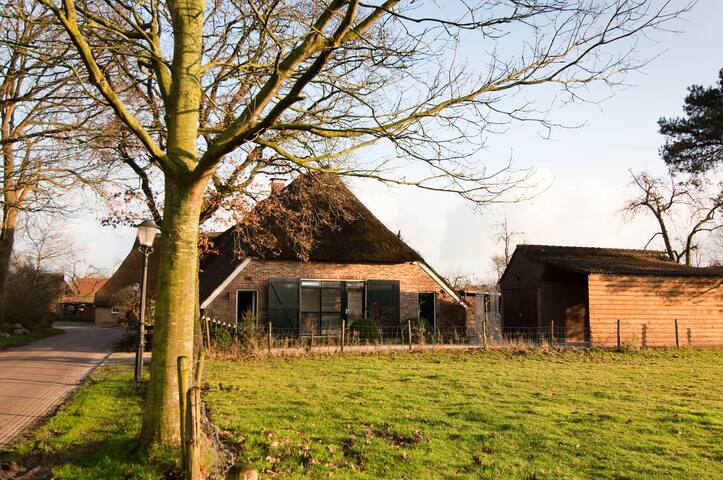 Ideal for nature lovers, cycling and gardening enthusiasts. We do not have B & B but supermarket is close and open early for fresh bread etc. 5 km from railway station and Coevorden center. Property is not suitable for young children because of stairs in the house and pond in the garden. 25 km to Emmen. Close by: Slagharen, Plopsaland and German borders. 10% Discount for 60+. If you discount qualify then indicate age at application please
On the ground floor: shower and toilet and one bedroom with two single beds. Also, bathroom and toilet on the 1st floor. Through several steps in the house and a pond in the garden, the house is less suitable for families with young children. Available: fridge, freezer, hob (induction), microwave, coffee machine and water cooker. TV, DVD player, radio / CD player and lots of garden to enjoy
The theme is peace and quiet. Coevorden has several restaurants and a nice mall. A short distance (5 minutes) from the house is a large supermarket. Opposite the house is a channel with sluice. Here fish a lot, but in and around the house you will not notice that.
Dear Hennie, From the first contacts, we had a very good feeling about the hospitality of Hennie. The property is very well kept and spacious. We found what we were looking for and enjoyed every moment. Met vriendelijke groeten, George & Marnid
George H
2016-09-17T00:00:00Z
We had a wonderful time at this big, beautiful home. The grounds are beautiful and the home has everything we could want. We travelled with four adults and two small children and were very comfortable. The location is picturesque. We rented bikes and could easily bike with everyone to Dalen and Coevorden and beyond. What a great vacation! Thanks Hennie!
Bridget
2016-05-13T00:00:00Z
Although we didn't meet Hennie he did make us feel very welcome with messages through Airbnb and welcome instructions once we arrived at the house. The house is just fantastic with a huge garden that is landscaped beautifully. I can easily recommend this listing and will be looking to stay again when I'm next in the area. *****
Euan
2016-08-09T00:00:00Z
Wij hebben ons bijzonder welkom gevoeld. De uitleg hoe om te gaan met huis en omgeving hebben wij als open en duidelijk ervaren. Alles was top en we zouden het zo weer doen om een perfect weekend in Drenthe door te brengen.
Anita
2015-08-17T00:00:00Z
Super mooi en groot huis. Hennie is erg gastvrij en denkt met je mee.
Daphne
2015-10-16T00:00:00Z
Net terug van een paar geweldige dagen in Dalen! We hebben genoten van ons meiden-uitstapje naar Drente. Het huis was prachtig en de tuin onbeschrijfelijk groot! Hennie heeft erg haar best gedaan om het ons naar de zin te maken en door de duidelijke instructies die genoteerd stonden, ontbrak het ons aan niets!! Heel hartelijk dank Hennie voor het verblijf in jullie prachtige huis, een echte aanrader voor iedereen!
Maartje
2015-10-27T00:00:00Z
Mooi ruim huis op een rustige locatie. Voorzien van alle gemakken.
Stefan
2016-06-27T00:00:00Z
Huis is erg ruim in vooral in een rustige omgeving. Tijdens een weekend hebben wij helaas niet voldoende tijd tijd gehad om ook echt ervan te genieten. Misschien volgende keer een paar dagen langer.
Sascha
2016-07-25T00:00:00Z
Room Type
Entire home/apt
---
Property Type
House
---
Accommodates
4
---
Bedrooms
Dalen, Drenthe, Netherlands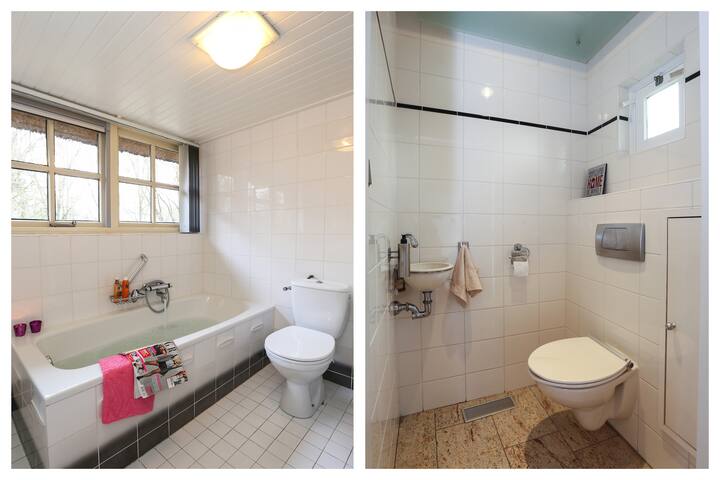 Nette bungalow voor 6 personen op recreatiepark "Ermerzand" met veel rust en privacy. Indeling Entree/hal, twee badkamers, waarvan één met klein bad en de andere met douche en wc, woonkamer met half open keuken, drie slaapkamers, met aparte bedden
Indeling: Entree/hal, twee badkamers, waarvan één met klein bad en de andere met douche en wc, woonkamer met half open keuken, drie slaapkamers, met 6 aparte bedden en aparte berging. Heerlijke tuin met veel privacy. De keuken is voorzien van 4-pits gastoestel, oven, magnetron, vaatwasser, koelkast en vriezer. Geen tv en internet, dat is pas echt vakantie! Bij de receptie is er wel Wifi.
In de buurt is er van alles te doen voor jong en oud Actief & omgeving - Dierentuin Emmen (8km) - Waterski, wakeboarden (Ermerstrand) (aan de overkant van het meer) - Paintball, lasergame klimwand (Ermerstrand) (aan de overkant van het meer) - Zwemmen, Schaatsen en meer bij de bonte wever (41km) - Attractiepark Slagharen (23km) - Emmen (8km) Cultuur & musea - Openluchtmuseum Ellert en Brammert (13km) - Kamp Westerbork (32km) - Boomkronenpad (31km) - Nationaal Park Dwingelerveld (38km) - Museum Orvelte (18km) - Hunebedden (o.a. 7km) Voor Kinderen - Binnenspeelparadijs Dol-Fijn (Ermerstrand) (aan de overkant van het meer) - Sprookjeshof zuidlaren (47km) - Plopsa Indoor Coevorden (12km) - Speelstad oranje (35km) - Drouwenerzand attractiepark (27km) Supermarkten - De dichtstbijzijnde supermarkt is in Sleen: Albert Heijn (afstand: 3 km). - In Nieuw-Amsterdam (afstand circa 5 km) zijn meerdere supermarkten (Aldi, C1000 en Lidl).
The host canceled this reservation 5 days before arrival. This is an automated posting.
Lionel
2016-08-19T00:00:00Z
Very beautiful and peaceful location, ideal for families! Our girls had a great time!
Alice
2016-07-11T00:00:00Z
We (de kinderen en wij) hebben genoten van het verblijf. Getennist, gezwommen (binnen in zwembad en buiten in het meertje).
Coen
2016-08-20T00:00:00Z
Room Type
Entire home/apt
---
Property Type
House
---
Accommodates
6
---
Bedrooms
Erm, Drenthe, Netherlands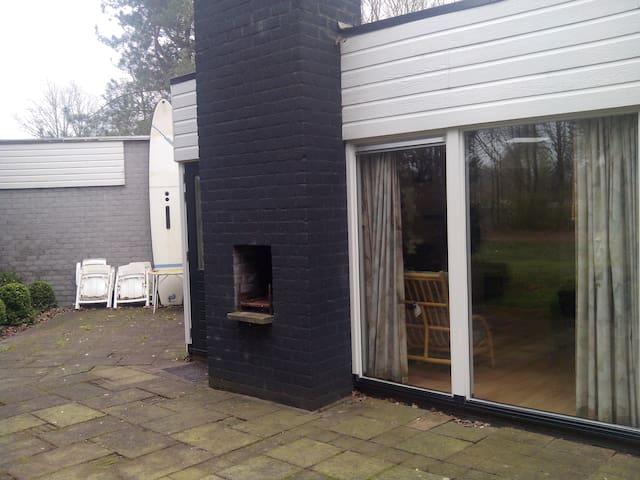 Voorzieningen - 8 slaapkamers met boxspringbedden - volledig ingerichte keuken - bar met tapinstallatie - tv met blu-ray speler - gratis wifi - winkels en eetgelegenheden op loopafstand
Dit voormalige dorpscafe gelegen in het centrum van Sleen is een sfeervolle accommodatie voor 20 personen. De ruime woonkamer met bar-en tapinstallatie is de plek bij uitstek om gezellig bij elkaar te zitten. Er is een luxe, landelijke woonkeuken met vloerverwarming waar u met uw hele gezelschap kunt tafelen. De Honingraat heeft 8 slaapkamers met boxspringbedden waarvan 7 kamers met eigen douche en vaste wastafel. Aan de voorzijde van uw accommodatie bevindt zich uw privéterras welke uitkijkt op de kerkbrink van Sleen.
In de omgeving van Sleen zijn veel wandel- of fietsgebieden. Bewonder hier de prachtige Drentse woonboerderijen, de uitgestrekte natuurgebieden of bezoek Emmen (9 km) voor een dagje dierentuin of ga er gezellig winkelen. Op steenworpafstand kunt u naar de recreatieplas 'de Kibbelkoele', of u kunt waterskiën, lasergamen, bowlen of boerengolf spelen. De supermarkt, drogisterij, warme bakker, pizzeria, cafetaria en restaurant zijn allemaal op loopafstand.
Wij hebben een weekend in dit huis doorgebracht met ons hockeyteam. Het huis is perfect voor zulke groepen; genoeg slaapkamers, de woonkamer heeft genoeg zit-plekken voor iedereen en de keuken is groot genoeg om met een aantal te koken en om met z'n allen gezellig aan lange tafels te eten. De inrichting en meubels zijn wel wat gedateerd, maar voor een weekend als dit maakt dat niets uit! Bedden sliepen prima en bijna elke slaapkamer had een eigen douche. Het contact met Arend zowel vooraf als tijdens ons verblijf was heel goed.
Lisa
2016-01-11T00:00:00Z
Net huis, komt overeen met de foto's. Ruime opgezet, mooie keuken apparatuur! Arend was erg behulpzaam en vriendelijk. Naast dit huis is een andere groepsaccomodatie, ten tijde van ons verblijf was dit verhuurd aan een groep met veel kleine kinderen: qua geluidsoverlast is het goed om hier rekening mee te houden.
Lotte
2016-10-17T00:00:00Z
Room Type
Entire home/apt
---
Property Type
House
---
Accommodates
16
---
Bedrooms
Sleen, Drenthe, Netherlands
Rental After Daan is close to public transport (bus stop at the door) and has a family setting, with woods and playing / swimming pond nearby. You will love this place because the geniality in Drenthe. Rental After Daan has 2 bedrooms with 4 beds, dining and living room (with fireplace semi) bathroom with toilet (on the floor), toilet and small terrace on the ground floor and a fully equipped kitchen.
Rental After Daan is a complete house, two floors. Suitable for stays of up to 4 guests. The house has two bedrooms, bathroom with 2nd toilet and shower, living room with semi-open fireplace, dining room, kitchen, toilet on the ground floor entrance.
Rental After Daan is in Elim, a small village belonging to the municipality of Hoogeveen. The cities of Hoogeveen, Assen, Emmen and Coevorden Meppel all within a range of ± 30 km. Close to all that Drenthe is so beautiful.
We had a great time at Ivo's. Both Ivo and Lydia are very welcoming people. The space is even more spacious than the photos, everything was clean and neat. The area is quiet. The artwork is inspiring and hung around the apartment. This is definitely our home-away-from-home in the Drenthe\Overijssel area!
Liat
2016-10-20T00:00:00Z
Een prima weekend gehad in Afterdaan. Een heerlijk ruim en schoon huis, alles er op en er aan en nabij natuur en vertier. Ivo en Lydia zijn zeer gastvrij en de kunst van Ivo maakt het een speciale plek. Wij zijn naar Wildlands in Emmen geweest en hebben 's avonds in het Postkantoor in Hoogeveen gegeten. En de dag erna de hunebedden in Borger bezocht. Een leuk museum erbij. Kortom Afterdaan is een aanrader!
Aldo
2016-09-04T00:00:00Z
Wir wurden herzlich willkommen geheißen. Wunderschönes Ambiente mit viel Liebe zum Detail zeichneten die Ausstattung der Räume aus.
Kirstin
2016-10-23T00:00:00Z
het huis van Ivo en Lydia biedt veel ruimte en heeft goede voorzieningen. Een zeer complete keuken. Het hele huis is zeer schoon.
fedor
2016-10-18T00:00:00Z
Wij hebben een fijn en lang weekend gehad in Elim.
Stefan
2016-10-30T00:00:00Z
Room Type
Entire home/apt
---
Property Type
House
---
Accommodates
4
---
Bedrooms
Elim, Drenthe, Netherlands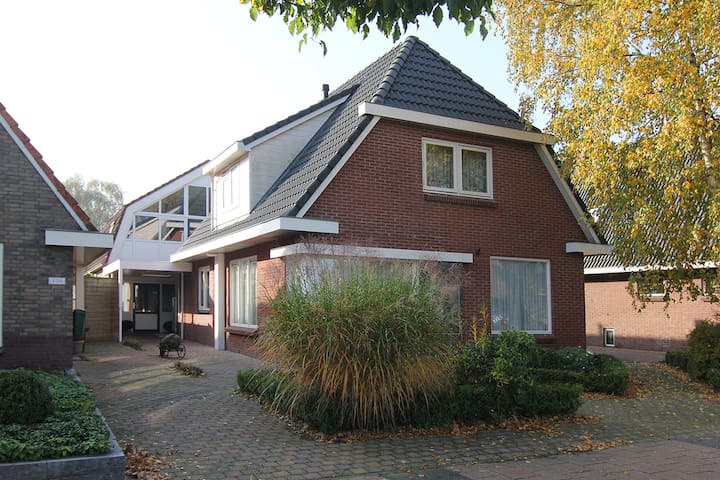 Bedenk eens hoe het is om wakker te worden met fluitende merels en een specht die roffelt op een dode tak. Rust en ruimte, genieten van buiten zijn. Fietsen mee en je eigen fietsroute bepalen door natuur of juist de mooie dorpjes opzoeken.
Nature all around, dark nights with stars. You can stay with 6 adults, ( 2 kingsize beds, 1 queensize bed) 2 baby-beds.
A lot of privacy.
The reservation was canceled 2 days before arrival. This is an automated posting.
Tamar
2014-10-10T00:00:00Z
Wir hatten ein paar tolle Tage in diesem wunderschönen Haus mit idyllischer Umgebung!! Die Gastgeberin hat uns total freundlich willkommen geheißen (mit bereits brennendem Kaminfeuer :)) und stand die Tage jederzeit für Fragen oder Hilfe parat. Wir kommen sehr gerne wieder!!
Amelie
2015-01-03T00:00:00Z
Wij hebben ongelofelijk genoten van de rust, ruimte en het prachtige weer in Drenthe. Ons zoontje was dolblij met het gezelschap van de poes, paardjes en zwaluwen. Met als toetje het ree met jong in de tuin! Niki is een betrouwbare, behulpzame en leuke verhuurder. Een aanrader voor een verblijf met 2 gezinnen/stellen of in ons geval met zoontje en opa en oma.
Marije
2014-07-07T00:00:00Z
Wij hebben een hele fijne week gehad in het prachtige huis van Niki. We waren met 4 volwassenen en 2 jonge kinderen gedurende de week van oud en nieuw. Het huis was nog in Kerstsfeer. Gezellig met de open haard en de huispoes poekie, die voornamelijk voor de haard ligt te slapen. De vloerverwarming maakt het heel aangenaam in huis. De keuken is van alle gemakken voorzien en we hebben elke dag heerlijk gekokkereld. Met onze oudste dochter gingen we elke dag even bij de Shetland pony's kijken die vlakbij het huis staan. Met het baby'tje gingen we even wandelen langs de akkers. Een auto is wel nodig als je iets in de buurt wilt verkennen, het huis ligt vrij afgelegen, maar wij vonden dit juist perfect ivm de oud en nieuw herrie. Ik zou een verblijf in Niki's huis zeker aanraden, er hangt een gezellige sfeer en je komt er heerlijk tot rust.
Daisy
2014-01-04T00:00:00Z
Het huis van Niki is prachtig. Het is ruim, gezellig ingericht met een mooie keuken en open haard. Het huis ligt in een rustige en mooie omgeving waar je heerlijk buiten kunt wandelen en hardlopen. Niki is een vriendelijke gastvrouw die goed bereikbaar was tijdens het verblijf. Ze heeft een lieve hond (Igor) die bij ons buiten heeft geslapen en waar we een leuke tijd mee hadden!
Emma
2016-02-29T00:00:00Z
Wij hebben met ons gezin twee weken in het huis van Niki gezeten en het is er fantastisch. Het huis is van alle gemakken voorzien, en om het huis heen heb je alle ruimte. De hoge bomen zorgen voor veel schaduw, wat voor onze jonge kindjes erg prettig was. Elke morgen eitjes rapen bij de kippen, elke middag even bij de paardjes kijken. We hebben ons ook prima vermaakt in de omgeving. Niki heeft erg haar best gedaan om ons verblijf zo prettig mogelijk te maken. Ze heeft extra's geregeld zoals een zandbak en schommel voor ons oudste kindje. En een kinderstoel, babybed en badje voor onze jongste.
Marcel
2013-08-06T00:00:00Z
Het huis was fantastisch! Een prachtig huis op een prachtlocatie. Het huis klassiek en voorzien van alle moderne gemakken alsook een hele mooie open haard in het hart van het huis. Mooie keuken douche slaapkamers. Contact met Niki ook relaxed, we voelden ons meteen welkom. En als bonus natuurlijk Igor, de grootste knuffelbeer die er bestaat.
Paul
2016-01-18T00:00:00Z
Wij hebben het ontzettend naar ons zin gehad in dit prachtige huis! Erg gezellig ingericht, schoon en echt van alle gemakken voorzien. Ook de zonnige tuin is fijn, leuk met de paarden en ganzen die er omheen lopen. Het is echt een plek om tot rust te komen. Niki heeft ons zeer gastvrij ontvangen en ze was altijd bereikbaar voor vragen. (Vooraf ook fijn contact) Wat ons betreft een echte aanrader.
Roos
2015-05-18T00:00:00Z
Room Type
Entire home/apt
---
Property Type
House
---
Accommodates
6
---
Bedrooms
Holsloot, Drenthe, Netherlands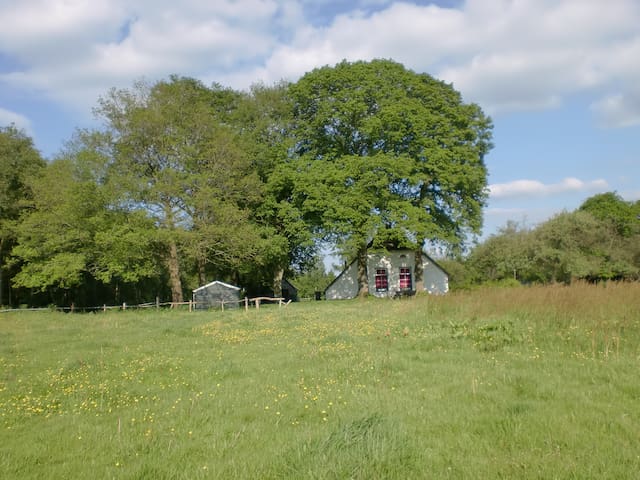 Voorzieningen - 6 slaapkamers (waarvan 1 op begane grond) - 5 douches - compleet ingerichte keuken - gratis wifi - tv met blu-ray speler - supermarkt op loopafstand - eigen terras met tuinmeubilair
De Kamperfoelie is een gezellig groepsverblijf voor maximaal 13 personen. De 6 slaapkamers zijn comfortabel ingericht met vaste wastafels en boxspringbedden. De huiselijke woonkamer heeft uitzicht op de kerkbrink van Sleen. Er is een aparte landelijke keuken die voorzien is van alle gemakken. De supermarkt, warme bakker en slijterij zijn allemaal op loopafstand. Onderstaande foto's zijn genomen na de renovatie van februari/maart 2016
In de omgeving van Sleen zijn verschillende attracties en bezienswaardigheden. Zo is er het Noorder Diernpark in Emmen, Kabouterland Exloo, Plopsaland in Dalen, een subtropisch overdekt zwembad in Dalen, waterskibaan Ermerstrand, recreatieplas de Kibbelkoele, winkelen in Emmen, autovrij museumdorp Orvelte, all-in attractiepark Drouwenerzand, Natuurgebied Mantingerzand en natuurlijk de mooie wandel-en fietsroutes in de nabije omgeving. In Sleen zelf kunt u op loopafstand uw boodschappen halen en de mooie typische Drentse woonboerderijen bewonderen.
Fijne plek met veel ruimte. We waren met een wat kleinere groep maar het voelde toch knus. De keuken was super goed voorzien van de benodigde spullen.
Isabelle
2016-01-05T00:00:00Z
De accommodatie van Jager was erg top! We waren met een jonge gemengde groep en we hebben het enorm naar onze zin gehad. De familie Jager heeft ons direct welkom laten voelen door een persoonlijke rondleiding en we konden altijd direct contact met hun opnemen. De accommodatie was van alles voorzien en we konden zelfs lekker buiten een vuur maken voor een knusse avond. In de accommodatie was alles aanwezig wat we nodig hadden. In de omgeving van de accommodatie was alles in de buurt: een supermarkt, openbaar vervoer en de prachtige omgeving van Drenthe. Ik zou deze accommodatie aan elke groep willen aanraden die een tijd heerlijk wilt ontspannen in de prachtige Drentse natuur!
Guido
2015-09-07T00:00:00Z
Prettige ontvangst in een gezellige accommodatie door een flexibele verhuurder. Prachtige omgeving en leuke speelweide voor jong en oud. Alles prima voor elkaar.
carina
2016-06-06T00:00:00Z
Room Type
Entire home/apt
---
Property Type
House
---
Accommodates
13
---
Bedrooms
Sleen, Drenthe, Netherlands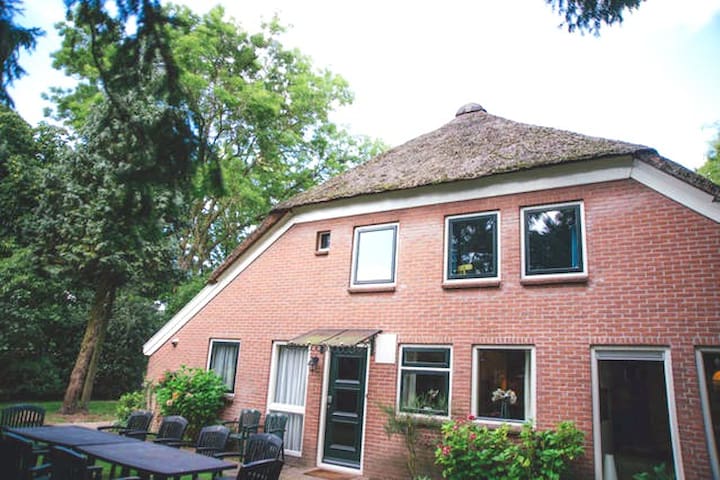 Our house is situated in the Global Unesco Park 'de Hondsrug'. Because of the convenient location you are close to several sights. In the south-East of Drenthe, in between Coevorden and Emmen enjoy an easy going lifestyle.
Our main specialty is horses, which you will find at our farm. You can take lessons and if your level is satisfactory, you could participate in guided rides, even complete day trips or multiple day trips in the beautiful Drentse county.
Gezond Boeren Verstand is enjoying pleasantly. In the surroundings of Dalerveen you will find rural areas and little villages with old Saxon farmhouses. The landscape varies from forest to open fields. The hiking route 'het Pieterpad' and the bike trails 'Vechtdal-en Saksenroute' and 'rondje Nederland' are routed along Gezond Boeren Verstand.
I had made booking for my colleagues. They were very satisfied. They had everything what they did it. Thank you.
Lucia
2016-11-05T00:00:00Z
We loved staying at Albert's place in Drenthe. Beautiful, quiet, country setting. Piles of space in the house. Everything clean and in good working order and a kitchen stocked with all the dishes, pots and pans we could possibly need. It was our favourite of the five places we rented during our European trip. There isn't a huge amount of sight seeing in the area nearby (the best probably is the Peat Museum/Veen Park), but the town of Dalen nearby is lovely and lots to enjoy just by checking out the Dutch countryside.
Vera
2015-09-16T00:00:00Z
Room Type
Entire home/apt
---
Property Type
House
---
Accommodates
6
---
Bedrooms
Dalerveen, Drenthe, Netherlands
- alle kamers eigen douche met toilet - groot terras met uitzicht op kerkbrink - eigen bar met tapinstallatie - professionele horecakeuken (met o.a. 10 pits gasstel, afwasstraat, 3 ovens, magnetron en vriezer - boxspringbedden met lakens en handdoeke
De Gelagkamer is een van de vier sfeervolle groepsaccommodaties ondergebracht in een voormalig hotel/restaurant. Het pand is gelegen midden in het centrum van het dorp dat zomers gezellig druk is. Veel fietsers, wandelaars van het Pieterpad, dagjesmensen en natuurlijk de inwoners van Sleen zelf genieten van de gemoedelijke rust die het dorp en de omgeving uitstraalt. De Gelagkamer is een accommodatie voor maximaal 25 personen en beschikt over 9 slaapkamers met eigen douche en toilet. Er is een bar met tapinstallatie, een horecakeuken en een terras met een zeer fraai uitzicht over de kerkbrink van Sleen.
In de omgeving van Sleen zijn veel wandel- of fietsgebieden. Bewonder hier de prachtige Drentse woonboerderijen, de uitgestrekte natuurgebieden of bezoek Emmen (9 km) voor een dagje dierentuin of ga er gezellig winkelen. Op steenworpafstand kunt u naar de recreatieplas 'de Kibbelkoele', of u kunt waterskien, lasergamen, bowlen of boerengolf spelen. De supermarkt, drogisterij, warme bakker, pizzeria, cafetaria en restaurant zijn allemaal op loopafstand.
Room Type
Entire home/apt
---
Property Type
House
---
Accommodates
16
---
Bedrooms
Sleen, Drenthe, Netherlands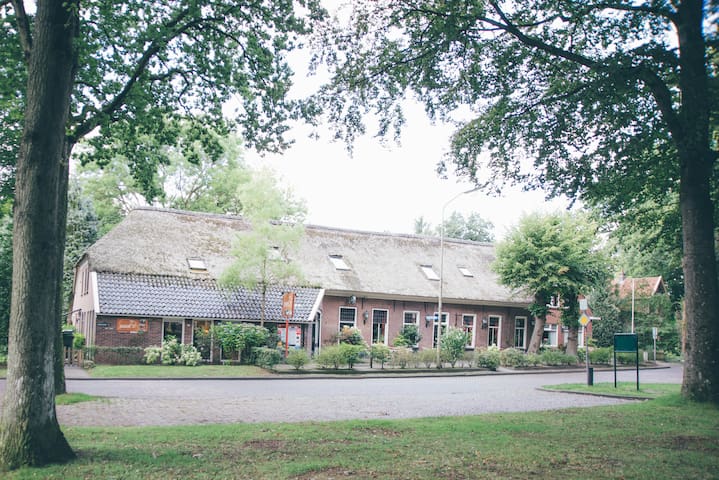 We've got a pretty special room to rent in a very picturesque village next to emmen, we're pretty close to everything you need (forest/city center/zoo are all less then 2km away) but you'll still be staying in a very peaceful place. ~Note: Breakfast not included~
My appartment is equipped with everything to ensure you will have a comfortable stay. I've got two very comfy couches, a double bed, musical equipment and enough seating spaces. The guest will have a private kitchen and bathroom, both fully equipped. The city center and the zoo are walkable, about 1.5 kilometres from my place and a bus stop is located at the end of the street. The appartment is located in a cute little town 'Noordbarge' right next to emmen's city center. The room's got one king-size bed, but in case you're coming with more than two persons I can put another single bed in the room. And in case of even more guests I can always provide some extra mattresses.
Our house is located in the village noordbarge, which is a very nice and quiet village on the edge of the city center of emmen, which is about 1km away.
An excellent privately separated house with it's own bed, living room/office, kitchen, shower, and bathroom. The host was ok with a late arrival, was very welcoming, and showed us everything we would need. A very luxurious place to stay for an affordable price. Walking distance from Wildlands zoo, a very nice animal facility and a very nice neighborhood to walk through from the house. An excellent place to stay.
Weston
2017-02-26T00:00:00Z
This place is excellent and very highly recommended, the location is beautiful and just a 10-15 minutes walk to the town and 25 minutes walk from the train station. Travelling as 3 girls we felt very safe, even late in the evening, Angelo and his parents are the perfect hosts and nothing was too much trouble. The place was spotless and is a self contained apartment as opposed to just a room. We would recommend this place to anyone staying in or around Emmen and is excellent value for money.
Jenny
2016-07-15T00:00:00Z
Had a pleasant stay at Angelos place. Tho not really my style, the room was very spacious and included with all the amenities one can think of. Trieneke (Angelos mom) was very friendly and made us feel welcome immediately. The bed was very comfy too. Walkable distance from the zoo.
donald
2017-01-15T00:00:00Z
Our stay in Angelo's room was great! It is located in a rural setting. You mainly hear birdsongs in the night / early morning. All basic facilities are available in the spacious room. It is possible to ask for additional breakfast. We did not use this possibility. Finally, the Wildlife theme park is within walking distance. This saves 10 euros parking costs and gives you the opportunity to see the environment. This B&B place of Angelo is recommended!
Steven
2016-07-10T00:00:00Z
Neighborhood is quiet and pleasant. Host is very kind and hospitable. Room is clean and comfortable. Thank you Angelo for relaxing and pleasant stay.
Mile
2016-09-03T00:00:00Z
Nice little apartment. The walk into centrum is ok but long. Perfect if you have car. The area is very nice, beautiful houses with Christmas lights in all gardens like a postcard with little snow in the morning.
Dag
2017-01-05T00:00:00Z
very nice apartment and nice people, really recommend to stay. quiet environment, miss that.
Qi
2016-06-25T00:00:00Z
Our host was very welcoming with good clear instructions to make us feel at home. Nice quiet area in close proximity to town. Good facilities and a nice comfortable bed. We had an enjoyable stay.
Ingrid
2016-05-11T00:00:00Z
Room Type
Private room
---
Property Type
House
---
Accommodates
4
---
Bedrooms
Emmen, Drenthe, Netherlands
Mijn ruimte is vlakbij het Drentse landschap waar men heerlijk kan fietsen en wandelen met en zonder hond.. Je zult genieten van mijn plek vanwege het op een schitterende locatie ligt en van alle gemakken is voorzien. Zo is er een grote woonkeuken, grote woonkamer en ruime slaapkamers. Mijn ruimte is geschikt voor stellen, solo-avonturiers, gezinnen (met kinderen) en harige vrienden (huisdieren).
De omgeving
hello Sandra & Ruud, it was a very joyful thing that we could spend the last days of 2016 in you little house. Freezing outside and nicely warm inside! But we also enjoyed the rural environment and the pleasant equipment of the house. Yes, we all enjoyed it a lot and we can recommend it to anyone and we wish you to be very succesful with this cottage.
Johan
2016-12-31T00:00:00Z
Room Type
Entire home/apt
---
Property Type
House
---
Accommodates
3
---
Bedrooms
Stuifzand, Drenthe, Netherlands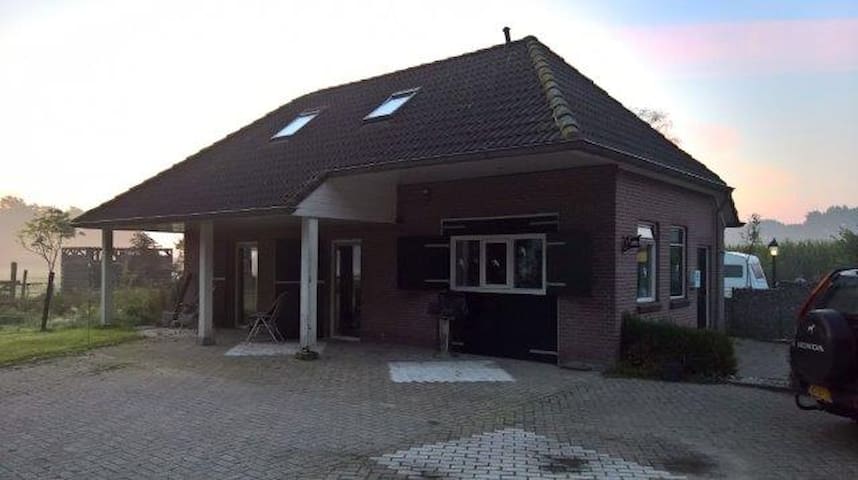 Deze ruime frisse kamer is het pure Drentse genieten. Met eigen ingang en eigen douche een prima overnachtingsmogelijkheid. Wakker worden met vogelgeluiden. Komt u met meerdere personen of meerdere nachten dan is het ontbijt inclusief . 28 euro is pp per nacht. Bedden hebben Pullman matrassen. Tot en met 31 mei 2017 kunt u terecht in deze mooie kamer. Het huis wordt verkocht in juni 2017
geen huisdieren . roken mag in de tuin. gratis wifi.
Het huis staat met 5 andere vrijstaande huizen aan een rustig pleintje met uitzicht op de bomen van het Oranjekanaal. Aan het eind van de straat is het recreatiegebied de Rietplas.
top
Mieke
2017-01-25T00:00:00Z
My stay at Gerjan's was perfect. She even picked me up from the station and provided a delicious breakfast. The room was very comfortable and clean and I could lend her bike so that it was easy to get to the city centre. Thank you for everything :-)
Paulin
2017-01-15T00:00:00Z
The host canceled this reservation 5 days before arrival. This is an automated posting.
Koop
2016-10-24T00:00:00Z
Wat een fijne kamer was dat! Alles aanwezig, zelfs een miniwinkeltje voor als je toch wat vergeten mocht zijn, Gerjan was heel gastvriendelijk! Heb heerlijk geslapen en werd wakker met geluid van de vogels die ook wakker werden in de mooie omgeving ;) Ik raad de kamer zeker aan! Groetjes Aafje
Aafje
2017-03-24T00:00:00Z
Super. Das war sehr entspannend. Grüße Patrick
Pasqualina
2016-12-29T00:00:00Z
Fijne plek en een prima gastvrouw! Wel zelf je ontbijtje meenemen en de wifi is niet top. Verder niets dan lof.
Marij
2017-03-27T00:00:00Z
Hele goed ervaring!
Geertje
2016-10-26T00:00:00Z
Room Type
Private room
---
Property Type
House
---
Accommodates
4
---
Bedrooms
Emmen, DR, Netherlands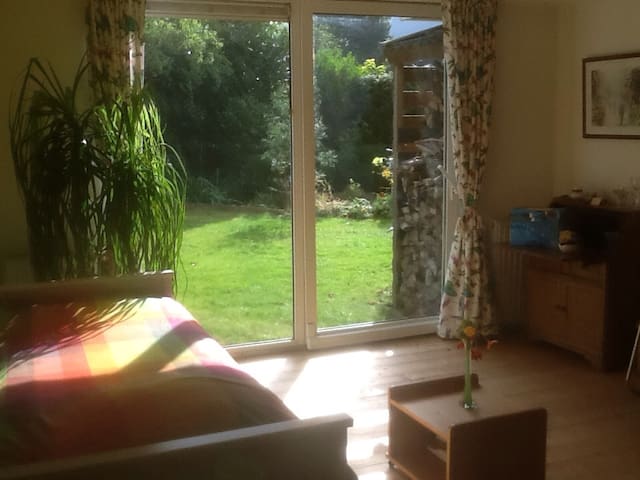 Gezellige hoekwoning met ruime tuin en veel privacy. Prachtige landelijke keuken met grote oven. Veel woon- en leefruimte. Vlakbij is Wildlands en het mooie nieuwe centrum. Winkelcentrum vlakbij. In de omgeving zijn vele recreatiemogelijkheden. In de tuin is het heerlijk toeven. Er bevindt zich een buitendouche en een stenen Barbeque in de tuin. We laten onze 2 katten achter ter verzorging. Ze zijn lief en zijn totaal niet tot last. Uiteraard laten we blikjes en kattengrit achter.
We wonen op een prachtige hoeklocatie met daarbij een tuin die je het gevoel geeft dat je alleenstaand woont. Onze tuin is zeer veilig voor kleine kinderen want mooi natuurlijk omheint. Verder is ons huis vlakbij het mooie nieuwe centrum van Emmen. Wildlands zoo is vlakbij en er is een mooi nieuw theater en ook een bioscoop. In de omgeving van Emmen kun je prachtig wandelen en fietsen en vlakbij is de mooie Rietplas een mooie plek om heerlijk te chillen aan het water. Plopsaland is op 20 minuten rijden. Kortom er is veel te doen! We laten info achter in huis.
Room Type
Entire home/apt
---
Property Type
House
---
Accommodates
6
---
Bedrooms
Emmen, Drenthe, Netherlands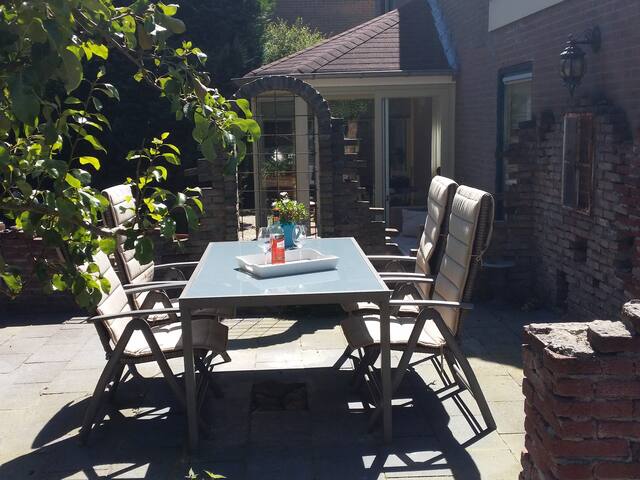 Fantastische villa in het lommerrijke Westenesch, dicht bij centrum van Emmen en Wildlands op loop afstand. Fietsen in de bossen en heide of heerlijk ontspannen in Drenthe. Natuurgebieden en theater op loopafstand. Volledig voorzien van beveiliging.
Wildlands dieren park op loop afstand.
Room Type
Entire home/apt
---
Property Type
House
---
Accommodates
10
---
Bedrooms
Emmen, Drenthe, Netherlands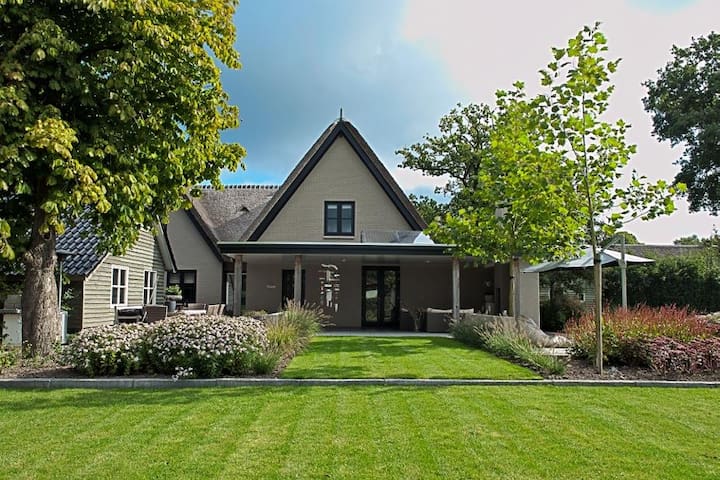 Koele kamer begane grond met zonnescherm. Keukenblok met heet water boiler. Koelkast met vriesvak, waterkoker, Op de eerste verdieping een gezamenlijke douche en toilet, wasmachine. Extra toilet op begane grond.
De kamer beschikt over een aanrechtblok met heet waterboiler, waterkoker, Handdoeken en lakens zijn inbegrepen. De kamer kan op slot. Gratis WIFI glasvezel Gratis TV, bureau en bureaustoel
Op loopafstand: De Tamboer, winkelgebied van Hoogeveen, NS station, supermarkten, Mc Donalds, op- en afritten van snelwegen
The host canceled this reservation the day before arrival. This is an automated posting.
Benny
2015-07-27T00:00:00Z
Todo ha sido perfecto. Tina es encantadora y la casa esta muy limpia. La zona es buena para visitar parques naturales en bici. El precio es excelente y los desayunos son perfectos. En fin recomendamos sin duda la casa de tina.
PABLO
2015-08-12T00:00:00Z
Room Type
Private room
---
Property Type
House
---
Accommodates
2
---
Bedrooms
Hoogeveen, Drenthe, Netherlands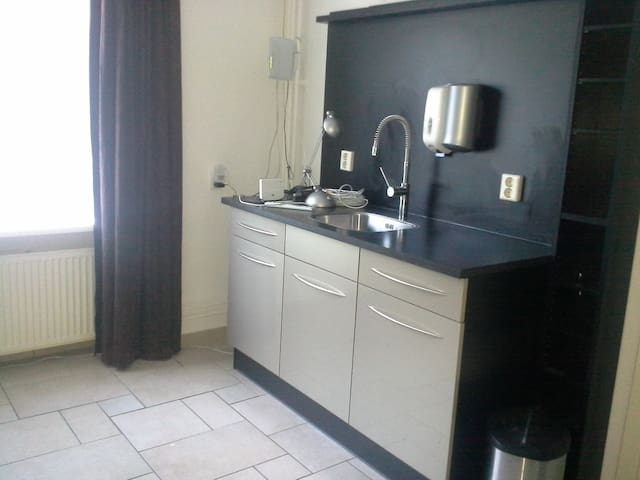 Twee een-persoonbedden. Bureau met twee stoelen. Douche-Toilet en wastafel. Kast aanwezig voor privé gebruik. 2 kiepkantel ramen -met zonsverduistering en 1 vliegenhor. Mogelijkheid in gemeenschappelijke ruimte voor;Koelkast voor eigen boodschappen, Koffie/Thee -gratis. Bij mooi weer heerlijk buiten zitten. Evt. drankjes tegen betaling.
Voorhuis is een gezellige ruimte waar iedereen kan zitten. Hier staat ook koffie en thee waar iedereen gratis gebruik van kan maken.
Bos , Heide , knapzakroute s, Friets route s , Wandel route s , Paardrijden , Westerbork , Div. restaurants Westerbork. Supermarkt en winkels Westerbork. Assen 12 minuten afstand met de auto. Kamp Westerbork , TT baan Assen , Wildlands Emmen 25 minuten met de auto. Orvelte leuk museum dorp. Gevangenis museum Veenhuizen.
Room Type
Private room
---
Property Type
House
---
Accommodates
2
---
Bedrooms
Zwiggelte, Drenthe, Netherlands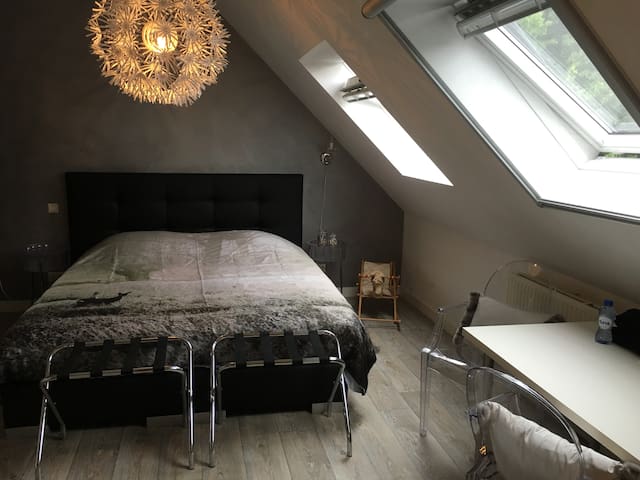 1

–

18

of

45 Home Rentals
Enter dates to see full pricing. Additional fees apply. Taxes may be added.