Our house is on the edge of a quiet village in the beautiful South Herefordshire countryside, with stunning views towards Symonds Yat. We're close to the market towns of Monmouth and Ross on Wye; the Wye Valley and Forest of Dean are on our doorstep while Hay on Wye is within easy reach. Our house is large enough for groups and families but retains a cosy, cottage feel. It's peaceful and relaxing, ideal for countryside walks and exploring local villages and historic towns.
A stylish family cottage with a cosy feel. Downstairs, there's a spacious kitchen and dining area, living room with open wood fire box and a cloak room. Upstairs, you'll find two double bedrooms, both with their own en suite shower rooms, two single bedrooms and a family bathroom with shower and bath. An additional pullout bed is available in one of the single bedrooms. Outside, there's ample parking on the drive and a fenced garden of approximately a third of an acre. The house is surrounded by fields with extensive views towards Symonds Yat and the Wye Valley.
The cottage is on the edge of the quiet, rural village of Llangrove which is an ideal base for exploring the beautiful Herefordshire countryside. There are some great walks and cycle routes taking in the Wye Valley, the Forest of Dean and the Welsh borders. We are close to the market towns of Monmouth and Ross on Wye. Llangrove has its own pub and there are some superb country pub/restaurants in the vicinity.
Cottage was amazing, we have 7 of us. Everything was very clean and tidy. Great bottle of wine and cake on arrival. Very clear instructions on how to get there, Great Wifi, Open Fire and great character. We went for dinner on the second night at the local pub "The Royal Arms", this is a proper country village pub, open fires good pub grub and local beers. We took the kids to the Butterfly museum, which also had a giant maze and miniature golf to keep them entertained!
Tim
2016-11-13T00:00:00Z
This was a very important weekend as my mum was turning 60 and we wanted to do something extremely special, thankfully Lisa's property was amazing and allowed us to do just that. The location, the views and the little touches that Lisa thought of made this an amazing weekend. The area is fantastic and the local restaurants (I would recommend the White Brook restaurant and the Inn at Penalt highly) are incredible.
David
2016-10-02T00:00:00Z
This is a beautiful house in a secluded, quiet area, but close to Monmouth and Ross on Wye. We appreciated the lovely views, garden, kitchen and the fire. A great place for a family get together, with three bathrooms (well, only one has a bath) and lots of privacy between the bedrooms.
Amy
2016-11-20T00:00:00Z
Our stay at Brook cottage was wonderful. We were in town for a wedding and having driven up from London we were greeted with a welcome package of wine and homemade cake. With comfortable beds, a lovely fireplace and plenty of board games to choose from this is a lovely cottage to get away from it all. Communication with Lisa was quick and easy and we look forward to returning to Hereford and Wye.
Suheyla
2016-09-11T00:00:00Z
Lisa's house is spacious but cosy, perfect for a family holiday.
Tony
2017-02-18T00:00:00Z
A gorgeous house and location, the perfect place for a few days away.
Karen
2016-09-18T00:00:00Z
This cottage is perfect for a family get-together, which is why we met here. It has bags of character, lots of space, all homely amenities you could need and also near a great village pub too! We'll definitely be bsck again.
Shelley
2016-10-25T00:00:00Z
We had a wonderful time staying here. The house is beautiful and has wonderful views of the countryside. If you have children we would highly recommend staying here, the garden is a great place for playing. The house was clean and all the instructions were clear and easy to follow. Thank you for a wonderful stay!
Sophie
2017-03-26T00:00:00Z
Room Type
Entire home/apt
---
Property Type
House
---
Accommodates
7
---
Bedrooms
Herefordshire, England, United Kingdom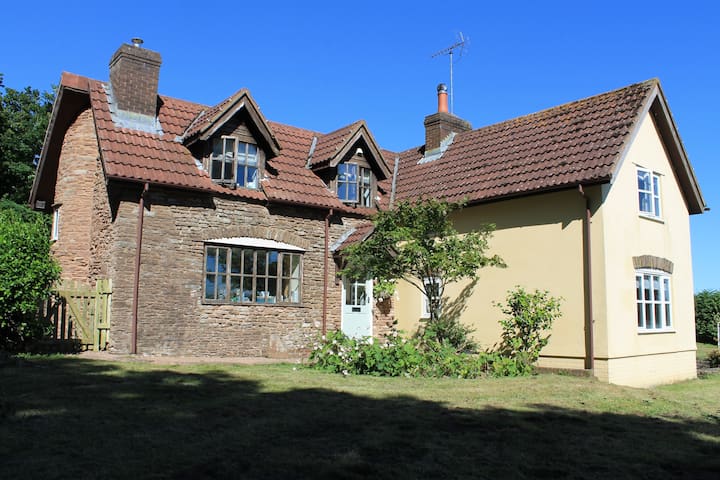 Rivington Barn is a newly converted stone barn with two double bedrooms and luxury ensuite bathrooms. Beds can be configured as king size or two singles. Bathrooms include baths and separate showers. To take advantage of the fabulous structure, the living area is situated upstairs and is completely open plan to include lounge, dining and kitchen areas. The kitchen is fully equipped with hob, oven, dishwasher, fridge and freezer. A patio area directly outside of the barn is a lovely place to sit.
Rivington Barn has been described in reviews as like staying in a boutique hotel that feels like your own home. We have tried very hard to think of everything that you might need and equipped the barn with only high quality fittings.
Rivington Barn was an amazing place to stay! The effort Amanda & Derek have put into creating somewhere special is evident through the design and all the little touches! We received a very warm welcome from Amanda and a lovely loaf of fresh warm bread on our first morning, which was fab! The barn is immaculate and homely. The kitchen is well equipped with all necessary basic amenities (e.g - seasoning/cooking oil/foil etc). Ideally located for sightseeing/walks - lots of local towns within a 20 minute drive and some amazing places to eat. We'd recommend The Moody Co Pub, The Saracens Head Inn and No3 restaurant. Looking forward to returning to Little Howle Farm soon!
Gurpreet
2017-03-02T00:00:00Z
Rivington Barn has been beautifully converted. It is immaculately clean and very comfortable. The open plan living area is spacious and everything is provided to make for an easy, relaxing and enjoyable stay. The beds and bathrooms are especially good. Amanda and Derek were perfect hosts who were so welcoming we all instantly felt at home.
Rosemarie
2017-04-05T00:00:00Z
Room Type
Entire home/apt
---
Property Type
House
---
Accommodates
4
---
Bedrooms
GB, United Kingdom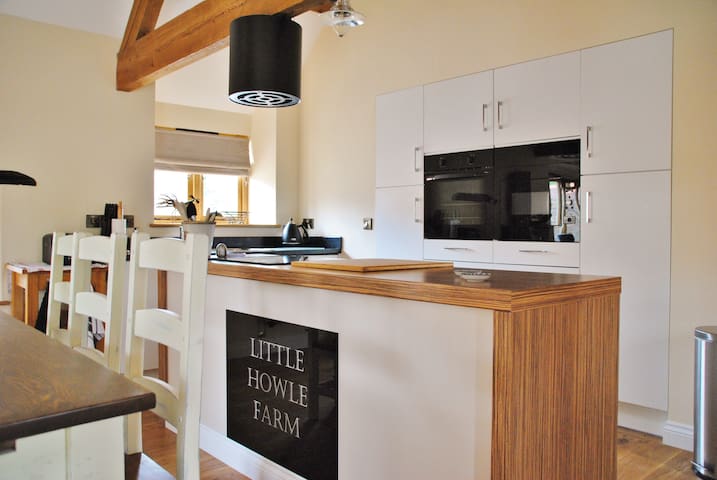 Perched high in the Royal Forest of Dean, with breath-taking views across the Wye Valley & Brecon Beacons, an intimate but spacious Cottage for up to 6 people & their dogs; outside, you'll find a huge, private, decking with Hot Tub & Sauna. Our Forest Retreat is perfect, year round, for those looking for relaxation, adventure; step or cycle into the forest or to the banks of the Wye for splendid walks, canoeing and a host of other activities and fun (+ some great pubs!).
Jay, one of our recent guests, said "The cottage embodied so much character and charm and proved to be the perfect getaway; it's a truly amazing and magical place". Originally built for a local miner in the 1850's, the Cottage still retains much of it's original charm e.g. thick walls, low ceilings and narrow entrances; but much of it has been refurbished to modern standards, over 5 levels of intimate and deceptively spacious living. As Emily, a recent guest, said: "A cosy but spacious house which allowed everyone their own space when needed but also fantastic communal areas with beautiful views out of every window." It's perfect as a base for up to 6 guests, and their dogs, to retreat from the world, but with easy access to a multitude of adventures and fun - we have plenty of ideas if you need them. It's ideal for couples or friends looking for a relaxing or romantic hideaway. The lounge has a log fire (logs are supplied), surround sound system and there is access to free wifi, Bluetooth sound system, 'Firestick', DVD player and library of movies. The huge decking is an absolute delight, with panoramic views of the Wye Valley, or of the stars after dark; complete with Hot Tub, Sauna, BBQ and table/chairs for al fresco dining. All bedrooms are decorated to a high standard, with good quality beds; Room 1 has a king size bed and a lovely en-suite; Room 2 has a double beds and Room 3 has comfy 'adult size' bunk beds + there's a good quality guest bed for those who don't like heights! There's a family bathroom, with an excellent 'power shower', an en-suite shower/toilet linked to the king-size bedroom, and a cloakroom/toilet on the ground floor - all have recently been refurbished to a high standard. The kitchen is very well equipped, together with a 'range' oven, large fridge, washing machine* and microwave; and there's a 'shabby chic' dining room, which opens onto the decking and comfortable sits six people. *We also have a tumble dryer All bedrooms, living rooms, dining room and kitchen afford dramatic views of The Wye Valley and beyond. The Cottage and garden are only overlooked by the birds so you can feel comfortable to relax and kick back in your own private hideaway. At night, the garden comes to life with fairy tale illuminations; and there is a chiminea to cozy up to. Comfortable, high quality, furnishings & décor are provided throughout, all reflecting the rustic nature of The Cottage and surrounding area.
The Cottage is in a quiet and peaceful location, though has a traditional pub within 10 minutes walk. Lydbrook village is about a mile away - where you'll find a store/post office and more pubs, one with an Indian Restaurant and Takeaway. Within 3-6 miles, you'll find villages and market towns of Coleford, Cinderford, Ross on Wye and Monmouth; and a good range of supermarkets, local produce, pubs and eateries. Activities are plentiful, including miles of jogging & cycle trails, canoe hire, horse riding, quad biking, fishing, rafting; visit Symonds Yat for wonderful riverside walks; 'Puzzlewood', location for the recent Star Wars movie; follow 'The Sculpture Trail' or for Treetop adventures, book in to 'Go Ape'. The area also has a rich in history and opportunities for explorers of all ages, e.g. The Forest was William the Conqueror's hunting ground and then a rich source of coal and iron ore - now many forest trails follow routes of the disused railways and you can spot many remnants of this industry. If you have time, it is recommended you visit Goodrich Castle, Tintern Abbey, Chepstow Castle and the Cathedral Cities of Hereford and Gloucester.
We had a lovely time at the Reddings. Jayne and Phil have a real eye for detail, and have put lots of effort into their holiday home. The view from the balcony is incredible and we had a couple of great evenings spent laying side by side in the hot tub watching the sun go down, then making the most of the spacious decking with the BBQ and chiminea keeping us warm as the bats flapped about overhead. The inside was very cosy and comfortable, the (power) shower was fab, and lots of entertainment was available for nights in/wet days. We liked the extra touches such as the swing bench, the garden uplighting on the trees and the bird feeders that meant a constant stream of birds were entertaining us. Their instructions were very comprehensive and local suggestions for food and entertainment were excellent - we'd also recommend the Anchor pub by Tintern Abbey. Jayne and Phill were lovely hosts, very responsive, helpful and relaxed.
Ruth
2016-05-27T00:00:00Z
Amazing quirky little cottage. Pictures just don't do justice. We arrived and went inside and couldn't believe how big the place was and kept finding extra spaces. Everything you need is there, from a welcome pack on arrival with tea milk and cake etc. to the hot tub and sauna which as brand new and work perfectly. There is a BBQ too. Excellent Location with loads to do near by. We quickly became familiar finding out way around.
Richele
2016-09-02T00:00:00Z
Lovely private house, we had a magical stay. The house is great getaway and the hot tub and sauna are a great benefit. Highly recommended!
chris
2016-11-29T00:00:00Z
The house is AMAZING. Sitting in the hot tub looking out over the valley was dreamy. Jayne and Phill gave us great instructions and were always easy to contact. Everything you needed to know was in the folders in the house. And did I mention the house is amazing? I wanted to move in. I've already recommended it to friends and will definitely be back for another trip!
Megan
2016-11-07T00:00:00Z
We would all just like to say a massive thank you for offering such beautiful and well equipped accommodation as a get away. You have really made it such a lovely homely place to stay and we all agreed how well thought out the accommodation was. There was 4 males staying and we all felt we had our own space to do or own thing as well as a brilliant little are to get together and catch up. Usually in a place like this the odd one or two things don't quite work or are being fixed but we were really impressed with how everything worked as it should and was all kept up to scratch & in tip top order. Thank you once again, I hope everything was left as you wished. And we are already trying to work out which weekend we can do this time next year so we'll be back in touch shortly.
Josh
2017-04-03T00:00:00Z
The pictures do not do this place justice! Gorgeous home, beautiful views, we could not have asked for any more. Jayne and Phill were beyond helpful, they were away but we had their mobile numbers and they texted to see if we had settled in okay and to see if we needed anything. Superb hosts who answered every question almost immediately on the run up to our stay and made themselves available if we needed it during our stay (but otherwise left us to enjoy the house). The hot tub was totally awesome, completely private and totally made the stay. Great kitchen with amenities, (not to mention the very generous welcome basket) the house was clean and beautifully decorated. Highly recommended if you want a peaceful retreat - do check out Jayne and Phills pub recommendations - they were awesome suggestions, I only wish we could have tried them all. Don't hesitate to book this place, it is really special and the hosts are brilliant. We will definitely be back!
Lollie
2016-05-04T00:00:00Z
Absolutely fantastic stay here in the wye valley. Cannot fault the cottage and the views from the hot tub are breathtaking. Cannot wait to book again!
Claire
2017-04-11T00:00:00Z
Our stay at the Reddings was a total joy! With four people in three bedrooms we had bags of space and privacy if desired, but found ourselves endlessly gravitating outside to the decking for the views, whether at the ample outside dining table, in the chairs and deckchairs, or of course in the tub, which is perfectly positioned for sunsets! The barbecue and chiminea were extra bonuses here. There's a large dining room if you're unlucky with the weather and plenty of inside spaces to lounge in too; the kitchen too is a good size, if dark. We don't have dogs so can't really comment on this aspect but it certainly seems like a good place for dog lovers and the interior has that sort of country ambience. It's ideally placed for walks right out of the door; though we ventured further afield in the car most of our trips began by walking downhill through Joy's Green, a magical little wood, past a pub and a hollow lane, and along the glorious Wye Valley. One walk west to Symonds Yat incorporating wild swimming (watch out for the canoes – we'd hire one next time!) was especially memorable; the countryside is truly stunning.
Oskar
2016-07-26T00:00:00Z
Room Type
Entire home/apt
---
Property Type
House
---
Accommodates
6
---
Bedrooms
Gloucestershire, United Kingdom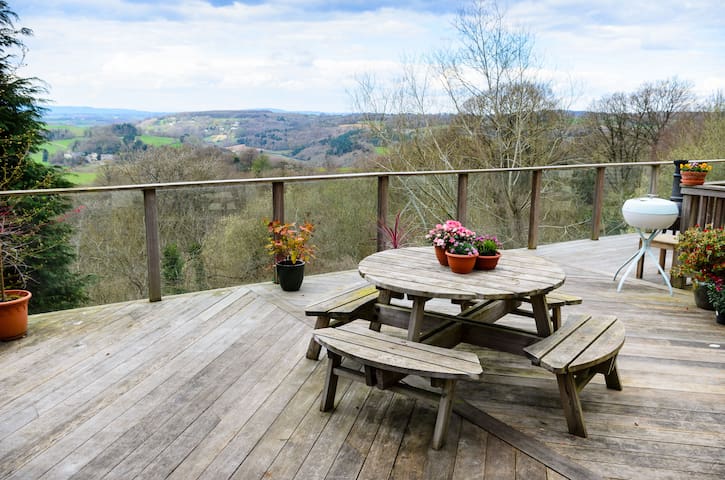 Self-catering cottage in a small quiet Wye Valley village in in the hills above Monmouth. Set in 6 acres of woodland and hidden gardens. Large bedroom with king & single bed, lounge with log burner, TV & WiFi. Stunning large spa room with sauna, shower, jacuzzi & small toilet room. Kitchen with induction hob, grill and fan oven, microwave, washing machine and tumble dryer , separate bathroom with toilet.
The cottage is very spacious and could hold many guests however it is configured for two or 3 . The very large spa room holds the double jacuzzi, sauna and shower and so provides a private luxury chill-out area. The large bedroom, lounge, kitchen, hall and toilet all have underfloor heating whereas the spa room has radiators. The modern TV has a built-in DVD player and some DVD's are available to view. We have now put a dedicated BT wi-fi router in the lounge.
Whitebrook is a quiet unspoiled valley with the brook running down into the River Wye which lies at the foot of the valley about a mile or so from the house. There are walks everywhere either on the doorstep or further afield. Local attractions include Clearwell Caves, The Big Pit (Coal Mining Pit & Museum) and the Wye itself for canoeing etc. See our guidebook for further activities. A map of the local area is provided.
The stone cottage is in a beautiful location surrounded by lovely walks - the perfect base for exploring the Wye Valley. The cottage was comfortable and well equipped with plenty of space and welcome additions such as the jacuzzi bath and supply of board games. We had a really lovely stay here - just wish it could have been for longer!
Rosie
2016-10-30T00:00:00Z
Absolutely amazing home to stay at whilst we explored the Welsh countryside. Very private but always there if we needed something, like when my car decided to die Clive helped us. Amazing walks around the area! From the outside it looks small but inside is amazing. The bathroom is huge and warm. Already missing sitting next to the fire. Kitchen has pretty much everything you need. Loved it and will go back next year. Thank you for letting us stay there x
Drew
2016-11-21T00:00:00Z
Lovely place to get away and relax. The cottage is well equipped, very comfy and Clive was on hand to show us around when we arrived. Relaxing in the sauna and bath is a great way to unwind after a refreshing walk.
Celyse
2016-12-16T00:00:00Z
Cannot recommend this cottage enough, very cosy, lovely wood burner and underfloor heating, spacious bedroom with an extremely comfortable bed, and then there's the spa room - incredible jacuzzi and the sauna is a fantastic bonus. Clive was friendly, made sure the fire was lit for when we arrived and let us help ourselves to further logs when we needed. It's absolutely perfect for a relaxing or romantic getaway and was so good we stayed an extra night.
Paul
2016-03-03T00:00:00Z
Clive was very easy to communicate with to organise arrival details, and very friendly when we arrived. The place is lovely and the surrounding area is gorgeous. Pity we couldn't stay longer.
Mat
2016-06-27T00:00:00Z
My partner and I had the pleasure of spending 2 nights here. The accommodation was everything we expected. The property is set in a beautifully secluded location. It was spotlessly clean and provided everything we needed. Would definitely consider another stay .
Julie
2016-09-18T00:00:00Z
I can't recommend this accommodation enough it was more than enough space for two to have a relaxing break away. Everything you need is within 15-20 minutes drive and the best bit has to be the jacuzzi bath. Thank you so much to Clive and Katalin for an amazing break
Sam
2016-04-02T00:00:00Z
Everything about this cottage was perfect. The grounds were stunning, fire was brilliant and the set up was perfect for all our needs (especially the jacuzzi)! Have already recommended it to friends and would happily return again.
Lewis
2016-10-26T00:00:00Z
Room Type
Entire home/apt
---
Property Type
House
---
Accommodates
3
---
Bedrooms
Whitebrook, United Kingdom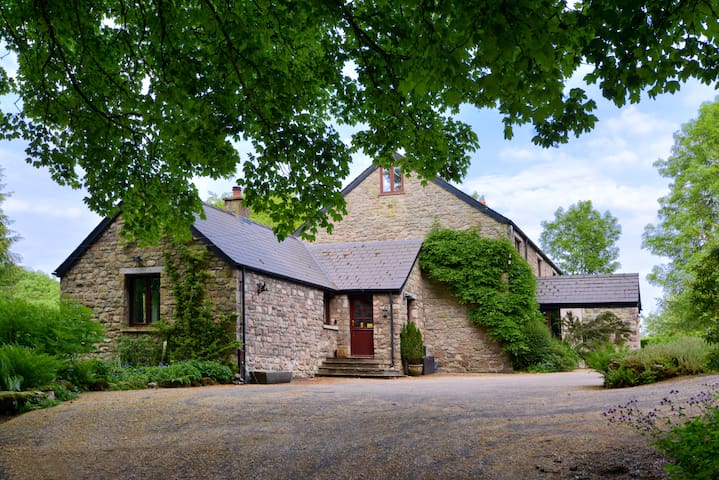 A beautifully restored stone cottage with private patio garden overlooking the stunning Wye Valley. This charming two-bedroom self-catering cottage has a master bedroom with kingsize bed, cosy living room with wood-burner, a light and spacious kitchen-dining area and a cosy double bedroom. The cottage is 35 minutes walk from Tintern abbey and right on the famous Offa's Dyke footpath. It's the perfect place to find sanctuary from the modern world and to explore the surrounding beauty.
A 200 year old cottage which has been lovingly restored and modernised with an ecological approach - using natural, locally sourced and recycled materials. The floors are underfloor heated and made from cob, using traditional and modern earthen flooring techniques to create a hard-wearing and beautiful floor that feels amazing to walk on. The stonework has been lovingly restored with traditional lime pointing and the roof with welsh slate. The kitchen is made from locally sourced ash slabs and recycled pallet wood, and combines rustic charm with all the modern appliances you would expect: fridges, freezer, dishwasher and washer-dryer. The heating system runs off renewable sources and is powered by two large solar thermal panels on the roof and a wood-burning stove with back boiler. The cottage is furnished with traditional Balinese fabrics and pieces of furniture from Joe's travels, creating an exotic, soulful and earthy feel to the cottage.
Located on the Offa's Dyke footpath, stunning walks are at the doorstep. The local eco village shop is 15 minutes walk away, a traditional countryside pub 15 minutes walk away and Tintern abbey is 35 minutes walk. The Forest of Dean is 20 minutes drive to the North-East, and there are countless places to explore in the Wye valley, forests, rivers, caves, historic buildings and old pubs!
Room Type
Entire home/apt
---
Property Type
House
---
Accommodates
6
---
Bedrooms
Brockweir, England, United Kingdom
Recently renovated and restored to a very high standard, this warm and cosy cottage located in the quiet village of Clearwell provides an ideal walking and cycling base for exploring the Wye Valley, Forest of Dean. Enclosed rear garden with secure bike storage. Dogs very welcome.
Recently renovated and restored 2 Church Cottages is steeped in history. Huge oak beams and thick stone walls flank an imposing inglenook fireplace housing a Clearview wood burner. This warm, cosy cottage is finished and furnished to a very high standard, crisp Egyptian cotton sheets, plump pillows and duvets adorn the beds, a large bath with shower and a fully equipped kitchen with integrated appliances and top of the range espresso machine, wi-if and smart TVs make for a luxury stay. The cottage also benefits from secure bike storage, a good sized enclosed garden with decking area, BBQ and table and chairs. A welcome hamper along with all the essential you may need such as tea, coffee, bedding and towels are provided. Conveniently located a short stroll from Clearwell Castle, the Butchers Arms and The Lamb pub and for a luxury dining experience The Tudor Farm House. Ideal walking and cycling base for exploring the Wye Valley, Forest of Dean, South East Wales and slightly further afield Gloucester, Cheltenham, Hereford and Bristol are under an hours drive away. Dogs are very welcome. - Bedroom One: Superking Bed which can be split into twin beds on request - Bedroom Two: Double bed - Bedroom Three: One single bed Travel cot, high chair and other baby/child equipment can be provided, please state when booking.
Puzzlewood (of Star Wars fame), Clearwell Caves, Secret Forest and Perrygrove railway are literally on your doorstep. Slightly further afield (but all within half hour drive) are Symonds Yat with amazing views of the River Wye and plenty of opportunities for canoeing, Tintern Abbey, Dean Heritage Centre, Chepstow and Raglan Castle, Raglan Farmpark, Humble by Nature (TV presenter Kate Humble's farm) to name a few local attractions. There is also a large network of cycle paths through the Forest and several places where you can hire bikes. The Forest of Dean is also a haven for walking close to the Offa's Dyke, Gloucestershire Way, Wysis Way and Wye Valley paths.
This place is just lovely! The cottage is so cosy and everything down to all the little details is perfect, though the weather wasn't the warmest it was lovely to sit out on the decking and there was a very nice sized garden. The village was very quiet and there were so many great things to see within walking distance, the local restaurants and pubs served great food and we're all very lovely! The welcome hamper was a very nice touch and the instruction sheets made it so nothing was a problem! All is all the stay was perfect and we already want to come back!
Ross
2017-04-13T00:00:00Z
Room Type
Entire home/apt
---
Property Type
House
---
Accommodates
5
---
Bedrooms
Clearwell, Gloucestershire, United Kingdom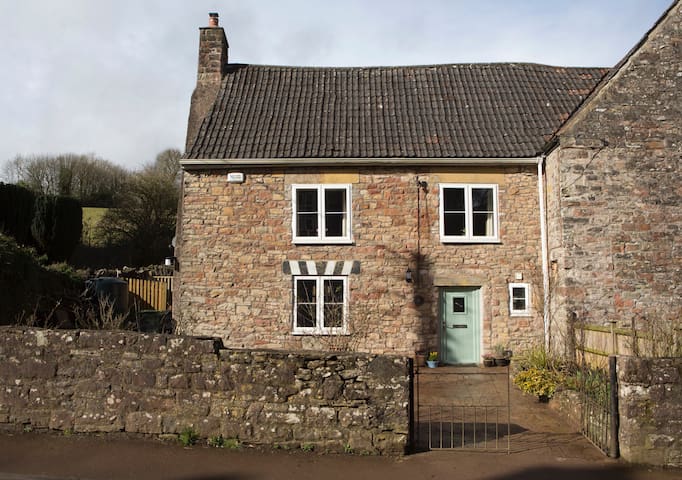 Cottage in the centre of Royal Forest of Dean near River Wye. Haven for wildlife, deer, boar, walking, canoeing, castles, cycling, sculpture walks, bird sanctuary, theatre, gastro pubs. You'll love my cottage in a relaxing wooded location. Beamed ancient cottage with modern facilities. Log burner, central heating. Master bathroom, en suite. Full range of kitchen appliances Wi-Fi Good for couples, solo adventurers, business travellers, families, 2 dogs PLEASE LOOK BELOW Other things to note
The cottage is unique, you can see the stars uninterupted by light pollution. Sleep surrounded by music from our resident Tawny Owls with their new family! View the 29 species of birds recorded in the grounds. Walk to the nearby 12C inn and experience excellent food and a warm welcome. When the owls have gone to bed listen to the ........silence!
Our little hamlet is the sort that hangs bunting in the lane for birthdays and when the snow is thigh deep will turn out and make sure everyone has everything they need. If you get lost the're there to help! Excellent restaurants: The Ostrich Inn, The Saracens Head, Andersons, The Glewstone Court, The Jewel Balti (Indian). 20 min walk into the little town -cinema, artisan bakery, gift shops, restaurants, Italian, Indian, Balti etc all deliver take - aways, inns and supermarkets(they deliver), farmers market, health massage and nails. There is a 3 acre park 12 mins walk away which has every concievable play thing for children.
We had a fantastic weekend in the Forest of Dean in this very cosy cottage! Carol and Tony were both incredibly friendly and gave us a warm welcome. The cottage is a relatively short stroll through the fields away from Coleford so picking up food and general supplies was really easy. As we came by taxi this was really handy. There is also a lovely country walk to Newland village with a beautiful church and pub with great food and ale, a really good recommendation from Carol and Tony. We wish we could have stayed for longer and will recommend to friends and family.
Jason
2016-09-12T00:00:00Z
We had a 2 night stay at Badger End cottage and within 5 minutes of arriving we wished we'd booked for longer. The cottage is quaint and cosy but has all the mod cons you could ask for. Our two young boys loved playing in the fantasticly appointed wendy house in the garden and the owners, Carol and Tony, are incredibly warm and welcoming. It's ideally located for all the local attractions and the broad range of activities the Forest of Dean has on offer. We are already planning a return visit!
James
2016-07-21T00:00:00Z
Carol and Tony were very welcoming and extremely helpful with information on local spots to visit and eat at. The cottage has two lovely bedrooms with one en suite bathroom and one separate bathroom which is very handy. Downstairs is a cosy and quite compact kitchen and separate sitting room both well equipped with everything you need to enjoy your stay. Safe off road parking is available however the area is in a very quiet wooded area with little traffic at the end of a private road shared with a few other houses. Good walking and countryside all around. The local pub the Ostrich is well worth a visit although you will need to drive as its all downhill to it making it an uphill trek back ! The cottage has a good selection of games, dvd player , flatscreen tv and CD player plus a peaceful garden where you can enjoy the birds tweeting and a very friendly black cat.
Mark
2016-07-18T00:00:00Z
We really enjoyed our brief stay at carols cottage. It has a very cosy feel. The surrounding countryside is beautiful and a short walk away. Carol and Tony made us feel very welcome. We would be happy to stay again.
Al
2016-10-13T00:00:00Z
Gorgeous little rustic cottage, full of charm and in such beautiful surroundings. Cosy, warm and fully equipped.
Jules
2016-12-04T00:00:00Z
Carole was a great host, very kind & helpful. The cottage was perfect for our stay & would certainly like to stay there again in the future.
Adam
2017-01-02T00:00:00Z
We had a great stay in the cottage. Sadly not long enough but a great weekend with one hike up the brecons and one day mountain biking in the forest. It was a great base, had everything you needed, cost, warm, clean, dog friendly and Tony gave us some great tips. Couldn't recommend enough.
Sasha
2017-01-15T00:00:00Z
Our stay at Badgers End Cottage was wonderful. The cottage is well equipped, beds very comfortable and bedrooms spacious. Loved relaxing on the sofa with the fire on during the evenings. The location is very pretty. Close to Symonds Yat and Clearwell. There is a pub The Ostrich, which is walkable but the trail wasn't suitable for a pushchair. The only other walkable option was on the roads which we considered quite dangerous as there are blind corners, so we did have to drive. Carol and Tony were wonderful hosts and extremely helpful. All in all we thoroughly enjoyed our stay at Badgers End Cottage.
Liz
2017-03-20T00:00:00Z
Room Type
Entire home/apt
---
Property Type
House
---
Accommodates
4
---
Bedrooms
Scowles, England, United Kingdom
Troy Lodge Barn is the ultimate getaway for family & friends to explore the Wye Valley and this Area of Outstanding Natural Beauty. The barn is very spacious and well equipped and has been well thought out to make our guests stay as comfortable as possible.
The fully equipped kitchen/living-room, with its high ceiling and big glass doors, has a great sense of light and space, but is cosy and warm with underfloor heating, and high insulation for the winter. The big glass doors open out onto a patio, allowing a sense of inside-outside living. The main bedroom is downstairs, as is the superb jacuzzi bath with shower and toilet. Upstairs, on the mezzanine, a lovely double bedroom nestles into the eaves.
Troy Lodge Barn is a very convenient 10-minute walk away from the picturesque town of Monmouth, with all the shops, amenities, pubs and restaurants families and friends could need. A little further afield, there are activities to keep you happily occupied for many weeks, plus interesting buildings and dramatic views. Symonds Yat Rock, a limestone outcrop rising some 500ft above the River Wye with lovely views and woodland walks is a 10 minute drive away. Other places including the limestone caves at Clearwell, the unique and 'enchanted' woodland world at Puzzlewood, Go Ape! for high-wire adventure, Pedalabikeaway for great family cycle paths through the woods, and the steam train through the forest to enjoy. Castles, churches and abbeys abound, including the famous Tintern Abbey 8 miles down river. There are many good restaurants in the area- The Hardwick, The Bell at Skenfrith, The Inn at Penallt, to name but a few.
The barn, the setting, the mod cons, the personal touches... that bath!! We really couldn't have asked for more. Sally was very communicative and the prosecco, fresh eggs & victoria sponge were a lovely welcoming touch. We couldn't have asked for more from our stay and can imagine that this beautiful space will become a home from home for us (if it isn't booked out a year in advance!) Thank you so much for welcoming us into your home and making it so comfortable! Stacey & Adam
Stacey Rae
2017-03-25T00:00:00Z
We loved staying at Sally's place in Monmouth. Sally was very friendly and made us feel welcome. The barn is comfortable, nicely furnished and has a lot of imaginative touches - just see the photo of the lighting! We were also big fans of the spa bath and powerful shower. Also enjoyed relaxing with a coffee, looking out over the garden and surrounding countryside and watching the hens potter round outside! Monmouth, its shops, pubs and restaurants were only a ten minute easy walk away - very convenient for a wander out, or to pick up provisions from Waitrose (we only cooked breakfast a couple of days but didn't lack for anything in the fully stocked kitchen). The barn is also very convenient for visiting the sights in the surrounding area - we popped to Symmonds Yat, Goodrich Castle and Abergavenny (afternoon tea at the Angel is highly recommended). We will definitely be back.
Andy
2017-03-05T00:00:00Z
Well, what can I say! Blown away by this place. Sally was a superb host and the property was gorgeous! We were treated to some glorious weather too and the Lodge is situated on the grounds of Sally's property, next to a rather lovely stately (sort of) house (lots of history there) and a working dairy farm. My kids took great pleasure in watching the "girls" walk to and from their pasture each day. Sally also has some lovely chickens and her own veggie patch #jealous ;) There was plenty of room for the children to play and we were able to sit and enjoy the sunshine from the patio, whilst listening to Spotify being played out by Alexa! You have all the mod cons plus gorgeous supplies from The White Company - real attention to detail. And the bath. I know others have mentioned it but my goodness, what a treat. The Lodge isn't far from the town either and we ventured to the local Italian restaurant in the high street for dinner one night, which was lovely. We will be back - thanks again! x
Jo
2017-04-03T00:00:00Z
Sally's barn is sublime. It's spectacularly well-equipped and comfortable. And the terrace, garden and trout stream are superb. Loved every minute, and will be back!
alex
2017-04-10T00:00:00Z
Room Type
Entire home/apt
---
Property Type
House
---
Accommodates
4
---
Bedrooms
Monmouth, Wales, United Kingdom
Underdean Lodge is a lovingly restored 2 double bedroom Georgian lodge on the edge of the Forest of Dean and is the perfect base for exploring both the Forest and the Wye Valley. The lodge includes beautiful period features and a wood burning stove. Dogs welcome. Footpaths lead to the Forest from the front door. We are ideally located near to the A48 for convenient access to Gloucester, Monmouth and Chepstow which are all about 25 minutes away.
We have restored this Grade 2 listed Georgian gate house sympathetically but with all the modern touches one requires for a comfortable stay away from home. The lodge is warm and cosy and despite its proximity to the road, is extremely quiet, thanks to high quality secondary and double glazing throughout. The house is decorated throughout with prints and photos of the surrounding area and we have a large map in the kitchen to help you plan your days out and country walks.
Breathtaking views of the River Severn are accessible just a few minutes walk from the Lodge and for those who want to go further, Forest walks are a 15 minute walk away down a pretty country lane. The Lodge is the ideal base from which to explore the Forest with multiple walks and amenities within the Forest, such as GO APE!, just a 10 minute drive away. The Cock Inn in Blakeney is a superb friendly local with a welcoming fire, lovely beer garden and terrific food as well. Blakeney is also served by a nice Italian restaurant, Dolce Vita, and a decent Fish & Chip Shop. Newnham is also only a couple of miles away. This, again, offers a range of pubs, a great cafe and some lovely shops in which to browse. There is also an excellent local butcher (open on Fridays and Saturdays). Lydney (10 minutes drive away) has a Tesco and Co-op and all the shops and services you'd expect from a mid sized town.
Fantastic place in a great location for cycling and and walking. We will definitely return.
Julia
2017-04-02T00:00:00Z
Absolutely fantastic! Beautifully thought out, spotless and home from home. Excellent hosts x
Samantha
2017-03-18T00:00:00Z
Couldn't have been better. The lodge is great, you have everything you need there. Beth and Chris are very helpful. We loved the homemade cookies ;-) Everything was easy, we highly recommend and hope we will be able to come again. Thanks!
Jennifer
2017-03-05T00:00:00Z
This lodge is beautifully furnished and very well equipped. The owners have literally thought of everything you could possibly need, dog towels, baby bath, rice cakes, toddler beds, stair gates etc etc. Chris and Beth contacted us before we arrived to ask if we had any specific needs and willingly put up a toddler bed and stair gates. The dog was made very welcome (even thought of dog bowls and a sponge to clean him off). The lodge has great walks straight from the front door, also very close to so many attractions in the forest of dean. The owners are on site to offer any assistance required and also very willing to advise on where to visit and eat etc. We could not recommend this place highly enough, excellent value for money, 5* luxury lodge, great location and attention to detail second to none.
Neil
2017-02-26T00:00:00Z
We had a fab stay at Underdean Lodge. The house was beautiful, lovely and cozy. The woodburner in the evening was one of our favourite parts. The house was very well equipped and Beth and Chris supplied a travel cot and high chair which was very kind. Our children loved the homemade cookies that were ready for our arrival. Lovely to have beautiful trees and primulas right outside the house and birds on the birdfeeder. We saw at least three pheasants! Lots of information about the area in the property, we really enjoyed exploring the Forest of Dean. Beautifully clean. SUCH good value for money. Beth and Chris were brilliant hosts. Thank you so much for a wonderful stay.
Lucy
2017-04-07T00:00:00Z
A gorgeous lodge set in beautiful surroundings. The lodge was clean and tidy and had everything in it that we needed when away from home. The hosts made us feel extremely welcome through their additional touches and their friendly manner. The communication we had before and during our stay was brilliant and well received. We had a lovely relaxing break and would definitely look to return in the future. Thank you both.
Emma-Louise
2017-03-26T00:00:00Z
We had a wonderful stay in this beautiful property. We were working in Bristol and didn't want to stay in a hotel so chose here (we were an hour away) and we're very glad we did. The property could do with better wifi (it's mobile data rather than wifi which ran out while we were there), more of an issue from us as we were working during our stay. That really was the only flaw in an otherwise perfect stay. Our host Beth replied to any query exceptionally quickly and was lovely and helpful!
Alice
2017-03-22T00:00:00Z
The stay in the lodge was very pleasant! Beth and Chris were very helpful and accommodating. The house was beautiful, well kept and very clean. The Forest of Dean is just on your doorstep and on cold evenings you can start a log fire. Dream come true!
Grace
2017-03-12T00:00:00Z
Room Type
Entire home/apt
---
Property Type
House
---
Accommodates
4
---
Bedrooms
Blakeney, England, United Kingdom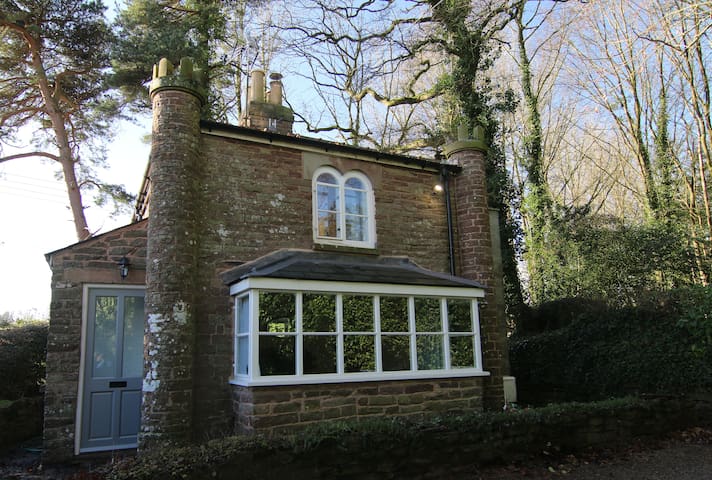 Stunning views across the Wye Valley, a wood burner, oak-framed open-plan living and a warm welcome await you at the Donkey Shed.
The main living space is double height with kitchen, sitting and dining all enjoying the spectacular view. The burner will warm you if it is chilly out and we'll make sure you are well stocked with logs throughout your stay. We also provide a couple of bottles of excellent ale from our favourite local brewery on your arrival. Upstairs on a mezzanine is a king bed and rocking chair warmed by the wood burner flue. Downstairs is a cosy bunk room with shelves stacked with decent novels. The bathroom is across the hall. With separate shower and enormous bath tub wrapped in marble, we also provide Honey Bee Beautiful organic soap and bubble bath foam, both made locally. Outside there are seating areas all with fantastic views - there's a sunny corner to read the morning paper, a picnic table amongst the wildflowers and a bench with a buzzard's eye view of the river, all within 30 minutes of the M4/M5 interchange.
Step out of the door and onto the Wye Valley Walk. Explore ancient woodlands, carpets of bluebells, wildflower meadows, autumn leaves and frosty winter mornings. Head down to the river to join Offa's Dyke. Head up to Beacon View and take in the Brecon Beacons. Monmouthshire has some great pubs and Michelin starred restaurants. The Whitebrook Restaurant is 10 minutes by car (or a lovely walk), the Inn at Penallt, Walnut Tree, Hardwick Arms, Bell at Skenfrith and Kingstone Brewery are all within reach. Well situated for Abergavenny Food Festival, Green Man and Hay-on-Wye Literary Festival. Visit Tintern Abbey or explore the castles of the Welsh Marches. Also a great spot for taking in Monmouthshire's beautiful and inspiring open gardens. The Black Mountains are 35 minutes away, the Brecon Beacons are 1 hour. Please ask for some of our favourite routes - walking or mountain biking. Canoe the River Wye - there are several canoe hire outlets in Monmouth who also provide guiding. One of the last slips just before the river turns tidal is below your window. Local fishing is also very good, please see the wyeuskfoundation for further details. Road cycling - including the alpine Lydart ascent from Monmouth is nearby. Mountain Biking - home of Dirt magazine, ask Hugh about local singletrack and some of his favourite routes. We provide a clean up station to wash the mud off if you need it. Visit the local rare breeds smallholding, Humble by Nature and take a course in rural skills. Go Ape in the Forest of Dean or get lost in Puzzlewood, climb Symonds Yat Rock and get back to nature with Forest Bushcraft.
The perfect location for a quiet retreat for our anniversary. Very relaxing location with the most amazing view! The Donkey Shed has been renovated so well - very impressive and very clean. Catherine and Hugh were lovely, friendly hosts. We had everything we needed. Highly recommended and would love to come back soon.
Christopher
2016-10-20T00:00:00Z
The Donkey Shed - what a perfect place. With its well designed interior and amazing location, this really was the ideal place for a relaxing break. A return visit is a definite!!
Verity
2017-03-13T00:00:00Z
The Donkey Shed is the perfect little romantic getaway! Idyllic on the hillside overlooking the beautiful Wye Valley where there are so many options for walking and things to see from castles and Tintern Abbey to local pubs with great ales. The accommodation is modern, but achieves the rustic homeliness that you would expect from a much older property. For a winter stay it is perfect as the log burner stove chucks out heat to keep nice and cosy warm, the bed is super comfy and warm and the huge bath and drenching power shower are ideal after a long day of walking. Catherine and Hugh were lovely and provided lovely little welcome touches like a bottle of bubbly and a card as it was our honeymoon and some nice bottles ales too! :) I can't recommend this place any more highly. Superb! René and Eithne x
René
2016-12-04T00:00:00Z
Catherine and Hugh are both wonderful hosts! Catherine was very prompt with any queries I had via email, both before and during our stay. We had everything we needed and the attention to detail was fantastic. Donkey shed and it's surroundings are just beautiful ! The view is outstanding! We particularly loved the log fire, comfy sofas and the AMAZING bathroom! A prefect place to stay for the start of our honeymoon. Thank you Hugh and Catherine x
Jenna
2016-09-30T00:00:00Z
Catherine and Hugh are great hosts. Very happy to help and advise but also discreet and respectful of guest privacy. The house is simply wonderful. It's warm, comfortable, has great views and all the comforts that a city dweller might hope for. The area is fab for outdoor activities, exploring, good food and there's even a brewery and vineyard nearby. 100% satisfied and I would love to return.
isabella
2016-10-24T00:00:00Z
Great location with stunning view. The donkey shed had everything and more that we needed for a relaxing break mountain biking in the Forest of Dean. This modern property is finished to a very high standard and our host Catherine provided all the little things to make it a really easy and enjoyable stay.
Juliet
2016-06-09T00:00:00Z
This is a lovely location overlooking the Wye Valley. Its nice and quiet, stunning views, the perfect place to get away from it all, whilst being close to all sorts of activities, great locations and if you need it, urban centres. The Donkey Shed was perfect for our young family of four and the hosts welcoming. Thumbs up!
Andrew
2017-02-17T00:00:00Z
The accommodation was absolutely stunning and set in the most beautiful scenery. The wonderful glass windows provided a lovely relaxing view which was the highlight of the property. The bathroom was amazing with lovely bath and the shower felt luxurious. We had a wonderful stay including some local walks and trips to the pubs and nearby Monmouth. The hosts made us feel very welcome by leaving us some tasty treats and made the house feel cosy and festive with a lovely Christmas tree. A wonderful stay and I'm sure we will be back to see that amazing view again.
Matt
2016-12-23T00:00:00Z
Room Type
Entire home/apt
---
Property Type
House
---
Accommodates
4
---
Bedrooms
Whitebrook, United Kingdom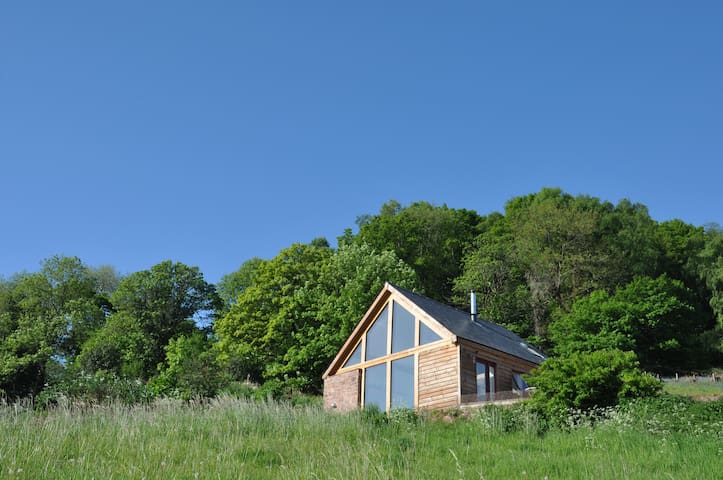 Our beautifully renovated cottage and lodge are the perfect base for exploring the ancient Forest of Dean and Wye Valley. Exposed beams and original stonework are complemented by the homely décor and furnishings providing modern comfort. We are located just outside the picturesque village of Longhope, on the outskirts of the Forest of Dean, & Wye Valley. A perfect place to unwind and relax or explore the Forest and surrounding area, the cottage is ideal for families, couples o small groups.
A 2 bedroom, 2 bathroom converted 17th century stone built grain store barn. It has been tastefully decorated throughout with a home from home cosy feeling. Ground floor entrance leads into the large light and airy living area providing plenty of space to relax and unwind with a wood burner. A fully equipped kitchen including washing machine, dishwasher and fridge/freezer. The dining room can easily accommodate up to 6 people round the table. Ground floor large bedroom with a luxurious king size bed leading into the en-suite walk in shower room. With beams in the vaulted ceiling, they frame a handsome, large upstairs twin bedroom, with 2 additional beds to cater for larger families/groups. This leads into the large bathroom area. Both properties have their own private garden area with table and chairs and the use of a BBQ, along with shared use of a further 7 acres of carefully maintained gardens and pasture. Baynam brook flows through the estate with a large willow tree along the bank creating a very tranquil setting. Many of our guests return to try each in turn or come back with family and friends. Both the cottage and lodge can be booked together at a reduce cost. The village of Longhope has a wealth of activities including a Cookery School, Battlesports, Clay Pigeon Shooting and visits to our local Brewery. There are castles to explore, trekking, cycling and Go Ape in the ancient Forest of Dean and kayaking down the River Wye. We are in the perfect location to visit the historic market towns of Ross on Wye and Monmouth, with the City of Gloucester just 10 minutes' drive away. Slightly further afield are Cheltenham Spa, Bath Cardiff, Bristol and Birmingham. 4* Gold Mill Cottage dates back to the 17th century, built in 1649. It was a grain storage barn for the Parish Mill which is next door, and where we live. The Mill was formerly one of the most important watermills in Gloucestershire and produced flour until the end of 1946. (Parish Mill still retains its waterwheel). We also have two young pet Pygmy goats (Jessie & Rocky) that love to meet to guests. We also have a large separate play area with climbing frame, swings and slide for small and big kids alike.
We don't really have a neighbour!
We booked the cottage as we were attending a family wedding nearby. The cottage was clean, well decorated and communication with Tracey was very easy. We would definitely recommend the cottage to others. Thank you! :)
Lisa
2015-09-06T00:00:00Z
I would happily recommend Parish Mill Cottage to any of my friends. Tracey and David are warm and welcoming hosts. The cottage is very attractively decorated and had everything we needed for a comfortable week-long visit. There is plenty to do in the Forest of Dean, and we had no trouble keeping our teenagers entertained with visits to the coal mine and the Birds of Prey centre. Our dog enjoyed herself in the extensive grounds attached to the property. We also appreciated the fenced-in area outside the cottage door which meant we could keep our dog safe and sound.
Abbey
2016-04-06T00:00:00Z
Myself and a few friends stayed there for a cycling holiday and thoroughly enjoyed it. Very welcoming hosts and a beautiful little cottage in large grounds. Would definitely recommend it.
Jack
2015-07-12T00:00:00Z
We are a family of 5 + my mum + our dog! And we had the most wonderful weekend at Parish Mill. Tracey and David are fantastic hosts, really nice and helpful. They surprised us with extra beds to fit our family size without no one having to sleep in the living room and welcomed us with really kind surprises (that I'm not going to reveal to leave it as a surprise for you too). Their 2 kids are lovely and made friendship with our 3 daughters who didn't want to leave in the end! The house is greatly refurbished and decorated, really comfortable. And the gardens and fields a paradise! Thank you so much Tracey and David! We hope we can get back :-)
Teresa
2015-05-04T00:00:00Z
We booked the Parish Mill cottage for a hen weekend and had a lovely time! The cottage is very well equipped (lovely little touches like a bottle of wine, cake and eggs provided prior to our arrival) and cosy and the surroundings are beautiful and perfect for walks and relaxing. Thank you!
Izzy
2016-06-20T00:00:00Z
Property was kept beautifully and upon arrival was left with little touches, a yummy cake and basics. Very friendly and beautiful home amd surroundings.
Brogan
2016-10-12T00:00:00Z
My parents, girlfriend and I had a fantastic time down in the Forest of Dean / Wye Valley. The cottage was really comfortable and equipped with everything we might need. Tracey was always clear and prompt with her communications and being greeted with a homemade Victoria sponge cake a bottle of red wine was a real treat! The cottage is situated next to the road, with easy access to the Forest and charming towns. We'd have loved to have stayed longer to explore more of the stunning countryside. Thanks again! :)
Tom
2015-07-05T00:00:00Z
We were made very welcome for our stay here and had been left delicious scones. The cottage was very clean and comfortable but it is right on the road so the noise of the traffic when sitting outside was very intrusive. There is however a lovely field behind to walk up with fabulous views across the valley.
Melanie
2016-07-04T00:00:00Z
Room Type
Entire home/apt
---
Property Type
House
---
Accommodates
6
---
Bedrooms
Longhope, England, United Kingdom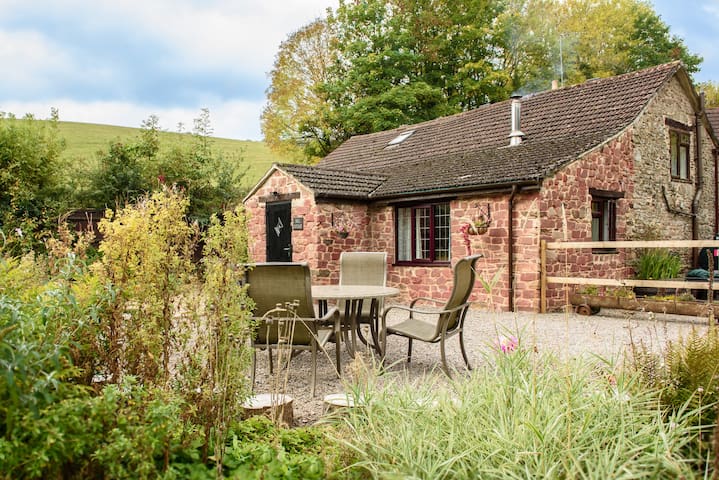 The village of Parkend boasts 2 pubs, a Post Office, petrol station and the Whitemead Park holiday centre. Little Briar is a 2 bedroom converted stone barn with an open plan living area downstairs, measuring approximately 6 by 4 metres with log burner fire. A rear extension houses the kitchen and downstairs combined shower room and toilet. Upstairs, there are 2 bedrooms, one with double bed, the other with 2 singles. For those with infants, a clean full sized cot is provided with bedding and bumper, together with a folding high chair. Bed linen is provided. Well behaved dogs are welcome. Car parking space is provided on the gravel area shown at the front of the barn. At the rear is a small lawned area with table, chairs and barbeque facilities. Hot water is provided by means of solar heating, with electric immersion heater backup for cooler months. The large dining table will accomodate 6-8 persons. Two sofas provide comfortable seating around the log burner for up to 5 people. BBC Freesat is also provided. Prices ( weekly rate) £400 (May-June & September) £450 per week (July-August & Christmas) All other times of the year £350/week Prices inclusive of all utilities ( logs, electricity)
These comments are obviously quite subjective but as far as we re concerned we had a great time especially chatting with Jeff about different things and enjoying his sparkling sense of humor ! We ll definitely be back as Little Briar is homey comfy and situated in a lovely area, perfect for long walks in the Forest of Dean, cycling. .. If you're looking for a proper break with everyday life, this is the place !
anne-gaelle
2015-10-20T00:00:00Z
The cottage was clean, comfortable and well equipped. Set in a beautiful area close to lots of lovely walks. Jeff was very friendly and helpful and overall a great host, accomodating a last minute extra guest and our two dogs. We had a wonderful time and would definitely recommend it.
Amber
2014-08-16T00:00:00Z
The area was great, easy access to a shop selling most items of food. Two pubs close by for meals and drinks. The barn was spacious and had everything we could wish for. Little things like salt and pepper, coffee and tea and washing up liquid were there. So handy when you travel from overseas. We liked the local area for walks into the forest which were wonderful. The serenity of the area and the friendliness of the local people made us feel very much at home.
Maureen
2014-06-22T00:00:00Z
Had a lovely few days here during the Easter school holiday. Cracking little cottage in a lovely village.
marc
2016-04-14T00:00:00Z
Super cottage right on the edge of the forest! This is a cyclist and walkers delight with such easy access into miles of trails and walks. The accommodation is very comfortable and the fireplace adds to the coziness of the place. Jeff was very helpful and communicative.
Steven
2014-02-18T00:00:00Z
Jeff's cottage is absolutely perfect! It's a sizeable space and has been beautifully converted, and comes fully kitted out with all the mod cons. It's also in a great spot for exploring the Forest. Highly recommended.
Julia
2014-04-01T00:00:00Z
We booked Little Briar barn for New Year's Eve and were so cosy. Jeff made sure we had everything we needed and was very accommodating when a last-minute extra guest wanted to come along. The shower is great, heating and hot water works perfectly, the wood burning stove added to the cosiness and we were really warm. The TV was a bonus! The barn is a nice size, roomy enough for a group of 4 friends or a family, but not too big for a couple either. Not a negative, but I thought it would be slightly more isolated than it is - there are houses either side. We found it easily from Jeff's directions and though Parkend is nothing out of the ordinary you are in the village so there are two pubs within a few minutes' walk - and a steam train! We took the Dean Forest Railway to Lydney and back, walked through the woods, and just enjoyed the peace and quiet. Thanks, Jeff!
Rebecca
2014-01-03T00:00:00Z
Excellent location right on the bike trail up to Beechenhurst / Cannop, so the kids didn't have to go on the roads at all. Good village too - 2 pubs, bike shop, and village shop all an easy stroll away. Very comfortable cottage, good shower after a day's cycling, peaceful and quiet. Small garden to sit in if the pubs are too far. Being in the woods and next to a woodmill (no noise or other disturbance) a few woodlice come to visit, but otherwise very clean and fresh.
George
2016-06-05T00:00:00Z
Room Type
Entire home/apt
---
Property Type
House
---
Accommodates
4
---
Bedrooms
Parkend, United Kingdom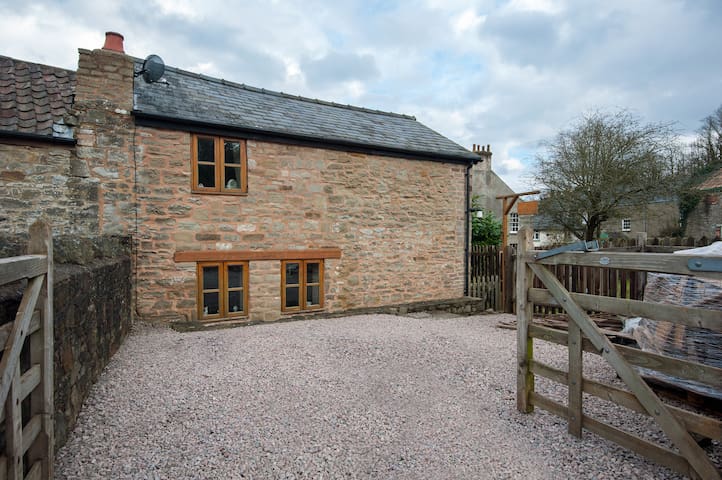 Self contained annex to our house. Set in an AONB at the end of an unmettled, bumpy woodland track with no passing traffic, woodland walking directly from the house. We are off grid but have our own PV electricity supply.Diverse wildlife including fallow deer. Peaceful secluded setting. Wood burning stoves. French doors open onto garden with outdoor dining space. The garden is not enclosed.
Room Type
Entire home/apt
---
Property Type
House
---
Accommodates
4
---
Bedrooms
Symonds Yat, England, United Kingdom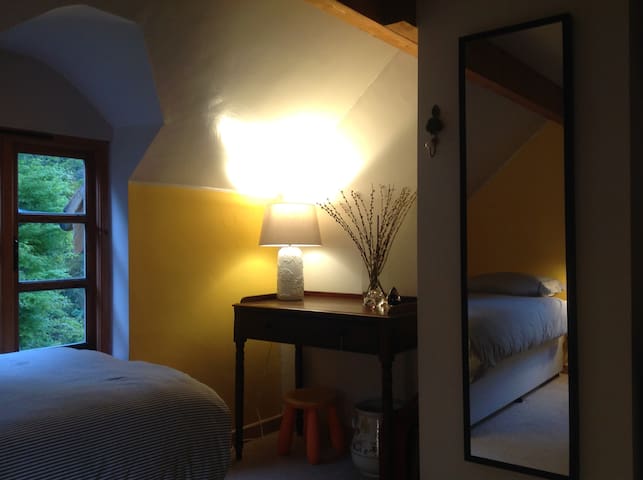 Newly converted luxury cottage with all mod-cons. Exclusive private Jacuzzi, river views. Kitchen incl. dishwasher, oven, induction hob, extractor, Breakfast bar with stools, sofa. 40 inch LED TV with digital Freeview. Luxury en-suite underfloor heated wet room. Spiral stairs to romantic vaulted bedroom. Dog-friendly village pub, Italian restaurant, Award winning chippy and corner stores walking distance.
Orchard Cottage is a new conversion of an old cider apple store perched halfway up Blakeney Hill looking out on a steep apple orchard. To the south there is uninterrupted panoramic view of unspoilt farmland looking across the River Severn to the Cotswolds. There are only two cottages on the site - both with their own private terraces on opposite sides of the buildings with exclusive use of their own full size Jacuzzis.
Blakeney Hill is an idyllic settlement of old forest houses mainly more than 200 years old south facing with views of the River Severn. The local tradition of cider making continues with our neighbour, James Mccrindle, who makes some of the best cider in the South West. See (URL HIDDEN) for details. The surrounding farmland is managed by a local collective, The Blakeney Hill Growers, established to bring neglected resources into use. For example there are beehives in the adjacent field. We have recently sold our flock of hens so sadly no longer have fresh eggs available for guests. (As referred to in some feedback)
Had a lovely relaxing weekend here. Absolutely loved the hot tub especially the views. So relaxing and so cosy. Definitely recommend and will definitely be coming back again!
Alice-rose
2017-04-10T00:00:00Z
It was a lovely few days away. Idyllic setting with wonderful views. The cottage itself was nice and clean with nice extras such as underfloor heating and blue tooth speakers in the shower. The area was lovely and we sampled food from the amazing fish and chip shop and also a few drinks from the local pub the cock Inn. Lastly the hot tub was pure bliss!
Robert
2017-02-06T00:00:00Z
A great place, conveniently located to the Forest of Dean. A lovely view and had everything we needed.
Dan
2017-01-15T00:00:00Z
A truly magical place. All the extras and add ons that this couple provide make it truly wonderful- will defiantly be going again as for a getaway! Nothing to improve upon- thankyou! X
Megan
2016-01-11T00:00:00Z
Perfect for a romantic getaway. Lovely setting, amazing hot tub and great hosts. We will definitely look to rebook. Highly recommend this great little place!!!
Andy
2017-03-05T00:00:00Z
A lovely stay and a delightful little cottage!! Miss the jacuzzi already!
Rachael
2017-02-14T00:00:00Z
Lovely get away. Thanks Tony
Tom
2017-01-18T00:00:00Z
We had a lovely time at Orchard Cottage! The cottage was cosy and equipped with everything we needed! The hot tub was amazing with beautiful views over the surrounding countryside! Highly recommend!
Nadine
2017-02-12T00:00:00Z
Room Type
Entire home/apt
---
Property Type
House
---
Accommodates
2
---
Bedrooms
Gloucestershire, United Kingdom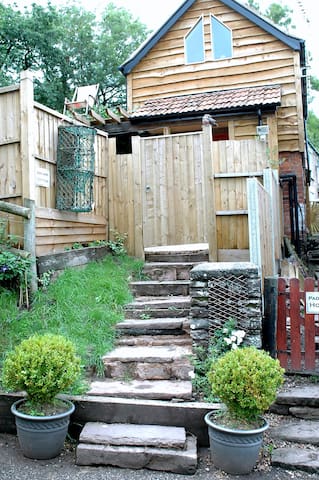 Mireystock House and annex offers the Ultimate Forest Holiday retreat. It,s a lovely place to unwind and share quality time with family and friends. Built as the Vicarage of Lydbrook in the 1930s, it is a handsome house offering elegant accommodation
The property boasts a beautiful private indoor heated swimming pool offering a relaxing spa environment. After a day in the fresh air, you will find a great place to have fun with family and friends in the games room bar, which is furnished with a full size snooker table, bar stools and tables, and PA system. Set in a lovely gated walled garden in the middle of the Forest of Dean. The house is ideally situated in the woods for walks and cycling directly from the house. It provides a get away from it all experience, yet conveniently close to road networks, making it easily accessible from the main east to west and north to south motorways: The house is located 16 miles west of the city of Gloucester and 6 miles east of the county town of Monmouth and the many nearby attractions.
Set in a lovely gated walled garden in the middle of the Forest of Dean. The house is ideally situated in the woods for walks and cycling directly from the house. It provides a get away from it all experience, yet conveniently close to road networks, making it easily accessible from the main east to west and north to south motorways: The house is located 16 miles west of the city of Gloucester and 6 miles east of the county town of Monmouth and the many nearby attractions. Nearby attractions include: Cycling in the Forest of Dean directly from house—1 mile to the cycle center, here you can hire from a large fleet of bikes for the whole family and choose from many beautiful cycle trails. From Family trails to the more adventurous rides. The Wye Valley Area of Outstanding Natural Beauty and Canoeing on the River Wye: Approx. 2 miles Go Ape! The Ultimate forest adventure is situated at Mallards Pike Lake: Approx 5 miles. Here you can enjoy the tree top adventure or go on a Forest Segway experience. Forest Hills Golf Club: Approx. 3 miles Forest of Dean Steam Railway: Approx. 3 miles Perrygrove Railway is perfect for young children with its own Treetop Adventure and Miniature Railway: Approx 3 miles. Puzzlewood ancient woodland site and tourist attraction: Approx 3 miles. Clearwell Caves underground experience: Approx 4 miles. The World famous Tintern Abbey : Approx 10 miles.
We stayed at Mireystock House for a weekend to celebrate my 30th birthday. I can not recommend this listing enough. Right from the start Lucy was helpful and answered all questions. The communication was speedy and check in was smooth. The house itself is so well equipped we really appreciated the extra touches such as bath robes, steam room, hamper (and birthday card) and even hair ties in the bathroom! The information on local walks was helpful and the one we did was lovely. We had the most amazing time and would recommend to anyone! Thanks Sophie
sophie
2016-10-17T00:00:00Z
Had an amazing stay at Lucy's house. Lucy made us feel incredibly welcome, and was on hand for anything we needed. Best weekend ever!
Caroline
2016-11-13T00:00:00Z
We had a wonderful time at Mireystock House for my friends Hen do. The house was perfect for a weekend of both relaxation and fun! The games room was the perfect space for playing our favourite songs and the pool was a lovely area to relax. The steam shower was a great added bonus. Lucy was incredibly helpful with recommendations and being on hand when we had any questions. The whole set up is really professional and the lovely welcome basket and card for the bride was amazing! Thanks Lucy!
Mel
2016-04-17T00:00:00Z
We had a fabulous week stay at Mireystock House. Everyone enjoyed the facilities to the full, lovely pool, games room with full size snooker table! My sisters and I enjoyed karyoke (I don't think the men did). It was the perfect place to celebrate my 60th birthday. Lorna & Gunter were so welcoming and very helpful. All the extra touches made it a very special experience.
Rachel
2016-08-08T00:00:00Z
We had a wonderful family get together at Mireystock to celebrate my mum's 79th birthday. The children enjoyed the swimming pool and the grown ups tried our hand at snooker - not as easy as it looks on TV. We made our own entertainment in the evening with the drums and microphone (and our own guitars). Eleven of us were able to fit comfortably into the house and annexe, which had the space for those who wanted to do their own thing. It was all newly decorated and well furnished and had everything we could want close at hand - thank you for the welcome hamper. Some of the more energetic of us went for a walk along the lane adjacent to the house - a wild boar hunt. No boars, but plenty of smiles and laughter. A great escape - thank you.
Juliette
2016-05-03T00:00:00Z
Hard to know what else to say other than "great, great place, go and stay there as soon as possible!" Lucy communicated really well and checked on us constantly. The house is fantastic - well equipped, well furnished, homey, clean. The annex is the same - the pool is very nice, the snooker table is awesome. A few functional points: the kitchen is big and has everything, you can go knowing you will be able to cook anything you want; the beds are very comfortable; towels were provided for us both in the house and for the pool; the basket of food Lucy left had a lot of food in it!; the swimming pool can hold probably 12 people without it being weird; it's a full size professional snooker table; Lucy provided us with lots of information about walks and pubs - a full pack of info was left in each room; there is a sufficient balance of twin bedrooms and double beds to accommodate all kinds of groups. A couple of things to note: the pool doesn't go above 28 degrees, which was a bit cold for November; one bedroom has what is essentially a walk-in shower in the room - so practically speaking only a couple can stay in that room. Even if I try I can't think of anything else that's "bad" to say about the place. I repeat, go and stay there asap!
Rohan
2016-11-20T00:00:00Z
The pool and games room make the house brilliant for family get togethers
Amanda
2017-03-19T00:00:00Z
We stayed at Mireystock House for a weekend hen do. Lucy was absolutely fabulous is helping us prepare for this and gave great advice about the surrounding area and activities. She went above and beyond to help us prepare and make this the best weekend. The card for the bride to be in the hamper was such a lovely touch. All of the hens were blown away by the house - it was so beautiful and all of the rooms are lovely. There were so many comments around how comfy the beds were! The bar was the perfect party area, with excellent sound system, fridges and dishwasher. The pool was the perfect size for a game of beach ball volley and a good temperature! The house is in a perfect location. We arrived early and drove 5mins down the road for a pub lunch. Our hen activity was Laser Ops at Syomonds Yat, only a 10min drive away (best game EVER!) and our evening out was tapas at the lively Ritmo Tapas bar in Coleford, 5mins away. We just wish we had longer to explore the forest, cycle, canoe and have a go at go ape, all of which were available within a 5min drive of the house. Lorraine from Body Holistics came to give a variety of massages. She set up a lovely experience in the living room with candles and music and gave a wonderful massage. Just what we needed after our intense SAS missions at Laser Ops! This was the perfect weekend and the bride to be was so happy with her hen do. Thank you Lucy for all your help, hopefully we will see you again and we will definitely recommend you to all our friends and family!
Abby
2017-03-13T00:00:00Z
Room Type
Entire home/apt
---
Property Type
House
---
Accommodates
11
---
Bedrooms
Upper Lydbrook, Gloucestershire, United Kingdom
Walk House is three 18th Century cottages made into one. Set on the outskirts of the lovely Forest of Dean, we are 15 minutes drive from Gloucester and 15 minutes from Ross on Wye. With ample parking and fabulous walks, enjoy a welcome break at Walk House!
The Forest of Dean consists of more than 110 square kilometres (42.5 sq mi) of mixed woodland, it is one of the surviving ancient woodlands in England. A large area was reserved for royal hunting before 1066, and remained as one of the largest crown forests in England.
Great sized room with own bathroom. Privacy good. Location great for trips into South Wales or Forest of Dean/ Wye Valley
Teresa
2017-04-10T00:00:00Z
Lovely stay here with Peter, it was exactly what I was looking for! Would definitely go back again.
Phoebe
2017-03-12T00:00:00Z
Peter was a great host. He replied promptly to all my messages, provided directions to his place (I drove) and made sure I settled in quickly. He even gave me a safety tour of the house! WiFi, towels, TV and breakfast - I cannot fault the facilities provided. Would definitely book again if needing easy access to the Forest of Dean.
Deji
2017-03-19T00:00:00Z
Room Type
Private room
---
Property Type
House
---
Accommodates
1
---
Bedrooms
Longhope, England, United Kingdom
A stunning 2 bed 1600s cottage with original features based in a residential area of the historic market town of Coleford . Coleford is a small forest town in the heart of the Forest of Dean and near the wye valley both areas of natural outstanding beauty ! On the outskirts of town, the country side is only minutes away and shops and pubs are just down the road too . The forest and its many wonders is few mins drive including famous puzzle wood just around the corner .
LOUNGE / KITCHEN Very cosy yet still gives the feeling of space this lounge / kitchen / dinner is full of character with all amenities included . Perfect for relaxing after a fun day out, having a meal together or watching a movie on the NEW 2017 - 40" Sony Bravia 1080p tv Original stone fire place - electric fire Wooden beams Bay windows 2 DOUBLE ROOMS Beds - all with Egyptian cotton 360 thread count sheets and luxury 100% duck down (no feathers ) duvet and pillows and silk box pillows in double room with orthopaedic matters and luxury mattress topper ( these can swapped on request if allergic ) 1 room is a double and the other will be set up as 2 singles ,but can be a double on request and has a beautiful view out over the valleys and golf course. BATHROOM This new spacious bathroom with hot high power shower will not disappoint ( no bath ) THE AREA PUZZLE WOOD - famous woods and movie set Is a 30 seconds drive ! Other attractions close by too , perfect base for shops / forest and attractions . Also attractions close by are THE FOREST WALES Many castles Tintern abbey Mines and pits 1 golf course - 300 ft 1 golf course - 2 miles Pedleabikeaway - 2 miles Puzzle wood - 1/2 mile Perry grove railways- 1 mile Forest sculpture trail - 2 miles Go ape - 3 miles Kayaking - 3 miles Clear well caves - 3 miles Dean Forest railway - 500 ft Little Dean Jail - 9 miles Elton adventure maze - 10 miles Also Ross on wye Monmouth and Symonds Yat are all with in 10 miles of the cottage. Parking is on road THE LOCATION It's perfect to access all major tourist attractions that is all part of the magic of the Forest of Dean . Most bike rides can be done from the cottage as all the trails are close by ,the golf course can seen from the window . age .
The house itself is in Coleford centre on a main road but is sat back away from the road so once inside u can't tell . To the rear has stunning views overlooking the golf course and county side but is also only a convenient walk to the shops where u should find everything u need . Best of both worlds :)
Alex was a superb host, very polite and full of useful local knowledge, which was really handy. Cottage is clean and cosy and perfect for exploring the Forest of Dean or hoping into Wales.
Caroline
2015-03-23T00:00:00Z
A lovely cottage in a lovely area. Alex was a great host and the cottage was a perfect base for exploring. We had a great weekend.
Sam
2015-04-06T00:00:00Z
Alex was a fantastic host - he was quick to respond to our queries and was very helpful. It's obviously he takes pride in being a great host, and really enjoys it, and that really makes a difference. The place itself was very clean and well appointed, and with lots of nice little touches - like soft teddy bears in the cot he set up for our baby! Thanks Alex.
James
2015-07-04T00:00:00Z
What a fantastic place! The cottage was beautiful, sparkling clean and with everything we could have hoped for to make our stay perfect. Alex provided breakfast cereals, biscuits, drinks and even went so far as to deck the place out in "happy birthday" banners and balloons as i'd mentioned in passing that this trip was for my girlfriend's birthday. This was a complete shock to both of us when we arrived and really blew me away. I only saw Alex briefly but he was kind enough to recommend some local sights and let us know he was available at any time if we needed him - which we didn't as the cottage was absolutely perfect. Thank you so much Alex, and to anyone reading this, be sure that you will absolutely not regret booking a stay here.
Gareth
2016-06-16T00:00:00Z
Great! Alex is a great host, the cottage is superb and I had a fantastic stay.
Mark
2014-10-03T00:00:00Z
We spent two nights in the cottage and had an excellent time. The cottage was clean and well presented, with adequate space for a family of three. Would stay again!
Gary
2015-03-25T00:00:00Z
We had a great time and enjoyed our stay all was as planned and hoped for thanks Alex
Kate
2016-10-28T00:00:00Z
Alex's cottage is clean, compact and very cosy! My colleague and I were staying for business and so can't comment on the surrounding areas/activities but can highly recommend the house! Alex was prompt with communication and popped in to say hello. An ideal place to stay - can't recommend it highly enough!
Nathan
2016-12-20T00:00:00Z
Room Type
Entire home/apt
---
Property Type
House
---
Accommodates
4
---
Bedrooms
Coleford, Glos, United Kingdom
Our peaceful ensuite room with views over fields and the cotswold stone houses makes the perfect base to explore the Forest of Dean. Ideal for the Cheltenham Races for couples or a family on a budget as an extra bed and/or cot can be installed at no extra cost.
We are situated on the edge of the Forest of Dean which makes it a perfect space to enjoy all of the activities the forest has to offer but equally close are Gloucester and Cheltenham. Local attractions include: Cannop Cycle Centre, Mallards Pike Lake, Symonds Yat Rock, Clearwell Caves, Beechenhurst Lodge, Sculpture Trail, Dean Heritage Centre, Perrygrove Steam Railway, Go Ape. Endless walking and beautiful views. Local pubs nearby and Harts Barn Cookery School is our nearest cafe with cookery classes, small shops and a hairdressers available. Mitcheldean itself has great takeaways, a co-op supermarket with a post office and a butchers shop. A 10 min drive takes you to either Cinderford or Ross-On-Wye where you will find larger shops and supermarkets.
Our surroundings are peaceful and relaxing. The community is very friendly and open. The Forest of Dean is a treasure trove of beautiful places to visit and sights to see. You will be spoilt with beautiful views and so many activities.
Room very clean and comfortable. Louise was exceptionally understanding when I arrived really very late - and everything was just very easy. Would definitely stay again - perfect location for Harts Barn Cookery School.
Romaine
2017-02-10T00:00:00Z
Beautiful, glowing house with fab amenities and a charming host and adorable children....what more could one wish for?
John
2017-02-12T00:00:00Z
We didnt make it due to the bad weather but comms with Louise were great.
Simon (and Rachel)
2017-01-31T00:00:00Z
Louise and her family are absolutely lovely people! We loved meeting them and had just a wonderful stay with them!! Their children made us the cutest cards for our honeymoon and they gave us a great dinner recommendation! The room was absolutely beautiful with an ensuite bathroom. It was so comfortable and relaxing. They truly were he most hospitable and wonderful family, I would definitely recommend staying with them!!
Jamie Money and Ian Avilez
2017-04-10T00:00:00Z
Genial ! He estado dos veces en este fabuloso sitio y me ha encantando . Por supuesto que repetire. Me ha gustado mucho el alojamiento asi como la situacion y por supuesto me gustaria destacar la amabilidad de su propietaria. Lo recomiendo 100 %. Couldn't have been better. The room is great, you have everything you need there. Louise is very helpful. Everything was easy, I highly recommend and hope I will be able to come again. Thanks
maria paz
2017-03-14T00:00:00Z
Chambre excellente, proche de la forêt et des différentes promenades que l'on peut y faire. Louise nous a accueilli et nous a proposé des belles promenades et de beaux lieux où manger et boire un thé! Tout est fait de façon très attentionnée. Notre escapade de weekend était parfaite.
Manolis
2017-02-19T00:00:00Z
Room Type
Private room
---
Property Type
House
---
Accommodates
3
---
Bedrooms
Longhope, England, United Kingdom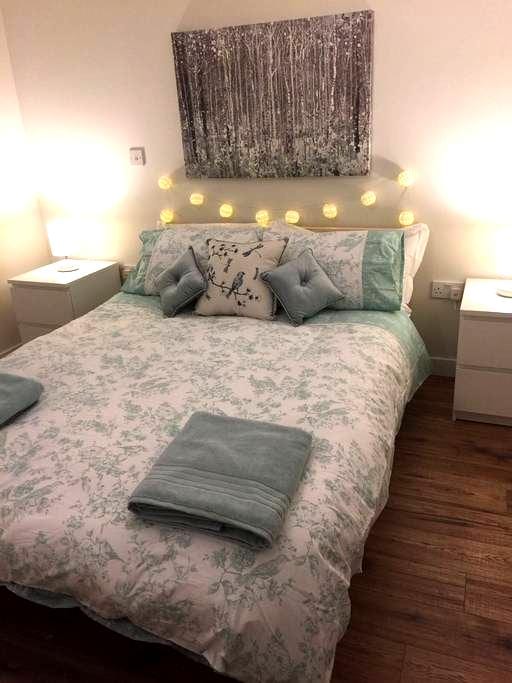 1

–

18

of

104 Home Rentals
Enter dates to see full pricing. Additional fees apply. Taxes may be added.