Se trata de una habitación con baño privado y terraza, WiFi. Barrio residencial, a cuatro cuadras del Metro. Muy cerca hay bonitos cafes. Room with private restroom and terrace, WiFi, Residential neighborhood. 400mts from Metro Station. Very near there are cute cafes Near UBA, Filosofia y Letras.
Is a private room with restroom and terrace with view to the patio plenty of plants. Maid service once a week, include change of sheets and towels. Available microwaves, refrigerator and safe box.
Is a quiet residential neighborhood are many and very nice cafes and restaurants, supermarkets, and stores where get made food with very convenient prices. Theaters and Shopping Center where you can go walking.
Claudia and Eduardo are excellent hosts, friendly, welcoming, generous and always extremely helpful. The house is beautiful and very quiet although it's in the middle of Buenos Aires. I had a little terrace all to myself with a view to the inner patio with all its plants and trees. I highly recommend Claudia and Eduardo's house!
Marit
2017-02-22T00:00:00Z
Claudia and Eduardo were very nice and welcoming people, their house is amazing and the room small but comfortable, very clean and has an own little terrace :-). You are in the city centre in less then 30 minutes (10 mins walk and 15 mins subway) and the neighborhood is very nice, safe and has everything you might need. I enjoyed my stay there - muchas gracias Claudia y Eduardo!!
Anne
2016-10-01T00:00:00Z
Claudia and Eduardo (he is often away, traveling around the world with his dance troupe) are both excellent hosts! Claudia is always anxious to give advice about what to see in BA, how to get there, etc. She made my stay much more enjoyable in this way. She also always made sure that my needs were met at home as well. And if you are ever offered a glass a wine by Claudia or Ernesto, say yes. You will be drinking some of the finest wine Argentina has to offer! Claudia and Eduardo speak limited English, and we spoke primarily in Spanish. But if you don´t speak much Spanish, do your best to communicate and you will do fine! The room I stayed in was small, but very comfortable and bathroom ensuite. A maid comes once a week to clean house and the room. There is a terrace outside the room with a table and chair, which the guest has to himself. For me, Caballito was a great neighborhood to stay in: safe and inviting, very centrally located, and near the Subte (metro), all of which made it easy for me to get to know all of BA in the month I stayed. If you are traveling alone, adventuresome, and want and an experience different from what most tourist experience, Claudia´s room in Caballito is for you!
Wylie
2016-11-01T00:00:00Z
Claudia and Eduardo are very kind and welcoming people, always willing to help their guests to make the most of their stay in B.A. The house (1920s, completely authentic and in perfect condition) is an absolute jewel with a very good atmosphere of it´s own. The patio inside the building is an idyllic piece of jungle (the real thing is even more beautyful than the photos) that I always called ´the green paradise´. And right above that green paradise, on the first floor, with your own stairs and even your own terrace in front of your door is the room. Small, but very comfortable with an excellent bed, a working-table, lots of cupboard-space and your own shower and toilet. Very special for B.A., an extremely noisy city with far too much motorized traffic, is the absolute quiet in this room. The only thing you sometimes hear are the sounds of doves in the morning. Very much recommended, certainly the best Airbnb-room I´ve slept in so far. Thank you Claudia and Eduardo for an absolutely fantastic experience.
Frans W.
2016-02-27T00:00:00Z
Cludia es un excelente anfitriona, muy amable y agradable. Su hospitalidad increible. La habitación privada y muy limpia.
Kenny
2016-11-12T00:00:00Z
Una experiencia sumamente agradable la casa es una belleza, la calidez que te transmiten Claudio y Eduardo de lo mejor. Regresaría a alojarme con ellos sin dudarlo. La ubicación de la casa excelente, muy cercana al transporte público.
Juan Carlos
2017-01-02T00:00:00Z
Totalmente recomendable! La habitación es buenísima, muy agradable, con estufa y todo nunca se pasa frío. La casa es maravillosa y el barrio me encantó, hay un café en cada esquina muy agradables y todo cerca de colectivos y del subte. Por otro lado, Claudia y Eduardo son muy amenos, ambos muy preocupados, amables y cariñosos. Siempre fue agradable despertar al sonido de la música de Eduardo! Lo recomiendo particularmente para vacacionar y conocer Buenos Aires, para estadías largas hay que considerar que no todo se puede cocinar con sólo hornito o microondas, lo bueno es que muy cerca del lugar igual venden comidas preparadas baratas. Por lo demás, lo recomiendo totalmente!
Camila
2016-07-06T00:00:00Z
Het was de tweede maal binnen een jaar dat ik bij Claudia verbleef. Wat mij betreft is het de beste kamer die ik tot nu toe bij Airbnb gevonden heb. Zowel zij als haat partner Eduardo zijn vriendelijk en behulpzaam. De buurt is mooi, rustig en veilig. Metrolijn A stopt op een afstand van ca. 8 minuten lopen. Het huis zelf (bijna 100 jaar oud en buitengewoon goed onderhouden) is heel mooi en heeft een voelbare eigen sfeer. De kamer, klein maar voorzien van alles wat nodig is, ligt aan een patio midden in het huis en is daardoor heel rustig. Het moet een van de weinige plekken in Buenos Aires zijn waar je geen verkeer hoort - voor mij een belangrijke reden om er een tweede maal heen te gaan en wellicht nog wel vaker in de nabije toekomst. Op de foto's is iets te zien van de vele planten die de patio sieren, de werkelijkheid is nog veel indrukwekkender. Ik noem deze plek, die mij heel dierbaar is geworden, daarom het groene paradijs ('el paraiso verde'), een benaming waar Claudia het wel mee eens is. Voor 100% aanbevolen. Frans. PS - Zie ook mijn eerste recensie van maart 2016.
Frans W.
2017-02-14T00:00:00Z
Room Type
Private room
---
Property Type
House
---
Accommodates
1
---
Bedrooms
Buenos Aires, Ciudad Autónoma de Buenos Aires, Argentina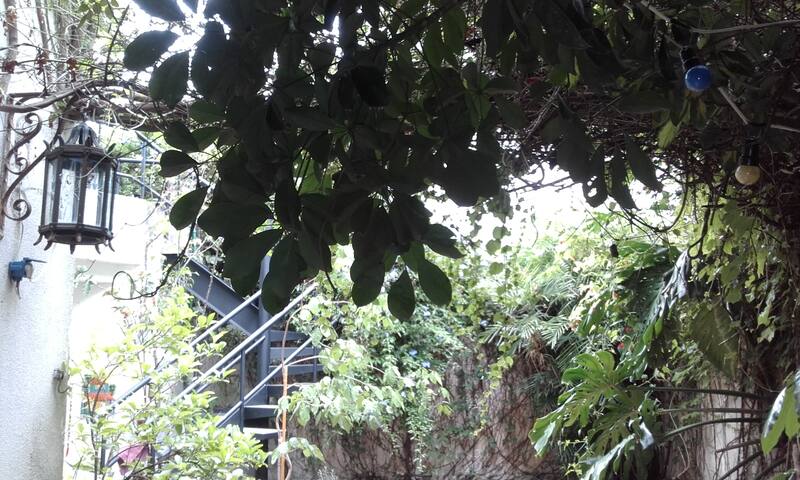 DOS AMBIENTES completo para 2 personas. MUY luminoso, alegre, hermosisima vista y silencioso. En el centro geográfico de Bs As. Cerca de colectivos y subte. Rodeado por lavaderos, restaurantes y supermercados. A dos cuadras de una linda plaza. Con todo para cocinar, Wifi y TV por cable, horno a gas y hornito eléctrico.
Caballito/Flores está exactamente en el centro geográfico de la Ciudad. Muy conectado con todas las zonas turísticas y el centro. El barrio es seguro y tranquilo. Y a su vez, tiene todos los comercios necesarios cerca.
I've only used Airbnb several times but I've got to say this was far and away the best experience I've had! Luciana was an ideal host super warm and helpful. The apt is beautiful! The few from the apt is just awesome. Perfect in the morning and when the sun is coming down. If you're coming to Buenos Aires I'd recommend checking this place out, it's super close to the metro and a bunch of bus lines. If I could give more than five stars I would!
Ian
2017-04-05T00:00:00Z
todo perfecto luciana es simpatica y departamento es muy lindo.
Junichi
2017-03-28T00:00:00Z
El dpto fue más de lo que esperábamos, súper cálido. Silencioso, a pesar de que a unos metros se encuentran las vías de tren y pensábamos que eso podría molestar, pero no fue así. El acceso y la movilidad de transporte público es excelente. La cocina estaba súper, tiene de todo y funciona a la perfección Los aires acondicionados fueron de mucha ayuda, ya que los días de nuestro hospedaje fueron los mas calurosos del verano.
Vanesa
2017-02-28T00:00:00Z
Room Type
Entire home/apt
---
Property Type
House
---
Accommodates
2
---
Bedrooms
Buenos Aires, Autonomous City of Buenos Aires, Argentina
Te va a encantar compartir esta casa en Bs As: ¡es muy amplia, fresca y el ambiente es muy bueno! Queda a una cuadra del subterráneo (estás en el centro en 30 min). Es el cuarto más grande, perfecto para parejas o un huésped con ganas de vivir la ciudad. ENG: You're gonna love my place: it's big, fresh, and only one block from the subway, at just a 30' ride from the historical centre of the city. Your bedroom is the biggest and it's very quiet. It's perfect for one guest or a couple to enjoy!
El cuarto tiene una cama doble (se puede optar por una simple), formado por un entrepiso: arriba, la cama y mesas de luz, y abajo hay un espacio muy cómodo con escritorio, armarios y biblioteca para que uses. Vas a poder disfrutar del sol en la terraza (cosa no tan frecuente en la ciudad) y vivir la casa como un porteño: probá cenar en el patio, cocinar o relajarse en la hamaca, y hasta ¡podés animarte a hacer tu propio asado en la parrilla! The room is divided: upstairs, a big bed (you can choose a smaller one if you like),with nightligts and shelves; below, a desk, wardrobes, and a library for your needs. You're gonna be able to enjoy the sun in the rooftop (a rare thing in the city) and live like a true porteño: try dinning in the patio, cooking, or just chilling in the hammock, and even learn to make your own asado in the parrilla (barbecue)!
Es una casa de barrio típica en el centro geográfico de la ciudad: ubicada en CABALLITO, queda cerca de los barrios más interesantes como Palermo, de parques y gastronomía, Recoleta, San Telmo y sus antiguedades o Plaza de Mayo y la Casa Rosada. It's a tipical house just in the middle of the city, in CABALLITO: near all the interesting hoods like Palermo and its restaurants, Recoleta, San Telmo with its antiques and little cafes or Plaza de Mayo y la Casa Rosada (the Pink House of Government and historial centre).
La estadía con Miguel fue excelente !!!, es una persona muy amable, atento, colaborador y comunicativo. Adicionalmente su amplio conocimiento y experiencia en lo que a turismo se refiere nos fue muy útil para conocer nuevos lugares y muy interesantes. Lo recomiendo como anfitrión 200% y como guía turístico.
Rodrigo
2017-02-18T00:00:00Z
Room Type
Private room
---
Property Type
House
---
Accommodates
1
---
Bedrooms
Buenos Aires, Ciudad Autónoma de Buenos Aires, Argentina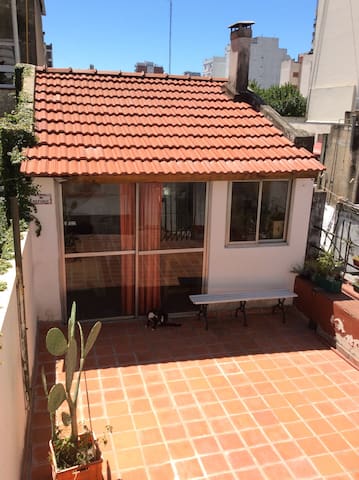 The arquitecture style of the house is gorgeous ,the area is super quiet ,cheap and full of trees The city center is just 15 min. away by metro and There is a terrace and a patio for smokers and the rooms are totally private ,you ll feel at home
I ve been travelling quite a lot as you can see in my (SENSITIVE CONTENTS HIDDEN) ( gustavo jorge moledo ) feel free to check and i perfectly know what it is to be onn the guest shoes , from the minimum detail like having adaptors to any kind of plugs up to the point to have the tact to make my guests feel as comfortable as posible You ll simply love staying here
the neighbourhood is great ,,full of old large trees which results in plentiful oxigen The area has much cheaper markets ,convenient stores, supermarkets ,canteens ,coffe shops and restaurant than other turisty areas of the city veri quiet for resting sound at night and surrended by beautiful houses
We stayed with Gustavo for just a night between flights from EZE. It was about a 25-35 minute drive from the airport and Jorge picked us up for $35 USD. He took us back for $25 the following morning. The house is great- has lots of charm and is in a great neighborhood. It's very clean and well decorated.
Kimberly
2016-07-28T00:00:00Z
Staying at Gustavo's house is a real pleasure. The house is really nice, every shop you might need is just a few blocks away. From there it is easy to go to Ezeiza (by car) or the center (using subte). Moreover, Gustavo is very kind and always willing to help and that is really appreciable when you arrive in a country you don't know.
Damien
2015-08-31T00:00:00Z
I only stayed one night on my way to the airport. There was some miscommunication to begin with but that was resolved. Nice place with good kitchen and a good area for meeting other guests. In a residential area but close to the Subte.
Helen
2017-03-20T00:00:00Z
Room Type
Private room
---
Property Type
House
---
Accommodates
2
---
Bedrooms
Buenos Aires, Autonomous City of Buenos Aires, Argentina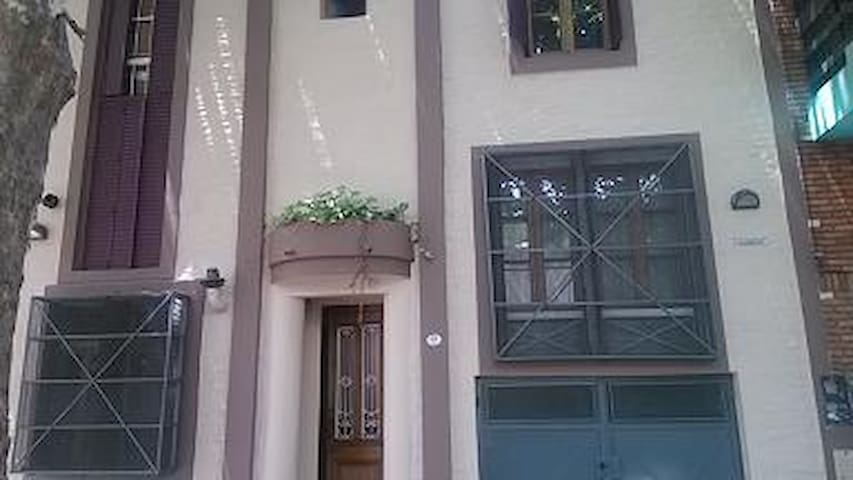 La habitación con baño privado, está en la planta superior de la casa (por escalera ). Dispone de una cocina-lavadero y una sala-comedor. (Planta baja) Con balcón y ventana a patio interno. Muy luminosa. Te va a encantar mi lugar debido a que tiene una gran privacidad por su entrada independiente y su separación del resto de la casa. Pese a estar en el centro geográfico de la ciudad es silencioso.
La habitación está en una planta superior de la casa, lo que asegura privacidad. La habitación está decorada con gusto y es muy confortable.
La ubicación y comodidad lo hacen únicos, ya que es seguro durante el día y la noche. Barrio de casas tranquilo. Hay comercios cercanos (Mercados, bares, etc.)
Corina's place is simply perfect. It has an independent entrance which gives you lots of privacy. The space has such a good energy since Corina puts lots of love into every detail. She is willing to help in any request and is very responsive when needed (specially upon arrival). You have access to an independent kitchen and dining table which I really appreciate. The neighborhood is so calm and safe you will not regret your stay in Buenos Aires!
Daniela
2017-02-25T00:00:00Z
La estadía en lo de Corina ha sido sumamente grata. Es atenta a las necesidades de quien se hospeda. Me guío y ayudó con cada duda y/o cosa que necesité. Totalmente recomendable y cierto todo el relato y las fotod del lugar. Cómodo; cálido; hermoso barrio... Sin duda volvería a alojarme con ella.
Lola
2017-02-11T00:00:00Z
코리나의 집에서 머물게 된건 좋은 선택이었어요, 좁은 계단을 올라 작지만 아늑한 방은 어린시절 꿈꾸던 다락방 같았거든요. 아침에는 환한 햇빛이 들고 새소리 바람소리가 도시 한복판에 있다는 사실을 잊게 해요. 독립적인 공간이 있다는건 제일 큰 매력인것 같아요. 화장실은 물론 부엌과 식당, 출입문까지도 혼자 사용할 수 있어서 집전체를 렌트한 기분이예요, 뒷마당에서는 언제나 코리나와 만날 수 있어요, 그녀는 항상 내게 필요한것이 없는지 배려깊게 물어봐주었어요, 내가 스페인어나 영어가 능숙하지 못했지만 그녀는 최대한 쉬운 말로 이해시켜주려 노력했답니다. 호텔처럼 화려하거나 현대적이진 않지만 그녀의 꼼꼼함으로 집안 어느곳 하나 청결하지 않은곳이 없었어요, 코리나의 가족 모두는 일을 하기때문에 바빠서 같이 공유한 시간은 없었지만, 모두들 좋은인상으로 나를 반갑게 맞아주었던 기억이 나네요, 저는 다시 부에노스아이레스에 가게 된다면 그녀의 집을 다시 찾고 싶어요, 10일 동안 고마웠어요 코리나
nam
2016-12-08T00:00:00Z
La habitación es igual que en las fotos, muy bonita y decorada con gusto; es muy silenciosa y da a un patio interior, tenía la sensación de regresar a un pequeño oasis de paz después de los paseos en el bullicio de la ciudad. Todo estaba extremadamente limpio y equipado con varios detalles útiles: hervidor para el agua, secador, utensilios de cocina... La anfitriona, Corina, siempre atenta y dispuesta a ayudar en cualquier cosa, me llevó a dar una vuelta por el barrio nada más llegar, para mostrar donde se encuentra el supermercado y paradas de bus. No duden en preguntarle sobre qué ver en buenos aires, conoce lugares encantadores. Gracias Corina y a toda la familia, por recibirme en vuestro hogar, un abrazo!
Nuria
2017-01-31T00:00:00Z
Corina y su familia son muy amables. La habitación es muy linda, es una gran comodidad que tenga baño en suite sl igual que las demás instalaciones. La casa está muy bien ubicada, en una zona muy agradable con muchos medios de transporte a mano para trasladarse por la ciudad. Volvería sin duda.
Tatiana
2017-02-17T00:00:00Z
A estadia na casa de Corina foi maravilhosa. Para mim não poderia ter sido melhor, pois pude ir caminhando até onde eu tinha aulas e o bairro de Caballito além de ser muito bonito, é seguro e há paradas de ônibus perto da casa. Supermercado está a menos de 2 quadras e tem tudo que precisamos nas redondezas (farmácias, padarias, mercados, Cafés, etc). O quarto com banheiro privado, apesar de simples, é perfeito para quem busca privacidade. Pois a entrada é independente da casa. O hóspede fica com as chaves e não há restrições de horário. A ducha é bem quentinha e dentro do quarto Corina deixa disponível uma Chaleira Elétrica (que ajuda muito!) com café e chás. A possibilidade de usar a cozinha (completa), lavar roupa e a geladeira à disposição é excelente! Só tenho a agradecer a linda estadia e receptividade... Os filhos de Corina são muito queridos também e sempre se colocam a sua disposição! Voltaria com certeza e super recomendo!! Levei na bagagem as melhores lembranças. Gracias totales una vez más, Corina!! Saludos desde Brasil.
Deb
2016-10-10T00:00:00Z
Buenisimo! Corina estuvo dispuesta a ayudarme durante toda mi estancia, se preocupó de absolutamente todo con respecto a las necesidades básicas, higiene, papelero, botiquín, etc. Muy feliz y recomendada !
Matias
2016-11-17T00:00:00Z
Me encanto la estadia, lo que te ofrecen en la foto es lo que obtienes. Lugar para una sola persona, comodo, con baño, cocina y area para comer. La habitacion queda en un lugar residencial, tranquilo, con supermercado cerca y lineas de bus tambien. Corina es muy servicial y hospitalaria.
Deborah
2016-11-20T00:00:00Z
Room Type
Private room
---
Property Type
House
---
Accommodates
1
---
Bedrooms
Buenos Aires, Ciudad Autónoma de Buenos Aires, Argentina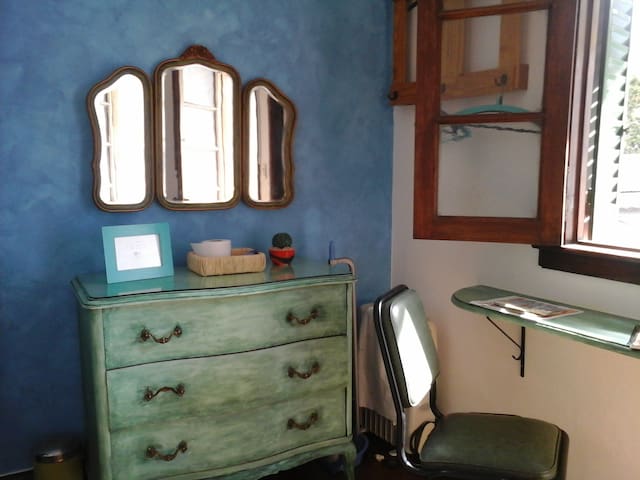 Cómoda, acogedora, e intima habitación con baño privado y kitchinette (heladera y horno eléctrico de uso exclusivo ). Barrio residencial y turístico. Cerca de subterraneos y buses, universidades, centros comerciales, restaurantes y modernos cafés. Ciclovia pasa por la puerta para llegar pedaleando a toda la ciudad. Somos viajeros, sabemos lo que necesitas y estamos preparados para brindarlo.
La habitación es muy amplia, luminosa y silenciosa. Tiene placard, ventilador de techo, calefacción por tiro balanceado, escritorio y biblioteca.
The host canceled this reservation 9 days before arrival. This is an automated posting.
Felix
2017-03-17T00:00:00Z
Room Type
Private room
---
Property Type
House
---
Accommodates
2
---
Bedrooms
Buenos Aires, Ciudad Autónoma de Buenos Aires, Argentina
The room is in a cool vintage ¨conventillo¨ Style arthouse. Is close to bars, Subway stations, Cinemas, Bars, Tango clubs, Supermarket. High ceilings house, with terrace, luminosity and a really pretty argentinian neighbourhood (barrio Caballito). Is a good house for artists, artistic souls, couples, solo adventurers, business travelers, and small groups. I rent this individual private bedroom with a queen size bed, and the posibility of an available mattress for extra guests (extra price).
Cool vintage ¨conventillo¨ Style arthouse, with nice luminosity. The private room is downstairs, with a common patio, kitchen, living room/music room and bathroom. There is posibilities of using a mattress in the living room/music room for extra guests.
Caballito is in the heart of Buenos Aires, and is a quiet place to live, and still 15 bus minutes away from bussy Villa Crespo, Almagro and Palermo, night life and turistic neighborhoods. Is a typical porteño place special for living the full argentinian experience life style.
Best stay ever, santiago was the best host ever and very understanding person. The room is quite big with an accessible bathroom just in the front of the room :)
승현
2017-03-15T00:00:00Z
The host canceled this reservation the day before arrival. This is an automated posting.
Celeste
2017-02-28T00:00:00Z
Santiago was really a nice host open minded and he is really friendly.
승현
2017-03-27T00:00:00Z
Room Type
Private room
---
Property Type
House
---
Accommodates
1
---
Bedrooms
Buenos Aires, Ciudad Autónoma de Buenos Aires, Argentina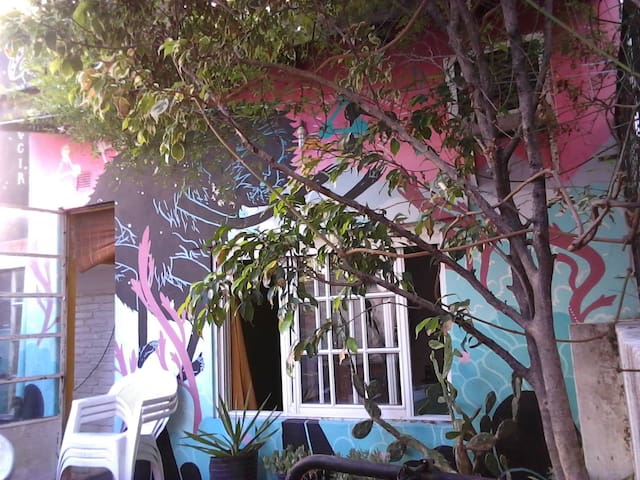 Alquilo $25k/mes final SIN EXPENSAS DUEÑO DIRECTO. Tres dormitorios y escritorio, dos baños y terraza. Reciclado 2014, con o sin muebles, muy luminoso, a una cuadra de la Plaza Irlanda.
Room Type
Entire home/apt
---
Property Type
House
---
Accommodates
5
---
Bedrooms
Buenos Aires, Autonomous City of Buenos Aires, Argentina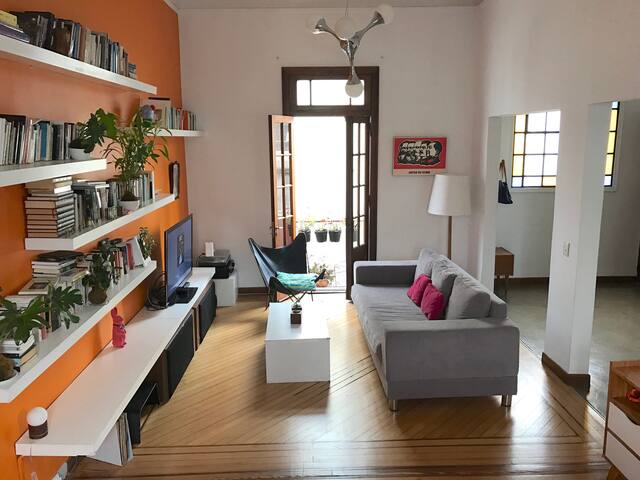 Es una casa llena de naturaleza, con piscina, varios lugares cómodos para estar, chill out, disfrutar un poco en el medio de la ciudad. La ubicación es muy buena, tiene subte y todas las lineas de colectivo. hay viajeros y movidas culturales.
Room Type
Private room
---
Property Type
House
---
Accommodates
3
---
Bedrooms
Buenos Aires, capital federal, caballito, Argentina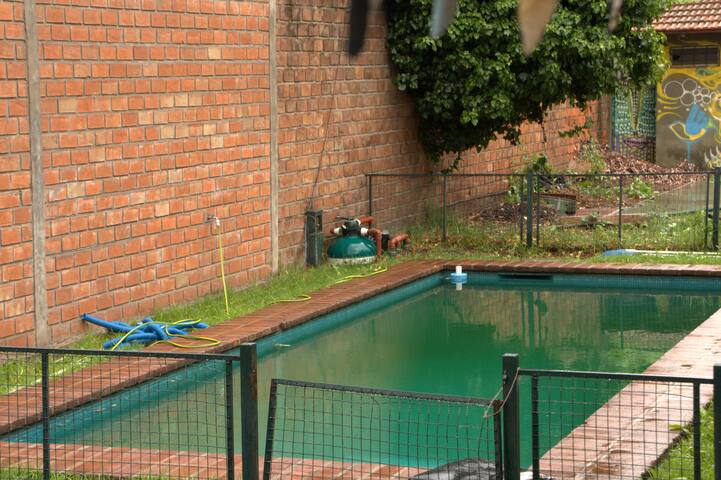 habitacion en Caballito con baño,kich,wi-fi,cable,heladera,para una o dos personas ,acepto MAZCOTA EDUCADA,lugar tranquilo,Zona segura con CUSTODIA POLICIA FEDERAL en GARITAS. VALORES: $ 290 X Persona X Día. Presentar Documentos de Ident o Pasaporte.
Las hab son con Baño privado, Kichinet elctrico, Heladera,wi-fi,TV x cable. Ropa de cama ZONA;CABALLITO CENTRO GEOGRAFICO de la CIUDAD TASPORTE,SUBTE "A"y "B", TREN LIN.SARMIENTO, COLECTIVOS 130 lineas a todos los lugares de capital y gran Bs.As. RESERVA:Deposito Bancario,Transferencia,o en forma personal. ALQUILER,Se abona por anticipado sin excepción.
El barrio esta ubicado en el centro geografico de la ciudad ,con todos los medios de locomoción a cualquier destino. En cercanias Parque Rivadavia,Parque Chacabuco,Facultad de Filosofia . Paseos Gratuitos en Antiguo Tranvia . La casa esta ubicada en el Tradicional barrio INGLES de Caballito.
Room Type
Private room
---
Property Type
House
---
Accommodates
2
---
Bedrooms
Buenos Aires, Ciudad Autónoma de Buenos Aires, Argentina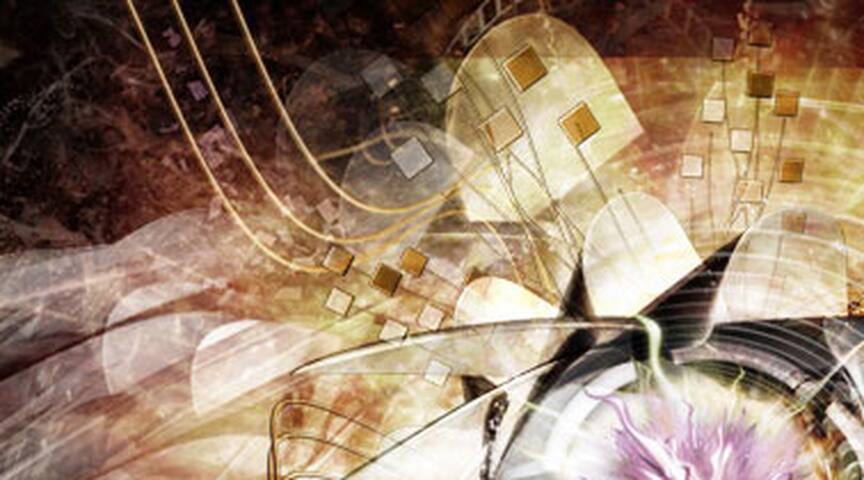 Places of interest: Luis Perlotti Sculpture Museum, Centennial Park, Plaza Paseo de la Vida, Subte A. You will love my space for the people, the neighborhood and the atmosphere. My accommodation is good for couples, adventurers and business travelers.
Located in a passage with cobblestones and low houses, where always the sun comes in, full of flowers and life, wooden floors in the rooms, full kitchen and bathroom with Scottish shower and vanity. Combining stylish and modern furniture in a cool and relaxed atmosphere.
Very close to beautiful parks such as Centenario Park and Rivadavia, shopping centers, bus lines and subway A Primera Junta
Room Type
Private room
---
Property Type
House
---
Accommodates
1
---
Bedrooms
Buenos Aires, Ciudad Autónoma de Buenos Aires, Argentina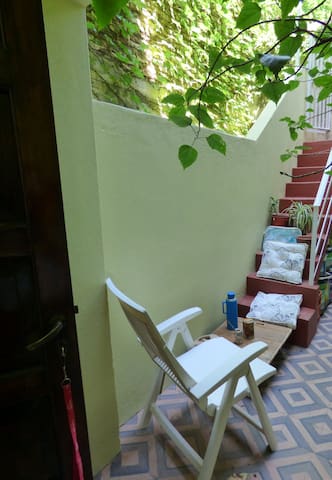 Cozy and bright house in a typical-non touristy- suburb of Buenos Aires. 2 rooms with patio and terrace. Light and sun. If you want to have a experience to live like a "porteño" for a while, this is your chance. Hope you enjoy it and feel at home!
Typical vintage house with lots of light, sun and many plants. Two rooms with a covered patio with windows to an outdoor patio, terrace, full kitchen, big bathroom with bathtub and bedroom with double bed with excellent mattress.
The neighborhood is a typical -not turisty-suburb of Buenos Aires with low residential houses and streets with old trees. The house is located in a main avenue, but just need to turn the corner to find quiet streets with old houses. If you love nature, do not miss a walk in the Avellaneda Park, which is very close, just 5 blocks away. Full of old trees, variety of birds and plants, it is one of the oldest parks in Buenos Aires (1914). If you like biking, you'll be rent a bike closer. Market 20 m. You only need to cross the avenue. Variety of shops, grocery stores and kiosks on Rivadavia Ave. (3 blocks) Look at the pictures album, there is a map with the locations.
sehr nette Gastgeber, hifsbereit und kompetent. lage ist an öv sehr gut angebunden und für uns tangueros war die lage super. preis - leistung stimmt absolut.
Edgar
2016-04-16T00:00:00Z
La casa tiene de todo para poder tener una estadía confortable, llegar fue muy fácil y la recepción muy completa y agradable, la atención es buena. Se encuentra en una calle muy comercial y caminar por el día no resulta ningún problema, solo que por la noche yo no lo recomendaría más allá de las 9pm, el ambiente se torna poco agradable. Con Sil solo me comuniqué cuando hice la reserva, después no tuvimos contacto, pero durante la estadía quien nos atendió lo hizo con mucho agrado. Como dato adicional para que futuros huéspedes puedan tomarlo en cuenta (ya que el anuncio lo dice claramente), el gas y electricidad me costó un euro/día por una persona y un bebé, no use nunca la cocina, estaba todo el día fuera; solo fue el uso del baño y pocas horas de electricidad.
Ana
2017-03-26T00:00:00Z
Durante los cuatro meses nos sentimos cómodos en la casa. La anfitriona se preocupó por nuestro bienestar y cuando se presentó algún inconveniente se interesó en resolverlo con prontitud. La casa contó con los servicios que se indicaron en el anuncio, estaba limpia y en buen estado. Nos resultó muy acogedora, especialmente por el jardín y las plantas dentro de la casa. El barrio era tranquilo y seguro, además había restaurantes, supermercados, verdulerías y farmacias cerca. También encontramos facilidades para transportarnos en el servicio público.
María Gabriela
2016-02-24T00:00:00Z
Una cálida y confortable estadía. Se cumplió todo lo convenido y la atención fue muy buena. Gracias
Anabel
2016-10-09T00:00:00Z
Room Type
Entire home/apt
---
Property Type
House
---
Accommodates
2
---
Bedrooms
Buenos Aires, Ciudad Autónoma de Buenos Aires, Argentina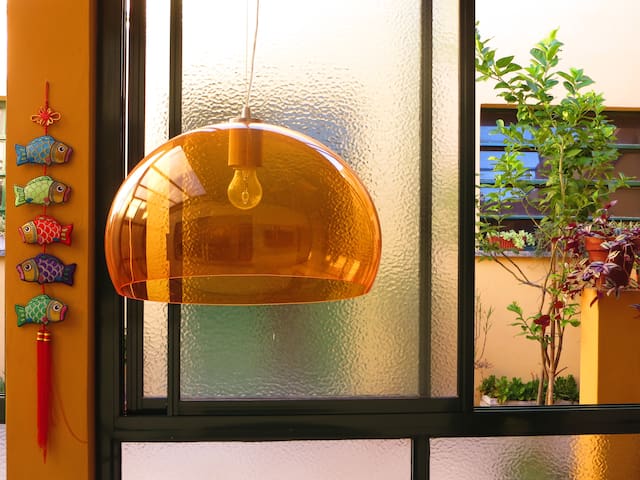 Lugares de interés: Ideal Estudiantes. Te va a encantar mi espacio por Cerca de la Facultad de Filosofía y Letras. Mi alojamiento es bueno para aventureros.
Room Type
Private room
---
Property Type
House
---
Accommodates
2
---
Bedrooms
Buenos Aires, Ciudad Autónoma de Buenos Aires, Argentina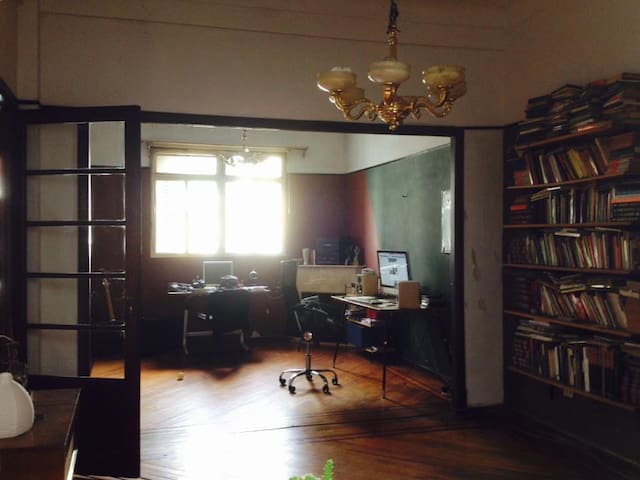 Es una casa con entrada independiente con una habitación, un escritorio, living luminosísimo, una cocina grande y patio. Tiene muchas bibliotecas y libros y su estilo antiguo es particular y lindo. Además de la cama doble tiene un sillón muy cómodo.
Caballito es un barrio ubicado en el centro geográfico de la ciudad de Buenos Aires. Está ubicada en una zona residencial muy linda, tranquila y muy vigilada y segura. Hay gran variedad de bares y restaurantes por la zona.
Room Type
Entire home/apt
---
Property Type
House
---
Accommodates
3
---
Bedrooms
Buenos Aires, Ciudad Autónoma de Buenos Aires, Argentina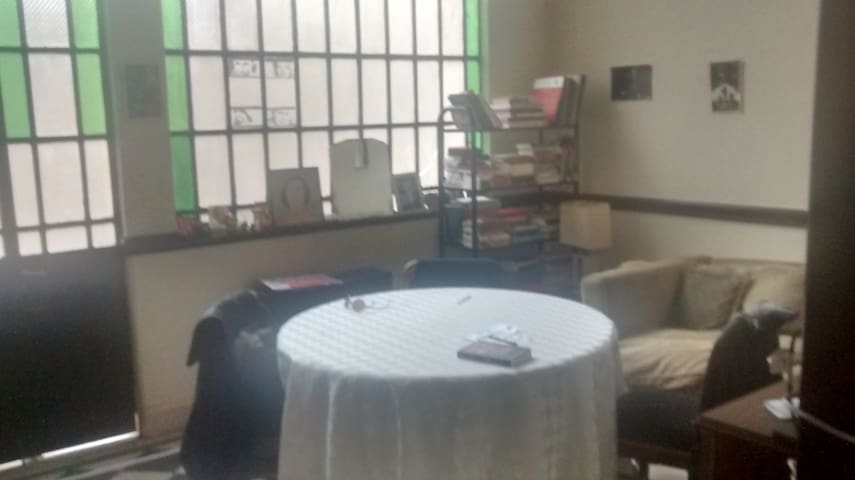 La habitacion cuenta con ventana al exterior muy luminosa y aire acondicionado. La casa esta ubicada cerca de dos lineas de metro (A y E). La casa tiene parrilla y una terraza grande (80m2) con muchas plantas. El precio incluye wifi, y servicios.
Room Type
Private room
---
Property Type
House
---
Accommodates
1
---
Bedrooms
Buenos Aires, Ciudad Autónoma de Buenos Aires, Argentina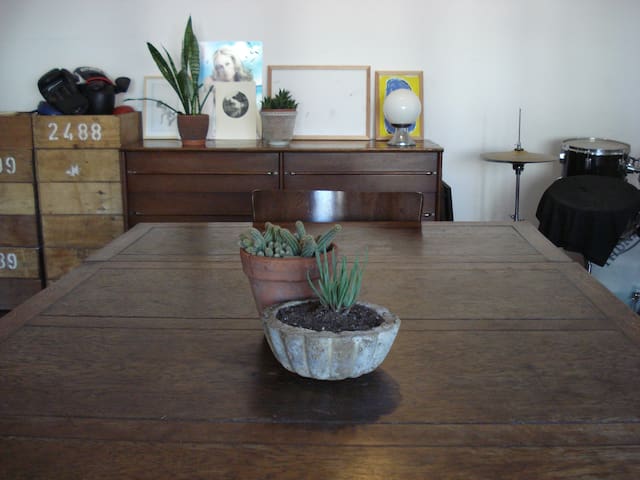 House spacious rooms , natural light , courtyard, dressing , 2 bathrooms with shower (1 with bath ), terrace with grill , barbecue area with washing machine, quiet area in the city, close to all transportation (subway , train, bus ) . It includes wif
The house has a spacious ground floor with a bright patio. It also has a terrace with a barbecue and grill .
The neighborhood is very quiet . The house is located in a passage with cobblestone streets. Not many cars pass . Nearby are several parks and squares for walking and sunbathing. The neighbors are very friendly and always are for emergencies.
Room Type
Private room
---
Property Type
House
---
Accommodates
2
---
Bedrooms
Buenos Aires, Ciudad Autónoma de Buenos Aires, Argentina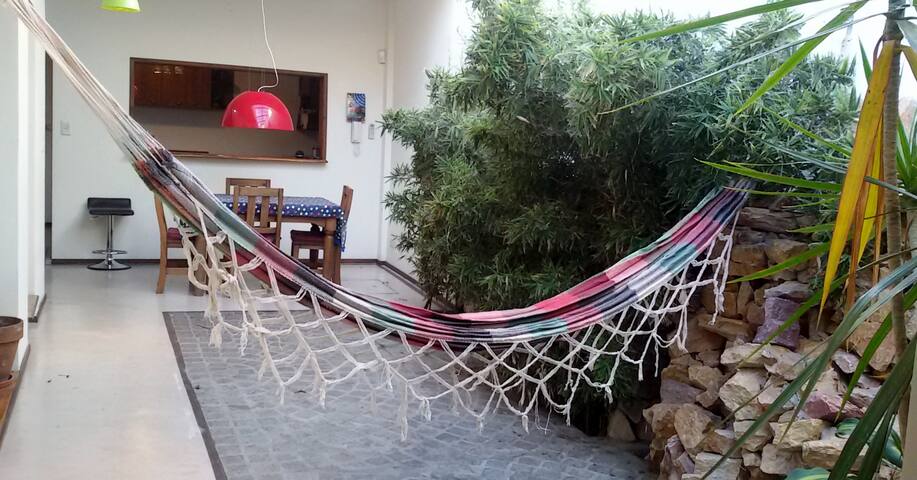 Mi alojamiento es bueno para parejas, aventureros y viajeros de negocios.
The host canceled this reservation the day before arrival. This is an automated posting.
Carmen Gregoria
2016-10-31T00:00:00Z
Room Type
Private room
---
Property Type
House
---
Accommodates
2
---
Bedrooms
Buenos Aires, Ciudad Autónoma de Buenos Aires, Argentina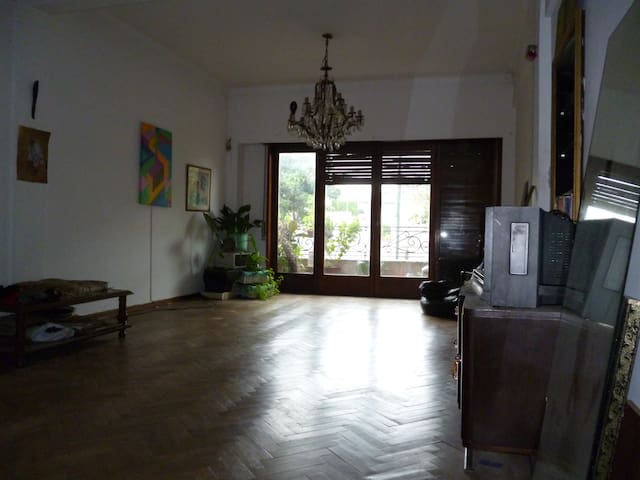 Se alquila habitación en piso entero a compartir, la casa incluye jardin con parrilla, gran garage, 2 balcones, 2 baños, terraza.
Catalina is very friendly and helpful. Very nice and kind host. House is very big and room has ventilator. And neighbourhood is very nice to live.
Selcuk
2017-01-09T00:00:00Z
Really great place to stay!
Selcuk
2017-02-07T00:00:00Z
The host canceled this reservation the day before arrival. This is an automated posting.
V
2016-10-31T00:00:00Z
Catalina es muy atenta.
Eduardo
2017-03-07T00:00:00Z
Room Type
Private room
---
Property Type
House
---
Accommodates
1
---
Bedrooms
Buenos Aires, Ciudad Autónoma de Buenos Aires, Argentina
1

–

18

of

21 Home Rentals
Enter dates to see full pricing. Additional fees apply. Taxes may be added.