Wonoka cottage, an outback rental for over 20 years. Just 15 kilometres north of Hawker, South Australia, Wonoka Cottage is the perfect destination to seek adventure, experience nature and to delight in the magnificent surrounds of the Central Flinders Ranges. Abundant walking trails, cycling tracks (the Heysen & Mawson trails cross the property) with rich & varied wildlife & the Flinders Ranges at your doorstep. Wonoka Cottage is good for couples, solo adventurers and families (with kids).
Situated just 15 kilometres north of Hawker, South Australia, Wonoka Cottage is the perfect destination to seek adventure, experience nature and to delight in the magnificent surrounds of the Central Flinders Ranges. With the Elders Range as your backdrop, Wonoka Cottage is part of Wonoka Station, a 20,000 acre sheep & cattle property that has a rich history & heritage. For the adventurous: abundant walking trails, cycling tracks (the Heysen & Mawson trails cross the property) scenic drives, local historical areas of interest significant aboriginal cultural sites are on your doorstep. Rich & varied wildlife abounds on the property & the Flinders Ranges National Park is within easy reach—so if you are a keen naturalist, photographer, artist, or astronomer, or you're looking for the tranquillity & relaxation only an area of such majestic natural grandeur can provide… Wonoka Cottage awaits.
Are a LONG way away
Exactly what we needed - a quiet retreat - away from all. No internet was actually fantastic - and besides - if you really needed - Hawker is just 15 mins away, comfortable, friendly - a fabulous spot, great for solitude and plenty of walking, we hope to be back for sure, thanks Cheryl and Peter.
Sheena
2016-08-21T00:00:00Z
Peter and Cheryl were extremely hospitable! They were there upon check in and were very helpful throughout with anything we needed. The property is great! So relaxing.
Brad
2016-10-15T00:00:00Z
Cheryl and Peter's cottage is magical. The minute we arrived we felt like we had started an adventure - the perfect escape from the bustle of life. The cottage itself is simple in the most ideal way - comfortable and homely. And the views! Breathtaking. Thanks for being wonderful hosts - we certainly hope to be back.
Leda
2016-09-27T00:00:00Z
The communication from Peter and Cheryl before our stay was great, and Peter came to meet us on arrival despite it being after dark. The cottage has a slightly quirky layout, none of the rooms are connected internally, meaning you have to go outside to get to the bedroom, kitchen, toilet, bathroom. The Air-conditioning in the main bedroom is not yet connected, which could be uncomfortable in the hotter summer months. Overall the cottage is clean and comfortable, the hosts are very friendly and we enjoyed our stay.
Alan
2016-10-30T00:00:00Z
This Airbnb was really nice and clean and we spent three great days there! We have been able to walk a lot among the hills in the Outback and the place is really quiet, peaceful and beautiful. We loved the landscapes! Thank you very much to our hosts who were really welcoming and who came everyday to ask us if we needed something and if we were alright! Such a good experience!
Salomé
2016-12-14T00:00:00Z
Stunning setting. Not for the faint hearted! Tricky with small children. We look forward to trying again when the kids are older.
Hannah
2017-03-16T00:00:00Z
We had a great time at the cottage, the view is absolutely breathtaking. Cheryl and Peter were very welcoming and we even got a tour of the property with Peter, which was very nice.
Dries
2016-12-09T00:00:00Z
My three friends and I stayed here for two night and it was such an experience that we all loved! The place it's self was fairly basic and simple, a living/dining room and then two bed rooms and a bathroom that you had to go outside for. But the property and surrounds were amazing and Cheryl and Peter were really helpful, generous hosts. If you stay, I recommend walking to the top of the hill, behind Cheryl and Peter's house to watch the sunset
charlotte
2017-02-08T00:00:00Z
Room Type
Entire home/apt
---
Property Type
House
---
Accommodates
7
---
Bedrooms
Hawker, SA, Australia
Spectacular night out! Fly in a helicopter past Rawnsley Bluff, then head for Chace Range where your swags for the night will be set up for you. Have Chace all to yourselves for the night! Simple dinner and breakfast provided. Pick up next morning. $515pp per night. Minimum 2guests per flight. Maximum guests overnighting is 4.
Sleep 792m above sea level on this jagged beauty. 2 quality double sleeping bag and swag will keep you warm (maximum 4 guests).Outdoor toilet provided.
No loud neighbours to deal with!
Room Type
Entire home/apt
---
Property Type
Tent
---
Accommodates
2
---
Bedrooms
Flinders Ranges, SA, Australia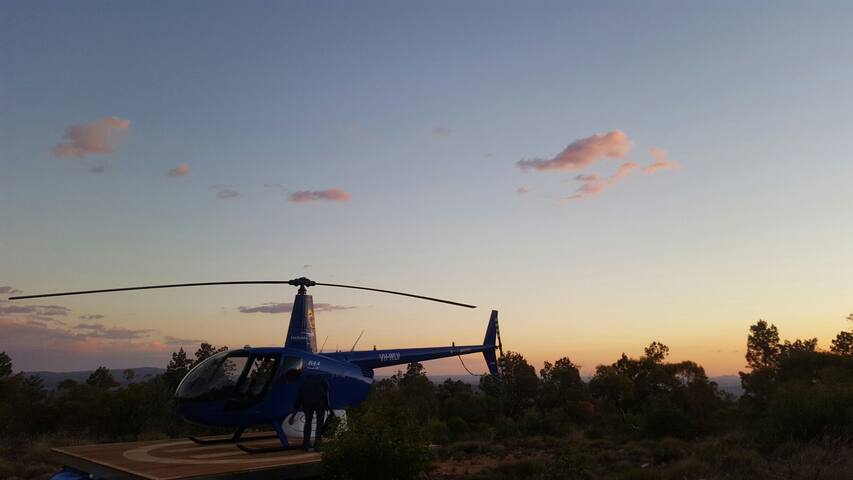 Make your Flinders Ranges get away a memorable and comfortable one. Settle in and be inspired by the charm of a converted church with a raw stone and white walled interior, luxuriously finished bathroom, open plan living and inviting outdoor entertaining area. Finished with modern furnishings and unique outback style.
Originally built in the very early 1900's, "The Church" has transformed over time. It's starting use as a celebratory church through to an artist in residence art gallery, finishing as the private residences that is on offer today. "The Church" in Hawker is newly renovated to high standards and offers all the stylish features and comforts you would expect in a home away from home. Equipped with modern stainless steel appliances for home cooking. Large shower room with rain shower head and washing machine. Two queen size bedrooms. Open plan living and dining area with recycled brick island bench, wood fire, plasma TV and lounge. Large bi-fold doors lead from the kitchen out to the newly built under covered entertaining area. Use the wood-fired pizza to oven or brand new stainless steel undercover pergola wood-fired pizza oven and outdoor entertaining area. Complete with brand new stainless steel BBQ and out door dining set up. Supplied are ingredients and instructions on how to make your own pizza base and use of the pizza oven along with coffee and tea, convenient for a late arrival or early morning sun rise.
Hawker provides all the necessities you'd expect from an outback township. There are two fully serviceable garages, providing fuel and repairs, and a tourist information centre 20 metres around the corner from the accommodation. The Hawker General Store, located opposite the world renowned Panorama and art gallery, provides all the essential supplies for your tucker box. Walking distance to the local pub which provides meals and cold beer 7 days a week for your convenience.
The chapel was lovely.The beds were wonderfully warm and comfortable.The chapel is well equipped for a stay close to the Flinders Ranges.Thanks Barney
Heather
2016-05-14T00:00:00Z
We stayed at Barney's place in Hawker for two very pleasant nights. The old church is very well equipped for a self contained stay. Barney's communication was great. This is a great staging place on the way north to the Flinders Ranges.
Ian
2016-07-06T00:00:00Z
We had a beautiful time in this accommodation. The people were very friendly and helpful. It was definitely a home away from home.
Hans
2016-11-01T00:00:00Z
We really enjoyed the stay in the church. It met all our expectations. Great launch point for the Flinders Ranges experience.
Cathy
2016-08-28T00:00:00Z
A great base for exploring the Flinders Ranges and it was handy to be in town and close to the shops of Hawker. Great value for that amount of space and with the change (from what the resorts would have cost) we took a great flight out over Lake Eyre.
Linda
2016-09-22T00:00:00Z
What a cool place to stay! Comfy beds, lovely fixtures. Great jumping off point to Wilpena Pound. We enjoyed making our first wood-fired pizza too. Would happily stay again.
Jason and Eleanor
2016-05-17T00:00:00Z
The Church is a beautifully renovated building with some unique touches, close to Wilpena Pound and great walks to discover. Lovely and quiet spot, enough space for 2 couples to sleep , the pizza oven and fire place were a lovely touch . Needs a few finishing touches , We enjoyed it and would recommend as a nice getaway. Hawker has one pub which serves pub meals and pizzas on Friday nights , a good out back town experience.
Sue & Stephen
2016-04-11T00:00:00Z
We had a fantastic stay at the church. It is beautiful inside and the pictures don't do it justice it is a stunning place. We loved using the pizza oven (instructions provided) and lighting the fire at night (wood provided). The flinders is an amazing place and hawker is a great place to stay so you can have a short drive to the great walks and scenery, we did a short walk when we arrived up Jarvis hill just a few minutes from the church and the views at the top were amazing and we saw kangaroos on the way. At night we sat outside the church and admired the amazing sky- we've never seen as many stars! This is a fantastic place to stay and have some luxury to return to after a day exploring all the flinders ranges has to offer. The church had everything provided, really comfy beds and a great bathroom, tv reception and huge kitchen/dining area. I would recommend this place to anyone. Barney was great at communicating beforehand and making sure we had everything we needed and we met Julia when we got there who was also really helpful during our stay. I think everyone would enjoy a stay here and i would love to go back again soon.
Stephanie
2016-10-04T00:00:00Z
Room Type
Entire home/apt
---
Property Type
Other
---
Accommodates
4
---
Bedrooms
Hawker, SA, Australia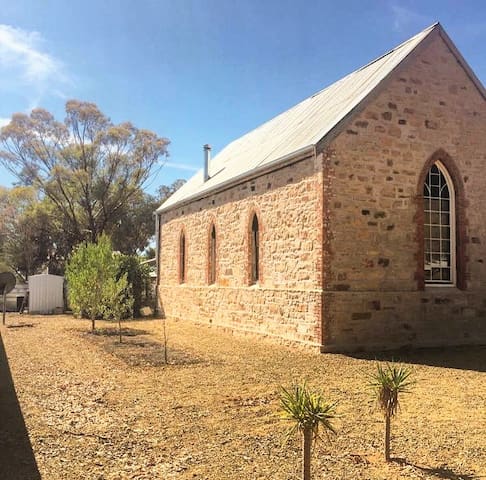 Accommodating 2 people, our Eco Tent is a steel framed, insulated canvas tent with eco decking floor. A queen size bed including linen, a small kitchenette and quality outdoor furniture is provided. Complete with an attached ensuite with solar hot water – no dash to a shared bathroom block in the middle of the night! Set in a secluded location for your peace and privacy and breathtaking scenic views in every direction, the Eco Tent is impressive for a romantic getaway!
Loved this place. couldn't recommend it more! beautiful view and wild life everywhere.
Bryan
2017-03-12T00:00:00Z
Room Type
Entire home/apt
---
Property Type
Tent
---
Accommodates
2
---
Bedrooms
Hawker, SA, Australia
The Quarters is a fully self contained guest house located on our 11,000 acre farm in the Flinders Ranges. Beautiful views and stunning sunsets. Accommodating up to 8 guests this house is perfect for large families or small groups.
Bring your family to our farm to escape the hustle and bustle of everyday life. With limited mobile phone coverage, you can get away from it all. Let the kids get dirty, climb a tree, make a cubby in the creek, catch a tadpole or two…. It's these impressions that will make memories to last a lifetime! Get back to nature and have old fashioned FUN with your kids in our back yard.
The neighbouring property is the home of 'The Worumba Experience', a self-drive 4WD track and the homestead features an art gallery. Bookings are essential through the Worumba Station.
Room Type
Entire home/apt
---
Property Type
House
---
Accommodates
8
---
Bedrooms
Hawker, SA, Australia
Imagine yourself sitting on the veranda of an early 1900's homestead... all the character of the early farming days with 100 year old hand picked stone walls... sheep and cattle grazing among iconic Flinders Ranges views... Welcome to Mt Scott Homestead!
Quiet, remote farm house. Sheep and cattle grazing. Abundant in wildlife. Iconic Flinders Ranges views.
Room Type
Entire home/apt
---
Property Type
House
---
Accommodates
6
---
Bedrooms
Hawker, SA, Australia
Enter dates to see full pricing. Additional fees apply. Taxes may be added.