Die heimelige Unterkunft befindet sich in Flüelen direkt am See und am Bhf von welchem Sie auch mit dem Zug direkt etwa nach Locarno, Zürich oder Luzern reisen. Einkaufsmöglichkeiten (Lidl) befindet sich etwa 10 Minuten (Fussmarsch) entfernt. Badeplätze finden Sie in unmittelbarer Nähe. Genau über der Strasse liegt der Schiffsanleger von dem alle zwei Stunden ein Dampfschiff ablegt mit dem Sie bequem nach Luzern gelangen. Auch für Wanderer und Bergsteiger ist Flüelen ein idealer Ausgangspunkt
Dass Zimmer verfügt über ein Doppelbett und ein eigenes Bad
Nebendran befindet sich die Post und eine Bank. Zahlreiche Badeplätze sowie ein Strandbad in der Nähe
Also, ich bin schwer begeistert von dieser kleinen und feinen Unterkunft. Es war alles wie beschrieben. Anita hat sich hervorragend gekümmert, Getränke bereit gestellt und sich für weitere Informationen immer bereit gehalten. Es gibt nichts negatives was es zu berichten gibt.
Sebastian
2016-08-30T00:00:00Z
Room Type
Private room
---
Property Type
Apartment
---
Accommodates
2
---
Bedrooms
Flüelen, Uri, Switzerland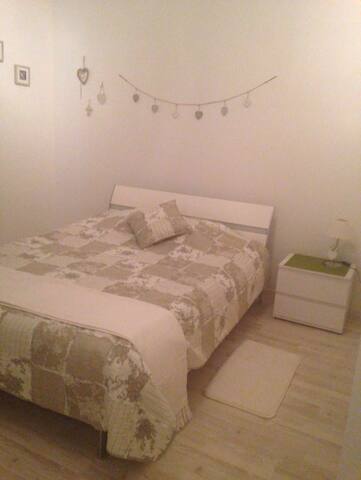 A few meters walk from Gersau ship station and bus stops. From the window, is visible the magnificent Lake Lucerne and the beautiful green scenery. With two beds and 1 toilet and bath. Explore the nearby mountain, this is truly a paradise!
We had a spacious room with full access to a large kitchen and our own bathroom. Great location where you can walk to supermarket and the lake. Lovely to sleep with the sound of the stream outside. Thomas made us feel very welcome. We loved our stay, great location and great value. Would stay here again.
Bryce and Janine
2015-06-03T00:00:00Z
Thomas and his wife were both extremely friendly and hospitable! The room was clean and comfortable, and it was very convenient because there was a microwave/kitchen/fridge which we could use to cook food and pack lunch (especially since food in Switzerland is really expensive)! The place might be a little difficult to get around to other attractions, but Gersau is a really beautiful and nice place to stay!! :-))) It was a superb experience staying w them and I'm glad I chose to stay here!! :-))
Loh
2015-06-28T00:00:00Z
Had a great time in Gersau! Beautiful view from my room and clean and quiet stay. Hope to come back some day!
Lizzy
2015-08-20T00:00:00Z
Nice scenic location. Very quite hotel. Infact there was hardly anyone there at all which was a bit strange. Free tomatoes were nice.
Martin
2015-10-10T00:00:00Z
Great view and value!
Mika
2017-03-03T00:00:00Z
We had a fantastic stay in Gersau the area was beautiful and the room was clean and spacious, the host although we never met catered to arrival with ease making it easy to park our car right outside the building, we wished we had another night as one almost isn't enough to take in the area around Gersau.
Tim
2016-08-15T00:00:00Z
Everything was perfect ! Fantastic view, nice room with bathroom and comfortable bed, coffee and tea... We had access to a kitchen and a fridge, which was very convenient. The hotel was very quiet so we had a very good sleep. We highly recommend !!!
Camille
2015-07-27T00:00:00Z
We had a nice stay, it is a little old and worn out place, but it does the job and provides very good value for the money. It is also a small beautiful town, you can easily access it using public transportation.
Zhiyi
2015-07-16T00:00:00Z
Room Type
Private room
---
Property Type
Apartment
---
Accommodates
2
---
Bedrooms
Gersau, Schwyz, Switzerland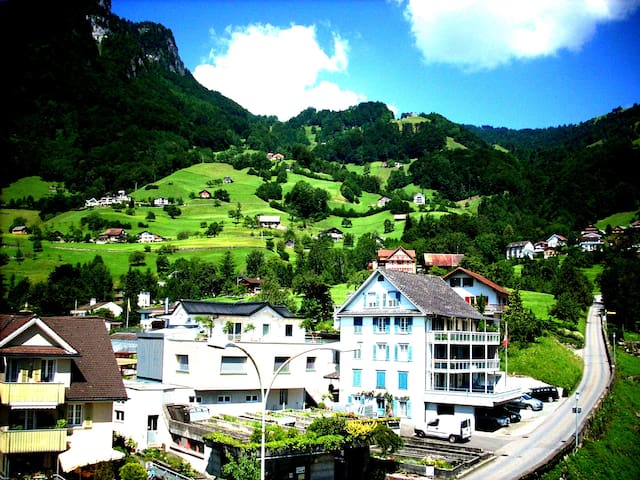 Im Schweizer Chalet erwartet dich ein stylishes und heimeliges Appartement für 2-4, mit Gartenplatz und wunderbaren Blick auf den Vierwaldstättersee und die Berge. Idealer Ausgangspunkt zum Wandern,Schwimmen,Erkunden der Zentralschweiz und für Biker!
Lebhaft am Tage - ruhig in der Nacht......Gersau mit seinem mediteranem Klima, am Fusse der Rigi, lädt ein die gesamte Zentralschweiz zu erkunden! Direkt vor der Tür kannst du mit dem Bus, der Rivieralinie (URL HIDDEN) 500m weiter wartet der Dampfer auf dem See auf Dich! 200m von mir kannst du in einem kleinen Strandbad schwimmen,Stand-up paddeln und den See geniessen. Kanu-Touren sind ebenfalls möglich! Flughafen Zürich ist ca. 50 Minuten entfernt - Luzern ca. 45 Min. Zentral gelegen - das kleine Dorf am Vierwaldstättersee- Erholung pur
Auf der Sonnenseite von Gersau, der ehemals kleinsten Republik, wohnst du unabhängig in einer schönen zwei-Zimmerwohnung. September und Oktober laden zu herrlichen Wanderungen in der Bergwelt ein! Grüezi in Gersau - Klein....aber Fein!
Amazing! Communication with Beate was great, both before arriving and during our stay. She was a wonderful host, recommending activities for us based on the weather and considerate of our young children. Beate definitely makes you feel comfortable and provides for a relaxing stay. The apartment had everything we needed, including toys for our little ones! The view from the apartment was gorgeous For an extra fee, Beate will prepare a wonderful, tasty breakfast and even a dinner! Highly recommend Beate's place for a small family. We look forward to returning!
Wendy
2016-04-10T00:00:00Z
Beate is a great woman! She is very friendly and willing to help in any case you need. The apartment is very bright, placed next to the lake. Beautiful view on the lake and mountains shows up from the window. Definitely next time on Luzerner See we will stay at Beate's apartment!
Maksym
2015-07-12T00:00:00Z
She was waiting for us outside on the patio with a plate of hors d'oeuvres. Beate was so warm and inviting. The apartment is beautiful, modern and very spacious, with a fabulous view over the water. She went above and beyond and so cheerful. She is a fabulous cook. Her home is only a 5 minute walk from the bus stop. It is without a doubt, my favourite b&b. As soon as I left, I was making plans to go back.
Ina
2016-09-20T00:00:00Z
It was my first time with Airbnb, and it was surprising and amazing! Beate's house has the best location, excellent view exactly like the picture posted, and fantastic room with everything that you need. You can do a lot of stuff around, like go to Rigi mountain or go to nearby village Brunnen to the Victorinox store. She is very nice, gave us a lot of tips and even provide a brochure with all the travel suggestions. We had a really good time there. I'll definitely recommend Beate's apartment to others, also we would love to go back there.
Ke
2016-10-23T00:00:00Z
We had an absolutely fantastic stay at Beate's place. It was exactly as per the pictures. The location is beautiful and the apartment is perfect. Very good size (certainly comfortable for 3), fully equipped kitchen (including an honesty bar in the fridge!), great shower (there's even a washing machine and dryer), good internet, and wonderful views. Beate was a perfect host - she was always available, provided us with really useful tips on outings etc., and even shared some of her homemade cooking with us. Thoroughly recommend this place - and would certainly consider going back there!
Timothy
2015-12-19T00:00:00Z
The first word that comes to mind when describing Beate's apartment is "excellent". It is well equipped and very clean; it even has a dryer and washer. The apartment clings onto a slope with a beautiful view of the lake. A trip to Gersau, away from the more touristic Lucerne, is something we did not want to miss. We swam in the lake, took a cruise around the lake, trekked close to the summit of Mt Rigi, and make short trips to some of the small towns close to Gersau. The only thing that would surpass all these was Beate's hospitality.
KS
2015-07-05T00:00:00Z
This was the best travel experience we've ever had; Beate is an amazing hostess, extremely friendly and accommodating, and Belsito is a gorgeous, spacious house -- a warm and inviting place to stay with plenty of amenities for everyone, including young children if you have them. The location is amazing. It is easy to find and access, and the breathtaking views of the lake and mountains must be seen to be believed. The atmosphere is peaceful and homely. Within a very short walk are the ferry station and various bus stops, so that you can easily get to any number of destinations in the area by boat or bus (Luzern is about an hour away by bus and train, or a couple of hours by boat -- perfect for a day trip.) There is also ample hiking in the area, via the Rigi-Lehnenweg and the Vierwaldstätterweg that run through Gersau and the neighboring towns. This one's not to be missed if you have plans to stay in the area! We hope to be back someday.
Curtis
2016-06-16T00:00:00Z
Beate is very friendly and helpful! Her attentions and the qualities of the flat make you feel at home. On top of that the surroundings are amazing, one cannot ask for anything better!
Karin
2016-05-09T00:00:00Z
Room Type
Entire home/apt
---
Property Type
Apartment
---
Accommodates
4
---
Bedrooms
Gersau, Schwyz, Switzerland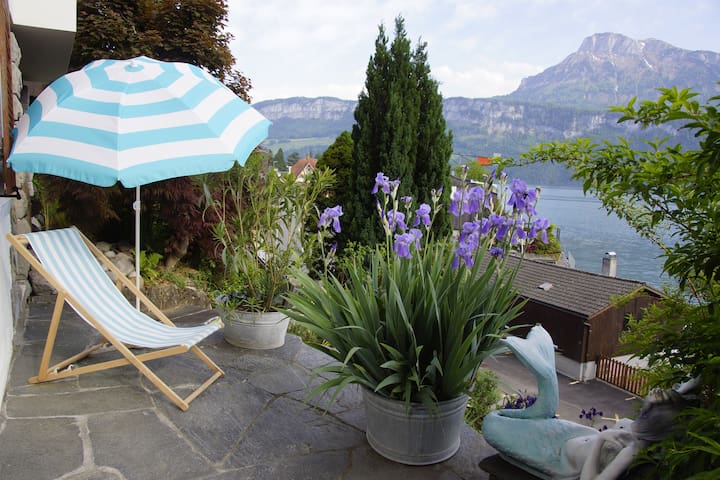 Meine Unterkunft ist in der Nähe von öffentlicher Verkehr, Bus Schiff Anschluss vor der Tür. Du wirst meine Unterkunft lieben wegen dem Ausblick, direkter Seeblick. Gemütliche, Lage,Küche.Meine Unterkunft ist gut für Alleinreisende, Paare, Abenteurer
Ist ideal gelegen neben Hotels 1 Reihe am Vierwaldstättersee sehr schöner Ausblick direkt auf den See! Im Sommer zur Schifffahrt und schwimmen im See sehr gut geeignet. Jeder halbe Std. fährt das Schiff, 45min. mit Schiff bis nach Luzern City, Zug, Bus 1Std.bis Luzern City.
The host canceled this reservation 4 days before arrival. This is an automated posting.
Marius
2017-01-26T00:00:00Z
The host canceled this reservation the day before arrival. This is an automated posting.
Alexander
2017-02-14T00:00:00Z
The host canceled this reservation 20 days before arrival. This is an automated posting.
Jiting
2016-12-08T00:00:00Z
Fabiola Was very helpful Providing all the needed information... Will Definitely come back to this Sweet House
Bhoopal Reddy
2016-10-03T00:00:00Z
Everything was good, thank you for your hospitality.
Philippe
2016-09-26T00:00:00Z
这是一栋坐落在琉森湖边的住宅,这里风景优美,交通便利,不远就是瑞吉山,Fabiola很友好,房子超级赶紧,装饰很漂亮,每个房间可见美丽的蝴蝶标本和精美的贝壳,可见房主是一个很有情调、浪漫和细心的人。很高兴认识房主,希望能和你成为好朋友,一起分享旅行心得,也希望下次还能入住你的漂亮美丽的房子。
HUAPING
2016-10-08T00:00:00Z
Room Type
Entire home/apt
---
Property Type
Apartment
---
Accommodates
2
---
Bedrooms
Gersau, Schwyz, Switzerland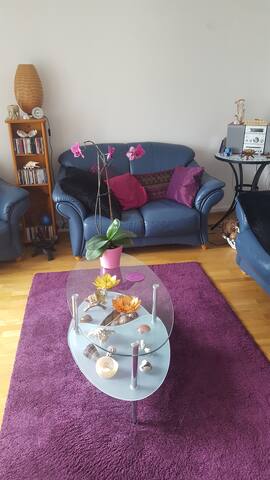 1-room apartment 38 m² on 1st floor.
Practical and cosy furnishings: living/dining room with 2 beds and satellite TV (flat screen). Exit to the balcony. Kitchenette (2 hot plates). Bath/WC. Balcony 7 m². Terrace furniture. Marvellous panoramic view of the lake, the mountains and the valley.
Apartment block "Platten". Outside the resort, 1.5 km from the centre, in a quiet, sunny position on a slope, along the wooded area, 1.5 km from the lake. For shared use: lawn for sunbathing, swimming pool (4 x 12 m, 01.06.-30.09.) with internal staircase. In the house: lift, washing machine, tumble dryer (for shared use, extra). Steep, narrow motor access (mountain road). In Winter: please take snow chains, 4x4 car recommended in winter. Parking. Grocery 1.5 km, restaurant 1.5 km, swimming bay 1.5 km. Tennis 1.5 km, mountain railway 4 km, ski lift 4 km. Lake with shingle beach, 1.5 km. Access via a curvy, asphalted mountain road.
Room Type
Entire home/apt
---
Property Type
Apartment
---
Accommodates
2
---
Bedrooms
Gersau, Switzerland
You will feel at home in the lakeside hotel. Immerse yourself in a relaxing world of magnificent scenery and be spoiled with culinary delights. We specialize in a light fish kitchen; Daily fresh produce from the region prepared with love. In the summer, enjoy your lunch or dinner on the enchanting lake terrace with a magnificent view of the Niederbau mountain and Lake Luzern.
Direct view of the lake and mountains. Every room is with a balcony.
Room Type
Entire home/apt
---
Property Type
Apartment
---
Accommodates
4
---
Bedrooms
Gersau, Schwyz, Switzerland
Ideale Lage für Wanderungen und Ausfluge zu Fuss oder mit dem Schiffen auf dem Vierwaldstättersee.Bei Schlechten Wetter-Wellness Bad in Morschach.
Wonderful stay at Lina's! We were searching for affordable accommodation around Brunnen providing us with some good night sleep and breakfast before a job interview. Lucky me, that Lina's beautiful and centrally located apartment was still available (it books out quickly). The location is fantastic, opposite the train station, with private parking around the house and only a short stroll to the town promenade along the water. Restaurants and supermarket are close by and open even on Sundays. The room and the apartment is very tidy, spacious and full of light, facing the beautiful mountain landscape throughout every window. The mountain air at night time is very refreshing. It felt like being on vacation. Lina herself is the best host ever. She will make sure that you feel comfortable from the very beginning. Speaking English, French and German she will provide you with great tipps on what to do in the area or little (URL HIDDEN) of her fascinating life. The breakfast was super fresh and simply delicious. There is really nothing better to start the day with than self made marmelade and yoghurt with blueberries. Yummy! We can't thank her enough for such a pleasant stay. We will for sure come back and recommend Lina's appartment to everyone who likes to visit Brunnen and the beautiful area around.
Kristin
2016-08-08T00:00:00Z
Lina is a wonderful host, very friendly and helpful. To find her flat, look for Otto's, and go into the parking lot; then you will see house number 53b. Brunnen is a very good place to get a feeling for central Switzerland, with the lake and mountains so close. She gave us a great tip to visit Sittlis-alp, for the view and the cheese. Lina provided a lovely breakfast; we would return often if we could.
Annegreth
2016-08-25T00:00:00Z
Great host made us feel welcome! Lovely homemade yoghurt and breakfast.
Solomon
2016-08-02T00:00:00Z
Lina is a wonderful person. We had a pleasant stay.
Mahalakshmi
2016-08-13T00:00:00Z
Lina was warm, friendly and made use feel welcome in her home. Breakfast was fantastic too! Would definitely come back to her when I come back to Switzerland.
Joy
2015-06-27T00:00:00Z
The apartment is located right opposite the Brunnen train station, with good access to super markets and the Lucerne (URL HIDDEN) a nice place to stay if you want to relax during your vacation...The apartment has everything you need, and the host Ms.Lina is so friendly and helpful that you get to feel right at home...On top of this, the check-in and check-out times were also flexible...
SP
2015-08-23T00:00:00Z
Lina is a best host ever, she is very nice and make you feel comfortable. And provide a fresh, delicious breakfast. The room is also very tidy and cosy. The location is best and opposite the train station. Last, Lina is a nice lady and interesting to talk with. And give a nice souvenirs to us. We will for sure come back and recommend Lina's apartment if you come to Brunnen!
Kwok
2016-09-24T00:00:00Z
Everything was perfect. The stay with Lina was very nice and the room quite comfortable.
Caleb
2015-09-03T00:00:00Z
Room Type
Private room
---
Property Type
Apartment
---
Accommodates
2
---
Bedrooms
Ingenbohl, Schwyz, Switzerland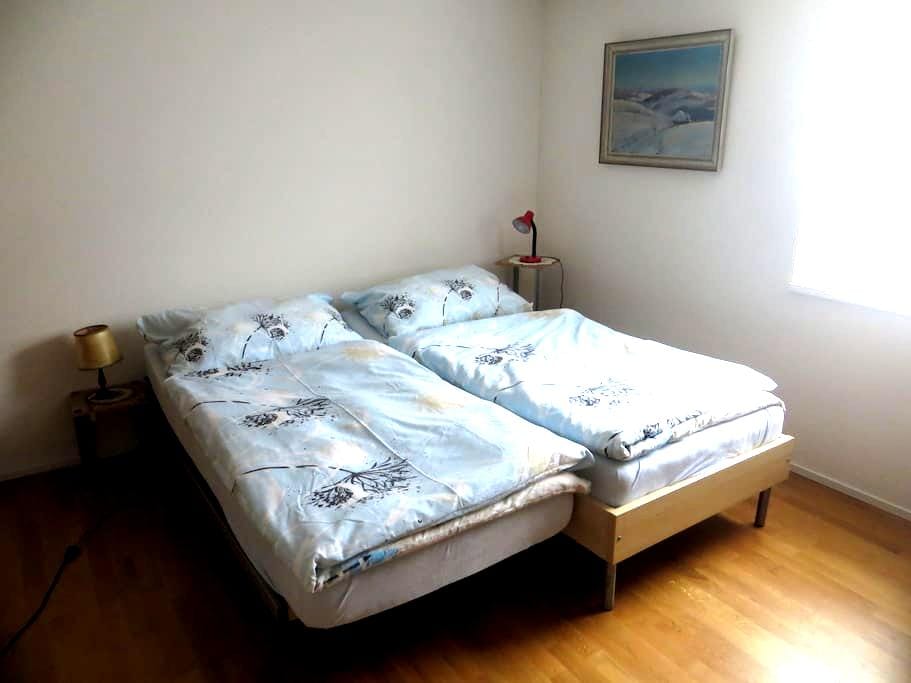 Spectacular location. Luxury new apartment in Vitznau. 100sqm/ 1076 sqft Perfect for your Swiss vacation. Lake/Mountain views. 1 large bedroom, bath/shower, Lounge/Diner, high specification kitchen, Private Patio, Utility & Garage Parking. Walk, Cycle, Ski, Indulge, Rest, Relax. 1 hr Zurich. 30min Lucerne.
Brand new built apartment, luxury/modern Mountain/Lake views. 75 sqm apt. + 25 sqm balcony + utility room + garage parking space. Under floor heating, air filtration, Internet & TV, High end Kitchen.
Walking distance to Supermarket, shops, restaurants, bars, post office, church, play areas. Activities/Attractions. Walking – 2 x mountain lifts within 200M. Take the lift up, (visit the restaurant at the summit if you like) go walking in the mountains/walk back to the apt. Buy a cost effective tell-pass to enjoy unlimited travel in central switzerland bus, boat, rail & loads of ski lifts. Summer Walking/Winter Skiing – Mount Rigi, the historic town of Wegis/Vitznau. Brekenried-Klewenalp ski/walking resort (15 minutes by boat from Vitznau) Stoos resort (40 minutes drive) 1 hour drive to Andermat, Bicycle riding on the footpaths around lake Lucerne - Rent bikes for 20-30 chf/day locally Summer Beach – Due to its location, The lake is at its warmest in Viznau – Children and Adults alike love to swim here in the summer. The oldest cog railway in Europe. (200m from the apt.) Lots of really nice reasonably priced places to eat within a very short walking distance. Gourmet restaurant 'Sens' is across the street Walk to The Park Hotel. Has a 2 star Michelin restaurant, Spa treatments, Brunch, Breakfast. See historic Weggis A boat to Lucerne takes around 30 minutes. The large boat cruisers go round the lake Lucerne, hop on/hop off. Rent a a boat at the marina World War 2 Artillery Fortress Vitznau
We had a lovely stay at Peter's apartment. The place is clean, spacious and well equipped. Peter was very helpful and responsive. I highly recommend this apartment.
Elif
2017-01-02T00:00:00Z
We echo the sentiments of other guests who have said that the apartment is of high quality construction, but there are serious flaws. There is no a/c and no fans. You can't keep the Windows open due to the road noise. Most other problems are easily fixed. The apartment needs a coffee maker -- there is an Italian style espresso pot but it is unusable. The patio needs furniture. Mostly, the apartment needs a book of instructions: how to use the stereo, where to find nearby restaurants, how to use the washer/dryer. *we found the dryer manual on our last day amongst the brochures -- our clothes hadn't dried because we didn't understand the pictograms. Little things: a few more pillows, a trash can in the bathroom. The walls are all bare -- a little decoration would be nice. The bedroom needs a closet -- there is no place to hang clothes. On a positive note: The parking is convenient. The overall quality is high. The double pane glass keeps out the road noise. Peter is a responsive host, even when in a far away time zone. Some minor improvements and this would be a terrific value.
Robert
2016-07-01T00:00:00Z
This is a fantastic apartment in a lovely, serene setting. Lake Lucerne is particularly lovely and the access from the apartment to both the lake and Lucerne town is very good. The apartment itself is very stylish and modern, and is a fantastic base of the region. The finishing and appliances are very modern and all in all it is a lovely relaxing place to stay. Peter's instructions and follow up were excellent and the off street parking and security made getting in and out very easy. This is a very high quality apartment and I would highly recommend it for those wanting to explore this most beautiful corner of the world.
Dean
2016-08-05T00:00:00Z
The apt is very nice. It was clean and spacious. It was however very loud every morning because of the cars driving by. There was no fan so during the summer months you have to leave the windows open in order to stay cool at night. There are not a lot of restaurants in the area but one town over in weggis there are a decent amount. It's only a 5 min drive so that was nice. The area felt very safe. The building is very secure. It was nice having a parking spot reserved in a parking garage so my car was safe.
Sandy
2016-08-23T00:00:00Z
The flat was just perfect. Everything was very clean and new. Incredible stay! I recommand it 100%. Do not doubt a single second! The area is also magical (lake, mountains)... Thank you very much Peter for answering so quickly! Michael
Michaël
2015-12-02T00:00:00Z
One of the great apartments I ever rented for my stay. It is a beautiful spacious apartment very close to Vitznau station/ferry stop. We didn't have any difficulty in reaching to this location and checking in as the instructions were precisely given by the host. The host has clearly mentioned all the instructions for check-in and check-out and he communicated very well to us. The few things missing for the family stay might be: 1) clothes pressing iron 2) the hair dryer in bathroom We couldn't find the washing machine/dryer also (not sure if it was there as we didn't ask the host) But above things are just minor and apartment was very comfortable and the host was great. I would personally like to stay again at the same place. Regards, WASEEM
Waseem
2015-06-06T00:00:00Z
The directions to Peters apartment were easy. Check in and check out was no problem. The apartment WA setter than the pics. The ferry to Vitznau was an added bonus everyday from Lucern. The apartment was very new and perfect with state of art bathroom and kitchen. We like a quiet place so loved the small town .
Balesh
2016-06-16T00:00:00Z
Peter markets his place as a luxury apartment and it has the potential to be so but its just not there yet. The lack of attention to detail doesn't permit this tag in my opinion. The wi-if was problematic throughout our stay, towels were difficult to obtain, no patio furniture, fans were sorely needed, no bathing soap, an unhung picture propped against the wall and a number of other small things didn't help. The apartment preparer's lack of attention to detail did not make for a comfortable stay for us - we had nothing but frustration with our host.
Elizabeth
2016-09-13T00:00:00Z
Room Type
Entire home/apt
---
Property Type
Apartment
---
Accommodates
2
---
Bedrooms
Vitznau, Lucerne, Switzerland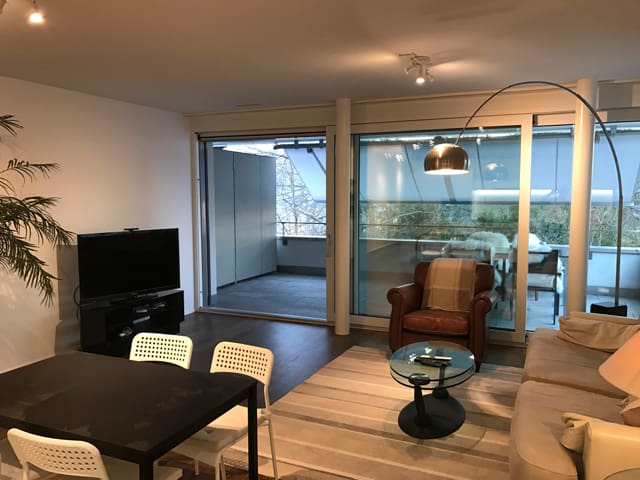 Die Wohnung bietet ausreichend Platz für 4 Personen, mit eigener Terrasse (mit grossartiger Aussicht) und direktem Zugang zum Garten. Anreise mit Bus möglich bis Ende September (Linie 5). Apartment ist 1 MIN ENTFERT ZUM SKILIFT! (Auto). Frühstück: 18 CHF/Person
Wohnung mit Terrasse, eigener Garten mit atemberaubender Aussicht
What a fantastic place! We stopped for a night on our way to Zurich, and everything was just right. The house is very nice, it was warm and ready for us, including a great bottle of wine, fruit and choices of coffees an teas. I would recommend it for sure, and will come back if I get a chance.
Franco
2015-09-30T00:00:00Z
We enjoyed a fabulous night in the Panorama Apartment. My husband, his Mother, his Grandmother, and I enjoyed everything about this apartment. We were given some oil to assist in cooking and found everything we needed for our meal. The gift of wine and chocolate was a complete delight. It was very cozy environment, had beautiful details throughout the rooms, 3 separate amazing coffee options, and perfect for our one night stay. The view is incredible, and we toasted the sunset! I will add a note for sound sleeping. Close the front door storm door prior to locking the front door for the night. The wind through the valley comes up the mountain very strong and blows the furniture around. With this storm door shut, the motion sensor porch light and the movement/noise will be minimized, providing a sounder sleep. We look forward to returning soon!
Sarah
2016-04-17T00:00:00Z
What a wonderful time we had staying at Bastian's gorgeous house! Every comfort was provided, including a coffee machine, blender and a lovely bottle of wine! Beautifully fresh and clean this accommodation provided us with everything we could ask for. Bastian and his family were gorgeous hosts and the view from this home is simply breathtaking. Highly recommended. A wonderful time for our whole family. Thank you Bastian and family!!!
Nadia
2015-06-03T00:00:00Z
It was amazing holiday, very cozy home on the top mountain
Natalia
2016-03-25T00:00:00Z
The host canceled this reservation 42 days before arrival. This is an automated posting.
Xiang
2017-03-05T00:00:00Z
Great host(s). Fantastic view. Warm and cosy place. Well equipped kitchen/amenities. Our kids enjoyed watching the DVD and played Chess. We felt welcome. Highly recommended.
Syazlan
2016-12-23T00:00:00Z
Bastian family have their property at a beautiful location that has a lot of hiking trails nearby. The property has all the facilities and we enjoyed our stay at this location. Thank you!
Vinay
2015-10-17T00:00:00Z
We loved the apartment. A very warm welcome with lovely wine and chocolate. Our hosts even gave us some food to cook for dinner as we arrived late. Very nice time in a beautiful landscape with generous hosts. Highly recommended.
mirko
2015-10-19T00:00:00Z
Room Type
Entire home/apt
---
Property Type
Apartment
---
Accommodates
4
---
Bedrooms
Rickenbach b. Schwyz, Switzerland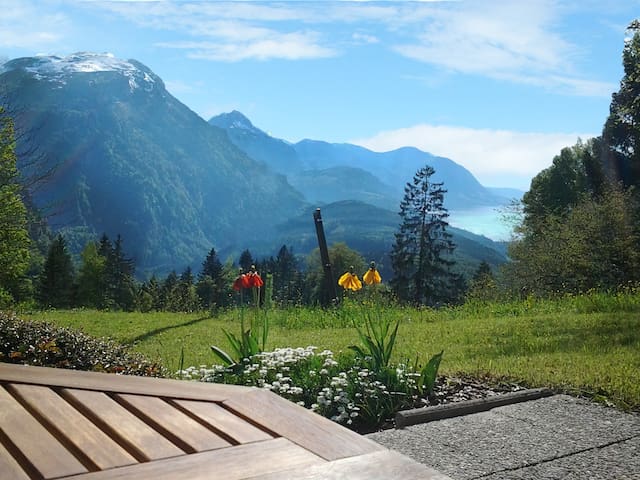 Die Whg. befindet sich in einem 2-Fam.haus (Baujahr: ca. 1900) im EG. Ursprünglich handelte es sich um eine 3-Zi-Whg., die aber im Rahmen der Gesamtsanierung 2016 total geöffnet wurde. Whg. ist vollkommen neu möbliert mit neuer Küche (inkl. Geschirrspülmaschine und Waschmaschine) und Bad (nur Dusche). Gartensitzplatz. Mit Parkplatz (sehr eng). Bahnhof, Einkauf fussläufig. Auf der Frontseite etwas Strassenlärm. Whg. verfügt über Kaminofen, der aus Feuerschutzgründen nicht benutzt werden darf.
Room Type
Entire home/apt
---
Property Type
Apartment
---
Accommodates
4
---
Bedrooms
Altdorf, Uri, Switzerland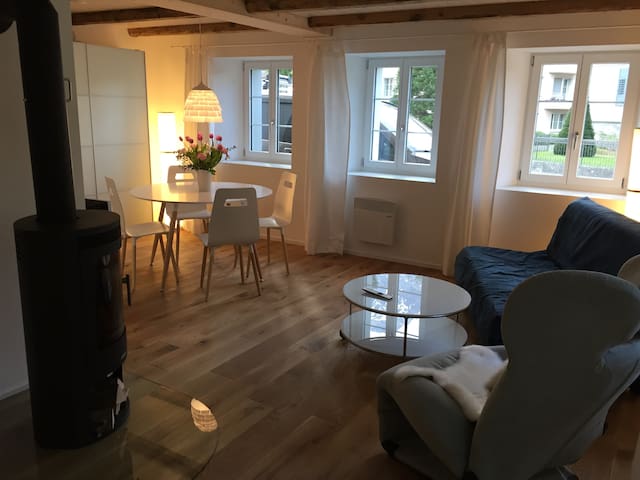 Unsere Wohnung liegt 3 Gehminuten vom Ortszentrum mit Touristeninformation, Einkaufsmöglichkeiten, Fussgängerzone, Restaurants und Bars sowie der Bushaltestelle neben dem berühmten Telldenkmal, entfernt. Von unserem Sitzplatz aus kannst du die Aussicht auf die Berge geniessen. Zudem bist du in kurzer Zeit in Mitten des Geschehens, jedoch liegt unsere Wohnung ruhig und weg von der Strasse. Auf unserer Weltreise haben wir selbst mehrmals in AirBnBs übernachtet und wissen, was die Leute schätzen.
Room Type
Private room
---
Property Type
Apartment
---
Accommodates
2
---
Bedrooms
Altdorf, Canton of Uri, Switzerland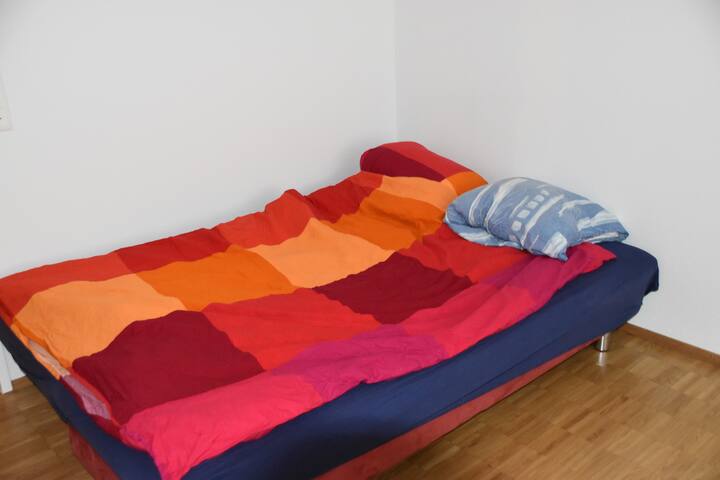 Our cozy, quiet apartment on the top floor with living room, bedroom, kitchen, bathroom with shower and guest toilet has a beautiful view of the lake. Centrally located with bus stop, indoor swimming pool, restaurant and parking right outside the front door. Incl. free outdoor parking.
Lake and boat station, and village center within walking distance.
* Very beautiful promenade in about 5 minutes away * Shops within 800 m * ATM, bakery within 800 m * Hall, resort, incl. Restaurant are located directly near the house
Room Type
Entire home/apt
---
Property Type
Apartment
---
Accommodates
2
---
Bedrooms
Ingenbohl, Schwyz, Switzerland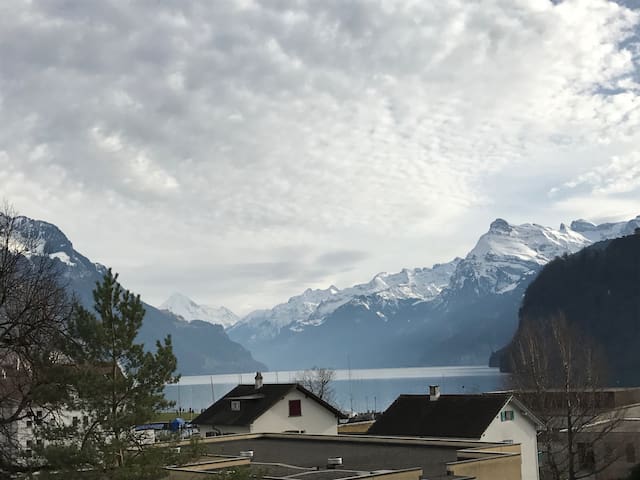 Welcome home ! My apartment is located right by the lake. Lakeview from every angle, even if you are in bed. Private (grass-stone) beach, 2 floors...just like on my pictures !
Right by the lake Free parking Bus station right by the building, streetside
Friendly, interesting people who are respecting surrounding privacy but alway open to chat. Open minded, quiet wallowers
Andrea was extremely inviting and friendly. Staying at her place is like being at a 4-star hotel, but with homely touches. The view from the flat is glorious and she keeps her place very clean! :) I will definitely book it again giving the opportunity!
Tiffany
2017-03-27T00:00:00Z
Great place for a good price!
Sofia
2017-01-27T00:00:00Z
Andrea has been an exceptional host: always "online", helping with the check-in and giving tips around the house. The duplex itself is truly beautiful, the pictures don't do it's justice! It is located in a private development, straight on the lake. It has huge windows, a very modern feel, high quality furniture as well as bedding. Everything is organised perfectly for you convenience, and there are little notes around the house with the tips how to make the most our of the stay. This has been an amazing experience.
Kirill
2017-04-01T00:00:00Z
We enjoyed our stay at this place very much! This fantastic two levels flat contains everything you may need for a comfortable life. Despite Andrea was not able to meet us personally, she managed how to check-in and -out us without any problem. The flat has panoramic windows which made us happy every morning when we woke up and saw a lake surrounded by mountains. I believe that this place is better that it is described on Airbnb, so I would definitely recommend it!
Olga
2016-12-28T00:00:00Z
The host canceled this reservation 4 days before arrival. This is an automated posting.
Martina
2016-08-21T00:00:00Z
Andrea's place was great. The view is superb, the flat was clean, and the bus stop is just in front of the block of flats. The area is a great starting point to explore central Switzerland, its mountains and the four cantons lake.
Silviu
2017-01-02T00:00:00Z
L'appartement est fidèle aux photos et Andrea une super hôte ! La vue est superbe et très calme ! Venir l'été pour se baigner peut être aussi une bonne option !
France
2017-03-02T00:00:00Z
Room Type
Entire home/apt
---
Property Type
Apartment
---
Accommodates
2
---
Bedrooms
Brunnen SZ, SZ, Switzerland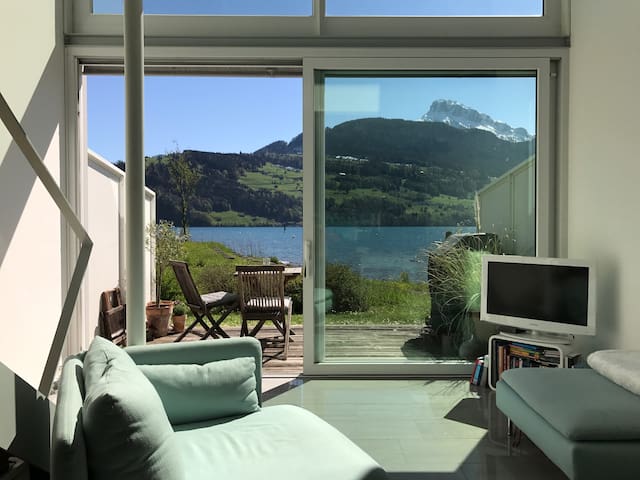 This little studio in the tiny, romantic village of Bauen has a magnificent view over the whole southern Lake of Lucerne. A great spot for hiking, windsurfing, canoing and - most of it all - relaxing.
A magnificient view over the southern Lake of Lucerne up to the Gotthard mountains in the romantic, quiet village of Bauen.
bauen is one of the most beautiful, unique villages of central switzerland. The mainstreet is only for pedestrians. The only road stops here, there's no traffic through. Quiet and peaceful atmosphere. Great spot for hiking, windsurfing, canoing, swimming and - most of all - for relaxing.
We spent happy time during three days in cute house with parking and very nice view. Thank you Markus.
HYANGMI
2015-06-17T00:00:00Z
Our experiance was wonderful and Markus was more than supportive and friendly. We recieved more than expected. The veiw and the terass is just fantastic and one of the most beautiful and calming environment we have experianced. The athmosphere is just amazing. Thank you!
Christian
2015-07-19T00:00:00Z
Great place in a beautiful small town with fantastic views. The place has everything you need and Markus was a great host. Would love to come back.
sofie
2015-09-24T00:00:00Z
Absolutely breathtaking view! Markus was very friendly and extremely helpful. We would return there with great pleasure to enjoy Markus's place.
Dario
2015-03-01T00:00:00Z
I had a fantastic weekend at Markus' place. The studio is very comfortable and has everything you need! Clean and well furnished.I hope to come back to his place during the summer and make the most of this beautiful village. Thank you Markus for being so kind with us!
Chiara
2016-01-25T00:00:00Z
We had a very enjoyable time at Markus' flat - warm, well equipped and with amazing views of the lake and mountains. Bauen is lovely, peaceful village. The only downside was that no matter what we tried we couldn't get the Wi-Fi to work which was bit inconvenient. Otherwise recommended!
Jonathan
2016-06-20T00:00:00Z
This place was absolutely exquisite! Markus was very helpful via email and would reply with quick response when needed. We got an upgrade which was a nice surprise! I recommend the bigger apartment, it is worth it! Very quaint 'swiss' vibe and nestled in the Swiss countryside. The town is super quiet, the Swiss locals hadn't even heard of Bauen! Awesome place to escape the crowds. Travel by car is easiest as minimal public transport. Closest shop is a 7 minute drive. Good for nature enthusiasts, couples and families. Washing cost $5 franks per load though!
Briony
2016-04-10T00:00:00Z
We have had a wonderfull stay in this appartment in Bauen. The room might have been a bit smaller than expected, but the equipment is really good and has everything and more you need. The terras and garden (which we didn't expected) was a lot bigger than expected. The view over the lake and the mountains from room, terras and garden is really amazing and it was nice to relax and hike in this quiet area. Also good we had a flexibel key arrangement as we arrived later than expected.
Michel
2016-10-11T00:00:00Z
Room Type
Entire home/apt
---
Property Type
Apartment
---
Accommodates
2
---
Bedrooms
Bauen, Uri, Switzerland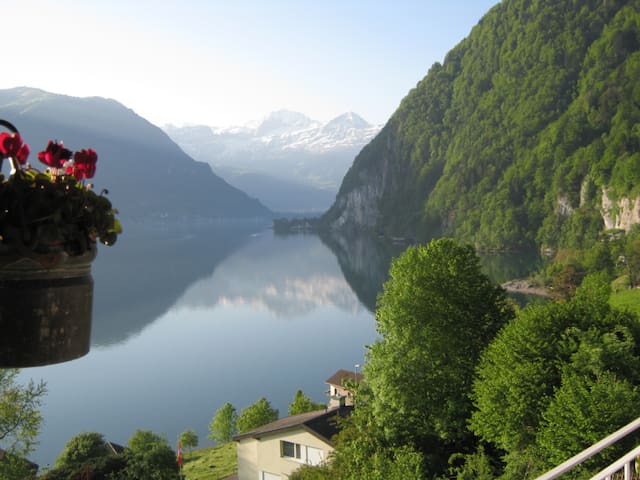 My place is close to public transport and the city center. You'll love my place because of the coziness and the views. My place is good for couples, business travelers, families (with kids), and big groups.
Room Type
Entire home/apt
---
Property Type
Apartment
---
Accommodates
6
---
Bedrooms
Altdorf, Uri, Switzerland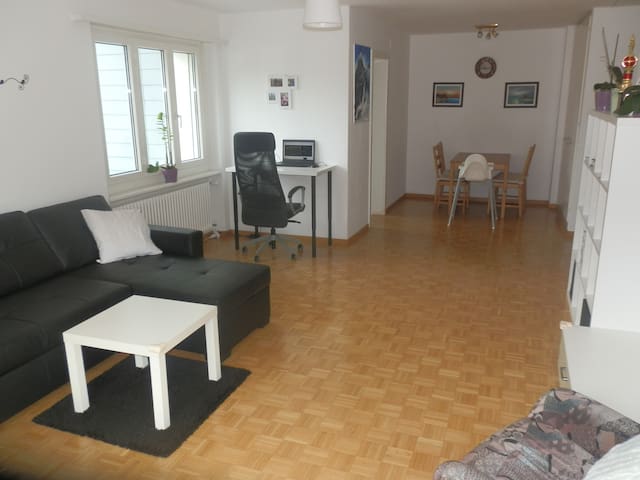 Light flooded apartment with a fantastic view which will not let go a. Next to the lake, very quiet and very close to what it needs for daily life. Bakery, butcher, supermarket, bank, pharmacy, restaurants on the promenade and a gourmet restaurant right in the house For swimming you can use the lake access (web). Suns may be made to the large balcony, the grill is ready for work! This is a wild romantic place ideal for couples.
The flat, which I call "the lake house", is one of the most beautiful houses I ever stayed in. The lake and mountain view, from the kitchen and living room is just breathtaking and picturesque (exactly like pictures on AirBnB) . Furthermore, the interior is very modern and the flat holds everything you need in your daily routine. Kathrin , the host was very friendly and the Checkin/Checkout went was uncomplicated and easy. Totally recommendable!
Afroditi
2017-04-03T00:00:00Z
Room Type
Entire home/apt
---
Property Type
Apartment
---
Accommodates
4
---
Bedrooms
Ingenbohl, Schwyz, Switzerland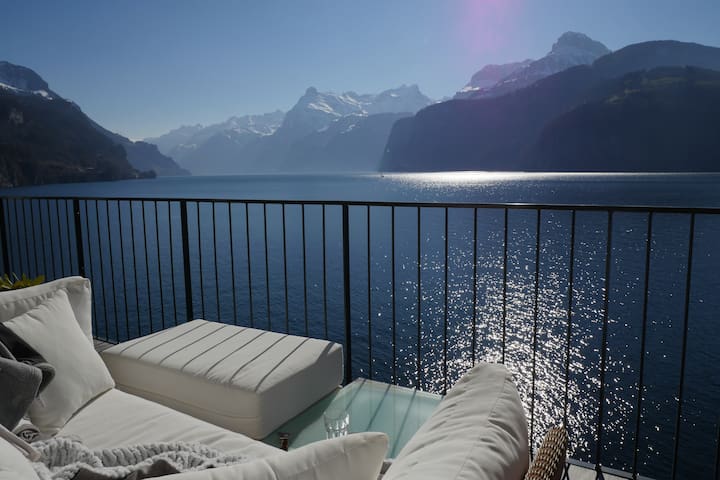 Das Apartment ist sehr ruhig, zentral und nah am See gelegen. Es ist reich ausgestattet und bietet einen Schlafbereich und ein Wohnraum mit moderner Küche, sowie eine Nasszelle. Der Ort Brunnen am Vierwaldstättersee hat enorm viel zu bieten.
Eine umfangreiche Ausstattung bietet Komfort und viele Möglichkeiten. Eine neue, moderne Küche erwartet Sie, die keine Wünsche übrig lässt. Ein Parkplatz ohne Aufpreis, superschnelles Wireless Internet, Telefon mit eigener Direktwahlnummer, bis zu drei Betten usw. Das Apartment wurde 2015 frisch renoviert und ist Allergiker freundlich. Konditionen • Preis CHF 90.00/Nacht für 1-2 Personen • Mindestdauer sechs Tage • ab dem 10. Tag 10 % Reduktion • Preis exkl. Taxe: CHF 2.50/Pers. u. Nacht • Zuzüglich Endreinigung obligatorisch CHF 60.00 • Zusätzl. Bett CHF 15.00/Nacht (Kinder CHF 10.00). • Kinderreisebettchen gratis • inkl. Küchen-, Bad- und Bettwäsche • inkl. Parkplatz • Haustiere sind nicht erlaubt • Nichtraucherwohnung Buchung gilt ab Eingang der Anzahlung von CHF 200.00. Check-in ab 17.00 Uhr und Check-out bis 10.00 Uhr
Lage BRUNNEN • Brunnen liegt am Ausläufer der weltberühmten Rigi, wo verschiedene Bergbahnen hinauf führen. • Luzern erreicht man per Schiff in 2 Stunden, im Zug in 45 Minuten und im Auto in 30 Minuten. • Zürich liegt 45 Minuten mit dem Auto entfernt • Locarno und Lugano erreicht man mit dem Auto in 90 Minuten oder in zwei Stunden mit dem Zug. • Innerhalb von 6 Kilometern sind zwei grosse Einkaufszentren erreichbar • Im Winter gelangen Sie innert 30 Minuten in attraktive Skigebiete am Mythen und auf dem Stoos • Halt von Interregio- und Regionalzüge
Monica was a gracious host. She greeted us upon arrival and provided appropriate information and was available to answer questions. The accommodations were as expected, location allowed us to use three forms of public transportation, lake steamer, bus and train. Her price was competitive and met our expectations. We would definitely stay there again.
Robert
2016-09-29T00:00:00Z
Monika was quick to answer and very thorough. She greeted us as we arrived and was available as we needed her. The apartment was clean, well stocked, quiet and conveniently located. A good place to stay when exploring the interior of Switzerland.
Eos
2015-12-31T00:00:00Z
El apartamento fue perfecto y se ajustaba totalmente a la descripción del anuncio. Brunnen es un lugar extraordinariamente bonito y perfecto para conocer la Suiza central. Monika y su familia han sido los anfitriones idealeHa s en todos los sentidos. Cuando volvamos a Suiza no dudaremos en ir a Brunnen a casa de Monika.
Sergi
2016-07-25T00:00:00Z
Room Type
Entire home/flat
---
Property Type
Apartment
---
Accommodates
3
---
Bedrooms
Brunnen, Schwyz, Switzerland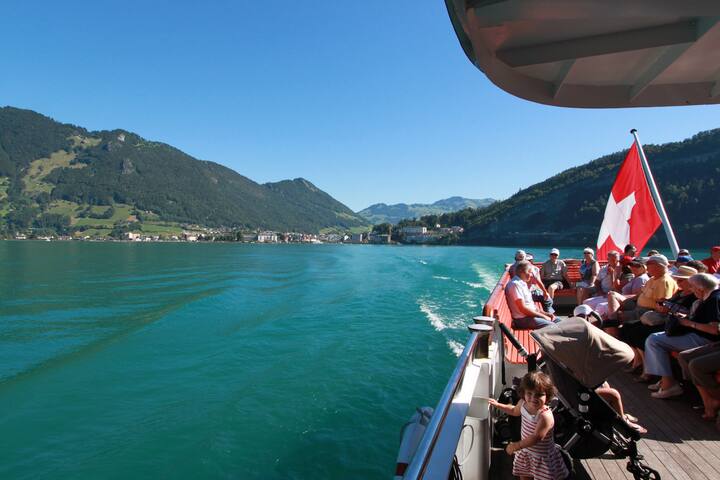 Meine Wohnung ist im Zentrum von Vitznau in unmittelbarer Nähe zur Bus-, Schiffs- und Rigi-Bahn Station. Ruhige Lage direkt am See mit entsprechender 180 Grad "Rundumsicht" auf See und Berge. Dank unmittelbaren Nähe zum Wasser ein einmaliger energiegeladener Kraftort, der sofort entspannend wirkt. Ideal für Paare, Berg- und Naturfreunde. Bäckerei/Tearoom im eigenen Haus, Supermarkt 175 Meter. Wohnung mit allem ausgerüstet. Bad/Küche nicht modern-luxuriös aber funktional-ordentlich.
The apartment is located in the centre of Vitznau and its rooms and balcony are situated on the lake side only approx. 25 meters from the water (see picture). On the balcony or while lying in the bed in the evening you can listen to the gentle sounds of breakwater and before this (in hot summernights) you can enjoy – thanks to the straight access - a refreshing midnight swim in the lake almost in full privacy and again in the morning. After this enjoy a marvellous breakfast in our own house bakery (in the same building). I call this a unique selling proposition! Be in the front row when the sunsets create surrealistic ambiances; Nature heaven! Once there you will understand. 150 meters both to the Rigi Cog Railway station and to the Vitznau boat station means water and mountains at you oyster (see further description). Supermarket (Volk) 7 days open in 175 meters distance. Bakery is in the same building. Different 3 and 4 star hotels with their gourmet restaurants and other fine restaurants in walking distance are waiting for you. The apartment is fully equipped and mesures 64 m2. Please take note that Kitchen and Bath are not modern-luxury but functional-orderly. You will find a Nespresso Coffee machine (and other coffee machine like Italian style), oven and microwave, toaster, mixer and all other sorts of helpful kitchen tools. A bit special is the dish washer as it has to be specially connected to the water tab before/during washing.
The Rigi Cog Railway (Europe's first cog railway back in 1871) lifts you right up to the Mt. Rigi (called queen of the mountains) where a wonderful network of walking trails of over a hundred kilometres extends down along the flanks of the mountain. A Nordic walking park, covered with barbecue areas & children's playgrounds. The Rigi is also well known for its rich Alpine flora of around 1000 species. The Rigi is Switzerland Favourite Mountain for walk & excursion. Further a cableway (300 meters from your apartment) leads from Vitznau to Hinterbergen, where you can enjoy the views from the sun terrace of the restaurant. A further small cableway (in 250 meters distance) transports you from Vitznau to the Wissifluh mountain restaurant, a starting point for many walks and treks. Europe's largest fleet of paddle steamers invites you to a lake round trip sightseeing or it brings you in a few minutes to other very intersting mountain region like the Bürgenstock, Stanserhorn, Pilatus & Klevenalp. Or in 30 minutes to Lucerne for a shoppingtour you will enjoy.
relaxing
Fahad
2016-09-14T00:00:00Z
Nicolas was a most welcoming host and provided an excellent briefing on the facilities in the apartment and the range of walks within easy access of the apartment. The apartment was very comfortable and has an outstanding view of the lake and mountains behind, which on a sunny day presents a stunning sunset. It is ideally located for access to ferries, buses, and mountain railway, and local restaurants. Nicolas went out of his way to make us feel at home. He even had a kangaroo key ring for his apartment key. He also Let us have a late check out on our last day so we could enjoy the improved weather conditions on the mountain. We have absolutely no reservations about recommending Nicolas or his apartment to anyone wishing to experience a very pretty and authentic part of Switzerland. We enjoyed our stay immensely.
Ian
2016-09-22T00:00:00Z
Nicolas was a wonderful host. He was always responsive to my texts or emails. He spent a lot of time with us showing us around the neighborhood and providing us with literature and advice for various vacation sites. The location of the apartment was perfect. All breakfasts and dinners taken on the balcony with magical views of the lake, mountains, sunsets and Moonbeams shimmering. Location was so peaceful and scenic, we didn't want to go touring. Nicolas made his home and contents fully available to us and while he lives nearby, he did not intrude. Location is perfect for swimming, 25 steps to the water, 3 minute walk to boat transport, bus transport and cogtrain to Mount Rigi and a wonderful Spa. By car, 15 minutes to autobahn and transport all over Switzerland, 35 minutes to Lucerne City, 45 minuites to Zurich. Boat rides from apartment to nearby towns are easy and a must as nearby towns are beautiful (Weggis, Brunnen etc.) Lake itself is major viewing site by boat and a must. Location is central to most of Switzerland and within 1/2-2 hours of most everything you want to see. The nearby information bureau (tourist bureau) is 3 minutes away with very helpful staff who can speak English and change money for you, provide you with Tell Pass and make calls for you about tourist sites and make restaurant reservations. We rented a car, but used the boats, bus and trains for transport more than half of the time. The car provided some needed flexibility, as public transport is regulated by seasonal schedules, and may not always fit your needs. We used it to also drive 10-12 minutes to nearby Kussnacht to shop at large sized supermarket. The local one ( 4minutes walk from apartment) is small but has necessities. Also to drive at night after boat stops, to nearby towns and cities for night life. Apartment is totally functional. Do not expect ultra modern, but do expect completely useable apartment, tub w/good strong shower, kitchen with full utensils and dishes, plenty of electrical outlets and extension cords, dishwasher, perfect for 2 people, small electric grill, TV with basic channels mostly in German. A Few English channels, and plenty of music channels, and HDMI inputs and USB input to view your laptop movies, or Netflix etc. There is a printer that worked with my laptop and I could print boarding passes etc. WiFi service that easily handled our 8 devices. This was the best vacation of my life, partly because of Nicolas, his wonderful apartment and its idyllic location enabling us to maximize on the beauty of Switzerland. I would go back in a heartbeat, and plan to do so ASAP. We spent 11 nights there and were heartbroken at the thought having to go home and not waking up on the shores of Lake Lucerne under the glorious Alpen Mountains.
JEFFREY
2016-09-10T00:00:00Z
Nicolas home was exactly as described, super close to Lake Lake Lucerne and with a great balcony overlooking the lake. Nicoles welcomed us at the house and showed us everything including some local tips for in and around Vitznau. We've stayed for four days with our family of four and the apartment was perfectly sized for that. We even used Nicolas grill out on the balcony which worked great and was very enjoyable in the sunset.
Martin
2016-08-17T00:00:00Z
De verhuurder verzorgde een uitstekend welkom. Hij nam alle tijd voor een rondleiding en bood diverse suggesties met betrekking tot uitstapjes en restaurants. De ligging van het appartement is geweldig. Bij goed weer kun je de hele tijd genieten vanaf het balkon met een heerlijk uitzicht op het meer. De bakker in het gebouw maakt dat je iedere ochtend zelf een vers ontbijt kunt hebben. Ook het gebak is niet te versmaden. De keuken en badkamer zijn functioneel maar goed. De woonkamer biedt voldoende ruimte en is goed verzorgd. Bij minder goed weer kan je hier goed vertoeven. De bedden zijn in orde. Kortom een gastheer en een verblijf die zeker aan te raden zijn.
Gerda
2016-08-10T00:00:00Z
Appartement vraiment tres agréable. Parfait pour profiter de randonnées et de baignades. Accueil très chaleureux. Vraiment chouette.
Franck
2016-08-24T00:00:00Z
Apartament correcte, amb vistes espectaculars, molta pau i tranquilitat. Si fa bo just al davant et pots banyar. Fleca a sota l'edifici ( tancada els dimecres) i supermercat petit molt a prop. La cuina té tots els accessoris, la nevera és molt petita. El llit és correcta i el lavabo normalet, la dutxa esquitxa molt fins que li agafes el punt. La wifi va bé però lenta. Nice apararment, spectacular views from it. U can swim in the lake just in front. Bakery and small supermarket really close. Kitchen small but with all the accessories. Bathroom ok. The wifi works but slow.
Ariadna
2016-08-30T00:00:00Z
Room Type
Entire home/apt
---
Property Type
Apartment
---
Accommodates
3
---
Bedrooms
Vitznau, Luzern, Switzerland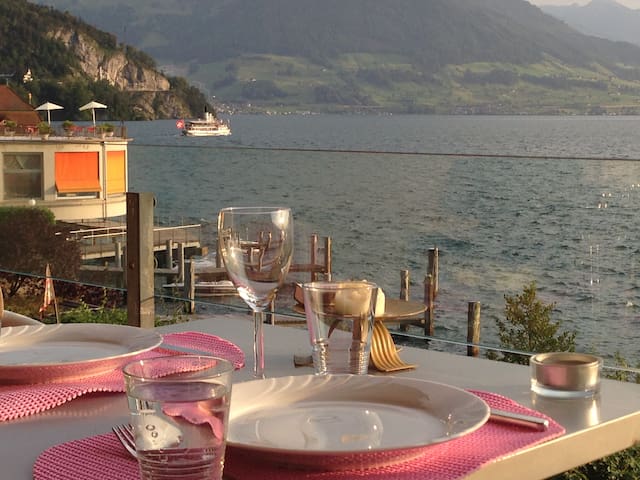 1

–

18

of

41 Flat Rentals
Enter dates to see full pricing. Additional fees apply. Taxes may be added.