We are in the city of Puntarenas near the sea. It is a haven for tranquility where you wake up with the singing of birds without losing the closeness and comfort of the city. Close to supermarkets, hospitals and bus stations.
Surrounded by nature, with a lake where you can see turtles and fish. We park and security Option to host up to 8 people in shared hosting
It faces a Boulevard which is a bike path for sports enthusiasts can be accommodated and cycling to the beach of Caldera. It is only about 2 hours of hot springs and the Monteverde reserve
Nice folks. Communicated well with us when we were trying to get to the place. Welcomed us when we got there. Gave us some refreshing lemonade (thanks!). They made sure we had everything that we needed, very attentive. It is a very spacious unit with private bath and kitchen. We only stayed overnight, and this was a convenient location for the travel that we needed to do.
Trinity
2016-11-17T00:00:00Z
This was a small basic apartment with kitchenette, bathroom, bedroom and futon. It was an adequate apartment for a low price. It is located right next to the highway behind a radio controlled gate for security. Gabi and family live right on site and were responsive to our requests.
Grant
2017-01-19T00:00:00Z
Gabi's place is cute. It's near the bus stop "El Roble", which was very convenient for us, since we used the buses as our main means of transportation. We were warned it isn't very safe to walk around the area, especially at night, but we also had the option of taking a taxi for a little over $2 to the station. Gabi was very responsive and willing to give recommendations before we even arrived. We were there in March, so the cabin was pretty hot. We did have a fan in the room, though. We were bitten by a few bugs throughout the night, but nothing serious. The coffee machine was dirty, but other than that the place was pretty clean. We ran out of toilet paper after the first day, and the toilet wasn't working (we had to fill it up with a pot to get it to flush). We had a great time in Carara national park. We walked about a mile to the bus stop near the Hilton where we took a bus headed to Quepos and asked the bus driver to drop us off at Carara, which he happily did. Overall good value.
Veronica
2017-03-12T00:00:00Z
Gabi and her family are great hosts. I stayed about 2 weeds. The location is convince to shopping, public transit to many towns and city. Puntarenas, Jaco, Quetos and San Jose main a station just 4 blocks away. The house has large open space patio, a garden and a pound. The place to stay is a private room with big kitchen, dining area and a nice bed. Gabi have 2 very friendly dogs and 2 cats. Her Mon is very friendly cooks good lunch and only charge $4.00 and give me a drive to Puntarenas, I also had assistance on locating the ferry Gabi give many help to me when I got to her house. The bus missed the stop I should get out and stop 1.5 km away. She picked up me no charge. It is a great place to stay. I will be looking forward to staying here again when I return to Cost Rica. Thank you Gabi and family.
Vinh ( Victor )
2016-12-20T00:00:00Z
Very friendly host! Thank you!
Nora
2017-01-10T00:00:00Z
Excelente ubicación para desplazarse por Puntarenas, cerca de las carreteras de entrada y salida. Muy buen trato, súper amables y colaboradores.
Adriana
2017-01-23T00:00:00Z
Lugar limpio y cómodo. Dormitorio, baño y cocineta.cerca de las paradas de bus hacia San José y hacia otras partes de Puntarenas.
Victor
2017-01-29T00:00:00Z
Bonjour a tous, Cette habitation est chaleureuse la famille est joyeuse.Le service est rapide quand vous demander quelques chose comme du propane ou simplement du papier de toilette toutes vos demande s'effectues rapidement . La propreter 3 étoiles mais bien viable il n'y a pas d'eau chaude mais la température est tellement chaudes que sa ne te manque pas beaucoup l'eau est tiède alors confortable. Facile d'accès a 15 minutes en voitures de tous les commerces.Bon séjour au Costa Rica ou ils fait très bon vivre.
Chantal
2017-03-02T00:00:00Z
Room Type
Entire home/apt
---
Property Type
Apartment
---
Accommodates
2
---
Bedrooms
Chacarita, Provincia de Puntarenas, Costa Rica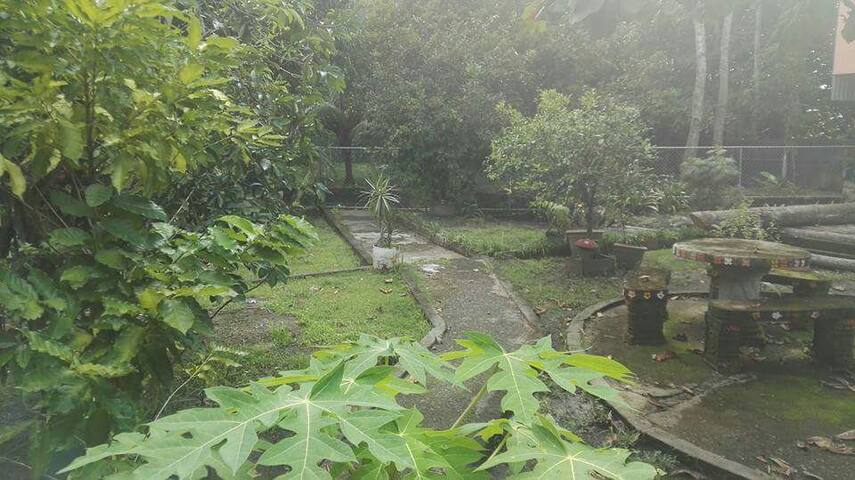 Mi alojamiento es bueno para aventureros, familias (con hijos), y grupos grandes. // For those who want to travel in big groups, family or backpacker style this place offer all you need for a cheap cost.
San Isidro Puntarenas, 2 mins from local hospital, Doña Ana Beach, Caldera port, and Puntarenas downtown 5-10 minutes each destination, 40 mins of Jaco beach (hermosa, herradura, esterillos) driving distance, 1h and 30 mins of Manuel Antonio national park. ************ San Isidro Puntarenas a 2 minutos del hospital local Monseñor Sanabria, visite el centro del Puntarenas, Playa Doña Ana, Caldera y otros en menos de 10 minutos, 40 minutos de Jaco (manejando) 1 hora en Bus.
Room Type
Entire home/apt
---
Property Type
Apartment
---
Accommodates
6
---
Bedrooms
Provincia de Puntarenas, Provincia de Puntarenas, Costa Rica
Apartamento amueblado,es cómodo,es seguro.Cuenta con cocina,dormitorio y baño para cinco personas en su máximo.Incluyen televisión con cable,internet,limpienza,entre otros.Nos encontramos cerca de las playas (caldera,puntarenas, jaco,monte zuma).
Tienes un lugar acogedor donde descansar y poder disfrutar las playas de la perla del Pacífico a 10 mins de las playa puntarenas y a 5 mins de playa doña ana
Un barrio muy tranquilo cerca supermercados, pulperia y paradas de autobuses
Hands down my favorite interaction with an Airbnb host. The family couldn't be sweeter, you'll fall in love! You have a semi-private entrance on the side, stand alone apartment on the back of the building. Bus stop is close by if trying to get to Puntarenas, maybe 20-25 minutes total from your front door to downtown.
Malcolm
2017-02-03T00:00:00Z
La Srta. Lidieth tiene un apartamento muy bueno, espacioso, limpio y equipado con todo q uno necesita. Ella es muy amigable y nos ayudo con cualquier cosa q necesitábamos. Lo recomendó 100%. Miss Lidieth has a very nice, specious, and clean apartment that is also very well equipped. She's very friendly and helped us with everything we needed. We recommend this space 100%. PS: The wifi is super fast.
Christian
2017-02-09T00:00:00Z
Lidieth est très gentille, ne parle pas anglais donc communication très difficile. L'appartement est horrible. Très petit aucune fenêtre. L'appartement donne sur un hangar elle garde des étudiants en pension, donc bruit tard le soir et musique tôt le matin. Bref j'avais hâte de quitter ce lieu. Prix trop élevé pour ça!
Raymond
2017-02-11T00:00:00Z
Room Type
Private room
---
Property Type
Apartment
---
Accommodates
2
---
Bedrooms
El Roble, Provincia de Puntarenas, Costa Rica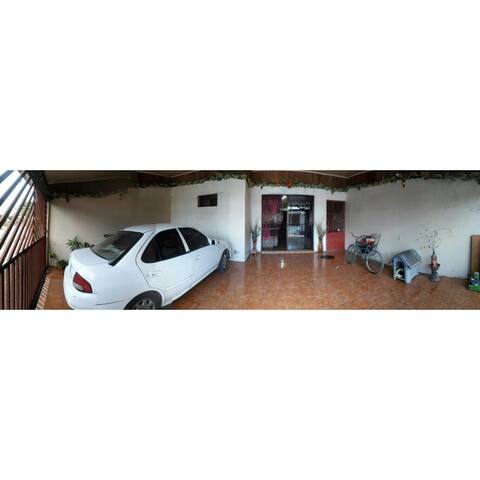 Lugares de interés: la playa y vida nocturna. Te va a encantar mi lugar debido a los techos altos y la comodidad de la cama. Mi alojamiento es bueno para aventureros y viajeros de negocios.
Room Type
Private room
---
Property Type
Apartment
---
Accommodates
1
---
Bedrooms
El Roble, Puntarenas, Costa Rica
Puedes disfrutar del contacto con la naturaleza, con una gran vista panoramica al oceano y muy cerca de espectaculares lugares turísticos o el simple deseo de descansar lo lograrás visitandonos. Puedes observar monos y variedad de aves, lo amaras
Room Type
Private room
---
Property Type
Apartment
---
Accommodates
3
---
Bedrooms
Esparza, Puntarenas Province, Costa Rica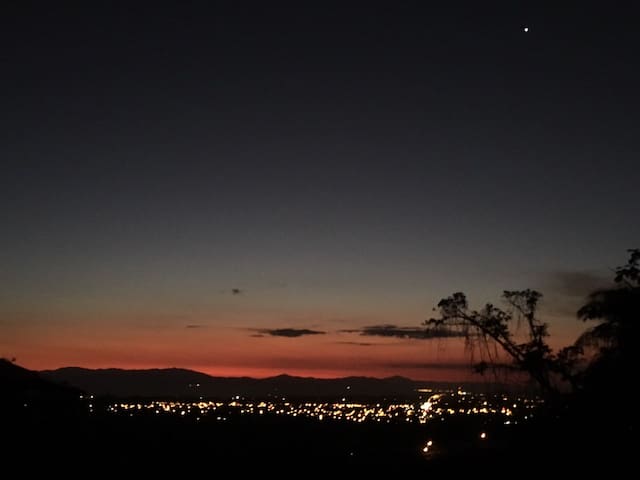 Hermosa y amplia casa en Condominio Privado y seguro, rodeado de naturaleza.
Room Type
Entire home/apt
---
Property Type
Apartment
---
Accommodates
10
---
Bedrooms
Punta Arenas, Puntarenas Province, Costa Rica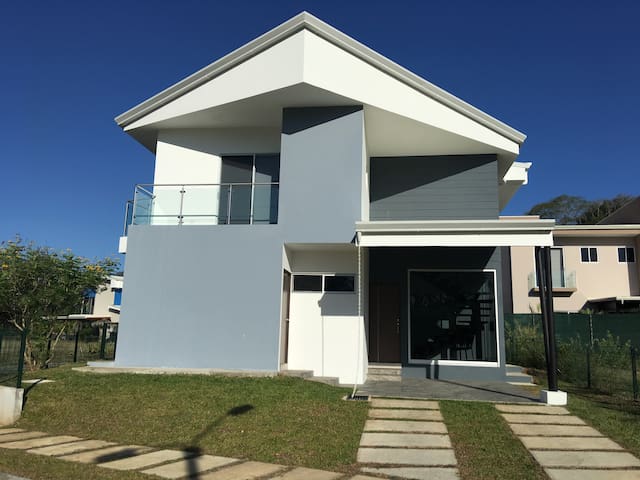 Experience the best of local, rural tropical living all while being within 30 minutes to beaches, a national park, San Jose, birding, wildlife and waterfalls. Enjoy fresh fruit right from our trees. Secure parking. Private Suite: Queen bed, AC, Full bath with Hot Water & Full Kitchen 30 minutes to: Punta Leona Beach Hermosa Beach Carara National Park Jaco Beach Herradura Marina Activities: surfing birding ATVs Ziplining Hiking Animals (crocodiles, macaws, wild bird species)
CENTRAL We are located 10 minutes from downtown Orotina, a small town 45 minutes from San Jose and within 30 minutes to Pacific beaches and national parks. NEW CONSTRUCTION We just built our vacation home and included 4 studio apartments on the property. You will have access to a private unit with Queen Bed, AC, MODERN Hot Water Showers, TV, Living Room Furniture and in-suite kitchen. All furniture and appliances are brand new. On-site, secure gated parking. BENEFITS: Punta Leona - We have private membership to the Punta Leona Beach Club, (think beach shower access, restaurants, pools, tennis courts, etc. right next to beautiful Playa Blanca and Playa Mantas) and we are happy to give you access as our guest. If you are interested let us know when you reserve $15 day with transport included, per person. --- GREAT for families, couples or solo travelellers. Transportation - We know not all travelers will have cars. If you are interested we will pick you up at the airport for $20. You can take local buses to different nearby sites or we can also negotiate special taxi rates for you. Please let us know when booking. NEARBY: We are located in a 'country' neighborhood. Quiet for relaxing but close to shops and sites for quick needs. There is a small shop for quick buys a half block away. The bus stop is 2 blocks away. There are many restaurants within 10 minutes. 30 minutes to: Punta Leona Beach Hermosa Beach Carara National Park Jaco Beach Herradura Marina Activities: surfing birding ATVs Ziplining Hiking Animals (crocodiles, macaws, wild bird species) Please feel free to write us if you have questions about the area or need help booking tours. We love to help!
David's place is really comfy, it was hard to leave! The space is new, furniture and appliances too, which was great because I like to cook. AC worked great and shower lets you choose your exact temperature! The best was David's membership access to Punta Leona. For a few extra $$ we got to enter a secluded private beach club on a beautiful white, sand beach about 20 min. from house. Awesome because there are showers and a restaurant right there so you don't have to move around looking for food or feel sticky traveling back to lodging. The water there is also really calm, which I prefer as I'm not a great swimmer and elsewhere in CR there are strong rip tides. So happy I found this place, it's going to be my escape from the city!
Stacey
2017-01-22T00:00:00Z
David's place was extremely roomy. Met our expectations. He is a great host! His easygoing personality made us feel welcome. I wish we could have stayed longer. He showed us some pretty cool spots and made sure we made the most of our time in Orotina.
Viviano
2017-03-26T00:00:00Z
I needed a quiet place in a strategic location to spend a couple of days working and David's place fit the bill perfectly. The flat is spacious, clean, well equipped and in a nice quiet location despite its proximity to the highway. David communicated well with respect to arrival and check-in and was really helpful when we had a little wifi glitch in the morning of my first day there.
Bill
2017-03-16T00:00:00Z
David was a very attentive host and had a great knack for detail. He greeted us warmly and even agreed to rescue us when we became lost:-) Inside the home he thoughtfully supplied us with bottled water and fresh melons grown localy!!! This was espically kind (the primary reason we chose to come to Costa Rica was our wanting to experience the delecious fruits known only in this part of the world). David's home was very clean and spacious. The bathroom area was great, plenty of hot water and a very modern design. We really liked the open feel of the home and the entire windowed wall made it look and feel as though we were in the courtyard amongst the mango trees:-) PLUS, the bed was comfortable, the cable worked, we had wifi connection, we were able to cook within the kitchen and WE HAD AIRCONDITIONING! Now obviously no one comes to this lush & lovely land to sit around inside a home, but we unfortunately & severely underestimated the power of the sun, (only 3 days into our 8 day tour) and therefore became extremely limited in our ability to move, hindering our travel plans quite and bit. To our great delight, we were able to attend La Iglesia De Jesucristo De Los Santos De Los Ultimos Dias, where nearly everyone in the chapel greeted us with either a handshake or to my surprise, a hug & kiss:-) We absolutely recommend this home & also recommend booking your tour through a knowledgeable guide, such as David. There is simply so much to see in this area that may be overlooked by someone unexperienced like ourselves. This home is close to shopping, resreraunts, the park and church:-) 100% Great Job!
John & Traci
2017-03-20T00:00:00Z
Great help from David
Gonzalo
2017-01-04T00:00:00Z
David is a super nice host and we had great communication for everything we needed help.
Eyal
2017-02-09T00:00:00Z
Perfectly located if u have a long trip to go back to San Jose . Cut your trip and stay one nite at David's home (1 hour from San Jose) His studio is 1100 sf( 100 m2!)!! Very large very quiet secluded back if the property. Place is very clean. Extremely comfortable , David has thought of every detail . It is close from great restaurants u can reach by car(5 mns) And lastly David is wonderful Thank you David ! You rock, man!
Rob
2017-03-18T00:00:00Z
Excelente lugar, super limpio y muy amplio el apartamento, agradable y tranquilo. Gracias por la atención y por ser un excelente anfitrión
Zohara
2017-02-19T00:00:00Z
Room Type
Entire home/apt
---
Property Type
Apartment
---
Accommodates
2
---
Bedrooms
Orotina, Alajuela, Costa Rica
Un apartamento con su cocina equipada, cama, baño privado, aire acondicionado. Tiene parqueo para un vehículo y con seguridad. Muy cerca del Hospital y el Hotel Double Tree. Se puede rentar por largo plazo
The host canceled this reservation 8 days before arrival. This is an automated posting.
Guisla
2016-05-31T00:00:00Z
Room Type
Private room
---
Property Type
Apartment
---
Accommodates
2
---
Bedrooms
El Roble, Puntarenas, Costa Rica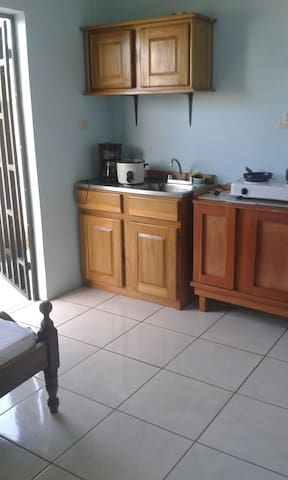 Attractions: Beachfront apartment, incredible views. Conveniently located in the center of Puntarenas. My accommodation is suitable for families (with children) and large groups.
Apartment modern, nice, beachfront and close to all amenities.
Puntarenas is a fishing port and great national tourism, cruise ships arrive and has a great range of bars and restaurants
Room Type
Entire home/apt
---
Property Type
Apartment
---
Accommodates
8
---
Bedrooms
Puntarenas, Provincia de Puntarenas, Costa Rica
Lugares de interés: el centro de la ciudad, vida nocturna, playa, comercio, restaurantes, cafeterías, y supermercados. Te va a encantar mi lugar debido a la ubicación, el ambiente, la gente y las zonas exteriores. Mi alojamiento es bueno para parejas, aventureros, viajeros de negocios, familias (con hijos) y grupos grandes.
Room Type
Entire home/apt
---
Property Type
Apartment
---
Accommodates
6
---
Bedrooms
Punta Arenas, Puntarenas, Costa Rica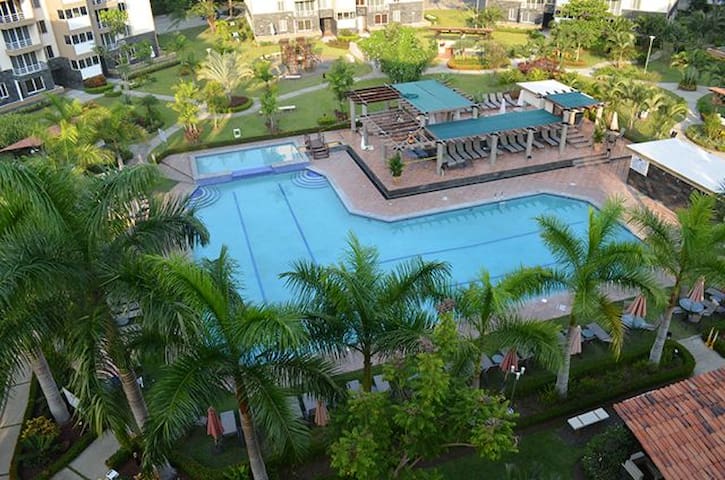 Cómodo y moderno apartamento con la mejor vista al mar desde la terraza acceso a la marina y a la playa, piscina privada y además puede utilizar todas las instalaciones del complejo hotelero. Cómoda y amplia habitación y baño principal.
Beautiful apartment with large terrace to enjoy the best view of the beach and the most beautiful sunsets of Punta Arenas, has a room with private bathroom hot water closet and all linens and towels you need, has washing machine and dryer kitchen fully equipped kitchen, a large living room where you can see the beach and the resort. It has cable TV and Internet. Both the bedroom and the living room have air conditioning.
The apartment has the best view of the beach and around the estuary of punta arenas
Felt unsafe in the area (although the building does have a barbed wire fence and guards) so we left the listing 4 nights early. Have been unable to recoup any of the money from Elsa. Also, the couches are very uncomfortable futons so although the space may be offered for four/six it's much better for only two.
Tricia
2016-05-03T00:00:00Z
The host canceled this reservation 15 days before arrival. This is an automated posting.
Silvia
2016-06-23T00:00:00Z
Great hosts - super reliable and friendly
Tom
2016-04-12T00:00:00Z
El condo es estupendo! tal y como aparecen en las fotografías, con una vista maravillosa del puerto, amplio, y con el equipamiento necesario para pasar unos lindos días de descanso! Su anfitriona amable, simpática, buena persona. Ubicado en un sitio muy tranquilo de Puntarenas!
Dyaláh
2016-04-06T00:00:00Z
Room Type
Entire home/apt
---
Property Type
Apartment
---
Accommodates
2
---
Bedrooms
Puntarenas, Puntarenas, Costa Rica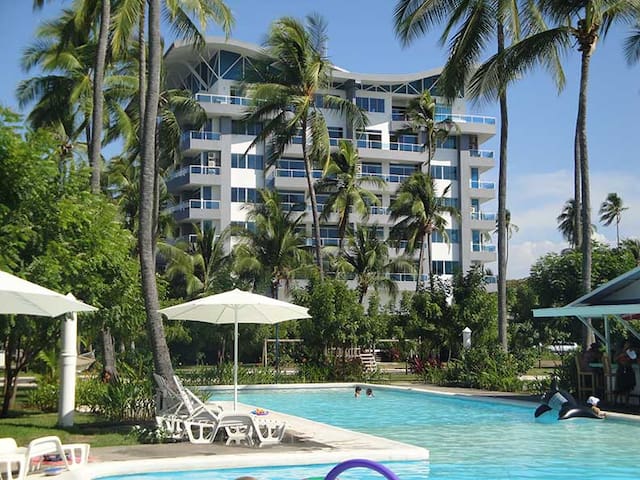 Le projet de cette villa a été construite sur les príncipes fondamentaux du FEN SHUI. C´est une discipline qui cherche a améliorer le milieux ambiental, la conception architectonique et intérieur, sa fome ronde a permis l´alignement sur les planettes du cosmos qui nous afectent de maniére directe pareil que la santé, les émocions y la réflexion. Le secret du Fen Shui est d´arriver a concentrer le CHI dans son habitation et ce n´est rien de plus qui nous donne énergie, paie, tranquilité.
Vous etes a 15 minutes au sud de Orotina situé au coeur d´une plantation de mangues. Il vous est offert, tout le premier étage de ma villa, avec vue panoramique sur l´océan pacifique, la foret et la montagne, c´est un appartement tout équipé avec chambre queen climatisé, salle de bain, ainsi qu´un sofá cama queen dans le salón pour les invités.
Si vous n´avez pas envie de cuisiner a 3 minutes vous rencontrerez plusieurs restaurants typiques ainsi qu´un Mini market. Pour vos escapades vous etes a 10 minutes du Rio Tarcoles ou vous pourez observer les crocodiles ainsi que le parc national de Carara, vous étes aussi a 10 minutes de la plage Guacalillo et de sa mangrove, a 20 minutes des plages de Jaco, du port a bateau, et du golfe de Herradura.
Andre was an amazing host! He greeted us with a lovely beverage when we arrived and helped us get settled in. The home was beautiful and perfect for our one night stay. Andre prepared an amazing breakfast for us before we had to leave and head to the airport. I would definitely recommend staying at Andre's home!
Rebecca
2016-10-29T00:00:00Z
Amazing views and beautifully designed home. We spent just one night here and loved every minute of it. Andre is a gracious host and even though he doesn't speak English we managed to communicate alright. The complimentary breakfast was delicious and filling. Highly recommend this as a pit stop if you are driving through.
Jaimeen
2017-02-12T00:00:00Z
André is a fabulous host, who designed a beautiful home. We were welcomed with mango juice, and woken up with some delicious food offered. André is an amazing, inspiring man; very kind and helpful. The house is close to a bridge where the crocodiles chill, about 1 hour from the airport and 30 mins from Puntarenas. Great tropical treat, to decompress after days of exploring. I would go back there, because of André, the architecture and landscape, and location. Thank you!
Giulia
2016-05-03T00:00:00Z
This place is so cool and Andre is delightful!
Jim
2016-10-27T00:00:00Z
Andre's place was spectacular. The views were breathtaking, the house was really cool and made for a great stay, and Andre could not have been nicer or more accommodating. It was an hour from the airport, so it was a great place to stay the first night we arrived in Costa Rica. Oh, and the breakfast, complete with fresh fruit and fresh coffee, while looking out over the mango trees to the ocean was incredible!!!
Tom
2017-04-03T00:00:00Z
Andre was an amazing host! Pictures are accurate, it's even better in person. Secluded and quiet, it was still easy to find. And a view of the Pacific Ocean to top it off! Our only regret was that we didn't stay longer.
Joshua
2016-12-21T00:00:00Z
This was the most amazing Airbnb experience we had so far. The place is completely relaxing. The view is beautiful. Besides that Andre is the perfect host. He lets you do your own thing and helps when it's necessary. Sweet guy with great breakfast. Highly recommended.
Nadine
2016-08-07T00:00:00Z
Andre was a wonderful host, from the moment we got there to last moments we were there. This location is great if you want to be near Jaco, Playa Herradura, and Carara National Park. He provides a complementary traditional authentic costa rican breakfast your first morning that is quite wonderful, and you can purchase the remaining mornings of your stay. This place at first seems a little out of the way but not at all! it is a 2 minute drive from the main interstate highway 27. The listing was very accurate, the whole place was clean and completely what we expected it to be and more. Andre does not speak english but that should not be a reason not to come, he is still very good at hosting and making his guest feel right at home. The pool is wonderful to be in and towards the evening the pool gets shaded nicely because you can still sunbathe in one part and be cooler in another part. This place is definitely worth the stay if you come to Costa Rica.
Tomas
2016-01-05T00:00:00Z
Room Type
Entire home/apt
---
Property Type
Flat
---
Accommodates
3
---
Bedrooms
Orotina, Alajuela, Costa Rica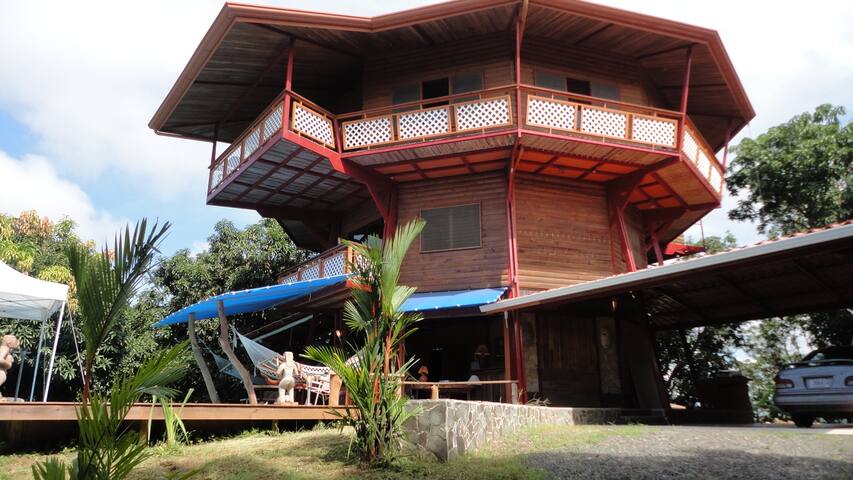 A 650 m 25 minutes from the ocean and 4 km from the town of Miramar. Very nice panoramic mountain views. ideal temperatures: 22 night and 30 day.
Tranqilite, panoramic view, between private and no neighbors paste.
The real campaign, life in semi Tropical mountain.
Room Type
Private room
---
Property Type
Apartment
---
Accommodates
2
---
Bedrooms
Puntarenas, Puntarenas, Costa Rica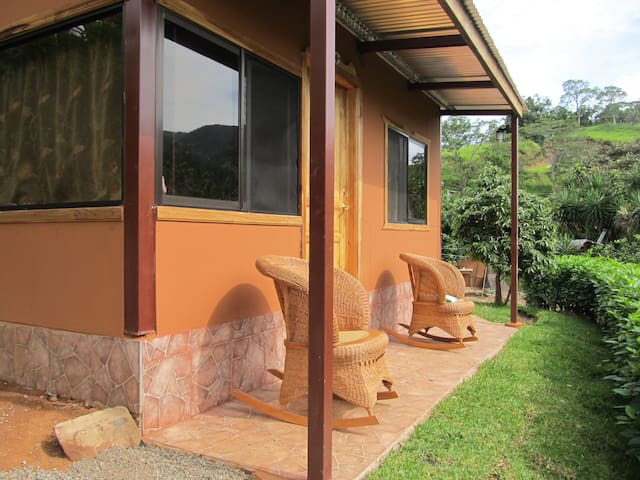 Completely furnished lower duplex across the street from the beach, with private entrance, garage parking, ac, hot water, quiet, private and secure.
Vista panoramica dell'estuario con la relativa fauna e vicinanza della spiaggia.
VALERIO
2017-02-08T00:00:00Z
Room Type
Entire home/apt
---
Property Type
Apartment
---
Accommodates
4
---
Bedrooms
Puntarenas, Puntarenas, Costa Rica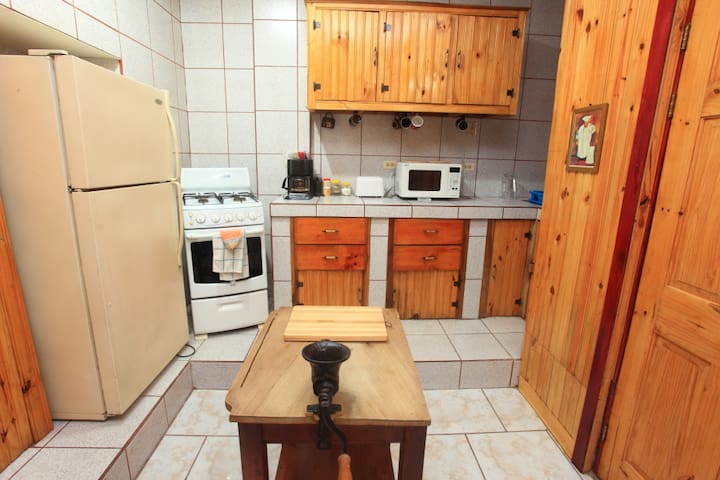 Jardin La Torre is a small, rural, gated community in the mountains of Costa Rica. With 150 mile views of the Pacific Ocean, we are 45 minutes from the San Jose International Airport, 1 hour from downtown San Jose, an hour from the beach, and 12 minutes from San Ramon de Alajuela. Our temperate climate means no need for air conditioning or heating 365 days a year. With fabulous views, a sports complex, and a tranquil country lifestyle, we are an easy one-day access to most tourist attractions.
About La Torr(URL HIDDEN)Costa Rica is known for scenic views, ecology, nature, coffee, wonderful people, lively music, and an easy pace of life. Come experience it with us. Jardin La Torre, San Ramon de Alajuela, Costa Rica takes advantage of the most pleasant aspects of Costa Rica. We enjoy an, ideal, temperate climate year-round. From the lower residential area, meandering, manicured paths lead through intimate vertical gardens offering amazing vistas of the Cloud Forest and the spectacular Gulf of Nicoya. For more than 50 years, this small botanical garden now known as Jardin La Torre was a coffee plantation. In 2011, the property sold to the current owners who pledged to reforest the land in keeping with Costa Rica's ecological goals. This gated community features four long-term rental houses, two short-term rental efficiency apartments, modern gym, clubhouse, a recreation area including walking paths and a sports complex. Jardin La Torre is a Garden of Eden offering a 200-foot ascent to the overlook and activities area along graveled, well-maintained paths (not ADA accessible). Within a 15-minute drive is the city of San Ramon de Alajuela, which provides comprehensive entertainment and shopping needs.
My wife and I met and grew up in rural northwestern Illinois in the late 1940s and early 1950s. A major reason we settled here is that El Empalme and Jardin La Torre reminds us of the beauty of that geography as well as the simplicity of those times. Within walking distance is a mini-market which provides everything you need to prepare your own meals. San Ramon, only fifteen minutes from Jardin La Torre, is a small city that provides all the amenities, including Wal-Mart type stores, major grocery stores, and excellent restaurants.
Room Type
Entire home/apt
---
Property Type
Flat
---
Accommodates
2
---
Bedrooms
San Ramon de Alajuela, Alajuela Province, Costa Rica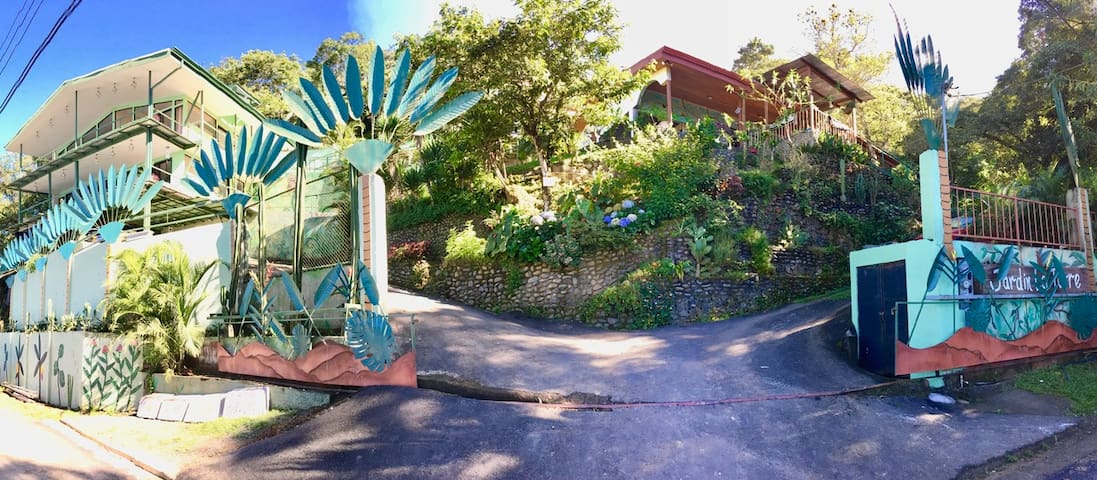 Nestled in a 24 lot gated community, on a working coffee plantation. Quiet and peaceful atmosphere, with a fabulous view of the Gulf of Nicoya and the Pacific Ocean.
1 bedroom, 1 bathroom, living and dining space. Large fully functional kitchen with new appliances. Laundry with washer & dryer. Fabulous views of the Gulf of Nicoya, Pacific Ocean, Puntarenas, and mountain ranges. Enjoy early morning breakfasts, mid afternoon cocktails, and beautiful sunsets. Bird watching and just plain relaxing can also be enjoyed! Plenty of parking available in lower carport. Our property is located in a 24 lot gated community, on a spacious 5000 sq. meter lot. The property still operates as a working coffee plantation. Beautiful trails, a waterfall, creeks, tilapia pond, and of course lots of coffee plants, make it a very charming and relaxing environment. Butterflies, deer, ducks, toucans, parrots, and various other birds can be seen on our property. Piqueno Positano is a very special place! Centrally located, within 90 minutes of many major attractions such as Poas Volcano, La Paz Waterfalls & Gardens, La Fortuna, Lake Arenal, Carrera National Rainforest, Sarchi, Puntarenas, Zip-Lining, Butterfly Farms, and much more. The nearest beach is just a 35 minute drive away, part of a national rainforest, where capuchin monkeys come down from the trees to join you for lunch. Shopping is just a short 5 minute drive away, in lovely San Ramon. Large shopping mall with movie theatres and plenty of shops, the University of Costa Rica, hospital, restaurants, banks, farmers market, pharmacies, dentists, and everything else you may need during your stay. You will meet Norman and Annie, our property managers, in San Ramon. From there, they will take you to our house, a short 5 minute drive away in Magallanes. They will walk you through the apartment, pointing out its many features, and provide you with the keys. Enjoy your welcome basket, which includes some of the varied and delicious fruits available in Costa Rica. If you need more space, check out our other listed property, #437437. This property has been listed since 2012 , sleeps up to 6 people, and has 22 five star reviews to date. See the listing for details.
Located in a small village called Magallanes, just a 5 minute drive west of San Ramon. Population of Magallanes is about 200, consisting of both locals and ex-pats. It was mainly a farming community, main crop was coffee.
Joe and Liz'a place was nice, clean and peaceful. We were able to visit many wonderful places from this central location. Evenings sitting on the patio watching the sunset were wonderful.
Kenton
2017-03-31T00:00:00Z
We had friendly, helpful and prompt information before we arrived and Ana and Norman, the managers, met us as agreed at San Ramon, which saved us trying to find the apartment. It is spotlessly clean with a very well equipped kitchen, lounge with TV, good internet and a comfortable bed. The views are stunning, across hills of coffee, right down to the sea at Puntarenus. The sunsets and cloud formations are beautiful. Unfortunately it was too windy for us to sit on the chairs outside to appreciate the view from there. There is safe parking in front of the door. It is very convenient to drive into San Ramon and about 45 minutes to the nearest beach. Also for exploring the hills around.
Keith
2016-02-11T00:00:00Z
Room Type
Entire home/apt
---
Property Type
Apartment
---
Accommodates
3
---
Bedrooms
San Ramon, Alajuela, Costa Rica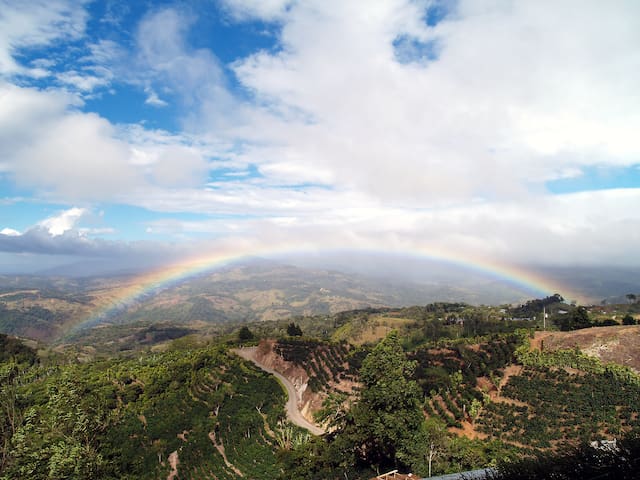 One bedroom suit with all the amenities for a dream vacation in Costa Rica. Totally independent, has a full bathroom, air condition and fans, picture windows with stoning views, a large deck overlooking the forest, and a small kitchen and outside furniture on it. Access to pool, laundry, parking, gardens, views… Interaction with guests: I am available for airport pick up and drop off, also if you would like to take any tours (parks, beaches) I will be more than happy to show you around.
Great place for a couple
Room Type
Private room
---
Property Type
Apartment
---
Accommodates
2
---
Bedrooms
San Mateo, Provincia de Alajuela, Costa Rica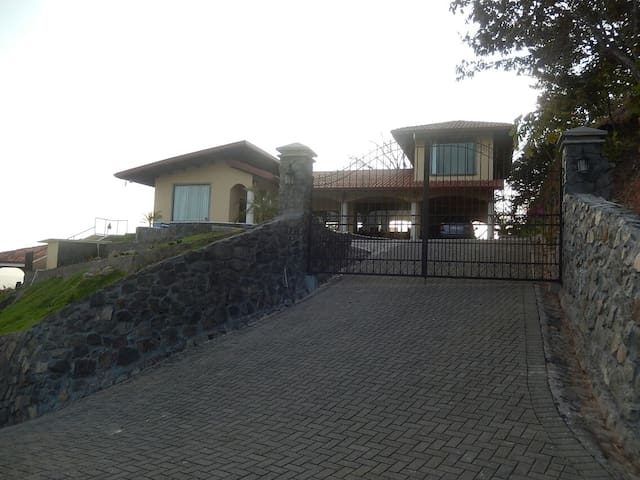 It is located in the center of the city (7 minutes walking). It's a safe and quiet place. Access to public transportation. This apartment is ideal for couples.
It is an small apartment for 1 or 2 people. It's located in downtown, and it is a safe and quiet zone. You can find supermarkets, stores, taxis and everything you need.
Quiet and safe neighborhood.
It would be nice to have a place to eat. Two chairs and a small table would do the job just fine. The bed is very comfortable and the place is quiet and secure.
Johanne
2017-01-02T00:00:00Z
Very nice place to stay. Just some things depending the cleaness need to be improved. Very nice host, helps with everything you need :)
Christoph
2017-03-12T00:00:00Z
This apartment is pleasant and fit our needs perfectly. There is a garage available to park your car, which is excellent for people with rental cars. We came for the Tope horse parade at Fiestas de Palmares and Andrea was very resourceful and provided us with much needed information regarding public transportation, parade routes, and how to stay out of trouble.
jim
2017-01-13T00:00:00Z
This was an excellent place to stay. We were arriving late at night from traveling. She answered promptly and when we got upstairs it was nice and quiet and had a living room. It was more spacious than expected.
Rachel
2016-12-15T00:00:00Z
Room Type
Entire home/flat
---
Property Type
Apartment
---
Accommodates
2
---
Bedrooms
San Ramón, Alajuela, Costa Rica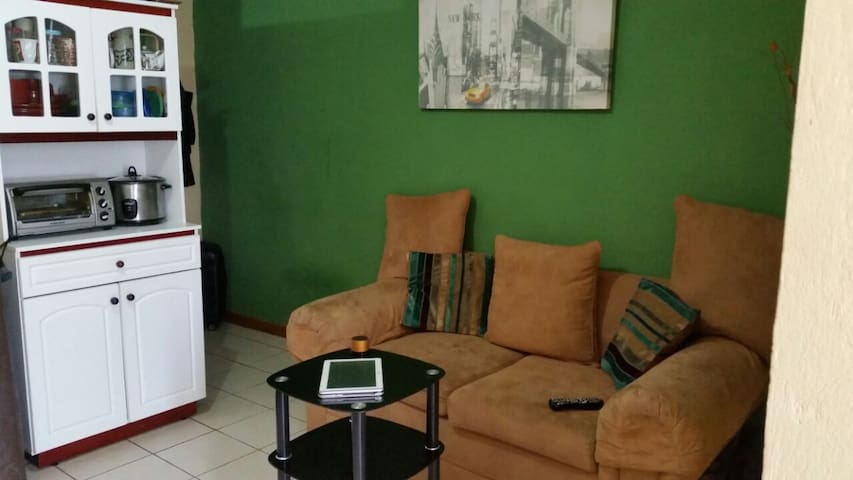 Esparza - Airbnb
:
Average

4.52

out of

5

stars from

93

guest reviews
1

–

18

of

59 Flat Rentals
Enter dates to see full pricing. Additional fees apply. Taxes may be added.