Quiet little flat in the Bavarian countryside on a former farm. Ground floor, garden, space for 4 persons. About 1 h drive to Munich city.
The newly renovated flat provides enough space for up to 4 people (1 bed room with a king size bed, 1 living room with a daybed). Large daylight bathroom with shower, bathtub, toilet and bidet. Fully equipped kitchen with a dining table for 4. There will be towels and bed linen at the flat.
The former farm "Stiglbaur" lies on the outskirts of the small and quiet village Eismerszell. There's a bigger village with shopping facilities about 1,5 km away. Munich, Augsburg and Landsberg am Lech - three beautiful old cities are all reachable within 0.5 to 1 h by car so our flat is the perfect place to start an expedition through the Bavarian countryside.
Me and my family loved Josef's place, him and his wife were really friendly and smiley hosts. The place was perfect for our family, calm and quiet. Everything was excellent! We would love to visit again.
Hristo
2016-06-19T00:00:00Z
The emails and replied from Joseph are very great. Smooth check in and check out. Very friendly Joseph and his wife ( Ziggy?) and we feel like at home. Great tips for visiting Munich, Fussen, and some areas nearby. The place very clean and very neat, have everything. Lovely place, with green surroundings, and the village so beautiful and so peaceful. Great experience stay at German village, and definitely we'll be back of we visit Munich again next time. Thanks so much Joseph and Ziggy for letting us stay at your place and thanks for yummy cake.
Mirasari
2016-07-31T00:00:00Z
Josef and his wife were very welcoming and nice! The house is located in a quite and beautiful neighborhood. It's a newly renovated house with everything you need. Some days without traffic, it took us less than 40 mins to Munich so it's great bargain near a major city. Josef's wife's homemade pie was a great touch. We highly recommend this place.
Misheel
2016-06-28T00:00:00Z
Thank you Josef. Everything was very good . The house is very good all super nice, clean, convenient .All liked it, I would recommend this house Thank You
Boriss
2017-02-28T00:00:00Z
Very nice house, very clean and bright house, comfortable beds and great kitchen. Located in the quiet village on the outskirts of Munich, so that when you come here by car (the best option) you can admire beautiful views of Bavaria. Joseph received us very well, immediately told and shown everything they need always been connected. In the fridge was a Breakfast, so we didn't have to worry about the products in the morning. Of course, Munich is quite far, so the best thing this house is perfect for those who want to explore the area, go skiing and enjoy the crystal clear Bavarian air!
Jhanna
2017-01-25T00:00:00Z
Josef and Siegi are two perfect host, real super host! Very friendly and helpful, they took very good care of us. It was a great pleasure to meet them. The house is very nice, much more beautiful than you can see from the photos. Very peacefully place, warm and clean. We found everything we needed. The position is strategic: in 40 minutes it is possible to reach many interesting and beautiful places. A perfect holiday. We highly recommend them.
Francesca & Pierpaolo
2017-01-30T00:00:00Z
Very friendly and helpful family. We felt like coming in home.
Pasi
2016-11-17T00:00:00Z
Josef was very welcoming. We loved our stay. Everything was very good. We will definitely recommend everyone.
Nitin
2016-09-24T00:00:00Z
Room Type
Entire home/apt
---
Property Type
Flat
---
Accommodates
4
---
Bedrooms
Moorenweis, Bayern, Germany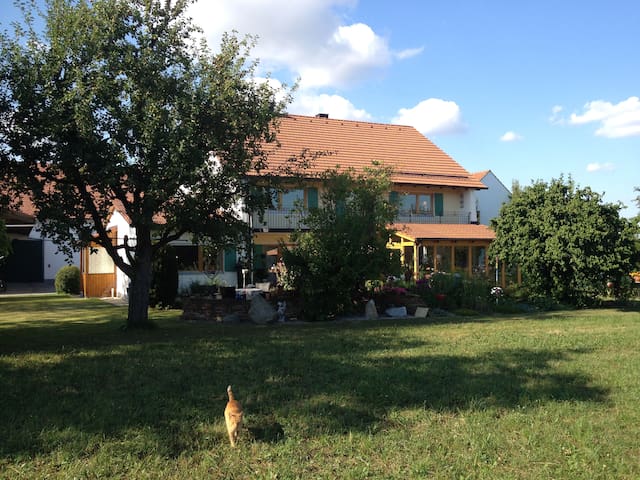 Ruhige und moderne Wohnung, 104 qm groß, im 1. OG zwischen Augsburg, München und Landsberg mit sehr guter Verkehrsanbindung Augsburg- München. Kaltenberg - Ritterturnier 10 min. , Ammersee ca. 20 min., A 96/ A8, Kinderfreundlich. Mindestens 3 Nächte Gut zu wissen: Wir sind kein Bauernhof aus einem Hochglanzprospekt, der von seinen FEWOS lebt! Bei uns wird täglich am Hof gearbeitet, gelebt und gelacht... Wir sind authentisch und bleiben es auch! Mithilfe gerne möglich bei Interesse!
Wir sprechen Englisch!
Eva was great. The house was beautiful and clean. We had a lovely and relaxing stay. Thanks Eva!
andrew
2016-07-26T00:00:00Z
Sehr nette Leute. Netter Bauernhof. Große Wohnung. Süße Schafe und Ziegen.
Manuela und Johann
2017-01-08T00:00:00Z
Äußerst netter und freundlicher Empfang (praktischerweise war auch noch Kuchen übrig)! Kleiner Bauernhof mit Ponys vor der Tür in der malerischen Umgebung Kaltenbergs. Sehr zu empfehlen.
Christian
2016-06-12T00:00:00Z
Room Type
Entire home/apt
---
Property Type
Flat
---
Accommodates
7
---
Bedrooms
Egling an der Paar, Bayern, Germany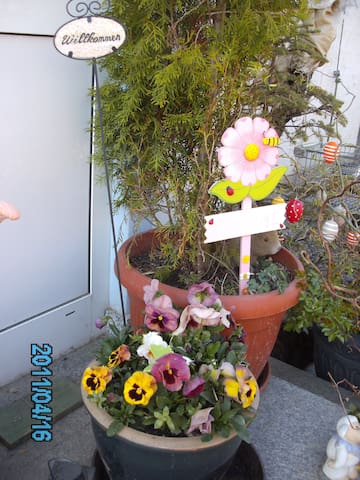 You'll love my accommodation for environment and outdoor space. My accommodation is good for couples, business travelers and large groups.
Room Type
Entire home/apt
---
Property Type
Flat
---
Accommodates
6
---
Bedrooms
Moorenweis, Bayern, Germany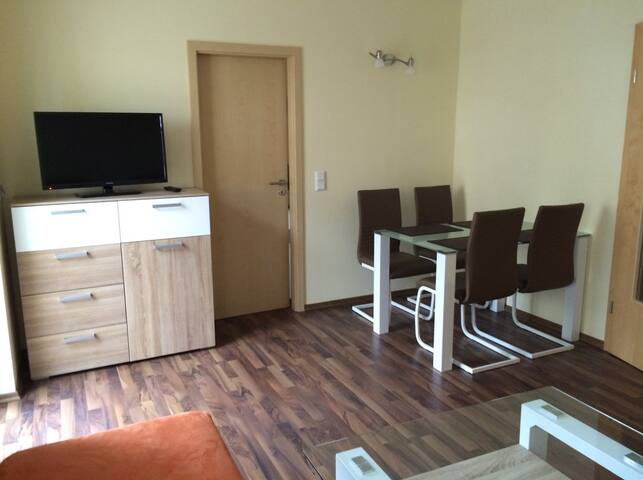 Meine Unterkunft ist gut für alleinreisende, abenteurer und geschäftsreisende . Vermietung nur an Frauen Wohnküche 12 qm, Esszimmer 14 qm, Bad 12 qm, Gästetoilette,Terrasse, Garten, Zimmer für den Gast 16qm ,Waschmaschine , Trockner vorhanden gg Gebühr ,Mering/Bayern 13.000 Einwohner, nach Augsburg 14 km 250.000 Einwohner, nach München 50 km, Zugverbindung gut 40 km zum Ammersee, 50 km zum Starnberger See, Bodensee 100 km, Chiemsee 150 km, Alpenvorland 70 km.
Die Gastgeberin Ingrid, ist eine sehr angenehme Dame , die immer am lachen ist !!! Das Zimmer ist Zweckmäßig gut ausgestatte und sauber . Das Haus liegt in einer sehr ruhigen Lage , in Bahnhofs Nähe. Ich würde Jederzeit wieder gerne bei Ingrid ein Zimmer buchen! !! Vielen lieben Dank für die Gastfreundlichkeit !!!!
Barbara
2016-09-30T00:00:00Z
Ingrid a été adorable! Très bon accueil, Aux petits soins, elle s est proposé de nous emmener au centre ville et est revenue nous récupérer. La maison est propre et au calme, la chambre suffisante pour 2 personnes tout au plus mais idéale pour une personne. La situation de la maison est un peu loin des villes principales mais très bien pour une halte La salle de bain est grande et agréable.
Ambre
2016-08-15T00:00:00Z
Ingrid ist sehr nett und mir hat es hier gut gefallen.
Daniela
2017-02-03T00:00:00Z
Room Type
Private room
---
Property Type
Flat
---
Accommodates
2
---
Bedrooms
Mering, Bayern, Germany
Only 25 minutes to Central Station Munich by public transport. Please aks for the price if you like to rent the apartment for a longer period with 3 persons. Welcome to my cozy apartment. The apartment on the top floor is about 58 square meters in size. It is very cozy due to the the roof slopes and full of light due to many windows. It offers classic features: - a kitchenette, - bright bathroom with shower and toilet, - TV and Internet connection via Wi-Fi, fax machine for shared use - a large double bed - a single bed - a large dining area - a sofa We offer intermediate and final cleaning (included). Bed linen are provided Towels are provided Use of washing machine possible Other offerings such as spa, massage, cosmetics, pedicure, etc. are located in the house. The location: Through Althegnenberg you reach the federal road #2. The town is located on the railway line from Munich to Augsburg with a stop for regional trains. You can walk to the local train station and are thus quickly at the train station Althegnenberg, and therefore soon in Augsburg and Munich and other cities and towns, with MVV and AVV connections. There are also good bus connections. 5 minutes to the train station, the train to Munich takes 25 minutes. You can use the S-Bahn ticket for regional trains and the subway. Still some unanswered questions? Send me a message! I look forward to your inquiries
Nice Appartment. It is located in a very quiet and beautiful town, and it is also very easy to get to Munich by train. Rudolf is a very kind man!
QIAO
2016-10-01T00:00:00Z
The apartment was cute and cozy. The bed was very comfortable. The neighborhood was quiet. Access to Munich, Salzburg, Augsberg and other destinations was easy. It is very close to a train station. Rudolf and Annamaria were friendly and kind hosts. They provided us with assistance on where to visit, shared cherries from their tree and made some delicious cherry cake and strawberry wine with us. The kitchenette was nice and allowed us to fix breakfast and dinners in the apartment. Everything was clean, comfortable and homey. Thank you so much for a lovely stay.
Joyce
2015-07-10T00:00:00Z
The apartment has everything you need to get by. Mr Rudolf is a friendly and reliable person. I will regard his place as a viable alternative whenever I'm in Munich. Thank you!
Marian
2013-11-24T00:00:00Z
The reservation was canceled 23 days before arrival. This is an automated posting.
Ashley
2013-09-07T00:00:00Z
The reservation was canceled 10 days before arrival. This is an automated posting.
Mohsen
2014-07-21T00:00:00Z
Good host, and very good house. The kitchen is not good equipped, but you can make breakfast and little dinner. Thera are fridge, coffee maker and cooking plate with oven.
Angela
2013-08-23T00:00:00Z
La estancia en el domicilio del Sr. Rudolf Friesenegger fue muy buena, un sitio tranquilo y precios, cerca todo, bien comunicado por coche y tren. La estancia es grande y muy comoda, con su propia cocina, nevera, tv, utensilios de cocina, etc. Me encanto la esperiencia y espero repetirla.
Eneas
2012-10-09T00:00:00Z
Kommunikation und Absprachen haben sehr gut funktioniert. Ruhige Wohngegend. Freundliche und hilfsbereite Vermieter. Sehr gutes Bett, Kühlschrank obwohl im gleichen Zimmer sehr leise.
Axel
2015-10-06T00:00:00Z
Room Type
Entire home/apt
---
Property Type
Flat
---
Accommodates
3
---
Bedrooms
Althegnenberg, Bavaria, Germany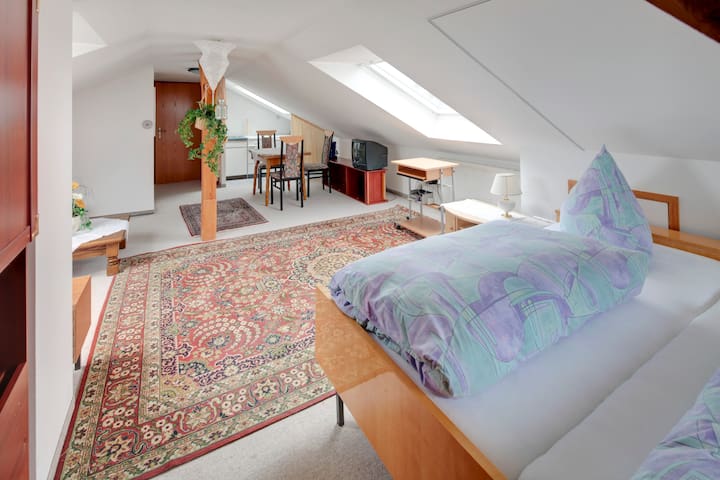 Regularly connections from Mering to Munich central station. Only 25 min and then 1 station by Underground and you are at the Oktoberfest. From your appartement to the railway station by feet about 10 minutes or you order a Taxi. Your appartement is in a calm environment. Well equipped with max. 4 convenient places to sleep, bathroom, balcony and a new kitchen with dishwasher, electric cooker and of course refrigerator. You also can use the appartements own washing machine.
The apartment is in Mering, a town with around 13000 inhabitants on the Munich-Augsburg Railway. On foot it is about 10 minutes to the train station and only 5 minutes from the town center with its many restaurants and shops. Nearer to home (with bicycle easily accessible) one finds lakes that Lechauen and Mandichosee. The quiet location allows a relaxing stay after a busy shopping, driving or working. Morning breakfast on the balcony or in one of the pleasant cafes in the village. The fully equipped kitchen can also be used for larger cooking actions. The built-in dishwasher also saves tiresome washing. The living room is furnished with a large table, chairs a comfortable couch and cable TV. Sleeps 4 maximum possible: bed for 2 persons (convertible), a sofa bed can be used as bed for 2 people. Of course also includes a wardrobe. The bathroom / WC has a bathtub.
The apartment is in a 3-story apartment house, inhabited by families and individuals. Nearby are only one- and two-family houses in a quiet residential area away from thoroughfares but near the village center with a multitude of restaurants and numerous shops.
Albert and his wife Birgit welcomed us very kindly and with great hospitality. They were present when we arrived very late in the evening (after midnight) and they gave us all the information necessary for our stay in Bavaria. In the apartment there is a "handbook" in several languages (including the Italian) with all the practical information and an indication of the places (restaurants, supermarkets, train stations, etc) in the vicinity, including the tourist information about locations and attractions of the area of Bavaria. We found this very very useful. They were also always available to our every request for help for the entire period of stay, with in-person meetings and telephone contacts. The apartment is exactly as described in the advertisement, very well finished and equipped with all facilities and services tools for everyday life. The kitchen is fully equipped, and you can also use the washing machine. The apartment is located in a very quiet town, in a residential neighborhood a short walk from the city center. Even the neighbors have proved very kind and friendly with us and with children. The town is very well equipped with all facilities and shops and transport reached by feet. By train you can arrive in 10 minutes in Augsburg and in 30 minutes to Munchen. We have visited 2 times Munchen using a family ticket of railways (Bayern Ticket) that allows you to use all regional trains and urban transport, including metro. This too has been suggested by our host, Albert. Also in the car it is comfortable to move from the city, given its proximity to highways and motorways. By car we visited lakes, castles, mountains, and many attraction in the south of Bavaria. Albert and Birgit have also indicated places and events less touristy and crowded, frequented mostly by locals, and also suitable for our children. As first lodging experience with Airbnb, I have to say it was very exciting, and I thank Albert and Birgit for their kindness, friendliness and availability.
Luciano
2015-08-14T00:00:00Z
Albert is an amazing host. He picked us in the Mering train station with his wife and provided everything that we could ask him. The house was in perfect condition and exactly the same as the pictures show. It's close to the train station so everyday we took no longer than 10min walking to take the train to Munich. Very recommended for those who are searching for a very calm neighborhood and an amazing house. Marcus Moura.
Marcus
2015-09-22T00:00:00Z
Wir sind total begeistert!!! Die Wohnung hat unsere Erwartungen sogar überstiegen. Alles super sauber und modern. Wir haben alle vier sehr gut geschlafen und es war ausreichend Platz vorhanden. Großer Kleiderschrank und ausreichend Hand/ Duschtücher vorhanden. Die Umgebung ist sehr ruhig und trotzdem kommt man zu Fuß schnell zum einkaufen und an den Bahnhof. Albert und seine Frau sind sehr herzliche und hilfsbereite Gastgeber. Die beiden haben uns einen Linienetzplan ausgedruckt und überlassen sodass wir zwei Tage München mit Bayern-Ticket super und ohne Stress erleben konnten. Bei Fragen stehen die beiden immer zur Verfügung. Mering liegt so günstig, man kann noch soviel von dort aus erkunden und entdecken dass unsere fünf Nächte fast zu kurz waren. Wir haben uns von Anfang an so wohl gefühlt in unserer Wohnung, in dem Ort und bei unserem Gastehepaar, dass wir nur ungern abgereist sind. Nochmal vielen, vielen Dank für alles an Albert und seine Frau. Wir empfehlen euch gerne weiter...und wer weiß vielleicht sehen wir uns ja mal wieder. Herzliche Grüße Sybille, Wolfgang, Celina und Marcel
Sybille
2015-09-06T00:00:00Z
Familie Doll hat uns sehr herzlich empfangen. Wir haben uns gleich daheim gefühlt! Das Appartement ist wunderschön und sehr sauber, auch die Nachbarschaft war nett. Es ist eine wirklich sehr ruhige Gegend dort, und trotzdem sehr zentral. Wir kommen jederzeit gerne wieder und werden euch weiterempfehlen! Wer Urlaub in Bayern möchte, ist dort genau richtig!!
Steffi
2015-10-12T00:00:00Z
Dieses Mal war ich nicht als Gast dabei. Es waren meine Kollegen. Alle waren sehr gluecklich mit der Unterkunft! Vielen Dank!
Asya
2015-10-19T00:00:00Z
..simplesmente excelente!! adoramos a estadia! foi uma óptima experiência, o apartamento é muito bom, com muitas boas condições, a sua localização permitiu-me estar perto de supermercados, transportes para Munique. Está inserido numa vila muito tranquila. ultimo e mais importante: Família muito muito acolhedora. As melhores recomendações para este proprietário Cumprimentos Joel mendes
Joel
2015-08-26T00:00:00Z
Room Type
Entire home/apt
---
Property Type
Flat
---
Accommodates
4
---
Bedrooms
Mering, Bayern, Germany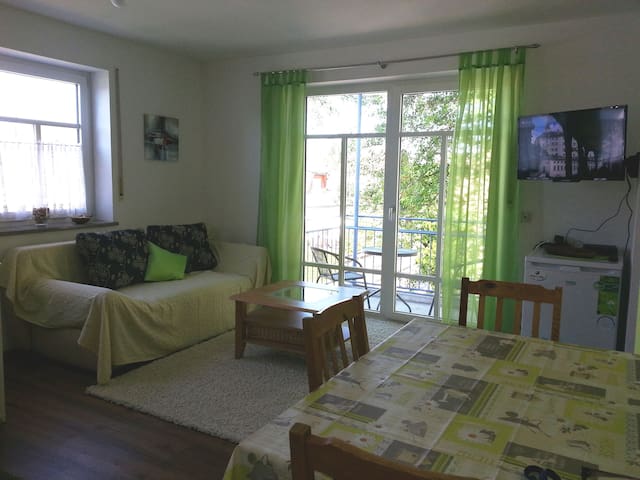 The apartment is located in Moore Weis, peripheral location in a quiet environment and grown. The 65 square meter apartment building is located on the second floor and has the following facilities: 2 bedroom, 1 bedroom 15m ² and 10m ² 1 bedroom Living room with 1 sofa beds kitchen 1 bathroom 17m ², shower / WC Very large west facing balcony kitchen: In the kitchen you will find the usual equipment such as hand mixers, electric kettle and a toaster and coffee maker or a small electric grill. The kitchen is equipped with dishes for up to ten people. Also, it contains a small radio. Technical equipment: The house has a pellet heating system which is supplied by a heat pump. The kitchen has electric stove, oven and grill, dishwasher, fridge-freezer. The rooms are very comfortable and leave nothing to be desired. Bed linen and towels are provided and are made. Drinks and breakfast are not included, we love to meet you, however you want, just ask us! The home will be delivered in perfect working order and inspected.
Room Type
Entire home/apt
---
Property Type
Flat
---
Accommodates
5
---
Bedrooms
Moorenweis, Bavaria, Germany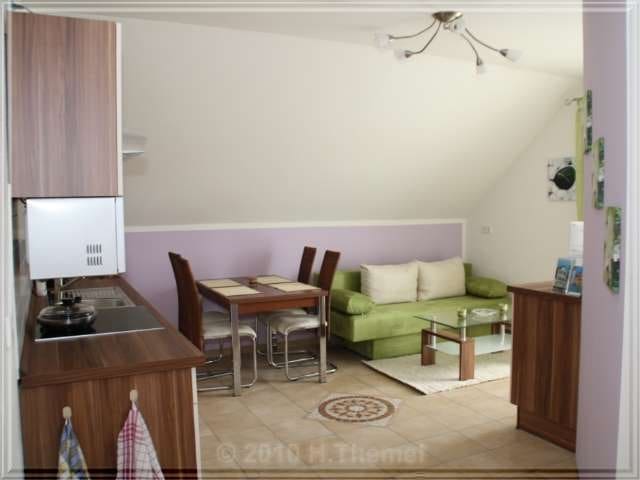 Stylish apartment for short term rentals near Augsburg. Beautiful bright rooms at 60sqm apartment size, for up to 4 people. Kitchen (fully equipped), bathroom with shower and toilet and bedroom. First floor, accessible by stairs. (1st floor)
Ideal for visitors to trade fairs and conferences in the Augsburg and Munich. about 3 minutes for the B17 with connections in all directions. Augsburg fair about 20 minutes Munich Trade Fair about 70 minutes Ammersee / this 40 minutes Bodensee / Lindau about 60 minutes Or you want to take a few days off? Visit our wonderful Augsburg with the historic old town or its unique Fuggerei from the Years 1516th Announcements of Augsburg: (URL HIDDEN)
Gut ausgestattete Küche. Prima aufgeteilte Wohnung. Für kleinstkinder gut geeignet
Alexandra
2017-03-10T00:00:00Z
War sehr angenehm und schön und die Vermieter sind sehr freundlich.
Justin
2017-01-08T00:00:00Z
Room Type
Entire home/apt
---
Property Type
Flat
---
Accommodates
4
---
Bedrooms
Graben, Bayern, Germany
The 63sqm apartment is near Ammersee (6km), A96 (3 km), S Bahn network in Munich (3 km), and a short drive to Landsberg am Lech. You'll love our hotel because of the wonderful nature, the terrace, the south rail connection to Munich and of course the beautiful Ammersee.
I highly recommend it, the village is quiet and beautiful, the apartment is very cozy and the hosts are the best.
Isabel
2017-02-28T00:00:00Z
Axel and Eva are very generous, thoughtful hosts. They gave us a very warm welcome and later checked if there was anything we required ( but were not intrusive )
Dianne
2016-10-06T00:00:00Z
Cozy apartment situated at a nice village near from Munich. It is spacious, clean and comfortable. And their host are so lovely and helpful, I strongly recommend it.
Isabel
2017-02-15T00:00:00Z
As before, Eva and Axel have been so lovely and helpful. The apartment is spacious, clean and very comfortable. I strongly recommend it.
Isabel
2017-03-31T00:00:00Z
Amazing place, it is nice, clean, and comfortable. Axel and Eva are so generous and thoughtful.
Isabel
2016-11-30T00:00:00Z
Really great, spacious and very cozy place. Good location: close to beautiful lake and close to Munich, the same time located in a very quiet, nice village. Eva and Axel are very nice, hospitable and helpful hosts! Strongly recommend!
Leonid
2016-10-01T00:00:00Z
We loved our stay at Eva+Alex place. Eva was very helpful, she gave us good tips of where to go and how to reach Munich by S-bahn. The house is very spacious, very clean, lots of light. There is a wood-burning stove that keeps the living room warm at night and creates a romantic and cozy atmosphere. We recommend it!
Natacha
2016-10-09T00:00:00Z
Such an amazing apartment! So nice,clean, and comfortable. And the owners are so lovely! We only booked for one night and wish we booked for longer! So easy to get to from the main train station in Munich! Axel even picked us up from the train station and dropped us back on our way out! Totally recommend this gorgeous apartment :)
Brittney
2016-10-02T00:00:00Z
Room Type
Entire home/apt
---
Property Type
Flat
---
Accommodates
3
---
Bedrooms
Eresing, Bayern, Germany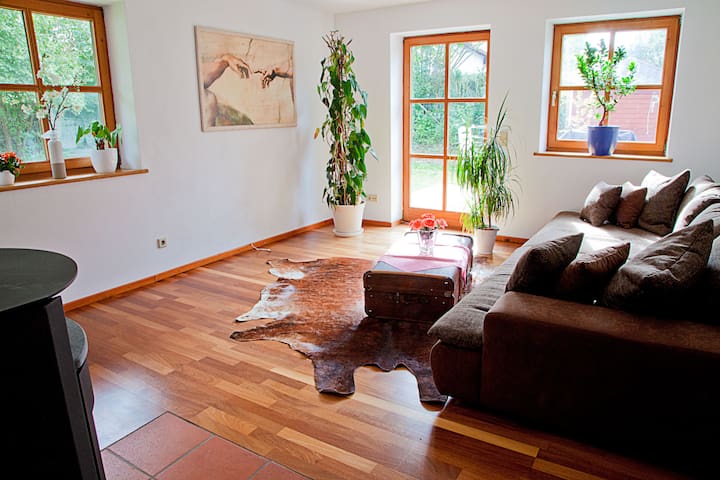 Die Wohnung liegt 40 km westlich von München. S bahn ist 5 Minuten weg zum Fuss.
Die Wohnung hat ein Schlafzimmer mit Doppelbett und noch ein Zimmer mit Zwei Sofas. Für die Sofas braucht Mann Schlafsaecke.
The host canceled this reservation 19 days before arrival. This is an automated posting.
Simea
2015-12-15T00:00:00Z
Room Type
Entire home/apt
---
Property Type
Flat
---
Accommodates
2
---
Bedrooms
Geltendorf, Bayern, Germany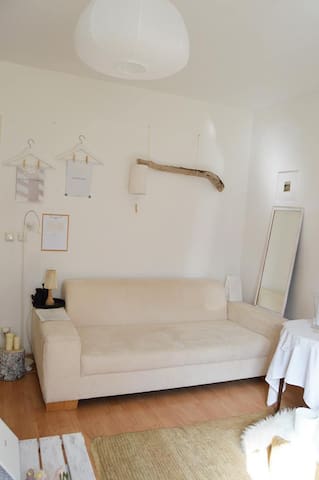 Moorenweis - Very beautiful flat with large balcony to the west in calm situation Beautiful new flat (built in 2008) with large balcony to the west. Very calm situation. Nice inner court. Living room with 2 sofa beds, flat tv and eating area. 3 bedrooms, each with 2 single beds. New kitchen. Bathroom with washtub, shower an wc. Guest WC. 3 parking spaces are included in the rent. Floors: laminate in living room and all bedrooms and tiles are in the kitchen, in the hall, in the bathroom and in the guest wc. Internet with WLAN after arrangement possible. Children until 14 years don´t pay any rent. Only 5 minutes by car to the rapid railway station and than 25 minutes by railway to the central station in Munich. Pets are allowed after arrangement. Shops and restaurants are within walking distance. The landlady speaks also English.
Room Type
Entire home/apt
---
Property Type
Flat
---
Accommodates
7
---
Bedrooms
Moorenweis, Bavaria, Germany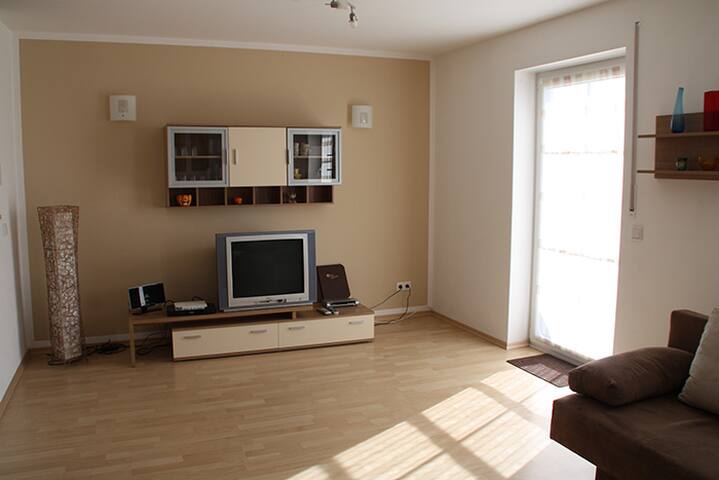 Zentral im beliebten Königsbrunn erwartet euch eine luxuriöse Wohnung mit schönem Gästezimmer umgeben von netten Cafes, Restaurants und Läden. 15 Minuten nach Augsburg oder 1 Stunde ins Münchner Zentrum - egal ob mit Auto oder Bus und Bahn - die Lage ist top!
Zwei Ebenen bieten im unteren Bereich das Gästezimmer sowie ein luxuriöses Bad mit ebenerdiger Dusche, Whirlpoolbadewanne und großzügigem Waschtisch. In der oberen Etage wartet ein modernes und dennoch gemütliches Wohnzimmer mit Essbereich und offener Küche sowie ein weiteres WC. Die Dachterrasse mit Liegestühlen, Esstisch und einem Gasgrill ist unser Lieblingsplatz, wenn wir die Abendsonne genießen wollen. Ausstattung: Handtücher, Bettwäsche, Kochutensilien, Backofen, Dampfgarer, Kühl/Gefrierkombination, Kaffeevollautomat, TV, WLAN, Waschmaschine/Trockner ermöglichen einen angenehmen Aufenthalt. Fußbodenheizung und Kamin sorgen für wohlige Wärme an kalten Tagen. Parkplatz: Autos können auf einem öffentlichen Parkplatz in max. 50 Metern Entfernung sicher geparkt werden.
Königsbrunn ist eine sichere Stadt, so dass man problemlos zu Fuß die netten Restaurants am Abend oder die kleinen Cafes zum leckeren Frühstück in fünf Minuten erreichen kann. Um die Ecke befinden sich Bäckerei, Metzgerei und ein Supermarkt.
Room Type
Private room
---
Property Type
Flat
---
Accommodates
2
---
Bedrooms
Königsbrunn, Bayern, Germany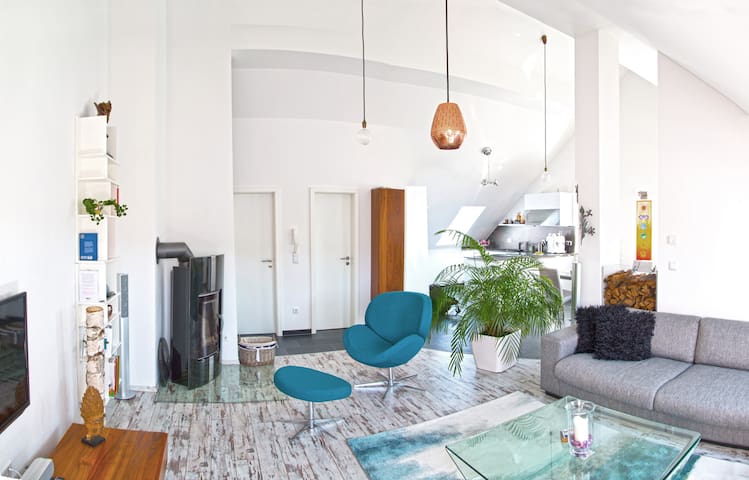 Meine Unterkunft ist in der Nähe von München, in einem kleinen idyllischen Ort im beschaulichen Voralpenland.. Du wirst meine Unterkunft lieben wegen der ruhigen Lage und guten Anbindung, sowie der gemütlichen und praktischen Einrichtung..
Room Type
Private room
---
Property Type
Flat
---
Accommodates
2
---
Bedrooms
Eresing, Bayern, Germany
Helle, gemütliche 3-Zimmer Dachgeschoss-Wohnung (67 qm) Wohnzimmer mit offener Küche und großzügigem Südwest-Balkon Küche komplett ausgestattet Autobahn A 96 7 km Entfernung S-Bahn nach München 40 Minuten die S-Bahn ist zu Fuß in 5 Min. zu erreichen Ammersee und Wörthsee sind in ca. 10-15 Minuten mit dem Auto zu erreichen Die Städte Fürstenfeldbruck, Landsberg, Starnberg sind in ca. 30 Minuten mit dem Auto zu erreichen Sehr gute bayerische und italienische Küche in Türkenfeld
Room Type
Entire home/apt
---
Property Type
Flat
---
Accommodates
3
---
Bedrooms
Türkenfeld, Bayern, Germany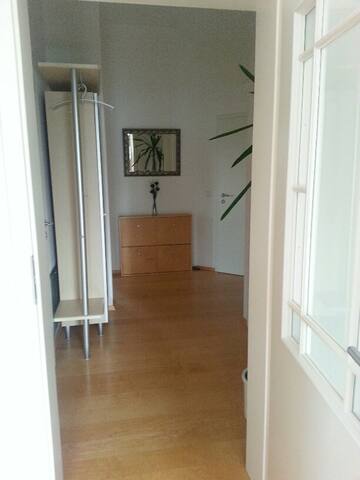 gemütliches stylisches Dachstudio mit Südbalkon Bad mit Badewanne Großstadtnähe mitten in der Natur zur Römerstadt Augsburg und nach München direkte Zugverbindung nette freundliche Hausgemeinschaft
Die lichtdurchflutete Dachwohnung verfügt über eine topmoderne Einbauküche mit Riesenkühlschrank, ein Bad mit Badewanne und Dachfenster, einen Balkon mit Südblick in den Garten und mit Glasdach! Optimal ist die Unterkunft für 2 Personen. Es ist jedoch Platz genug vorhanden auch für 4 Leute, die Betten oder Liegen werden dann nach Bedarf bereit gestellt.
In Kissing gibt es eine wunderbare Umgebung aus hügeliger Landschaft mit Seen, Wäldern, Flüssen (Lech, Paar), Spazierwegen und auch historischen Bauten. Pizzeria, Eisdiele, Parkstüberl mit Biergarten...um nur einige Möglichkeiten des Zeitvertreibs zu nennen. Die Römerstadt Augsburg ist mit dem Zug in 15 Minuten erreichbar, Bayerns Hauptstadt München erreicht man in nur 30 Minuten.
Excellent place and staying here was a great experience. Regina is nice and helpful and provide us almost everything we needed. She was always there to provide us any help during our stay. The flat was very big and tidy, with an attractive open kitchen. The neighbourhood was quiet and comfortable. We will recommend it!
finn
2016-01-10T00:00:00Z
Regina ist sehr freundlich, offen und korrekt. Der Aufenthalt war super, alles hat gepasst. :)
Lilla
2016-09-25T00:00:00Z
Die Unterkunft ist absolut OK. Eine Vollausstattung ist vorhanden.
Sascha
2016-07-21T00:00:00Z
War alles perfekt und ganz super. Regina ist sehr nett, hat mich bei der Anreise supportet und ich kann nur ein positives Feedback geben.
Gerd
2015-10-25T00:00:00Z
Ha sido un placer haber estado instalados, es un loft perfecto para pasar unos días. Pueblo muy tranquilo, bonito, a tan solo 20 minutos del centro de Múnich y con un anfitrión muy amable.
Iván
2015-10-05T00:00:00Z
Regina ist eine sehr nette und aufgeschlossene Vermieterin. Wir haben uns in ihrer frisch renovierten, hellen und freundlich eingerichteten Dachgeschosswohnung sehr wohl gefühlt. Das Haus ist ruhig gelegen und auch ein Parkplatz ist vorhanden. Wir werden sicher nochmals dort übernachten.
Steffen
2016-10-03T00:00:00Z
die Unterkunft bei Regina war wie beschrieben,es war alles da,wir kommen bestimmt wieder
Kerstin
2016-12-29T00:00:00Z
Regina hat uns mit dieser superschönen Wohnung einen tollen Aufenthalt ermöglicht! Immer wieder gerne!! :)
Silke
2016-05-18T00:00:00Z
Room Type
Entire home/apt
---
Property Type
Flat
---
Accommodates
2
---
Bedrooms
Kissing, Bayern, Germany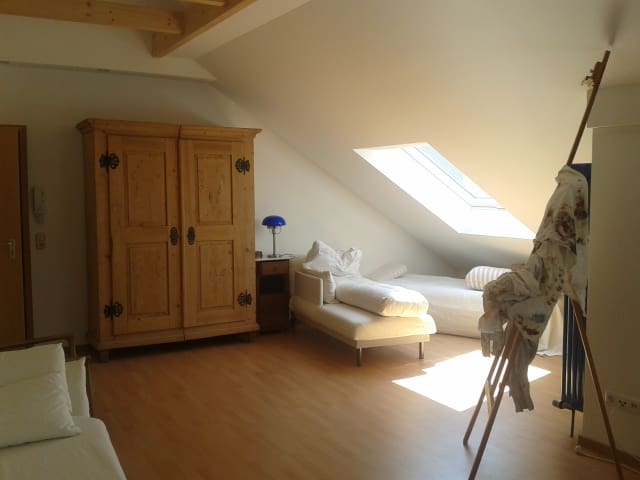 We offer a spacious, fully furnished holiday apartment with 3 rooms, kitchen and bathroom, in a central location, with optimal public transport correspondence to Augsburg City and Munich City. On demand you can use the underground parking spot and the washing machine in the basement for free.
Unsere großzügige 3-Zimmer-Wohnung mit großer Wohnküche eignet sich hervorragend für Personen(gruppen) oder auch Familie, die Wert auf 2 getrennte Schlafräume legen und sich dennoch in der gemeinsamen Wohnküche oder im Wohnzimmer gesellig zusammenfinden wollen. Sie ermöglicht Ihnen Selbstversorgung in der vollausgestatteten Küche. Es steht ein Hochstuhl sowie ein Babyreisebett zur Verfügung. Busverbindung nach Augsburg Zentrum vor der Türe. Mit dem Schnellbus über die B17 in ca. 20 min zu erreichen. Das Augsburger Straßenbahnnetz kann alternativ mit dem Bus in 8 min an der Straßenbahnendhaltestelle Haunstetten Nord oder Haunstetten West erreicht werden. Von dort aus kann gesamt Augsburg (Zentrum/Messe/Universität/FH/Altstadt/Theater/Bahnhof etc.) bequem abgefahren werden. Mit dem Pkw B17 Auffahrt "Königsbrunn Nord" in 3 min erreichbar. Dadurch direkt Verbindung nach Augsburg (10 min) oder zur Messe (8 min) Einkaufsmöglichkeiten, Restaurants und Unterhaltung zu Fuß im Radius von 500m: Pizzeria La Comedia, Ihle Bäckerei, Kaufland, Real, dm, Depot, Aldi, Dänisches Bettenlager, Mc Donalds, Subway, Aral, Divan Spirit Club, Bar, Lounge, Shisha, Billiard, Food & Drinks, Lasertag
We were welcomed by Sabrina, who was very responsive and patient throughout the entire booking process, from confirming time of arrival to answering our questions during our stay. A lovely and cozy apartment with plenty of skylights. We loved the big rooms and beds, everything was as described. We had a car and parking was no problem for both nights (you could park in the underground garage if upstairs is full). Overall a lovely stay and highly recommended!
Sophia
2016-07-03T00:00:00Z
Hi, i am really very well impressed. Apartman looked even better than in the pictures. Everything cleaned and very nice. A very good place to go to Legoland or to the Ammsee as we did with Children. Good restaurant close. I would reccomend and come again! Also Sabrina very kind. Thank you. Petra x
petra
2016-08-08T00:00:00Z
Nice apartment, cozy, confortable, perfectly clean and easily reachable by car. The kitchen is fully equipped. The neighbourhood is nice and quiet. Suggested also for families. Highly recommended to everybody!
Silvio
2016-10-02T00:00:00Z
Sabrina was very friendly & welcoming. The apartment is very spacious and clean! Also, it was very quiet at night. We had a lovely stay in this lovely apartment! I would definetely recommend!!
Lieve
2016-08-11T00:00:00Z
The hosts made us feel very welcome. They had milk, water and juice for us in the refrigerator. They promptly answered any questions we had. The apartment is very nice, clean and quiet. We got very lucky with this listing and the wonderful hosts. The apartment is very close - less than 10 minutes from the University of Augsburg. It is relatively close to the city center as well.
Jeannie
2016-07-10T00:00:00Z
Very great place for going to the Romantic Road and other places. Near everything can be reached within 2~3 hours by car. The Apartment itself was cozy and nice to stay. You do need some luck for parking spots though.
Yongmin
2016-07-06T00:00:00Z
The accommodation is very good.. It worked well for our family. The Apt is located close to a primary road which enabled us to travel easily to various areas by car.
Michael
2016-08-07T00:00:00Z
Although I didn't get to meet Sabrina, she was the perfect host. When we arrived, there were some welcome goodies which were much appreciated. The apartment was lovely, clean and cozy. I felt comfortable reaching out to Sabrina whenever I wanted to as she was always available, helpful and friendly. Thank you for a wonderful stay Sabrina. I would most definitely recommend this apartment and would make use of it again. Linda
Linda
2016-08-22T00:00:00Z
Room Type
Entire home/apt
---
Property Type
Flat
---
Accommodates
6
---
Bedrooms
Königsbrunn, Bayern, Germany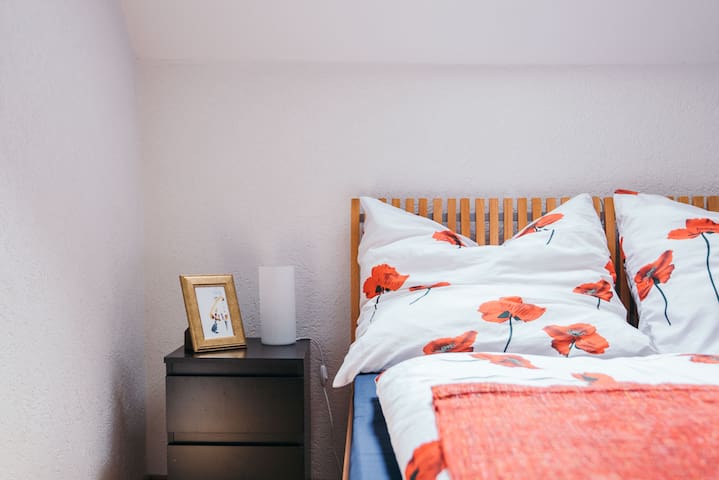 Our accommodation is situated near the Ammersee amidst a beautiful Bavarian village in Ampermoos. By public transport Munich can be reached in half an hour. You'll love our hotel because of modern architecture in an old monumental farm with large garden. Our accommodation is ideal for singles, couples and families with children.
The 60 square meter apartment is fitted with air space and gallery as modern wood cube in the barn of a listed farm. The former home we inhabit with our 3 children.
We live on the idyllic village square with Maypole, fountain and water feature. A small grocery store with bakery and charcuterie is just around the corner. On request, eggs and milk directly from farmers. Every Friday a small weekly market in the village. A beautiful bike path leads through the Ampermoos to 5 kilometers away Ammersee with swimming areas and boat dock. In good weather, visit the Alps for free! Nearby there is a small bathing area for those who like to swim in the river. In the Amper can also go great boat. For example, from Stegen to Furstenfeldbruck. In the vicinity there are numerous attractions such as the picturesque town of Landsberg am Lech (20km), Lake Starnberg (30km) or the Wörthsee- a beautiful lake with turquoise water (12km)! Also Andechs Monastery is not far and on a clear day it rises majestically above the Ammersee. Also Bergfexe (summer and winter) will get their money, you are jerk twitch in the mountains. The Ammergau Alps with the Zugspitze (100km) or the Allgäu are the same on the doorstep.
Yvonne and her husband are really nice and helpful. The house, recently renovated, is very beautiful and located in a peaceful and idyllic setting. We have had a really nice time. We strongly recommend this accomodation!
Marcella
2016-08-14T00:00:00Z
Die Wohnung von Yvonne ist ein toller Rückzugsort ganz in der Nähe von München. Wir haben in dieser einzigartig schönen Architektur ein gemütliches Wochenende mit unserer kleinen Tochter verbracht. Alles ist mit viele Liebe gebaut und eingerichtet worden. Hätten wir doch nur eine so schöne Wohnung in der Stadt! ;) Im Dorf Kottgeisering kann man auch im Winter durch die umliegende Natur streifen oder an den nahe gelegenen Ammersee oder Wörthsee fahren. Yvonne und ihre ganze Familie sind sehr nette und aufmerksame Gastgeber! Vielen Dank!
Manuel
2017-02-12T00:00:00Z
War zum ersten Mal hier. Bin normalerweise auf Geschäftsreise im Hotel. Werde es aber wiederholen. Bin sehr herzlich empfangen worden und habe mich sehr wohl gefühlt. Ist genau so wie auf den Bildern.
Sandra
2017-02-01T00:00:00Z
Liebe Yvonne! Herzlichen Dank für den freundlichen Empfang, die sehr saubere Wohnung und die netten "Aufmerksamkeiten". Es hat uns sehr gut gefallen. Bis zum nächsten Besuch bei Euch ... Liebe Grüsse
Steffen
2016-10-10T00:00:00Z
Dies war unsere erste Buchung über airbnb und sicher nicht unsere letzte, denn wir haben eine ganz tolle Unterkunft 'erwischt'. Noch ganz neu und sehr modern. Wir haben uns sehr wohlgefühlt. Die Ausstattung ist hochwertig; es hat uns an nichts gefehlt. Die Gastgeber-Familie hat uns sehr herzlich empfangen, ist total sympathisch und hat uns auch während des Urlaubs mit Tipps und Empfehlungen versorgt. Unsere Tochter war auch ganz begeistert, da sie mit den Kindern der Familie im Garten spielen konnte.
Thomas
2016-08-27T00:00:00Z
Der Wohnkubus ist wirklich eine tolle Idee. Alles ist aus Holz und durchaus modern gestaltet. Es handelt sich um ein Loft, mit sehr hoher Decke und einem Schlaf-Bereich auf der Galerie. Es gibt somit kein eigenes Schlafzimmer als separaten Raum, alles ist offen gehalten. Wir waren 3 Wochen mit Kindern da, für uns hat es gepasst. Die Küche könnte noch einen Toaster und eine Kaffeemaschine vertragen, ansonsten war alles da und prima ausgestattet. Es gibt noch einen Garten, den man auch benutzen darf-super! Bei großer Kälte kam es uns morgens etwas zu kalt vor, es gibt aber Fußbodenheizung im ganzen Haus. Auf Nachfrage wurde die Heizung für uns etwas aufgedreht. Einziger wirklicher Schwachpunkt waren Datenrate und Verfügbarkeit des Internets. Das war teilweise etwas nervig. Yvonne und ihre Familie waren sehr nett, freundlich und immer sehr um uns bemüht. Der Ort bietet insgesamt eine heimelige und familiäre Atmosphäre, wenn halt auch recht weit von größeren Ortschaften gelegen. Alles in allem eine tolle Unterkunft - empfehlenswert. Wenn es sich ergibt, würden wir wieder dort wohnen wollen.
Olaf
2017-01-09T00:00:00Z
Yvonne hat sich prima gekümmert - die Kommunikation war unkomliziert und sehr angenehm! Eine tolle Unterkunft in ländlicher Umgebung. Dennoch gut und schnell von der Autobahn erreichbar. Sehr schöne Verbindung aus alter Scheune und neuem Wohnkukus mit ganz viel Holz. Der Lebensmittelladen inkl. Bäcker/Metzger um die Ecke ist praktisch - und hat leckere Sachen!
Timo
2016-12-15T00:00:00Z
Wir wurden sehr herzlich aufgenommen und wir hatten eine sehr schöne Zeit :-)
Ole
2016-10-03T00:00:00Z
Room Type
Entire home/apt
---
Property Type
Flat
---
Accommodates
4
---
Bedrooms
Kottgeisering, Bayern, Germany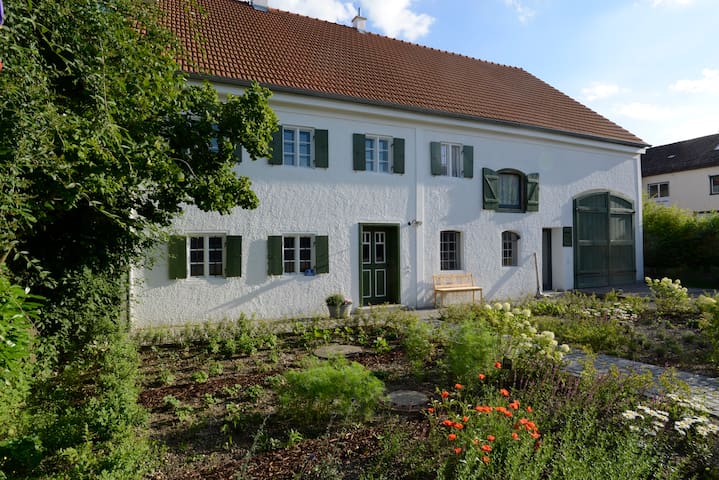 Der Edeka ist am Ende der Straße, also 3min Fußweg.
Einfach gehaltenes Studentenzimmer
Room Type
Entire home/apt
---
Property Type
Flat
---
Accommodates
1
---
Bedrooms
Augsburg, Bayern, Germany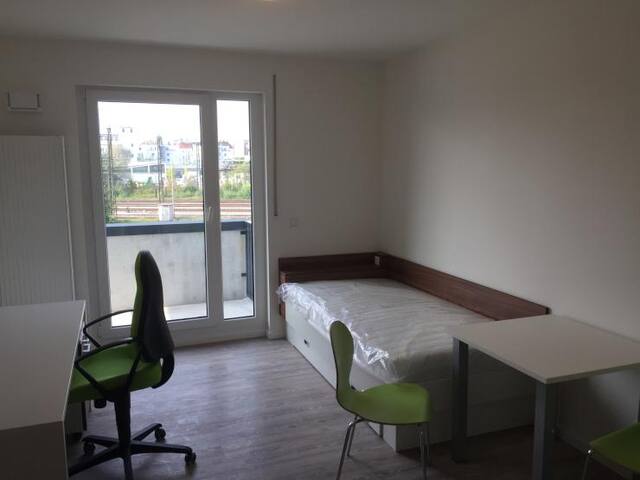 Egling an der Paar - Airbnb
:
Average

4.6

out of

5

stars from

89

guest reviews
1

–

18

of

36 Flat Rentals
Enter dates to see full pricing. Additional fees apply. Taxes may be added.