This 4 bd/3 bath cabin sits in a neighborhood in a high mountain valley at 7000 ft. Located 1300ft above the small canyon town of Drake, CO via a beautiful access road complete with switchbacks and guardrails and only 13 miles from lovely Estes Park and RMNP.
The Mountain House is a chalet style home that sits on over four acres on Storm Mountain. The home is approximately 2500 sq. ft. with 4 bedrooms, 3 baths, 2 living spaces, an oversized dining room table and a large kitchen with views on all sides. Winters are extra cozy by the wood burning stove. Summers are tamed by fans and open windows as cross breezes help to keep things cool! Most people on the mountains don't have air conditioners!
The Mountain House is located 1300 ft above Big Thompson Canyon on Storm Mountain. In the heart of the canyon below in Drake, CO., we have a little chapel, your own personal and very quaint post office, a restaurant and bar at the historic River Forks Inn. On Storm Mountain, our little community is home to about 500 residents. We have neighbors and we all share an online group that keeps us connected. Our neighborhood keeps us functioning as a community even though we all live in the mountains. We're conveniently located just 13 miles from Estes Park/RMNP and 9 miles from Loveland, CO.
We loved staying at this beautiful mountain house! Everything inside is just perfect and the views are amazing. The hosts addressed any needs we had and offered some great tips. The house was well equipped, and the location allowed us day trips to visit Estes Town, and the Colorado Rockies. We will cherish the memories made at this place and highly recommend this location.
Lia
2016-07-05T00:00:00Z
Stunning place! We soaked up the beauty inside and outside this lovely home. Everything was comfortable and user-friendly, and the hosts were very attentive to our questions and needs. We couldn't have been happier! We spent 8 days here with our two teenage sons and could have stayed much longer--there is so much to do in the area. We loved hiking hard in RMNP during the day then coming home to relax on the deck, have dinner using the gorgeous kitchen and dining room, then unwind with a movie in the cozy downstairs entertainment room. All the features of this home are top-notch and luxurious. We very much hope to return again!
Elisabeth
2016-06-20T00:00:00Z
Everything lived up to the expectations set by Steve's beautiful photos and description of the house. This place truly is a home away from home with a warm, cozy cabin feel to it. The house provides an A+ kitchen setup that allows you to prepare delicious meals while interacting with your friends/family. e Steve was a quick phone call away to answer any questions we had and he really ensures that his guests have everything they need to enjoy the stay. If you are searching for a spacious getaway with breathtaking views, peacefulness, quick access to a great town in Estes Park or Rocky Mtn National Park, then this is your destination!
Jacob
2016-03-30T00:00:00Z
We had an absolutely incredible time at Steve and Kara's Mountain House. Coming from NYC, we desperately needed a change of pace and scenery and The Mountain House left us without any disappointments. Steve and Kara warmly greeted us upon arrival and gave us a tour of the house. They were even kind enough to leave us a welcome basket full of goodies. The drive to/from the house was one of our favorites. You definitely need a 4x4 since the drive up the mountain is mostly unpaved. We loved waking up to the bright and peaceful view and cooked some great meals in the beautiful kitchen. We will most definitely be back again, we hope it'll be sooner than later!
Caroline
2016-06-03T00:00:00Z
Everything we hoped for. Great time. We would definitely go again.
Katherine
2016-08-01T00:00:00Z
Steve was a wonderful host. The house is located in the mountains and has a picturesque view of the Colorado landscape. Perfect place to getaway and wind down when visiting the Rocky Mountains !
Rucha
2017-03-21T00:00:00Z
This house is awesome. The views are out of this world. it is a very cozy home, and quite large. Just what you want for a private get away. You lose cell reception within 30 minutes before you get to the home so make sure you have all your info written down. But the upside of not having reception keeps all electronics off so it is very nice to have a break from society. Wifi didn't work to well, but again cut off from internet kept attention on the beauties of outside. The closest Safeway is within 30-40 minutes away so going to the grocery store wasn't that big of a hassle but defiantly want to make one trip. There was a entire downstairs for the kids to sleep and hangout with access directly to the backyard and washer and dryer. The yard is huge, it was snowing so there was a small hill that was perfect for my daughters to sled. You may want a 4x4 vehicle especially if you come during a snowfall as the roads are not perfect. The heater is a wood oven, It seemed to heat up the main and master bedroom very well(maybe the master a little to well) But the downstairs always seemed cold. There was plenty of firewood for the heater. You can't make an fire outside. The kitchen is super cozy and has amazing views. Overall it was an amazing stay and would defiantly stay again. We loved our stay.
Dulce
2017-01-14T00:00:00Z
Steve and his wife did an excellent job having everything laid out and prepared for our arrival. There were never any questions regarding arrival time or of the process. Steve was easily accessible via phone or text for questions about our visit, or just suggestions for hiking near the home (which was incredible). My friends and I were blown away with the beauty and friendliness of the community (everyone waves). Additionally, all the amenities that were available in the home were accessible and made for an easy stay. The house was very clean and provided the perfect atmosphere to relax and enjoy quality time with one another. We visited in the summer months and had no trouble getting to the home with my Ford Focus, but the travel time to and from Estes Park takes about 25-35 min. I would recommend this home for anyone wanting a true, quiet CO getaway.
Taylor
2016-08-20T00:00:00Z
Room Type
Entire home/apt
---
Property Type
House
---
Accommodates
8
---
Bedrooms
Drake, CO, United States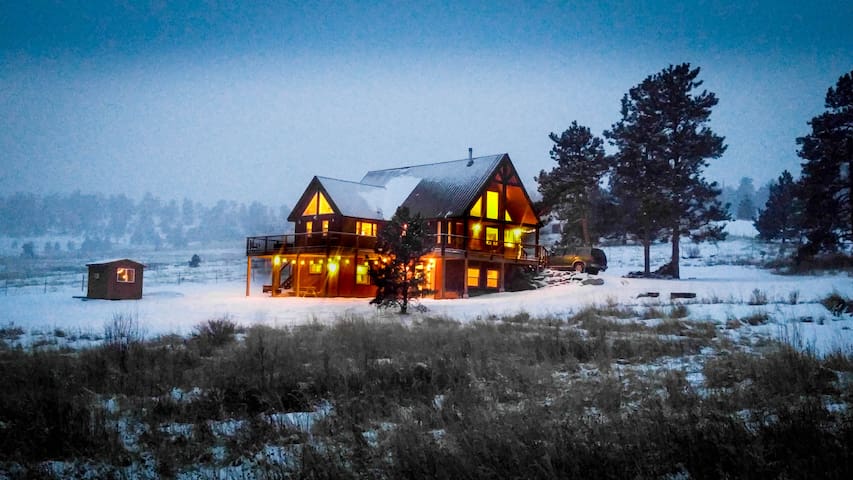 Modern cabin offers great, easy access just off Highway 34 at County Rd 43, just 10 miles E of Estes Park and close to RMNP, 18 miles W of Loveland. Right off Big Thompson River, so steps from fishing. View of the divide, with sounds of winds through the pines and the roar of the river. Perfect cabin with detached 2 car garage.
A fabulous location with sounds of the pines and roar of the river to enjoy as you take in the views. Access to Estes Park is great, just a few minutes.
This was a great Airbnb experience! The home is beautiful and it was easy to find even at night in the dark. My husband and I needed a short little getaway and this was perfect. We actually never left the house LOL we were able to cook some really good meals and watch a bunch of movies in front of the fireplace. Cell service was a problem. There was none. As company owners and people with kids we needed to be in contact. But we were able to call and message through (SENSITIVE CONTENTS HIDDEN) and that made all the difference. It was actually very nice to not have all the other phone calls that go on outside of important stuff. I don't know that we would have rented this place knowing there was no cell service but glad that we got to experience it. We would absolutely do it again. The home has a beautiful deck that we enjoyed. The beds are extremely comfortable. We highly recommend this home. Teresa was easy to reach and very helpful with anything we ask. They were great hosts and we appreciate then letting us stay in their beautiful home.
Troy & Cynthia
2017-01-30T00:00:00Z
This place was everything I hoped for this trip and more. The drive to the home is a bit far from most things but worth every minute of the drive once you get to this peaceful secluded home. Although it is very far out we felt very safe. Especially for us being 3 women with 3 children. The home is very nicely decorated with the mountain theme. It had lots of hot water and good wifi. Just be prepared to not have service (I was so for being disconnected). It was only an inconvenience when trying to call to make a reservation for activities so just plan accordingly. They have cameras on site to provide more safety. The kids were very much entertained with a deck of cards and dice they provided us with. We had a last minute mishap and we're late to inform Teresa about the late checkout. Luckily she was very understanding and extremely accommodating. We definetely reccomend this lovely home!
Nalanys
2017-02-20T00:00:00Z
Room Type
Entire home/apt
---
Property Type
House
---
Accommodates
6
---
Bedrooms
Drake, CO, United States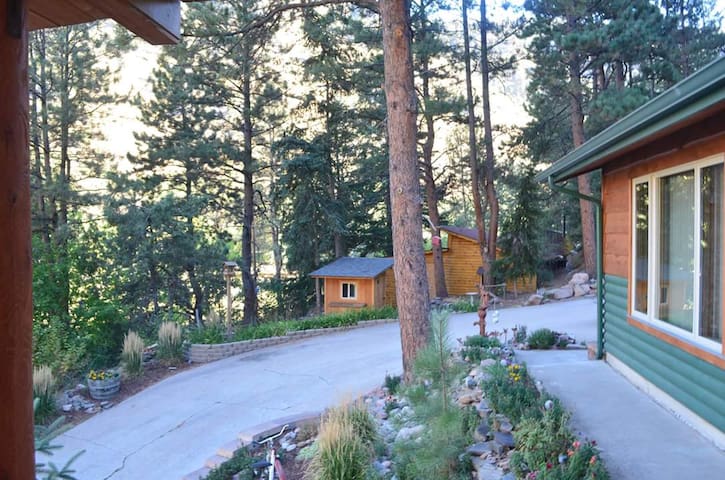 Ever fantasized about staying in a rustic yet modernized Rocky Mountain cabin home? This is The One! Located just 10 miles east of Estes Park, it has fantastic 360 deg. views of mtns & forests. Extra lrg loft bdrm w/ qn log bed & twin sgl bed w/ room for sleeping bags. Full mstr suite w/ king sz bed & living rm on opposite side. Big screen tv, internet, indoor hot tub, 2 fireplaces, & decks. Visit Estes for shopping & restaurants, & hike; then rest in quiet, beautiful, charming cabin home.
This floorplan makes it ideal for two families in that there is an atrium hot tub room separating the two sides with bedrooms. The loft bedroom sits above a small tv room near kitchen. On opposite side is a super large high-ceilinged living room with tall windows showing incredible views out two sides. It has 2 bathrooms; one with a full bath and shower, the other with a sink and toilet. There are small electric fireplaces in every room for instant ambiance without the necessity for wood-burning. Ample parking. Landline phone & access for Verizon cell phones. Our property is perfect for family reunions and has lots of room for tents. One room in the house is pet-reserved (hot tub room) necessary for night time. (NOTE: The baby crib listed is a play n pak, not a formal crib.) Parents are fully responsible for infants and children as there are stairs, railings on decks, and a hot tub to consider. We believe animals and kids must go inside at dusk for safety from wild animals.
This home is nestled in a meadow community of several other cabin homes, but because of the terrain, only a few other cabins are visible from this property. It feels secluded and private. Again, it is a perfect location for family reunions and has room for tents in the large back yard. It can handle reasonable noise such as a band or music, as long as you have received permission from adjacent neighbors. (we may get that approval for you in advance if you let us know). It has old fencing for dogs, but dog owners must be responsible for securing them as the fencing may not be adequate to maintain dogs that would try to escape. They must be brought inside at night due to wild animals and are only allowed in the hottub atrium room.
Room Type
Entire home/apt
---
Property Type
House
---
Accommodates
8
---
Bedrooms
Drake, CO, United States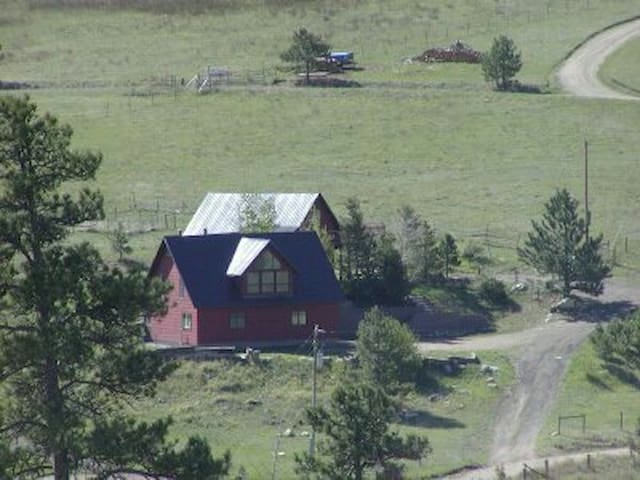 Our property is located in the Storm Mountain Community of Drake, CO. It is at 7,000 feet and to get here you drive up an access road for 1,000 feet with beautiful views of surrounding mountains and ravines. It is a beautiful, peaceful community.
Our house is nestled in a valley with mountains surrounding the property. It is a community with neighbors close by but not too close. It is unique in that we are off the beaten path but have access to all city conveniences within a half hour drive. We are going to have road construction on Hwy. 34 between Loveland and Estes Park but there will be times to pass through this Big Thompson Canyon area. Just ask us for the schedule.
We have neighbors nearby but everyone pretty much stays to themselves. We will leave local emergency numbers as well as the number for the property manager.
Amazing views! We stayed over the Christmas break in this lovely home. It was isolated from city life just as we wanted. A four wheel drive or chains would definitely be need if there is snow as it is several miles up a winding road. We were glad they would have been plowed if there were snow. I can't say enough good about this home. We've stayed in airbnb several times and this rates great! Communication with Jill and Jim were good and their home very welcoming with many touches of love. The neighbors were not too close but very helpful. They even brought us cookies and showed us where a couple of large elk were. Estes Park and Loveland are just a 20 to 30 minute beautiful drive away. Again, the views of the mountains are amazing especially out the back and master bedroom. Star gazing was fun too. I hesitate to say anymore in that it'll be all booked up next time we want to come but I don't want to be selfish and keep all this glory to myself. Others need to experience the love. Thank you Jim and Jill for sharing the love of your home with us. Blessings, The Anderson family(Texas).
cheryl
2017-01-01T00:00:00Z
We absolutely LOVED staying at Jill & Jim's place. It may have been a once in a lifetime opportunity for us but we felt right at home and we highly recommend their place to anyone who's looking for a beautiful kept home to stay in.
Esmeralda
2016-06-30T00:00:00Z
Room Type
Entire home/apt
---
Property Type
House
---
Accommodates
6
---
Bedrooms
Drake, CO, United States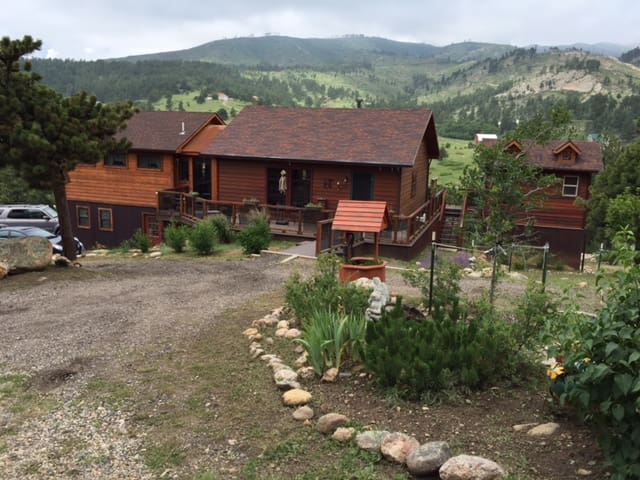 Gorgeous mountain views from every room and from the two porches. Cabin is nestled on 14 acres bordering Rocky Mountain National Park. It is only six miles to the main entrance of the park and two miles from the town of Estes Park and numerous restaurants. Convenient access for hiking, climbing, biking, or enjoying downtown. Abundant wildlife viewing in your front yard!
You cannot beat the location of Kendra's cabin. It was spotless, quiet, and beautiful. This cottage would be perfect for anyone visiting the area for an extended period of time. The communication was great and we didn't have any major issues or concerns. We were very happy with our visit and would love to return.
Erigenia
2016-10-23T00:00:00Z
This was a great spot. My wife and I wanted a place in Estes Park so we could be close to RMNP. Kendra's place worked great. We liked that it was outside of the town center so we got more of a wilderness feel, yet still close to everything. Kendra was very accommodating.
Joseph
2016-10-11T00:00:00Z
I loved the location, nestled in against the boulders, looking out onto the mountains across the meadows. Secluded yet close to town to pick up shopping or eating out. A Well equiped kitchen, all spotlessly clean and warm.
Sally
2016-11-17T00:00:00Z
Kendra did a great job of responding to our inquiries leading up to our arrival. She met us at the house promptly, gave us all the information we needed, and was available by text to answer any questions we had after she left. The cabin is situated in the most idyllic spot. It has a great view of the mountains, is rather secluded, but yet very close to Estes Park and RMNP. In the morning 4 large elk even strolled through the front yard! The cabin is spacious, beautiful, and comfortable! We stayed only one night, but would definitely recommend it to anyone staying longer wanting access to RMNP.
Stephen
2016-06-15T00:00:00Z
My friend and I had a fabulous time at Kendra's beautiful home. First, it's huge! Everything was spotless and we had everything we could possibly need. Kendra was super helpful and showed us around when we first arrived and we got to meet her adorable son and friendly puppy. The view from the front yard was spectacular and we watched the meteor shower right from her front porch. We had elk visit us right in the driveway and the location to RMNP was exceptional. Highly recommend this home and would totally book it again on a return trip to Estes. It's a beautiful place to stay ... thanks, Kendra!
Amy
2016-08-12T00:00:00Z
Kendra was in great communication with us and met us when we came in with all the information we could ever need about the cabin and the area. She even brought over a fan to help us cool off in the evening!
Dave
2016-06-27T00:00:00Z
We loved our stay! The cabin is private with beautiful views of the surrounding mountains. It was clean and we had everything we needed to be comfortable. The location is convenient for easy access to downtown and RMNP. Kendra, Joerg (and Nika) were great hosts! We would definitely stay there again on a return trip to Estes Park!
Ben
2016-07-02T00:00:00Z
Kendra went the extra mile making us comfy. She gave me a hiking stick to help with hiking in the Rockies. She allowed us to come early which was nice!
Suzie
2016-09-01T00:00:00Z
Room Type
Entire home/apt
---
Property Type
House
---
Accommodates
4
---
Bedrooms
Estes Park, CO, United States
Enjoy a relaxing and comfortable retreat. My home is on a quite acre with lots of wildlife wondering around and spectacular views of Estes valley. Within walking distance to Lake Estes and downtown and an 8 minute drive to Rocky Mountain National Park. Your spacious room has two twin beds, cable TV, WiFi, dresser, private bathroom with shower, hairdryer, and a yummy continental breakfast. I'll be happy to give you recommendations for sightseeing, dining and activities. See you soon.
Our home has been described as being peaceful and comfortable. Jack and I love meeting travelers and learning about their interests and lives. In the spacious guest room, there is a daybed for a single guest and a trundle bed when their are two. Feel free to make yourself at home.
Our home is in a quite and very peaceful
Melanie and Jack were amazing. Melanie took the time to talk through my hiking plans and offered suggestions. The bed was super comfortable and warm, I had a great rest. They even had snacks and breakfast treats laid out for the morning. If you're heading to Estes Park, this is the place to stay.
Krista
2016-10-30T00:00:00Z
Melanie was a wonderful host. Clean and comfortable, their place is a warm -- in temperature and hospitality -- retreat, great for anyone wanting to explore Rocky Mountain National Park. The hosts graciously offered food, coffee, and even delicious smoothies in the morning. Melanie was genuinely interested in getting to know her guests, and shared interesting stories of her own. I also accidentally left something behind, and Melanie generously offered to mail it my way. Highly recommended.
Chris
2016-11-26T00:00:00Z
Melanie and Jack are lovely people and we really enjoyed chatting with them over tea in the evening. The room we stayed in was warm, cozy and had everything we could need. Rocky Mountain National Park was a short drive from their house and they were super close to some great coffee shops and restaurants too. We would definitely stay again! Thanks so much!
Chanel
2016-12-01T00:00:00Z
Amazing experience! Melanie and Jack were friendly, helpful, and considerate hosts. They had extras everything I could have possibly forgotten for my trip. The bed was comfortable and there were home baked cookies to snack on! I would highly recommend staying here!
Kevin
2016-11-10T00:00:00Z
If you need a quiet and comfortable place to stay at while visiting Estes Park, I would suggest staying at Melanie's. She is a friendly host who makes sure that you are well taken care of and will offer up suggestions on what to check out in the area. Her place is super clean and the scenery is amazing. Not to mention she is extremely close to Rocky Mountain National Park
peylin
2017-01-17T00:00:00Z
Melanie was a great host! She welcomed us with hot dogs since we arrived during Cubs baseball game time! Melanie spent quality time with us providing recommendations for nearby hikes. I would recommend her home.
Emily
2016-10-21T00:00:00Z
Being a first time Air B&B 'er I had computer registration issues that I was able to communicate directly with Melanie about before actually reserving our stay - to be able to write at least to our host was most reassuring actually. We were the 'virgin' guests in Melanie and Jack's new home, (although they have a stellar record from opening their previous home) and we were virgin B&B ers at the same time! They gave us all the details we needed to know before arriving, and about getting in etc. Their home was very inviting, open, clean, warm. Jack was there to greet us, and of course, showed us all the things we needed to know. Their home is in a beautiful wooded area, among other homes, and very close to the entry point of the town - excellent location to get around from. And Quiet!
KAREN
2016-10-20T00:00:00Z
It is a really warm home. I believe you would like it.
Koala
2016-12-22T00:00:00Z
Room Type
Private room
---
Property Type
House
---
Accommodates
2
---
Bedrooms
Estes Park, CO, United States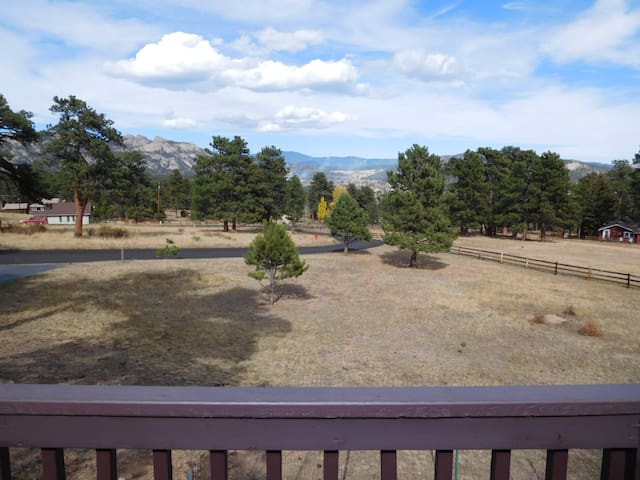 This luxurious mountain home is located only minutes from downtown Estes Park, Colorado and Rocky Mountain National Park. A convenient 2 hour drive from Denver International airport and surrounding Front Range communities, it is the perfect retreat for a family get together or couples getaway! You'll love the ease of access to nearby hiking trails in both the National Park and National Forest. An easy 5 minute drive into downtown Estes provides ample shopping opportunities and wonderful cuisine!
Mountain Vistas retreat is located in a rural mountain community. It is a wonderful place get away to relax and enjoy the beauty and quietness of nature. While you may be vacationing, our neighbors are not. Please note that we have a great relationship with our them and respect their space. We fully want you to enjoy your stay and are happy to accommodate you.
The house was was awesome and exactly as described. Jamie was an excellent communicator and responded to our texts and emails quickly; I mean within an hour! Location was perfect for what we had planned, eg close to town and Rocky Mountain National Park. We made delicious dinners and ate out on the deck. The star gazing was phenomenal too. We would definitely recommend this home.
Candace (Candi)
2016-08-06T00:00:00Z
Beautiful home, great layout with amazing views.
Michelle
2017-01-02T00:00:00Z
The cabin was huge and spacious!! Jamie was great at communicating.
Spandana
2017-03-12T00:00:00Z
amazing location. Host was very responsive.
Bang
2016-06-23T00:00:00Z
The home was perfect and Jamie was great at communicating to make sure our stay was great. Such a beautiful place and location. We will definitely be back again!
Ashley
2016-12-30T00:00:00Z
This house is beautiful and the view even more. It's close to Estes park and the Rocky Mountain national park. Great place for families!
Astrid
2017-03-05T00:00:00Z
We had a wonderful stay at this beautiful house!
Ryan
2016-10-02T00:00:00Z
The house was even better than expected! This is a huge house, perfect for two families of four. We were able to spread out and enjoy our time in the home, and on the deck, and explore Estes. We were only about 5 minutes from downtown Estes, and we were able to take advantage of many of the fun activities the town has to offer. The location has a great view of the mountains, it was very clean, the beds were cozy, the amenities were great, Jamie was extremely responsive. We loved our stay and would highly recommend this house to others looking for a quiet, relaxing getaway for couples or two big families!
Jamie
2016-06-26T00:00:00Z
Room Type
Entire home/apt
---
Property Type
House
---
Accommodates
8
---
Bedrooms
Estes Park, CO, United States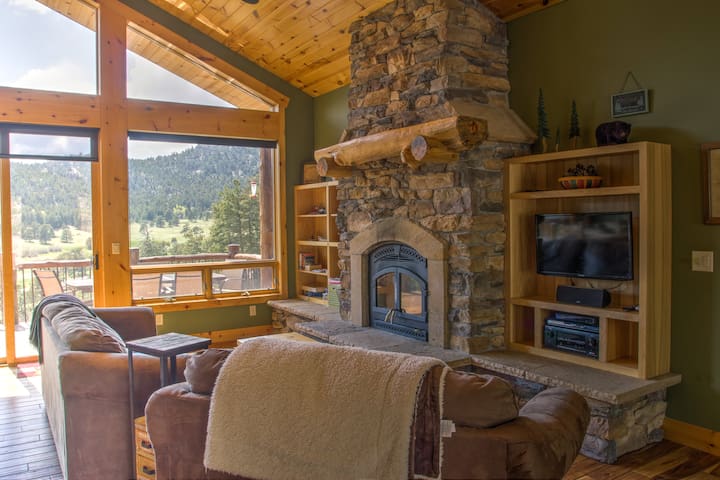 Enjoy your private entrance to this spacious new attached 460sf, 1 BR suite. Living area has sofa, 40" flatTV, electric fireplace, kitchenette with sink , frig, and MW. Beautiful bath with spacious shower , queen bed still leaves a lot of space for closet , desk and luggage. Wildlife frequented, nice views, convenient
Close to town yet private and quiet. Not unusual to be visited by all kinds of wildlife including elk,deer, bear, bobcat, marmots. 2 room Suite is in the walkout lower level of our primary home Possible exceptions upon inquiry for allowing children at additional fee.
We can walk to town and yet have great views , lots of wildlife visitations , quiet neighbors , 3/4 acre property, big drive and parking. Will consider extra guest on case by case basis ( i.e., family with 1 child ) feel free to ask .
Mike and Cindy were awesome! Great, beautiful, comfortable accommodations and friendly, courteous hosts. Would definitely stay there again! Five stars!
Mark
2015-09-21T00:00:00Z
This hideaway is perfect for exploring the town of Estes Park as well as RMNP. Cindy and Mike have clearly put a lot of thought into creating a home away from home. Soft sheets, sparkling bathroom, coffee, bottled water, maps galore, and quiet! As a solo traveler, I was grateful that they gave me loads of advice about the area and wanted to make sure I was ok after some ambitious hikes! Within 24 hours they felt like friends. Don't bother battling the crowds for a campsite or hotel; their place is the best and I hope to return.
Ash
2016-08-12T00:00:00Z
We really enjoyed our stay. Lovely apartment close to town and the national park. Made very welcome by Mike and Cindy who provide lots of little extras with a great coffee machine and a much appreciated bottle of wine too. Wildlife right on the doorstep with Elk and even a bear visiting just across the road. Would love to have stayed longer if we could.
Mark
2016-10-27T00:00:00Z
beautiful place. saw a heard of 15 deer on our way in. very close to restaurants and the national park. would recommend a stay here
Chris
2016-10-07T00:00:00Z
My husband and I spent a week at Mike and Cindy's beautiful home in Estes Park. Cindy and Mike are incredibly friendly, kind, and helpful hosts, and the apartment suite is AMAZING. The bed is super comfortable and the heated bathroom is a little slice of heaven. Their pets, Tucker the lab, and Chubbs the cat, are absolutely adorable. The suite was stocked with snacks, cocoa, and coffee upon our arrival--a huge treat after 6 hours of flying and two hours of driving. Mike and Cindy offered us suggestions for dining during our stay, and all of their recommendations were spot on. Cindy also offered an alternate route back to Denver, and we enjoyed spectacular mountain views that we would not have seen otherwise. Driving back to the suite after day trips to Rocky Mountain National Park and Boulder, we were treated every night to views of elk walking down the street. One night, Tucker even alerted us to a pack of three mule deer in the yard, and we were able to obtain fabulous photos (not to mention memories). We thoroughly enjoyed talking with Mike and Cindy and got some tips for cool new shows to watch. In short, Mike and Cindy are fantastic hosts, and if and when our travels brings us back to Estes Park, we would love to stay with them again.
Michelle
2016-03-24T00:00:00Z
This was one of the best bnbs I've stayed at. Mike and Cindy were great. Not only is the bnb nice but the fridge was stocked with waters, muffins, and bagels for us when we arrived. Mike was extremely helpful with all the parks trails and planning our hikes. We left one morning only to come back to a private deck having been built of our room while we were out. Now that's service! Once we were testing it out Cindy came down and offered us beer and then let us use their printer to print our boarding passes. Wont stay anywhere else when in Estes from now on.
Jason
2015-09-29T00:00:00Z
Before we even arrived to the house Cindy and Mike were extremely welcoming. It was our 1st time traveling with our 5 month old and they accommodated us with a pack n play and a stroller which made our travels a lot lighter. We arrived and the pictures don't do the place justice! The room is very private, quiet and cozy and there is a great sunrise that can be seen from the window! Cindy and Mike were also very caring towards our baby girl, gave us great recommendations for places to hike and even let us borrow some hiking equipment which allowed us to have an epic view of Dream Lake! We consider them our friends and we can't wait to go back and visit them next year!
Gisela
2015-11-10T00:00:00Z
Mike an Cindy are great hosts. They were flexible with check in and check out time. The place is very welcoming with great view and a fire pit !
Marina
2015-10-20T00:00:00Z
Room Type
Private room
---
Property Type
House
---
Accommodates
2
---
Bedrooms
Estes Park, CO, United States
(Monthly rates available) Only a 5 minute walk to downtown Estes Park. Panoramic view of Lake Estes, Stanley Hotel, Lumpy Ridge and Twin Owls from the surrounding decks.
Only a 5 minute walk to downtown Estes Park. Views of Lake Estes, Stanley Hotel, Lumpy Ridge and Twin Owls. Elk, deer and moose pass by daily on their way to Lake Estes. Main level has master bedroom with kingsize bed. Full bath with walk in shower. Kitchen has gas stove and island for food preparation. The office has a twin daybed that converts easily into a king bed. Dining for eight. Large wrap around deck with views of Lake Estes and Lumpy Ridge. Lower level has separate entrance as well as an interior stair to the main level. Fully prepared kitchen with stovetop, microwave and full size refrigerator. Bedroom with queen bed, dresser and large closet. Second bedroom with two comfy twin beds. Queen sofa sleeper in the living room. Full bath with large walk in shower. Laundry facilities are on lower level. Lower level has a large covered seating area. Guest have access to BBQ grill, decks, multiples patios. Large open spaces that surround the home. Laundry facilities are located on the lower level. Internet and internet TV both levels. Gas fireplace in main living area. We hope to be able to greet our guests when they arrive, if not we will arrange to have someone welcome our guests. We will not be staying on the property during their visit. Our neighborhood is known as the "Rocky Mtn. Zoo." We are continually interrupted by the elk, deer and moose that graze each day on their way to the lake. Birds of all type are in abundance. Quiet neighborhood even though it is near downtown. There is great deal of privacy due to the open space that surrounds the home. It really is one of the best locations in Estes Park. We love to walk to downtown daily or around Lake Estes just minutes away. There is a shuttle bus at the visitors center that goes to Rocky Mtn National Park in the summer season. A short walk to the visitor center will provide you with transportation to Rocky Mtn. National Park during the summer season. Trolley and bus service for local attractions is within walking distance. The house was built in the early 1950's and has a mix of mid century, modern and cozy mountain to make you feel at home during your stay. The house is like a duplex in the way that there are two separate living areas. Lots of room for families to gather together or find a quiet place to be alone. The views are exceptional from the nice wide deck.
Our neighborhood is known as the "Rocky Mtn. Zoo." We are continually interrupted by the elk, deer and moose that graze each day on their way to the lake. Birds of all type are in abundance. Quiet neighborhood even though it is near downtown. There is great deal of privacy due to the open space that surrounds the home. It really is one of the best locations in Estes Park. We enjoy the walk to downtown and the nearby trail around the lake. There is a shuttle bus at the visitors center that departs regularly to Rocky Mountain National Park during the summer season.
The host was in close contact with us by social media until our actual arrival. We were then immediately personally greeted and made comfortable. Our expectations were more than met. The location and accommodations were lovely. We had a great experience in every way.
Rebecca
2015-09-30T00:00:00Z
If you are planning a vacation in the Rockies, this is the place to stay, without equivocation! Everything about the situation is perfect: the hosts are gracious and maintain a beautiful home, perfectly set up for a comfortable week or so of mountain living; the house is extremely comfortable and offers ALL the amenities one could hope for; and the location is fantastic, with easy walking access to the "touristy" parts of Estes Park and right at the intersection of all the roads leading into the National Park. We were so comfortable and acclimated to the Mulhern's home that we felt like old friends who would be back soon! Book this FIRST!
jay
2015-08-22T00:00:00Z
Amazing host. They made us feel very welcome and at home. Listing was spot on. Views were amazing. The beds were the most comfortable I ever slept on. Woke up two morning with a mother elk and her calf right outside the bedroom window. You could not ask or find a better location and home!
Michele
2016-06-25T00:00:00Z
I never actually met Dick and Liz, but felt like I knew them well after staying in their lovely home! The house was decorated in a mix of "mountain chic", interspersed with antiques, pottery and unique artwork. The home was truly the perfect place to unwind in comfort. Having breakfast every morning on the deck in the company of hummingbirds was magical! All amenities were state of the art, the house was spotless and the location to RMNP and downtown was perfect. Fabulous home!
Kathleen
2015-09-13T00:00:00Z
Perfect home for two small families that need their own space. BEAUTIFUL location and walking/biking distance to downtown Estes and Lake Estes. The deck space around the home is plentiful both upstairs and down. We would not change a thing about our experience there.
Bud
2016-06-10T00:00:00Z
The home was incredible! We got in late but Liz made sure to leave us a very welcoming not with a binder full of things to do! She came and checked in on us the next day and made us feel right at home. Will definitely be staying here again when we come back.
Cody
2016-04-24T00:00:00Z
LIz was very friendly and personally interested in us have a good visit by providing local points of interest and her favorite restaurants, hikes and things to do! She was so easy to work with and was very quick to respond to the questions we had before we arrived. Their home was depicted accurately in the description and photos they had posted. We walked into town daily and Estes Lake was literally just across the street! We highly recommend their home and look forward to staying there again!
Shelley
2015-08-04T00:00:00Z
We enjoyed our stay at Estes Park. The proximity to downtown was about as good as it gets. A short walk. The deck was our favorite hang out in the evenings. Dick and Liz did everything they could to make us feel welcome. Their helper, Sally gave us an idea to see a live free concert and we ended up going two nights in a row. Fun times in Estes!
Bruce
2016-07-13T00:00:00Z
Room Type
Entire home/apt
---
Property Type
House
---
Accommodates
8
---
Bedrooms
Estes Park, CO, United States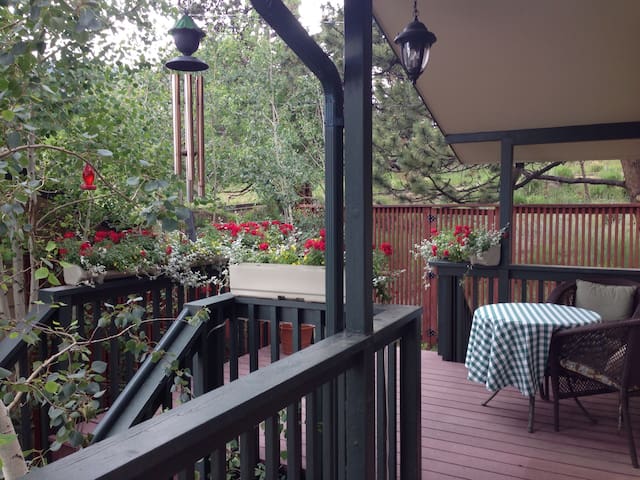 Longs Peak Cottage has wonderful views of Longs Peak, other surrounding mountains and small view of lake. The cottage is filled with light, there is a deck on the West and East side. Plenty of elk come through the property. Suitable for 2 families
This house is uniquely set up for large families or even two families. The main part of the house is separated by a door from the multi purpose room which sleeps 4-5 people. It is a perfect room for kids to play or teenagers to hang out.
Longs Peak View Cottage is unique in the way that it is only a 5 minute drive from downtown, but it is 5 minutes walk from so many attractions like horse riding, ATV rental, mountain shop and rental, Marina with boat rental, playground, mini golf, go karts, Noah's arc, the lake, liquor store and a couple of Eateries. The lake has walk/bike path all around it. Rocky Mountain Park is only 15 to 20 minutes on the other side of town.
The house was perfect for us. We flew into town for a wedding at the Stanley and he house was less than two miles from it. Plenty of beds and linens, dish soap and Landry detergent. We were also able to see a small heard of elk passing through a house down from us and there was a prerrie dog living in the back yard.
Rian
2016-08-02T00:00:00Z
We had a terrific time in this cozy and thoughtfully arranged home. It is a great place from which to explore Rocky Mountain National Park and Estes Park.
Mary
2016-08-12T00:00:00Z
We had a wonderful 3-night stay here over New Year's! Our stay included 2 families (4 adults, 4 kids in total) and the place was perfect. The kids loved the giant multi-purpose room and getting to sleep all together. Thanks for the great time!
Amy
2017-01-02T00:00:00Z
Cozy cabin with a lot of sleeping space. We stayed very warm during our snowy stay. I'd love to see this in the summer time! There is a deck that would be perfect for enjoying and outdoor breakfast. Minutes from all the Estes attractions.
Amy
2017-01-15T00:00:00Z
Great cabin close to everything! We enjoyed our stay. There was a huge elk heard in the front of the yard. That was a great way to close our stay at Estes park.
Jesus
2016-10-12T00:00:00Z
The host canceled this reservation 3 days before arrival. This is an automated posting.
Wendy
2016-09-13T00:00:00Z
We had a great time at the Longs Peak View Cottage. It was a much more enjoyable and relaxing experience than staying in a motel. The accommodations were much better than we expected. We will definitely be back!
Russell E
2016-07-21T00:00:00Z
We loved the house! My husband and I have two kids (ages 2 and 5) and also had my parents with us for our weekend getaway, and the house was perfect to accommodate all of us. The kids especially loved their spacious multipurpose kids room (and 5 year old loved the bunk bed!). The location was great for easy access to the walking trail around Lake Estes, and right across the street from stables which was perfect for our trail ride. Great communication and the listing was accurate. We had a great stay and definitely recommend!
Carrie
2017-03-26T00:00:00Z
Room Type
Entire home/apt
---
Property Type
House
---
Accommodates
8
---
Bedrooms
Estes Park, CO, United States
Lovely 3 bedroom log home, one full bath, fully furnished home with three decks on a one acre wooded corner lot Wood burning redstone fireplace, W/D, cable, wifi. Knotty pine walls, free firewood, 1.5 miles from center of town. Quiet neighborhood.
Hard to find historic furnished log home with a real wood burning fireplace close to town (less than a 10 minute drive to the center of town). Washer and dryer on site. Three decks to sit on, relax and enjoy the beauty of the mountains surrounding Estes Park.
Neighborhood is very quiet and has little vehicle traffic. Almost everyday wildlife (elk, deer, hawks, eagles and several different kinds of birds) can be seen on the property or in the neighborhood.
Wonderful cabin in the woods. Very close to downtown Estes Park, yet far enough away to feel like your in a cabin in the woods. I think the pictures didn't do this place justice. It's even better in person. I'd highly recommend this place to anyone looking for a getaway.
Michael
2016-05-22T00:00:00Z
Great place! Marvin made everything perfect!! Will definitely stay here again in the future!
Daniel
2016-03-17T00:00:00Z
We just finished a week's stay at Marvin and Pam's Estes Park property... what a wonderful place! Had everything we needed for a large family of five adults and two small children. Was so cozy and the location is perfect, just a few minutes to downtown and the national park entrance. The kitchen was well stocked and with the large dining table we were able to host a few large dinners for other family also in town while we were there. The downstairs owner's suite/apartment was perfect for the in-laws. Hope to return in the summer this year or next. Marvin and Pam greeted us upon arrival to make sure we had everything we needed, was a nice personal touch. Would highly recommend this home!! Thank you!!
Emily
2016-01-02T00:00:00Z
Great
mark
2016-07-02T00:00:00Z
Yes Marvin & His Wife Greeted us. They couldn't have made us feel more welcome they are so nice they showed us everything in the cabin & since we are from Florida they gave us some suggestions on what to do & see. The Cabin lived up to our exceptions & then some. We love it & we hope to come back in the near future. So I would highly recommend Marvin to anyone . Loretta & Jim Lane
Loretta
2016-06-10T00:00:00Z
We had a wonderful time at Marvin's place. Our group of friends spent a February weekend here while snowshoeing and mountaineering in Rocky Mountain National Park. The place was very well accommodating: it had ample kitchen space, ample seating, comfortable rooms and beds, along will plenty of back porch space. The stocked fireplace was a treat and the double shower in the one bathroom speed things up a bit. Our group was really happy staying here in this cozy cabin a quiet distance from downtown Estes Park. We would recommend this place to others and we would consider staying here again.
Ian
2016-02-14T00:00:00Z
The host canceled this reservation 154 days before arrival. This is an automated posting.
Reid
2017-01-28T00:00:00Z
Very comfortable house in a nice neighborhood. Well stocked kitchen. The host helped us feel welcome. Would not hesitae to stay there again.
Steve
2016-02-01T00:00:00Z
Room Type
Entire home/apt
---
Property Type
House
---
Accommodates
8
---
Bedrooms
Estes Park, CO, United States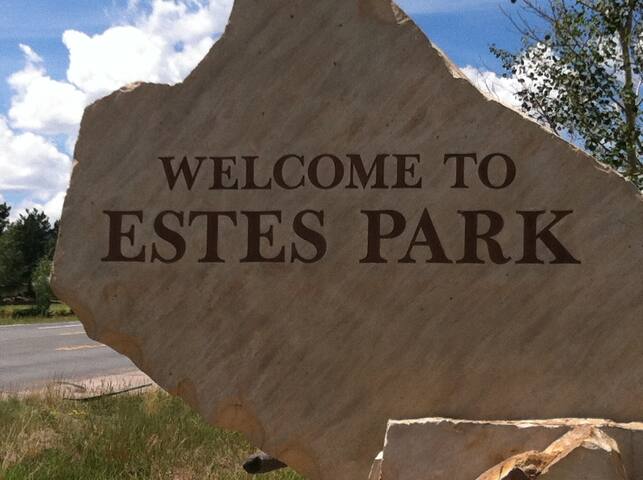 Access to all the outdoor adventures like Rocky Mountain National Park, wildlife tours, festivals, breweries and more are just minutes away!
This 1 bedroom 1 bath/shower comes with a complete kitchen, living room with couch and flat screen TV, dining room and private entrance. The bedroom has two queen beds and a walk-in closet with terry cloth robes to relax in. It's a complete ground level apartment with total privacy.
Jazz Fest Dates: June 6 and 7 Rocky Mountain Irish Festival Dates: June 18, 2015 - June 21, 2015 Estes Park Marathon/Half Marathon/10k Dates: June 21, 2015 Scandinavian Mid-Summer Festival Dates: June 27, 2015 - June 28, 2015 Fourth of July Dates: July 4, 2015 Rocky Mountain Half Marathon Dates: August 1, 2015 Heritage Festival Dates: August 22, 2015 - August 23, 2015 Labor Day Festival Dates: September 5, 2015 - September 7, 2015 Longs Peak Dates: Septemb(PHONE NUMBER HIDDEN) - Septemb(PHONE NUMBER HIDDEN) Elk Festival Dates: October 3, 2015 - October 4, 2015 Dasher 5K & Kids Run Dates: Decemb(PHONE NUMBER HIDDEN)
Pat, the host was fantastic. Warm and giving. The home was fantastic, wonderful view of the Rockies, with elk heards grasing out the kitchen window each morning.
Jerry
2016-05-31T00:00:00Z
Eagle Rock was fantastic. Its in a beautiful location and the room was clean and very comfortable. Pat was very kind and friendly. I would definitely recommend for anyone looking to visit Rocky Mountain National Park. Thanks, Pat!
Charles
2016-07-19T00:00:00Z
The house is positioned in a breathtaking open space that looks right into the park. Patricia was very friendly when we met her upon arrival, told us what we needed to know, and left us alone while still being available for questions. It was fantastic overall.
Jake
2016-08-27T00:00:00Z
The basement apartment that was provided had all the comforts of home. The location just a short drive from town was perfect. We enjoyed the cool evening breeze and the quiet. Patricia was a terrific host. We would definitely stay here again.
Bill
2016-07-29T00:00:00Z
Pat's house is in a great location a couple miles from downtown. She is a fantastic host and knows the area very well. Thank you, Pat for your hospitality, your house really enhanced the trip!
Brant
2015-06-28T00:00:00Z
Patricia is a wonderful, caring hostess with a beautiful portion of her home set aside for guests. It's a delightful walk-in basement with both sizable bedroom (two doubles were very, very comfortable), kitchen and living room. More than enough space to spread out. She adds some wonderful touches, snacks, bathroom amenities, made sure we had what we needed but wasn't intrusive in any way. The fresh donuts were a pleasant surprise, really above and beyond! It's a few miles out of town but very peaceful, can be in Estes in less than 10 minutes. Classic views of Longs from the front door. Highly recommend, wish we could have stayed longer. Tremendous value for the money.
David
2016-08-16T00:00:00Z
This location is great because you get to enjoy the mountains and get a break from the crowded tourist parts of Estes Park. Pat is a great host and the place was clean and even stocked with snacks. The hiking guides and info Pat had was also very helpful. Definitely recommend this spot!
Roshani
2016-07-09T00:00:00Z
My wife and I were looking to spend our 10th anniversary in Estes Park, and Pat's place was perfect! She had a cake waiting for us when we arrived, and even provided last minute directions due to some road construction. I had neglected to mention to her that we have some food and skin allergies, and she was super fast in recommending some gluten-free restaurants and in washing some items in our own detergent! We are high maintenance in that regard, and she went above and beyond expectation, and made us feel so welcome the entire week. She even brought over some gluten-free cookies at one point. Her place is also on a wide expanse of land and is BEAUTIFUL. It feels remote, though it is only ~3 miles from downtown. I would stay here again in a heartbeat. Thanks for everything Pat!
Matt
2016-07-17T00:00:00Z
Room Type
Entire home/apt
---
Property Type
House
---
Accommodates
2
---
Bedrooms
Estes Park, CO, United States
Our truly special mountain home is walking distance to wonderful Lake Estes, Downtown Estes, the hospital, the Visitor Center, and a 8-10 minute drive to Estes Park National Park. You will love our place because of the coziness, the kitchen, the high ceilings, the unbeatable mountain views, the location is great! While the interior is updated to a modern, warm atmosphere, you will be delighted by the fun 70s design, complete with a fireplace den area! The mountain views are amazing! Welcome!
This is a solid, happy, open house built with the fun and imaginative architecture of the 70s. Imagine the fun and freedom of 3 levels. It is now updated in warm, modern colours and one feels happy in the comfort of warmth, while in the rugged beauty of the Rocky Mountains. You will often be visited by deer in the front yard! There is two queen beds, a king bed and two twin beds. The twin beds are in the same room. There is also a blow up Mattress in basement if u need space for another one or two people. Absolute Max is 10. Pets: Pets are welcome here! Just please let me know who is coming! Kitchen: The kitchen is fully stocked. There is everything from pots, pans, rice cookers, crock-pots, pressure cookers, baking wear, microwave, coffee pot, electric tea pot and more. Help yourself to spices and oils! If you like to cook, you will like this kitchen! There is lots of counter space. There is a grill on back porch for summer grilling when it is warm out! Living Room: There is a big screen TV in the living room! It has surround sound and also a DVD player (the remote for the DVD player doesn't work but you can always just press play from the DVD player). The TV remotes do work of course. There is cable and High Def channels. There is an in home-heating system as well as space heaters for the rooms. We do have two AC units for the summer (and our guests that get hot) & you really don't need AC in the mountains, the mountain air is cooler than in the cities. Wifi: There is wifi, with log in information posted all throughout the house. Fireplace: You may use the fireplace in the living room in the basement and the wood, if there is some. If not, feel free to bring some. Just PLEASE never leave the fireplace unattended and don't leave glowing overnight.
Our neighborhood is sweet and the mountain air all around will awaken your senses. It is a neighborhood of houses and families. It is a cared for, neighborhood. The hospital is 5 min away. The park is 10 min away. Downtown is four min away. This is a great location! You will feel relaxed and energized again, after staying in our magical place!
The home was very specious and cozy. Many beds available and places to hang out. Great atmosphere inside the home and well stocked kitchen. You can tell they put the effort into making their fuests feel comfortable.
Ryan
2016-11-19T00:00:00Z
Our stay was satisfactory. It seems like the property was not well prepared for our stay there. One of the beds in the bedroom was not set up, good thing we had an extra air bed. During our stay there were no curtains and some of the windows didn't have any screens. We wanted to open the windows because it was hot when we visited but bugs would come in so we had to leave them closed with no ac. Anna was a good host and responded to my questions. Property had a lot of space and that was good.
June
2016-06-12T00:00:00Z
Wonderful experience staying at the Cozy Estes Park home by Anna! She was very communicative and helpful during our stay. If we ever return, we will stay there again!
Dani
2016-08-15T00:00:00Z
Anna allowed us to check in a couple of hours early so e could watch a football game. house is cozy and near everything you would ant to see in Estes. We would not consider it within walking distance, (Of course we are not spring chickens. We enjoyed our trip
Catherine
2016-10-04T00:00:00Z
I stayed here for the weekend with my husband and his college friends for a wedding in Estes Park. Everything was conveniently located to the house and everyone had a great time. The house is really spacious and enough room and beds for 8 people comfortably. The kitchen and living room were both great "hangout" locations for a large group who hasn't seen each other in a year. We had a great time and would recommend the house time and time again!
Victoria
2016-10-17T00:00:00Z
Very warm and sweet wood house. 9 mins to rocky mountain national park! Very nice.
Guangnu
2016-11-27T00:00:00Z
It was wonderful! Close to downtown and all the attractions. Very cozy and equipped with mostly the items we needed (No cutting board or paper towels). This is a great spot to return to. Thank you for making the stay very homey feeling. Cheers!
JoAnna
2016-10-25T00:00:00Z
Awesome house with fantastic views of the mountains!
Robyn
2016-08-09T00:00:00Z
Room Type
Entire home/apt
---
Property Type
House
---
Accommodates
8
---
Bedrooms
Estes Park, CO, United States
My place is close to Rocky Mountain National Park, Hermit Park. You'll love my place because of the neighborhood elk, deer and possibly a moose or bear may be walking through the yard. My place is good for couples, solo adventurers, and business travelers.
we would like to meet you and help you with directions, restaurants and things to do. This is a private room with an unattached private bath across the hall. You may use the washer and dryer, the refrigerator and microwave oven the front deck or the back deck. We have a sweet six year old Golden Retriever. We provide soap, toilet paper, shampoo. We are on a well, so showers to be kept to a minimum. A stand up fan will be in the room . Possible Wi Fi and possible TV.
Animals walk freely around the town and therefore can walk around our property. Do not approach them as they are wild animals, however you can take photos from the windows.
Darnell is a wonderfully gracious hostess who offerred us the use of her whole home and gave us a lovely breakfast in the morning. She and Gary are lovely people and it was a total pleasure to stay there
Joan
2016-09-06T00:00:00Z
Darnell & Garry are very warm hosts and it was a pleasure to stay with them during my visit to Rocky Mountain National Park. The location is around 5-7 minutes before the Estes Park downtown, if you are driving from Denver. You can enjoy the scenic sunset in the mountains and have a drink or two, while sitting in the deck. Room has all the basic amenities and Darnell lets you use the kitchen. Overall the experience at their property was fantastic and Darnell tried her best to make the stay comfortable.
Nishant
2016-07-06T00:00:00Z
We had a great time staying at Darnell's place. Darnell was very welcoming even though we did not arrive until late in the evening. The house is very clean and well stocked with toiletry essentials, etc. the best part: even though I had to be out of the house at 4:45 am, Darnell had the coffee machine ready to go and a spread of muffins and fruit out! The house is convenient located about ten minutes from town and we were able to find it easily.
Sophie
2016-08-01T00:00:00Z
We stayed one night at Darnell's place. Darnell is very sweet, she did everything for us to make our stay enjoyable. The house is situated in the middle of nature in a quiet street. It's nice to watch the wildlife in the backyard. It's only a short drive to Estes Park and the entrance of Rocky Mountain NP. The room is fine. We highly recommend staying with Darnell.
Hanneke
2016-08-15T00:00:00Z
Darnell was very welcoming, and flexible with my arrival time. She offered me a room with small, warm details, and offered me coffee and the use of her phone line (since there is limited phone service in that part of Estes). Very kind. Awesome golden retriever.
Eve
2016-09-12T00:00:00Z
Room Type
Private room
---
Property Type
House
---
Accommodates
2
---
Bedrooms
Estes Park, CO, United States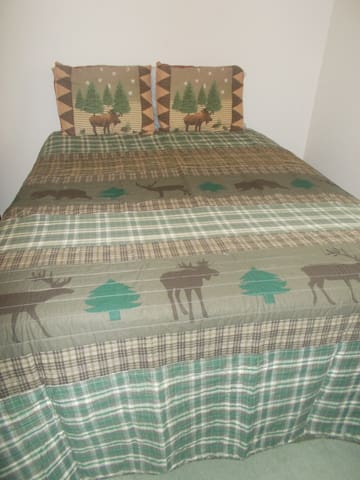 Amazing Mountain Views, Spacious Home, Hot Tub, Sauna House, 5 Bedrooms, 5 Baths, (Sleeps 8) From waking up to breath taking views to lounging on the deck at sunset, this is the best vacation home in Estes Park. No other property can match our home
The charm and comfort is perfect for friends and families. The luxury mountain decor makes relaxing easy. Located in picturesque Estes Park, CO, this home is just a few miles from Rocky Mountain National Park, with hundreds of miles of hiking trails, and back-country camping at your fingertips. Wildlife roam in abundance throughout the area, and as a lucky guest you can view elk, deer, and an occasional mountain lion from the safety of the balcony wrap-a-round deck. Look no further for a perfect mountain setting with views that never end! There are 5 bedrooms with 3 of them having a personal bathroom. There are a total of 3 queen beds, a standard bed with a twin bunk on top and a room with 1 twin bed and one full bed.. Please note that there is an attached, separate driveway and entrance apartment occupied by property caretakers. The hot tub is off line November through April.
Room Type
Entire home/apt
---
Property Type
House
---
Accommodates
8
---
Bedrooms
Estes Park, CO, United States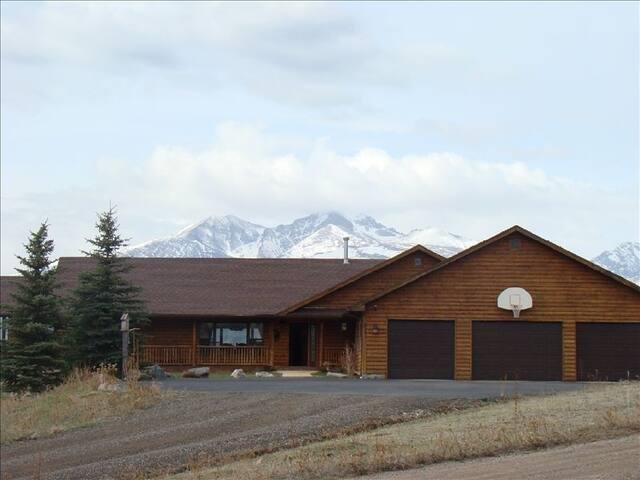 This charming and newly updated cottage is perfect for your vacation getaway. The cottage is located two blocks from Lake Estes near horseback riding, fishing, hiking, and downtown Lake Estes. The cottage is just a short walk from a free shuttle stop. Even though located near everything, there is still a peaceful ambiance surrounding the area.
When you walk into the cottage, the living room is very cozy with a wood-burning fireplace; great gathering place for playing games with the family and just relaxing. The master bedroom has a queen bed and the 2nd bedroom has a full bed. There is a sunroom which can be used either as a bedroom with a queen sleeper sofa or as a TV room/sunroom. The property has ceiling fans and TV's in all the bedrooms and the living room. Wildlife is in abundance on the property and you can often see deer, elk, coyotes, and other animals wandering as you prepare breakfast, lunch or dinner. Don't forget the great outdoor living space and enjoy your meal on the patio which has a gas grill, table and chairs. There is also a fire pit to enjoy an evening gathering around the campfire. You can relax and truly enjoy your Rocky Mountain vacation when you stay at Elk Rock Cottage; it is your perfect mountain cottage.
The neighborhood is hilly and residential. The house is close to the Lake walking path and the free shuttle to downtown is just down the street. The house has two accesses, one paved, the other gravel.
We stayed at Elk Rock Cottage. It was just perfect. Everything was so lovely and so clean and organized but still very very comfortable and homey. It's plenty big but not too big, we felt it was just the right size for the 5 of us (I think it's great for 6 if your party includes couples or kids since there are 3 beds) It's right at the edge of town and easy to get to...It felt pretty private even though there are other cabins around. I think partly because there are huge rocks that kind of surround part of it.. It's in a neat area.. We didn't sit outside as it was cold and snowy but if anyone wanted to there is a place to cook and a nice place to sit outside in the front and the back...There was a very large (and quiet) washer and dryer (that's kind of hidden away). We never ran out of hot water for showers. There were tons of clean towels and washcloths. The decor was really cute and a little quirky and homey, actually I loved the painting in the bedroom I had also, not too much at all just little touches here and there that made it really neat... Her home was absolutely immaculate (I mean completely spotless) and looked brand new or updated in every way. The pictures on Airbnb don't show how nice it really is if you ask me! There was plenty of room for the 5 of us (3 adults and 2 kids). There are 2 bedrooms but also the fold out couch is in a separate room with french doors and curtains. There were plenty of pillows and a nice fluffy comforter in every room ..the bedrooms were very nice... the beds super comfortable. There's a TV in every room, there was firewood for the fireplace, there were games to play, and some (good) books to read, there were even little cozy blankets for the couch. They had everything anyone would need to cook, including plenty of dishes, nice little breakfast nook off the kitchen also... actually I think they have everything anyone needs for anything (I forgot my hairdryer and was happy to find one under the sink....The price was very reasonable. We really enjoyed staying here! I truly have absolutely nothing negative to say. I had a little trouble with the lock getting in (and that was actually because I didn't read the instructions clearly the first time I looked at them)... in the mean time i called Jill and she was easy to get a hold of...but I had figured it out by then (and the lock was not complicated in any way at all) but this was in the evening and I just wanted to point out that she was easy to get a hold of. We were very surprised and impressed by the cabin. We absolutely loved our stay.
christie
2017-03-30T00:00:00Z
A sweet simple haven with comfy beds, couches and everything you need to relax and get away!
Deborah
2017-02-28T00:00:00Z
Expectations were blown out of the water upon our arrival at Elk Rock Cottage. For six college students (and for anyone really) this place was above and beyond perfect. The house was extremely clean and organized when we arrived, and was very easy to make ourselves at home in. It is easy to tell the house has been well taken care of, and most of the house has been kept very up-to-date. For myself, the pictures did not do it justice. For six people it did get a bit cozy at times, but that was expected regardless of where we stayed. I would gladly recommend Elk Rock to anyone looking to stay in Estes Park, as it was one of the main reasons our trip was so amazing.
Seth
2017-03-18T00:00:00Z
Room Type
Entire home/apt
---
Property Type
House
---
Accommodates
6
---
Bedrooms
Estes Park, CO, United States
Condo, 3 Bedrooms, 3 Baths, (Sleeps 8) Close to the Stanley Hotel PERFECT CONDITION BEAUTIFULLY FURNISHED Boyd's Thunder Canyon offers a luxurious condo in one of Estes Parks most desirable lotions within a few blocks to Downtown & Stanley Hotel.
This is such a great location- right behind the Stanley Hotel! 3 bedrooms, all equally comfortable and quiet. Every one staying here loved the experience. Just like being at home... But better!
Tim
2016-10-04T00:00:00Z
This place was wonderful. Clean. Well stocked. It was a comfortable and wonderful environment. The five of us truly enjoyed every minute of our stay. The breathtaking views from every window are worth a thousand words.
Mariann
2016-09-18T00:00:00Z
This is a very sweet little place with a great location! We had a great time.
Emily
2016-12-30T00:00:00Z
Room Type
Entire home/apt
---
Property Type
House
---
Accommodates
8
---
Bedrooms
Estes Park, CO, United States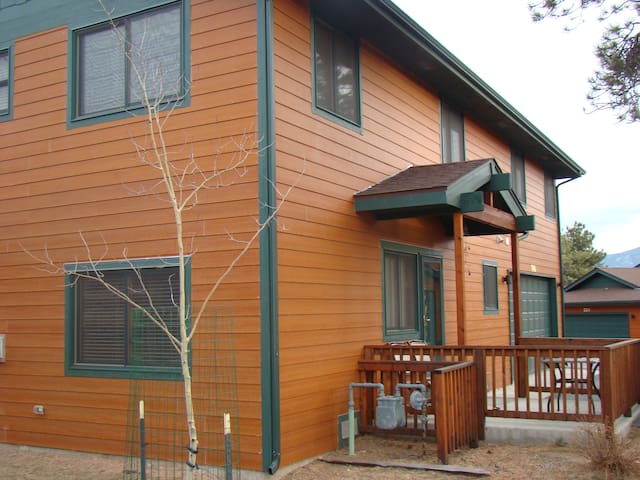 Taxes included in pricing! You will love your stay at Northridge Nest, a spacious ranch-style home, that sits on a large lot in a quiet, established neighborhood with wide open spaces and dramatic views of the continental divide. New to Airbnb, but not to the vacation rental market. We have wonderful reviews from previous guests I would be happy to provide upon request!
We have had this listed on other sites and have wonderful reviews. Please inquire and I will send you those reviews. You will love your stay at Northridge Nest, a spacious ranch-style home, that sits on a large lot in a quiet, established neighborhood with wide open spaces and dramatic views of the continental divide. The interior of the home has been remodeled with a new kitchen, and all three baths have been renovated. New carpet and floor coverings were added throughout in 2015. The rooms are tastefully decorated with quality furnishings and designer paint, and every window has mountain views. There is an expansive feeling in the house because the rooms are all so spacious, and with the exception of five steps at the front entrance and two at the back, there are no stairs. The master bedroom features a king bed, with private full bath adjacent, featuring two vanities. Bedroom two also has a king, with a shared ¾ bath. The third bedroom is exceptionally large, with two queen beds, and a private full bath with double vanity and a large walk-in closet. The home can sleep up to ten people with two to each bed, and 2 people on air mattress. All bedrooms have TVs with Dish Network satellite services, and one bedroom has a Blue Ray DVD player and ROOK player with 300+ movies free to watch. The well-done remodeled eat-in kitchen has new cabinets and fixtures, and is well equipped with plenty of dishes, pots and pans and cooking utensils. There is also a dinette set that seats six, a bar with two stools, and a formal dining room with seating for eight. The kitchen has an electric range/oven, over the oven hooded microwave, refrigerator with cold water and ice maker, and dishwasher. The large patio, adjacent to the kitchen, has a gas grill, table and chairs, and an awesome 360 degree view of the continental divide. The living room is large and open with a wood burning fireplace, a large sectional sofa and chair, so the entire family can watch the new Sony 46" High Definition TV, Satellite High Definition DirecTV service, with local, sports and movie channels, ROKU-Netflix movie library with 300+ movies and High Definition Blue Ray DVD Player with Pandora Radio and NETFLIX movies. Board games, DVD movies, books, and many other extra comforts of home are included. High-speed wireless internet 10 Mbps is available, and a large desk is provided in case you need to conduct business while on vacation. There is a laundry room with full-sized washer and dryer as well. Extras for families with wee ones include a crib, high chair, and umbrella stroller. The oversized garage even features a ping-pong table! This home is convenient to Estes Park, only a mile from the eastern edge of town, just off Highway 34, on a paved road. There are nice views of mountains from every angle of the yard, and deer and elk frequently congregate on the lawn. Please, no smoking and no pets are allowed.
Room Type
Entire home/apt
---
Property Type
House
---
Accommodates
8
---
Bedrooms
Estes Park, CO, United States
1

–

18

of

31 Home Rentals
Enter dates to see full pricing. Additional fees apply. Taxes may be added.