El apartamento es muy agradable, acogedor y lo mejor te da como un ambiente familiar, tiene 2 cuartos , cada cuarto tiene una cama queen , es muy limpio y tienes la facilidad de usar la cocina las veces que sea. Animate no se arrepentiras.
Un ambiente familiar y buena atención .
It was an amazing space and the perfect place to stay in Miami, He was a great host and really help me with all my accommodations with my last second trip for Art Basel.
Casey
2015-12-05T00:00:00Z
My parents and I loved the place, it is very private, clean, comfortable. There was everything we needed for the week. Roberto and his wife were very kind, they're there when we needed (like when we forgot the keys inside the house) and they were always asking if everything was ok. We rented a car, and it was pretty easy to get to places in Miami. I would recommend the place for sure. Had a great time there!!
Karine
2016-02-28T00:00:00Z
everithing was as described, the house is absolutely clean and fully furnished. Roberto and his wife were very kind and helpfull with any kind of infos and suggestion. No problem to arrange early or late check-in. 100% satisfied.
LUIGI
2016-08-27T00:00:00Z
Roberto's family is adorable. We had a bit of a miscommunication with the arrival date, but his family was very accommodating and provided interim accommodation. We really appreciated that as we for to his place pretty late after an exhausting trip. The apartment itself is very comfy and super clean. There was parking which we definitely appreciated, and there is a lively space for outdoor eating which we were unfortunately not able to take advantage of because we were so busy. They were very discreet, but really responsive to any questions we had.
Diane
2016-08-08T00:00:00Z
We loved it at Roberto's! He and his wife were both super friendly. Roberto got back to within an hour max. The place itself was very nice, super clean and welcoming. We had a great time at Roberto's. It was about 20 minutes from South Beach in Miami so it was very doable. We would definitely stay here again!
Jessica
2016-09-27T00:00:00Z
Roberto and Milagros were extremely polite. The place was very clean and as described. Upon my arrival they made sure I had everything I needed. I would definitely recommend to others. Thank you Roberto and Milagros for the great service you provided me with.
Omar
2016-10-27T00:00:00Z
This was my first trip to Miami, and I can say that I enjoyed it thoroughly. Roberto was very helpful and the house is really beautiful. It has all the essential amenities and moreover, the area is kind of centrally located and not too far off from Airport or the South beach. All in all, our stay was very comfortable and would definitely like to come back again
Mayank
2016-04-26T00:00:00Z
Roberto & his wife were welcoming to family and me. The home was perfect and cozy. It was driving distance to places.
Ploua
2016-04-12T00:00:00Z
Room Type
Entire home/apt
---
Property Type
Flat
---
Accommodates
4
---
Bedrooms
Hialeah, FL, United States
Large room furnished in Miami Lakes residential area near the mall Pembroke Pines, beaches, cinemas, restaurant, airports. We include internet service, and parking. The house is new and my wife Maylin will give you a good service.
It's very calm and safe
Extremely calm and tropical and has allot of safety
Host is a very nice person. Everything was as described! It was too cold for us because of the AC and it was the only one thing we did not liked.
Mantas
2016-10-23T00:00:00Z
Super couple, glad I came, will come again. My first time. Thank you.
George
2016-06-28T00:00:00Z
This home is excellent. The hosts were great set of people. The listing is very accurate and very clean. The neighborhood is very friendly and great
Olakunmi
2016-06-28T00:00:00Z
Always feel very much at home while at George & Maylin's place.
Phil
2016-08-27T00:00:00Z
Maylin and George were great hosts. George met me outside to greet me and helped me with my luggage. The room and bathroom were spotless and the room was just as nice as it is pictured on the site. The location was central to many restaurants and shopping plazas. Highly recommended
Stephanie
2017-03-11T00:00:00Z
George was a very friendly host. We came and left as we please and had a key to our own room. The house was very clean and always smelled fresh. Loved staying here!
Ashley
2016-09-26T00:00:00Z
Ok
luis
2016-09-01T00:00:00Z
Very clean and comfortable.
Kaylee Morgan
2016-09-20T00:00:00Z
Room Type
Private room
---
Property Type
House
---
Accommodates
2
---
Bedrooms
Hialeah, FL, United States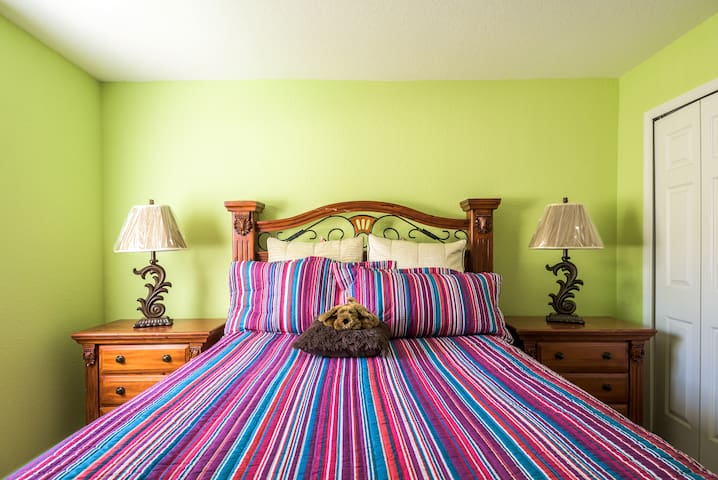 The 3 BR, 2.5 Bath townhouse with garage has all the comforts of home. It's one minute away from the Turnpike and five minutes away from Hardrock Stadium and Calder Casino/Racetrack. Shopping and dining are all within five minutes. Perfect location.
Located off Florida's Turnpike Exit 47, 20 km from Miami International Airport, and 5 km from Sun Life Stadium, this Miami Gardens vacation home features a full kitchen, T.V, and free Wi-Fi. Calder Casino and Race Course is 2.7 km away. The furnished house includes a T.V. viewing and seating area with a sofa and a dining area. A private entrance, garage, and free on-site parking for three cars are available. Extras include towels and linen. It is 25 to 30 minutes from South Beach and Ft. Lauderale Beach. It is 20 minutes to Hallandale Beach, a nice quiet place to catch the sea ambiance.
The community is located on the border between Dade and Broward Counties in a safe townhouse community and provides easy access to Miami, Hollywood, and Ft. Lauderdale destinations.
The property was in a great location and had a lot of space inside. Myself and my fraternity brother enjoyed staying at this home. 5 stars in my book
Daniel
2016-02-16T00:00:00Z
We stayed for a month and we are happy to be over there
Daniel
2016-09-09T00:00:00Z
Great stay. Very comfortable beds. Very clean home. Everything was set up for us. A little weird that we never actually saw the host but also kind of made it easier to settle in as if the place was our own. Good neighborhood. Pretty close to everything we wanted to go to. Definitely would recommend and would stay again.
Jimmy
2016-05-09T00:00:00Z
The place was very clean & had everhthing we needed! The townhouse on a hold was very spacious. Would definitely stay here again. Ceresta is also very reachable if you need her! Which is a plus.
Lydia
2016-01-18T00:00:00Z
Spacious, convenient, well stocked, i'm so glad I chose Caresta's townhouse. She was prompt to repair a small leak and showed great concern. She was easy to keep in touch with, very friendly and overall I had a fantastic 3 week stay. I felt safe with the police patrols in throughout the night driving thru the compound.
DAWN
2016-01-06T00:00:00Z
I did not meet the host in person, we communicated via email/text. she always replied in a timely manner. The location of the listing was a little hard to find.
Nanette
2016-04-18T00:00:00Z
Beautiful place, love it!
Adelina
2017-03-26T00:00:00Z
Nice space, quiet, and clean :)
Lami
2016-06-13T00:00:00Z
Room Type
Entire home/apt
---
Property Type
House
---
Accommodates
8
---
Bedrooms
Miami Gardens, FL, United States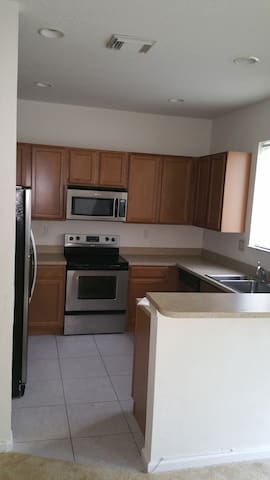 Large room furnished two-story house at Miami Lakes, 20 minutes from the beach and town my wife Maylin will move to their destinations, we are here to serve.
It was my best airbnb experience. The room was clean and the host was welcoming! I would like to visit here again if i have a chance next time:)
Yewon
2016-11-04T00:00:00Z
Very nice host. The house is cozy. Quiet community, and very easy to find it. Enjoy the comfortable bed, the privacy, the kitchen and everything... you can hear birdcall when you have breakfast in the morning. I would like to come again and again:)
YiLing
2017-02-01T00:00:00Z
Everything was great, only a bit of language of barrier as they didn't understand english well.
Chita
2016-11-15T00:00:00Z
Was excellent!
Bobby
2016-06-18T00:00:00Z
Very good room, all the house clean, George an Maylin treat me in a very nice way.
Thiago
2016-05-17T00:00:00Z
Very comfortable, superbly clean.
grant
2017-03-28T00:00:00Z
Very helpful and very nice
Ronald
2016-04-28T00:00:00Z
The host was very nice and friendly! We drove down from Tampa and didn't make it in until super early in the morning. The host was responsive and came outside to greet us. We had a very hard time finding the place at first. (SENSITIVE CONTENTS HIDDEN) Maps does not drop you at the apartment complex with the address. But typing Bella Condo into (SENSITIVE CONTENTS HIDDEN) got us there. After we found it we had a great time. We didn't have much interaction with the host after our arrival. It was almost as if we had the whole house to ourselves. I speak very little Spanish and my friend does not speak any Spanish; however, we were able to effectively communicate with the host. The house was very clean, nice and huge! We spent most of our trip in Miami and so we did not spend much time at the house, but we enjoyed the time we did spent there. The room had a huge TV, which we enjoyed and a big closet. The host provided spare blankets, sheets & towels which we really appreciated! We would definitely stay again! ---------- El anfitrión fue muy agradable y amable! Fuimos en coche desde Tampa y no lo hacen en hasta muy temprano en la mañana. El anfitrión era sensible y salió fuera a saludarnos. Tuvimos un tiempo muy difícil encontrar el lugar al principio. (SENSITIVE CONTENTS HIDDEN) Maps no te deje en el complejo de apartamentos con la dirección. Pero escribir Bella Condo en (SENSITIVE CONTENTS HIDDEN) nos llevó allí. Después de que lo encontramos, tuvimos un gran tiempo. No tuvimos mucha interacción con el huésped después de nuestra llegada. Era casi como si tuviéramos toda la casa para nosotros. Hablo muy poco español y mi amigo no habla nada de español; Sin embargo, hemos sido capaces de comunicarse de manera efectiva con el anfitrión. La casa estaba muy limpia, agradable y enorme! Pasamos la mayoría de nuestro viaje en Miami y así que no pasamos mucho tiempo en la casa, pero disfrutamos el tiempo que nos pasamos allí. La habitación tenía una enorme televisión, que disfrutamos y un gran armario. El anfitrión proporciona mantas extras, sábanas y toallas cosa que apreciamos mucho! Sin duda nos alojaremos de nuevo!
Allison
2016-07-04T00:00:00Z
Room Type
Private room
---
Property Type
House
---
Accommodates
2
---
Bedrooms
Hialeah, FL, United States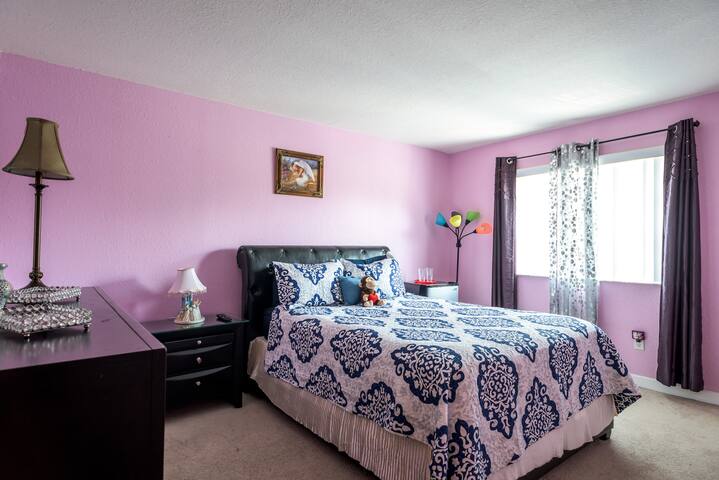 Our studio is recently remodeled! It has a private entrance. Comfortable queen bed. Private full bathroom. Room is equipped with a coffee machine, small fridge, microwave and TV with Chromecast & local channels. Free WiFi and one parking spot included!
Nice and comfortable newly remodeled studio with new wooden floors! TV with local channels and Chromecast to broadcast Netflix, Hulu, YouTube, etc. Big comfy queen bed, closet and full private bathroom. Kitchenette area with microwave, fridge and coffee machine. Towels, linens, toiletries and WiFi included.
Family neighborhood near ATA Flight School, Broward College south and central campus, SunLife Stadium, less than 10 miles from Hollywood Beach, close to Aventura mall and centrally located near all major highways. Playground nearby for kids to play.
Had a great stay with Sue! Check-in was easy as instructions were very detailed. She was quick to respond to every request. Comfortable place to stay and a bargain price. Thanks!
David
2016-12-30T00:00:00Z
First Airbnb experience and it was great! The room was as described, roomy, clean and comfortable. The neighborhood is quiet and safe. I have not met the hosts, but Sue was always available through texts and provided all the details needed. Highly recommended if you are going to use your own car or intend to use uber, as public transportation is scarce around the area.
Mohammed
2017-02-24T00:00:00Z
I was very pleased with my experience here with this space. I felt very safe in the environment, while still having complete privacy. I would definitely do this again, being that it was my first Airbnb experience. The accomadtions were clean and cozy, and fit my needs perfectly. Great place at a great price!
Brenda's
2016-05-07T00:00:00Z
Phenomenal
Rickey
2016-08-02T00:00:00Z
Sue was very approachable right from the minute I booked the stay. The pictures and description are accurate. We had a pleasant stay. Sue was very helpful and patient upon arrival as I lost my phone but we managed to establish communication. Thanks Sue! :)
Pujita
2016-07-04T00:00:00Z
Everything was great! The apartment was clean and cozy. We enjoyed the stay!!!
Anna
2016-08-15T00:00:00Z
This was the perfect place to stay! Very clean! Very close driving distance to downtown Miami. Very private! Couldn't have asked for a better experience! Highly recommend!
Amanda
2016-05-17T00:00:00Z
Hi Sue, The stay was great - clean studio with all the amenities as described, was near by to my office - location helped me a lot . Nice place to stay . Thanks for your immediate response . Would love to come back and stay sometime next year . Thank You again!
Raghu
2016-12-11T00:00:00Z
Room Type
Private room
---
Property Type
House
---
Accommodates
2
---
Bedrooms
Miramar, FL, United States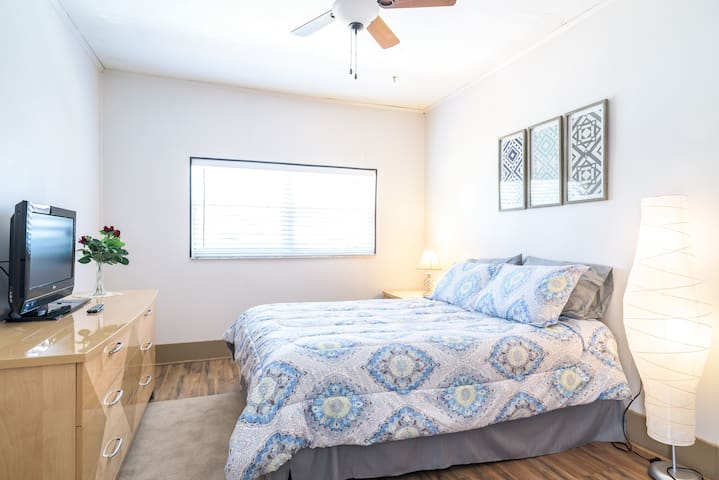 Cozy 1 bedroom/ 1 bath apartment is perfect for 2 or 4 people. Very bright, clean, relaxing in a very quiet, family area. The unit has everything you need and is completely furnished and very well decorated. Modern apartment close to shops & dinning. Waking distance to Pembroke Lakes Mall.
Bedroom: There is Queen size bed in master with flat screen TV & walk-in closet. Sofabed on Living Room (2 people can slepp comfortable) 1 Bath completely renovated Modern Dining room & Living room, beautiful Porcelain white floors throughout the entire apartment. Kitchen, with stainless steel stove, microwave and dishwasher, refrigerator and more. Modern washer and dryer inside of the apartment. First floor for your convenience.
Pembroke Pines is a very nice and quiet neighborhood. Family oriented.
Very new and clean place. Everything you could possibly need is there and more. Would stay again.
Vincent
2017-04-09T00:00:00Z
Room Type
Entire home/apt
---
Property Type
Flat
---
Accommodates
4
---
Bedrooms
Pembroke Pines, FL, United States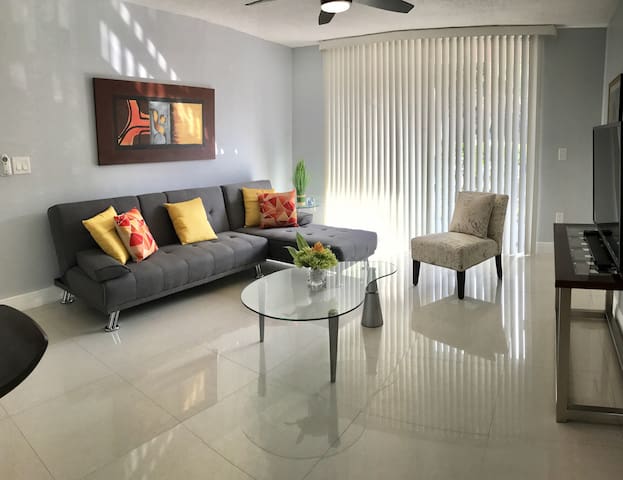 Visit Casa Relax! This vacation rental is fully remodeled and completely furnished. Enjoy the luxuries of a 5-star hotel from your own private home! Brand new pillow-top mattresses on the beds and the couch pulls out into a feathertop futon. Cable TV and high speed internet are included. Enjoy restaurants and shopping on Pines Blvd just blocks away. Easy access to all of South Florida: Sawgrass, Miami, Lauderdale, beaches, both international airports. Have a frozen margarita on us upon arrival!
Remodeled from top to bottom. Completely furnished for up to 6 guests! Welcome book with neighborhood information is provided. Dining room table extends. Keurig coffee / espresso maker. Frozen Margarita maker and supplies. Parking in the carport, driveway and street.
Room Type
Entire home/apt
---
Property Type
House
---
Accommodates
6
---
Bedrooms
Pembroke Pines, FL, United States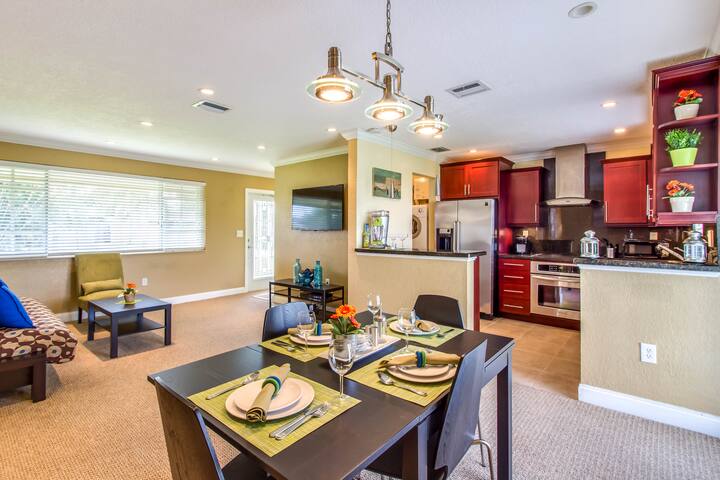 A Charming Suburban Family Home sits within a Tranquil & Safe Community. Contains the Largest Backyard Space around with Canal Access, a Swimming Pool, and Trampoline. BBQ Grill included. Our family will provide Breakfast everyday! An Excellent Location very Close to Pembroke Gardens, Pembroke Lakes Mall, Ice Skating, Cinema, Restaurants, Library, Everglades, Hospital, Pharmacy, Grocery Store, and more! 5 min drive away everything! This is truly a Home away from home. All Hotel Amenities provided for! Shampoo, soap, towels, clean sheets, concierge, cleaning, room service, Fully Equipped Kitchen, and more.
Room Type
Private room
---
Property Type
House
---
Accommodates
4
---
Bedrooms
Pembroke Pines, FL, United States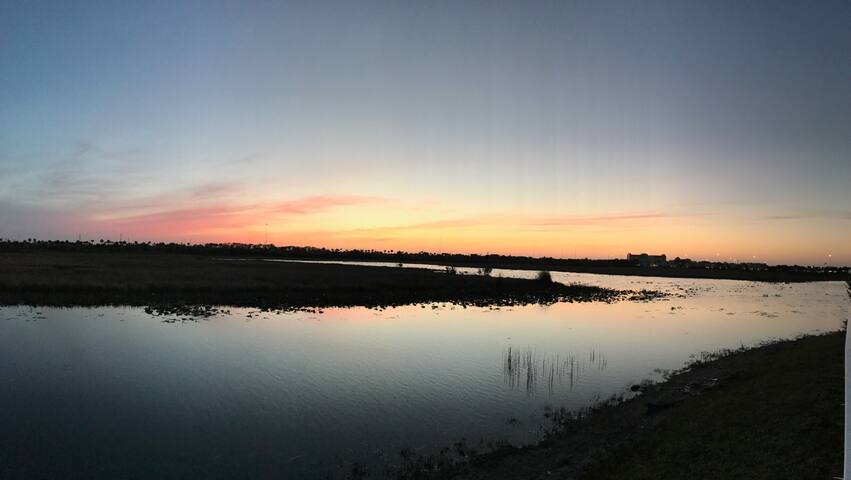 Beautiful Townhome in a gated community with golf couse. Close to shopping and entertainment
Room Type
Private room
---
Property Type
Townhouse
---
Accommodates
2
---
Bedrooms
Pembroke Pines, FL, United States
Charming luxury suite in Pembroke Pines gated neighborhood. Near shopping and dinning on Pines Blvd. Guest have access to pool area and jacuzzi. Very clean and comfortable suite in the downstairs area of the home, all other bedrooms are upstairs giving guests maximum privacy.
Crime free gated community
Anneliese was a wonderful host. She made me feel at home from day one. The house is great; very clean and organized. I will recommend Anneliese's house to anyone nneding of a quiet and clean place to stay. Moises
Moises
2016-07-23T00:00:00Z
The host canceled this reservation 3 days before arrival. This is an automated posting.
Sophia
2016-12-29T00:00:00Z
This place is exactly as described in the ad and in photos. It is a beautiful home and the suite has its own private bathroom. Great gated neighborhood close to everything you might need.
Ken
2016-07-28T00:00:00Z
Simple and sweet place! Would def. recommend
Jess
2017-01-09T00:00:00Z
She is very nice and friendly,next time I will still choice her house!Wonderful week!
JIE
2017-02-20T00:00:00Z
This was my first Airbnb experience and I must say it was truly great. The house is gorgeous! The room was clean and cozy and peaceful. It smelled good and felt like being in the high-end hotel. She is super nice! I highly recommend booking this room.
Aida
2016-10-28T00:00:00Z
Anneliese es una notable anfitriona, muy acogedora y de gran calidez humana. La casa es excelente, de lujo, impacta su orden y limpieza y tiene al servicio del huésped todas las comodidades requeridas para sentirse "en casa". La pieza cuenta con un amplio baño privado, la cama y almohadas cómodas, con toda la ropa blanca requerida, espacioso closet, TV, aire acondicionado y acceso a un mini refrigerador para uso de los huéspedes. Mi esposa y yo pasamos 10 días fantásticos en Pembroke Pines, conocimos a una gran anfitriona y una hermosa casa ... esperamos volver!!!
Juan Carlos
2016-11-26T00:00:00Z
Es una residencia de alto nivel y gran calidad. Anneliese es una gran anfitriona. En nuestra próxima visita volveremos Sin ninguna duda. Muy recomendable.
Juan Carlos
2017-04-03T00:00:00Z
Room Type
Private room
---
Property Type
House
---
Accommodates
2
---
Bedrooms
Pembroke Pines, FL, United States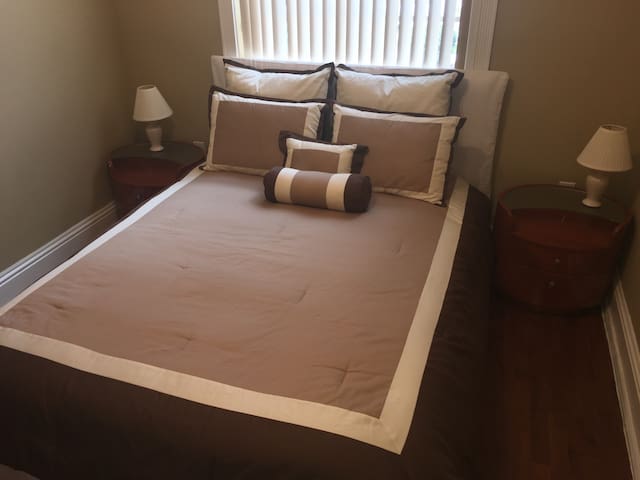 We live in a suburb of Ft. Lauderdale, Pembroke Pines, in Silver Lakes. We live on a 200 acre lake and have a dock for fishing. We have a king size bed in one bedroom with a private bath and another bedroom with a trundle bed (two twin beds) for two more adults or children.
One king size bed and one trundle bed are available for your convenience. You are welcome to use our kitchen, screened porch, outside patio, and our dock. We have a large community pool and a beach area by the pool that is on the lake. We always enjoy having guests in our home and we look forward to meeting you.
We live in a very friendly area that is great for jogging or walking. It is close to a large mall and most major department stores.
Consummate hosts! Great communications, lovely supportive energy, clean accommodations, and every care tended too. As if that weren't enough the hosts were well travelled, personable, and such a delight to share conversations with. If we hadn't been excited to head to Cuba the next day we would have found a way to stay longer and enjoy their company. And oh that lake view just steps out the back door and down the grassy yard! The BEST place to wile away an evening or enjoy your morning joe. Spectacular.
Victoria
2017-02-28T00:00:00Z
Amazingly clean and cozy accommodations. Fantastic hosts! This will be one of your best stays!!!
Keith
2017-02-26T00:00:00Z
Absolutely and absolutely recommendable !! Marry and Jerry do not just offer 'accommodation' but a real home. Party pigeons, who want to beat the nights, are wrong in Pembroke Pines - but not who is looking for a completely relaxed, almost idyllic spot, where one can recover from the activities of the day in a cozy family atmosphere. We had a room with an unbelievably comfortable bed, a private bathroom, the possibility to go completely independently in and out whenever we wanted, even breakfast included, ... And above all We had - from the warm welcome to the very hard farewell - open-hearted, interested and humorous conversation partners. In Marry and Jerry we have found not only uncomplicated, generous and simply great hosts but also true friends. In short, they have surpassed all our expectations and we are already looking forward to a return
Christoph
2016-10-30T00:00:00Z
This home is all that is described in the airbnb listing, and more. It is a large, quiet and beautifully kept suburban home. It is located within easy reach of any destination in South Florida. They include nature sites (e.g. the Everglades), the city of Miami, shopping malls, beaches, etc. The home is nicely distributed with the space for airbnb guests conveniently tucked away at one end of the house, but still with easy access to the rest of the house. Breakfasts are delicious and _better yet_ the company, if desired, is delightful. The back yard and pond atmosphere is so relaxing that I spent most of the first day after breakfast talking with Mary, taking pictures and enjoying the company of Flamingo, a duck who hangs around to enjoy the generosity of the owners. Flamingo listens and responds to commands. He even wags his tail... he is a dog duck. All these are great things. But truly, the biggest treasure in this location is the hosts themselves. Mary and Jerry are the most wonderful, down to earth, and welcoming people one can ever hope to encounter. They were kind, generous and respectful of my privacy, while at the same time looking after my every convenience and comfort. Mary and Jerry are curious about all cultures and countries, having had life experiences on their own, and welcome all visitors with an international origin, like myself, with open arms. They are honestly curious about everyone the world. In summary, I found much more than I was expecting from an airbnb rental. I found a wonderful home in FL, inhabited by the most gracious new friends I could hope to find. I'll come back to their home over and over.
German
2017-01-02T00:00:00Z
Thank you Marry and Jerry for the great hospitality. I found a new home and made great friends. Muchas gracias por todo, tu eres un buen anfitrion. شكرًا لحسن ضيافتكم ولحسن المعاملة.
Rabih
2016-12-04T00:00:00Z
Thanks Mary And Jerry for becoming an awesome host, You guys are just great. The stay was wonderful, we got a very warm welcome and the host made every possible effort to make our stay comfortable. Mary also gifted a toy to my lil doll, which she really loved.House is really beautiful and equipped with all modern amenities. Our room had a king size bed which was super comfortable and had a privet bathroom. They also provided breakfast. House was very much clean and accessible.Their was a separate entrance to our room which gave us freedom to come in and out at any time. We fully recommend this place, wish we could visit the place again. We left a good friend over their.
Upendra
2016-12-16T00:00:00Z
Mary&Jerry's were wonderful hosts. Their house was relaxing, inside and out. Our king size bed was super comfy and sitting by the water gave us huge tranquility. They were very friendly to our small dog as well, who felt like at home. Our pup loved her walks around the neighborhood, which was very safe and clean. Our hosts gave us privacy but it was quite nice to chat about world and travels with Mary and Jerry too. We would definitely return to their warm house. (Ps. For hockey fans, NHL arena (of FL Panthers) cannot be located more coinvenient than from Mary&Jerry's house!). Thank you for having us Mary&Jerry! E. T. T.
ewa
2017-02-23T00:00:00Z
Good location. Close to I75. 15 mi from Ft. Laud. Airport
Martin & Barbara
2017-02-13T00:00:00Z
Room Type
Private room
---
Property Type
House
---
Accommodates
4
---
Bedrooms
Pembroke Pines, FL, United States
My place is close to restaurants and dining, family-friendly activities, and nightlife. You'll love my place because of the neighborhood and the people. My place is good for couples, solo adventurers, and business travelers.
The air in my house is extremely relaxing, with an extra room for two guests as well as a shared bathroom. There's a bed big enough for two, and the room is quite private, you can have it to yourselves without interruption from neighbors. Solo travelers and especially couples will find my housing appropriate.
The neighborhood is very quiet and calm. There are many shops around and close by. We have all major retailers within a 5 mile trip. We are 30 mins away from either airport MIA or FLL and same for both downtown areas.
Room Type
Private room
---
Property Type
House
---
Accommodates
2
---
Bedrooms
Pembroke Pines, FL, United States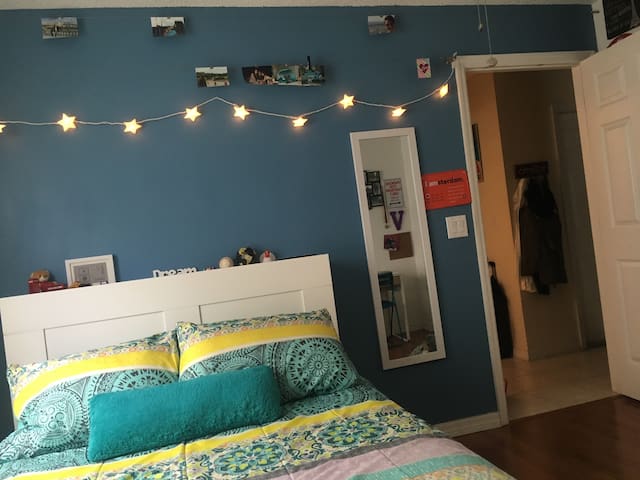 Our place is a private and spacious 2 bedrooms, 1 bath pool house, located on a golf course close to malls, nightlife, restaurants and upscale shops. 20 minutes from FLL/MIA and all major beaches. The privacy of the pool house is ideal for couples, families or groups of friends looking for a fun getaway, as well as for business travelers looking for a quiet space. Enjoy a resort-like stay with a private pool, hot tub, WiFi and cable TV. With access to the kitchen, laundry and a spacious driveway
You will stay in the guest house which is a completely separate structure from the main house, the 2 buildings are separated by the pool. The guests house has 2 bedrooms, each with a separate entrance and a shared full bathroom. The kitchen, laundry room and the additional half bathroom are located in the main house to which you have access through your private entrance.
Our house is located on the 4th hole of the Grand Palms Resort golf course in a guarded gated community. This neighborhood is very safe and it has a lot of green space to jug or walk around.
Diana and Nico are an amazing couple. Their home is charming, and very modern. The courtyard with the pool is relaxing and a great place to hang out. My wife and I planned a three day getaway. We left the kids at home. We booked Diana's pool house because it looked great and we were already familiar with the area. The great pics on the site don't do justice to the wonderfully modernized space that we stayed in. We felt like were were staying in a two bedroom hip, modern hotel. Diana and her husband created a warm space that felt very upscale. Our bathroom was spacious and the shower was amazing. If you are looking for a great host, a private retreat, and a place that is centrally located between Ft. Lauderdale and Miami, you won't find a better value. I can go on and on, but I think everyone gets the picture. Thank you Diana and Nico for such a great time.
Samuel
2017-01-24T00:00:00Z
Diana and Nichlos were wonderful host and hostess. They were very welcoming and made us feel right at home. Their home is in a great location very close to everything. We totally enjoyed our stay. We wish we had more time to spend with them.
Renee
2016-12-31T00:00:00Z
We really enjoyed our stay there. It's a quiet location in a gated community. Very clean and comfortable. We were sad that we weren't able to enjoy the jacuzzi.
Josh
2017-03-12T00:00:00Z
Loved the hosts, they were friendly and knowledgeable. Communication was great. Central location with comfortable beds and extremely clean. Would definately recommend.
Eve
2017-01-09T00:00:00Z
This place is great! Exactly as described in photos. Diana and Nico were offered a warm and friendly welcome and made us feel at home right away. They were very communicative and addressed any concerns right away. Parking was available, and the jacuzzi was so lovely. The view at night outside was very enjoyable with the lights and outdoor seating.
Melissa
2017-03-29T00:00:00Z
Great place to stay! It was in a beautiful area, I'd recommend getting a rents car as it is far from south beach but Diana was amazing and we had a solve to park the car we had no troubles and the space was beautiful and clean and exact ally what we needed we had lots of towels and toiletries and good internet I would self it'll recommend staying here and stay here again!
Renei
2017-02-20T00:00:00Z
Diana's place was fantastic! The house was so pretty with the pool. And the neighborhoods were really quiet and safe, highly recommend it!
Jenny
2017-04-02T00:00:00Z
Room Type
Private room
---
Property Type
House
---
Accommodates
4
---
Bedrooms
Pembroke Pines, FL, United States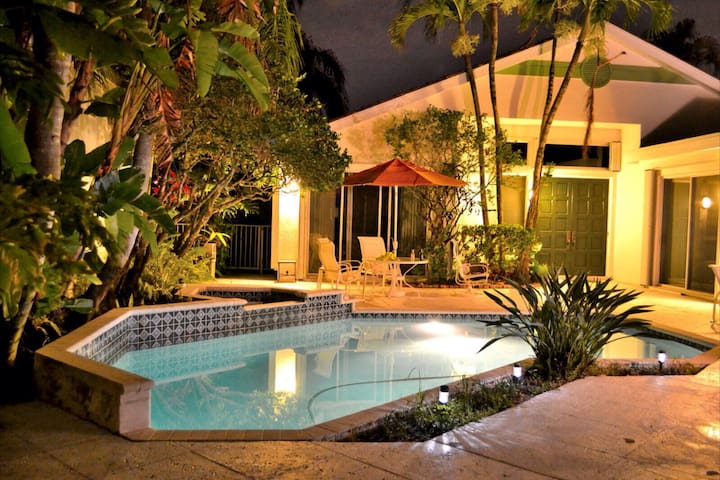 Private entrance into beautiful guest room with comfortable king size bed, large bath with shower, spa tub, small fridge, microwave, coffee maker, WiFi, TV with Cable and Net Flex. Room is 15 minutes to great Restaurants, Movies, Shopping Malls, Night Life, 30 minutes away from Hollywood Beach, Miami ,Ft lauderdale Airport and Las Olas. You'll love my Private Suite because of the great neighborhood and having your Privacy too. My place is good for couples,solo adventurer and business travelers.
beautiful private garden room with new king size mattress bed, large dresser, armoire, TV, small fridge with microwave, coffee maker, 2 walking closets, large bathroom with walk in shower and spa tub. All sheets and towels provided WI FI, CABLE, AND NETFLEX AVAILABLE Beautiful and safe area in chapel trail west of Pembroke Pines 33029 Services offered: laundry at $15 per load, if additional cleaning needed fee is $25, pick up of small grocery list for a fee $30.
Beautiful and Safe neighborhood and close to everything.
Super clean and comfortable!!! The host are amazing!!
Noemi
2017-02-26T00:00:00Z
Amazing place. Room exceeds expectations. Guelsy and Jose are fine people, extremely nice and helpful when and if needed. 1st class all the way. Will stay again for sure.
Darius
2017-02-15T00:00:00Z
A must stay for those looking for a peaceful location to stay and friendly hosts
Rahul
2017-03-10T00:00:00Z
Great place - the hosts were terrific! Exactly as described.
Suny
2017-03-24T00:00:00Z
Had the pleasure of staying here for 1 week. Everything was better than advertised and the hosts were extremely friendly and accommodating. They went out of their way to provide great service but still respected my space and privacy . They even put a desk in the room when I asked for one. I would highly recommend staying here and I'm looking forward to another visit.
Luke
2017-04-09T00:00:00Z
Outstanding. Very welcoming hosts. A spacious and clean place. There was nothing we were missing. Great communication. We would love to stay here again.
Friedrich
2017-03-16T00:00:00Z
The host canceled this reservation 43 days before arrival. This is an automated posting.
Ainhoa
2016-11-28T00:00:00Z
Excelente anexo independiente con habitación muy amplia, cama king size con colchón y almohada súper suaves que permiten descansar de verdad. 2 closets grandes con ganchos para colgar la ropa. TV, wifi. Closet pequeño que incluye microondas, nevera pequeña con botellas de agua, cafetera con café y azúcar incluso coffemate. El baño súper amplio con ducha, bañera, toallas grandes y suavecitas. Antes de entrar al anexo hay una pequeña terraza con 2 sillas y una mesita, rodeadas de un bello jardín donde se puede tomar café o leer disfrutando de la naturaleza. Sin duda un lugar hermoso lleno de detalles que reflejan la bella personalidad de la Sra Guelsy y su esposo. Súper recomendado para máximo 2 personas.
Maria
2017-04-01T00:00:00Z
Room Type
Private room
---
Property Type
House
---
Accommodates
2
---
Bedrooms
Pembroke Pines, FL, United States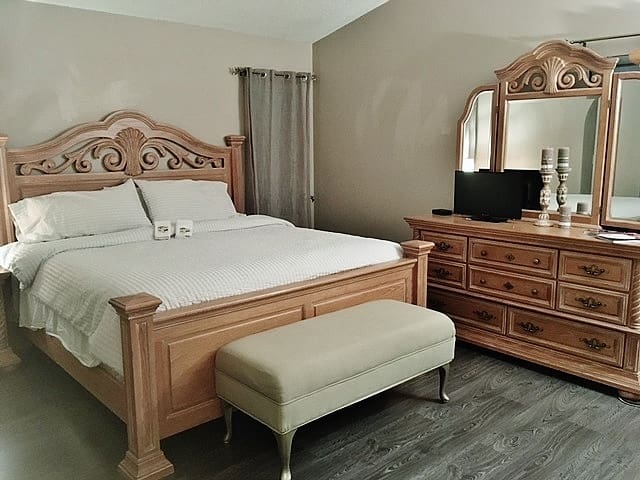 Charming Quiet Cottage in private gated community. Comfortably sleeps 4. With Large walk in closet, kitchenette, private shower/bathroom and access to pool. 5 minutes to Shopping and Dining. Located 5 minutes from Memorial West Hospital and 10 min from Pembroke Lakes Golf Club. Free local transit available!
Quiet & Safe
Betty has been such an accommodating and amazing host. She settled us into the place right away, and was always on call, no matter what time of day, with any queries we had. The apartment far exceeded our expectations, and I've already told myself that whenever I visit town, I will be staying here. The place is extremely clean, tidy, with beautiful furnishings. There is nothing below par that I can say about this place. I'm just so glad that I found it.
Donya
2017-01-06T00:00:00Z
It was a wonderful place included everything I needed.I would definitely recommend staying here. Betty was very helpful with the check in process and always just a text or call away.
Victor
2017-03-14T00:00:00Z
Betty was very accommodating and the place was nicer than the photos. Would definitely go back!
Gaby
2017-03-05T00:00:00Z
Betty is a wonderful host. She was easy to reach if needed. The location was as the pictures advertised. A very private place with easy access to restaurants, etc.
Scott
2016-11-11T00:00:00Z
The apartment was just as described, Betty was very helpful and went above and beyond to assist. Would stay there again if in FL
Melissa
2016-12-04T00:00:00Z
If you need to be in the Pembroke Pines area, this place is great. A relative lived closely and I was able to visit her very easily.
Susan
2017-01-22T00:00:00Z
Lovely residential accommodation in quiet, private, upscale neighborhood. Definitely worth the money !
Harvey
2016-11-28T00:00:00Z
What a beautiful place to stay. Immaculately clean and cosy. The pictures are not enough to describe the beauty of the house and its surroundings and the confort it offers, it's located in a very nice neighbourhood 30 minutes from the airport and 20 minutes to Sawgrass Mills if your trip is for shopping. It's very private but we always had someone to help; a big thanks to Betty and Jennifer.
German
2017-01-13T00:00:00Z
Room Type
Entire home/apt
---
Property Type
House
---
Accommodates
4
---
Bedrooms
Pembroke Pines, FL, United States
Completely renovated home, located in an P.Pines neighborhood. Excellent for couples, solo adventures, business travelers and families. I-75 connects to major hwys. 20min. from Miami & FtLauderdale airport. Close to: Hollywood beach, Ft. Lauderdale (Las Olas), Hallandale and South beach. 10 min away from the Hard Rock Stdm, 20min from Hard Rock Casino. Great restaurants, pharmacies, supermarkets (Whole Foods, Publix, Winn Dixie) shopping (Sawgrass, P.Gardens, P.Lakes, Aventura)
Spacious 2 bedroom, 2 1/2 baths with patio. Comfortably sleeps 4. Master bedroom features king size bed, 60' inch tv, walk-in closet, ceiling fan and brand new bathroom with rain shower column. Second bedroom features 2 full beds, 32' inch tv, ceiling fan and closet. (all bedrooms are located upstairs) Living room area includes comfortable leather sofas an 80' inch tv, Bose sound system, cable and high speed internet included. Formal dinning room table elegantly sits four. Brand new marble kitchen offers a gorgeous open lay out with all new stainless steel appliances. 1/2 Guest bathroom (located on the first floor) has also been fully remodeled. Fenced patio will allow you to enjoy the Florida weather. Access to a beautiful pool with a kids playground overlook an amazing lake for family fun and enjoyment.
Safe and quiet. Family friendly, close to great restaurants, nightlife and shopping. 5 miles away to CB Smith Park This 299-acre site is one of Broward County Parks and Recreation's most diverse parks, as well as one of its most popular. Along with a water park that includes waterslides and a tube ride, the park offers a large RV campground, a tennis complex, a family golfing center, and many other amenities.
Albert's place was perfect for couples or groups who want to explore everything that Miami has to offer. The house was right across from a beautiful lake. Check in and out were super easy. And Mildred was so easy to get in contact with. She doesn't live far so anything you need is easily handled. I would definitely suggest staying here!
Victoria
2017-03-18T00:00:00Z
Very accommodating. The place was even more spacious in person than in the pictures. Lovely stay.
Melissa
2017-03-09T00:00:00Z
Albert was a great host. His is exactly what is pictured. We can see that he gutted the entire house and have remodeled it with contemporary and luxurious accessories from the marble floors to the lighting. It was very convenient for us and was thrilled with our stay. Albert was extremely responsive and was a thoughtful host. He knew I was in town for a funeral and he gave us a sympathy card, wine and chocolate. I would definitely stay again!
Gee
2017-02-06T00:00:00Z
Modern high end renovated amazing house, huge TV screen, Beautiful kitchen.
Hossam
2017-03-07T00:00:00Z
This is a beautiful home in a beautiful neighborhood. Home was recently remodeled and looks great.
Precious
2017-03-27T00:00:00Z
Es un lugar acogedor, bien ubicado para viajes familiares y de turismo. La amabilidad y la disposición de Albert y su esposa te hace estar muy bien acogido y sentirte seguro. Le hace falta la lavadora de platos, y terminar de remodelarla, cuando esta casa este con todos estos detalles sera un placer utilizarla.
Erick
2017-03-04T00:00:00Z
Room Type
Entire home/apt
---
Property Type
House
---
Accommodates
4
---
Bedrooms
Pembroke Pines, FL, United States
Efficiency Apartment (side-by-side with my home)w/shared backyard patio, gas grill, and pool- Miami, Ft Lauderdale, Hollywood, Davie, Miramar, Plantation area 400 sq ft. of private space, queen bed, mini-fridge, microwave, and TV. Wi-Fi, keyless outside entry door to your "in-law apt"/"Hotel" type room. In-room AC unit & walk-in shower... and more! Super clean, quiet, and oh so comfy! Close to everything. ALL RACES AND ALL RELIGIONS ARE WELCOME HERE!
AT LEAST ONE good airbnb is review required before your booking is accepted. 32-inch widescreen HDTV - TV Networks NBC, CBS, ABC and FOX and many local stations (via antenna) COMPLETELY PRIVATE In-suite bathroom with walk-in shower Large back patio doors (pool access) with lots of natural light. Back yard patio with locked privacy fencing Off-street parking for one car Mini fridge / Microwave / Coffeemaker /6 plastic, microwave-safe plates, bowls, cups
Judy's place was great! I arrived a few hours early from my stated arrival time and Judy was very accommodating. The place is great, it's just what we needed. There's a computer, TV, nice table and chairs as well as a small AC in the room that you can control. The bathroom was perfect and everything was very clean. She's very quiet and respectful of the space. I had a lovely stay with my mom and would gladly book with Judy again when I come back to town.
Carmen
2016-07-25T00:00:00Z
Judy was very accommodating - room is spacious and separate from the house with separate entry. The area was fairly close (approximately 1 mile) to restaurants and stores.
Vilma
2016-02-16T00:00:00Z
Very nice, private suite with all you need to be comfy. Thanks, Judy
Melissa
2016-02-13T00:00:00Z
This place was roomy and comfortable! My wife and I enjoyed our stay at Ms. Judy's, we stayed there for 2 days and there was no problem. It's close to everything and it's easy to find. The air conditioning was cool and the hot water was streaming. No complaints but beware the black mini fridge! That little guy can freeze time! Thank you Judy I hope to see an available room soon!
Ryan
2016-01-18T00:00:00Z
Judy was a wonderful host. She checked us is quickly showed us around and left us on our own quickly and efficiently. She allowed us out privacy completely - and the in law flat had a great bathroom and a comfy bed plenty big enough for two . The AC worked great and the wifi perfect. Close to the beach with easy parking and easy access to major highways. Will def stay here again when back down in FLA. Pool looked nice but we did not have time to jump In - very clean.
Kevin
2016-12-24T00:00:00Z
Judy's place is a guaranteed good choice. Clean and well supplied with everything you would need. It is also very well located! I would definetly recommend it to anyone staying in Florida.
Walter
2016-10-10T00:00:00Z
Nice room, excellent location, 5-star feel like room quality, comfortable bed, clean bathroom. Judy was kind enough to leave some groceries for us to use. Definitely would come back again.
Andres
2016-12-29T00:00:00Z
Judy was very responsive to all my requests and provided a very clean, bright, fully stocked apartment unit -- just as advertised. The unit is located in a very safe neighborhood with a professipnally landscaped backyard. The unit is situated on a busy street but the sound proofing was very good. All and all, this unit represents a great value for the money.
Lawrence
2017-03-04T00:00:00Z
Room Type
Entire home/apt
---
Property Type
Flat
---
Accommodates
2
---
Bedrooms
Pembroke Pines, FL, United States
We are in South Florida in the city of Pembroke Pines. We offer 1 bedroom queen size bed, TV with cable with over 250channelsEstamos en el sur de la Florida en la Ciudad de Pembroke Pines. Ofrecemos una habitación con cama Doble , TV con cable con mas de 250 canales.
Carlos and his family are all amazing people. They were super warm and welcoming and very nice! Carlos allowed me to park in the driveway and also helped in game-change fashion toward my trip's trajectory by allowing me to check-in a little bit early!
Charles
2016-01-30T00:00:00Z
Again a great stay, If you are looking for a nice, clean, secure place to stay it's here. Carlos's and his family will make you feel at home.
Russell
2017-03-10T00:00:00Z
Disappointing. The room has a very soft bed (people with back problems, beware) and a table with a TV. No chairs. So you are expected to sleep, shower and leave.
John
2017-03-27T00:00:00Z
Out of all my stays through Airbnb this was the best, nice clean home very nice family great bed just all around an excellent stay.
Russell
2017-03-03T00:00:00Z
Great stay, this is the third time I have stayed at Carlos home and it has been great every time. The whole family is nice and made me feel at home, the mother in law even fixed me dinner one night, just a wonderful family.
Russell
2017-03-24T00:00:00Z
Mauricio is a very good host with a friendly family and a lovely, comfortable, clean home in a nice residential neighborhood. The bedroom is furnished well and the bathroom is spacious. It was easy to relax and enjoy my stay here.
Richard
2016-03-23T00:00:00Z
Carlos and his family were extremely friendly and welcoming. I was able to book immediately after messaging my host; so I had made my reservation, made the trip and was tucked in within a half hour. The entire house was clean, spacious and had a comforting warmth. The host helped with my luggage, gave me space to park in the driveway and followed up to make sure I had everything I needed. I would definitely stay here again as well as highly recommend Carlos' home to others.
vanessa
2017-02-13T00:00:00Z
Mauricio and his family are very welcoming, friendly and helpful people. This was my first stay in Miami, and it was as well my fist airbnb stay. Should I ever fly in in Miami I definitely will come back to this wonderful house - a big success for Mauricio and the idea of airbnb!! The neighborhood is save - a calm residential area. The room and the bathroom were clean, the bed was perfect. - couldn't have done better!
Wynfryth
2016-03-18T00:00:00Z
Room Type
Private room
---
Property Type
House
---
Accommodates
2
---
Bedrooms
Pembroke Pines, FL, United States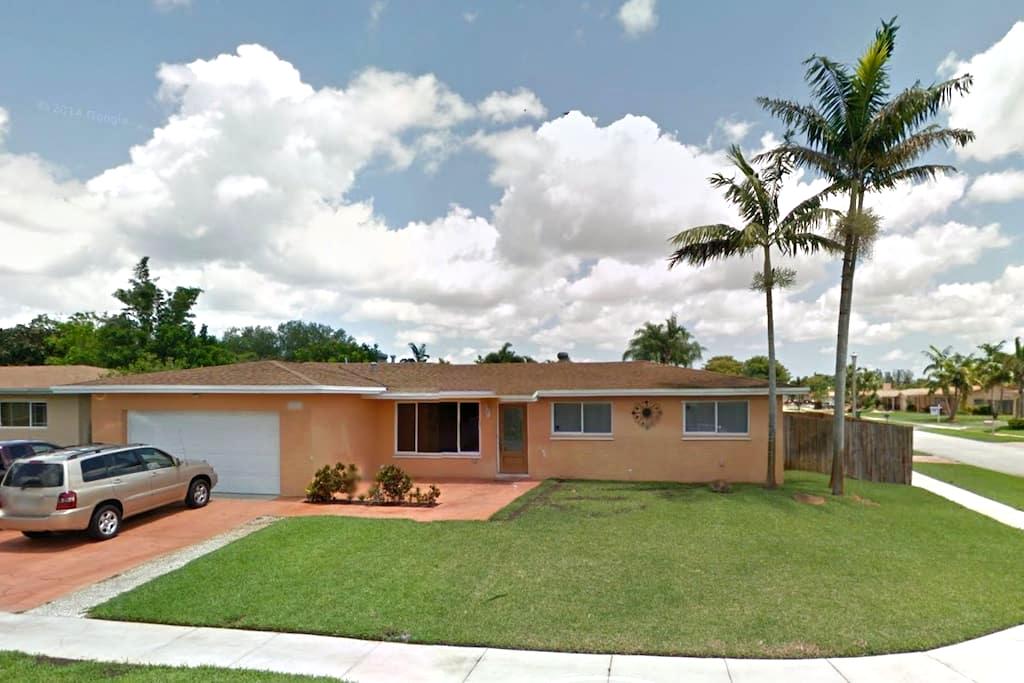 Enter dates to see full pricing. Additional fees apply. Taxes may be added.