No heating or TV. Has great views, restaurants, pubs, historic sites and the Essex Way footpath, nearby; this is Coney Byes Farm's other room, with en suite bathroom and kitchenette/dining area - wireless internet in the conservatory or on the patio attached to the main house. Great for walking, cycling; you can bring your horse. Lots of parking. Near to town, station, co-op, chemist. No heating, TV Easy access to A12 for Harwich/ Ipswich Chelmsford/Felixstowe/ Mainline station for London.
spacious and private, bathroom ensuite, kitchenette[microwave]. No heating. No TV
peaceful retreat.
Lovely stay very accommodating
stuart
2017-01-01T00:00:00Z
Great place to stay, Penny & Mark are great hosts, very welcoming and trying to help in whichever way they can. A relaxing environment that is not too far from Colchester, very recommendable.
Thomas
2016-10-06T00:00:00Z
Coney Byes Barn is a wonderful place to stay, especially if you are seeking a quiet rural retreat in the vicinity of Colchester. Penny and Mark were welcoming and friendly hosts. The space was impeccably clean and furnished with taste and character. I hope to return soon.
Chris
2016-10-07T00:00:00Z
Coney Byes is an absolutely beautiful place to escape from it all and relax in a charming rural setting. Penny and Mark are very welcoming hosts. Highly recommended.
Matthew
2016-09-30T00:00:00Z
We had a fantastic stay at Coney Bynes Barn. Penny went out of her way to accommodate our late arrival after a party, clearly signposting the barn for us and staying in touch throughout. The room was lovely, in a gorgeous setting and we slept very well. It was just a shame we only needed to stay one night! It was very nice to meet Penny in the morning too, and to wander around the grounds a little. Perfect rustic retreat.
Emma
2016-10-02T00:00:00Z
Fantastic place! Lovely surroundings and fantastic people.
Keith
2017-01-18T00:00:00Z
Penny was a very welcoming host and- had we needed anything- I would have felt more than comfortable in asking for help. In fact we had everything we needed in the barn, it was clean and welcoming. The only (slight) issue was it was very cold inside as it was the second week in October! Thankfully Penny supplied lots of blankets, and a lovely thick duvet which meant we were able to get a very cosy night's sleep! Tea and coffee were supplied and the juice, bread, muffins etc. were a nice touch! Lovely bathroom, all very clean. Would definitely recommend, especially for the Summer! Would love to return to explore the beautiful surrounding fields.
Tasha
2016-10-09T00:00:00Z
Very welcoming and beautiful countryside get away.. definatly recommed
Luke
2016-10-14T00:00:00Z
Room Type
Private room
---
Property Type
Flat
---
Accommodates
2
---
Bedrooms
West Bergholt, England, United Kingdom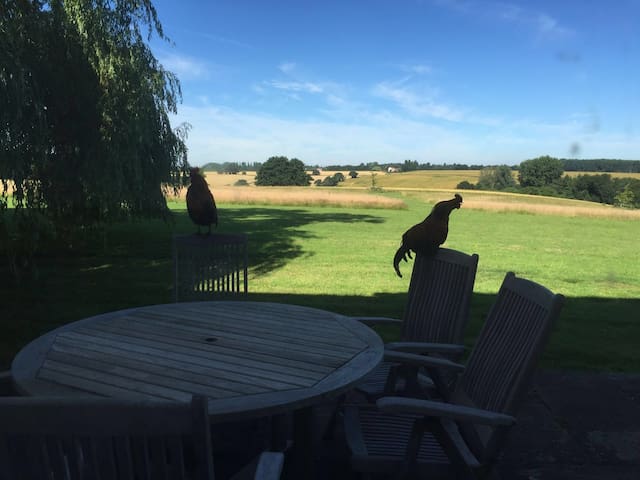 Newly refurbished flat with great field views. One double bedroom with double sofa bed (sleeps 1 or 2 very cosy) both rooms have smart tv's with high speed broadband throughout. Ensuite to the main bedroom with full kitchen facilities. Located walking distance to marks tey train station and a 40 minute commute to stanstead. This flat is located directly on the A120 and is ideally located for Colchester town centre access and idea for A120/A12 commuting. Or simple come and enjoy the village location and great views. Please bear in mind there is only parking available for one vehicle.
First floor flat in an annex, the views are lovely
This flat was comfortable and very clean with great views over the fields and a small kitchen space to preparing basic foods all close to petrol station and curry house.
Susan
2017-01-24T00:00:00Z
This is a scenic place that is close to the A12, a good place to stay if you are on a budget.
Chris
2017-02-10T00:00:00Z
An excellent and very comfortable place to stay
Tim
2017-04-12T00:00:00Z
Lewis flat is set back from the road between Braintree and Colchester, so quiet but also easy to get to and from. Lewis was easy to get hold of and very helpful, the place came equipped with those little things that you really value after a three-hour drive through the snow, like milk tea and coffee. There's a great Indian restaurant just a couple of minutes walk away (not: it doesn't open very late) and a lovely pub within five minutes which also does food. All told, a great place from which to explore Colchester and round about. The view from the lounge is lovely, but would benefit from it being warmer and brighter than the February weekend we stayed! Oh, and there are some really huge chickens next door!
Steve
2017-02-12T00:00:00Z
Exactly as needed for a weekend stay for a local wedding. Great hosting and facilities. If someone will be sleeping on the sofa bed- bring an eye mask! Beautiful views but a wee bit bright in the morning. Thanks again.
Seonaid
2017-04-09T00:00:00Z
Perfect host made to feel very welcome always on hand to answer questions. The kitchen was fully equipped which made cooking a breeze. Great nights sleep on a comfy bed. Wouldn't hesitate to book again.
Christian
2017-04-02T00:00:00Z
My husband and I had a great couple of nights at Lewis' flat. The location was perfect for us being close to the A12 and on the main railway line into London (Liverpool Street). The flat is newly refurbished and had everything we needed; with the added bonus of spectacular views over surrounding countryside. There is a great pub as well as an Indian restaurant a few minutes walk away and Colchester town is a short drive/taxi journey. This will be our go-to place whenever we're in the area! Thanks Lewis!
Charis And Harry
2017-01-26T00:00:00Z
Lovely flat, exactly as advertised. Great host, excellent communication. Highly recommended.
Greg
2017-01-12T00:00:00Z
Room Type
Entire home/apt
---
Property Type
Flat
---
Accommodates
2
---
Bedrooms
Marks Tey, England, United Kingdom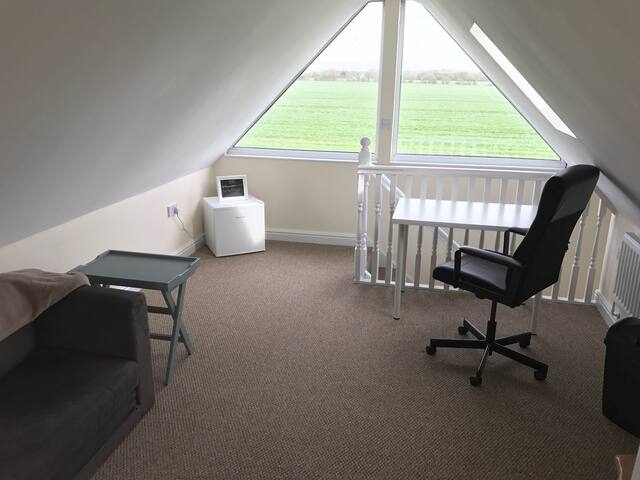 The flat is 5 minutes walking from train station and 20 minutes to town centre. Situated in a quiet neighbourhood with beautiful green areas. Please be advised that I don't allow cooking and washing. You're allowed to use the kitchen facilities i.e. Microwave, kettle, toaster and the refrigerator.
It is very clean, tidy and free from pets.
It is very quiet and adequately maintained.
Double bedroom in ground floor modern flat. Extremely comfortable bed. Immaculate private bathroom. Friendly hosts. Plenty of easy parking outside.
Chris
2016-10-24T00:00:00Z
Couldn't imagine a better place to stay! Room was exactly as described, clean and comfortable. Bathroom also. Delroy was the absolutely best host. He welcomed us warmly although our flight was delayed and even drove us out to have a dinner. Neighbourhood was peaceful and quiet. If you need a good place to stay, this is it!
Anni
2015-07-06T00:00:00Z
Close to the train station, the apartment is clean and the bedroom is lovely. Everything was exactly as described and we had a great stay.
Giulia
2016-06-07T00:00:00Z
They made me feel at home which was wonderful.
ROSHEL
2017-01-07T00:00:00Z
Very nice and accommodating couple, beautiful flat and a very comfortable room.
Medhat
2015-12-03T00:00:00Z
Thank you Delroy and Beata, I was made to feel very welcome and both the room and bathroom were clean and comfortable. A very good experience.
Amy
2015-05-07T00:00:00Z
Nice family, great hosts, easygoing and hospitable
Paul
2016-01-13T00:00:00Z
I have appreciated staying in Delroys airbnb - after 30hrs of travel it was great to get into a comfortable bed and sleep off the jetlag. Delroys house is clean and tidy, in a peaceful residential area, a short walk to the train station and bus services (once I got my bearings I started walking back and forth from town). There's a big supermarket accessible on foot. Delroy as a host is friendly, welcoming and considerate. And I would definitely recommend and stay again.
Barbara
2017-03-12T00:00:00Z
Room Type
Private room
---
Property Type
Flat
---
Accommodates
2
---
Bedrooms
Colchester, Essex, United Kingdom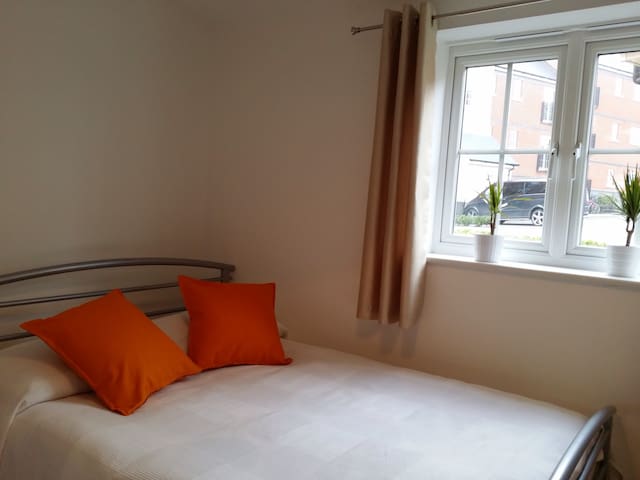 Double room with glorious en suite in secluded area of Colchester on the river front. Close walking distance from the mainline station and town centre. Restaurants and bars and leisure facilities on the doorstep which will cater for your every need. Private parking for your car.
Private and secluded location right on the river front.
Quiet secluded location. So easy to get around with bus routes on the doorstep, short walk to local shops and town centre for shopping, restaurants, bars and much more.
I stayed at Elaine's for one night as I was working in Colchester. Really great communication before arriving so I had no problems finding her place and the room. Really comfy bed and lovely en suite bathroom too. I am an animal lover so it was nice to be greeted by her 2 cats as well. Was a lovely stay and I would definitely stay again - thanks Elaine.
Greg
2016-02-26T00:00:00Z
A lovely room and a cool host. Highly recommended!!!!
david
2016-07-02T00:00:00Z
Everything I needed for the night. I was on a cycling holiday and really only needed a bed, a shower and a place to store my bike, and Elaine's flat ticked all those boxes. The location was also very good for me. Elaine was very helpful and friendly.
Kees
2016-08-13T00:00:00Z
Excellent as always - see my previous reviews
James
2016-03-16T00:00:00Z
Great stay - ideal central spot within walking distance of the town and lots of eateries. En suite is fab and Elaine is a lovely host(as are the cats) Recommended especially if driving as there was a parking space available. Thanks also to Elaine for posting back my driving license that I left in the room.
Robin
2016-05-20T00:00:00Z
Elaine was very friendly and welcoming, very comfortable room and good location close to town centre.
Paul
2016-09-17T00:00:00Z
Elaine's home is lovely and as described. Having an en suite bathroom is brilliant when staying in someone else's home. I'm not too keen on house cats and Elaine has two - if you love cats, then this is a great place to stay.
Lesley
2016-05-12T00:00:00Z
It was really nice staying at Elaine's place. Elaine was very accommodating and let me check in at 9:30 am even if she was at work. She also let me park for free at her place. I was grateful as I was a bit in a hurry for a workshop and it saved me time. Her flat is well located between the town centre and the train station, so quite handy too in case you travel by train. Also, having an en-suite bathroom was really nice. I would definitely recommend staying at Elaine's place.
Simon
2016-09-24T00:00:00Z
Room Type
Private room
---
Property Type
Flat
---
Accommodates
2
---
Bedrooms
Colchester, United Kingdom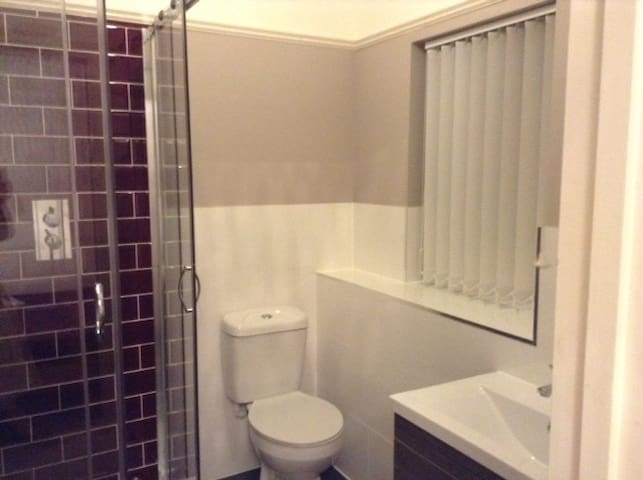 A spacious, comfortable modern apartment with direct access to the A12, 1.5miles to Colchester mainline train station and local amenities very close by. This Swedish designed apartment has a spacious living area and a generous terrace garden. Complete access to all living areas and use of home appliances, for home cooking or watching a movie before turning in for the night.
Fits 1-2 people.
This is a quiet property with direct access to main roads or train lines.
Lovely apartment - clean & tidy as described.
Emelye
2017-03-11T00:00:00Z
Great location, accommodation, and stay. Very good communication from host also. Highly recommend.
Jessica
2017-03-09T00:00:00Z
Excellent host and very clean flat. Very grateful for the stay. Thanks again.
Sunny
2017-03-08T00:00:00Z
That the flat is bright and clean modern furniture. Spacious. 5 stars
Florin
2017-03-18T00:00:00Z
excellent functional room
Robert
2017-03-20T00:00:00Z
Lovely apartment with good links to the centre and elsewhere. Very quiet and had everything we needed. Thanks, Louis!
Jon
2017-03-24T00:00:00Z
Room Type
Private room
---
Property Type
Flat
---
Accommodates
2
---
Bedrooms
Colchester, Essex, United Kingdom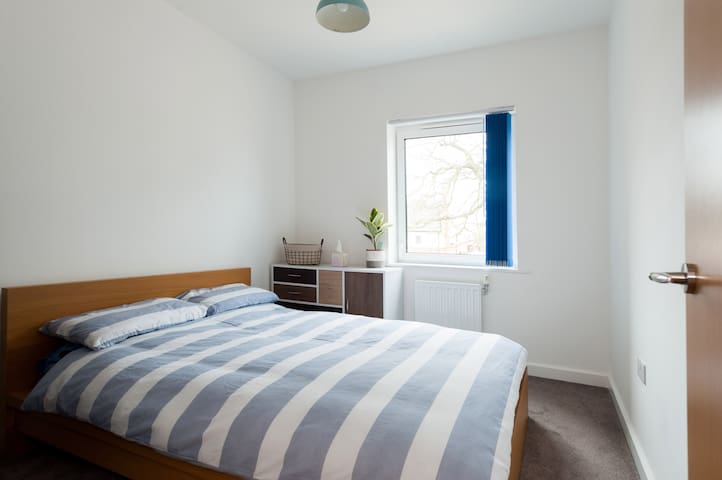 This is perfect room for solo travelers (FEMALE ONLY) as we have two other female guests in their own rooms who do not prefer males in the property). Every room has a security lock. Walking distance to town and opposite the main bus stations. Easy access to all the local ammenities. Sorry No Use Of Kitchen Please only Microwave is allowed. Tea making facilities are available in the room. Small fridge, Kettle, teas and coffees in the room. Thanks
The bed is a double bed.
Room Type
Private room
---
Property Type
Flat
---
Accommodates
1
---
Bedrooms
Colchester, England, United Kingdom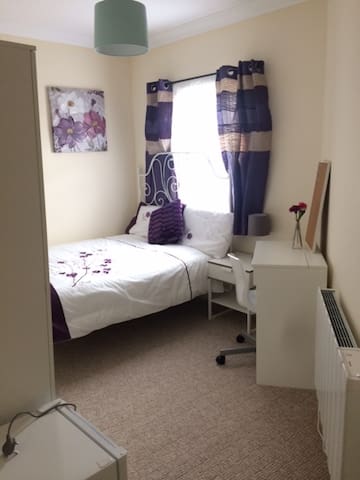 A great one Bedroom apartment situated in the beautiful Brights path in the heart of Maldon high street. Brights path is headed by a blue plaque listed property said once to be the residence of the famous Edward Bright, (the fat man of Maldon) The apartment itself has many beautiful original features. The accommodation has the benefit of a bedroom, separate kitchen diner, beautiful shower room and a huge lounge with a wonderful bay window looking over the pathway. There areTVs in both the lounge and bedroom with full sky, Netflix and amazon packages. Lots of restaurants close by.
In Brights Path an Award Winning development of an old listed building restored outbuildings with mrs Salisbury s famous tea rooms close by currently voted #1 in Essex .
Highly recommended, in the centre of town but very quiet. Modern decor but in keeping with the age and character of the building.
John
2017-02-15T00:00:00Z
This brand newly decorated conversion oozes character and sophistication. Mark has worked hard to deliver a plush apartment with high end furniture, fluffy towels and comfortable surroundings. I highly recommend for anyone staying within the area. The location itself is great, with nice shops and Mark gave us tips on where to eat etc. Parking is a couple of minutes away and not a problem, although I'm not sure how it would work for longer visits. Would add up a bit using the pay and display car park. Really enjoyed the apartment. Thank you.
Catherine
2017-02-12T00:00:00Z
This is in a great location - you are in the centre of Maldon yet in a secluded courtyard, so have privacy and relative quiet. The flat is well equipped with a good kitchen, a living area and a very comfortable bedroom. There is even a rain shower - perfect relaxation.
Ellen
2017-03-11T00:00:00Z
Great place
Simon
2017-03-15T00:00:00Z
Amazing place! We have stayed at about 10 Airbnb places now for business and this is officially the nicest! Clean, stylish, great host, wifi, sky, smart TVs! Fab shower! We will be back!
Kate
2017-03-03T00:00:00Z
This is a beautifully presented apartment, smack bang in the middle of the High Street, though in a private area. A lot of thought, attention and skill has gone into the accommodation and the bed was beautiful. Given the price I think a couple of things could be sharpened up (eg a welcome tray, a guest information pack) but Mark is a nice guy and these are early days. Given the location, if you are visiting Maldon you should seriously consider this option.
Andy
2017-02-25T00:00:00Z
Superbe apartement. Bien place et confortable. Lit tres confortable. Endroit agreeable. Rue devant pittoresque. Mark tres accueillant et convivial. Allez-y. Vous n'allez pas le regreter.
sanna
2017-03-21T00:00:00Z
Room Type
Entire home/apt
---
Property Type
Flat
---
Accommodates
4
---
Bedrooms
Maldon, England, United Kingdom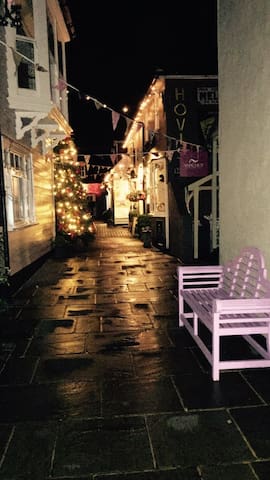 My place is good for couples, solo adventurers, business travellers, and families (with kids).
Steve was very welcoming and helpful, he met us early so we could get the keys which was very kind of him. We did not stay for long but it was perfect for our needs.
Chris
2016-08-14T00:00:00Z
Communication answer booking was absolutely excellent. We had a lovely welcome from Steve's mum who showed us round and sorted out a parking permit for my car. The flat is more spacious than what the photos show and the location is accessible and safe. Lovely cup of tea as we arrived and I will definitely rebook if in the area again
Floodsofink
2016-10-27T00:00:00Z
Nice and clean place close to the centre of Colchester. Steve was friendly and made us feel welcome.
Mark
2016-08-08T00:00:00Z
Steven was extremely friendly and helpful to me. I actually arrived very late at the day due to traffic jam, and Steven has been waiting for me until our arrival. He showed me around the house. We had a lovely stay in Colchester, visited Colchester zoo which is excellent. Thank you Steven for such a lovely stay.
Jiafan
2016-07-25T00:00:00Z
We were very impressed by the whole stay. Steve was an excellent Airbnb host and we found everything as he had described it. He was a very friendly and welcoming host. We would thoroughly recommend this Airbnb.
Dinah
2017-02-24T00:00:00Z
Steve is a great host. He welcomed us and made us feel at home. The flat was a perfect location for us and just as described. It is very comfortable and well equipped. Great sofa to lounge around on. Location is perfect - quiet and yet close to the town centre.
Mary
2016-09-14T00:00:00Z
We got home yesterday from Steve's place after a really lovely long weekend in Colchester. This place is a real gem and the photos don't do it justice. So spacious, in a beautiful part of town and everything you'll need for your trip away. I can only hope I'll be able to book it again in the future as I think Steve may be booked up! Steve made us feel very welcome. He was very helpful, showing us how things worked and giving us any information we needed. The flat's wifi was excellent, an important extra for my 12yr old! Being only about a 10-15 minute walk from the town centre was super as we didn't have to worry about the parking in town, which can be pricey. Great for shopping and places to eat. We tried the Curry India Tandoori Restaurant, on Steve's advice and really enjoyed the food as the quality was excellent and there were several dishes we hadn't come across before; added bonus was that it was only a short walk away too. There's also a Tesco Express very close as you walk towards town so it's easy to pick up anything you may need. With airbnb offering places like Steve's I always look at this website when planning trips away. Look forward to visiting again!
Georgia
2016-07-18T00:00:00Z
great house great host would recommend
Dee
2017-03-12T00:00:00Z
Room Type
Entire home/apt
---
Property Type
Flat
---
Accommodates
6
---
Bedrooms
Colchester, United Kingdom
Enjoy England 4 star gold awarded self serviced apartments within the beautiful Chelmer valley. Four apartments finished to the highest standard offer everything as standard for a luxurious and relaxing stay. Short or longer term stays, Meadows Barn is the perfect bolt hole for business, temporary home if moving or having building work carried out, or for a relaxing holiday. Secure parking, garden terrace and meadow land to the rear. Feel connected with great transport links and speedy Wi-Fi.
Meadows Barn was built specifically to offer the best possible experience for guests during their stay. Each apartment is light, airy, warm and finished to the highest standard - Boasting flat screen televisions, modern appliances, quality linen as well as a general overall quality finish of the build. The apartment is a calm and peaceful place to stay, ideal for business and holidays alike. Off a quite back road, there is little passing traffic and the large double electric gates mean your car is secure in the car park to the front. The upstairs apartments benefit from each having a large balcony, perfect for having a glass of wine on during a summers evening, whilst the apartments downstairs have access to the rear courtyard.
Set back off a quiet back road in seven acres of meadow land. It's very picturesque and peaceful. There is a great deal to do in the neighbourhood including walking, fishing, cycling, golf courses, museums, gardens and lakes.
Lovely apartment in a beautiful quiet location. Host was very organised and friendly. Would stay there again.
Mark
2017-04-06T00:00:00Z
Room Type
Entire home/apt
---
Property Type
Flat
---
Accommodates
4
---
Bedrooms
Little Baddow, England, United Kingdom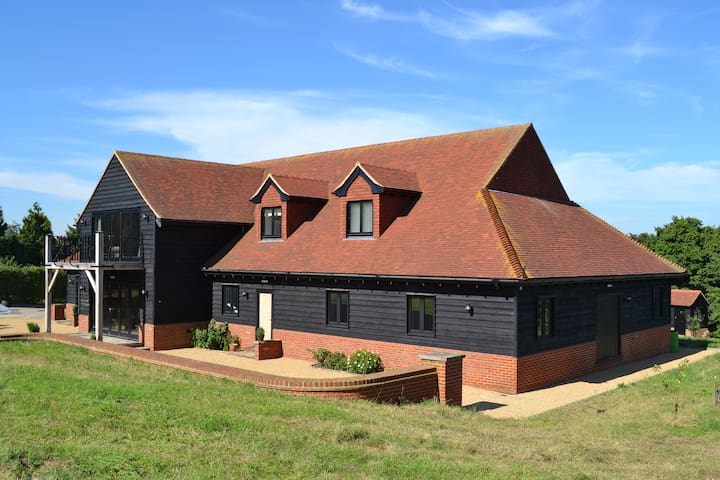 A recently renovated 1st floor flat with parking for one vehicle. The property has been entirely modernized to a Scandinavian finish, with wooden flooring, and a tiled kitchen and bathroom with "underfloor heating." The property has a large lounge..
really nice flat Local is great shop post office bus stop Also near to uni And Simon was really helpful
kerry
2016-09-26T00:00:00Z
Nice place to stay very convenient with a car that can be parked on a private place , very nice quiet and new appartement kitchen like photos :great but still missing some cooking supplies,familly room little too cold ,bathroom and bedroom : perfect I will recommand the place with pleasure and wish to come back
Hélène
2016-07-17T00:00:00Z
The appartment is exactly as described and shown on the pictures. Great place for working or studying. Store for grocery shopping in the neighbourhood, Tesco at 15 min. walking distance. Bus stop in front of the house.
Eva Maria
2016-08-19T00:00:00Z
Amazing flat with access to everything, simon was helpful. Definitely worth the money
Ghaleb
2016-09-05T00:00:00Z
Room Type
Entire home/apt
---
Property Type
Flat
---
Accommodates
2
---
Bedrooms
Colchester, Essex, United Kingdom
I'm travelling and looking to rent out my flat. It's in the town centre and close to shops, restaurants and bars. It's a 10 minute walk from Colchester Town station and 20 minutes walk from Colchester North station, with trains to London Liverpool Street in 50 minutes. It's newly decorated and feels very homey. Also comes with a parking space.
Room Type
Entire home/apt
---
Property Type
Flat
---
Accommodates
2
---
Bedrooms
Colchester, England, United Kingdom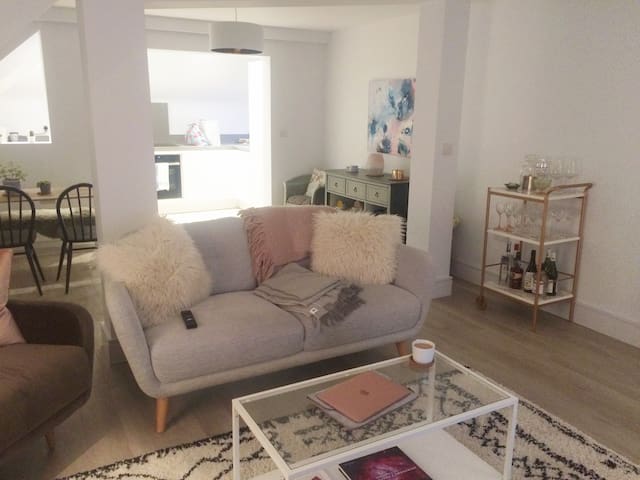 Overlooking River Colne and close to the University my flat is the ideal location for parents visiting students, families, hosting family parties and events or just enjoy a taste of penthouse luxury. With 70sqm living room and 80sqm roof garden
The accommodation is self contained and is a large two storey penthouse flat and includes, a 70 sqm living room with double sofa bed, large TV( with full sky), balcony and with a fully fitted and equipped kitchen, with dishwasher, oven, hob, microwave, large fridge/freezer, washer/dryer. There is a nespresso coffee machine with selection of coffees plus large selection of teas which are all charged at cost via an honesty box. There are two large bedrooms. each with king size bed and an en-suite bath/shower room and each has it's own balcony. The second bedroom gives access to the roof garden and has a single/double daybed and a large couch. The 80 sqm roof garden gives views over the river and houseboats to the west and University to the east and provides a wonderful place to host a large family party.
Being in the University area, most of my neighbours are young. There are walks by the river and easy access to supermarkets.
Peter's place was clean and spacious and perfect for 7 friends for the weekend. Peter took the time to show us around the apartment on arrival, and helped us find a great restaurant just down the road (Boadaciea - you can see it from the apartment!). All in all a great and comfortable stay.
Gemma
2017-02-12T00:00:00Z
Peter was a great host from the time we confirmed our booking and was very helpful with the arrival time. The apartment was fantastic, clean and stylish and would love to stay there again! It was a great stay
JANE
2016-08-29T00:00:00Z
Peter's is a fantastic host, his place is beautiful, modern and the right place to feel better than home. I would definitely recommend and choose it again!!! Thank you Peter for your warm reception.
Michelli
2016-09-04T00:00:00Z
Great flat in a great location. Friendly and very informative reception. Roof top terrace was the cherry on top. Would definitely recommend to other Airbnb users. Thanks Peter.
Isaac
2016-08-14T00:00:00Z
The apartment was great to stay at; central Colchester location, spacious with super views, very well furnished and with a comprehensively equipped kitchen. Peter was an excellent host.
Mike
2016-10-06T00:00:00Z
great place, very neat . Peter was a great host
Milo
2016-10-16T00:00:00Z
Peter was a very gentle and attentive host. He helps to arrange everything related to our travel (transfer, taxi booking, etc.) and everything went like clockwork. The flat was clean, light, well equipped and the view was also very nice. It was close to the University so I could recommend it to those whose child studies there. All in all we were very satisfied with this accommodation and I would like to thank Peter his kindness.
Zsuzsa
2016-10-03T00:00:00Z
Peter's penthouse was perfect for our family gathering. There is ample space throughout, a lofted ceiling in the living and dining areas, a spacious loft with a beautiful rooftop garden plus two other outside decks. Peter is an excellent host, easy to communicate with and took extra time to make the check in and check out easy and informative.
David
2017-01-16T00:00:00Z
Room Type
Entire home/apt
---
Property Type
Flat
---
Accommodates
8
---
Bedrooms
Colchester, United Kingdom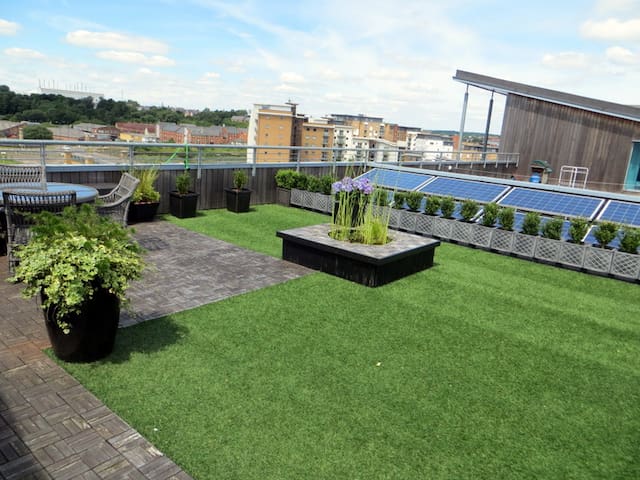 Our riverside annexe is self contained in beautiful rural setting next to the river Blackwater nr Maldon Essex. Log fire in Winter, use of Canoe in Summer & glorious local walks. Luxurious king size bed, huge shower room, fully equipped kitchen
The host canceled this reservation 85 days before arrival. This is an automated posting.
Rachel
2016-03-02T00:00:00Z
Sue and Ron were very welcoming and went far beyond their hosting duty to make my family and I comfortable. The grounds are beautiful and we even had our own private garden. We will certainly be revisiting.
Charlotte
2016-07-05T00:00:00Z
Ron and Sue are wonderful hosts - everything you need for a perfect stay is provided - magical setting by the river and plenty of walks and wildlife - the Mill next to the house provides historical perspective - would love to come back for a longer stay !! Heidi and Paul
Heidi
2016-08-13T00:00:00Z
Sue and the Riverside Apartment are wonderful. The apartment has everything you need, from a coffee machine to an open fire. The countryside setting is beautiful and so quiet - even better than the photographs. Sue is welcoming, interesting and accommodating. A perfect stay - thank you!
Lorna
2016-01-26T00:00:00Z
Room Type
Entire home/apt
---
Property Type
Flat
---
Accommodates
2
---
Bedrooms
Essex, United Kingdom
1 bedroom flat open plan living room/kitchen, reclining sofas, & balcony that backs onto the wood the flat is above a garage & you have to go through a storage area but once inside it's very comfortable & on the balcony you are amongst the treetops. Also has off road parking.
1 bedroom flat with open plan living room/kitchen, reclining sofas, & a balcony that backs onto the woods. The flat is above a garage & you do have to walk through a storage area but once inside it's very comfortable & on the balcony you are amongst the treetops.
The neighbourhood is a great little community with a few pubs one in particular which is great fun with live music on Friday nights and other events over certain weekends in the summer, (The Bell Inn) and all the pubs are 2 minutes walk from the flat. There is also Hedingham Castle that always has an event in the daytime going on most weekends of the summer.
We had a really enjoyable stay at the flat. Sadly it was raining so we didn't really get to enjoy the balcony, but it would be a lovely spot when the weather is good. The place has everything you would need, and Ben was really responsive before we got there with queries. Sadly we didn't get to meet him but his parents were very friendly!
Sarah
2015-07-16T00:00:00Z
We had a wonderful weekend at Ben's house. The flat is really lovely and perfectly equipped, it's secluded from the (also stunning!) main house where the family live so it's perfect if you're looking for comfort and complete privacy. The huge terrace is in the sun in the morning, so we had our breakfast there, in complete peace. As regards the location, we couldn't have wished for more. Lovely countryside walks, a beautiful Norman castle, a restaurant and a couple of cosy pubs they're all literally a few steps away. The family is also super kind. They have a very chilled attitude that makes you feel welcome and comfortable as you arrive - as they had not further bookings on the Sunday, they didn't give us a check out time, and Ben's mum Paula even gave us a lift to the station! Definitely a 5-star-and-more stay, thank you for having us!
giorgia
2016-10-23T00:00:00Z
Me and my partner loved staying in the tree house! The view from the balcony in the morning was amazing, will definitely be coming back soon :)
Lucy
2016-03-28T00:00:00Z
This was a return visit for us, as it's just the loveliest place. We were made very welcome, and the lovely touch of fresh milk, eggs, bread and delicious butter just highlighted how lovely Ben and his Mum are, and how snuggled in we felt. We plan to return again as soon as we can, to this apartment, and to this village.
Jeanneke
2016-05-04T00:00:00Z
We were very pleased with our stay at Bens flat. His mum showed us around and we were given all the needed information. They also very kindly left us eggs milk and bread for the morning. We would definitely recommend staying here if you fancy a night in the country side.
Megan
2016-03-31T00:00:00Z
We had a very enjoyable night at Ben's flat, the balcony and the view into the tops of the trees and the sounds of the birds was a definate highlight. We didn't venture out into the village but driving through it seemed very nice. We did have a little difficulty finding the flat but Ben was available on the phone and gave good directions. Turn in next the URC Church and go to the end of the driveway. Ben's mum was very friendly and gave us an excellent tour/intro to the property.
Russell
2015-07-12T00:00:00Z
We had a lovely night staying in Ben's treetop flat. We had a very warm welcome from Ben's family and the place was really lovely, just like in the pictures. We were lucky enough to have great weather and sat out on the balcony in the evening, having explored the beautiful quiet village and nice local pub. The kitchen was great for preparing an evening meal and Ben kindly left eggs, bread and butter for breakfast. A lovely stay and we hope to be back soon.
Ben
2015-07-13T00:00:00Z
Paula, the host, is wonderful. Warm and welcoming - took an instant like to her and her home is beautiful. The accommodation is secluded at the bottom of the garden and has everything you need for a comfortable stay. We loved it and if you're lucky, you might see the little deers wandering around. The village has a great pub too as recommended by Paula with live bands on a Friday.
Lizzie
2017-03-12T00:00:00Z
Room Type
Entire home/apt
---
Property Type
Flat
---
Accommodates
2
---
Bedrooms
Castle Hedingham, Essex, United Kingdom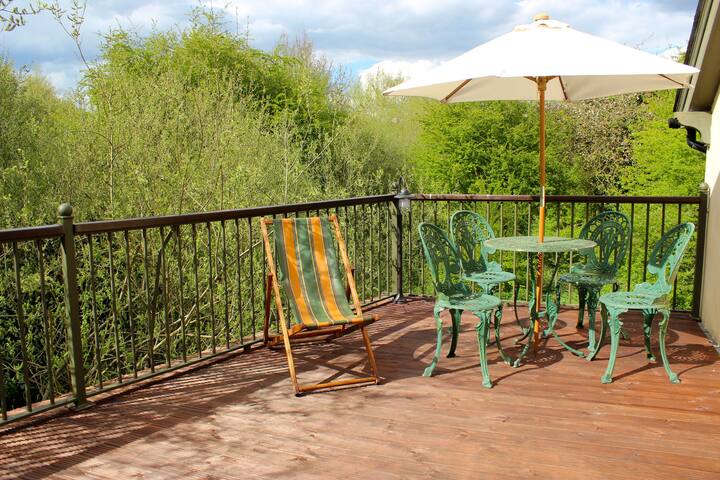 Set in the heart of Colchester, minutes away from the high street and main shopping district with bars and restaurants on your doorstep. This contemporary flat will host you in total comfort and style.
Modern, bright and with beautiful finishes and furniture. There is a king size bed in the bedroom and a large sofa in the living space than easily sleep a third person. All extra bedding provided as required. There is no parking with the flat but there are car parks within a 2 min walk away. The flat is only 3 mins in a taxi from Colchester station and is just off the main high street by the Town Hall
The apartment is in a gated secure complex and is exactly what is described and shown in the photographs. It is on the main high street so was ideal for my trip as once I had parked my car up I didn't need to use it for the rest of the week. I was in Colchester due to work but would certainly go back with my wife and stop at Emily's for a weekend away. Emily had even left a few items out for us to set us up containing tea, biscuits, etc. Great accommodation and a lovely area to go out for a meal or drink.
Owen
2017-02-03T00:00:00Z
Me, my husband and my son came in Colchester to stay 3 days with my daughter who is studying at the Essex University. The apartment is in the town centre, next to the town hall, with many shops and diner. The house is really modern and clean with a wonderfull kitchen and bathroom. My son slept in the sofa but it is soo big and comfortable that is almost better than a bed! Everything was perfect and Emily, the host, is very friedly and helpful for any clarification or information. If we will come back in town, this apartment will be for sure our choice!
Elena
2017-02-27T00:00:00Z
The flat is really lovely and It could not be better located, even that it is in Colchester main street you won't hear any single noise from the street, really quiet and peaceful, near all the shops, restaurants, bus stops, Castle Park... The flat is very modern and has a beautiful decoration, full equiped kitchen, very clean and tidy, we found there everything that we could need. Emily is a really great host and willing to help us with anything we could need. More than happy with the choice, highly recommended.
Marina
2017-04-08T00:00:00Z
We have had a great time at Emily's place. The apartment is located in the very heart of the city, but in an interior yard which makes it quiet and peaceful. The place is very modern, clean and well equipped and Emily is a very forthcoming and friendly host!
Roxana
2017-03-21T00:00:00Z
Emily is really nice and friendly. The apartment was exactly as described. I rented the apartment for my parents and they were very comfortable and happy. If they ever return to Colchester, they are sure to return to rent Emily's apartment.
Lorena
2017-03-08T00:00:00Z
Room Type
Entire home/apt
---
Property Type
Flat
---
Accommodates
3
---
Bedrooms
Colchester, Essex, United Kingdom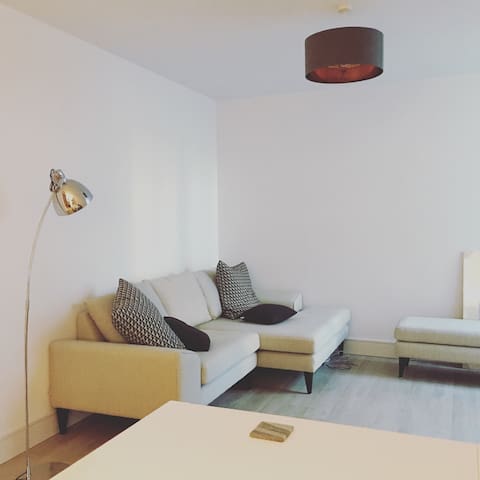 My place is close to public transport, The University of Essex, art and culture, Subway, Domino's Pizza, The River, hiking trails. You'll love my place because of the location and the outdoors space. My place is good for couples and solo adventurers.
This large room has been converted into a guest room. I had family, friends, students, visiting professors and Uni staff stay with me, they all love the comfy cozy sofa bed. Its a large space, with plenty of light and a desk (if you need to work, or plan an adventure).
There are so many activities in Colchester. For such a small town there is a lot going on. I will gladly provide you with some guides and tips to get around.
Very comfortable and accommodating place! Libby is great!
Yuwei
2016-06-24T00:00:00Z
The apartment was clean and tidy and the sofa bed very comfortable. The location is ideal - very close to University of Essex. Libby is a great host - helpful and easy-going! Thanks Libs!
Chiara Tea
2016-07-02T00:00:00Z
This is the second time I stay at Libby's and it is becoming a habit already! :) She is a great host that will go out of her way to make you feel welcome. I will definitely stay there again the next time I visit Essex Uni.
Kostas
2016-09-08T00:00:00Z
Most importantly for anyone visiting the university, Libby's place is a mere 10 minutes walk away. If you're a pizza-addict, there's a pizza place just around the corner.
Andrew
2016-10-14T00:00:00Z
Very good host.
qiqi
2016-07-24T00:00:00Z
Yet another excellent stay at Libby's :) As always she was very accommodating. This time unfortunately we both had very tight schedules, so not enough time for a dinner, but we vowed to do this next time I'm over at Essex Uni again.
Kostas
2016-11-11T00:00:00Z
It was nice, good situation and Libby is very friendly person!
Anna
2017-02-17T00:00:00Z
The host canceled this reservation the day before arrival. This is an automated posting.
Ryan
2017-02-19T00:00:00Z
Room Type
Shared room
---
Property Type
Flat
---
Accommodates
2
---
Bedrooms
Colchester, Essex, United Kingdom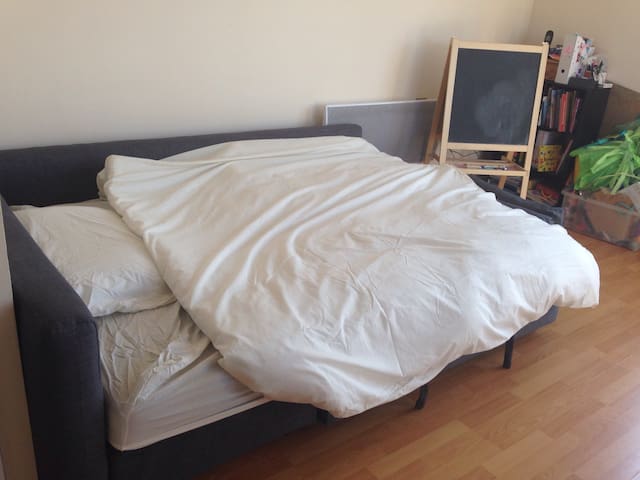 very central location, self-contained flat within a large apartment in a converted school. one double bedroom, room for single guest on mezzanine (for small charge) above kitchen/diner, walk-in shower.
The flat is a very high standard conversion of a Victorian school with high ceilings and plenty of storage space. The flat is well located for all of town centre: close to galleries, restaurants, shops. Kitchen/diner is equipped with all cutlery/crockery, microwave, mini oven, fridge, basic cooking equipment. Coffee/tea complimentary. Blue-ray dvd player in bed/sit room. All you need for a comfortable stay in Colchester!
Pleasant stay in a well located apartment. Jo was very flexible with arrival times, and everything was clean and well organised
Lance
2016-12-25T00:00:00Z
Had a lovely warm welcome from Jo, showed us around her beautiful home, it didn't feel like we was staying in a room it's more like its own flat. Had a basket of nibbles and bits which was lovely aswell as tea, coffee and milk already there. Was immaculate and could not pick any faults with my stay, will deffinately stay again at some point :)
Kieran
2015-09-01T00:00:00Z
Jo, is an excellent host. Her unique, wonderful home is likewise. She made us feel very comfortable and is very easy going. We really enjoyed our stay in Jo's converted school house in Colchester. It was a very pleasant experience. The self contained flat within her property is well presented andequiped. Centrally situated, it is easy to walk to the town's restaurants and historical places of interest. We highly recommend Jo's accommodation for a couple / (+ 1) to explore the county of Essex.
Susan
2015-03-02T00:00:00Z
I've stayed at Jo's flat several times now: always perfectly presented and no problems at all!
Justin
2015-12-10T00:00:00Z
Arriving a fair bit later than I had initially planned it was dark when I got to Jo's place. I'd exchanged several messages with her prior to my journey and she thoughtfully sent me details as to how to find her home. Thank goodness for sat navs and proper communication as my poor navigation skills would have proved a challenge in the dark! Even though I didn't know it at the time, and in spite of the dark, I was lucky in that I somehow manoeuvred the car onto the car park directly opposite her property, and Jo then came outside to guide me to the parking facility behind the building. A blessing! As soon as I entered the premises I was struck by the incredibly cozy and welcoming character of the place– the apartment, although part of Jo's home, is totally private and simply "Wow"! It has been cleverly designed to accommodate 2 couples, or perhaps one couple with offspring, allowing each party to have their own privacy: Upon entering the flat you find yourself in the kitchen/dining area which also contains a mezzanine that doubles up as a spare sleeping corner with a large mattress on the floor boards. The kitchen then leads into a super-duper, terracotta tiled bathroom with walk-in shower; soaps, shampoos and the like all supplied. From the bathroom you then access the large bedroom/sitting room with large screen TV and seating corner. The bedroom also features a mezzanine with two large individual wardrobes. It's quite difficult to describe this quaint flat with its high ceilings – I was totally impressed by it and felt very comfortable there from the moment I set foot in it and the photos on the page don't do it real justice. Everything is thoughtfully equipped and appointed - from a well-stocked welcoming basket and fridge in the kitchen to a very comfortable bed... all details have been covered to allow for an unforgettable home-away-from-home experience. Jo embodies everything a perfect host should be: welcoming, discreet and happy to share her home with you... what more could you want? In my case, another visit! Definitely!
Emma
2016-01-20T00:00:00Z
We had a lovely stay at Jo's flat last weekend. She was very welcoming (thanks for the treats, my fiance stole the bonne maman biscuits for the journey home) and the accommodation was cosy, comfortable, clean and snug. I agree with other guests that it is more spacious than the photos suggest. It is located in a beautiful and unusual building which added to it's the charm and character. There is a bit of noise from passing pedestrians and traffic but that is to be understood as it is so centrally located. Overall, a terrific stay, thank you.
Elly
2015-03-23T00:00:00Z
This place was incredible. We had such a lovely evening there. Jo was extremely helpful and we couldn't have asked for a better host. I'd love to tell you it wasn't very good, to keep this little gem a secret for ourselves. The room was very well turned out, the bed large and comfy, and all in all, we'll definitely stay there again, the next time we're in Colchester. It was also a few minutes drive to a big tescos, and within a few minutes walk we were in the hear of the town. Will definitely be back!
Stuart
2015-02-02T00:00:00Z
An excellent host! Jo was extremely helpful, polite and considerate from start to finish. A lovely welcome basket full of treats greeted us and she even left a cute little bottle of bubbly for my girlfriend in celebration of her birthday one evening. Jo's apartment and the bedsit within are unique and a pleasure to behold. My fault entirely due to not reading the full listing description but I hadn't realised we would be accessing the bedside via Jo's apartment, thus slightly losing some privacy. In actual fact this wasn't anywhere near an issue for us and Jo was very understanding, immediately offering a full refund/cancellation if we required. I am glad to say that we decided to stay and it was definitely the right decision! To summarise: a unique stay in a location full of character, perfectly positioned to the town centre, 10/10 and we would definitely stay again!
James
2015-06-25T00:00:00Z
Room Type
Entire home/apt
---
Property Type
Flat
---
Accommodates
3
---
Bedrooms
Colchester, Essex, United Kingdom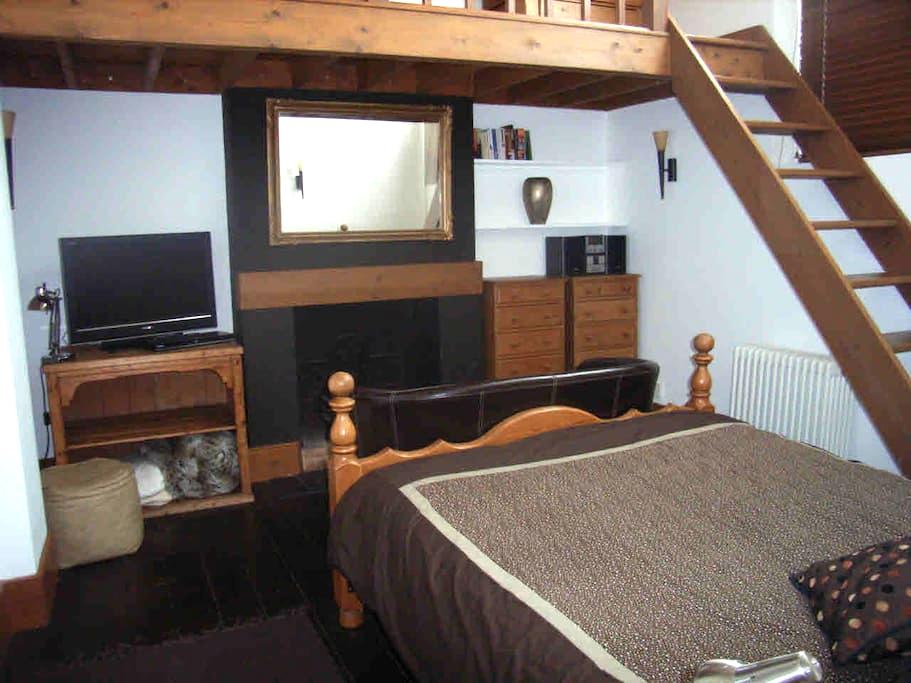 The space is architect designed and is light and airy. The bedroom/sitting room is on the first floor with a private shower room and small kitchen area on the ground floor. The accommodation is adjoined to our house but it has is own private entrance and there is ample parking on the drive.
The first floor bed/sitting room has table and chairs for two, two chairs to relax in, a small TV with free view and two twin beds. The ground floor "kitchen" area has no cooker but a microwave and a fridge. Ample crockery and cutlery is provided. The ground floor shower room has a large walk in power shower.
A Unique Waterside Village - Tollesbury A land of big skies, sweeping vistas, bleak salt marshes with the only sound heard being that of the crying birds. Tollesbury has a totally unspoilt beauty which offers a sense of isolation; walk along the sea wall and you will not have another person within view just the open water, sheep and cattle on the marshes, the occasional distinctive colours of an Essex barge on the estuary and the white sails of boats tacking on the current. It is easy to imagine the seafaring past, the barges up and down with cargo, the oyster fisherman and the fishing boats going out along the mud flats. We'll turn a blind eye to the smugglers! Today Tollesbury is also a thriving village with a true sense of community. We have a small industrial estate which provides jobs, we've kept local shops so can be totally self-sufficient and the village is large enough to support our local primary school. We also have a thriving boat yard and marina. You could sail round to us! It is an mini deal break away from the London, or for those wishing to see the unspoilt Essex coast line. Let the stresses and strains of everyday leave you as you enter Tollesbury! So, we think it is a very special place but try not to shout too loud as we don't want everyone here.
Lorraine's place is lovely and we definitely recommend it. Lorraine is a great host and everything was exactly as we expected it (or even better!)
Arianna
2016-10-30T00:00:00Z
Lorraine's flat is very nice, super clean and independent from the main house. Very welcoming place with a lovely garden.
Isabelle
2016-05-30T00:00:00Z
Lorraine made us most welcome and was very informative about the local area and its amenities.Her appartment is immaculate;spotlessly clean and extremely well equipped. We thoroughly enjoyed our stay.
David
2016-08-21T00:00:00Z
Lorraine made me feel very welcome in her beautiful architect designed home. Everything was exactly as described and extremely comfortable with everything I needed. And the shower is a delight! Tollesbury is an attractive village with lovely walks around the sea wall to the marina and cruising club.
Robert
2016-06-01T00:00:00Z
Great place. Great host. WiFi signal very weak
David
2017-04-01T00:00:00Z
Lovely host, lovely place to stay. Would highly recommend. Great value for money.
Cassie
2016-08-14T00:00:00Z
Room Type
Entire home/apt
---
Property Type
Flat
---
Accommodates
2
---
Bedrooms
Colchester, Essex, United Kingdom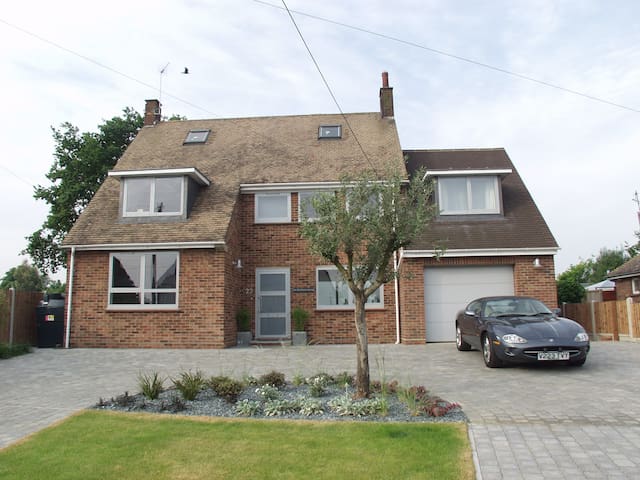 Coggeshall - Airbnb
:
Average

4.93

out of

5

stars from

427

guest reviews
1

–

18

of

42 Flat Rentals
Enter dates to see full pricing. Additional fees apply. Taxes may be added.