2 bedrooms for 4 people with bathroom and toilet on the first floor in a separate part of a large farmhouse. Quietly located between the canal and forest. Possibility to park the car in the property. Tram access, shops and restaurants nearby. In fine weather heated pool access. Possibility of meals in the common kitchen, fridge access. Breakfast service if want to 5 euros per person. Internet available.
quiet area (dead end). Shops and restaurants within 10 minutes walking. Large park nearby for walking or playing sports.
Room Type
Private room
---
Property Type
Apartment
---
Accommodates
4
---
Bedrooms
Saint-Jean-de-Braye, Centre-Val de Loire, France
My accommodation is close to art and culture and restaurants. Enjoy my accommodation for brightness, the bed comfortable and comfort. My accommodation is perfect for couples, solo travelers, business travelers and four legged.
Apartment is perfect, location is super. Thanks, Brigitte!
Manuchehr
2016-12-25T00:00:00Z
Agréable soirée passée chez Brigitte. Son logement est très correcte, conforme aux photos. Brigitte nous a très bien reçus. Je recommande !
Célia
2016-09-06T00:00:00Z
rien à redire, tout est parfait. Appartement très chaleureux.
alain
2017-01-07T00:00:00Z
Calme à proximité de tout et tout confort
Tommy
2017-02-24T00:00:00Z
Très bien reçu par Brigitte ayant trois chiens nous avions eu du mal à trouver une location qui accepte de nous recevoir avec nos animaux de compagnies. Le logement est confortable conviviale et bien lumineux avec son grand balcon. Et le logement est plus grand que sur les photos.
Philippe
2016-07-06T00:00:00Z
Brigitte a vraiment été une hôte très accueillante, souriante et agréable. L'appartement était propre et très joli! Nous reviendrons avec grand plaisir. Merci :)
Laura
2016-07-18T00:00:00Z
Très bon séjour ! Brigitte est très accueillante ! Logement conforme aux photos, très bien équipé et bien placé, je recommence. A bientôt :)
Antoine
2016-08-24T00:00:00Z
Très bon accueil de Brigitte. L'appartement est propre. Le quartier est calme, bien placé par rapport aux bus et tram.
Céline
2016-09-16T00:00:00Z
Room Type
Entire home/apt
---
Property Type
Apartment
---
Accommodates
2
---
Bedrooms
Saint-Jean-de-Braye, Centre-Val de Loire, France
From the living room, you can admire the Loire. The house can accommodate between 1 and 5 people. The rooms overlook the garden you can enjoy. It is 1 H 15 from Paris and near the chateaux of the Loire Valley. Stay between countryside and cities. Site listed by UNESCO with beautiful walks, just down from the house. Combleux is one of the most beautiful villages of the Loire and your stay will be very quiet.
The housing (80 m2) on the 1st floor of a former house. The rooms are vast. 2 bedrooms with 5 beds (2 double beds and a single bed). A beautiful view and a garden.
My area is an island between Loire and Canal. people love to walk. There are traditional boats Loire just under my window. there is a restaurant "Marine" nearby. We can bike to Orleans, whose center is 7 km away and even think of doing "the Loire by bike." From here you can travel to beautiful tourist days. Saint Benoit sur Loire. The bridge channel Briare. The castles of the Loire and of course Paris.
The host canceled this reservation 3 days before arrival. This is an automated posting.
Jerome
2016-10-22T00:00:00Z
The host canceled this reservation 11 days before arrival. This is an automated posting.
Bouchra
2016-12-15T00:00:00Z
The host canceled this reservation 129 days before arrival. This is an automated posting.
Angelika
2017-02-26T00:00:00Z
The host canceled this reservation 2 days before arrival. This is an automated posting.
frederic
2016-10-28T00:00:00Z
The host canceled this reservation 109 days before arrival. This is an automated posting.
Laurence
2016-12-26T00:00:00Z
The host canceled this reservation 62 days before arrival. This is an automated posting.
MARIE LINE
2016-10-22T00:00:00Z
Bienque on n'ait pas rencontré Marie, elle était très gentille en échange écrite et en outre très attentive en nous laissant plusieurs de notes dans son appartement pour que nous puissions trouver toutes les choses nécessaire. Le logement est énormément charmant et situé directement au bord d'un canal de la Loire. L'environnement est très calme avec presque zéro de trafic, donc, c'était idéal pour notre fille (18 moins-value) Il n'y a rien à critiquer. Nous avons rejouions notre séjour chez Marie et nous pouvons recommander cette hôtesse. Although we didn't meet Marie personally, we had some nice contact via messages. She left as some notes in the apartment, so we had no trouble to find anything, we needed. The apartment is very cute and pleasant, situated directly at the river. The environment is very calm, nearly without traffic, which was ideal for our daughter at the age of 18 months. There is nothing to criticize. We enjoyed our stay at Marie and can highly recommend this place. Auch wenn wir Marie nicht persönlich getroffen hatten, gab es im Vorfeld einen angenehmen Austausch per Nachrichten. Zudem lies sie uns einige Zettel in der Wohnung, anhand derer wir alles wichtige gut finden konnten. Die Wohnung ist mahnt und persönlich eingerichtet und liegt traumhaft direkt an der Loire bzw, einem kleinen Kanal selbiger. Zudem ist die Umgebung angenehm ruhig mit kaum Verkehr, was gerade für unsere 18 Monate alte Tochter (die seit 4 Wochen läuft) großartig war. Letztlich gibt es nichts zu kritisieren, so dass wir die Unterkunft von Marie nur empfehlen können.
Philip
2016-07-18T00:00:00Z
Die Tage an der Loire in Marie Clotildes Wohnung waren sehr schön, der Blick aus dem Fenster ist atemberaubend. Eigentlich müsste man nur am Fenster sitzen und die Idylle genießen! Wir haben uns in der Wohnung sehr wohl gefühlt, da diese gemütlich eingerichtet ist. Ein paar Tage hier zu verbringen ist wirklich nur zu empfehlen.
Uta
2016-08-17T00:00:00Z
Room Type
Entire home/apt
---
Property Type
Apartment
---
Accommodates
5
---
Bedrooms
Combleux, Centre, France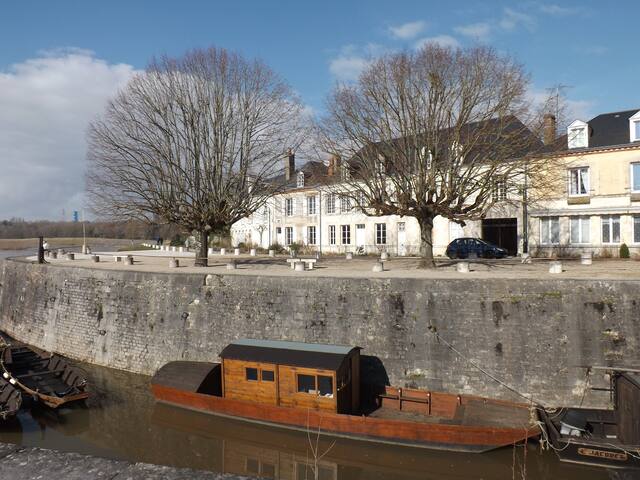 L'appartement se situe en bord de Loire ( Idéal pour les voyageurs La Loire à Vélo), à proximité de toute commodité (Tram, Bus, Commerces) alliant le charme de la nature( pic vert, écureuils, oiseaux) et de la ville (centre ville : 500m, orléans à 5Km). Ce logement de 55m2 rénové en 2017 possède son jardinet avec terrasse et son parking. Il est tout équipé et confortable avec douche à l'italienne, une chambre et un canapé lit.
Room Type
Entire home/apt
---
Property Type
Apartment
---
Accommodates
4
---
Bedrooms
Saint-Jean-de-Braye, Centre-Val de Loire, France
The apartment is located in the charming village of Combleux (classified as a Unesco World Heritage site). Fully equiped for 4-5 people. Decorated with taste. Right next to the restaurant "La Marine".
L'appartement possède une terrasse (non privative) avec vue sur le canal et la Loire. Parfait pour des repas en extérieur! Si vous ne souhaitez pas cuisiner, préférez le restaurant La Marine à deux pas de l'appartement!
Lovely village. Enjoy the proximity with the Loire river ! Unique site.
Our employees had nice stay by Brigitte, everything was ok. They needed to leave earlier as we made booking and Brigitte was so kind to change the reservation. Thank you very much!
Patricia
2016-03-17T00:00:00Z
The flat was amazing. It is literally steps from the Loire River. The apartment is cozy with a nice table inside for breakfast and outside for dinner al fresco. The apartment is also located conveniently above a restaurant that Brigitte runs. Let me tell you the restaurant is incredible. My wife and I stayed for seven nights. We ate there 4 times it was s(PHONE NUMBER HIDDEN) good. The apartment is also only 15 minute drive from Orleans. Brigitte is very responsive and accommodating. My wife and I would highly recommend this flat to others. We would definitely come back!
Steven
2016-08-04T00:00:00Z
Room Type
Entire home/apt
---
Property Type
Apartment
---
Accommodates
4
---
Bedrooms
Combleux, Centre, France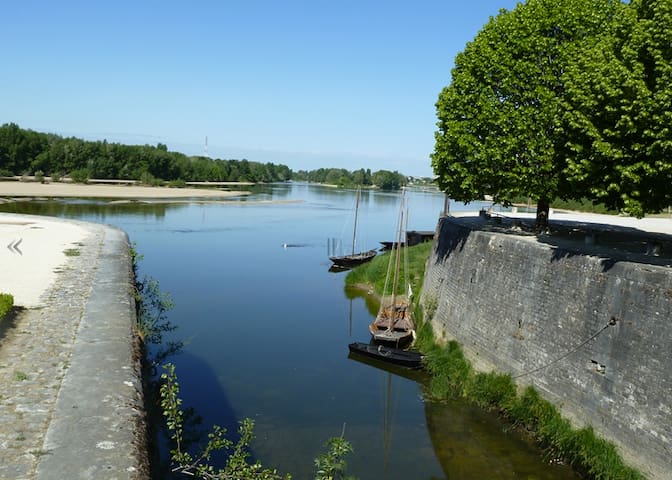 Grand salons. Télé .cuisine toute équipe. Salle de bain avec baignoire. Une chambre pour nos voyageurs Appartement lumineux,zen ,proche de la nature . (Loiret et forêt )
A 3 minutes des bords de Loire Tram 10mn Bus 5mn Commerce a 5mm
Les Bords de Loire Commerce ( Aldi, pat a pain ,boucheries, primeur) Transport (bus tram)
Lovely house in a calm neighbourhood located next to La Loire. Florence and her partner were very nice and made me feel at home. Would love to come back one day!
Annida
2016-09-06T00:00:00Z
Very nice stay with nice people
Steven
2016-10-31T00:00:00Z
We had a nice stay at Florence and Alain's. The room was nice and they were very friendly, accommodating, and helpful. The place is close to the tram, making transportation easy. It's also right on the Loire, which is beautiful.
Amy
2016-06-28T00:00:00Z
I strongly recommend everybody to visit Florence. Nice room was supplemented by delicious dinner and interesting conversation about Orleans and french culture. Even the language barrier (the only disadvantage I faced with) was easily overcome via online translator.
Eugene
2016-06-09T00:00:00Z
Sorru that we coul'd come
Martti
2016-05-13T00:00:00Z
The host canceled this reservation 2 days before arrival. This is an automated posting.
Sandra
2016-03-05T00:00:00Z
Très bon accueil chez Florence qui met tout en oeuvre pour le bien-être de ses hôtes. Excellente soirée en compagnie de Florence. Le logement est en bord de Loire, bien aagréable pour les cyclo-touristes.
Françoise
2016-07-14T00:00:00Z
Florence nous a tres bien accueillis chez elle. Toujours souriante, elle a fait en sorte depuis le debout que nous ayons une tres bonne experience a Orleans. Merci!
Alejandro
2016-05-07T00:00:00Z
Room Type
Private room
---
Property Type
Apartment
---
Accommodates
1
---
Bedrooms
Orléans, Centre, France
Bel appart de 65 m2 (30m2 de terrasse) pouvant accueillir couple seul/avec enfant ou des amis. Proche toutes commodités, résidence très calme avec parking couvert. Tram à 100m. Activités : fête de Jeanne d'arc, la Loire à vélo, Open de tennis...
Room Type
Entire home/apt
---
Property Type
Apartment
---
Accommodates
6
---
Bedrooms
Saint-Jean-de-Braye, Centre-Val de Loire, France
Near downtown Orléans, close to shops, public transport.Location furnished in a house: room 2 people, kitchen, luminous main room with table / chairs, sofa + 1 bed, bathroom with shower, WC , Washing machine. At guests' disposal a garden furniture and a barbecue on the terrace.Local 2 wheels.Parking in the courtyard.All included WI-FI, water, electricity, TV, linen either, 2 tea towels, Sheets, 1 napkin / pers.Based product.On request bicycle rental.
Close to downtown Orleans (south Loire). Close to all shops Public transport (line 5 and 16) .Rental furnished in a renovated house. With living room with sofa bed for 2 people, fitted kitchen with hob and oven, fridge / freezer, coffee maker, kettle, toaster, no LV, cooking utensils, dishes, main room with table / chairs, Bed 1 pers, bathroom: shower, furniture 1 sink, shelf, WC, washing machine. At guests' disposal a garden furniture and a barbecue on the terrace. Local for 2 wheels. Parking in the yard. All included INTERNET ACCESS by WI-FI, water, electricity, color TV, Linen, 2 tea towels, bed linen, 1 towel / pers, hair dryer. The essential products. On request for our guests the possibility of renting bicycles on site. All comfort. You just have to pack your bags. Welcome by the owners in a convivial spirit. Contact me if you wish for any additional information or visit now!
One hour from Paris, in the Loire Valley, classified World Heritage by Unesco, discover the Loiret for a cultural stay including the castles of the Loire The architectural heritage The history of France and that of the Valley of the Kings marked their strong imprint the territory of Loiret. Let yourself be told the beautiful pages of the history, by impregnating you with the life of the castle: defensive fortresses of the Middle Ages of Sully-sur-Loire, classified Grand Site of the Loire Valley, Saint-Brisson-sur- Loire and Yèvre-le-Châtel, with the romantic mansions of the 17th and 18th century constructions of the Châteaux de la Ferté-Saint-Aubin and the Bussière, passing by the Renaissance Castles, with the Château de Chamerolles and its Museum of Perfumes, Of Meung-sur-Loire or of Gien. Castle of Sully-sur-Loire With a rich historical and cultural heritage, the Loiret remains a department of charm and character. The artistic and historical heritage of the Loiret can be seen in the stones of towns and villages. One stop is Orleans la Royale, one of the oldest cities in France. The former Gallic city, which became the capital of Clovis and which Joan of Arc was to make famous by delivering it from the English in 1429, offers its visitors its old center now completely renovated. The city classified "City of art and history" deploys all the assets of seduction with its large flowered parks, its mansions, its museums, its quays of Loire rearranged ... Discover the majesty and variety of religious heritage in Loiret: the famous Sainte Croix Cathedral in Orléans, the Basilica of Cléry-Saint-André linked to the memory of Louis XI, the Abbey of Saint Benoit-sur-Loire masterpiece Of Romanesque art or the Carolingian Oratory of Germigny-des-Prés, the Royal Abbey of Ferrière-en-Gâtinais ... are fascinated by their architectural prowess. You are looking for sport or relaxation, with family or friends: golf, hiking and horse riding, cycling tours along the Loire, boat trips on the canals of Briare and Loing and the Loire. Parks, Gardens and Flowers With its three arboretums and eight gardens labeled "remarkable gardens", the Loiret offers you a glimpse of the quintessence of the "Garden of France". Botanicals, landscapes, French or English ... from the unsuspected little green boxes to the beautiful forests of the arboretums, lovers of parks and gardens will find here new discovery species or to immerse themselves in refined atmospheres. Park of the castle of Chamerolles At Chamerolles, for example, admire the green setting that embraces the castle; Breathe in the heart of the city in the oasis that draws on 35 ha the Floral Park around the source of the Loiret; Enjoy the atmospheres and perfumes in the shade of a pergola in the intimate setting of Jardins de Roquelin; Explore the history of an eighteenth-century vegetable garden at La Bussière castle before contemplating sumptuous collections at the Ilex National Conservatory or the Grandes Bruyères arboretum. Or immerse yourself completely in the universe of the tree at the National Arboretum of the Barres ... Since 1997, the General Council has set up eight sensitive natural areas to make them "departmental parks" intended for the walk, discovery and protection of nature: Meung-sur-Loire (Les Mauves), Châteauneuf-sur- Loire (which will be extended), Sully-sur-Loire, Cerdon (Etang du Puits), Briare (Trousse-Bois), Ardon (Dolines de Limère) and the park of the meadow of Puiseaux and Vernisson The Montargoise agglomeration, dedicated to the observation of fauna. But the gardens are not the only ones to pay tribute to the long tradition of horticulture in the Loiret: by embellishing their surroundings and their streets, towns and villages distinguished for their flourishing will liven up your walks as your homelessness. Gateway to the Val de Loire UNESCO, the Loiret stretches its vast expanses of plain and forest along the last great wild river of Europe. Natural corridor, it is the Loire which will guide you to discover one of the extremities of the biggest French site inscribed on the list of the World Heritage of the Humanity between Sully-sur-Loire in Loiret and Chalonnes-on-Loire in Maine -and-Loire. From its meandering bordered by alluvial forests to the golden sands of its bare banks, its islands preserved at its historic quays, the Loire draws landscape and rhythm, for centuries, the life of the cities and villages that it crosses. Sometimes peaceful and indolent, fiery and tumultuous, its shimmering waters reflect the fiery skies of sunsets as well as the ponds of Sologne and the great forest of Orléans.  An aquatic dimension truly endearing with its fauna, its flora and its rural atmosphere that one discovers while strolling along the canals of Orléans, Loing,From Briare and Lateral to the Loire ... All these natural scenes come alive on the heyday with festive events such as the Festival de Loire which brings to life the traditional flotillas of the Loire (gabarres, toues, futreaux, plates ...) .
We were the hosts first airbnb-ers and we found Nathalie to be one of the best hosts that we encountered on our European tour. she and her family went out of their way to make our stay enjoyable. we didn't speak french and she english, this was not a problem. The accommodation is a few kms from the loverly town of Orlėans and worth a visit. The place we stayed in meet our needs as a family of four and the pictures represent it well. The neighbours were very social that added to our experience.
Andrew
2016-08-13T00:00:00Z
Appartement spacieux et bien équipé. Au calme dans un petit village pres d'Orléans
Julien
2016-09-16T00:00:00Z
Très belle appartement au calme et à proximité du bourg de saint Denis en val.
Jean François
2016-11-01T00:00:00Z
Appartement très fonctionnel, impeccablement propre. Nous avons été accueillies par Nathalie, très conviviale et disponible pour discuter.
Amelie
2016-11-16T00:00:00Z
Hôte très accueillant et arrangeante, Nathalie à répondu à toutes mes demande. Quartier calme. Logement agréable et bien équipée. Voyageur d'affaire, j'ai surtout apprécié la localisation du logement près d'Orléans, ainsi que la cour pour mettre la voiture. Pour résumé un agréable séjour.
Nicolas
2016-10-22T00:00:00Z
Excellent séjour, Nathalie est très accueillante, ambiance bon enfant et détendue, dans la confiance, j'ai beaucoup apprécié cela. Le lieu est agréable, dans cette petite commune du Sud-Loire, avec un grand espace de verdure avec des arbres fruitiers à côté de la maison, et c'est vraiment très très calme ce qui fait de ce logement un excellent lieu de repos et de ressourcement. La maison est grande, avec beaucoup d'espace. Facile d'accès, ce qui est également appréciable. Merci beaucoup pour ce séjour.
Sophie
2016-09-10T00:00:00Z
Très bien, prévenante, à l'écoute, parfait merci pour l'accueil.
laetitia
2016-09-22T00:00:00Z
Room Type
Entire home/apt
---
Property Type
Apartment
---
Accommodates
5
---
Bedrooms
Saint-Denis-en-Val, Centre-Val de Loire, France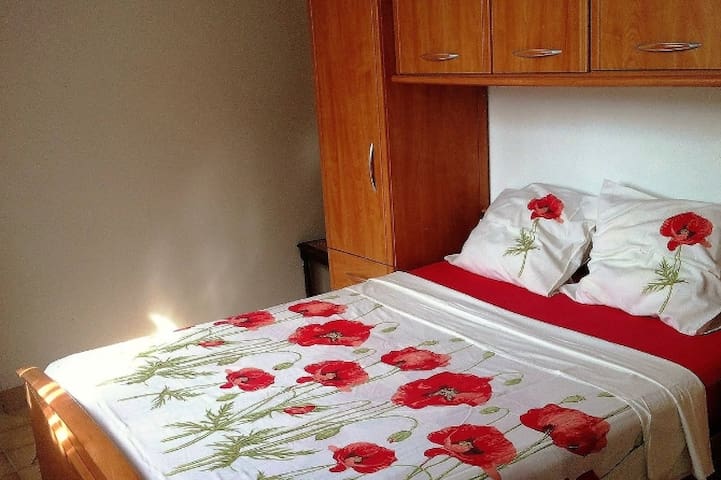 Compromis idéal entre le Gîte et la Chambre d'hôte, " Côté Serre " appartement de charme au 1 er étage d'une dépendance pour 2 personnes , à louer avec un minimum de 2 nuits , dans une très belle propriété de famille à Saint Jean de Braye ,7kms d'Orléans , ligne B du Tramway .
Appartement de charme situé à 7kms d'Orléans, dans une aile indépendante d'une très belle propriété de famille du 17 è siècle , au 1 er étage . L'appartement " COTE SERRE " fait 60 M2 environ et se compose d'une très grande chambre de 40 M2 avec un lit de 180 cm, d'une cuisine séparée avec micro ondes, 2 plaques électriques , frigo top , bouilloire, toaster, cafetière électrique et machine Nespresso (URL HIDDEN) d'une salle de bains avec lave linge et sèche linge . TV, DVD et WI FI . Location minimum de 2 nuits , à la semaine ou au mois . Possibilité selon disponibilité de location de plus longue durée . Très calme et confortable .Très beau parc . Vous trouverez dans la cuisine tout ce qu'il faut pour préparer vos petits déjeuners , avec pain frais et viennoiseries tous les matins . Mais aussi de quoi dîner pour votre arrivée ainsi que des boissons ,du vin, du porto etc... et des provisions de base gracieusement offertes , que vous ne trouverez nulle part ailleurs Parking dans la cour de la propriété . Beaucoup de restaurants alentour , transport facile à Orléans par la nouvelle ligne de tramway B , si vous ne souhaitez pas utiliser votre voiture . Quel que soit le but de votre séjour : tourisme , réunion familiale, voyage professionnel etc... vous apprécierez comme tous nos hôtes passés votre séjour parmi nous . Réservez en toute confiance : si Airbnb est assez récent , notre expérience de maison d'hôte est de plus de 14 ans ! Attention tarif basse saison de 90 € la nuit pour 2 personnes du 1er Octobre au 31 Mai. Haute saison du 1er Juin au 30 Septembre à 110 € la nuit pour 2 pers .
Un très tres bon accueil . L'appartement est décoré avec raffinement . L'entourage est calme et reposant pour un séjour professionel
Laurence
2012-09-08T00:00:00Z
Room Type
Entire home/apt
---
Property Type
Flat
---
Accommodates
2
---
Bedrooms
Saint-Jean-de-Braye, Centre, France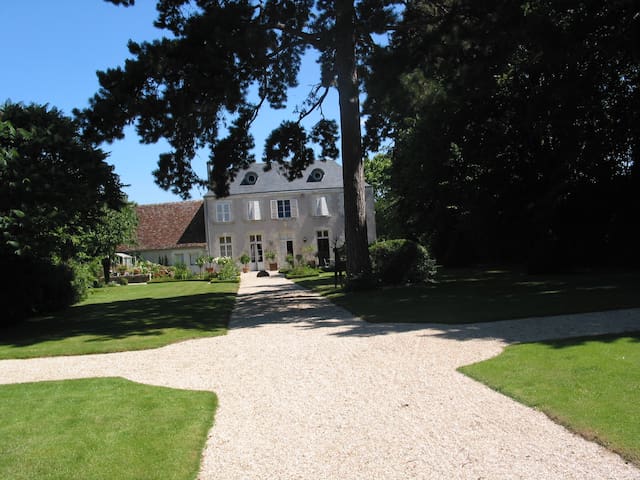 My accommodation is close to public transport and facilities for families. Enjoy my housing for outdoor spaces and brightness. My accommodation is perfect for couples, solo travelers, business travelers and families (with children).
Enchantée, logement dans la verdure et au calme. L'hôtesse est très sympathique.
Anne
2017-04-04T00:00:00Z
Un grand appartement très bien situé au sud d'Orléans. Le propriétaire est sympathique et accueillant. Les lieux sont propres.
Stéphanie
2017-03-21T00:00:00Z
Bonjour à tous, j'ai passé une très bonne nuit dans se logement qui est propre, bien rangé, bien équipé et fonctionnel, en plus de la place de parking. En bref excellent rapport qualité prix. Un grand merci à Sylvie qui est une charmante personne, tres accueillante et souriante. A renouveler
Balign
2017-03-22T00:00:00Z
Appart ok pour une nuit, spacieux. Environnement agréable au milieu des bois.
Stella
2017-03-31T00:00:00Z
Nous avons passé, mon père et moi, 2 nuits dans l'appartement de Sylvie. Le quartier est calme, nous n'avons rien à redire tout était impeccable.
Sabrine
2017-03-24T00:00:00Z
Beau studio dans un environnement agréable, bon accueil
dominique
2017-03-29T00:00:00Z
Room Type
Entire home/apt
---
Property Type
Apartment
---
Accommodates
2
---
Bedrooms
Olivet, Centre-Val de Loire, France
Welcome to this renovated apartment with quiet room and living room overlooking a private terrace with a nice view , just next to the Papal Palace , the Market Hall, the place of the clock , theaters, in the historic center
Convenient transportation convenience the environment is very good
sha
2017-02-14T00:00:00Z
Room Type
Entire home/apt
---
Property Type
Flat
---
Accommodates
8
---
Bedrooms
Saint-Jean-de-Braye, Centre-Val de Loire, France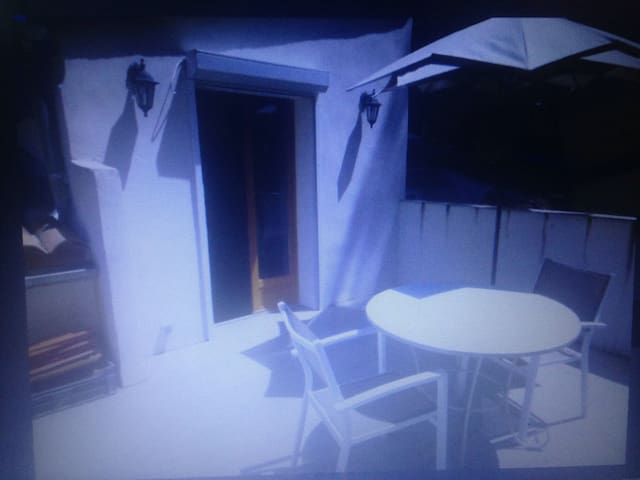 The Loire River next to the Pensjonat Relax Hotel, give you a relaxed living environment, a good place for the family to relax.
Room Type
Entire home/apt
---
Property Type
Flat
---
Accommodates
4
---
Bedrooms
Orlean, Saint-Jean-de-Braye, France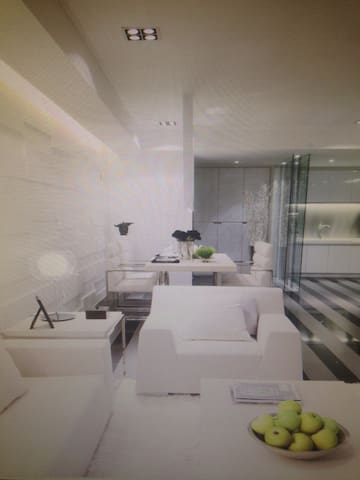 Appart design avec cuisine équipée et un canapé convertible pour accueillir jusqu'à 4 personnes. Profitez d'une belle terrasse verdoyante. Le tram est juste en bas de la résidence. Des commerces de proximité se trouvent à 3 min à pied (boulangerie, poste, tabac presse, franprix)
Atypique et design et possibilité de se garer facilement
situé proche commerces de proximité : tabac presse, pharmacie, centre médical, poste, franprix
It was great! David was very nice and even waited to pass the flat, when we were nearly 2 hours too late. The apartment was just beautiful and very clean. We would rent it instantly again, if we would still have the time for that. I can recommend this flat, it's perfect.
Janine
2016-09-25T00:00:00Z
David, the host provided me with precise information on how to approach the flat from the city centre. Since it is on the top floor (3rd) it is a bit of a physical exercise to carry a heavy suitcase up there, but it is totally worth it once you open the door! The flat was absolutely pleasant and clean, everything in order, even fresh towels were available. David has summarized the most important things about the flat on an information sheet, both in French and in English - which was very useful. I found it a very convenient place, I especially appreciated the rooftop terrace, where I could have my breakfast and dinner right under the blue sky, surrounded by lovely green plants. I definitely recommend this place to everyone who is looking for a neat, tidy and relaxing place in Orléans. It is about 15 minutes by tram to the centre, and the tram stop is really very close. I enjoyed my stay there a lot, and I will return with pleasure if I plan another journey to the region. It is an ideal starting point to discover the Loire valley castles. Thank you for the opportunity, David!
Agota
2016-07-21T00:00:00Z
The host canceled this reservation 41 days before arrival. This is an automated posting.
Clément
2016-07-19T00:00:00Z
Very modern apartment, equipped with everything you could ever need. The terace is really nice and you can eat there with fresh air and a nice view. Nice, quiet area with a boulangerie close by. Would recommend to anyone.
Cristian
2016-08-04T00:00:00Z
Fantastic apartment! Very comfortable, spacious with all the amenities we needed for a relaxing stay. The balcony area was great for having breakfast and dinner in the sun. Orléans centre was only 10 minutes by tram, the stop was just round the corner. Orléans is a very pretty city, definitely recommend staying here if you want to visit.
George
2016-07-14T00:00:00Z
Décoration de goût, propreté, très bon équipement, rangements fonctionnels. On se sent très à l'aise dans cet intérieur qui ressemble à un cocon. Bref une excellente adresse à un prix très raisonnable.
Christian
2016-12-27T00:00:00Z
Parfait, à 10min en voiture du centre. Exactement comme les photos et David est très sympa.
Apolline
2017-01-08T00:00:00Z
Super accueil et très bel appartement agence avec goût, très propre.merci david
Anais
2017-01-01T00:00:00Z
Room Type
Entire home/apt
---
Property Type
Apartment
---
Accommodates
4
---
Bedrooms
Orléans, Centre-Val de Loire, France
Belle chambre privé isolé dans un f2 de 55 m2 bien agencé tout près du centre d'Orléans à 5min proche des commodités (1min) et quartier agréable à vivre. Vous avez accès à tout le logement, le petit déjeuner et le ménage compris plus serviette de bain inclus.
Very hospitable and kind host, clean and comfortable the house which is in a perfect position (near to the city centre and pretty close to the tramway). :)
Lu
2017-01-20T00:00:00Z
Pleasant host
luc
2017-01-27T00:00:00Z
Je recommande Steve est super sympa.. La chambre chaleureuse..
Hermance
2017-02-02T00:00:00Z
Steve était sympa avec nous, son appart était bien nettoyé et pas trop loin du centre-ville.
Hassibe
2017-01-28T00:00:00Z
Très bien
yves
2016-12-30T00:00:00Z
Hôte courtois, agréable , accueillant, rien à redire , propreté ++ conforme à l'annonce , Tram au bout de la rue , commerces idem je recommande +++ Muriel
Muriel
2017-01-05T00:00:00Z
Steve est l'un des meilleures hôtes que j'ai rencontré depuis 1 an que j'utilise régulièrement Airbnb. Il saura vous accueillir avec le sourire et bonne humeur. Son appartement est conforme à la description, le lit confortable, la salle de bain juste en face de la chambre, la cuisine disponible et bien équipée pour préparer ses repas. Sans être dans le centre même d'Orléans, le logement de Steve est très bien situé et particulièrement bien desservi pour ceux qui, comme moi, voyage en transports en commun (le tram B qui est à 2mn à pied dessert le centre d'Orléans en moins de 10mn). Je recommande vivement. Vous ne regretterez pas votre choix.
Virgile
2017-01-14T00:00:00Z
Super accueil de la part de Steve, je recommande !
Jenny & Robin
2017-03-25T00:00:00Z
Room Type
Private room
---
Property Type
Apartment
---
Accommodates
2
---
Bedrooms
Orléans , Centre, France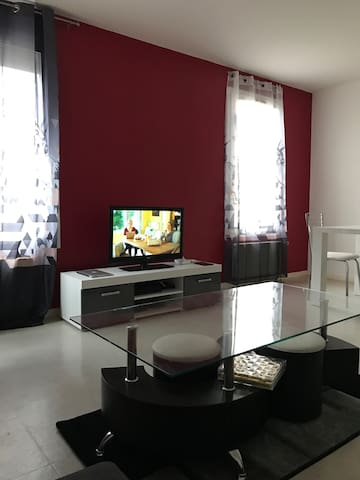 Deux-pièces fonctionnel, salle de bain avec baignoire. Des serviettes fournies. Possibilité de rajouter un lit parapluie pour bébé. Dispose d'une terrasse en enfilade. Station de tram proche. A 5 min en voiture du centre ville. Le petit déjeuner est offert.
Très proche des transports en communs et dispose d'une place de parking
Le dynamisme du quartier et sa grande proximité avec le centre ville.
the flat is cosy and clean. situated just in front of the tram station. Insaf tried to made you stay as pleasant as possible giving as prompt answers and full assistance. very good host
Mara
2016-09-13T00:00:00Z
The apartment has a good location, very close to a tram stop and close to the city centre. Furthermore, it was very complete, with lot's of new stuff and even some breakfast.
Ella
2016-09-10T00:00:00Z
A nice small apartment
Anton
2016-11-05T00:00:00Z
Accueuil cordial de la part de la sœur d'(URL HIDDEN) connexion internet serait bienvenue. Pour le reste, tout est conforme.
Manon
2016-09-24T00:00:00Z
appartement sympathique et fonctionnel petit déjeuner prévu et complet rien à redire
Marie-Pascale
2016-10-09T00:00:00Z
Appartement conforme à la description. Très calme. Très bonne literie. Très bonne organisation il ne manque rien peux être juste des rideaux aux fenêtres.
roxane
2016-09-18T00:00:00Z
Appartement conforme aux attentes , proches des transports et très confortable. Séjour parfait.
Lucas
2016-12-30T00:00:00Z
Parfait
Arthur
2017-03-18T00:00:00Z
Room Type
Entire home/apt
---
Property Type
Flat
---
Accommodates
4
---
Bedrooms
Orleans , Fr, France
Mon logement est proche de Donnery, village avec petits commerces 800m, Orléans 20km, La Loire 10km, la forêt 10km, centre commercial 10km. Mon logement est parfait pour les couples, les voyageurs en solo et les voyageurs d'affaires. Il est nécessaire de nous contacter pour connaitre la disponibilité.
Room Type
Entire home/apt
---
Property Type
Apartment
---
Accommodates
2
---
Bedrooms
Donnery, Centre-Val de Loire, France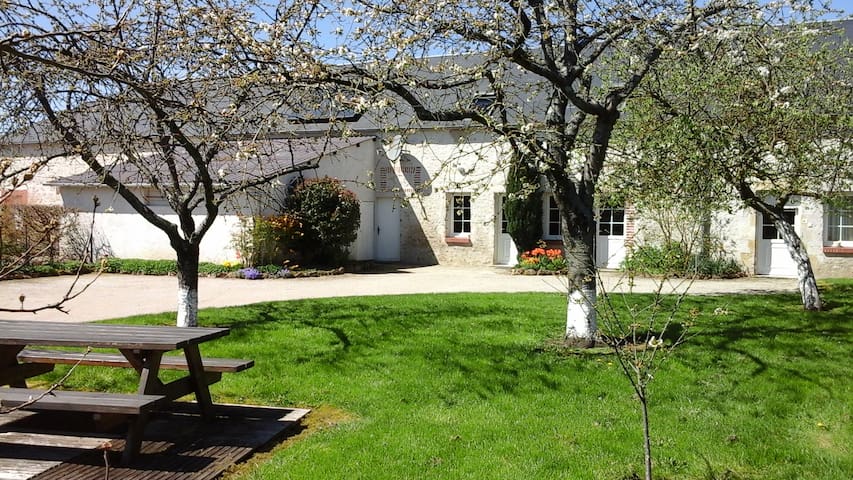 Mon logement est ancien, et son escalier en colimaçon vous séduira peut-être autant que moi!
I own a townhouse in short walking distance from the Orleans Cathedral (3 minutes) and near the train station (1 km), where I am offering a bedroom with en-suite bathroom. French breakfast included. Ideal stay of up to 3 nights. I occupy the two floors above the bedroom, which is on the same level as the living room and kitchen. My guests are free to use as they see fit - options range from sharing the fridge to sharing meals. I am happy to drive my guests around if they don't have a car, as long as they contribute to the petrol, according to my possibilities. Orleans was recently restored to its former beauty and boasts a wide pedestrian area from the famous river Loire to the Cathedral. My house is located very near 2 tram lines, which will notably take you to the beautiful Parc floral de la Source.
Le centre piétonnier, la Cathédrale, l'ancienne Mairie, sont vraiment très proches, et très animés dès que le temps le permet.
Our experience with Claude was great. She was very easy to communicate with, gave clear directions and made us feel very welcome. Her place is full of warmth and charm in addition to being clean and well organized. She provided us with maps, bottled water and an amazing breakfast in the morning. She is what makes airbnb stays great!
Filip
2014-05-19T00:00:00Z
Great location with very warm and welcoming host, Claude! Delicious breakfast!
Kadri
2013-10-26T00:00:00Z
Claude was a fantastic host! She took me in at short notice after a rain-drenched day on the Loire bike route. She helped me with my bike, all my wet clothes and even loaned me some dry clothes so I could go out and see something of the wonderful city of Orléans. The room she provided was comfortable, clean and welcoming. The location, so close to the cathedral and old city center, is excellent.
Angela
2015-09-18T00:00:00Z
It was a pleasure to meet Claude, who was a lovely host. We enjoyed conversing with her over a delicious breakfast. Her home is in a good location and is a great value!
Katharine
2016-04-20T00:00:00Z
Claude's apartment is very well located in central Orleans. The room is small but includes a wash basin and shower. Claude is very hospitable and gave map and advice on the city.
Ben
2015-06-22T00:00:00Z
We enjoyed our days in Orleans. Claude was very friendly and treated us very well. We would recommend Claude's house to anyone.
César
2016-08-25T00:00:00Z
We had a good time at Claude's home. Her hospitality is fine and we enjoyed the breakfast. our departure was not so fine: one of the bikes was stolen from the small place after the house , while we and Claude thought it was closed. Claude helped us at the police station and to rent another bike. And when the bike was found she helped to bring us to the police etc.
Henny
2016-09-10T00:00:00Z
Claude was the perfect hostess. She greeted me with tea and provided a great deal of information regarding Orleans. She made my trip to Orleans a pleasure by inviting me to eat dinner with her; breakfast was excellent. She also invited my to attend mass after breakfast with her friends and then provided me a short guided tour of sites on the return trip to her apartment. The accommodations exceeded my expectations and I would heartily recommend her apartment for a personable and enjoyable trip to Orleans. Blessings to her and her family.
Johnny
2015-09-16T00:00:00Z
Room Type
Private room
---
Property Type
Flat
---
Accommodates
2
---
Bedrooms
Orleans, Centre, France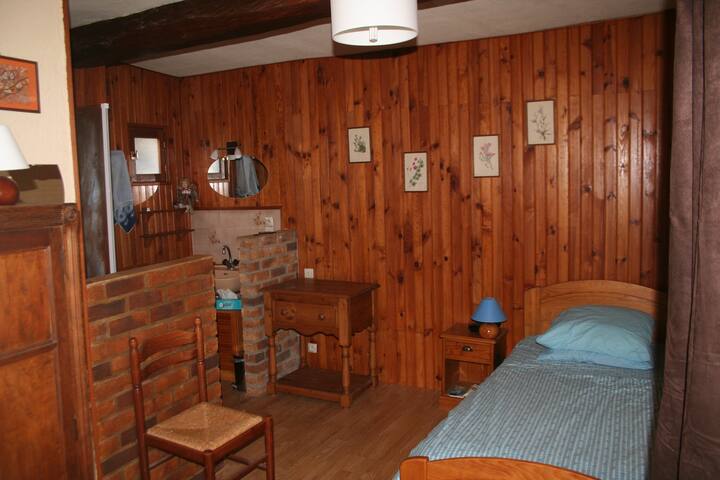 Mon logement est proche de la gare d'Orléans, centre commercial (hypermarché, boutiques, cinéma, poste, pharmacie, restaurants, fast-food,tram,bus, trains). Le centre-ville est à 5 minutes à pied. Vous apprécierez mon logement pour le lit confortable, le quartier, la cuisine et les espaces extérieurs. Mon logement est parfait pour les couples, les voyageurs en solo et les voyageurs d'affaires. Immeuble privé, sécurisé, propre et tranquille
Claudia is a very kind and nice host, and she checked everything for if I need any help or information . The flat is very close to the station and mall (supermarket), all the things are easy to reach. It was a pleasure to stayed her place, highly recommended!
Yaya
2017-04-01T00:00:00Z
Excelente ubicación en Orleans y excelente trato por parte de los anfitriones. Gracias!! Excellent location in Orleans and the treat by Claudia was awesome!!. Thankyou
Yuri
2017-03-11T00:00:00Z
J'ai été très bien accueilli par Claudia et sa fille. Se sont des personnes très gentille et toujours disponible pour leurs hôtes, la chambre était conforme aux photos. J'ai très bien dormi dans cette chambre calme à la déco sympa. Je recommande cet endroit.
Coralie
2016-11-25T00:00:00Z
De l'accueil, la communication à tout ce qui est disponible, c'est proche de la perfection
MICHEL
2017-01-13T00:00:00Z
je vous recommande vivement la chambre de claudia,chambre sympa ,lit confortable,hote très sympathique et acceuillante,fais tous pour vous mettre a l aise très proche du centre,accès a pied . parfait
sebastien
2016-11-20T00:00:00Z
Ayant réservé moins d'1h avant d'arriver, Sonia a été vraiment très flexible et arrangeante, une hôte très agréable et sympathique. La gentillesse de Sonia et l'emplacement privilégié (a vraiment 2 minutes à pied de la gare) font de cet appartement un excellent choix pour séjourner à Orleans. Aucune mauvaise surprise: bel et très propre appartement, chambre très jolie et calme avec une bonne literie, j'ai vraiment très bien dormi et j'y retournerai les yeux fermés. Pour ceux que la présence d'un chien rebuterai, malgré ma peur des animaux je n'ai absolument pas senti la présence de son petit chien, vraiment très mignon et bien éduqué (je ne l'ai pas entendu une fois). Excellent séjour. Merci Sonia.
Tasnim
2016-10-12T00:00:00Z
magnifique accueil; sens de l'hospitalité et convivialité ; grande qualité des échanges; Séjour enrichissant à bien des égards
MICHEL
2016-10-28T00:00:00Z
A deux pas de la gare donc ce qui a été très pratique.
Marie
2017-03-29T00:00:00Z
Room Type
Private room
---
Property Type
Apartment
---
Accommodates
2
---
Bedrooms
Orléans, Centre-Val de Loire, France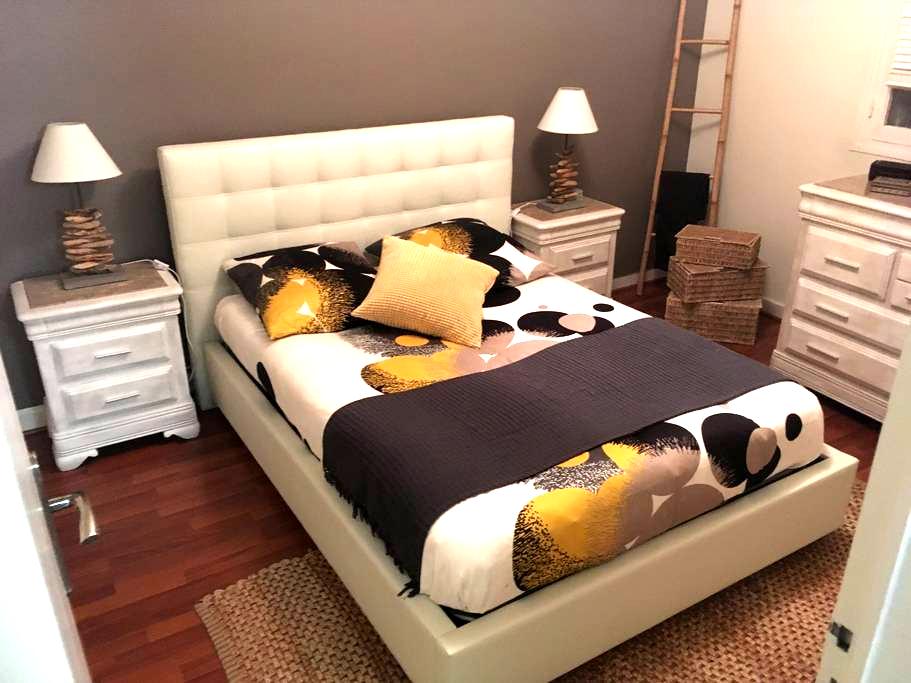 1

–

18

of

294 Flat Rentals
Enter dates to see full pricing. Additional fees apply. Taxes may be added.