Very well finished aptartment with all of the normal services, very comfortable & clean, hardwood floors,includes pool/snooker table and infra red sauna,free use of 2 adult bicycles, beautiful views from balcony(incl croagh patrick!),yet only 8 mins walk to to town centre where there is always usually something to do, 10 mins drive to Knock shrine,20 mins drive to knock west airport, 30 mins drive to Westport/croagh patrick
very comfortable leather sofa, sauna, instant hot water in shower, clean towels
claremorris is situated exactly in the centre of connaught. Visit Claremorris Heart of the West Pay a visit to Claremorris (URL HIDDEN) FRAMEPRODUCTIONS
We had an OK experience at Declan's: The apt was quite spacious, but not very clean and a wee bit run down (bathroom, kitchen). This said Declan was helpful and welcoming and it is ok for a one night stay. And, we enjoyed the billard!
Bénédicte
2016-06-30T00:00:00Z
Dec was a great host, friendly and welcoming, he came to pick me up from the bus. He has lived in Claremorris all his life and knows everything about the town. The accommodation is very spacious and comfortable, great view from the balcony, comfy bed and very good hot shower. Highly recommended, great value.
anne
2015-09-24T00:00:00Z
Lovely and spacious house where you can relax both in a IR sauna and a large sofa. We arrived in a dark and rainy evening on a short notice. Thank you for everything, it was nice to stay overnight!
Kari
2016-03-09T00:00:00Z
fun perks, sauna!
Brenda
2016-12-28T00:00:00Z
Dec ensured that he was home to suit my time of arrival and was there to show me around the apartment and to answer any questions. He was easily contactable and quick to respond. The apartment is private and self contained and really spacious and visually appealing with lots of wood in use in the finishes. The apartment is in a quiet area close to the town and Tesco's supermarket is a short drive away. I can confidential recommend it as a comfortable place to stay and within easy access of main routes for travel around the region.
Pauline
2016-06-04T00:00:00Z
Can't thank Declan enough! Had an amazing weekend away! Appartment is a brilliant place, spacious and comfortable. All essentials were provided. Views are stunning and ideally located for the town itself. Declan is a wonderful host and we are already planning a return visit and looking forward to it. Thanks again for having us.
Gayle
2015-10-27T00:00:00Z
Declan was on hand to sort things out. The accommodation was super big and just as described. TV needs upgrading though! And some of the splash-back areas could have been a tad cleaner. No real problems. Declan was a cool chap, very friendly and shared his knowledge of the town. Id stay again for sure.
paul
2016-09-08T00:00:00Z
Lovely apartment, clean, tidy, great location everything it says in add is accurate
Ger
2017-01-29T00:00:00Z
Room Type
Private room
---
Property Type
Loft
---
Accommodates
3
---
Bedrooms
claremorris, Mayo, Ireland
The Cosy Loft is a modern holiday apartment 300 m from Cong village. It is located in a quiet place surrounded by trees.
Situated on the edge of a woodland, this tranquil getaway is an ideal base from exploring all Cong village has to offer. It is also the perfect base for exploring Connemara and Mayo.
Cong is one of the most beautiful villages in Ireland, with spectacular scenery and endless activities to keep you occupied throughout your stay. Cong is also steeped in history and heritage, with The Royal Augustinian Abbey dating back to 623 AD. Cong is home to Ashford Castle Hotel & Estate, recently voted the worlds No.1 hotel. Cong is an island village nestled between Lough Corrib and Lough Mask which are both renowned fishing lakes. Cong wood is on our doorstep where you can walk/run/mountain bike on its many trails. If you prefer road cycling we also have some of the most scenic routes in the country. Bikes can be rented locally. Horse riding, falconry, clay shooting, archery, zip wiring, bike tours and kayaking are just some of the many activities available locally. Cong is also a foodies delight with many award winning restaurants, cafes and bars.
We loved staying at this very cute little loft apartment. It's exactly as pictured: clean, cozy, and well-equipped. Sinead even left us delicious brown bread and eggs. Thank you!
Zoey
2016-08-12T00:00:00Z
The Cosy Loft Apartment was a great place to stay to spend some time in Cong. Sinead was a gracious host and gave us a great recommendation for a place to eat dinner. The apartment was exactly as shown on the listing, and it was very clean and comfortable. We loved that it was within walking distance to all the exciting things going on in Cong. We would definitely recommend staying here.
Emily
2016-07-30T00:00:00Z
I would recommend staying at Sinead's cosy apartment. My family and I stayed only one night at Sinead's apartment, and we wished it were longer as it was perfect for us. It is very clean and the beds were comfortable, the kitchen has everything you need, it is indeed a cosy place. Sinead was also very accommodating about changing the day we stayed, as our flight was delayed. The apartments location is within walking distance to everything you need to see in Cong. It was always a wish of mine to see this little village and it will be a cherished memory. Thank you Sinead. PS My family fell in love with the dog.
Paula
2016-01-08T00:00:00Z
This was my first time using Airbnb, and Sinead and the Cosy Loft made it an enjoyable experience. The loft, ideally situated in Cong, was homey and immaculately clean. Sinead was very hospitable, easy to talk with and gave some good recommendations for local places to eat. Our only wish is that we had stayed longer to truly take advantage of all that the Loft and Cong have to offer!
Beth
2016-04-27T00:00:00Z
Excellent stay at Sineads loft apartment with our family. Sinead was very helpful and the apartment was just perfect. Just on the edge of Cong (2 mins walk) and situated by a nice wood. The apartment was clean and had everything we needed for a small family. My 3 year old son loved the trampoline! Highly recommended if staying in Cong or if visiting Mayo in general.
Ursula & Ruaidhri (Rory)
2016-04-25T00:00:00Z
The Cosy Loft apartment was a lovely place to stay. It is decorated beautifully and has everything that you would need. It's clean and has a comfy bed. Most of all we appreciated being able to do some laundry and get it dry, an essential for travellers. Sinead is a very pleasant host and helpful in advising us about local sights to see. I would highly recommend this apartment
Gaye
2016-09-22T00:00:00Z
Fantastic stay at this cosy little flat. Sinead was amazing helpful before we arrived, even leaving a couple of bits in the fridge, and providing a cot, mat and bouncy chair for our 3 month old son. Very close to the heart of Cong and a beautiful part of the world.
Jack
2016-05-31T00:00:00Z
Gorgeous loft and very accommodating hosts. Would have loved to spend more time exploring the town as well
Heather
2017-01-02T00:00:00Z
Room Type
Entire home/apt
---
Property Type
Loft
---
Accommodates
2
---
Bedrooms
Cong, Mayo, Ireland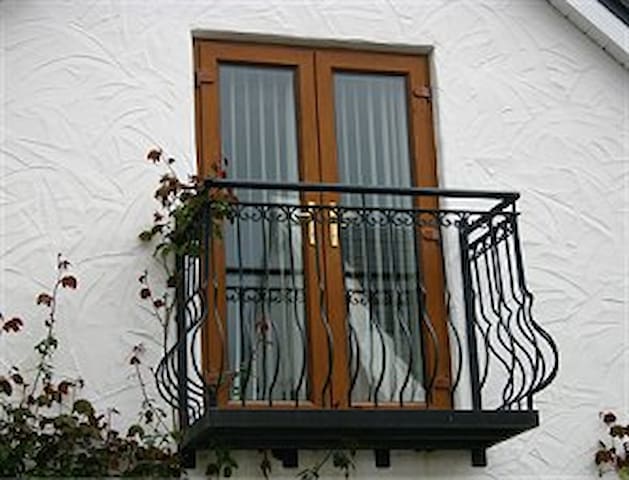 Holly House, this listing is an attic it can accomadate 7 people either together as a unit or seperate bookings on each room.
Room Type
Entire home/apt
---
Property Type
Loft
---
Accommodates
7
---
Bedrooms
Westport, County Mayo, Ireland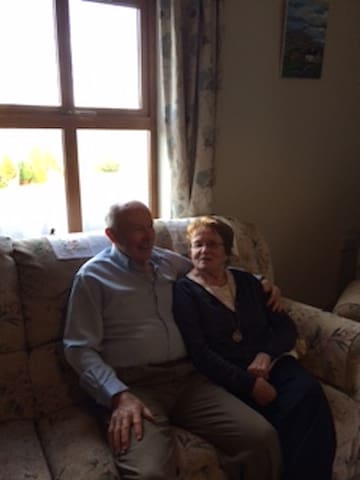 The loft apartment is not attached to the main house. It has a large kitchen, diner and sitting area. The bedroom is just off the main room and has an en suite bathroom. The apartment overlooks the Atlantic Ocean
We are on hand to offer local service advice or give directions and aim to give guests a peaceful and restful stay. The apartment offers an excellent base for local touring. Open countryside and ocean views surround the building.
Easkey is a very small country village it has two pubs, two grocery shops and a few food outlets. We are a 10 minute walk into the village.
Great location, clean, well set up.
Jennifer
2015-08-11T00:00:00Z
My daughter and me spent a week in Ocean Sound's self-catering apartment, and we loved it. The apartment itself is brand new, and offers a lovely view on the Atlantic. On top of that Stuart and Frances offer great service within range of a s/c place; like regularly asking if you are okay, changing the bins, changing towels and bed linen. The location is a dream come true; we really enjoyed being near Easkey River and the ocean. We found the people in the village very friendly too, and had great lunches at the Pudding Row. Easkey is the place to be for anyone looking for a calm and beautiful place right at the Atlantic coast, without the usual tourism business. Plus, there were two cats in the yard to caress - a joy for my daughter. Thank you so much Stuart and Frances!
Maria
2016-08-23T00:00:00Z
We very much enjoyed our stay with Frances. The apartment was very spacious and the kitchen was perfect for cooking. The castle and the beach were a short walk away and the town was quiet and peaceful. I do recommend renting a car to get around to see the sights!
Amber
2015-07-08T00:00:00Z
We stayed 5 nights in this beautiful place And we didnt want to leave it;) The place is great with A Nice view over the sea with beautiful lights;) Easky is A nice village where we can see surfers from the Windows And fisherman in the river. Frances And her husband where always hère And ready to Help if needed. Thanks again! Take Care, Marion, Daniel And Basile
Marion
2016-08-15T00:00:00Z
Room Type
Entire home/apt
---
Property Type
Loft
---
Accommodates
2
---
Bedrooms
Easky, Sligo, Ireland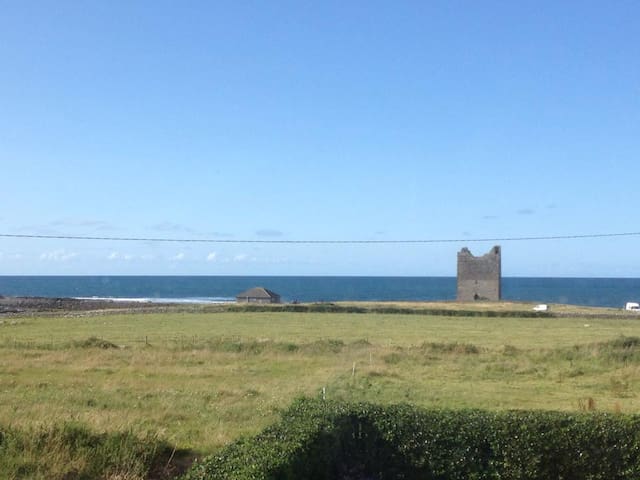 Arriving in Galway, city of culture, there is no better place to stay than our luxurious penthouse, steps from all the wonders of Galway.
"No two people live in the same city," wrote Rebecca Solnit in her book Infinite City. "A city is many worlds in the same place." We all have our own versions of a city, our islands of familiarity and straits of routine. Galway is my city, my hometown. And I admit to a certain amount of bias when talking of the pleasures of Galway. It is a city steeped in Art, Culture, Festival and Fun. We all have a strong need for transcendence , mystery and adventure. Galway, by its nature, can answer these needs. It is a town full of mystery and adventure. And the people as dramatic and welcoming as the landscape in the West of Ireland. Why not visit and see for yourself? Our luxurious apartment right in the heart of the city is a perfect base for you to visit Galway the West of Ireland.
We had a wonderful time staying at Elodie's place, it is extremely central and such a lovely apartment. Very nicely decorated and the balcony is such a treat. Would definitely stay again and highly recommend.
Camille
2015-09-16T00:00:00Z
Wonderful, comfortable place in a very convenient location. We loved it and would recommend wholeheartedly! Hope to be back! Thanks!
(EMAIL HIDDEN)
2016-09-21T00:00:00Z
Elodie's Dad picked up me and my friends at the train station and gave us a quick walking tour on the three block walk back to the apartment. At the end of our stay he was kind enough to drive our luggage to the station. We were thoroughly charmed by him. This apartment was the perfect landing spot for adventures in Galway and beyond. We ended each night with a whisky on the private roof patio. There was plenty of space for the five of us. The fridge was stocked with a few basics, most importantly Irish cheddar cheese! There was no noise from the street or neighbors except for seagulls. We found Galway to be a very walkable city and Elodie's apartment the perfect place to do it from. The King's Head pub (one of our favorites) is just around the corner, the harbor is 5 minutes walk away, Eyre Square 5 minutes the other way. The grocery store is right there too in an indoor shopping center, which surprisingly has a big bit of the original wall from Norman times. My advice: go to Galway and stay at Elodies.
Jeremy
2016-07-07T00:00:00Z
What a fantastic place to stay in Galway! And we couldn't have asked for a nicer, more helpful host. The beautiful apartment was spotless, well appointed, and in a terrific location. Elodie went out of her way to welcome us and help us with local tips and tricks. We are a family of four, and we found this apartment to be an ideal arrangement for a couple with two teenagers. Everyone had their own space with lovely common areas. We can't praise this listing and this hostess enough. Thank you Elodie for making our visit to Galway fun and hassle-free! We hope to be back!
Matthew
2015-07-05T00:00:00Z
We had a lovely time at this great apartment in Galway. It was spacious, clean and in a perfect location! Elodie was out of town but her father, Clarence, was wonderful. Attentive and communicated regularly. It was a quiet apartment with comfortable beds and very clean. We all slept soundly! The only complaint I would have is that we had to run out and purchase soap for the baths and paper towels for the kitchen. Small inconveniences. We would stay here again. Thank you!!
Betsy
2016-08-10T00:00:00Z
Location was wonderful. Walked out of apartment and you are in main part of town! Apartment was spacious and had all the amenities that you would expect. All 5 of us (all adults) were very comfortable. Would definitely give this place a thumbs up!
paul
2015-09-06T00:00:00Z
This home was a beautiful place to stay for three nights. There was enough room for 5 people (the 2 bathrooms to share definitely helped with that). The apartment is near the Latin Quarter (great restaurants and pubs) and Eyre Square in central Galway, which is a very walkable area. It is a short walk from several bus stations, which are great for getting around Galway and the country itself. Highly recommend, especially for the warm welcome from Elodie and her dad.
Catherine
2017-01-01T00:00:00Z
enjoyed our visit......all went smoothly
Suzanne
2016-08-13T00:00:00Z
Room Type
Entire home/apt
---
Property Type
Loft
---
Accommodates
5
---
Bedrooms
Galway, Galway, Ireland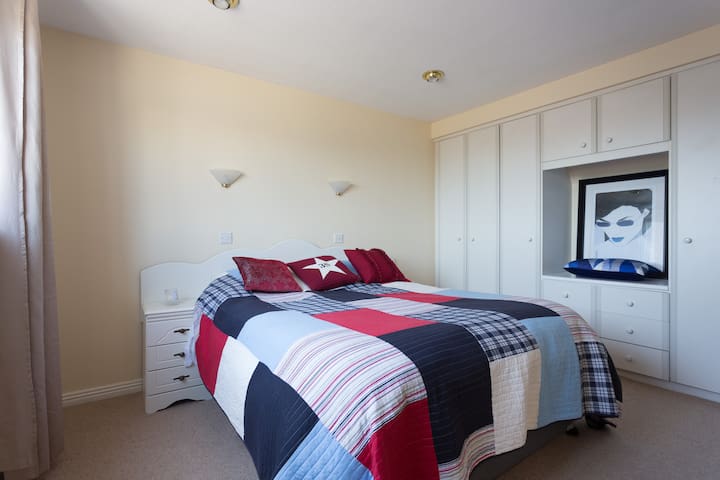 Castlebar - Airbnb
:
Average

4.76

out of

5

stars from

128

guest reviews
Enter dates to see full pricing. Additional fees apply. Taxes may be added.