Guesthaus Bolków is located in Bolków. There is a full kitchen with a refrigerator and kitchenware etc. You can enjoy garden view from the room. Extras include a barbecue, an outdoor seating area and bed linen.
W tym miejscu może wygodnie zamieszkiwać 8 osób. Jednak sypialnie pomieszczą maksymalnie do 10 osób, oraz 2 dodatkowe w salonie. - 4 sypialnie - salon z kuchnią - 2 łazienki - miejsce do wypoczynku w ogrodzenie - miejsce do parkowania
Jest to wspaniała baza wypadowa do zwiedzania tej części Dolnego Śląska. W okolicy jest wiele atrakcji i urokliwych miejsc takich jak: Sudety, Śnieżka, Kościół Pokoju, Bazylika w Krzeszowie, a przede wszystkim wiele zamków z tym w Bolkowie na czele. Bolków jest położony w malownieczej Krainie Wygasłych Wulkanów. Nad miastem góruje Zamek Bolków. W okolicy wiele atrakcji. m.in.: Zamek Świny Zamek Lipa Zamek Bolczów Zamek Książ pod Wałbrzychem (URL HIDDEN) Palmiarnia Wałbrzyska (URL HIDDEN) Kościół Pokoju Ducha Świętego w Jaworze (UNESCO) Kościół Pokoju w Świdnicy (UNESCO) (URL HIDDEN) Muzeum Gross-Rosen (obóz koncentracyjny) w Rogoźnicy (URL HIDDEN) Kolorowe Jeziorka (URL HIDDEN) Rudawy Janowickie ze skałkami Sokoliki, Schronisko Szwajcarka (URL HIDDEN) Podziemna trasa turystyczna "Arado" w Kamiennej Górze (URL HIDDEN) Sanktuarium Matki Bożej Łaskawej w Krzeszowie (URL HIDDEN) "Dwunastu Apostołów" - domy tkaczy (URL HIDDEN) Muzeum Przemysłu i Kolejnictwa na Śląsku w Jaworzynie Śląskiej (URL HIDDEN) Bazylika Świętych Apostołów Piotra i Pawła w Strzegomiu (URL HIDDEN)
The house in quiet nice area of Bolkow, near city park, close to center and castle. House is big and clean, was recently renewed so kitchen is still under construction but we were provided with anything we needed by nice owners. Big garden for kids to play. House in good location to explore Karpat and Sudete mountains.
Alex
2014-08-15T00:00:00Z
Very luxurious experience in Poland! And the price is very appropriate!
Kevin
2016-03-27T00:00:00Z
The reservation was canceled 48 days before arrival. This is an automated posting.
Felipe
2014-11-12T00:00:00Z
Wszystko w najlepszym porządku! Bardzo ładna okolica. Mieszkanie czyste, zadbane i funkcjonalne. Pan Paweł był bardzo miły, powitał nas bardzo serdecznie i oprowadził po okolicy. Bolków to urocze miejsce, szczerze polecamy.
Marcin
2014-07-04T00:00:00Z
Das Gästehaus Bolków ist eine gemütliche Unterkunft mit moderner Küche und Badezimmer. Wir waren über Silvester als Gruppe acht junger Leute dort. Für acht Personen ist es genau richtig. Wenn man gerne wandert und die Natur genießen will ist die Gegend zu empfehlen, insbesondere der Landeshuter Kamm. Pawel haben wir leider nicht persönlich kennen gelernt, aber seine Eltern haben uns freundlich empfangen und Pawel hat immer schnell auf unsere Fragen geantwortet.
Michaela
2017-01-01T00:00:00Z
Gospodarze bardzo mili i pomocni. Okolica piękna, można bardzo dużo zwiedzić, świetne miejsce na spacery. Niedaleko termy, huta, wodospad Kamieńczyka, a zamek w Bolkowie to właściwie pod domem. Miejsce świetne również na pobyt z dziećmi - na przeciwko domu duży plac zabaw. Dom przestronny, jeszcze nie calkiem wykończony, za to ciepły i czysty. Jak brakuje jakiś sprzętów domowych, gospodarze chetnie dostarczają swoje. Jestesmy bardzo zadowoleni i polecamy wszystkim gorąco :)
Anna
2016-01-03T00:00:00Z
Miasteczko ciche i spokojne z klasyczną tania jadłodajnia w centrum. Dobre miejsce wypadowe na okoliczne zamki i pałacyki. Mili mieszkancy. Kwatera super się sprawdzi dla 4 rodzin. Wszystkie udogodnienia na miejscu. Za płotem duży plac zabaw dla dzieci.
Weronika
2016-05-04T00:00:00Z
Miły gospodarz, dobra lokalizacja, dobre warunki, dobra cena. Dużo atrakcji historycznych w okolicy. Miejsce godne polecenia.
Marek
2015-06-29T00:00:00Z
Room Type
Entire home/apt
---
Property Type
House
---
Accommodates
12
---
Bedrooms
Bolków, Lower Silesian Voivodeship, Poland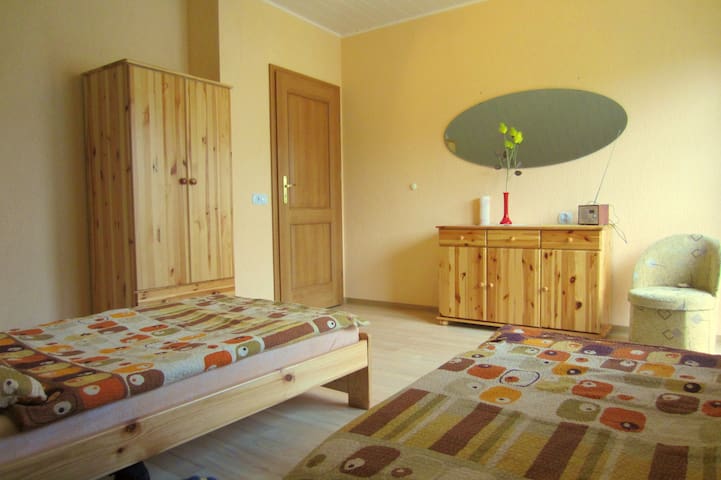 Old house with a soul. For rent 10 rooms, including 5 double rooms and 5 family rooms (4 beds). Peace and quiet, close to many historical sites. Cycling, walking, sightseeing, nature, ecology, live music from time to time, fireplace. Welcome to Poland.
A small village in the Sudetenland. Peace and quiet unique trip. We are Europeans. We will help you feel at home. Welcome.
Room Type
Private room
---
Property Type
House
---
Accommodates
4
---
Bedrooms
Bolków, Lower Silesian Voivodeship, Poland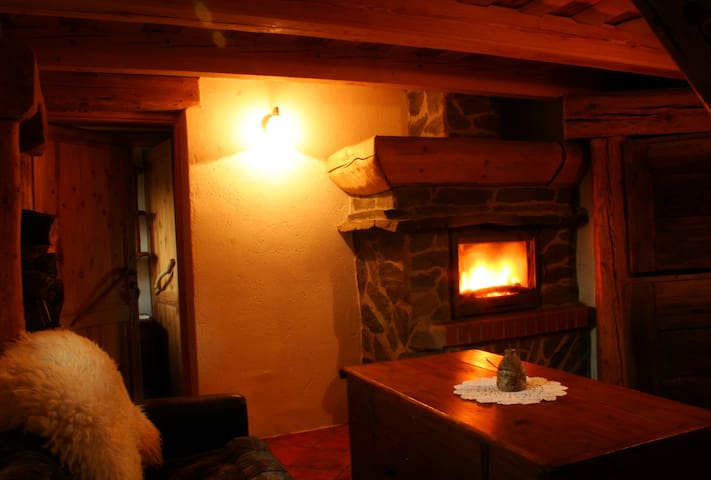 Our cosy, countryside cottage, is located is in splendid surroundings of Rudawy Janowickie. Phenomenal rock climbing areas, great for hikes, mountain biking and horse back riding. Excellent spot for families, friends and couples. The accommodation is a mountain cottage standard in an old countryside house, with well equipped kitchen. Best for people who like outdoor, camping, bonfires and feel comfy with nature at hand, animals and horses grazing by the window.
Our guests will stay at a room with adjacent kitchen and bathroom. The room can host comfortably 5 persons, but we offer possibility of additional bed. The kitchen is fully equipped with fridge, microwave, cooking stove (for 3 pots), coffee maker and toaster. It has all necessary utensils, plates and pots for cooking. Our guests define the place as a small independent apartment. We recommend our guests to come with their own sleeping bags. As the space is shared by several people, it is more clean and convenient to move the sleeping bags during the day. We provide clean bed sheets. If the room is rented for 2 - 3 people we provide also the bedding and towels - in the price. For more people only bed sheets. The room is available all year long and it has a chimney for wood, as a heating system. It is very warm in winter. There is no other heating system. The bathroom has also additional electric heater. The house is easily accessible from the main road in Mniszkow, which ends at the entrance of the Landscape Park. The area offer a lot to see in summer. In summer you can simply stroll around for hours without moving your car - go for rock-climbing, bike rides, nordic walking or enjoy spending time with our horses. You may also choose site seeing in the neighborhood (Karpacz, Szklarska Poreba - all approx. 30 km) or going for hikes in Karkonosze. Also, you may want to go for a beer to Czech Republic (30 km) or even pay a visit to Prague (approx. 3 hrs). Depending, whether you come from big city and are dying to find peace of mind. Or you want to dive into the wildlife or nightlife, let us know in advance and we make sure you have all the info you need.
Our guests appreciate that they can freely walk among horses, that are not kept in stables. They also praise tranquility and quiteness, that allows you to have real rest from the city buzz.
It is a lovely rural place to relax and take your time without beging stressed. You can step out of the door go hiking, take pictures from the landscape or just relax at the fireplace. The sky by night is amazing!!! Ewa was very kind and helped us when we had a question.
Svenja
2017-01-04T00:00:00Z
The host canceled this reservation 4 days before arrival. This is an automated posting.
Magdalena
2016-08-10T00:00:00Z
This is a really special place. If you need to slow down and get back to basics and nature this is a wonderful option. Ewa and Robert and perfect hosts, charming, funny and helpful. The highlight for our 3 kids were the horses, they wandered amongst them ever day and loved the riding. My wife and I had some amazing rides out amongst some truly beautiful woods and valleys, riding through streams and up steep inclines. All the time being followed by a dog and a couple of free horse who just follow along "for the ride", it is really surreal.. Robert and Paula (who is also wonderful with the kids, they loved her) took us climbing and the kids tackled spectcular rock faces, columns, and the fantastic absail from down Falcon Rock (The kids had to do it 4 times!) The evening we slept out in the field under the stars by a campfire. It will be a holiday the kids will never forget. Highly recommended
Mark
2016-08-06T00:00:00Z
Ewa really awsme person! Her husband Robert handyman, they always have something new and interesting. One of the best places I've ever seen. Nature, lake, hills, forest, fishing, mushrooms, etc. and etc. I advise everyone to a healthy holiday at Eva and Robert.
Artem
2016-08-20T00:00:00Z
We weren't sure what to expect, but ended up having an enjoyable stay. The surrounding hills and forests are so beautiful that we decided to stay there and do some horse riding and hiking instead of sightseeing in a nearby city. The horses are all very gentle and my 11-year-old fell in love with them. An interesting castle ruin is a short 30-minute hike away. With a wood-burning stove and spartan kitchen the accommodations are rustic, but good WiFi. Owner is very friendly and helpful. Off the beaten path, but glad we went
Darlene Dion
2016-05-09T00:00:00Z
Amazing place !!! Based in Rudawy Janowickie. Real great to rest, breath and feel yourself. Place is full of nature and breathtaking landscapes. Owners are friendly family which loves their life, horses and climbing. I totaly recommend this house !
Maciej
2016-04-11T00:00:00Z
The host canceled this reservation 80 days before arrival. This is an automated posting.
alex
2016-10-07T00:00:00Z
Awesome scenery, nice flat with everything you need. Good communication with the host. Would love to spend more time there :-)
Benedikt
2016-09-18T00:00:00Z
Room Type
Entire home/apt
---
Property Type
House
---
Accommodates
5
---
Bedrooms
Janowice Wielkie, Lower Silesian Voivodeship, Poland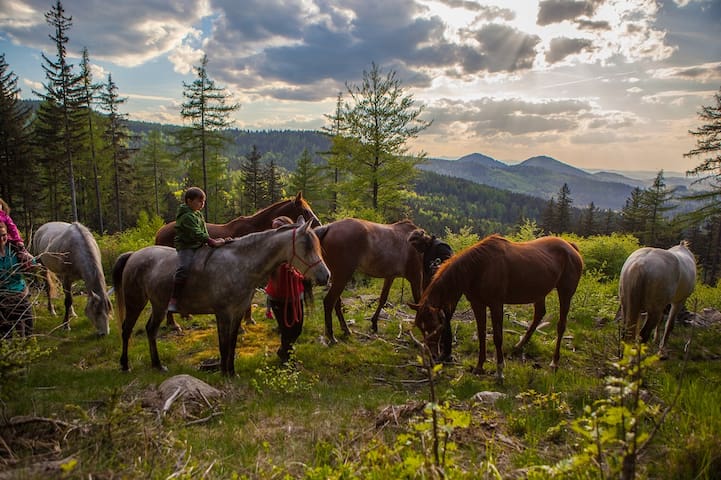 Stylish wooden house for 6 or 8 people with a covered terrace, cozy fireplace, decorated in country style. In the house is a lot of space to comfortably spend time during the day and night .
We would like to invite you to our country style wooden mountain house for 6 or 8 people. It's located in Poland, Lower Silesia - Karkonosze Mountains (Giant Mountains), near Janowice Wielkie (about 100 km from Wroclaw and 180 km from Prague) The cottage has cozy fireplace inside and large terraces with great mountain view. In the house is a lot of space to comfortably spend time during the day (a large living room with fireplace, covered terrace) and night (two cozy bedrooms) and fully equipped kitchen. House size is 80 square meters. "Sand Horse" Cottage is placed on an extensive two-hectare parcel with small fish ponds and mountain stream. Therefore you do not have to worry about the neighborhood. Cottage is surrounded by meadows, forests, hills and beautiful views. On the terrace you may use a lockable storage room for various equipment (bikes, skis, saddles, carriages, etc.). There is also patio furniture (table, bench, chairs and sun loungers). On ground floor you may use a spacious living room with fireplace, bathroom and a fully equipped kitchenette. Time spent in the living room with a burning fireplace will surely unforgettable. There is also audio-video equipment available (TV, DVD, CD). The kitchen is fully equipped with everything you need for convenient food preparation. For our guests complete tableware (plates, cups, cutlery, etc.), set of pots for cooking on an induction cooking, dishwasher electric kettle, coffee maker and microwave are available. There is a children's high chair available. For your comfort, there is also two separate bathroom with a shower. There are two bedrooms located on the floor of the house. In each of these there are three single beds. If necessary, the bed can be put together. For one of the bedrooms also belongs bathroom (shower, basin and toilet). A baby cot is available. Through bedroom windows you can admire a beautiful view of the Rudawy Janowickie mountains, Kaczawskie mountains and Valley of Bóbr river (Rudawski Landscape Park). Around the the cottage, all guests may enjoy a lot of space. Extensive parking, fish ponds, fireplace, grill, playground ... Parking is located next to the cottage and it's used exclusively for our guests. Within 100 meters there are no other buildings. All guests can enjoy free wireless internet access (Wi-Fi). In the meadows near the cottage can be found deer, hinds, but also smaller animals, like badgers. With luck you may also witness the deer rut.
The Rudawski Landscape Park is situated in the southern part of Lower Silesia, on the border of the Western and Central Sudetes mountains, part of an ancient range. Hikers in turn can choose from routes diverse in their scenery, covering not only rock formations, valleys and lakes, but also numerous monuments of architecture (castles and palaces) as well as extensive park and palace complexes, such as those in Bukowiec and Karpniki. An attractive route for active tourists could be the trail running along the main ridge of the Rudawy Janowickie towards the Giant Mountains, for which Janowice Wielkie is a good starting point.
Room Type
Entire home/apt
---
Property Type
House
---
Accommodates
8
---
Bedrooms
Janowice Wielkie, Dolnoslaskie, Poland
GUEST HOUSE We offer comfortable rooms with a shower and WC in a very quiet part of the spa – Szczawno Zdrój. all rooms are equipped with cable TV, free internet, bathroom and a fridge free off-street fenced car parking with an alarm we speak german and english negotiable prices for larger groups and long time stay you can order all meals or some of them our kitchen facilities are also at your disposal, if you want to cook on your own VAT invoices Our guest house is often visited by many workers and representatives of foreign companies who are always pleased with our services. WE CORDIALY INVITE YOU TO VISIT OUR GUEST HOUSEPRICE LIST Our home offers a wonderful combination of city living with great local amenities all in a private space of your own in a safe and comfortable home. Thanks so much for viewing and have a great day!! We would be happy to introduce you to the neighborhood and help with directions or planning itineraries if you like!
Dużo zabytków.Piękne trasy do wędrowania o rożnej skali trudności.Najbliżej zamek KSIĄŻ-dawna siedziba Hochbergów Furstenstein
Room Type
Private room
---
Property Type
House
---
Accommodates
10
---
Bedrooms
Szczawno-Zdrój, Dolnoslaskie, Poland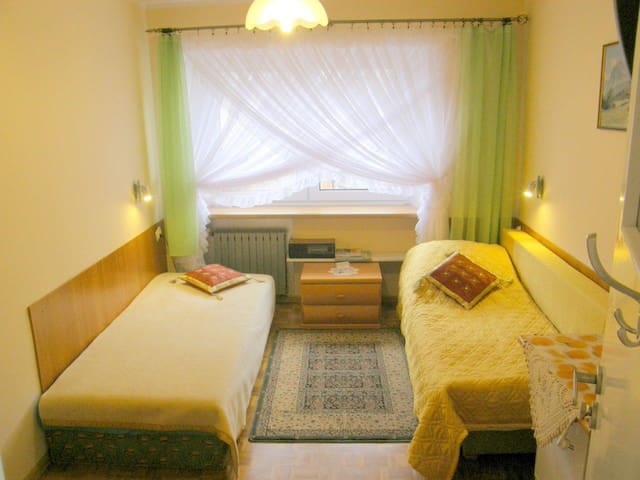 Gościnny domek wzniesiony pod koniec 20 wieku zgodnie z wzorcami architektury górskiej oferuje wypoczynek we wspaniałej lokalizacji:Jelenia Góra z widokiem na Śnieżkę oraz w pobliżu Szklarskiej Poręby i Karpacza.
Jest to miejsce magiczne - w leśnym zaciszu ale w pobliżu najważniejszych atrakcji Jeleniej Góry i miasteczek górskich - miejsce, które oferuje komfortowe zakwaterowanie dla całej rodziny lub grupy przyjaciół. Dla osób szukających ucieczki od hotelowego zgiełku mój domek może stanowić doskonałą alternatywę. Pobyt w tym 3 pokojowym domu wraz z dużym salonem, 4 łazienkami, ogromnym ogrodem z możliwością użycia pieca grillowego pozwoli Państwu na odzyskanie spokoju ducha i ucieczkę od trudów dnia codziennego. Dołożę wszelkich starań, byście u mnie poczuli się jak w domu.
What a lovely house in a pleasant town with easy access to the national park and mountains nearby. Well located (1km from the Center) and lots to do locally and within 30 minutes all around. The house is big, well furnished and very pleasant. It was also impeccably clean - not a spot of dust anywhere. Kazimierz was extremely welcoming and friendly and even though we couldn't speak the same language, we made each other understood. This is a highly recommended property.
Jeremy
2016-08-11T00:00:00Z
We enjoyed our stay here very much. It is a beautiful home with lots of beautiful murals throughout. The home was very clean and the listing description was very accurate. The host was very hospitable and welcoming. He gave us a very thorough tour of the house. We also felt very safe in this neighborhood. Also, there was a gated area to park our car in which I liked.
Michael
2016-03-28T00:00:00Z
Piękny domek i bardzo gościnny gospodarz. Lokalizacja na wyprawy po okolicach Jeleniej Góry najlepsza. Wszędzie blisko: przystanki PKS, ścieżki rowerowe, obwodnica Jeleniej. Bardzo dobra lokalizacja. Domek jest czysty i oryginalnie wykończony, a do tego w uroczej okolicy. Dzięki temu i gościnności gospodarza, można poczuć się jak u siebie. Dla osób które szukają noclegu w Jeleniej Górze szczerze polecam tę lokalizację.
Krzysztof
2016-05-05T00:00:00Z
Bardzo czysty i przestronny dom. Duzo miejsca w ogrodzie do zabawy dla dzieci. Dobra lokalizacja oraz baza wypadowa do zwiedzania okolic. Bardzo miły właściciel. Zdecydowanie polecam.
Adrian
2016-08-16T00:00:00Z
Majitel je velice sympatický, všechno nám ukázal, vysvětlil a cítili jsme se, jako bychom přijeli k příbuzným. :) Domek je větší než se zdá z fotek a moc útulný. Popis úplně sedí. Zahrada za domem poskytuje dostatek soukromí, není na ni vidět ani od sousedů. Hlavně jsme využili venkovní posezení s grilem. V domě i kolem je všechno prakticky řešeno. Internet také funguje skvěle. Domek se nachází v klidné čtvrti a kousek od domu jsme našli i supermarket. Jediná chyba byla, že jsme museli odjet domů... :)))
Eva
2015-09-15T00:00:00Z
Wszystko super, wszystko !!!!!
Ryszard
2016-08-17T00:00:00Z
Polecam serdecznie Gościnny Domek Pana Kazimierza!!! Gospodarz bardzo miły, udzielił nam wszystkich niezbędnych wskazówek, dostępny w każdej chwili. Sam domek piękny, byliśmy 8- osobową grupą, bez problemu się pomieściliśmy, super ogród i miejsce na grilla, lokalizacja doskonała, cicha okolica, świetna baza wypadowa na szlaki, blisko centrum. Dziękujemy za wszystko!!!
Magdalena
2016-05-30T00:00:00Z
Nous avons apprécié lors de notre arrivée les décorations de Noel (la nappe sur la table, les lumières, le sapin) préparés par Kazimierz dans la maison pour nous accueillir. Nous avons aimé de la part de Kazimierz un contact à la fois simple et chaleureux et sa disponibilité Sa maison est très bien située dans un quartier calme et résidentielle de Jelenia Gora (une ville très agréable, à découvrir absolument!). La proximité avec deux stations de montagne: Karpacz et Szklarska Poreba permet de s'évader rapidement dans la nature pour faire du ski ou les randonnées pédestres.
Krzysztof
2015-12-31T00:00:00Z
Room Type
Entire home/apt
---
Property Type
House
---
Accommodates
7
---
Bedrooms
Jelenia Góra, Województwo dolnośląskie, Poland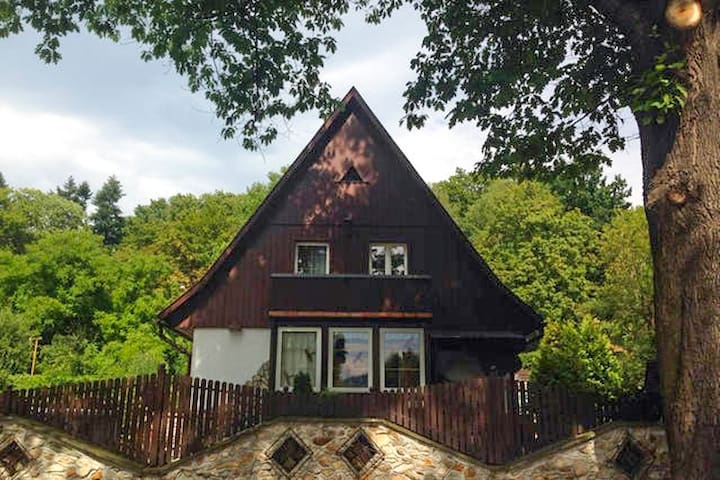 Jagniątków a climate town in the Giant Mountains, where there is an old house with a soul. It has more than a 100-year history which has just had a boost of energy, which contributed to its present home. The young owners quotes - "its climate and family atmosphere, attracting hikers seeking peace, relaxation, where you can escape from everyday life and problems."
Jagniątków a climate town in the Giant Mountains, where there is an old house with a soul. It has more than a 100-year history which has just had a boost of energy, which contributed to its present home. The young owners quotes - "its climate and family atmosphere, attracting hikers seeking peace, relaxation, where you can escape from everyday life and problems." Jagniątków is an oasis of tranquility, surrounded by wonderful rustling forests, including bicycle paths, hiking and mountain trails - a perfect place for walking and to relax with nature. The proximity of tourist centers, ski slopes and cross-country skiing is an incredible attraction for active people and looking for exciting new experiences. The comfortably furnished rooms offer space from 1 to 4 people in each room with their own bathroom, home cooking is at full disposal of the guests and a lounge where you can sit by the fireplace with tea after an active day are just some of the comforts you can enjoy!. Jagniątków Invites You! Area Attractions: Jagniątków is a district of Jelenia Gora (from 1998). With buildings typical of the foothills. There are many trails going into the Giant Mountains for both pedestrians and cyclists. The area is also rich in many interesting places and monuments - It is also a great location for those looking to explore the area and the nearby town. 1,5h to the Czarny Kocioł Jagniątkowski 1h to Zamek Chojnik 30 min to the house of Gerharta Hauptmanna 13 km to Szklarkiej Poręby 16 km to the Ski Arena in Szklarskiej 17 km to Karpacza, 15 km to the center of Jeleniej Góry 130 km to Prague 80 km to the town Adršpašské skály 15 min by car to Termy Cieplickie TRAILS: Yellow – For Grzybowiec – 40 min. Yellow – For the waterfall Podgórnej przez Przesiekę – 1/2h Black – For the Czarną Przełęcz (Road between Poland and Czech) – 2/3h Black – For the Halę pod Łabskim Szczytem(The Hall under the Peak) – 3h Blue – For Czarną Przełęcz(Black Pass) (Road between Poland and Czech) – 3h Blue/Green – The Castle – 1h Black/Red – The Giant Mountains Pass through the valley of Sopot– 2/3h Cennik (Price) We invite you to our guest house in the Magic Town Jagniątkow at the foot of the Snowy boilers. It is an Old house with a soul which will enchant you as soon as you exceed the threshold. Peace and quiet, the sound of the forest and the rapidly flowing stream will make this place remain in your memory forever. Adult - 45/55 zł day depending on the date of stay. The price includes accommodation, access to a fully equipped kitchen and a living room with dining for your baby and all kinds of toys and family board games, PlayStation3, wireless internet, closed parking on the property. Children up to 3 years free of charge (extra) A crib for the baby - one-time fee of 10 PLN Children up to 12 - 25 zł day You can order: BREAKFASTS: 15 zł per adult; 7 zł per child under 12 years of age; Breakfast consists of cold meats, cheeses, vegetables, breads, drinks hot or cold, on request scrambled eggs, eggs, oatmeal, sausages. Lunch: 25 zł per adult; 12 zł per child under 12 years old 6 zł per children up to 3 years Dinner consists of two hot dishes (soup and main dish), salad, compote, serving home-made cakes. DINNER: 12zl per adult; 6zł per child under 12 years Dinner consists of cold meats, cheeses, vegetables, breads, drinks hot or cold. Accommodation prices will be set individually for groups of more than ten people, and if you stay more than seven days. Contact If you have any questions or inquiries then we are at your disposal - please contact us at the following e-mail address and telephone number. Tel: +(PHONE NUMBER HIDDEN) E-mail: (EMAIL HIDDEN)
Jagniątków is a district of Jelenia Gora (from 1998). With buildings typical of the foothills. There are many trails going into the Giant Mountains for both pedestrians and cyclists. The area is also rich in many interesting places and monuments - It is also a great location for those looking to explore the area and the nearby town. 1,5h to the Czarny Kocioł Jagniątkowski 1h to Zamek Chojnik 30 min to the house of Gerharta Hauptmanna 13 km to Szklarkiej Poręby 16 km to the Ski Arena in Szklarskiej 17 km to Karpacza, 15 km to the center of Jeleniej Góry 130 km to Prague 80 km to the town Adršpašské skály 15 min by car to Termy Cieplickie TRAILS: Yellow – For Grzybowiec – 40 min. Yellow – For the waterfall Podgórnej przez Przesiekę – 1/2h Black – For the Czarną Przełęcz (Road between Poland and Czech) – 2/3h Black – For the Halę pod Łabskim Szczytem(The Hall under the Peak) – 3h Blue – For Czarną Przełęcz(Black Pass) (Road between Poland and Czech) – 3h Blue/Green – The Castle – 1h Black/Red – The Giant Mountains Pass through the valley of Sopot– 2/3h
Kryzsztof and his wife are very welcoming hosts and their place also. We do recommend stay at their place
Lenka
2017-02-27T00:00:00Z
Marta and Krzysztof are a wonderful and hospitable couple. Their home, in the foothills of the Giant Mountains, is an excellent starting point for hikes. The atmosphere in the house is open, and invites for an exchange of thoughts between the guests. The house has a nice garden as well. We really enjoyed our stay.
Rinus
2016-08-20T00:00:00Z
Besonders hat mir die Antwortzeit auf Anfragen gefallen. Wir hatten auch die möglichkeit um 3 Uhr Früh einzuchecken. Der Kamin im gemeinsamen Wohnzimmer ist auch sehr nett.
Robert
2017-01-16T00:00:00Z
Gospodarze byli fantastyczni - od samego początku bardzo pomocni, wsyztsko zostało nam wytłumacozne, zapewnione, nie można było sobie lepiej wymarzyć ''obsługi" - Na pewno chcemy wrócić do Państwa jak najsyzbciej się tylko da. Jedyne czego się obawiam, to czy znajdziemy wolne miejsca po takich recenzjach?! :)
Jacek
2016-08-22T00:00:00Z
Room Type
Private room
---
Property Type
House
---
Accommodates
16
---
Bedrooms
Jelenia Góra, Województwo dolnośląskie, Poland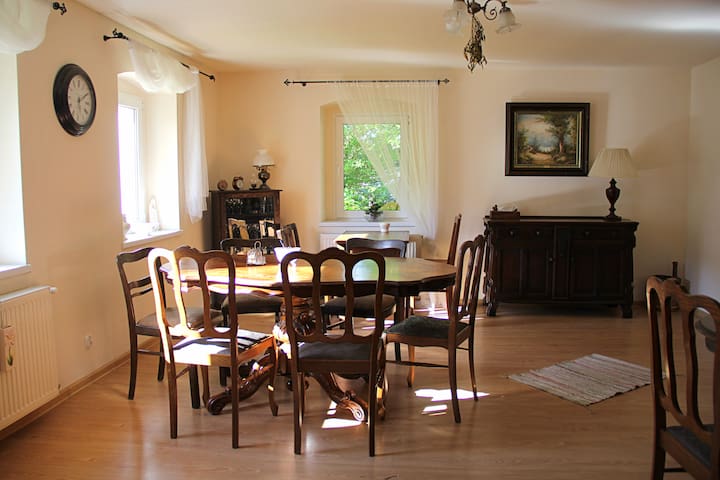 We live in a beautiful, quiet area, 10 minutes on foot from the Term in Teplice. Around a lot of green, and through the window you can see Giant Mountains. Perfect place to relax - for both active and lazy :) Valley of Palaces and Gardens!
Our neighborhood is called the Valley Gardens and Palaces. We are a great base for trips to the mountains. We are also close to beautiful tourist resorts like Szklarska Poreba (approx. 15km) and Karpacz (approx. 17km). Who likes the variety, can go to the Czech Republic :), as the border is almost around the corner.
My fourth time at Anna's place and again everything was perfect!!! A beautiful flat close to everything. And as always the best part of my stay: Anna and her family! Next year there will be a fifth time ☺.
Rainer
2016-09-25T00:00:00Z
Our stay with Ana and her family was simply great. We were received very friendly and they offered us a complete flat with two rooms, bathroom and well-equipped kitchen. Trusting the photos of the listing on Airbnb, you will underestimate the accommodation. The apartment has a room with double bed and a room with a single bed. for us with a child, it was totally perfect. We also got a nice book from them as a memory, which was a nice gesture from this family. There is Lidl, Netto, Rossmann and a nice fast food shop close to the place. The surrounding is also very nice for a walk even with kids. If you are traveling with kids, you may like the restaurant Park Miniature which is not very far from the place, however it is reachable by car. There is a very good playing ground for children and you can enjoy your food in a nice landscape.
mahboobeh
2015-09-05T00:00:00Z
Excellent apartment in quiet residential area, close to the spa and waterpark (Termy Cieplickie) and the elegant town centre (Cieplice). Two bedrooms, sitting room with TV, shower room and fully equipped kitchen in self-contained, lockable, ground floor. Beautifully cool even when hot outside. Warm and friendly hosts who are very helpful. Highly recommended.
John
2016-07-19T00:00:00Z
nice home, nice host. very good.
Gene
2015-10-09T00:00:00Z
My third time at Anna´s place and again a perfect experience! I will definitely be back!!!
Rainer
2016-05-16T00:00:00Z
The hosts, the couple, provided me with all information about the place and surrounding, were very helpful and kind, which made me feel welcome and home. The listing is about one room only, but I had free access to other rooms;the living room with tv, the kitchen fully equipped, and the bathroom of course. The place quiet, nicely decorated, and clean. The neighbourhood quiet and nice; houses in gardens. 10 minutes walk to the park. Very convinient public transport. I felt here like at home. Highly reccomend!
Maria
2016-10-06T00:00:00Z
Anna and her daughter Natalia were warm and gracious hosts. Their home was lovely and clean and I felt like I was at home. The accommodation was so much more than pictured. The neighborhood was quiet and lovely. I would recommend their home to anyone. It was perfect for me in every way. I hope that I will return. I would love to stay there again.
Mary
2016-08-28T00:00:00Z
It is always an enormous pleasure to stay at Anna´s place and meeting her family. Impossible to find more hospitable people. The flat is absolutely amazing with everything one needs. My favourite airbnb place and I am sure that my sixth time there will happen very soon :). As always I am already looking forward to it!
Rainer
2017-03-05T00:00:00Z
Room Type
Private room
---
Property Type
House
---
Accommodates
2
---
Bedrooms
Jelenia Góra, Województwo dolnośląskie, Poland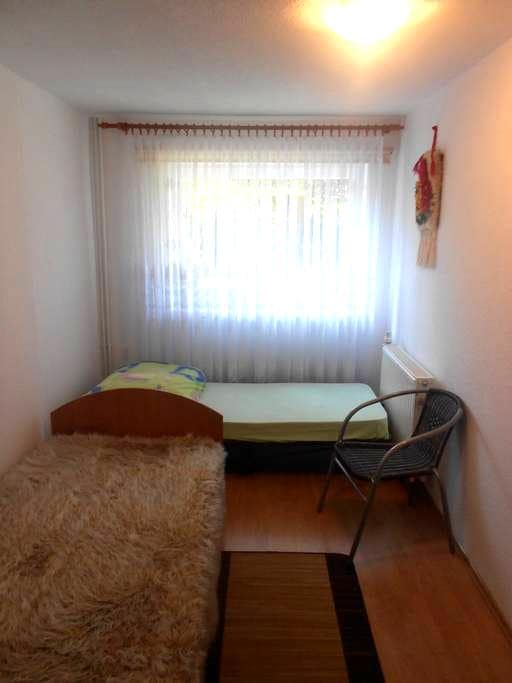 The house is situated in the zone of the Spa "Spa Teplice". You can come here for rehabilitation (outpatient), rest with children and spend an active holiday in the mountains (cycling, hiking and sightseeing). Wealth Teplice are mineral water (possibility of using the pump room), thermal waters (Thermal Teplice) Address ul. Cieplicka 22A Jelenia Góra-Cieplice Zdroj Contact (PHONE NUMBER HIDDEN) or (PHONE NUMBER HIDDEN) email: (EMAIL HIDDEN)
Near the house is the revitalization of parks: Spa and Norwegian. They feature children's playgrounds and outdoor gyms.
The house is situated in the zone of the Spa "Spa Teplice". You can come here for rehabilitation (outpatient), rest with children and spend an active holiday in the mountains (cycling, hiking and sightseeing). Wealth Teplice are mineral water (possibility of using the pump room), thermal (Thermal Teplice) and mud. Held here musculoskeletal rehabilitation, treatment of serious urogenital, renal disease, and women carried out special treatment for eye. The neighborhood is beautiful Spa Park with the Spa Theatre and the concert bowl and Norwegian Park with the Museum of Natural Sciences. Over the Jelenia Góra dominates White (1,602 m). Extremely attractive is near the Giant Mountains. You can get m.in .: nearby Castle Chojnik - Piast stronghold, visit Karpacz and the temple Wang and ride the chairlift to Kopa, see Szklarska Poreba, where are Kamienczyk waterfall and Szklarki and Mineral Museum. You can also enter lift for Szrenica. With the spa Teplice they are organized trips to the Czech Republic.
Room Type
Private room
---
Property Type
House
---
Accommodates
12
---
Bedrooms
Jelenia Góra, Województwo dolnośląskie, Poland
Welcome to Dom Wrzosówka (The Heather's Haus) your vacation destination in the Karkonosze Mountains. Our House ist nearby (10 km to the center) one of the most popular Polish holiday resorts - City Szklarska Poręba, in the heart Karkonosze Mountains
Cały dom
Our house is near (10 km to the center), one of Poland's most popular resorts - city Szklarska Poreba in the heart of Karkonosze (Giant Mountains) (skiing, hiking, biking area). Another attraction in the surrounding area of the house are: the Czech town of Harrachov with mammoth ski jump, Jakuszyce Justyna's Kowalczyk (Olympic champion cross-country skiing) favorite place for training, Karpacz - the place where drift competition, Cycling Competition (The Peace Race) held.
Piękny dom, super miejsce
Mateusz
2017-01-08T00:00:00Z
Eine sehr gute Unterkunft für große Familien geeignet sowie für einzelne Personen. Alles vorhanden was man für die Aufenthalt braucht.
Sergej
2017-02-13T00:00:00Z
Tolles Haus! Hilfsbereiter Gastgeber! Danke schön!!!
Iryna
2017-01-02T00:00:00Z
Room Type
Entire home/apt
---
Property Type
House
---
Accommodates
14
---
Bedrooms
Jelenia Góra, Województwo dolnośląskie, Poland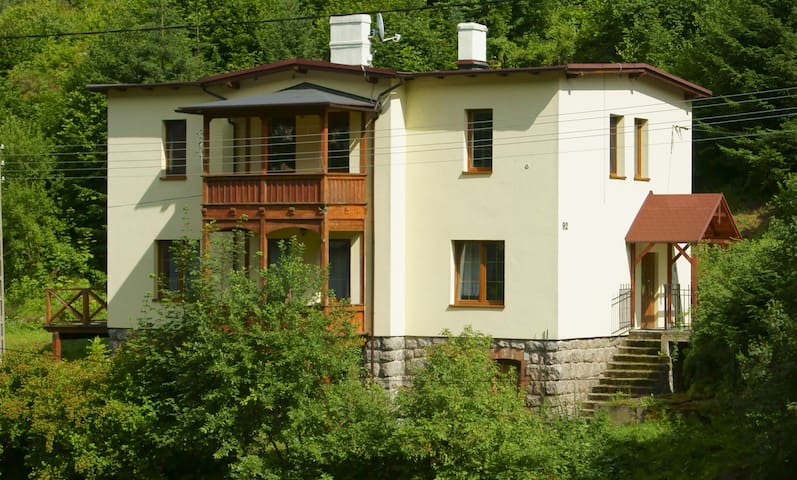 This is an XXL upper-floor barn space with a fireplace in a big vintage farm house in the Izera Mountains in south-western Poland. Own entrance, spacious living room (64 m2) with mountain views, sleeping room, bathroom with shower, terrace. Quiet village on edge of a vast mountain forest. Miles upon miles of walking, running, trekking, cycling, cross-country skiing and bushcrafting terrain: ca. 1000 square km with virtually no human settlement - Góry Izerskie (Jizerske Hory, Isergebirge).
Your space is a converted upper floor (ca. 100 m2 altogether) of a stone-brick-and-wood barn built in 1932 and includes own access through terrace door, a spacious living room (64 m2, max. height 5.5 m) with fireplace and mountain views, a sleeping room (14 m2) with double bed, mezzanine with views, bathroom (toilet, bidet, washbasin, shower), library (lots of books in English, a collection of German books on regional themes, a collection of archival maps), refrigerator. Arts-and-crafts-minded individuals, nature lovers, mountain trekkers, astronomy fans as well as artists and creative personalities are particularly welcome! It's a great place for a weekend outing or vacation, but if you have a creative project to work on, you'll find here all the peace, quiet, energy and inspiration that you might possibly need.
A unique quiet village of loosely scattered farmsteads in a mountain valley. Oak, ash, beech, sycamore, alder, birch, spruce. Deer, boar, badger, eagle, raven, triton. Cows, horses, sheep, goats, chickens. Rivers and streams. Rocks. Minerals. Crystals. Caves. Castles. Ruins. Legends. Check out my blog Oldest Trees to get a feel of the area.
We are so gratefull for the sharing of a glimps of your every day life in the beautiful region of Stara Kamienica, Chromiec and other amazing places. The stay at Marses place was one of the most special ones we ever experienced. He and his wife and beautiful children welcomed and accepted us in their home as if we were close family or good friends. Also they shared a lot of stories, interesting places and put us in contact with other inspiring people. For us it was a place of abundance of good energy and sharing. Thanks you so much again and we will be back for sure, John and Patrycja.
John
2015-11-03T00:00:00Z
Staying at Villa Hample was a perfect winter trip we've hoped for. The apartment is very spacious, stylish and cosy, it was great to stroll through the nearby snowy wilderness during the day and sit by the fire in the evening, Mars and his family were very helpful and made our stay feel like home (homemade cake was delicious :) ), if you like animals there are friendly cats and dogs too.
Mateusz
2017-01-08T00:00:00Z
This was my favorite place I've ever rented with Airbnb. The house is even better than in the pictures. Very unique place with lots of love for details. Matylda and Marcin were the perfect hosts and their dogs the perfect company for walks in the forest. All that is topped by cosy oven-heated atmosphere in the evenings.
Esther
2017-01-29T00:00:00Z
The beautiful home and studio is exactly the sort of place where you go to relax and slow down from the fast pace of life. Located in beautiful surroundings, close to mountains trails and many small historical sights, this place is the ideal place to rest your body and mind. The hosts, Mars and Matylda, are lovely, genuine and interesting people and they will make you feel welcome in their home. i had a lovely time and will no doubt be back.
Magdalena
2017-03-20T00:00:00Z
My little boy (4 years) and me had a great time at the house and the nature all around the place. We did some hiking and went to the mountains...you can just start at the house, walk and find beautiful nature. Mars was very nice and helpful. We were there in the wintertime and when we came back from our day outside, he startet the fire for us. So the days ended up sitting for a while on the oven. We will come back some day to see more from this part of Silesia.
Alexis
2017-02-19T00:00:00Z
Such a perfect Airbnb experience! The house is located in a really peaceful area, great for walks in the snow and the woods. The studio and the house itself are beautifully decorated and very cosy. One of the best parts is the wood stove which kept the place very warm. Mars and Matylda were great hosts, so caring and helpful. Thanks for that! Would love to come back!
Katja
2017-02-26T00:00:00Z
A great weekend! The studio was very cosy with everything we could have wanted. Mars was very helpful and always replied quickly to our queries before arriving. As well as providing us with some delicious meals, Mars and Matilde were very helpful in suggesting nearby places to visit. The local area is beautiful and quiet, perfect for anybody looking to escape the city. We hope to stay again and would definitely recommend to a friend.
Ben
2016-08-08T00:00:00Z
Expect a wonderful place to stay, nice open-hearted people and native nature. The studio is a really unique place: the huge main room has a wood stove (!) and a swing/hammock (!!). Bedroom and bathroom are separated and very sweet: Mars and Mathilda put much love into every little detail of their house (you wont't find any plastic stuff, everything seems to be made of local original materials, which I appreciate very much). Both are caring very well for their guest. Especially the breakfast is awesome. Most of the ingredients are growing around the house and Mathilda is cooking/baking delicious meals (we had pancakes filled with vegetables, squish made of beans and beetroot, self made marmalades and much more …). If you have questions for outdoor activities Mars is the right man. It seems he knows every foot path and every stone of »Riesengebirge« which is a perfect place for hiking tours, skiing or mountain biking. Very sure to come again this year. Enjoy!
Hugo
2016-03-31T00:00:00Z
Room Type
Entire home/apt
---
Property Type
House
---
Accommodates
2
---
Bedrooms
Stara Kamienica, Lower Silesian Voivodeship, Poland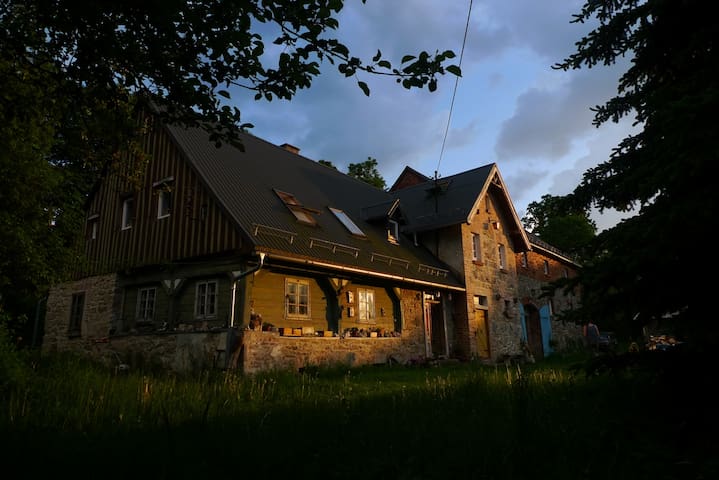 Beautifully designed mountain lodge situated in a quite place next to the main skiruns in Špindlerův mlýn. Ski in & out
5 star place, if you're looking for silence and views. prepare yourself to disconnect from the outside world and relax :) access to the house is very non standard, but is adventorous and fun - you can either walk up the slope or take a snowmobile for extra 5-10euro from a nearby hotel. Martin is very helpful and eager to assist with anything you may need
Ula
2017-01-08T00:00:00Z
Martin's glass house is something we were looking for in a long time. It's beautifully located, quiet, but just aside of slopes (ski on & off!!). It's designed very thoughtfully with special care about the details. Huge windows and falling snow are a match made in heaven. Overall, it makes a great impression! Martin is a super nice host and a very talented chef (green Thai curry was delicious!).
Katarzyna
2017-01-15T00:00:00Z
We just can strongly recommend Martin's home! The little hut is really cozy and rustic, but also very modern! Especially the lovely decoration and the fireplace make you feel comfortable and at home.
Arved
2017-03-26T00:00:00Z
Amazing place to stay at Spindleruv mlyn even if you don't ski! We just loved the scenic view, the interior design of the beautiful place as well just having a glass of wine by the fire place! Martin was very helpful and would definitely recommend to everyone!
Lucie
2017-01-30T00:00:00Z
We would highly recommend Martin's cabin to anyone looking for an amazing and very special place to stay in Špindlerův Mlýn! It's beautifully built, with so much thought given to the smaller details, and offers everything you need for a relaxing and no-hassle ski weekend. We loved the homely interior, with stylish, bespoke furniture, and the location is right on the slopes with ski-in, ski-out access. Martin himself is a wonderful host and was so accommodating to us, even when our arrival was delayed by several hours. Nothing was a problem, and he built us a fire each day so we always returned to a warm and inviting fireplace! We will definitely be back to this very special place :)
Jenny
2017-02-05T00:00:00Z
Everything was perfect. I would only recommend this place go everyone! Martin was a very good host, we will be coming back! Se vším jsme byli naprosto spokojení. Pobyt bez chybičky.
Nhat Anh
2017-02-19T00:00:00Z
Room Type
Entire home/apt
---
Property Type
House
---
Accommodates
2
---
Bedrooms
Špindlerův Mlýn, Czech Republic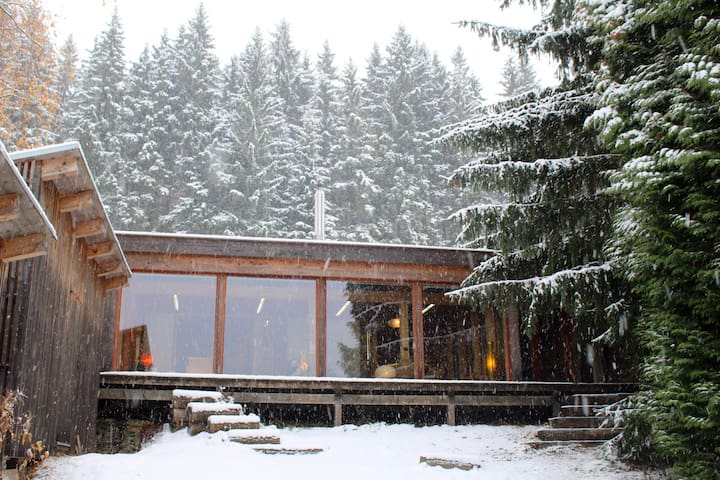 Enjoy your stay in the middle of nature! Beautiful house, completely equipped (fridge, owen, microwave, TV, stereo, etc.), romantic fireplace, grill, terrace, parking for two cars, nice view directly to rocks and forests! River just 50m from the house, natural water-spring just 15m from the house. 10 min by walk to the centre (for shopping f.E.). If you are interested, I can offer you renting of two bikes so you don´t have to load them into your car and travel with (URL HIDDEN) up to you;-)
Ideal place for holidays in summer as well as winter! Five minutes walk distance from the entrance to Rocks tourist track (for summer), two minutes walk distance from the ski areal (for winter). Lovely forests all around, terrace with the beautiful view, balcony, big land around the cottage with our own natural water-spring. Nice river creates a natural border of the land of the cottage. Suitable for max. 8 persons (two of them need to sleep at sofa). Two separate bedrooms, two toilets, one bathroom. Fully equipped kitchen and dining room, living room with TV and stereo. Lovely fireplace in the living room. Extra space for your bikes, skies and other big stuff is in the cellar (also great for cooling beers:-)...
For details about the closest area around the cottage - please check the details. Regarding to other places around: - Adrspach Rocks - very famous (about 7km) - Broumov - nice city with the famous church (about 20km) - Nachod - nice city with the castle in the middle (about 25km) - Poland - if you wish to visit another country within one day:-) (about 10km)
Jan is a very friendly, trustful and generous host! Without actually knowing each other, we felt like friends coming over for a shot visit. Everything was prepared, we got hiking-tips and everything we needed, even thou our booking was very, very spontaneous. The house is beautiful, the view is breathtaking (you should post a picture :)) and we a had a great time in the mountains around.. Coming "home" we enjoyed the giant bathtub and lit the fireplace in and outdoor. THANK YOU, Jan! We'll recommend your place for sure and the "yellow"-path through the mountains and the Palatschinken :) Greetings from Berlin and see you next year maybe! Sarah & Co
Sarah Judith
2014-08-24T00:00:00Z
It is easy to get the key, especially when you do not know the exact arrival time. Caring host, nice place for nature lovers. But, unfortunately, very expensive electricity. For 7 days we paid 110 euros. No luck and skiing. 2 days lifts were closed + 1 day rain prevented. But the stunning beauty of the local rocks, as well as local cuisine all compensated.
Alina
2017-02-24T00:00:00Z
I've arranged a stay at Jan's house for my family (5 adults), everything was great - the place, its location and the Host! The house was well prepared, everything was just like the description and even better. My family really like their visit. They travel a lot around the area. Even visited Prague for a day! Jan is a super cool, easygoing and trustful person. I could always reach him on his cell phone, Hopefully I will be able to visit one day! Thank you, Jan!
Gosia
2014-09-22T00:00:00Z
stayed there for 6 nights with 6 people. uncomplicated host. cabin is located in a nice area. well equipped kitchen. we had some questions and he tried his best to solve them.
Alexander
2015-01-04T00:00:00Z
We have arranged a stay at Jan's house for two adults (and one dog). Jan answered every question we had before and during our stay in a very pleasant, correct and friendly way. We could reach him whenever we needed, and during our stay he gave us a lot of tips for things to do and see! The big house itself is very beautiful: what you see in the pictures is definitely what you get! The view is fantastic: it's great to sit outside, BBQ and look over the Teplice rocks or the quiet starry night. Even though the house is located in a quiet street, it is an easy short walk to the centre of the village (with supermarket etc.) and also a few restaurants and walking routes through the mountains. We felt very welcome in Jan's Cottage in Teplice nad Metují and will definitely consider coming back in the future!
Simone
2015-08-23T00:00:00Z
Wir sind mit zwei Familien zu 6 Pers. da gewesen. Es war ein sehr schöner Urlaub. Das Wetter war genau richtig. Man konnte durch die Terassentür schnell Draussen sein. Das war für die Kinder sehr schön, die dort spielen konnten. Eine Feuerstelle machte die Abende gemütlich. Jan war ein netter Gastgeber und gut erreichbar. Teplice ist wohl eines der ältesten Kurorte in Tschechien. Die Teplicke Skaly (Felsen) sind der Wahnsinn. Insbesondere am Wochenende kommen viele Menschen dorthin. In der Stadt gibt es auf jeden Fall ein gutes Gasthaus, wo man leckeres, regionalles Essen und gezapftes, traditionelles Bier für einen guten Preis bekommt. Nächstes Mal, wenn wir kommen, nehmen wir Räder mit. Es lohnt sich auch mal ohne das Auto die Gegend zu erkunden. Die Tschechen sind ein sehr entspanntes Volk, so dass es uns sehr einlädt dieses Land mehr zu erkunden. Wir sind sehr zufrieden und kommen gerne wieder. Dana
Dana
2016-07-14T00:00:00Z
Byli jsme spokojení, děkujeme.
Sam
2016-08-13T00:00:00Z
Room Type
Entire home/apt
---
Property Type
House
---
Accommodates
6
---
Bedrooms
Teplice nad Metují, Královéhradecký kraj, Czech Republic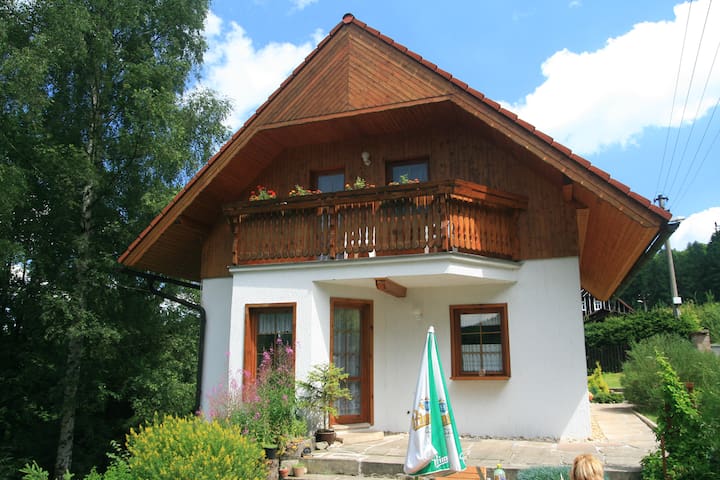 Our family project, very old rustic grandparents house which we rebuilt to modern standards and it still has some original futures. With vineyard at the back, great area for outdoor activities.There are two bedrooms for 4 persons plus two guests.
Niezwykłe, bardzo klimatyczne miejsce. Dom urządzony bardzo oryginalnie, ze smakiem. Niezwykłe połączenie nowoczesności i historii - tak jak lubimy. Świetnie wyposażony (m.in. zmywarka, pralka, ekspres do kawy, prysznic, wanna wielkości małego basenu ;) kominek, szybkie WiFi, itd. Przemiły właściciel i jego niesamowite opowieści o historii domu i okolicy stanowią dopełnienie wyjątkowego pobytu w tym miejscu. Bardzo dobra lokalizacja - baza wypadowa do licznych atrakcji w okolicy. Miejsce ciche, spokojne, oddalone od głównej drogi. Polecamy.
Szymon
2016-08-05T00:00:00Z
Domek udalo nam sie zarezerwowac z dnia na dzień, dla grupy piecioosobowej na szybki relaksujący wypad za miasto. Od samego początku właściciele byli z nami w stałym kontakcie upewniając się, ze nie zabladzimy w okolicy. Gdy dotarliśmy na miejsce dom był już dla nas ogrzany i przygotowany, właściciele okazali się przemiła rodzina z wieloma pasjami a dom był ich żywym odzwierciedleniem, jedna z nich jest meblarstwo a wszystkie "produkty" można nie tylko podziwiać ale również przetestować, gdyż są one częścią umeblowania. Sam dom jest urządzony na bardzo wysokim standardzie, gustownie i elegancko a przy tym ciepło i przytulnie. Absolutnie niczego nam nie brakowało, mogliśmy swobodnie cieszyć się pobytem i relaksować się wieczorami przy kominku. Zdecydowanie polecamy! my sami napewno wrócimy tam jeszcze raz!
Jakub
2016-02-22T00:00:00Z
Dom jest naprawdę piękny i świetnie urządzony. Idealny nawet na dłuższy pobyt - jest w nim wszystko czego potrzeba. Zdjęcia - mimo, że dobre i zachęcające - nawet nie w pełni oddają wielkość domu. Jest bardzo przestronny i jasny. Mimo, że dom znajduje się w środku miejscowości, dosłownie kilkadziesiąt metrów dzieli go od wspaniałych tras spacerowych. Kontakt z gospodarzami też bardzo dobry - opowiedzieli nam o okolicy i zaopatrzyli nas w domowe produkty żywieniowe z okolicznych gospodarstw. Dom jest idealny dla dwóch par z dziećmi. Bez dzieci spokojnie pomieści 6 osób, w komfortowych warunkach.
Łukasz
2016-01-05T00:00:00Z
Room Type
Entire home/apt
---
Property Type
House
---
Accommodates
6
---
Bedrooms
Jerzmanice-Zdrój, Województwo dolnośląskie, Poland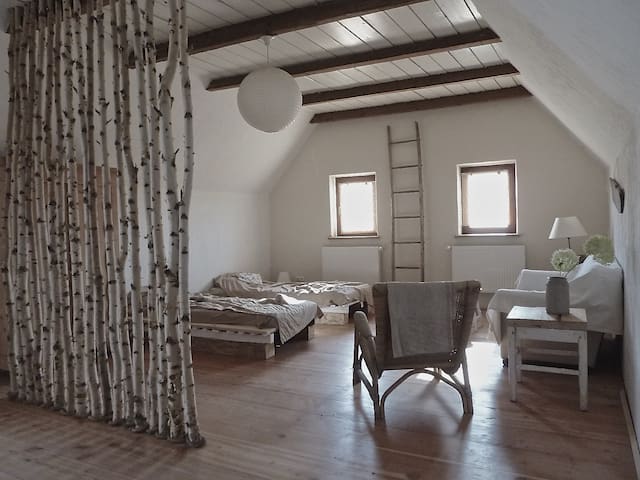 The "Tower" is special, anthroposophy, high energy nature house, with great view to Giant Mountain in Karkonoski Park, Lower Silesia, Poland. The architectural and interior design are based on natural materials from the region . It's great place for solo adventurers or couples that are looking for a quiet place to be alone with their thought, reading, writing, meditating, painting, swiming in the waterfall, listening to music, biking, runing or long walking in the beautiful forest surrounding.
The "Tower" is a beautiful and unique three floors house: 1. The first floor is the entrance to the "Tower". 2. On the second floor you can find the living room, desktop for laptop, electric kettle and coffee/tea, large bathroom, small kitchenette's Ark, mini-bar and heating fireplace with logs. 3. The third floor is the bedroom with large comfortable double bed (for couple) or two separate single beds. There is also a large closet room for general storage and hanging clothes. 4. Above the third floor we have a small gallery. you can put in the middle of the gallery your mobile phone or your iPod with speakers and then the "Tower" will be filled with wonderful acoustic sounds. In Przesieka we have 4 grocery stores within walking distance from the "Tower". We also has a large supermarket (biedronka) at the entrance to the village and it open most of the time. I do not think our ruests should bring food in advance and you can buy and enjoy local food which is delicious and cheap.
The "Tower" neighborhood is unique and perfect for many reasons, including: 1. Good energy from the ground and surrounding air. 2. Special atmosphere of profound peace and quiet. 3. Constantly get new powers within you. 4. Special nature (Przesieka is part of Krkonoski nature reserves). 5. The surrounding big forests including many hiking trails and many bicycle paths. 6. The weather (even in the winter). Everything About Przesieka: Przesieka [pʂɛˈɕɛka] (original and German name: Hain) is a village in Lower Silesia, southwestern Poland. It belongs to Lower Silesian Voivodeship, in Jelenia Góra County, Gmina Podgórzyn. It is one of the most important centres of mountain hiking. It lies approximately 12 km (7 mi) south-west of Jelenia Góra, and 103 km (64 mi) west of the regional capital Wrocław. It is 15 minutes drive from the centre of Jelenia Góra (5 minutes drive from Cieplice Spa). There is a regular city bus going to Przesieka from Jelenia Góra central train station. Several hiking routes to Karkonosze Mountains begin in Przesieka. One of the most widely used is a route (2 h walk) to Karkonoska Mountain Pass (Polish "Przełęcz Karkonoska"). Hotels along the way include Odrodzenie (Polish hostel) and Špindlerova bouda (Czech hostel). Other popular routes lead to Chojnik Castle (German Kynast) (1 hour walk), and Karpacz (1.5 h walk). An interesting place to visit in Przesieka is Podgórna Waterfall (547 m above sea level). Przesieka is a lovely hamlet. It's character is constantly changing from that of traditional/agricultural to the one of a more "tourism orientated" place. Most people coming to Przesieka are from Lower Silesia. Wrocław inhabitants visit us most often. They seek to calm down in peace and tranquility. And they find it here, in Przesieka, and the neighboring villages of Borowice, Jagniatkow, and Zachelmie. Other resort towns of Karpacz and Szklarska Poreba cannot offer this kind of relaxing atmosphere. Points of interest in Przesieka: Podgorna Waterfall – most popular attraction in Przesieka. Chybotek – a huge and breathtaking boulder… and other interesting spots situated in the close proximity of Przesieka: - Chojnik castle-1.5h. walk - Wang Church in Karpacz – 2 hour walk. - Karkonoska Pass- border crossing with the Czech Republic – 3 hour walk. - Podgorzynskie Stawy Ponds and a fish restaurant in its shore offering gourmet fresh fish. South: (Blue trail) to "Przelecz Karkonoska"- mountain pass on the Polish-Czech border and the "Odrodzenie" refuge (2'15"). West: : (Yellow trail) to Jagniatkow and Szklarska Poreba (by "Droga pod Reglami" mountain road). North- west: (Green and black trails) to "Chojnik"- the ruins of the castle (1'00"). North: (Blue trail) to Podgorzyn Gorny (0'15"). South- east: (Green and yellow trails) to Borowice and Karpacz (2'15"). Location: Location of Przesieka, Lower Silesian Voivodeship. Coordinates: (PHONE NUMBER HIDDEN)″ECoordinates: (PHONE NUMBER HIDDEN)″E. Country: Poland Voivodeship: Lower Silesian Powia: Jelenia Góra Gmina: Podgórzyn Area of action: Mountains, Western Sudetes, Ore Janowickie Kaczawskie, Jizera Mountain Volunteer Ambulance Service is a volunteer organization, operating in seven regional groups in the southern Polish. Mountain rescue task is to help in cases of mountain, preventive activities, as well as security events in the mountainous terrain. history of the Mountain Rescue Rescue is inextricably linked to tourism, which in the late nineteenth and early twentieth century began to develop on Polish territory. Most active time of their activity is of course winter, when the slopes, skiers and snowboarders dominate. However, recent years show that the summer months bring a lot of work rescuers. The increasing tourist traffic, the changing forms of recreation in mountain areas such as paragliding, mountain biking, and recently very fashionable rock climbing are the cause of an increasing number of accidents and injuries that require intervention mountain.
Rony's place is very nice and cosy. Przesieka is a beautiful place and also a good base to reach a lot of great things nearby. Communication was great, Marcin and Paweł was very nice and helpful.
Joanna
2017-01-02T00:00:00Z
This is an amazing place! So beautiful and peaceful! Rony's tips are super helpful and his friend Marcin helped us out very good when we arrived! Definitely want to come back!
marleen
2017-04-02T00:00:00Z
PERFECT! Honestly we were suprised, we didnt even expect that much over there. Super cosy and comfy, you wont complain to anything. Stoke was already working, house was warm and fully equipped, additionally you have access to second building nearby house ~ there you will have large kitchen and common area. What suprised us much more was that second building was also just for us. Also area around is super beautiful, looks like typical mountain village side with no turist. We had wonderful time there, I am highly recommending!! Thank you Rony !
Jakub
2016-11-20T00:00:00Z
The place is beautiful and calm, pure nature! The Tower is magical! Rony and his family and friends are really nice and helpful people. Would like to stay here forever!
Vladimír
2016-09-07T00:00:00Z
We couldn't recommend Roni's place more. Everything was great. The home is nicely designed for a couple and truly keeps the 'mountain feel'. It's well-located, just a bit off the main road, and a short hike to the waterfall in Przesieka, and within a 15 min drive to Karpacz or Jelenia Gora. Roni's friend, Paul, was extremely nice and helpful, so we could ask anything. All in all, I'd definitely recommend staying here.
Jeremy
2016-12-26T00:00:00Z
The place was clean and warmed up with the fireplace when we arrived, the description and photos are very accurate. In winter it is best to sleep in warm clothes. Rony replied to my questions very fast, his friend that is taking care of The "Tower" was polite and very helpful.
Piotr
2016-12-30T00:00:00Z
We had a great contact with Rony and his helpers, even though he was not present in Przesieka. We could count on them in every situation. The Tower is beautiful and restful place. I would recommend it for everyone that wants to take a rest, hike or visit beautiful waterfalls nearby.
Michał
2016-07-31T00:00:00Z
We had a very nice stay at the tower! Wen we left we even got apples to go.
Klaske
2016-10-24T00:00:00Z
Room Type
Entire home/apt
---
Property Type
House
---
Accommodates
2
---
Bedrooms
Przesieka, Województwo dolnośląskie, Poland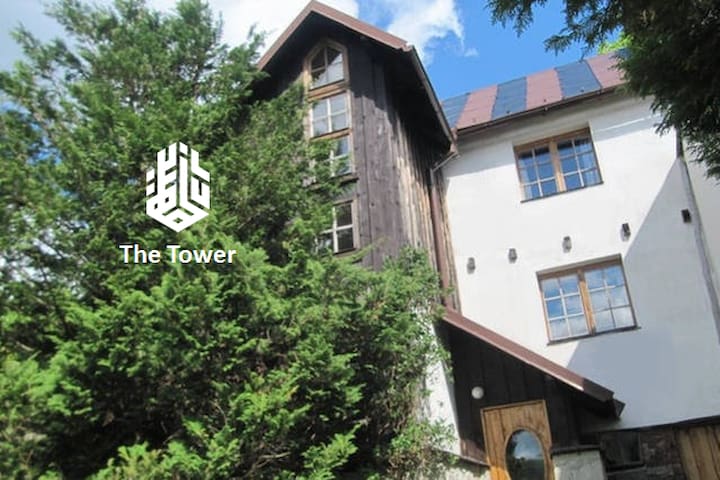 Je to ode mě blízko do Pece pod Sněžkou a Janských Lázní. It's close to Pec pod Snezkou and Janske Lazne.
Fantastic place, beautifully kept, you'll feel right at home in the heart of the Czech mountains. Hosts were lovely, and went above and beyond what we expected. Strongly recommend.
Will
2017-03-26T00:00:00Z
The house was super clean and Lucie put on the fire before our arrival so it was homely and very cosy from the beginning of our stay. The wooden house creates a very nice ambiance and it´s perfect to relax. I haven´t seen Lucie but communication was very friendly and easy and she was helpful with everything. I can really recommend this place!
Ina
2016-11-27T00:00:00Z
Krásná, nová, skvělě vybavená, čistá, romantická a utulná chatička na nádherném místě v přírodě, kousek od Pece pod Sněžkou.
Michaela
2016-10-23T00:00:00Z
Room Type
Entire home/apt
---
Property Type
House
---
Accommodates
6
---
Bedrooms
Horní Maršov, Hradec Králové Region, Czech Republic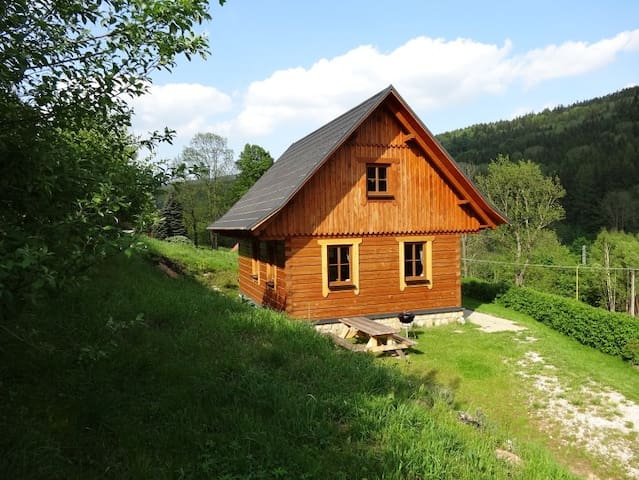 Your exclusive option for stay close to Giant Mountains (Krkonoše) in a private room of a luxurious newly-built house. Room is in a modern and luxury fitted house, all furniture in the room is brand new (2016). Spacious bathroom with both a bathtub and a wide bath shower is at your disposal, as well as a high-tech kitchen with stone counters, wide zonefree induction hotplate, inbuilt wifi radio, steam oven, dishwasher, profi Saeco espresso. Free bottle of quality wine (5 nights or more)
House is located ca 200 m from the village center, though it's just on the peaceful edge of the village surrounded by green meadows. There are lots of tourist attractions in the vicinity – Giant Mountains (Krkonoše), ski resorts, Adrspach sand-stone rocks, Babbiccino valley and a chateau in Ratiborice, African ZOO in Dvur Kralove, Hospital Kuks, Broumov monastery, Stachlberg 2nd World-war-fortress or Rozkos lake.
Hospital Kuks (27 km) – (celoročně) nově, velmi draze, zrekonstruovaná památka, zřejmě nejvýznačnější svého druhu min. ve východních Čechách, prozkoumejte barokní sochy M. Brauna a krásné bylinkové zahrady. ZOO Dvůr Králové n. Labem (25 km) – jedno z nejkrásnější ZOO v Česku, zaměřené na africkou savanu. Do ZOO lze zajet i autem a projet se otevřeným Safari a vidět zvířata ve volném výběhu, následované projížďkou výběhem lví smečky. Vodní přehrada Les království (35 km) – přenádherná, až pohádková přehrada vystavěna v roce 1920 a dnes na seznamu národních kulturních památek. Najdete ji u obce Bílá Třemešná, nedaleko Dvora Králové n. Labem Údolí Peklo (28 km) - je romantické údolí při soutoku Metuje s Olešenkou mezi Novým Městem nad Metují a Náchodem. Cestou se můžete zastavit na některé z čertovských specialit ve stylové Bartoňově útulně, kterou navrhl známý architekt Dušan Jurkovič. Klášter v Broumově (35 km) – barokní, zrekonstruovaný klášter patřící řádu Benediktinů, nejstaršímu mnišskému řádu Festival Cirkuff – začátek června – zažijte nezapomenutelné kousky nového, zato však již velmi zdařilého a známého festivalu nového cirkusu, každý rok s minimálně jedním prvotřídním souborem Open Air Music Festival (Trutnov) – předposlední víkend v srpnu – nejstarší a nejznámější open air music festival v ČR, jehož tváří byl bývalý prezident Václav Havel CIAFF – Air Festival v Hradci Králové – začátek září – Snad nejvýznamnější přehlídka moderní letecké techniky v ČR (stíhačky, helikoptéry, akrobatické létání a mnoho dalšího) Jestřebí hory – rozhledna Žaltman 739 m.n.m. Díky vynikajícímu výhledu uvidíte například Krkonoše, Orlické hory, nádrž Rozkoš, Kralický Sněžník nebo Trosky. Stolové hory (38 km) – dříve Hejšovina, se nacházejí na česko-polské hranici, poblíž Kudowa Zdrój. Jedná se o pískovcové stolové hory, nejvyšší v Polsku, s množstvím krásných stezek Cesta obřím dolem na Sněžku, Cesta z Malé Úpy na Sněžku a zpět do Pece, příp. ze Sněžky do Špindlerova mlýna Labská cyklostezka (35 km do Kuksu, cyklostezka tam a zpět cca 60 km) Kuks – Hradec Králové Cyklostezka – Svatoňovice (příp. Havlovice) – Ratibořice (Babiččino údolí) a zpět, cca 40 km Labský vodopád v Krkonoších & Cesta labským údolím do Špindlerova mlýna Rozkoš – největší vodní nádrž ve východních Čechách, vhodná zejména k cyklovýletu okolo (přes Nové Město nad Metují).
Great host, superb house. Pretty big room and awesome bathroom. Would recomend to anyone who's planning to stay in that area. Host made a nice surprise for breakfest. Thanks Jakub.
Jānis
2017-03-14T00:00:00Z
Perfektní servis, perfektní čistota, dokonalé :-)
Martin
2016-11-20T00:00:00Z
Strávili jsme zde pouze jednu noc, ale ubytování se nám velmi líbilo. Hostitelé jsou velmi příjemní, vše měli do detailu připravené a celý dům je nový, moderně vybavený, krásně uklizený a perfektně čistý. Kuba a Stáňa jsou velmi nápomocní, poskytli nám cenné tipy na výlety. Na pokoji nás čekalo malé překvapení na uvítanou. Krásně jsme se vyspali a určitě doporučujeme ostatním. Vše je hezčí než na fotkách :-)
František
2016-09-29T00:00:00Z
Stáňa a Jakub jsou velice příjemný pár a jednodenní pobyt u nich jsme si užili. Jejich velký dům s krásným a vkusně zařízeným interiérem nás nadchnul. A do hor to je blízko, což ocení lyžaři, běžkaři či letní turisté. Děkujeme
Honza
2017-02-12T00:00:00Z
Stáňa a Jakub jsou výborní hostitelé. Strávili jsme u nich 3 noci a vůbec se nám nechtělo odjíždět. Přes den jsme chodili lyžovat a na krásné procházky, které nám byly doporučeny, večery jsme si užili společně, ve velmi přátelské atmosféře a moc dobře jsme si popovídali. Jakékoli naše přání bylo s ochotou splněno a tak můžeme dovolenou u Stáňi a Jakuba jen a jen doporučit. :-)
Aleš
2017-02-15T00:00:00Z
Klidné prostředí, příjemní hostitelé, pohodlná postel a hezky vybavený dům :)
Tereza
2016-11-18T00:00:00Z
Krásný klidný dům s nadstandartním vybavením a velice milými hostiteli uprostřed atraktivního kraje plného přírodních i kulturních památek.
Radka
2016-10-02T00:00:00Z
Room Type
Private room
---
Property Type
House
---
Accommodates
4
---
Bedrooms
Velké Svatoňovice, Hradec Králové Region, Czech Republic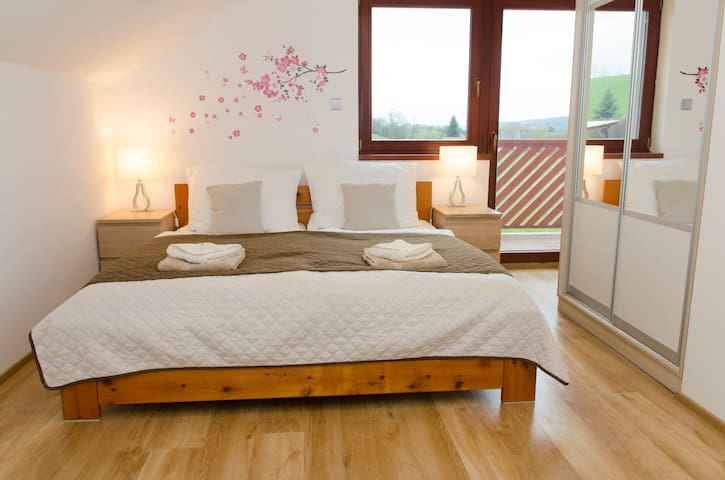 This modern house, built in 2015, is a part of semi-detached house and is located 10 min walk from the parking lot near the cable car lift to Snezka. Skibus stop is located 100 metres from the house. There are two bedrooms with a double bed, bunk bed and en-suite bathroom in each of them. The house has a living room with a TV and fireplace, equiped kitchen and a dining table. There is also a garage and infrasauna. The house is great for family vacations. No parties please.
The house has a kitchen with all the basic cooking equipment and a dishwasher. On the main floor there is also a living room with a TV, fireplace, sofa-bed for two and a dining table with 8 chairs. In each of the bedrooms in the upper floor, there is a double bed and a bunkbed. The maximum capacity of the house is 10 people. There is a sauna room with infrasauna and also a garage for two cars and a wall-mounted ski holder. There are another two parking spots in from of the garage.
The house is located in Pec pod Snezkou (see the map). During winter there is a skibus that can take you to the main skilift Javor in approx. 5 mins. The bus stop is less than 100m from the house and the skibus runs regularly in 15-20 min intervals. You can also walk to the skilift, which is about 800 metres away. Therefore it is better to take the skibus if you are wearing ski boots. There is a small supermarket 5 min walk from the house and a little bakery with fresh bread 8 min walk. The Snezka cable car is a 20 min walk away but the towncentre with all the restaurants is less than a 10 min walk.
Room Type
Entire home/apt
---
Property Type
House
---
Accommodates
10
---
Bedrooms
Pec pod Sněžkou, Hradec Králové Region, Czech Republic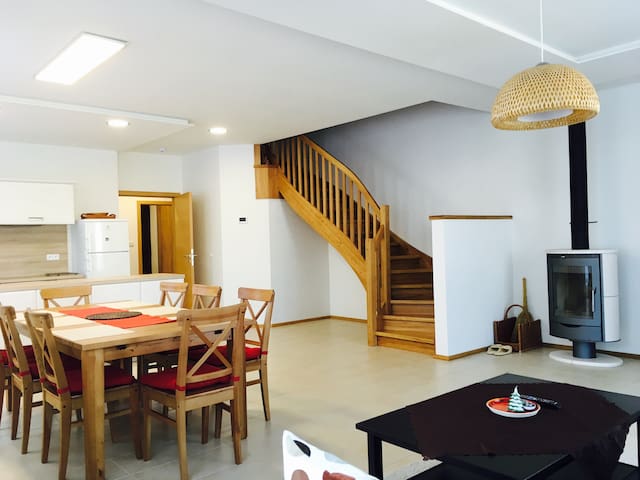 1

–

18

of

106 Home Rentals
Enter dates to see full pricing. Additional fees apply. Taxes may be added.