APARTMENT IN FARM. ENTRY WHICH LOOKS ON A SPACIOUS COURTYARD WITH CHILDREN. HOUSE MADE UP KITCHEN, ROOM WITH 2 BEDS (OPPORTUNITY 'TO HAVE 1 DOUBLE BED OR 2 SINGLE BEDS) AND BATHROOM WITH SHOWER.
ACCOMMODATION IDEAL FOR BREATHING AIR OF ANCIENT TIMES AND LIVE THE RICHES OF NATURE! STRUCTURE DATES BACK TO 1700, THE HEAD OF AN ANCIENT TIMES LOCAL COURT OF AUSTRIAN. CURRENTLY WE LIVED ONLY OWNERS, HOLDERS OF A FARM ADJACENT. We breed cattle DAIRY PRODUCE AND FODDER, RICE, CORN AND ORGANIC MILK. FOR LOVERS OF ANIMALS WE ALSO HAVE A SWEET PONY, TWO FUNNY GOATS, CHICKENS AND DUCKS IN ADDITION OF COURSE A COWS AND calves! THE HOUSE, SIMPLE BUT COMFORTABLE, AND 'LOCATED ON THE GROUND FLOOR AND' MADE UP OF KITCHEN, BEDROOM WITH TWO BEDS (OPPORTUNITY 'TO HAVE A DOUBLE BED OR 2 SINGLE BEDS) EQUIPPED WITH TV, BATHROOM WITH SHOWER, SOAP AND HAIR DRYER . AVAILABLE ON REQUEST COT CAMPING FOR CHILDREN. HEATING WITH PELLET STOVE. FREE PARKING.
THE FARM IS IN TOWN CENTRE, A FEW STEPS FROM BAKERY, STORE OF FOOD, BAR, RESTAURANT, PHARMACY, PARISH CHURCH.
Deborah has made a very comfortable space for visitors in her large older farmhouse. She was very attentive to our needs. Fresh milk and eggs are available at a very reasonable price.
Heather
2017-04-06T00:00:00Z
Every moment we spent at Deborah's place, she made us feel as comfortable as if we were at home, but still the cow's mooing and the roster's crowing reminded us we were in a cozy, beautiful and full of amenities farm. Highly recommended, this host will address any of your requests, if they are reasonable. Not to talk about the unforgettable taste of the fresh milk she provided us for breakfast.
Federico
2015-09-27T00:00:00Z
Il soggiorno al Canto del Gallo 2 non poteva essere piu' piacevole. L'ambiente autentico dell'azienda agricola di famiglia trasporta gli ospiti in un'atmosfera antica e rilassantissima. Si e' circondati da dettagli architetonici e spazi di un passato raffinato non raro per la societa' agreste della zona. Il ponticello sulla grande roggia, il bellissimo cancello di ferro battuto dell'entrata, le colonne del porticato di granito e la tradizionale ampia aia danno un incantevole benvenuto a chi arriva. La struttura si trova in pieno centro di Bereguardo, a circa 50 metri si trovano: una ottima salumeria ( famosa per la sua carne) pizzeria, un paio di bar, e poi farmacia poste e altri negozietti sono solo poco piu' in la'. Inoltre il bellissimo castello di Bereguardo e' anche lui proprio dietro l'angolo. La chicca non trascurabile e' la possibilita' di far colazione col latte fresco delle loro mucche, una vera e rara squisitezza. La premurosa gentilezza e cordialita' di Deborah sono impeccabili, quanto piu' apprezzati considerando gli impegni con la fattoria e la famiglia! Le nostre lunghe e piacevolissime chiaccherate hanno reso la visita veramente indimenticabile. Lo raccomando senza esitazioni e spero tornare presto.
Ninfa
2017-01-15T00:00:00Z
Un posto molto carino per me ,anche se solo per una notte, In casa non manca niente di quello che serve e a anche di piu! Mi è piaciuto molto la sensazione di vivere in un cortile come una volta ! Deborah è precisa disponibile e simpatica! Consigliato
Alessandro
2017-03-12T00:00:00Z
Sono rimasto un mese nella casa di Deborah e sono stato bene.Ben arredata e molto (URL HIDDEN) cucina c'è tutto quello che serve ed ho trovato anche dei buoni prodotti per fare (URL HIDDEN) letto è molto grande e comodissimo.Un bagno grande e comodo.Sfortunatamente ho avuto dei problemi col wi-fi perchè,praticamente ogni fine settimana,non ho avuto la disponibilità del segnale che,spesso si è anche protratto al lunedi.Non so esattamente da cosa dipendesse,anche se,l'ultima domenica del soggiorno,andando in un negozio in paese,anche lì mancava internet.Comunque. Ma la casa,in generale,è molto comoda avendo tutto quello che ti serve a portata di mano e molto vicino al paese e ad una macelleria molto economica e con prodotti di ottima qualità.Un grande vantaggio è la disponibilità di mettere la macchina dentro il cancello,senza che dia fastidio ed al sicuro,visto che c'è una grande aia,di quelle belle contadine a disposizione e,quando chiudi il cancello automatico sei a (URL HIDDEN) cascina è in paese,anche se un pò in disparte,quindi non è sulla strada principale è un pò lontano dal traffico vero,anhe se è comunque una strada dove le macchine passano e,essendo la casa al piano terra, un pò di rumori si sentono,soprattutto se apri le finestre,non danno gran che fastidio,ma dipende dai (URL HIDDEN) stato anche troppo tempo in casa,soprattuttoil fine settimana,invece di uscire a vedere zone nuove,ma chi ci viene in vacanza può star tranquillo che di notte c'è una grande tranquillità ed un silenzio grazie ai quali si riposa bene.Ma è normale,se c'è una strada è logico che è fatta per essere utilizzata,sia da chi abita piu' in la sia da chi la deve usare per (URL HIDDEN) generale,si sta molto bene perchè stai in campagna,con tutti i profumi della campagna,ma a soli 11 km da una bella città come pavia,da vedere assolutamente.Diciamo che,non ho sentito il canto del gallo la mattina,ma chi la sceglierà per motivi di lavoro,non avrà problemi a svegliarsi la mattina presto,diciamo che c'è quasi una sveglia (URL HIDDEN) Casale è stupendo,un vero casale antico e ne sono rimati pochi ancora ben tenuti così e senza essere stati tutti rinnovati come va di moda oggi.Deborah grazie ancora sia della grande disponibilità e la simpatia,a cominciare dal check-in visto che sono arrivato un pò tardi la sera.E ringrazia anche tua suocera per le chiacchierate anche se un pò al volo.Dai un abbraccione a tutti i bei cani e soprattutto a pluto,che è stato dolcissimo con me da subito e alla piccola maya.m'auguro di rivedervi,grazie ancora,state bene.
maurizio
2017-03-08T00:00:00Z
Deborah è stata gentilissima ad accoglierci di domenica sera (avendo prenotato un'ora prima). L'alloggio è essenziale e funzionale come descritto. Il contesto è molto familiare, rustico e piacevole e Deborah è stata molto disponibile e gentile. Il posto è tranquillo e silenzioso, distante appena 10 minuti da un grande Carrefour a Pavia. Nonostante abbia restaurato l'appartamento da pochi giorni, abbiamo avuto tutto quello di cui avevamo bisogno.
Lavinia
2015-08-24T00:00:00Z
Déborah est très accueillante et souriante. Son logement (une chambre , une salle de bains et une petite cuisine ) est pratique , dans un petit village vivant , proche de milan . c'est une très belle adresse
annick
2015-10-04T00:00:00Z
Deborah est une hôte charmante, pleine d'attention et disponible. Nous avons passé une seule nuit mais l'endroit est parfait lorsque l'on veut être au calme, loin des bruits de la ville. Nous recommandons hautement Il canto del Gallo :-)
françoise
2015-10-11T00:00:00Z
Room Type
Entire home/apt
---
Property Type
House
---
Accommodates
2
---
Bedrooms
Bereguardo, Lombardia, Italy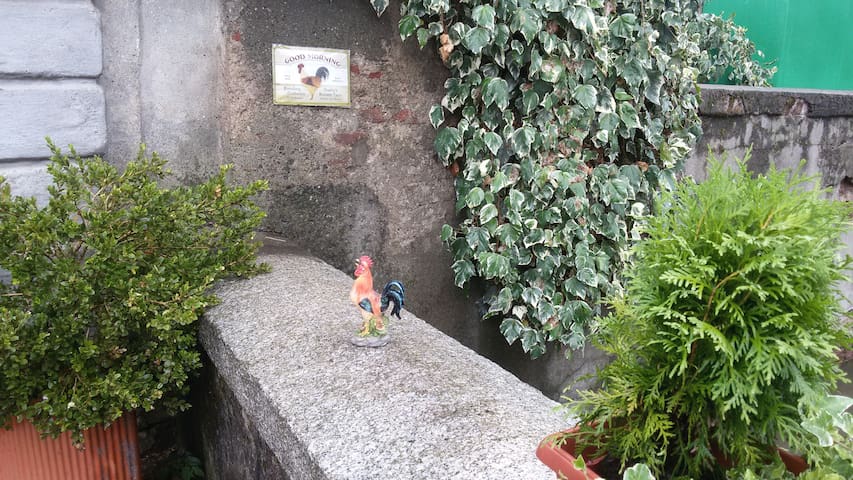 Lidl under the house. Fully equipped kitchen / 4 persons. terrace of 30 sqm. Equipped. Latex mattress. living room sofa bed orthopedic. Washing machine. Oven. Bicycle. 15 'from the famous Certosa di Pavia (to visit!) 25' Milan mm / 1h.30 'Genova E' preferable to have a car, public transport, there are (not recommended with very young children), but must respect the timetable (frequency limited to Milan two round trips conducted by Trivolzio every day, to Pavia are more frequent)
Very disappointed only stayed one night as we had no means of getting out of the village as transport is very poor, after talking with the host they agreed to refund our money but have ignored all emails and calls from us we lost so much money as it was no stated in description a car would be needed
Jo
2016-05-27T00:00:00Z
El trato y la atención perfecto, siempre a disposición nuestra. Nos recibió con todo listo para poder tomar algo antes de dormir y con todo lo necesario para desayunar los dos días que estuvimos y para cocinar lo que quisiéramos. Muchas gracias Giorgio.
Tomas
2016-05-30T00:00:00Z
Grazie mille di tutto come sempre!
Lorenzo
2017-04-10T00:00:00Z
Giorgio e sua moglie sono stati ideali. La casa, come sulle foto. Hanno lasciato anche del cibo, acqua e latte fresco.
Tonino
2017-01-12T00:00:00Z
Come sempre accolti magnificamente!
Lorenzo
2017-03-13T00:00:00Z
Ottimo alloggio caldo e accogliente, posizione perfetta Tornerò sicuramente!
Lorenzo
2017-02-13T00:00:00Z
Room Type
Entire home/apt
---
Property Type
Flat
---
Accommodates
4
---
Bedrooms
Trivolzio, Lombardia, Italy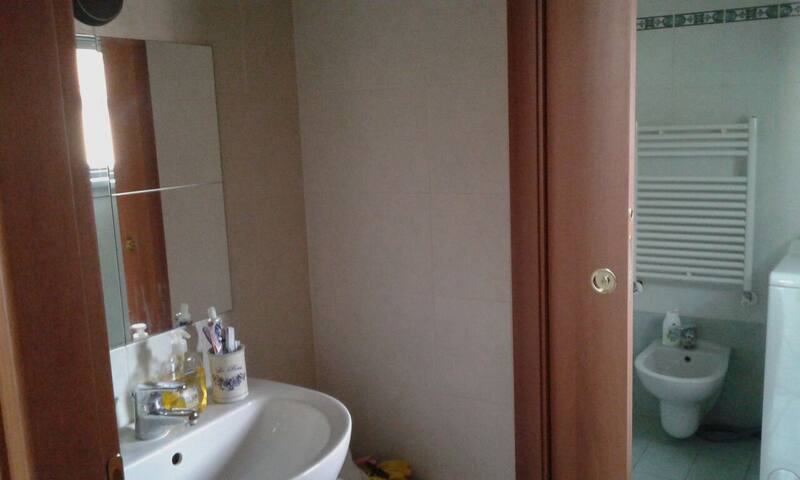 Looking for a cozy holiday home not far from Milan to endorse the BIT to the Rho-Pero? Residence Zelata is only 15 minutes from Milan. We will be happy to welcome you. Call and we will find the right accommodation for you!
Ottimo soggiorno, appartamento ben arredato e cucina accessoriata. Parcheggio interno. Lo consiglio a chiunque. L'host è gentile e disponibile, ci tornerò sicuramente
Vanessa
2017-01-24T00:00:00Z
Room Type
Entire home/apt
---
Property Type
Flat
---
Accommodates
3
---
Bedrooms
Bereguardo, Lombardy, Italy
The Casa di Miele is in the countryside of Pavia. You can go to Pavia in 5 min. and to Milan in 20 min.. The beautiful Ticino Park is nearby, reachable by car or by bike . The bathroom and living/breakfast room are in common use.
Bright apartment on the second floor , immersed in the countryside Pavesi . Upon awakening you will be greeted by the chirping of birds and the commitment to do some caresses to the sweet honey that will shamelessly ask !!
Marcignago is a small town but has all the services : supermarket, bars, banks, post office, laundry, pizza takeaway, hairdresser man and woman. And ' connected to Pavia and Milan Famagosta (metro station with big parking) by public transport during the entire period of the day. Transport Company PMT
We had a very pleasant stay in la casa de miele de Luca. The appartment was really clean, we had enough residential and sleeping possibilites, furthermore the appartment was air-conditioned which is really useful especially on hot days. The landlord was very friendly and helpful as well. All in all we really enjoyed our stay, we have nothing to complain about and we would totally recommend this appartment!
Anh
2016-08-01T00:00:00Z
Good place to stay if you come to Milan grom the south\ east. Nice and private room. We fully recommanded!
מתן
2015-09-20T00:00:00Z
The host canceled this reservation 2 days before arrival. This is an automated posting.
Elise
2016-10-27T00:00:00Z
It was a pleasure to spend some time with Luca and his wife. Thay are very open, warm, welcoming people; The rooms are really nice, beautifly decorated; nice bathroom and very tasty and big brekfast. All this is not faraway from Milano so we reccomend this location.
jacques
2015-10-19T00:00:00Z
Anna hat uns ein 5-Sterne-Nachtessen hingezaubert, oberlecker! Gleich hinter dem Haus hat es eine Spielplatz, wo sich die Kinder austoben konnten, super! Die Wohnung befindet sich in einer schönen, abgesperrten Siedlung mit autofreiem Innenhof mit viel Grün, ganz nach unserem Geschmack. Es war sehr ruhig und schön.
Karin
2016-04-25T00:00:00Z
Super accueil d'Anna et Luca. Chambre comfortable et parfait pour visiter la région.
Pierre
2016-07-27T00:00:00Z
L'alloggio si trova all'interno di un residence in centro a Marcignago, un piccolo paese dell'entroterra pavese. Sono andata insieme al mio compagno e a due miei figli e ci hanno fatto alloggiare in una camera con letto matrimoniale e letto a castello, dotata di tv, wifi gratuito e spine comode per la ricarica di apparecchi elettrici. Il bagno a nostro uso esclusivo era di fronte alla camera, molto ampio e pulito. La colazione buona e Anna è stata disponibilissima anche per l'orario. Siamo rimasti una sola notte ma ci siamo sentiti come a casa.
Silvia
2017-03-12T00:00:00Z
Anna et Luca nous ont très bien accueillis dans leur B&B. Ils ont été à la fois bienveillants et discrets si bien que nous nous sentions presque chez nous. Leur petit chien est adorable, très calme et discret, un vrai peluche. Bref un B&B que je recommande avec enthousiasme !
laurent
2015-10-26T00:00:00Z
Room Type
Private room
---
Property Type
Bed & Breakfast
---
Accommodates
6
---
Bedrooms
Marcignago, Lombardia, Italy
Private double room in detached house at 5 km from Pavia to 20 from Milan. The house is located in Torre d'Isola in Ticino Park, near Pavia. Quiet and immersed in the Pavesi's countryside with convenient connections to all cities
Casa accogliente, in un paesino tranquillo lontano dal caos della città, dotata di camino, cucina spaziosa, due camere, disponibile la stanza singola privata, quella matrimoniale privata, o tutta la casa. Contattatemi per i preventivi e date. Colazione se richiesta. Ampio parcheggio all'aperto.
Vivere il paese: pizzeria, ristorante, ed un piccolo negozio di alimentari sono i principali servizi del paese.
Simone is awsome, really nice bedroom, very good breakfast.
Carlos
2016-05-30T00:00:00Z
Everything was awesome :)
Filip
2016-09-21T00:00:00Z
Simone si è rivelato attento, gentilissimo e comunicativo. La sua casa è molto bella e il letto comodissimo. Ha un grande bagno pulitissimo. Ci ha offerto da bere e ci ha messo tutto a disposizione. TOP
Matteo e Elisa
2016-09-07T00:00:00Z
Simone è stato molto disponibile e ci ha dato indicazioni precise su come raggiungere l'appartamento e sui servizi disponibili in zona. La casa è pulitissima e ci siamo trovati davvero bene. Lo consiglierei di sicuro :)
Sonia
2016-10-08T00:00:00Z
Simone è stato cortesissimo, ci siamo accordati telefonicamente al momento della prenotazione. In prossimità di Torre d'Isola l'abbiamo contattato per chiedergli indicazioni e si trovava sulla superstrada appena davanti a noi. L'abbiamo seguito. La sua casa è molto accogliente, con una bella camera da letto doppia e un gran bel bagno, condiviso con l'altra camera singola. Simone è simpatico e disponibile, ci ha accolti davvero bene. In conclusione non posso che consigliarvi una sosta da lui!!
Michele
2015-10-05T00:00:00Z
Simone ci ha ospitati la mia ragazza e me molto bene. La sua casa era pulitissima e ci siamo sentiti subito come a casa nostra. Il letto e molto comodo e il bagno fantastico. Simone ha preso cura di noi, indicandoci cosa visitare in Pavia e ci ha anche dato una mappa della citta. Ottimo ospite ! Grazie mille per tutto :)
Laurent
2015-11-01T00:00:00Z
Casa veramente carina e accogliente. Io e mia sorella ci abbiamo soggiornato per 5 giorni per motivi di studio. Comodo per chi viaggia in macchina l'ampio parcheggio davanti alla casa; le stanze sono tutte molto pulite ed attrezzate con tutto ció che occorre. Simone è estremamente cortese e disponibile per qualsiasi informazione o aiuto, ci ha fatto sentire veramente come a casa. Lo consiglierei ad amici e parenti.
Veronica
2017-01-27T00:00:00Z
Soggiorno brevissimo e abbiamo avuto poco tempo per vivere la casa, ma ringraziamo Simone per la ospitalità e gentilezza. Camera comodissima in posizione tranquilla.
Lorenzo
2016-09-18T00:00:00Z
Room Type
Private room
---
Property Type
House
---
Accommodates
2
---
Bedrooms
Torre d'Isola, Pavia, Italy
Grazioso bilocale completamente arredato nuovo,in posizione tranquilla. Adatto per soggiorni brevi e di lavoro. Parcheggio Biciclette a disposizione gratuite per passeggiate nel Parco Ticino o sul Naviglio Giardino con gazebo Ing.idipendente
La posizione situato al centro del triangolo Milano Vigevano Pavia
La piazza dedicata alla poetessa Ada Negri. La biblioteca Vecchi Torchio IL Fiume Ticino
Great place to stay. Great host! Went out of his way to drive my wife and me to the train station. Would recommend for anyone and would stay again. Would recommend driving next time, being that the apartment is far from train station. Thanks again for the great experience!
Michael
2015-10-18T00:00:00Z
ottimo host, consigliatissimo!
Chetedio
2016-05-16T00:00:00Z
Room Type
Entire home/apt
---
Property Type
Flat
---
Accommodates
3
---
Bedrooms
Motta Visconti, Lombardia, Italy
Splendid Villa immersed within the Parco del Ticino. 5 km Away from Pavia DownTown and 18 km away from Milano South Entrance (Famagosta Metro Station). 4 Rooms available, wifi, pool in summer, garage, and warm French Hospitality school of Aline!
Cozy and Recently refurbished villa dislocated on the 3 floors. Swimming pool in the back yard at guest disposal only in the summer season.
Room Type
Entire home/apt
---
Property Type
Bed & Breakfast
---
Accommodates
8
---
Bedrooms
Torre D'isola, Lombardia, Italy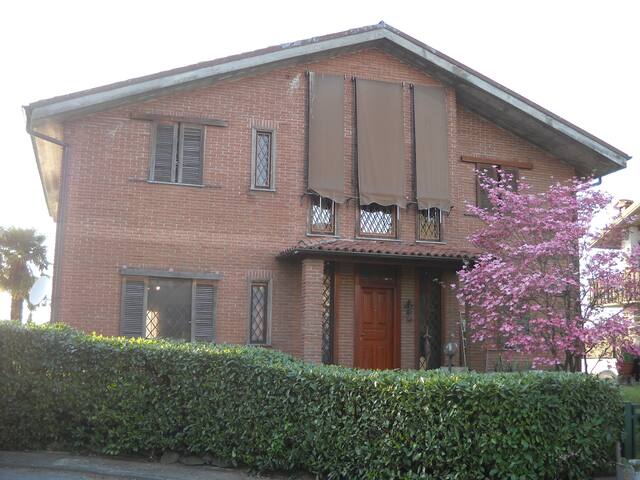 Private Room in just renovated apartment very quiet comfortable and only 100 meters from Garbatella subway station and 500 meters from Roma Ostiense railway station.Very powerful and reliable wifi internet provided for free. Private bathroom. Kitchen
Room Type
Entire home/apt
---
Property Type
House
---
Accommodates
4
---
Bedrooms
Casottole, Lombardia, Italy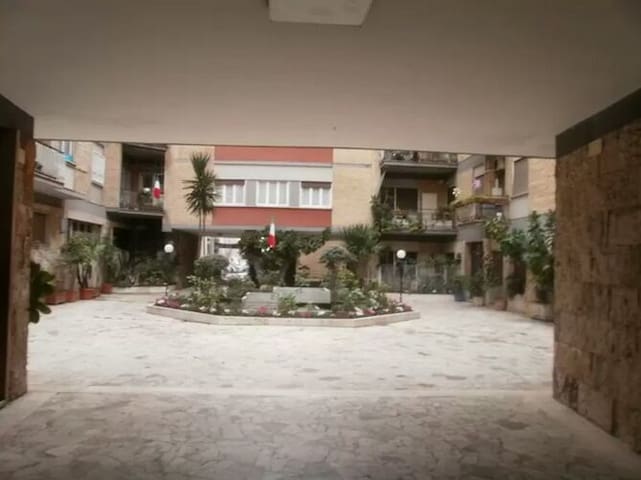 The stay at Simone's house was very pleasant! The house is nice, well kept and well furnished. Nothing missing! All the rooms, especially the kitchen, are ample and confortable and the house is in a very quiet place, only few km apart from Pavia. Simone has been very kind and helpful, a perfect host! I reccomend this house for a delightful stay in the peaceful countryside close to the city
M
2015-09-11T00:00:00Z
It is a wonderful place to stay, big and comfortable. There is absolutely everything needed for a stay. And it has chimney which is especially nice in autumn :) Simone was a great host who kept in touch with us to make sure we felt great. Many thanks to him for offering help when I had a problem with toll payment. We were absolutely happy to stay here.
Andrei
2015-10-25T00:00:00Z
Simone e stato gentilissimo... casa bella e molto accogliente in un posto molto tranquillo... ci siamo trovati molto bene Grazie! :-)
Luca
2016-01-02T00:00:00Z
Sono di ritorno da un breve soggiorno piacevole. Simone è una persona gentile e premurosa. La casa pulita, bella e graziosa come da descrizione se non superiore, ben arredata e in una zona tranquilla. Mi sono sentito ad agio come se fossi a casa mia e Simone pare un vecchio amico. Esperienza molta positiva in tutto. La consiglio vivamente.
ROCCO
2015-10-04T00:00:00Z
Simone è davvero un host carinissimo, disponibile e riservato. È stato paziente e si è adoperato per venire incontro ad ogni nostra esigenza, soprattutto per gli orari di check-in e check-out. La casa è davvero bella, ben organizzata, pulita e soprattutto silenziosissima: abbiamo dormito come due ghiri fino a tardi! La cucina è grande, comoda e attrazzata di ogni utensile. Da quando varchi la soglia e per tutto il soggiorno ti senti come se fossi davvero a casa tua. Consigliatissima. Soprattutto per trascorrere una serata in totale relax e tranquillità.
Cristina
2015-12-12T00:00:00Z
casa senza Wi-Fi senza TV. Prezzo eccessivo 54€ a notte. Paese Torre D'Isola e prezioso. La casa non era pulita c'era un po di polvera da per tutto. Letto comodo materasso ottimo. Da migliorare in troppe cose. Proprietario gentile simpatico disponibile.
Ileana
2015-09-27T00:00:00Z
Ottimo. Come stare a casa mia. Anzi meglio. Simone è il numero 1! Grandissimo...consiliatissimo
Enrico
2015-10-21T00:00:00Z
La permanenza da Simone è stata molto piacevole. La casa è davvero bella, ben arredata all'interno, con gusto, organizzata su due piani, molto spaziosa e pulita. Siamo stati accolti molto gentilmente dall'host e ci è stata mostrata l'intera struttura. La zona è molto tranquilla e circondata dalle campagne, ricca di verde e con il centro della frazione a pochi minuti a piedi. Abbiamo chiacchierato piacevolmente con Simone che si è dimostrato anche molto discreto e rispettoso della riservatezza degli ospiti oltre che flessibile con gli orari di check in e out. Insomma una esperienza assolutamente positiva! Consigliato per chi vuole un pernottamento all'insegna della tranquillità.
Simone
2015-08-02T00:00:00Z
Room Type
Entire home/apt
---
Property Type
House
---
Accommodates
3
---
Bedrooms
Torre d'isola, Lombardia, Italy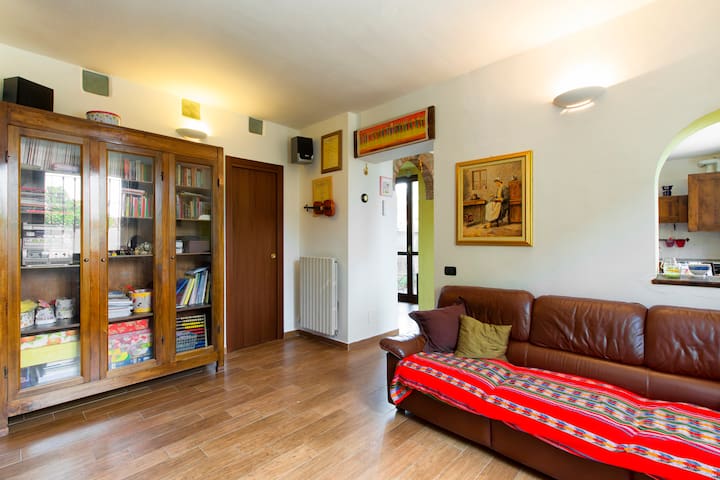 Il Bed and Breakfast è situato in una bella casa indipendente e recentemente ristrutturata immersa nel verde. A disposizione degli ospiti camere da letto con bagno privato arredate con stile.
Нам очень понравилось у Paolo. Дом очень приятный. Paolo волшебный повар и гостеприимный хозяин. Только нет Интернета.
Svetlana
2015-06-14T00:00:00Z
Room Type
Entire home/apt
---
Property Type
Bed & Breakfast
---
Accommodates
6
---
Bedrooms
Casorate Primo, Lombardia, Italy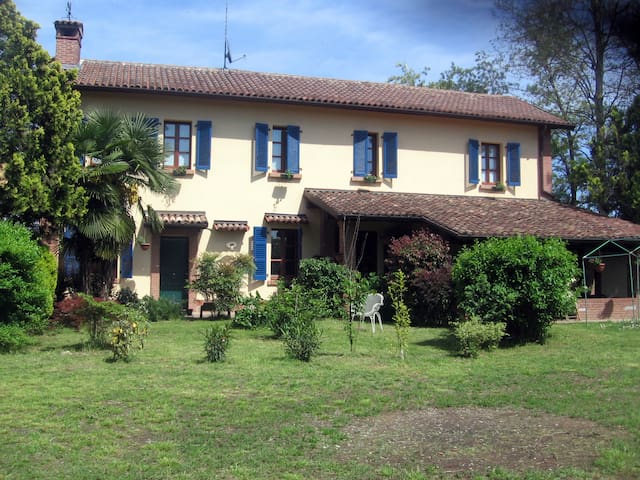 Parasacco is a small country village with 300 inhabitants in the commune of Zerbolò not far from the famous University town of Pavia and from the city of Milan. The village is situated in an area which is famous for the production of rise. In this area in fact there are huge rise cultivations normally determined by long rows of poplars or by woods which determine the natural Lombard park of the Ticino valley: the oldest one in Italy that can be reached by beautiful rides by bike. The house where I live is a typical old farmhouse built in the 30'with a rectangular plan structure. There are two floors and 4 flats with private entrances each, one after the other on the North side. My flat is the first one and you can reach it through a narrow road crossing the village. Following this road you drive along the countryside determining the Ticino Park and, after approximately 5 miles, you reach the main road leading to Pavia-Vigevano. On three sides the house is surrounded by grass. On the ground floor there is a small entrance, a kitchen, a lounge, a bathroom with shower and a storeroom. On the upper floor there are three bedrooms and a fifth one which is used as a study. All bedroom windows overlook the three sides of the house towards North, West and South. We dispose of many bikes besides an old but perfect Moto Guzzi 350, for your trips in the country!
Room Type
Private room
---
Property Type
House
---
Accommodates
4
---
Bedrooms
Province of Pavia, Lombardy, Italy
4 Apartments completely independent for two people with possibility to annex two more people adding 10,00€ pro person , You will find inside the Apartments everything you need for to cook.
The reservation was canceled 6 days before arrival. This is an automated posting.
MDL expo
2013-03-19T00:00:00Z
The reservation was canceled 29 days before arrival. This is an automated posting.
Maria
2013-06-16T00:00:00Z
The apartment is spotless and very well equipped. The airconditioning was great in summer, the apartment is very big and has a nice setup. Good enough to live there! They have a big garden where you can sit and also a balcony looking over the big farm houses and interior. Nicole was very friendly and available in the contacts. Because I am looking for an agricultural field to rent, I've got to know the family very well. They are fun, relaxed, good cookers and smart and interesting people with a good heart! Definitely recommend staying there.
Edwin
2016-07-28T00:00:00Z
Room Type
Entire home/apt
---
Property Type
Flat
---
Accommodates
4
---
Bedrooms
Soncino, Lombardy, Italy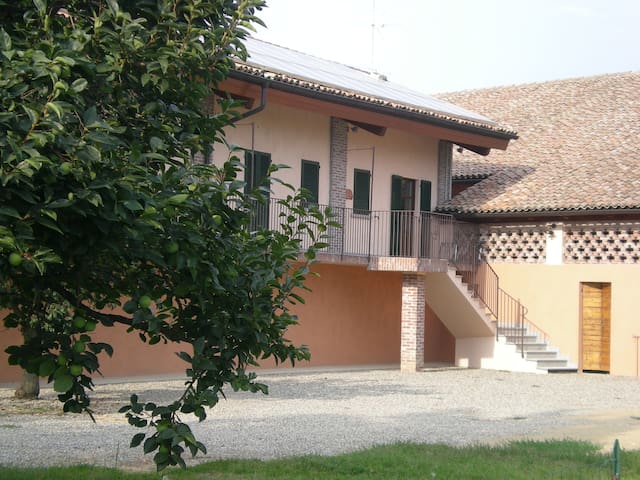 Dormire nella porcilaia: per una fuga romantica o gita fuori porta "simpatica". Essendo luogo dove nascevano i maiali, l'abitazione è stata ristrutturata mantenendo la sua caratteristica.
La porcilaia è stata recentemente ristrutturata con soffitti in legno, mattoni a vista, stufa a legna e particolari vetrate che rendono la villa molto accogliente. All'esterno potrete rilassarvi su poltroncine di vimini e un dondolo, circondati dal verde .
Le acque limpide delle numerose sorgive rendono questa zona del Parco del Ticino particolarmente verde e immacolata. Passeggiando in cascina fra gli enormi alberi, le piante cariche di frutta, la casa del lattaio, la stalla buoi, la porcilaia sembra di esser in un'altra epoca, l'epoca della "Mundaris". In quel periodo , non esistendo i diserbanti, le mondariso pulivano a mano le numerose risaie estirpando le piante infestanti , mentre lavoravano cantavano canzoni popolari. Le mondine e le loro famose canzoni ci ricordano le nostre belle tradizioni locali.
We spent a night at Patrizia's appartment. The bedroom (and bathroom) is very large and clean. The kitchen and dining room are very well equipped and huge :) Patrizia's family, friends and neighbors are very friendly and available for questions. Arriving at the house, you have the opportunity to go on a "special" bridge :) An excellent price-performance ratio :)
François
2014-08-27T00:00:00Z
Excellent host and hospitable family greeted us on our late arrival. The place was warm, clean, comfortable and welcoming. Patrizia was very helpful and made sure all our needs were catered for. She and kind father treated us to their farm "pork salami" and a delicious dish of spinach and succulant salami for dinner! We highly recommend her place.
Lim
2015-02-09T00:00:00Z
It was incredibly great staying at Patrizia´s house. It is a farm, we went to collect the eggs and then we had them for breakfast. The room is spacious and the kitchen is very big and well equipped. Hope to come here once more.
Sarah
2014-09-03T00:00:00Z
If you're looking for a little getaway outside of the city, this is the perfect place to stay. Although not the most ideal for visiting Milan, we had a great time! There isn't any public transportation that reaches Zerbolo, so expect to spend some money on Uber rides or taxis. Despite this inconvenience, Patrizia and her entire family were SO GREAT to us! They really made us feel at home, and we can't say thank you enough to them for showing us a side of Italy that most tourists will never see. And if you're fortunate enough to stay with the Amati family, be sure to feed the chickens with them! :)
Trina
2015-02-23T00:00:00Z
The place is nothing like it looks in the pictures - it is just heavenly !! The farm is big and wonderful and Patrizia is a great host. We had a lovely time here and while communicating in English was a bit of a problem, Patrizia made us feel at home and we did not have a single problem. She made sure we had everything we needed and also took us on a quick tour or farm the next morning where we picked up eggs for breakfast. Kids will especially love this experience as the farm has pony, pigs, hundreds of hens, cows, etc. Make sure you stay here for at least a couple of days and enjoy the hospitality of the lovely lady Patrizia. It's a great countryside experience and Milan is also very near. All in all a wonderful experience.
Ojas
2014-10-16T00:00:00Z
Although we only stayed one night, we had a lovely experience. Everyone was very welcoming! Fresh eggs, zucchini and figs from the farm made a nice dinner and breakfast. Thank you.
Andrea
2014-08-17T00:00:00Z
This farm is really a wonderful place to stay, and Patrizia was an extremly helpful, very nice and kind host! She was always in connection with us, and she always had printed maps and translated information about everything. We really enjoyed the days we've spent there, the best things was taking care of the chickens and pigs, collecting eggs in the morning, taking bicycle trips in the countryside, cooking in the huge and well-equipped kitchen, and spend time with the whole nice family around Patrizia. Thank you for everything, I'm looking forward to see you again in springtime!
Gabor
2014-10-29T00:00:00Z
The time we arrived a little late, the owner is very warm reception. Our room was large and very clean. Large kitchen here, we made dinner. All is well!
WEI
2014-09-28T00:00:00Z
Room Type
Entire home/apt
---
Property Type
Flat
---
Accommodates
6
---
Bedrooms
Parasacco di Zerbolo' ( Pavia), Lombardy, Italy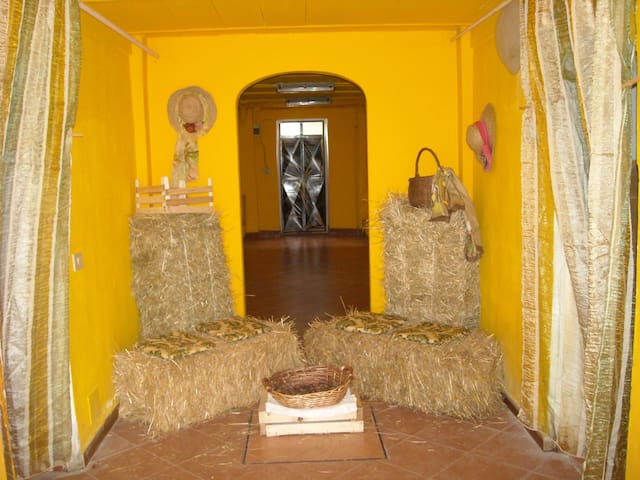 A very good reception! i recommand! The house was very clean and warm. Simone, despite our late, is pleasant, arranging and can be an innkeeper (clean towel for 3 people, soda and fruit juice in fridge, cofee and tea available for breakfast :)). Moreover, beds and sofa was comfortable, and it's here the most important to have a healthy night. We will come back.
Maxime
2015-10-11T00:00:00Z
Consiglio a tutti di soggiornare nella bellissima casa di Simone, vi sentirete come a casa (forse meglio!), spaziosa e accogliente è un'ottima sistemazione. Simone è gentile e disponibile, non vi farà mancare nulla!
Ilaria
2016-08-17T00:00:00Z
Séjour formidable. La maison est géniale et l'hôte très accueillant malgrer l'heure tardives a laquelle nous sommes arrivé et surtout notre retard très important . Vraiment rien a redire tout a été parfait.Nous sommes resté 2 jours et avons reçus des sms très gentil de simone pour s'assurer que nous n'avions besoin de rien. Encore Merci pour votre hospitalité
Cécile
2015-10-18T00:00:00Z
Room Type
Entire home/apt
---
Property Type
House
---
Accommodates
3
---
Bedrooms
torre d'isola, pv, Pavia, Italy
Carinissimo e confortevole appartamentino, comodamente arredato, con possibilità di angolo cottura, balcone in cortile di proprietà ideale per una coppia situato nel Parco del Ticino a 4 km da Gropello Cairoli e 15 minuti da Pavia
Grande camera matrimoniale, soggiorno e bagno. Ingresso privato.
Zerbolo' è un piccolo paese situato nel Parco del Ticino a soli 4 km da Gropello Cairoli e 15 minuti circa da Pavia. Caratterizza questo piccolo paese la presenza perenne di cicogne.
Gloria's place is very nice, even better than in pictures, very spacious and clean. We had a lot of car troubles, Gloria and her family were very helpful. We had to be in Pavia the next day, and Gloria parents drove us, because our car was at the mechanic. We are very thankful. Even when we left, we had car troubles again, so we contacted Gloria, and she was very kind and nice. Definitely would recommend Gloria as a host, and her apartment for rent.
Sanja
2017-02-16T00:00:00Z
All good just a bit loud on the weekend.
Peter
2017-03-12T00:00:00Z
Very clean, quiet, spacious and graciously arranged appartment in a family "condominio" - yet privacy assured. 15 minutes over a lovely road from Pavia. It was a good idea not to have our dinner at Pavia but in the pizzeria right downstairs the appartment. Delicious meal.
Tine
2016-08-02T00:00:00Z
Gloria and her family were very kind and friendly. Apartment was clean and comfortable - 2 separate rooms with 1 bathroom. Wifi isn't available in whole apartment or connection isn't stable.
Milan
2016-10-06T00:00:00Z
Good and well priced appartment in the middle of Zerbolo. We would come back again!
Peter
2017-01-22T00:00:00Z
Gloria's place is quite nice. Zerbolo' is a quiet rural town in the Lomellina at the junction of the Po and Ticino river valleys near Pavia. If you have a need to be in the area, Gloria's family will take of you.
Jeff
2017-03-09T00:00:00Z
We had a very nice welcome at Gloria's place. We arrived earlier than expected but luckily this was no problem. The house is beautiful and the apartment is big and clean, so you can easily feel at home. If you expect a small village with a nice (and cheap :) bar close to your place, you'll be happy here. It was very nice to meet you and your family, Gloria! Thank you very much for letting us into your home.
Stella
2016-06-06T00:00:00Z
Very nice place in a beatiful village. Gloria was always in contact with us. Very kind person. The flat was clean and as well as you can see in the pictures. Thanks, Gloria.
Gabriel
2016-05-30T00:00:00Z
Room Type
Entire home/apt
---
Property Type
House
---
Accommodates
5
---
Bedrooms
Zerbolò, Lombardia, Italy
Chambre Simple calme, confortable, dans une maison indépendante, située à P1. la maison est située dans un village calme à quelques kilomètres de Pavie, et des correspondances pratiques à Milan. Dans le petit village, vous trouverez une petite épicerie, une pizzeria, deux bars kilomètres, courrier, et d'autres aliments. Les connexions sont rapides Pavie, à environ 5 minutes en voiture et Milan en seulement 20 minutes en voiture par l'autoroute A7 MI / GE.
Dans le village calme près de Pavie et à vingt minutes de Milan. Maison sur deux étages, avec cuisine, salle à manger et salon au rez-de-chaussée, deux chambres doubles ici et salle de bains à l'étage parking extérieur. Tessin Parc ... en dehors de la maison.
Ottima esperienza, ci ritornerò! é stato come sentirmi a casa. La casa è indipendente e con un comodissimo parcheggio davanti. Pulita e accogliente, calda e con tutte le comodità. In macchina è stato facile raggiungerla con le indicazioni precise di Simone.
Mara
2016-11-04T00:00:00Z
Gentile, disponibile, accogliente. La casa è molto carina, ben arredata, pulita, calda, in una posizione tranquilla. Un'ottima soluzione per avere un posto dove tornare la sera, rilassarsi, avere i prorpi spazi e la propria tranquillità! Complimenti a Simone che sa rispettare spazi ed esigenze di tutti!
Alessia
2015-11-17T00:00:00Z
Casa nuova, calda, silenziosa, atmosfera rilassante grazie al camino e tutto a disposizione. Esperienza davvero ottima che ho ripetuto e ripeterò. Sicuramente uno dei migliori host provati fino ad adesso. Molto ospitale, gentile e disponibile. Super consigliato
Francesco
2017-01-19T00:00:00Z
Tutto perfetto, come la volta precedente. Alla prossima. Grazie
Francesco
2017-01-21T00:00:00Z
L'accoglienza di Simone è stata impeccabile, persona riservata, gentile ed educata, raccomandatissimo.
Roberto
2016-06-05T00:00:00Z
Simone è molto gentile e cordiale. La casa si trova in una posizione tranquilla ed è molto confortevole!!
Fabio
2016-09-17T00:00:00Z
Room Type
Private room
---
Property Type
House
---
Accommodates
1
---
Bedrooms
Torre d'isola, Lombardia, Italy
Enter dates to see full pricing. Additional fees apply. Taxes may be added.