Individual bed room with single bed. Two floors with working place and sofa to relax. Clean, modern, sunny, light and quiet house close to Metzingen Outlet-City (1 train stop) 5 mins by car. 15 mins to Stuttgart airport
They carried my bags in and made sure I could get around ok . They went above and beyond.
bridget
2016-07-18T00:00:00Z
I am surprised by the five-star treatment by Bek and Uli. They were extremely helpful, accommodating and attentive. Bek and Uli are the kindest hosts I have met so far. The room and amenities are top top quality. They provide amazing value and it comes from the heart. Staying with them would be my top choice if I need to AirBnB in the Reutlingen area.
Branimir
2016-05-14T00:00:00Z
My four days stay at the delightful home of Bek and Uli was truly unique. The house is located in a beautiful and peaceful neighbourhood and very close to the outlet city of Metzingen. Everything was very clean and decorated with lots of love, taste and high quality interior. The room has a cozy bed and two levels so I had more than enough space. I felt as if I was staying with close friends. Best Airbnb experience since a very long time! Thank you.
Sabrina
2016-10-15T00:00:00Z
This is my first experience of Airbnb. Bek & Uli made the very good arrangements before I arrive until I left. Very warm welcome and great breakfast and help me even on luggage. This is greatest experience. I will choose them when I visit this area next time.
rui
2016-12-08T00:00:00Z
Als ich ankam, wurde ich sehr freundlich und herzlich aufgenommen. Ich fühlte mich sofort willkommen. Das Haus ist sehr liebevoll und geschmackvoll eingerichtet. Das Zimmer oder besser die beiden Zimmer sind sehr komfortabel und auch bei Hitze (wie dieses Wochenende) angenehm temperiert. Das Frühstück perfekt, trotz sehr frühem Aufbruch. Alles in allem "perfekt". Ich kann Uli und Bek nur empfehlen.
Stefan
2016-07-11T00:00:00Z
Sehr schöne Unterkunft. Fühlte mich sehr gut aufgenommen. Kann ich nur weiterempfehlen.
Jörg
2017-01-20T00:00:00Z
Immer wieder gerne!
Gordana
2017-03-31T00:00:00Z
Tja was soll ich sagen? DAS war eine absolut positive Erfahrung! Habe Bek leider nicht kennengelernt, da er in LON war. Uli ist ein mehr als nur genialer und sympathischer Gastgeber: SUPERfreundlich! SUPERzuvorkommend! SUPERhilfsbereit! Das Haus ist durchweg modern eingerichtet mit alten Stilelementen gemischt. Geschmackvoller Mix. Alle Wohnbereiche sind sehr gepflegt und sehr sauber. Fühlte mich SOFORT wohl. Auch wenn ich kein eigenes BZ hatte: Privatsphäre ist garantiert! Er organisierte in Eigenregie alle notwendigen Transfers die ich für´s WE benötigte. Das war spitze! Und vor allen Dingen: SUPERbequem! Ebenso ist Uli ein hervorragender Koch. Diese Gelegenheit sollte Man(n) ;-) und Frau sich nicht entgehen lassen! SUPERlecker! Möchte mich hier öffentlich in aller Form mehr als nur herzlichst für dieses tolle WE bedanken! Un cordial saludo desde Andalucia... Michael :-)
Michael
2016-03-09T00:00:00Z
Room Type
Private room
---
Property Type
House
---
Accommodates
1
---
Bedrooms
Bempflingen, Baden-Württemberg, Germany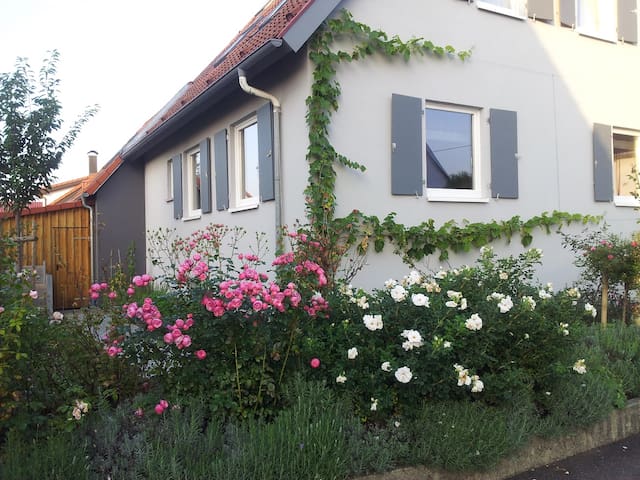 Zimmer, ruhig, Aussichtslage nach Süden Bett (1,40 x 2,00 m), WLAN, Fernseher Bad mit Dusche gemeinsam genutzt, Kaffeemaschine, Kühlschrank, eigener Zugang 5-10 Min. zu Fuß bis Bahnhof/ZOB Stadtzentrum, Kino, Supermarkt, Altstadt, Restaurants, Bars, Fitness-Studio Gute Parkmöglichkeit (öffentl. Stellplätze) Autobahnnähe (5 Min.), Messe Stuttgart (15 Min.), Metzingen Outlet (20 Min.), Stuttgart Zentrum (35 Min.)
If you are in Nürtingen do not hesitate to stay here. Annette is the sweetest host. The room is clean, spacious and well equipped. And the view is to die for. Thank you Annette for being so welcoming. I would not doubt a second recommending this place.
Alejandro
2017-01-13T00:00:00Z
We stayed one night at Annette's place on our way to the next destination during our weekend trip. She was very helpful with explanation of how to get to the location. It was very easy to find. Place was exactly as described. In the morning we woke up to a great view from the terrace. We enjoyed our short stay.
Robert
2016-12-03T00:00:00Z
Thanks Annette and her family for being great host
A
2017-03-04T00:00:00Z
Very nice location, and house. Annette is really super helpful and available. Recommended!
Andrea
2017-01-24T00:00:00Z
I would definitely repeat this location again. very charming room, clean and with beautiful views. Thank you!
Radu
2016-12-12T00:00:00Z
Perfect!!! Very helpful and friendly The room was very clean and cosy with an amazing view.
Farah
2016-06-08T00:00:00Z
Wieder einmal eine tolle Zeit bei Annette gehabt! Sie ist super aufmerksam, hilft aus wenn mal irgendetwas fehlt und ist einfach sehr gastfreundlich. Ich würde zu jeder Zeit wiederkommen!
Vanessa
2016-12-02T00:00:00Z
Annette ist eine super nette und zuvorkommende Gastgeberin. Die Unterkunft ist sehr sauber und mit allem ausgestattet was man benötigt. Gerne wieder, ist sehr zu empfehlen. Ich kann nur Danke sagen. :-D
Manuela
2016-10-23T00:00:00Z
Room Type
Private room
---
Property Type
House
---
Accommodates
2
---
Bedrooms
Nürtingen, Baden-Württemberg, Germany
Bonita habitación en el ático de una casa de familia. Para los alquileres a largo plazo, prefiero los viajeros, ya que muy gusta el silencio en la casa!
The room is about 14 square meters, with wonderful views of the Swabian Alb. The bed is 140 cm wide, which is possibly also for two. In the room is a satellite connection, but there is no TV.
The house is on the outskirts of a very small village, the location is quiet. In the village there is a baker but otherwise no shopping. The neighbors are in all very friendly and helpful!
Ich war für einen ganzen Monat dort und kann nur Sagen top top top !!! Ursula ist eine sehr freundliche und sehr nette Dame, mein Check-In war ganz einfach und es ging alles super schnell. Die Anfahrt dahin klappte auch sehr gut. Das Haus liegt in einem ruhigen Gebiet mit netten Nachbarschaft man kann also nach der Arbeit nachhause fahren und komplett abschalten, es ist sehr ruhig. Das Zimmer ist genauso wie auf den Bildern und Ursula stellt alles zur Verfügung was man alltäglich und auch für eine längere Zeit braucht. Es war alles sehr sauber und sehr schön eingerichtet. Was negatives habe ich wirklich nicht zu sagen. Was ich sehr sehr gut fand war, falls man etwas gebraucht hat oder eine Frage hatte Ursula war sofort da ( auch in den späten Zeiten ). Also ich kann es einfach nur super gerne weiter empfehlen
Melda
2016-09-01T00:00:00Z
Ich kann der vorangegangenen Bewertung nur zustimmen! Ursula ist eine tolle Gastgeberin! Der Wohnbereich ist sehr sauber und gepflegt. Zudem ist das Zimmer mit ganz neuen Möbeln ausgestattet. Die Wohngegend ist sehr ruhig. Hier würde ich auf jedenfall wieder hinkommen!
Kathrin
2016-01-19T00:00:00Z
Super nette und zuvorkommende Vermieterin! Hat immer ein offenes Ohr für Anliegen. Die Unterkunft hält alles, was es verspricht! Habe mich sehr wohl gefühlt!
Silke
2016-04-30T00:00:00Z
Die Unterkunft ist super. Man kann komplett abschalten wenn man von der Arbeit kommt. Alles vorhanden was man braucht, sehr sauber und ordentlich :) Ursula ist eine sehr liebe freundliche Persönlichkeit und eine gute Gastgeberin. Ich kann diese Unterkunft nur weiterempfehlen. Ich hab mich sehr wohlgefühlt.
Franci
2016-02-29T00:00:00Z
Ursula ist sehr sympathisch sowie eine faire und nette Gastgeberin. Das Zimmer ist liebevoll eingerichtet. Bettwäsche und Handtücher werden gestellt. Kochecke ist völlig ausreichend, Bad ist super. Darüberhinaus wird 1 x die Woche geputzt und gegen geringes Entgelt kann man auch sein Zimmer putzen lassen. Gemütlich und ruhig. Ich habe mich sehr wohl gefühlt und morgens den Ausblick genossen. Gerne wieder wenn ich mal wieder in der Gegend bin.
Tamara
2016-01-18T00:00:00Z
Room Type
Private room
---
Property Type
House
---
Accommodates
2
---
Bedrooms
Schlaitdorf, Baden-Württemberg, Germany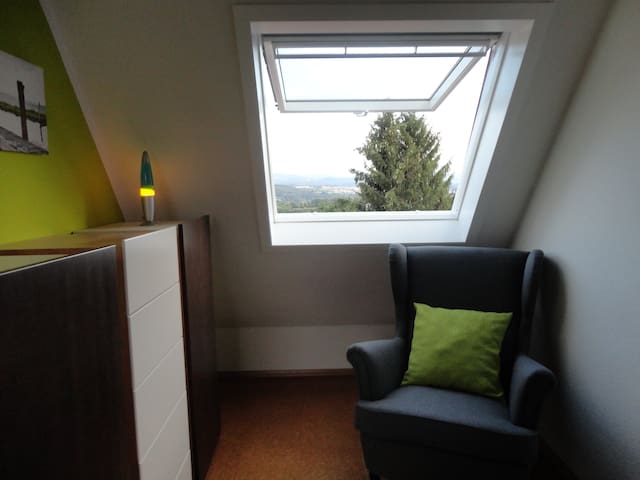 Grandmother Klara's Ferienhäusle has a unique charm to the Neuffener city walls. It is located right in the center next to the church. The small 3 bedroom house with a simple but loving facilities, located at the foot of the Swabian Alb (Thermal Beuren, Hohenneuffen Castle / HW5, Outlet Metzingen) and can be reached on foot from the nearby railway station. Cafes, bakeries and supermarkets are nearby.
Klara's Ferienhäusle is the lovingly renovated little house of our grandparents has its own special charm. It is suitable for all guests who like both the modern and the antique dealers. 1-5 people in the little house on two floors (holiday guests, hikers, cyclists, technicians and business). The ground floor is a bedroom with double and single bed, on the 1st floor kitchen with gas stove, the living room, the bathroom and a small room with a 1.40 m bed. The little house is complete with gas stoves heated (there is Warm and Bedinung is very easy).
Klara 'Ferienhäusle located in the city center, just off the city wall, next to the church of St. Martin. The supermarket is 150 meters away and is open until 22:00. Cozy pubs are nearby.
Room Type
Entire home/apt
---
Property Type
House
---
Accommodates
5
---
Bedrooms
Neuffen, Baden-Württemberg, Germany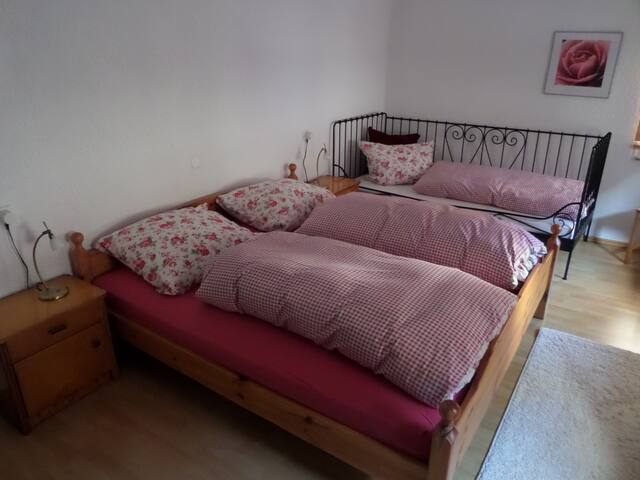 Das Zimmer ist ca. 22 qm. Sehr nah zum Bahnhof. Es gibt 3 Bett . 1 Bett : 1.4mx2m . 1 Sofabett : 1.4mx2m . 1 Massage Bett : 0.8mx1.8m .
Sehr nah zu dem Bahnhof und outlets Metzingen. Und parken direkt vor dem Haus auf dem Seite von dem Straße .
Sehr nah zum Bahnhof
The host canceled this reservation 2 days before arrival. This is an automated posting.
Kathya
2017-03-20T00:00:00Z
Einfache Unterkunft zum Wohlfühlen.
Fabian
2017-04-09T00:00:00Z
好体验!很暖和!
cong
2017-03-15T00:00:00Z
Не смотря на то, что наше прибытие было около 1 часу ночи, хозяйка не спала и нас дождалась Огромное спасибо а гостеприимство Рекомендую однозначно
Андрей
2017-03-10T00:00:00Z
Tolles Preis-Leistungs-Verhältnis..
Fabian
2017-03-16T00:00:00Z
Room Type
Private room
---
Property Type
House
---
Accommodates
4
---
Bedrooms
Metzingen, BW, Germany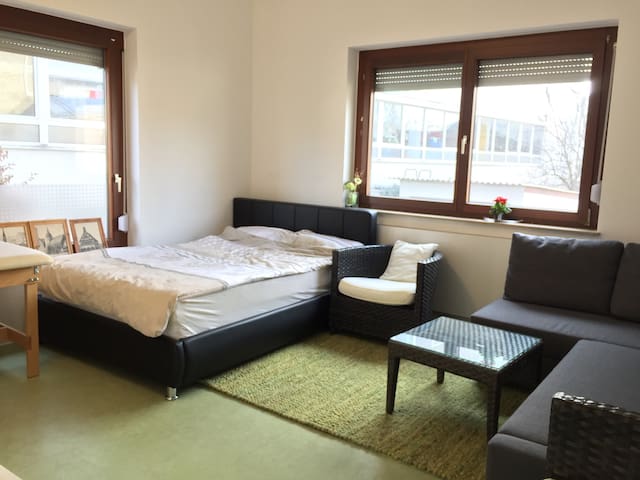 Sie werden ganz in der Nähe von Tübingen, Reutlingen, Stuttgart, dem Flughafen, der Messe und dem SI-Centrum Stuttgart wohnen. Alles befindet sich in erreichbarer Nähe mit dem Auto in ca. 15 bis 30 Min. Unsere Unterkunft liegt sehr zentral und dennoch ruhig. Einen Parkplatz gibt es gebührenfrei in unmittelbarer Nähe zum Haus. Im Zimmer stehen Wasserkocher, Geschirr, Tee, Getränke und Obst für Sie bereit. Ein Kühlschrank steht zur Verfügung. Kaffee machen wir Ihnen zu fast jeder Zeit auf Wunsch!
We would like it also to have guests from abroad.
Diejenigen die Entspannung suchen, können entweder zu Fuß in wenigen Minuten die Ruhe in der Natur finden oder mit dem Auto in 20 - 30 Minuten am Fuße der Schwäbischen Alb die zahlreichen Freizeitmöglichkeiten wie z. B. Uracher Wasserfälle, Burg Hohenneuffen, das Landesgestüt Marbach etc. in wunderschöner Lage geniessen.
Wir sind auf dem Jakobsweg gewandert und die Unterkunft war in Laufnähe unserer Route. Das Zimmer mit separaten Bad war sehr komfortabel, sauber und mit der Tee-, Getränke- und Obstauswahl zudem sehr gastfreundlich ausgestattet! Die Kommunikation war einwandfrei und wir danken für die Restaurant-Tips im Vorfeld und den ganz lieben Empfang!
Andrea
2016-10-23T00:00:00Z
Super Mega Freundlicher Empfang....Hat alles bestens geklappt.....Zimmer super schön....werde wieder kommen.. :-)
Mirko
2016-10-14T00:00:00Z
Super nette Gastgeber!! Es fehlt an nichts. Hab mich sehr wohl gefühlt. Danke
Hardy
2016-10-02T00:00:00Z
Der Aufenthalt war sehr amgenehm,alles wie beschrieben. Ich bedanke mich herzlich an die netten Gastgeber!
Dino
2017-03-11T00:00:00Z
nett - gemütlich - einwandfrei!
Dagmar
2017-01-14T00:00:00Z
Ich wurde herzlich empfangen habe mich sofort wohlgefühlt. Es war alles wie beschrieben in der Anzeige. Es war einfach nur toll. Immer wieder gerne. DANKE nochmals.
Antonija
2016-09-29T00:00:00Z
Besonders hat uns der gastfreundliche Empfang gefallen. Die Unterkunft war sauber und sehr ruhig. In der Umgebung kann man gut joggen gehen. Eine leckere Pizzeria haben wir auch gefunden. Vitamine, Wasser sowie leckere Tees waren ausreichend da. Eine vorhandene Play Station durften wir auch benutzen. :-) Nur zu empfehlen.
Hilaire
2016-12-04T00:00:00Z
Room Type
Private room
---
Property Type
House
---
Accommodates
2
---
Bedrooms
Aichtal, Baden-Württemberg, Germany
Du wolltest schon immer mal Urlaub oder eine längere Zeit auf einem Erlebnishof verbringen. Bitteschön. Keine Sorge, hier läuft niemand mit Stiefeln oder dreckigen Schuhe ins Haus. Das wichtigste für uns sind glückliche Gäste.
Wir befinden uns mit unserem Hofgut direkt zwischen Reutlingen und der bekannten Outletcity Metzingen. In beide Städte sind es ca 5 Min mit dem Auto und 10 Min mit dem Fahrrad. Die Zimmer wurden im Oktober 2015 fertiggestellt. Unsere Unterkunft ist ein Aussiedlerhof mit einer Pferdepension und einem Hofverkauf. Hierbei handelt es sich um eine Maisonette-Wohnung mit einem Doppelbett und der Möglichkeit 2 weitere Plätze auf dem Schlafsofa zur Verfügung zu stellen. Das Zimmer verfügt über eine kleine Küche und ein eigenes Bad. Insgesamt hat die Wohnung eine Größe von 65 qm. Ich stehe Ihnen tagsüber bei Fragen oder einem Anliegen zu jeder Zeit zur Verfügung.
We don`t have any direct neighborhood, there are other apartments in the property. Therefore, it should be handled respectfully and unnecessary noise are only created when it does not interfere with people in the household.
The host canceled this reservation 2 days before arrival. This is an automated posting.
Sergio
2016-08-28T00:00:00Z
*****
Eldan
2016-12-16T00:00:00Z
Room Type
Entire home/apt
---
Property Type
House
---
Accommodates
4
---
Bedrooms
Reutlingen, Baden-Württemberg, Germany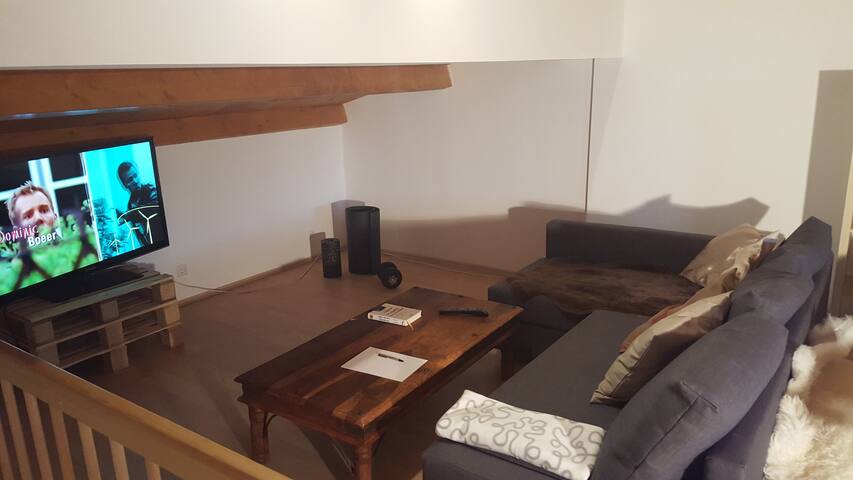 Individual bed room with double bed for 2 person, clean, modern, sunny, light and quiet house close to Metzingen Outlet-City (1 train stop) 5 mins by car. 15 mins to Stuttgart airport
House with garden in residential area, no road noise.
We stopped there for one night and it was a great moment. Real friendly hosts, great house and great room. I would recommend it to anyone looking for a real Airbnb experience not a hotel.
Matthew
2016-08-15T00:00:00Z
Another time at my second family's house :)))
Jitka
2017-02-18T00:00:00Z
I have expected a lot, because the pictures looked amazing, but it was even much better!! Bek and Uli welcomed me in a beautiful beautiful place with the most comfortale bed :))) and a lovely atmosphere. Will come again.
Jitka
2017-01-25T00:00:00Z
Nice and beautiful home and a good place to rest after your trip. Very good connection to the autobahnen, airport and the surrounding cities. When we are back in this region, we will be happy to stay again. Thanks for the delicious breakfast. Aileen and Manuel
Manuel
2016-11-11T00:00:00Z
My husband and I planned to to Metzingen for a shopping weekend, but we've got besides the super shopping, two lovely FRIENDS and a relaxing peaceful 5 stars weekend. Bek and Uli are really the best airbnb guests ever. We've got lovely conversations and it was a good opportunity to meet new interesting friends. The house is perfect, very cosy, clean, calm.. Everything smells great.. Bek and Uli payed attention to every single detail to make it an unforgettable weekend.. We appreciated the way they prepared breakfast for us and the way they gave us a ride from and back to the metro station.. We believe that we're gonna keep the habit of visiting them whenever we have the chance.. Thank you !
Raouia
2016-07-17T00:00:00Z
Perfect home, perfect garden, perfect hosts
Evgeny
2016-07-01T00:00:00Z
Awesome as usual, love it :)
Jitka
2017-01-30T00:00:00Z
Bek & Uli are perfect hosts, friendly, nice, outgoing; for us it was better experience than staying in five-star hotel. They welcomed us with delitious home made cookies and tea, gave us usefull advices, which Christmas markets are worth of seeing, delitious breakfast was served according to our wishes ... So we can highly recommend Bek & Uli.
KATJA
2016-12-11T00:00:00Z
Room Type
Private room
---
Property Type
House
---
Accommodates
2
---
Bedrooms
Bempflingen, Baden-Württemberg, Germany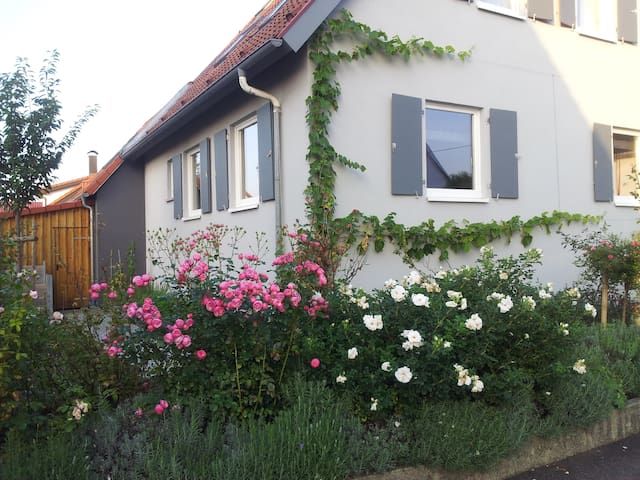 Zentral gelegene Ferienwohnung in Nürtingen. Nur wenige Geh-Minuten zum Bahnhof und zur Fußgängerzone. Zum Flughafen/Messe Stuttgart sind es nur etwa 15 Min. mit dem Auto. 1-room-Apartment in Nürtingen. Only few minutes to the rail-station.
Das Apartment ist zentral gelegen und mit allen Verkehrsmitteln gut erreichbar. Es ist komplett für 2 Personen eingerichtet. Im Bad stehen Handtücher zur Verfügung. Die Küchenzeile ist mit Kühlschrank und allen Kochutensilien ausgestattet. Ebenso ist eine kleine Kaffeemaschine vorhanden. Ein Flachbild-TV gehört auch zur Ausstattung. Nur wenige Geh-Minuten zum Bahnhof und zur Fußgängerzone. Öffentliche Parkplätze direkt vor dem Haus. Der nächste Biomarkt ist um die Ecke. Zum Flughafen/Messe Stuttgart sind es nur etwa 15 Min. mit dem Auto. Zur outlet-City Metzingen nur 10 Min. mit der Bahn. The 1-room-Apartment (studio) in the center of Nürtingen. Only few minutes to the rail-station. Stuttgart-airport is only 15 minutes away. The Outlet-City Metzingen is only 10 minutes away.
Dimi's studio was great! It was very clean and organized. The surrounding area was awesome. There were many shops, markets, and restaurants within walking distance. It took me no time to drive to Stuttgart. I would definitely stay there again.
Matthew
2015-08-03T00:00:00Z
The appartment was great and cleaned as shown in the photos. The appartment is closed to the center of Nürtingen and to the station (10 minutes walk). It is then easy to go to Stuttgart by train. I did not have the chance to see Dimi but he answered very quickly to my messages.
Xavier
2015-09-12T00:00:00Z
We had a great stay here for about three weeks. The apartment is just as wonderful as the pictures show, and is perfect for two people. The location was perfect - lots to do in the surrounding areas, and many great restaurants in walking distance. We would definitely stay here again.
Rachelle
2016-01-14T00:00:00Z
Dimi was very accommodating and responded quickly to all messages. We did not meet Dimi but maybe next time. Very quiet neighborhood, approximately a ten minute walk to the Nurtingen train station which connects easily to Stuttgart. Approximately 30 minute train to Stuttgart hbf. Pictures on website are accurate representation of the room.
Joe
2015-10-05T00:00:00Z
The modern apartment is an excellent solution for 2 people and much better than a hotel. Exactly as shown on the photos, located in very nice area and easy to locate. Only 10 minutes walk to the train connection to Stuttgart. Dimi was accommodative to slightly earlier than agreed check-in. Personally we found slightly difficult to understand the locker for the key.
Gligor
2015-04-26T00:00:00Z
It was lovely to stay at Dimi's place. Spotlessly clean and modern inside. Communication was great.
Wesley & Ayami
2015-08-05T00:00:00Z
The appartment was great, very neaty, organizeg, clean, as seen in the pictures. Brand new furniture and bathroom. Dimi was very nice and flexible, always to reach when I tried to contact him. Appartment is very central, on walking distance to the station and city centre.
Julia
2015-05-31T00:00:00Z
Hi Dimi was a great host, helpful and his apartment was welcoming and warm. We had a quality time there and supermarket, public transport was very close. We had a good night sleep as it was so quiet too. The area is very safe too, good parking. We had a great time. Thanks Dimi, we will come back next time we visit my parents.
Nóra
2016-05-31T00:00:00Z
Room Type
Entire home/apt
---
Property Type
House
---
Accommodates
2
---
Bedrooms
Nürtingen, Baden-Württemberg, Germany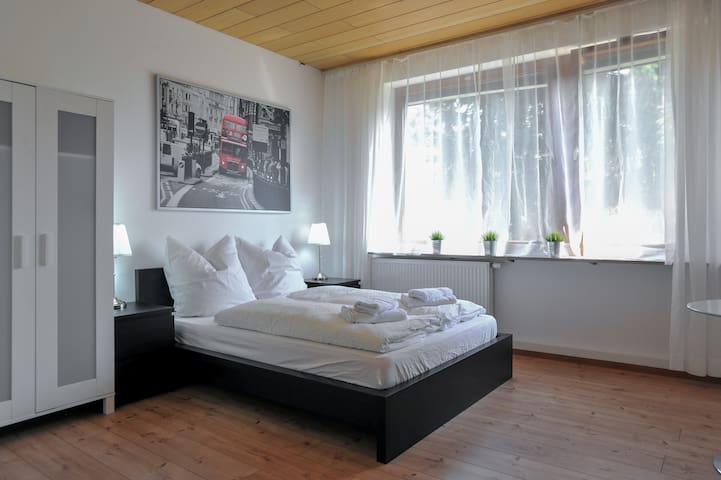 3 rooms (large living room with satellite TV, Wi-Fi, 2 bedrooms with double beds, 1.60 m wide), kitchen, bathroom, sep. WC, 85 sqm, sunny roof terrace, private parking lot, own intercom. Very quiet, yet just 10 km to the fair and airport / Stuttgart. Tübingen, Stuttgart and Reutlingen via freeway 20 minutes, sports and leisure center (Fildorado) 4 km away, golf course 12 km, Nature Park Schönbuch 5 km, meadows and fields for running 3-minute walk.
** 3 rooms, living room, 2 bedrooms with 1.60m wide double bed, kitchen with microwave, induction cooker, toaster, refrigerator and freezer, bathroom with washing machine, dryer, hair dryer and iron, sep. WC, 85 sqm, sunny non-visible roof loggia and small balcony, its own parking lot. Very quiet, no road or aircraft noise, at the same time near the exhibition center and Stuttgart (10km). Stuttgart, Tübingen and Reutlingen via freeway 20 minutes, large sports and leisure center (Fildorado) 4 km, golf course 12 km, Nature Park Schönbuch 5 km, meadows and fields for running 3-minute walk. Beautiful and quiet 2 bedroom apartment (beds are 1.60 m wide), big living room, TV, satellite TV, WIFI, close to Stuttgart airport and Trade Fair Centre ** Three rooms, open kitchen with microwave, fridge and freezer, stove, coffee machine, bathroom with washing machine and dryer, separate toilet, 85 sqm, with a sunny roof-deck and a small balcony and your own private parking lot in front of the House. Very quiet location, yet at the sametime close to Stuttgart Trade Fair Centre and airport (only 10 km away, HOWEVER, without aircraft noise). Stuttgart, Tübingen and Reutlingen can be reached within 20 minutes via motorway, Fildorado - a large sports and recreation center is 4 km away, golf course 12 km, nature park Schönbuch 5 km away. If you like to go for a walk or a run you want to find paths and fields just around the corner.
quiet neighborhood, the road is not a thoroughfare. in about three minutes walk there in the village butcher's, Beverages, a fruit and vegetable shop with products of the farm, several bakeries, banks, a cafe and a good Swabian restaurant with beer garden. A large REWE supermarket 5 minutes away (open daily to 22 pm) Our house is situated in a small blind alley, so it's very quiet. There are a butcher, Several bakeries, a greengrocery and a good traditional Swabian restaurant very close as well as a deli supermarket.
Great place with lots of amenities. Can only recommend to others
David
2017-01-22T00:00:00Z
Great host, great apartment. Strongly recommended! Thanks, Elke!!
Cenk
2016-11-10T00:00:00Z
Horst and Elke met us on arrival, it was a lovely warm welcome after our long day of travelling and we were made to feel at home immediately. The apartment is comfortable, well equipped and clean, just as described. If guests wish to self cater fully, it would be easy, with just about everything you could possibly need in the kitchen, with ample appliances to cook simple meals (exception, no oven) and basic store cupboard essentials for guests use (much appreciated extras too). There's an added luxury, a great coffee machine, which we put to good use (not often offered in B&B accommodation) :) Well equipped bathroom, good bedrooms and lounge made our stay easy and relaxed. Thank you for the welcome gift of wine and bread, a real treat and much appreciated. We all thoroughly enjoyed our stay and would return without hesitation if visiting the area again.
ian
2016-12-01T00:00:00Z
apartment is located in a very quiet residential area. Perfect for 2-4 people. Nice views, full of light, would definitely stay here again.
louis
2017-04-07T00:00:00Z
Wir waren sehr zufrieden mit der Wohnung. Es war sauber grösse und ruhig. Alles ist perfekt und die Wohnnung ist gut ausgestattet. Elke ist sehr Freundlich und hilfsbereit. Wir empfelen diese Wohnnung und wir werden vieder kommen wenn wir in Stuttgart sind.
Laura
2017-03-05T00:00:00Z
Alles war sauber und ordentlich, die Lage war sehr ruhig und perfekt zum Erholen. Die Wohnung selbst war gemütlich und schön eingerichtet.
Thomas
2017-02-18T00:00:00Z
Der Appartement ist sehr gemütlich und wir haben uns wie zu Hause gefüllt.
Eli
2017-02-13T00:00:00Z
Sehr ordentlich und sauber, liebevolle Gastgeber, Sehr gute Handtücher.
Ju
2017-03-26T00:00:00Z
Room Type
Entire home/apt
---
Property Type
House
---
Accommodates
4
---
Bedrooms
Filderstadt, Baden-Württemberg, Germany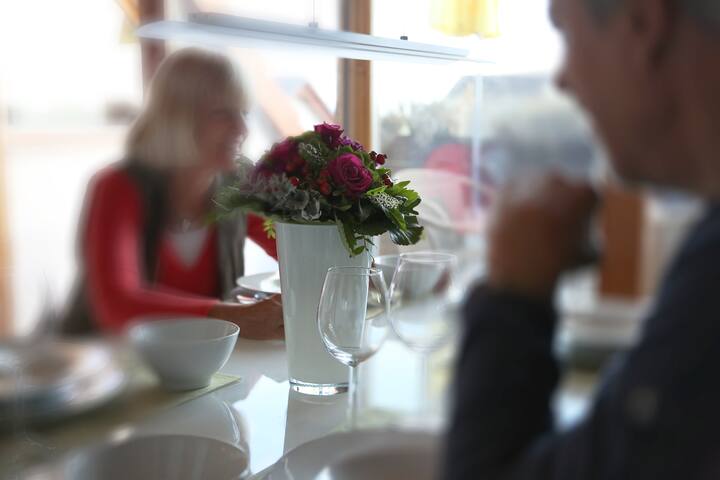 Meine Unterkunft ist in der Nähe von Restaurants und Essen.
Das Schlafzimmer ist ausgestattet mit 1 Doppelbett 1,40x2,0m. Bettwäsche und Handtücher inkl. Mit TV ausgestattet. Das Haus wurde komplett neu renoviert und entspricht den neuen modernen Standards. Wir freuen uns auf Ihren Besuch
Die Buslinien Nr.6 in die Stadt Reutlingen liegt ca. 300 m entfernt vom Haus. Auf die Auttobahn zur B27 ist in ca 10 minuten zu erreichen.
Amazing hospitality! Maria is very nice!
Carlos
2016-12-17T00:00:00Z
Maria und ihr Mann sind sehr nette Menschen.Als ich angekommen bin waren gerade alle Renovierungsarbeiten abgeschlossen.Also alles neu renoviert und sehr gepflegt! Zu Fuß ist man innerhalb von 20Minuten in der Stadt.Einkaufsmöglichkeiten sind um die Ecke.
Carmen
2017-01-27T00:00:00Z
Ich wurde total herzlich empfangen und die Unterkunft hat genau den Angaben entsprochen. Mein Aufenthalt war super und ich würde sofort wieder kommen.
Julia
2017-03-10T00:00:00Z
Maria is super nett und vielleicht die beste Frau , die ich früher gesehen habe. das Zimmer is ganz sauber und alles neu renoviert , und sehr nah von der Stadt, Maria hat mir sehr zahlreiches Frühnstück angeboten mit wenigen Müntzen . Sie ist mit ihrem Auto gefahren, mir nach die Hochshuhle zu senden. ich werde natürlich noch einmal dort wohnen wenn ich nächstes mal in Reutlingen besichtige.
lei
2017-02-13T00:00:00Z
Eine wunderbare Unterkunft und eine super nette Vermieterin. Hier stimmt einfach alles. Dies Unterkunft von Maria ist sehr zu empfehlen.
Kathrin
2017-04-03T00:00:00Z
Netter Empfang, Alles sehr sauber und neu, gern wieder!
Daniel
2017-03-23T00:00:00Z
Schöne, saubere und moderne eingerichtete Unterkunft. Vollständige Küche im öffentlichen Bereich so wie Dusche und WC. Sehr freundliche Gastgeberin!
Roman
2017-04-07T00:00:00Z
Der Kontakt mit Maria ging schnell u. unkompliziert. Sie hätte sogar eine Ausnahme mit der Aucheck-Zeit für uns gemacht. Das Schlafzimmer schlicht, die Matraze gut. Es lagen zwei Äpfel und Schokolade zum Empfang bereit. Die Küche samt Inhalt u. Essbereich neu, das Bad im UG auch. Die Umgebung war nachts sehr ruhig. Die Mitmieter hat man mitbekommen, viell. war weil das Haus hellhörig ist.
juliane
2017-03-26T00:00:00Z
Room Type
Private room
---
Property Type
House
---
Accommodates
2
---
Bedrooms
Reutlingen, Baden-Württemberg, Germany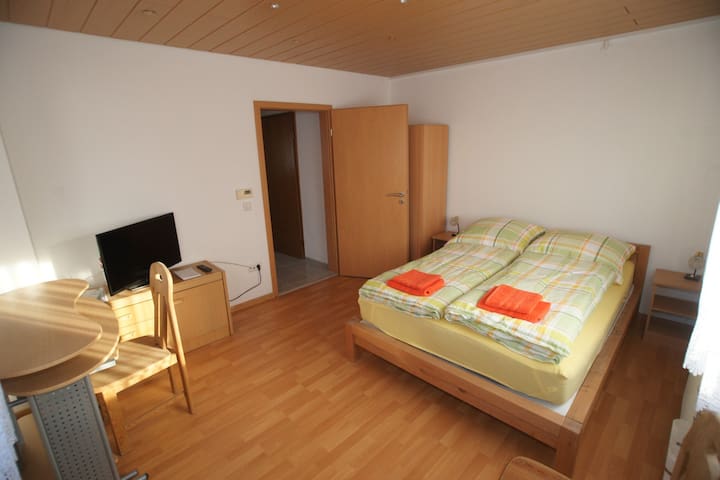 Es erwartet dich ein gemütliches, ruhiges Dachzimmer mit einer superbequemen ausziehbaren Couch (140x200). Für 2 ist darauf auch Platz. Bad & Küche sind zur Mitbenutzung und es gibt die Möglichkeit eines Frühstücks (5,-€). Ein Zimmer für Kurzaufenthalt & Urlaub! Für die heißen Sommernächte ist ein mobiles Klimagerät verfügbar.
Check-In bis 22:00 Uhr (Ausnahmen bitte anfragen). Frühstück möglich auf Anfrage zusätzlich 5,-€ p.P. (Bitte spätestens 1 Tag vor der Anreise angeben) Bei Bedarf gibt es Unterstell-und Schrauber-Möglichkeit für Fahrräder / Motorräder in unserer Garage. Mitbenutzung von Terrasse und Garten möglich.
Elke and her husband are very generous and warm hosts! The room is very nice and relaxing. It is about a 30 min walk from Nurtingen, but definitely doable. The town is so cute!
Denver
2016-05-23T00:00:00Z
Excellent host and good accommodation!
Nikola
2016-02-18T00:00:00Z
It was a pleasure to stay with Elke and her husband, they are very warm and pleasant people who understand travelling. The property was really nice and had everything you might need and the bedroom and bed were very comfortable. I wouldn't hesitate to recommend them.
Steven
2016-11-26T00:00:00Z
Excellent, everything as it said it would be. Room was very comfortable and Elke was very friendly and welcoming. Can't fault it, highly recommended. Very convenient location for me but maybe not so for anybody who wants to be bang in the middle of town (about 30 minutes walk).
Trevor
2016-09-13T00:00:00Z
Elke and her husband are very kind and hospitable people. Their house are clean and very cute. I am very glad to meet with them. Thank you for everything Elke. :)
Teoman
2016-01-23T00:00:00Z
We would like to thank the host for the warm reception. Despite the late arrival , the owner greeted us very friendly. Comfortable and clean room. We can recommend this accommodation exactly.
Alex
2016-07-16T00:00:00Z
It was a good place to stay over. Elke and her husband were friendly and good. I would make sure to stay their if again visit Nurtingen. I recommend it.
Hitesh
2017-03-09T00:00:00Z
The hospitality was great and Elke and his wife were kind and very helpful. The accomodation was exactly as described, the place easy to find and in a quiet zone.
Graziano
2016-04-18T00:00:00Z
Room Type
Private room
---
Property Type
House
---
Accommodates
2
---
Bedrooms
Nürtingen, Baden-Württemberg, Germany
We live in the nice area near the Swabian Albs. Next to our house is the bicycle way Neckartalradweg along the River. Our house is in a quiet neighborhood and has a big garden. We have a bindery and gallery in town.
One of the most wonderful places we have stayed in a long time. My son and I only spent one night at Hans Peter's place and we felt very welcomed and very comfortable. This place is very conveniently located for access to the Outletcity at Metzingen. The room is beautifully laid out with very comfortable beds, impeccably clean and all the amenities one would hope for. I would definitely stay here again and would highly recommend anyone looking for a place in this area to seek out this gem of a place!
Clyde
2014-12-31T00:00:00Z
I would recommend to anyone Our flight was late arriving in and our hire car was closed. Called hans Peter and arrived midnight to his home . The next morning he called the hire car for us and organised to get us back to the airport to collect our car to start our journey The room in his house was so lovely.. Just like staying with a good friend .his home was so welcoming ... Thank you Hans Peter for bring such a great host. Fantastic host I would stay again . Only 20 mins drive from stuttgart airport - Roula Gary from Australia . And another special mention to his good friend Rudy who hans organised to drive us to the airport .. BIGGEST THANKYOU
Roula
2015-07-11T00:00:00Z
Hans Peter house is cozy and clean guesthouse. There are 2 rooms and one bathroom that need to be shared. I received a good welcoming. Nice experiance.
Davide
2014-11-21T00:00:00Z
Een heel fijn huis, bouwbiologisch gebouwd (en dat alleen al is de moeite waard om te ervaren), een gastvrije ontvangst door het zeer aardige gezin en een prachtige omgeving. Van hieruit hebben we een paar mooie fietstochten gemaakt langs de Neckar. Door het verblijf in het huis en de mooie lichte en ruime kamer hebben we een paar goede ideeën opgedaan die we in ons eigen huis kunnen toepassen.
Otto
2016-08-09T00:00:00Z
Die Räume sind noch schöner als man auf den Fotos erkennen kann. Wir kamen ausgehungert und völlig erschöpft an und wurden von Hans Peter an der Bushaltestelle abgeholt, nach Hause gefahren und dann gleich zu einem Restaurant in der Nähe. Das war ein super Empfang und wir haben uns auch die ganze Zeit sehr wohl gefühlt. Die Betten sind sehr bequem, es war alles da, was wir brauchten, es ist sauber und ordentlich und die Familie sehr nett. Das Regal im Flur mit Wasserkocher und Geschirr ist genial ! Fragen wurden immer nett beantwortet und man hatte nie das Gefühl zu stören. Nürtigen ist ein schönes Städtchen, wir haben dort einen angenehmen Tag verbracht und den Spaziergang am Neckar besonders genossen. Am Abreisetag hat Hans Peter uns in die Innenstadt mit dem Auto mitgenommen, wir konnten unser Gepäck bei ihm unterstellen und sind noch etwas essen gegangen, bevor wir mit dem Zug weitergefahren sind. Wir waren super zufrieden. Wenn wir wieder in der Region sind, kommen wir gerne wieder.
Claudia
2015-10-04T00:00:00Z
Die Unterkunft war wie beschrieben. Das Zimmer war ordentlich und sauber. Hans-Peter und seine Familie waren sehr nett und standen für Fragen zur Verfügung.
Pia
2015-10-01T00:00:00Z
Tolle Kommunikation mit meinem Gastgeber, so dass wir von Anfang an das Gefühl des Willkommens hatten. Wir fühlten uns wohl, fast schon wie zu Hause. Alles sauber, hell, gut und modern eingerichtet. Die Betten: gute Ausstattung von Kissen bis Matratze. Kein Smog, keine Strahlung-Freizeit von diesen Dingen. WLAN-Zugang ist über separates Kabel kostenlos möglich-einfach fragen. Extra Hauseingang; für evtl. Raucher draußen ein Plätzchen. Auch einen Kaffee/Tee kann man sich dort schnell machen. Kühlschrank für längeren Aufenthalt steht zur Verfügung sowie eine kleine Mikrowelle. An freien Abenden kann man sein Wissen über viele Bereiche erweitern, denn es gibt zum Glück keinen Fernseher. Die Lage des dänisch anmutenden Hauses ist ruhig, fast schon im Grünen. Die Bäckerei Veit ca. 8 Min. zu Fuß erreichbar, wo man ein ausgiebiges Frühstück erhält. Wir kommen gerne wieder -ein Lichtblick zum Entspannen.
Isabella
2016-05-19T00:00:00Z
Unser kurzer Aufenthalt bei Hans Peter und seiner Familie haben wir sehr genossen. Die Schlaf- sowie das Badezimmer waren sehr gepflegt und sauber. Wir kommen gerne wieder!
Sarah
2015-05-19T00:00:00Z
Room Type
Private room
---
Property Type
House
---
Accommodates
3
---
Bedrooms
Nürtingen-Neckarhausen, Baden-Württemberg, Germany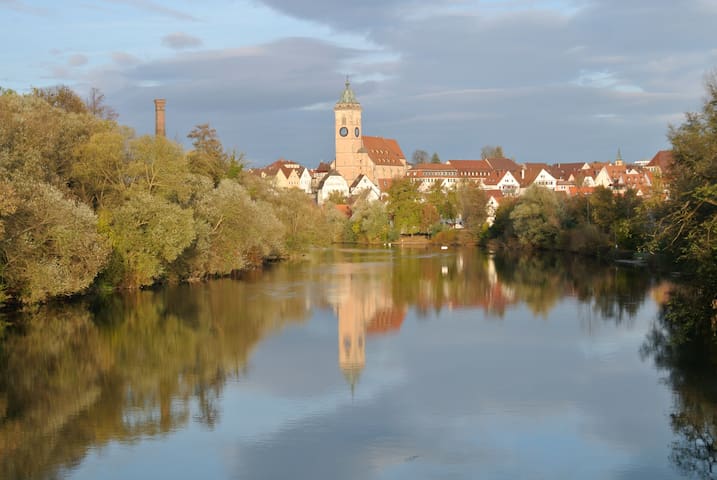 Gemütliches Zimmer im DG mit Bett 140 x 200 cm, TV, Tisch u. Sessel, Regal und Kommode. Aufenthaltsraum, Dusche/WC separat. WLAN ist im ganzen Haus kostenfrei verfügbar. Parkplätze direkt vor dem Haus.
Das Zimmer hat Parkettboden und ist mit TV, Nachttisch, Sessel, Tisch, Kommode, Regal u. Stehlampe eingerichtet. Im Aufenthaltsraum gibt es einen Kühlschrank, Mikrowelle, Wasserkocher und eine Kaffeemaschine (Kapseln) sowie Geschirr. Außerdem Tisch, Stühle u. Couch. (Keine komplette Küche)! Bad mit Dusche, WC, Spiegelschrank. Frische Bettwäsche und Handtücher inbegriffen. Fahrrad unterstellen möglich. Bad wird gemeinsam genutzt!
Unser Haus liegt direkt an dem schönen Neckartalradweg. Außerdem führt der Jakobsweg "Rothenburg bis Rottenburg" in unmittelbarer Nähe bei uns vorbei (Etappe 7b). Es gibt zahlreiche Möglichkeiten zum Radfahren und Wandern im nahe gelegenen Biosphärengebiet am Rande der Schwäbischen Alb. Es gibt auch einiges zu besichtigen, z.B. Hohenneuffen oder die Burg Teck sind nur wenige Kilometer entfernt. Auch die Nürtinger Altstadt ist sehr schön.
I could not imagine a better place to stay for my trip to Stuttgart! Sabine is a very social and pleasant person and I felt welcome like a friend, so at ease with her that she gave me the chance to practice my German. You can feel in every detail that Sabine is caring for her guests. Her place is extremely well maintained and equipped, you will feel so comfortable. I had a wonderful spacious room, very cosy and an element made me thinking …life is so magical! -)
Aude
2015-04-09T00:00:00Z
Thé room was clean and warm. The photos were accurate and thé host was nice. Thank you Sabine.
dobrin
2015-02-21T00:00:00Z
The reservation was canceled 2 days before arrival. This is an automated posting.
Michel
2014-07-09T00:00:00Z
The room was close to the airport, which is what we needed. It was clean and quiet, although I managed to hit my head several times on the angled ceiling over the bed. There was only one bathroom that was shared by three or four other, unrelated guests. There was a microwave and refrigerator in the common room, but the only water available was in the bathroom. The host met us and showed us the room and where to park.
Bruce
2015-09-18T00:00:00Z
All good. Decent sized room, nice bathroom, small kitchenette and a warm welcome with chocolates and free drinks. 25min drive into Stuttgart with ample parking in front of the house. Would gladly visit again.
Gaurav
2014-08-16T00:00:00Z
Sabine was really nice and flexible. Her place is really nice and clean. It was really comfortable.
Mariana
2016-06-22T00:00:00Z
"The shortter, the better": If I need to back, I will do for sure. I feel like at home. Thank you so much for a great time Sabine!. tschüss und Viel dank!
Mario
2015-04-04T00:00:00Z
I had a fantastic stay with Sabine. The room was lovely and very clean. She very kindly collected me from the airport, did my laundry and was incredibly flexible with my reservation dates. The perfect host- thank you, Sabine!
Andrew
2014-08-05T00:00:00Z
Room Type
Private room
---
Property Type
House
---
Accommodates
1
---
Bedrooms
Nürtingen, Baden-Wurttemberg, Germany
Meine Unterkunft ist in der Nähe von Flughafen, öffentlicher Verkehr und Stadtzentrum Stuttgart, Metzingen, Tübingen und Reutlingen. Du wirst meine Unterkunft lieben wegen des komfortablen Bettes, der Gemütlichkeit, den hohen Decken und dem Ausblick. Meine Unterkunft ist gut für Paare, alleinreisende Abenteurer und Geschäftsreisende.
Ein Loft zum ENTSPANNEN. (Ca. 45 qm) Inklusive: - Großzügiger, lichtdurchfluteter Wohn-, Ess-, Kochbereich - Gemütliches Bett - Dachbalkon - Singleküche - Handtüchern - Bettwäsche
Super Wohnung, sehr gut ausgestattet, modern eingerichtet.
Jess
2017-01-01T00:00:00Z
Tolle moderne sehr schön und funktionellen Wohnung. Sehr sympathische und hilfsbereite Gastgeber. Sehr gute zentrale Lage. Bin wirklich begeistert! Danke!
Peter
2016-12-09T00:00:00Z
Room Type
Entire home/apt
---
Property Type
House
---
Accommodates
2
---
Bedrooms
Reutlingen, Baden-Württemberg, Germany
Die Ferienwohnung liegt in einem gemütlichen Wohngebiet in ruhiger Lage sehr nah an der Outlet City (ca. 400m zu laufen), sehr nah am Zentrum. Für Ausflüge ins Biosphärengebiet Schwäbische Alb hat man es nicht weit und auch zur Messe Stuttgart bzw. zum Flughafen hat man lediglich eine Fahrzeit von 20 Minuten. Du wirst meine Unterkunft lieben wegen der tollen offenen Küche, dem gemütlichen Wohnzimmer und der tollen Ausstattung mit Whirlpool und drei Doppelzimmern mit zusätzlichen Kinderbetten.
Die Wohnung liegt in einem Zweifamilienhaus in ruhiger gemütlicher Lage im Wohngebiet Haugenrain. Sie wohnen großzügig und modern auf fast 170 m² in drei Zimmern. Jedes Zimmer verfügt über ein Doppelbett und zusätzlich stehen zwei Kinderbetten zur Verfügung (140 x 70cm). Im Erdgeschoß finden Sie die großzügig ausgestattete moderne Küche mit Kochinsel und zwei Barhockern zum Frühstücken. Zum Kaffee lade ich Sie gerne ein. Eine Kaffeemaschine und sämtliche Kücheneinrichtung und Geschirr ist für 8 Personen und ein Kinderstuhl vorhanden. Direkt neben der Küche ist das großzügige Wohnzimmer mit 6 Sitzplätzen und einem Sofa sowie Fernseher und Stereoanlage. Ein Schwedenofen sorgt für Gemütlichkeit. Direkt neben dem Eingang findet sich die Gästetoilette. Im ersten Stock finden Sie Schlafzimmer 1 und 2 sowie das Bad mit Dusche und WC. Im Dachgeschoss befindet sich das dritte Schlafzimmer sowie das Bad mit Whirlpool und eine weitere Toilette.
Im zweiten Hausteil wohnt meine Mutter, die Sie gerne kontaktieren können falls Not am Mann ist.
Fantastic family house. All of an excellent quality. Michael was very friendly and give us good tips about the area. Very happy about the experiencie. I will repeat the next time I will go to the area.
Daniel
2017-03-16T00:00:00Z
Room Type
Entire home/apt
---
Property Type
House
---
Accommodates
6
---
Bedrooms
Metzingen, Baden-Württemberg, Germany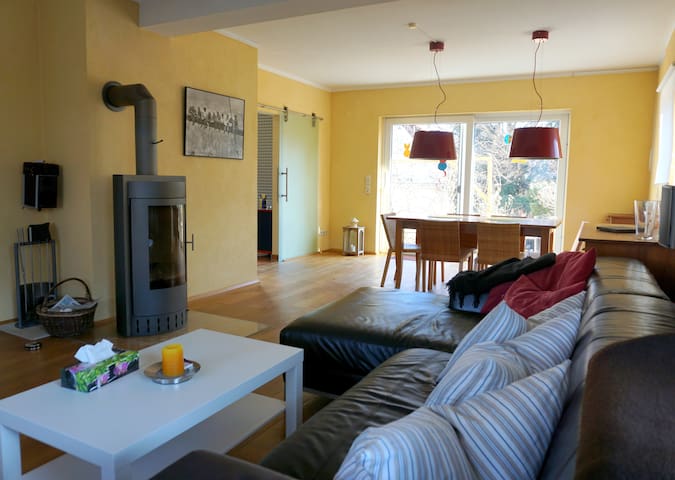 Das Zimmer ist mit einem Einzelbett und einem zusätzlichen Doppelschlafsofa ausgestattet. Im Zimmer ist ebenfalls ein Waschbecken mit Spiegel sowie ein Esstisch mit 3 Stühlen
Room Type
Private room
---
Property Type
House
---
Accommodates
2
---
Bedrooms
Metzingen, Baden-Württemberg, Germany
Die 4 Sterne Ferienwohnung befindet sich am Ortsrand von Reutlingen-Sondelfingen Die Wohnung ist hell und freundlich eingerichtet 1 Einbauküche voll ausgestattet 1 Schlafzimmer mit Boxspringbett und getrennten Matrazen 1 Wohnzimmer 1 Dusch/Bad
Die 4 Sterne Ferienwohnung ist hell und freundlich eingerichtet. - 1 neuwertige Einbauküche komplett ausgestattet - 1 Wohnzimmer mit Sofa,Schrank, Schreibtisch,TV, DVD, Musikanlage und Internet. - 1 Schlafzimmer mit neuem Boxspringbett, getrennten Matratzen und Topper ,Radiowecker - 1 Tageslicht Bad mit Dusche und WC - Handtücher - Fön
Optimaler Ausgangspunkt nach Metzingen(6 Km) Reutlingen-Zentrum (4 Km) Bäcker,Metzger,Getränkemarkt,Arzt,Apotheke,Bank und Bushaltestelle 500 m entfernt. Buslinie 6 ca. alle 20 min. von Sondelfingen nach Reutlingen-Mitte
Amazing apartment which looks exactly like at pictures (even better)! Thank Uwe and his wife so much
Yury
2015-08-20T00:00:00Z
We reached late the host was there waiting for us, very nice house for 2, If you have a car not very far away from the city
Vaibhav
2015-02-28T00:00:00Z
Die Wohnung ist absolut zu empfehlen. Die Wohnung ist sehr sauber und ist größer als sie auf den Bildern wirkt. Wir haben uns sehr wohl gefühlt. Die Lage der Wohnung ist sehr schön auf einem Berg gelegen und mitten im grünen. Wir sind sehr zufrieden und kommen gerne wieder. Danke für die sehr nette Gastfreundlichkeit:)
Alwine
2016-04-22T00:00:00Z
Ruhige Lage inmitten der Natur. Ideal für Erholungssuchende! Die Wohnung ist sauber und ordentlich. In punkto Ausstattung ist Alles vorhanden, was man benötigt! Ich komme sehr gerne wieder!
Anja Maria
2016-10-21T00:00:00Z
Hat leider nicht geklappt, da mir etwas dazwischen gekommen ist.
Alwine
2016-07-14T00:00:00Z
Sehr schöne, ruhig gelegene Wohnung. Alles vorhanden, was man sich wünschen könnte und alles in Topzustand. Die Gastgeber sind unglaublich freundlich und liebevoll, sehr nett in der Kommunikation. Man hat uns voll umsorgt, ist auf unsere Bedürfnisse (Zeitabsprache wegen Stau bei der Anfahrt) eingegangen und wir haben uns wie zuhause gefühlt. Wirklich sehr zu empfehlen. Vielen Dank an die beiden, wir kommen gerne mal wieder … :-)
Lars
2015-09-27T00:00:00Z
Eine tolle, sehr sorgfältig eingerichtete Ferienwohnung. Sie hat alles zum Wohl fühlen - ein echter Ruheort. Alles war sehr gepflegt und in neuem Zustand. Gerne wieder!
Ruben
2015-05-28T00:00:00Z
Sehr schöne Wohnung.
Dominick
2017-02-19T00:00:00Z
Room Type
Entire home/apt
---
Property Type
House
---
Accommodates
2
---
Bedrooms
Reutlingen, Baden-Württemberg, Germany
1

–

18

of

42 Home Rentals
Enter dates to see full pricing. Additional fees apply. Taxes may be added.