High Sierra home in Bear Valley, Ca. USA. Summer fun and activities easily accessible. Hiking, cycling,fishing , swimming, kayaking, boating, and much more all within 5 minutes. Spectacular views at 7.000 feet. Very easy access to the home in winter. Winter fun right out the front door.
Beautiful two story home with the best views of the Sierras in Bear Valley. Wake up to the sun rise in the east and have a day of unlimited adventure.
Quiet street with access to hiking Bloods Ridge at the end of the street.
Staying at Mary's place was a breeze. Would definitely go again.
Charlie
2016-09-05T00:00:00Z
We stayed in Mary's cabin over New Year's. We had an amazing time. The cabin is charming and comfortable. Highly recommend!
Nikita
2016-01-03T00:00:00Z
Great house with amazing views of the Sierras! Plenty of space with a really large downstairs area. Very quiet street. House had everything you would need for a great stay.
Shane
2016-06-20T00:00:00Z
Great place, simple, functional, clean, spacious and located on a nice quiet street
Matan
2016-11-25T00:00:00Z
Mary's Winter Wonderland home is truly special, with amazing views of the mountains and surrounding forrest. The fact that we needed to take a snowmobile to get there was made it even more of a unique and fun adventure. The area is very peaceful and quiet, and the surrounding homes are all beautiful. The house was well equipped with firewood for the wood-burning stove and cooking ware, and it was a short drive away from nearby Bear Valley ski resort. It was a memorable and relaxing weekend, and we hope to come back.
Adam
2016-04-11T00:00:00Z
Wonderful location overlooking valley. Great base to explore the surrounding area. Plenty of room for couples or family. Mary was very quick to respond to any questions we had.
Warwick
2016-10-11T00:00:00Z
The house is spacious, with beautiful views of the mountains. The kitchen is well equipped and large and there was plenty of counter space which is something you don't usually get in a ski rental. The snow mobile was easy to use and Mary gave us great instructions. She is very responsive and I would strongly recommend that people give her house a go. You will not be disappointed
Sheri
2016-12-29T00:00:00Z
Mary was incredibly easy to communicate with and very helpful. The view is better than the pictures indicate and the neighborhood is extremely quiet and peaceful. Our dog loved running around on the hiking trail just 50 yards down the street and at beautiful Alpine Lake not far away. The cabin is very cozy and well stocked. Make sure to bring groceries in as the local general store and "restaurant" options are severely lacking. If you are looking for a quiet escape in nature this is the perfect place.
Max
2016-09-25T00:00:00Z
Room Type
Entire home/apt
---
Property Type
House
---
Accommodates
5
---
Bedrooms
Bear Valley, CA, United States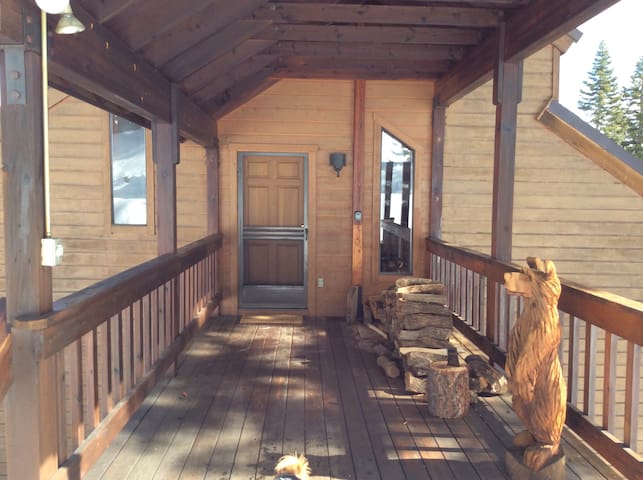 The pictures don't do justice please read the guest reviews.
Modern cabin style tri-level townhome sleeps 2 families or 8 people. Fully equipped kitchen with granite counter top, breakfast bar with three chairs, dining table for 2, and other modern kitchen amenities. 3 bedrooms and 2 full-size bathrooms. Modern cabin style tri-level townhome sleeps 2 families or 8 people. Fully equipped kitchen with granite counter top, breakfast bar with three chairs, dining table for 2, and other modern kitchen amenities. 3 bedrooms and 2 full-size bathrooms. Loft has queen bed - sleeps 2, Master Bedroom has queen bed - sleeps 2, Additional bedroom has 2 bunk beds for 4 child / person sleeping. 1 bathroom on main floor, 1 bathroom ground floor. Updated full kitchen - Granite counter top with breakfast bar and three chairs. Dishes, silver ware, wine glasses, utensils, common kitchen tools, cocktail mixer tools, Keurig coffee machine with coffee pods, breakfast griddle, coffee (decaf too), tea, sugar and other condiments. Outside ski storage closet outside the main door. Wood fire stove in great room with free firewood. Electric heating and four electric blankets. Two separate entrances into home for added privacy. Loft bedroom has a Murphy foldable bed that converts into a play area for kids. Two way radio, foot massager, Board Games, Books and DVDs available for all ages. Also a foldaway bed is available. Outside closet to store up to 8 adult skis and some boots (bring your own lock). Two separate entrances. Free firewood for heat stove. Popcorn and marshmallow maker. Two way high powered radio to keep the family connected on the slopes or during hikes. Bear valley is exactly 3 hours drive from the east bay area. Spring, Summer, Fall: Bear Valley is exactly 3 hours drive from the east bay area. While guests often come up for the winter, it is also a great place in the spring, summer, and fall months also. There are so many activities such as hiking, biking, swimming, tennis, kayaking, padding boating, fishing, picnicking, and dirt motor biking. All great activities for the family or couple. Lake Alpine is a 5 min drive up highway 4 - a beautiful, big lake for a sports needs. There is also couple of shop rentals so you don't have to bring your own equipment. Winter: Bear Valley is exactly 3 hours drive from the east bay area - the closest sierra ski resort. What a great time for Kids and Adults to learn to ski or snow board. Bear valley mountain has aggressive deals including 5th graders ski free and 3 lessons gets you a free season pass. The weather is great for kids to learn the basics and focus on the lesson, rather than dealing with biting cold blizzards. The mountain consistently makes a lot of snow on the intermediate and beginner slopes. Ski lifts are 5 mins away. 3-4 minute walk to lounge, dining options, library and bear valley village center. Cross country center and snow sledding hill are across the street. Shuttle stops outside the town home. Meadow behind townhome is full of fresh snow from last weekend. Perfect for snow ball fights and snow castle / snow man builders. Keep an eye on your kids from the french doors or the balcony. Everything except the garage and an extra clothes bedroom closet that are locked. Text and Call. Bear Valley is a family friendly village with hotel / lodge that is the center of town. The village has a fine dinning restaurant, a pizza restaurant that sponsors local bands on weekends, a coffee / lunch cafe, a bar with food on weekends, and a small grocery store for basic needs. There is also a few rental shops that cater to both summer and winter sports such as skiing, snowmobiling, biking, kayaking, and cross-country skiing. In the winter, there is a snow park for kids sledding and cross-country skiing. The village also has a library, tennis court, and basketball court. If your staying longer than I would recommend going to Arnold for dinner dinning - everything from Mexican fare to fine dinning. In the summer, there is a restaurant open across from Lake Alpine which is very tasty and has great Bloody Mary's. Walking, biking in the summer is the best way to get around. In the winter, a lift shuttle is provided right outside the condo to get to the ski resort. Parking is available outside the condo and easy to access around the village.
Wonderful townhouse! We enjoyed our stay. Wifi and cell signal is very spotty, which turned out to be a good thing. Everyone can finally put their cells down.
Xing
2015-08-11T00:00:00Z
This was my first time using AirBnB so I was initially nervous to book this reservation, due to a discrepancy in price. In the end, everything worked out, and we had a wonderful weekend stay at Tejal and Devi's townhome. The home is clean, nicely updated, cozy, and very well-stocked. They have a variety of games in the loft area, and plenty of kitchenware -- even a fun popcorn maker! The house is very conveniently located to the Bear Valley Resort shuttle stop. We took the shuttle several times on Saturday so that we could ski in the morning, head back to the townhome for lunch, and then back to the slopes for some afternoon runs. Overall, we had a wonderful stay.
Lesley
2015-01-12T00:00:00Z
Easy access to Bear Valley Mountain and Cross country skiing is right across the street.
Gina
2016-12-23T00:00:00Z
Tejal was friendly and very easy to work with. The location of this condo is ideal - Cross country skiing just outside the front door, a great meadow for the kids to play in the snow, and the super convenient shuttle that stops just a few steps from the front door for a hassle free ride to the slopes. The condo is quiet with lots of parking and plenty of amenities to keep you comfortable during your stay. The Keurig coffee maker was well stocked. The beds are cozy (including the Murphy bed in the loft -super comfy) and the kitchen has the basic essentials for some quick easy dinners. We also strolled over for great live music and dinner at the Creekside.
Renee
2017-01-29T00:00:00Z
We had such a great time in this lovely cabin. This was our 4th time in Bear Valley and this cabin is by far the best one we have ever been to. Its location is just perfect. The 3 bedrooms are great and our kids really loved the bunk bed one. This cabin has all you need to spend a awesome stay. Tejal is very responsive and super helpful. Thanks Tejal for the opportunity!
Laurent
2016-02-21T00:00:00Z
Host Tejal was great, kept us up to date on check in, answered my calls in a timely manner. Lack of cell service made it difficult to receive, suggest making people aware of this ahead of time. Loved the place,little miner things, no wood for fire,no paper towels, little better on cleaning, disty. Over all great time, look forward to going again.
Frank
2016-02-03T00:00:00Z
As two families (4 kids), we loved many things about this condo's location in Bear Valley. It was close to the slopes, the owners were very helpful and accommodating, and the 4 bunk beds were perfect for our kids. There was a large snow meadow outside the condo and a sledding park just across the street. The condo was clean, and the living area size, while not as large as many full cabins we've stayed in, was enough for a weekend of skiing.
Heidi
2016-03-16T00:00:00Z
Tejal was very helpful during the booking process, giving us detailed information about the amenities the property had. The location can't be beat for this unit! It is a quick walk to the cross country ski area and right by the shuttle bus stop to take you up the mountain. The inside is very comfortable and has games and movies for kids. The kitchen is nicely equipped and spacious. The dining table only has two chairs so if you have multiple families staying there three additional people can eat at the counter and the rest would need to sit on the couch. We loved the stove on the main level and appreciated having wood there for our use. We would definitely stay here again!
Genevieve
2014-12-30T00:00:00Z
Room Type
Entire home/apt
---
Property Type
House
---
Accommodates
8
---
Bedrooms
Bear Valley, CA, United States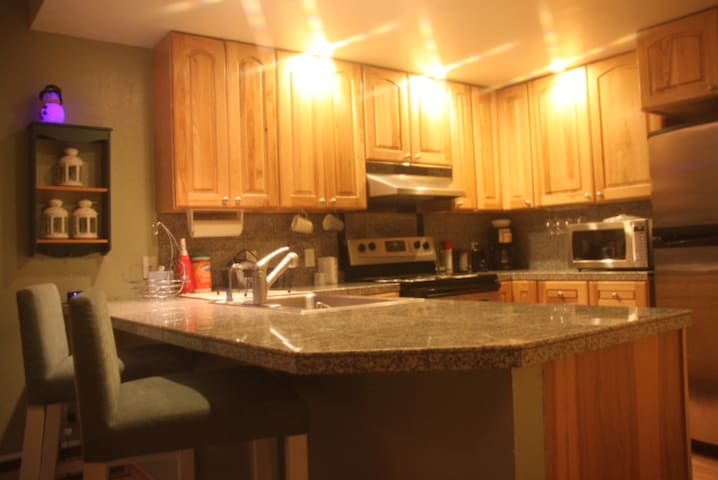 This is our great getaway property where we park our car and don't get in it again until we leave. Everything is right out the door. Ski Out to the shuttle that takes you for a 3 minute ride to the mountain, Ski back from the mountain to the house.
The host canceled this reservation 126 days before arrival. This is an automated posting.
Maya
2016-08-21T00:00:00Z
Great space, beautiful place!
Jason
2017-02-19T00:00:00Z
The cabin was easy to find and comfortable including everything we needed to cook our meals. Ryan was accommodating with check-in and check-out times. Thank you for sharing your mountain home with my family.
Maria
2016-08-07T00:00:00Z
the scenic location of this place is just fantastic. The cabin has a warm and cozy feel to it, we'd love to come back sometime! Its an old cabin and it shows and some of the furniture - like the couches - were a bit rundown but overall the charm and location of this place definitely make up for it!
Dolf
2017-01-16T00:00:00Z
Cabin was fully stocked, plenty of firewood, owner even left us some food. Owner was flexible when our plans changed, and responded quickly to all email inquiries. We had a great time. No complaints. Be prepared to pull your gear up a short hill on sled if there's heavy snow fall.
Andréa
2016-03-06T00:00:00Z
The cabin has a warm, rustic charm. The space is small, but well laid out and most amenities are readily available including a great stove fireplace and plenty of wood to keep it fed. The neighborhood offers a balance between serene Sierra beauty and a light pulse of family oriented happenings. On top of that, you have the highly underrated Bear Valley Ski resort at your back door and all of the genuinely friendly staff and adventure to fill your days with. Ryan is a responsive host and helped make the stay a good experience.
Scott
2016-02-15T00:00:00Z
Great location, with quick and easy access to the private Bear lake.
Alexandre
2016-09-05T00:00:00Z
We've stayed here before so know what to expect. Kitchen was well stocked. Host was flexible and available.
Andréa
2017-03-06T00:00:00Z
Room Type
Entire home/apt
---
Property Type
House
---
Accommodates
8
---
Bedrooms
Bear Valley, CA, United States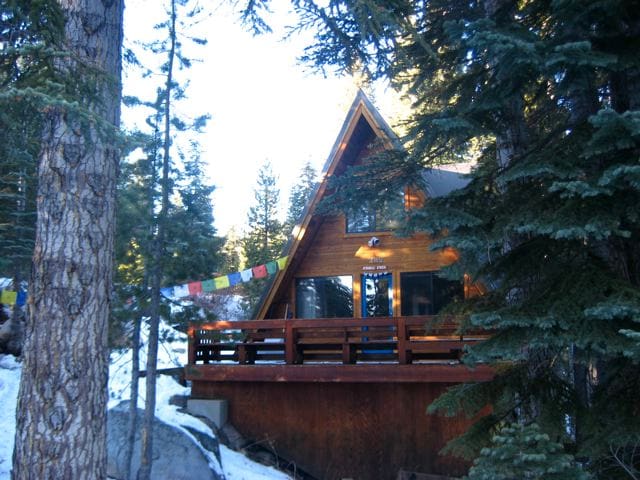 Enter dates to see full pricing. Additional fees apply. Taxes may be added.