Pour des vacances de rêves tout au bord du lac, le Chalet offre de partout une vue panoramique époustouflante sur le lac et le village station été/hiver des Angles entre voiliers, chevaux, randonneurs au milieu du parc naturel appelé le petit Canada !...
Sa vue époustouflante sur le lac et les montagnes !
Le lac
Room Type
Entire home/apt
---
Property Type
House
---
Accommodates
4
---
Bedrooms
Matemale, Occitanie, France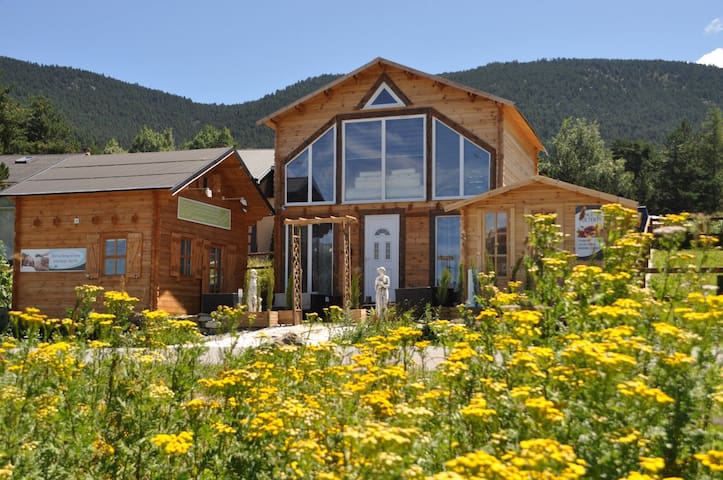 Very peacefully situated at the edge of a charming mountain village halfway between the high Pyrenees and the sea, the location enjoys a Mediterranean climate. Both the house and private garden have spectacular mountain views. The house is built into the rock and stays warm in winter and cool in summer. It is a tranquil place ideally located for walking, thermal pools and mountain biking and 30 mins drive approx from ski resorts like Font Romeu. The beautiful Carança Gorge is 12 mins drive away.
The house has a fully fenced private garden with wonderful views of the surrounding mountains. The layout is as follows: Living Room: Open plan kitchen/dining/living room. Wood-burning stove, Bluetooth speakers, steep stairs to: Bedroom 1: Double bed and single bed, steep stairs to: Bedroom 2: Twin beds. Bathroom is reached via this room Bathrooms: Bathroom with wc, sink and shower. The bathroom is on the 2nd floor, adjoining Bedroom 2. Towels and bed linen included. The stairs up to the first and second floors are steep, so very young children will need to be supervised, and the house is not suitable for people with mobility issues. There is a safety gate at the top of the stairs in bedroom 2, so children can go to bed there safely.
Canaveilles itself is a beautiful south-facing village on a hill-side, with fantastic views of Canigou and other mountains, and great walks into the hills behind. It has a Mairie, church, basketball court and swings for kids. The nearest shops and bar at Olette, which 5 mins drive away (or 40 mins very scenic walk downhill), and has a cafe/bar, pharmacy, butcher and bakery/ mini grocery store for basic provisions. Prades is 25km to the east and has large supermarkets, restaurants and a wide variety of other facilities, including an excellent Tuesday market. The countryside around the house and throughout region is wonderful for those with an interest in nature, hiking, mountain biking. High mountains, deep gorges, caves, crystal clear rivers and lakes are all around. The garden looks down into the river valley where the narrow gauge 'Petit Train Jaune' (Little Yellow Train) takes passengers on one of Europe's most dramatically scenic train routes. Close by, mineral rich hot springs flow out from the mountains, into bathable pools, both within their natural setting and within the lovely open air swimming pool establishment at St Thomas les Bains (10km away). Skiing at both Font Romeu and Cambre D'Adze is 35 mins drive away. The region is rich in historical interest with many Romanesque churches and ancient abbeys. Several of the 'Plus Beaux Villages de France' are within a short drive.
Majestic mountain views, sweet and quiet town and a fun, interesting and cozy three floor home. We had a lovely time relaxing at Jon's home, soaking at the natural pools to the side of the river at the bottom of the road and walking the town. Highlights of the space include: lovely glass doors and a sweet yard through which we could gaze at the landscape, a comfy bed and a cozy fireplace once we could get the wood fully dry and get it blazing. One strange thing was that there were just four squares of toilet paper in the bathroom when we arrived and when I reached out to Jon (separate times, both to tell him we arrived safely and to ask where we could find more TP in the house), I got no response, even days later. While this lack of communication was odd, he was welcoming and informative prior to arrival. Also, to note: the attractions in nearby towns like Eus and listed in Jon's guide are mostly absent in the winter, which was fine for us, but if you want to tour the artists shops, they will be closed.
Celeste
2017-02-08T00:00:00Z
An extraordinary place, perfectly described and beautifully outfitted. Great for our early winter stay: sunny for our walks that we could take right from the house, cozy for dinners and quiet evenings. Be sure to visit Charcuterie Chez Alex in Olette for all things delicious & homemade.
Alyssa
2016-12-04T00:00:00Z
Charming and unique cottage in an outstandingly gorgeous setting! We loved our time in the rock house SO much and definitely want to return. The house is located in a beautiful little village brimming with scented flowers, fruit trees and grape vines, perched high up on a hillside with the most spectacular veiws from every window and doorway. The cottage itself is so cosy and comfortable and was very clean and tidy. Jon left us great recommendations of things to do and see in the local area. We had the most wonderful, relaxing time here - this place is truly a gem!
Katy
2016-09-20T00:00:00Z
Jon's house has breathtaking views and is perfectly placed to visit the area. Everything in the house was as described and the garden perfect for enjoying the view and your evening aperitif. There are walking paths easily reached from the house and the village, that unfortunately we couldn't enjoy much due to traveling with children still a bit too young for trekking the mountains. Visitors should be aware that there are no facilities in the village such as bakery or shop to buy basic groceries, so if you arrive late as we did, you should bring at least your breakfast for the next day.
jenny
2016-07-14T00:00:00Z
Jon's house was perfect, located in a small village with a lot of possibilities for hiking nearby and also not too far from Mount Canigou, the holy mountain of the Catalan People. The house was autentich with the back wall consisting of solid Stone. The small garden was perfect for enjoying a glass of wine and enjoying the sunset and the stunning view.
Silje
2015-09-26T00:00:00Z
Really great place hidden in the hills.
Theo
2017-02-25T00:00:00Z
Petit village typique des Pyrénées, isolé de tout bien que pas loin de la nationale mais sans aucune nuisance sonore, . Très originale et charmante maison, bien faite et confortable. Belles ballades alentour et bains chauds en prime !
Hélène
2017-01-08T00:00:00Z
Nous avons passé un séjour d'une semaine en famille dans cette maison typique. Le cadre est idéal pour se ressourcer et profiter de promenades, de ski aux stations situées à moins d'une heure de voiture. Nous avons aussi beaucoup aprécié les bains dans les sources d'eaux chaudes proches. La maison est rustique, très mignonne et cosy. Les lits étaient faits à notre arrivée et les serviettes de toilettes étaient préparées : cette attention nous a fait plaisir.
francoise
2016-02-28T00:00:00Z
Room Type
Entire home/apt
---
Property Type
House
---
Accommodates
5
---
Bedrooms
Canaveilles, Languedoc-Roussillon Midi-Pyrénées, France
Exceptional, A BIG BREATH OF FRESH AIR ! Panoramic view on the chain of Pyrenees, from the Peak of Canigou , Cambre d' Aze in overhang of the valley of Têt. Pretty rustic renovated barn stone and wood, exposed due south in 1600 m in the village of Sauto. Peace and serenity assured on the immense terrace in overhang COME FAST TO GET FRESH IDEAS THERE IN THE 4 SEASONS ...
Mountain atmosphere open air for this barn of 50m2 FOR 4 people RDC: Kitchnette with oven with microwave, refrigerator, barkeeper nespresso, toaster, device with raclette, TV, vacuum cleaner. Electric heating. Sofa, 2 places, 2 armchairs, stool confines, mirror Plate glass window with panoramic view. Shower-room with towel dryer, hairdryer. Floor: two chambers with bed 140x190, cupboard of arrangement Attention on the young children: the windows of chambers in plate glass windows are low and have no guard body. Basement of the house of the owners (close by): storage space for clothes and ski boots, iron, washing machine made available and airer Outside: Garden of 700 m2 in terraces, shaded with possibility of barbecue, table of outside Local place with ski given in winter. Access to a terrace of 30 m2 in overhang, due south shaded by hundred-year-old two pear trees and panoramic view. TRANQUILLITY ASSURED !
Sauto is a typical village of High Conflent about 93 inhabitants, (only 20 live there in the year). It is an ideal place to find itself in the peace, far from the city life, in research for serenity in the mountain. It is situated on the valley of Tet (National 116) just before Mount Louis. Ideal to go hiking with the family or between friends, in summer or in winter, in feet with rackets(snowshoes), with ski or with MOUNTAIN BIKE: 4 departures of hiking trails were since marked out "at home", then by very numerous paths any level around (Conservation area of Carlit, Lakes of Bouillouses, Peak of Aude, Lakes of Camporells, Nature reserve of the Valley of the Flowers of Eyne, Gorges of Carença, 3 Puigmal, Cambre d' Aze, Lake of Matemale) Close to the Citadel of Mount Louis classified in the UNESCO world heritage, the highest fortified city of France with its Solar furnace (3 km). Closed of the ski resorts of Pyrenees 2000 - Font Romeu or Saint Pierre del Forcat-Eyne (10 - 15 mn) or Les Angles (25 mn then Formiguères (25 mn)... Inform you about Catalan Snows on the website. Activities possible for the surroundings: Yellow train: tourist train connecting Villefranche de Conflent and Latour de Carol Thermal hot baths : St Thomas's baths, The Baths of Llo and The Roman Baths of Dorres Wildlife park in Les Angles, Park of Err Bathing, veils from the Lake of Matemale Adventure Park of the Lake of Matemale Fishing places : lake of Balcère and more ... For Epicureans: Markets with local producers from Monday till Sunday: Odeillo, Mount Louis, Formiguères, Angles, Saillagouses... To eat : Table d'hôte on reservation in the Mas Clara in Via, Creperie Grangette in Les Angles... Several farms or craftsmen propose local products (cheeses, meats, jams, honey): the Farm of Rialet in Llagonne: educational farm, cheese dairy, dairy store, sale of fresh milk of cow, Planès speciality ewe's cheese dairy, The cheese dairy of Formiguères: yoghurt and ewe cheeses, Butcher's shop of Cabanasse: excellent ribs of ox, Butcher's shop of Saillagouse: excellent ham of mountains with possibility of visiting the hairdryer with ham, wine bar, Farms of Eyne: producer of bovine meat, producer of ducks and by-products.. Quite close from Spain: Puigcerda in 25 ' and Andorra at 1 hour15' Consult the website
Grange très agréable pour un séjour au calme. La déco est cosy et l'appartement est très bien équipé. L'accès aux stations se fait rapidement et facilement. Nous reviendrons en été probablement car la région présente de nombreux atouts quelque soit la saison. La communication avec France est très agréable et elle est très réactive. À louer sans hésiter.
Julie
2016-12-30T00:00:00Z
Room Type
Entire home/apt
---
Property Type
House
---
Accommodates
4
---
Bedrooms
Sauto, Languedoc-Roussillon Midi-Pyrénées, France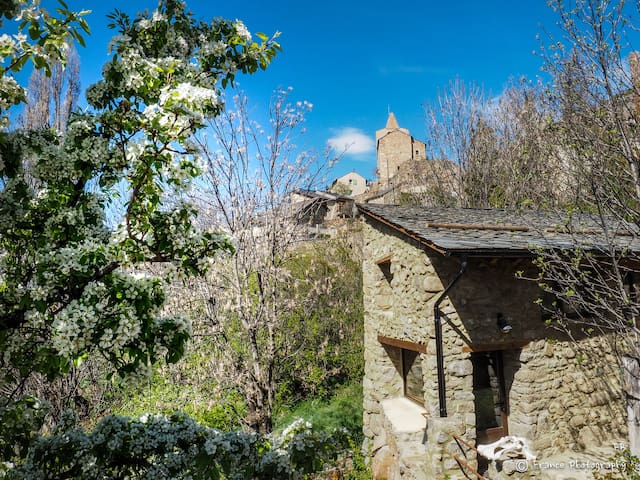 My accommodation is perfect for couples, solo travelers and families (with children), sportsmen, hikers and nature lovers.
Small, simple, convenient (and free transportation shuttles nearest village), well equipped and clean. Friendly service and good advice for your activities.
Quiet and friendly.
Nicolas's studio apartment was just what we needed— a quiet and comfortable place to get rest before skiing in Les Angles. Nicolas is a very kind and helpful host.
Amelia
2017-03-02T00:00:00Z
Nicolas a été trés prévenant merci à lui
JACINTHE
2017-03-05T00:00:00Z
Totalmente recomendable, muy acogedor y bonito cerca de todo, limpio y con buena privacidad, con calefacción de verdad ha sido una muy buena esperiencia!
Vicente
2017-03-15T00:00:00Z
Logement simpas à 5min en voiture du centre ville ! Hôte très agréable et qui prend des nouvelles durant le séjour. Je conseille.
Justine
2017-03-26T00:00:00Z
Appartement bien situé, et un très bon accueil de Nicolas merci
Patrick
2017-03-03T00:00:00Z
Nous avons passé un très bon séjour chez Nicolas, l appartement était agréable, calme et propre. Nous remercions Nicolas pour son accueil et nous y retournerons avec plaisir.
Gaëlle
2017-01-03T00:00:00Z
Super week end aux angles chez Nicolas. Dispo le soir malgré notre arrivée tardive. Son logement est fonctionnel, proche des pistes. Super accueil, a recommander et nous y reviendrons les yeux fermées.
Moïse
2017-01-15T00:00:00Z
Todo perfecto!
Alicia
2017-01-23T00:00:00Z
Room Type
Entire home/apt
---
Property Type
House
---
Accommodates
4
---
Bedrooms
Les Angles, Occitanie, France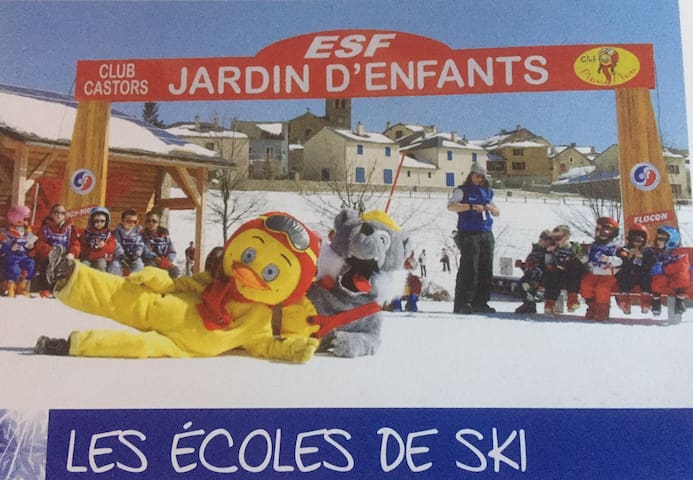 NOTRE MAISON SE SITUE DANS UN VILLAGE DES GARROTXES NOMME RAILLEU// A 1400 M D' ALTITUDE, DE NOMBREUSES PISTES DE RANDONNEES SONT A FAIRE, ALLER RAMASSER DES CHAMPIGNONS, ALLER A LA PECHE A LA TRUITE DANS LE TORRENT QUI BORDE LE VILLAGE, OU TOUT SIMPLEMENT PARESSER AU SOLEIL, ET EN HIVER ALLER FAIRE DU SKI DANS LES VILLAGES VOISINS. LES VILLAGES DE FONT-ROMEU/ LES ANGLES/ FORMIGUERES/ MATEMALE/ SE TROUVENT A 12 KMS ENVIRON ET ON Y TROUVE RESTAURANTS/COMMERCES/PISTE DE SKI/CASINO.
LE CALME
VILLAGE DE 20 HABITANTS PAS DE PROBLEME.
Excelente estancia para desconectar! Un pueblo hermoso y con mucho encanto!
Carlos
2017-02-05T00:00:00Z
Hemos pasado 5 Días perfectos 4 adultos y 2 niños de 7 y 11 años. El pueblo está. 7 Kms de Matemale por Una carretera preciosa y cuidada incluso con nevadas. El Paraje es precioso en medio de bosques. Nevados. La casa está en el pueblo y dispone de 2 habitaciones dobles en la 1a planta y una habitacion doble más en la 2.. Es muy acojedrora y la chimenea es un lujo. Yves y su mujer fueron encantadores desde el primer momento. Además es perfecto para ir a esquiar a Les Angles o a Formigueres, están a escasos 20' por una carretera preciosa y sin atascos!! En definitiva muchas gracias por la hospitalidad y seguro que repetiremos !! Merci !!
Daniel
2017-02-12T00:00:00Z
Yves y su mujer son muy amables. Llegamos tarde pero nos esperaron con el fuego encendido y la calefacción funcionando. Y una pequeña sorpresa en la nevera :-) La casa está en un pueblo de postal, a unos 25 minutos de las pistas de Les Angles. Ideal para los que buscan tranquilidad. La casa tenía de todo, pero has de llevar las sábanas y toallas de casa. Excursiones de senderismo muy bonitas para hacer en família. Súper recomendable!
Estel
2016-12-11T00:00:00Z
Un pueblo muy bonito y aislado perfecto para descansar y desconectar
Karina
2016-12-30T00:00:00Z
Logement très agréable et le propriétaire aussi, un excellent moment.
remi
2017-02-08T00:00:00Z
annonce non valable , le propriétaire dit avoir enlever l annonce , j ai payé plus de 100euros je n arrive pas a me faire rembourser il n y a pas eu de séjour attention !!!!!!!!!!!
Sebastien
2016-10-24T00:00:00Z
Room Type
Private room
---
Property Type
House
---
Accommodates
4
---
Bedrooms
Railleu, Languedoc-Roussillon Midi-Pyrénées, France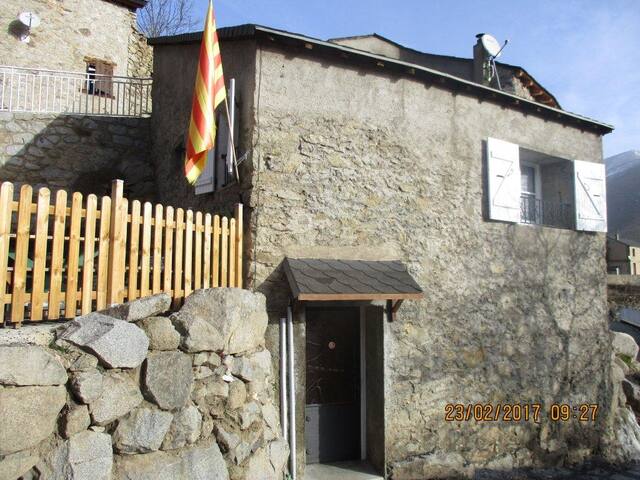 Our house, the old watch tower of the village with garden and nice view on the Canigó, at 1000 meter high in the Natura 2000 area. All around : historic places as Mont-Louis or Villefranche de Conflent and also springs, ski resorts, hiking, caves...
Our house in the old watch tower from the XIIIth century consists of: Dining kitchen, 1 bedroom (2p + 1p), 2nd bedroom (2p) accessible from outside due to the architecture of the house, bathroom (shower - WC) Garden – private parking spot.
Lovely little house and garden, beautiful little village and views that leave you speachless. Thank you so much for sharing your place with us.
Alicia
2016-03-27T00:00:00Z
Very cosy place, incredible view, very nice hosts. We were very happy to be there and hope to come back some day.
Sarina
2016-06-18T00:00:00Z
Staying in Jujols was the most perfect holiday. I lack words to describe the awe we all had from the views in our garden. The drive up the hill is not for the faint hearted, we were a bit shocked, especially after driving in darkness and fog (so leave it for earlier in the day!), but it's worth every bit of it. The house is really great. From the garden to the abundance of kitchen tools. We loved the quietness of Jujols and thoroughly enjoyed the long hikes in the surrounding area.
Ieva
2016-05-21T00:00:00Z
Jujols to pięknie położona wioska, do której można dojechać wąską górską drogą. Z domku rozpościera się fantastyczny widok na pasma gór. Domek jest w pełni wyposażony, kuchnia przestronna, ogródek przytulny z dość dużym stołem i ławami. Do dyspozycji gości są 2 pokoje, do jednego wchodzi się z kuchni, do drugiego z innej strony budynku. Wokół cisza, wspaniałe widoki, jest to bardzo dobre miejsce na odpoczynek z dala od zgiełku miasta. Jest to też świetny punkt startowy do zwiedzania okolicy. Gospodarze bardzo mili. Spędziliśmy w Jujols bardzo dobry czas.
Agnieszka
2016-07-24T00:00:00Z
logement et village à recommander pour les amoureux de la nature et du calme. revers de la médaille , bien penser à faire les courses avant de monter à Jujols (très peu de commerces et restaurants hors saison à 10 km autour)
frederique
2016-10-08T00:00:00Z
L'habitation est unique, avec la 2ème chambre et son entrée à l'extérieur. Des murs énormes en pierre du pays, un confort rustique mais le tout tellement intégré dans son environnement qu'on s'y sent vraiment bien. La vue sur le Canigou est magnifique. On respire le calme et la sérénité. Aurélie vous accueille avec sympathie et vous renseignera sur tout ce que vous voulez savoir. Ce fut un très agréable séjour!
Alain
2016-07-17T00:00:00Z
Merci Vincent et Isabelle pour ce délicieux séjour chez vous à Jujols. Tout était parfait !!!!
Christelle
2016-11-01T00:00:00Z
Un gîte chaleureux, à la fois atypique et confortable, qui offre une vue imprenable sur le Canigou (regarder le coucher de soleil sur la montagne depuis son lit, c'est top !). Accueil très sympathique. Une très bonne adresse pour passer un moment authentique et convivial, dans un environnement grandiose.
Carole
2017-02-27T00:00:00Z
Room Type
Entire home/apt
---
Property Type
House
---
Accommodates
4
---
Bedrooms
Jujols, Languedoc-Roussillon, France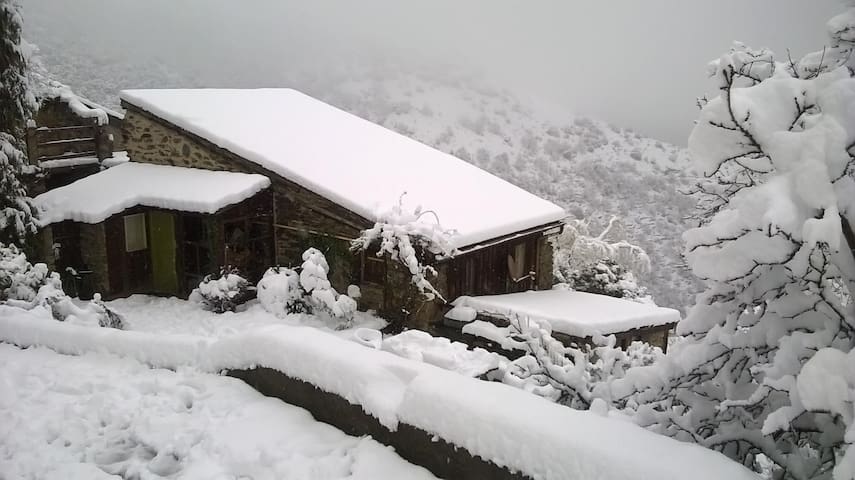 La Rose Des Vents is a very special place located on the historic 'Chemin Des Canons' in the tiny French village of Canaveilles. It combines a refined interior space conducive to a romantic getaway and the tranquility of nature.
La Rose Des Vents is a very special place located on the historic 'Chemin Des Canons' in the tiny French village of Canaveilles. It combines a refined interior space conducive to a romantic getaway, the tranquility of nature and the silence of the mountains. The property has been restored with an amazing amount of care and attention to detail, using only skilled craftsmen and extremely high quality finishing touches. On the ground floor, in addition to the entrance, you will find a very cosy double bedroom with it's solid wood floor and unique japanese bathtub and shower. The huge natural rock wall and the wood burning stove create an amazing atmosphere of warmth and tranquility for a candle-lit evening bath. Hidden behind shoji sliding doors, a washing machine, dryer and further closet space are available. Upstairs you will find the very well-equipped kitchen and lounge / dining room. The oriental style table and chairs are perfect for relaxing as well as enjoying a home cooked dinner. A powerful wood burning stove warms the entire house and winter dining is always accompanied by the sound of crackling wood and the beauty of the flames seen through the glass doors. On the mezzanine level is the second bedroom. With it's office space and wifi connection it is the perfect place to keep in touch with the world and still be able to watch the clouds through the eight sky windows in the roof. At night, the changing starscape can be watched through two huge Velux windows placed above the four poster bed. There is also the BBQ terrasse for outdoor cooking on warm sunny evenings. It's a lovely, rustic spot with the most stunning views across the valley and to the (often) snow-capped mountains of the Pyrenees.
The house is in the tiny village of Canaveilles. It is the most tranquil and beautiful place away from the noise as the village is at the end of a small country lane, so no through traffic.
Danny was an excellent host. He was very helpful and went above and beyond to help us find what we needed in the area. The house is beautifully designed, the kitchen had everything we could need, the bathtub is excellent and we slept wonderfully. Canaveille is a beautiful little town on the top of the mountain. The road to access is long, narrow, and very curvy, but it's worth the trip to see the view and breath the fresh mountain air. Just be sure to honk when you go around the blind corners. There are beautiful hikes just outside your door and everyone in the village is very nice. We are already dreaming of returning next year!
Adam & Elea
2016-10-05T00:00:00Z
Beautiful house in a tiny, quiet village. All required info was provided by the host. Great hiking etc in the area. Highly recommended.
Peter
2016-09-07T00:00:00Z
The host canceled this reservation 17 days before arrival. This is an automated posting.
Roland
2016-06-29T00:00:00Z
We had a wonderful break in the lovely little village of Canaveilles! The house was beautiful and exactly as pictured - we especially loved the skylights and Japanese bath tub! The village and surrounding area are peaceful and idyllic and we loved exploring. There are some wonderful walks straight from the front door so we didn't need to travel far at all during the trip. The terrace area, which is separate from the house, was a lovely place to relax in the evening with a book and bottle of wine and has the most amazing views across the mountains. All in all we highly recommend a visit to this magical gite. We had a perfect, relaxing break here and are sad to be back home :(
Stephanie
2016-09-24T00:00:00Z
Beautiful views, comfortable and qualitative (the bed and the pillows are very important for me and here it was very good quality) house. It is the place to run away from the daily routine, the place where time stops. We traveled with 5 months baby and this house has everything to make baby stay comfortable as well=). Danny and his friend Olivier is a very respectful, helpful and kind person. Thank you!
Maria
2017-03-13T00:00:00Z
such a beautiful place to stay, so many possibilities for hikes, mystic places all around.
Dita
2017-02-07T00:00:00Z
Tres jolie maison avec decoration superbe, situee dans le plein calme au bout d'une route etroite de 3 kms. Belle promenades en montagne vers Llar et maison bien situee pour visiter en voiture Prades et Villefranche. Cuisine bien equipee, mais maison avec deux etages avec escalliers difficiles pour les plus ages.
Paul
2016-07-06T00:00:00Z
Une maison de village magnifique, dans un beau village au calme. Idéal pour des vacances tranquilles et bien placé pour des escapades dans les vallées aux alentours.
Greg
2016-08-30T00:00:00Z
Room Type
Entire home/apt
---
Property Type
House
---
Accommodates
4
---
Bedrooms
Canaveilles, Languedoc-Roussillon, France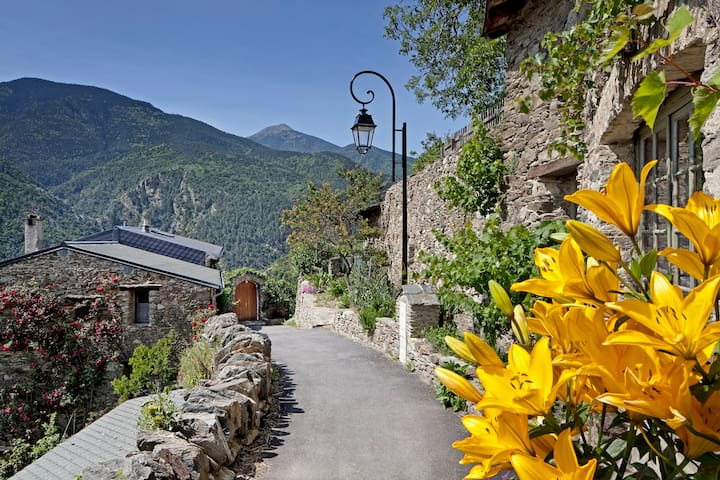 The charm of a wood and stone house nestled in the Pyrenees Orientales, enjoy good fire in the fireplace after finding trails and hot baths surrounding places Eat on a terrace of 25m facing the Pyrenees
Large roof terrace facing the mountain to have lunch where breakfast in a unique setting!
très calme, maison magnifique avec jolie vue sur la montagne, je recommande! la cheminée est un plus!
bethsabée
2016-10-19T00:00:00Z
Notre séjour s'est très bien passé ! La maison était à la hauteur de nos attentes et le cadre idéal pour un voyage paisible en pleine montagne ! Juste attention aux pertes de réseau pour certains opérateurs, sinon je recommande !
Sarah
2017-01-29T00:00:00Z
La casa es una maravilla. Súper limpia, muy acojedora y muy bien equipada. Sus propietarios súper amables. Sin duda la recomiendo y sin duda repito experiencia!
Carlos
2016-11-06T00:00:00Z
L"accueil a été fait par une amie qui a été particulièrement serviable et à l'écoute. Il y avait des petits cadeaux de bienvenue, vin et gâteaux de la région, c'était très appréciable. La maison est conforme à la description, elle est très bien rénovée et correspond en tous points aux photos. La vue de la terrasse est magnifique et la chambre "studette" est très fonctionnelle avec sa douche et ses toilettes privatifs. Par contre, les toilettes des autres chambres étaient deux étages en dessous, cela a gêné ma maman et son amie. Je recommande vivement cette maison , les propriétaires sont très disponibles et attentifs.
CELIA
2016-10-28T00:00:00Z
The house of Marie-Pierre was above our expectations. Very tidy, warm and fully equiped with whatever we may needed during our stay. + a welcome champagne :) a very nice detail. The village is very nice and not tourist crowded, so our visits in the area were pretty calm. Ideal place to relax for some days :)
Stefanos
2016-11-20T00:00:00Z
logement très agréable (notamment la cheminée) et belle vue sur la montagne! petit village très calme et reposant! Bains chauds de St Thomas à proximité!
Mathilde
2017-01-07T00:00:00Z
Todo bien. Los propietarios muy atentos, se agradece el esfuerzo para hablar español. El apartamento es tal como se muestra en las fotos, agradable, bien decorado y tiene todo lo que puedas necesitar. Sin sorpresas. Por poner un inconveniente, la instalación de agua es muy ruidosa; cada vez que alguien abre un grifo, suena en toda la casa, pero se trata de una casa antigua, así que queda disculpada. Quizá lo peor, es el pueblo, Fontpedrouse no es pequeño, pero es muy solitario y con muy poco ambiente. Se echa en falta un café, plaza o parque donde pasar la tarde..., lo mismo que les pasa a los pueblos cercanos, así que debes ir a Mont-lluis o Vilafranche, y quedan bastante lejos!
Jordi
2016-08-21T00:00:00Z
C'est un logement atypique sur 3 étages que nous avons occupé avec plaisir pendant 5 jours. La maison est confortable et a tout ce dont on a besoin. Aurelie nous a accueilli chaleureusement et nous a donné quelques tuyaux intéressants sur la région. Le vrai plus est que ce logement est dans un village sympa tout proche des bains de Saint Thomas. Un vrai plaisir en Hiver! Ajouté à cela un grand toit terrasse pour profiter du soleil et c'est parfait. Je recommande cet endroit.
Nathalie
2016-12-23T00:00:00Z
Room Type
Entire home/apt
---
Property Type
House
---
Accommodates
8
---
Bedrooms
Fontpédrouse, Languedoc-Roussillon Midi-Pyrénées, France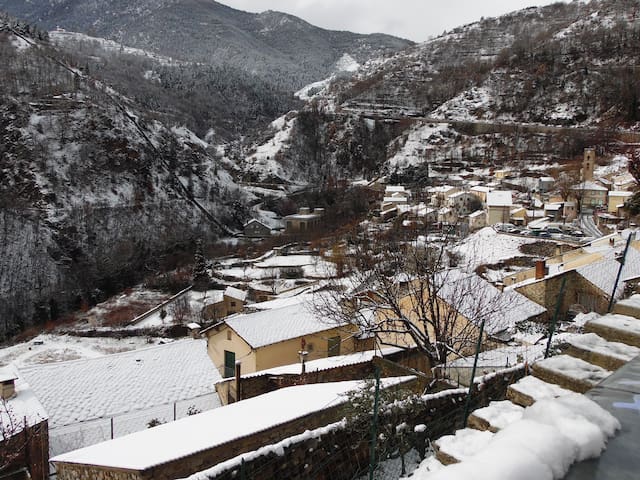 Our house 's been renovated with passion and typical materials (wood and rocks). Come and stay inside near the fireplace or have a moment on the terrace in front of the Big Canigou. Guaranted resourcing, far from the modernlife sounds...
With 3 bedrooms, 8 adults with childrens can stay in the house. Big living room with kitchen corner, tv corner and dining room... and the lovely terrace where you can have aperos, have breakfast, have lunch, contemplating the Garrotxes Valley and the wonderful Canigou....
The house is located in a very small village. The place is so restful. Please take binoculars and camera because you 'll certainly see wild animals from the terrace.
The house has everything you need for a perfect time in the mountains and the location is amazing. Everything was as described and the welcome was impeccable. Sylvie and her husband went out of their way to help us out when we needed something or had a question. 10/10 would recommend!
Milos
2016-01-26T00:00:00Z
A wonderful chalet in the mountains with a very special view. We loved every minute. A note for future guests -: towels are not included so make sure to bring your own.
Milos
2016-10-31T00:00:00Z
Beautiful and spacious house in the middle of the french mountains. Nice view and good area for walking. You have everything you need at the house and also a chimney and wood. The only negative point is that you pay quite a lot for the cleaning and then you are suposed to clean everything (there are some written rules of the house). We spent a really nice time at the house. To be repeated!
paula
2016-10-16T00:00:00Z
This is an amazing place, the pictures really don't do it justice …..if you are looking for utter tranquility and spectacular views whilst staying in a very characterfull and comfortable place then this is the one for you . Communication with Marjorie was very quick and helpful , she was also very flexible when I made a mess of our dates . The house is managed by Sylvie whom is also extremely helpful and efficient. The beds are very comfortable (and there are loads of them ) and the house is incredibly well equipped with surprisingly good wifi and TV (considering the location) , as well as all the good basics there are board games / books etc . Its half an hour to any commerce so come prepared with all you need to eat/drink etc as there is no quick nipping out here. The chalet is warmed with wood and our only small compliant would be that the wood burner in the main room did not seem quite efficient enough for the space and we did struggle to heat it compared to the toast bedroom…however this was small price t o pay for such a special place and generous hospitality.
(EMAIL HIDDEN)
2016-04-12T00:00:00Z
Great place for vacations in the nature
Pablo
2016-12-08T00:00:00Z
Spectacular is the best way to describe the view from Marjorie's beautiful chalet. We found our stay comfortable and loved returning to the chalet after each of two days of skiing at Les Angles. The beds and linens were comfortable. The accommodation was clean and welcoming. Marjorie was also a pleasure to deal with.
Mark
2016-02-27T00:00:00Z
lieux reposant en harmonie avec la nature, la vue époustouflante laisse un souvenir remarquable. Le chalet rustique mais charmant et on se sent bien dedans. Nous avons passé noël en famille la pièce à vivre est très agréable. Beaucoup de balades à faire en partant du chalet.
celine
2016-12-29T00:00:00Z
Magnífica ubicación y entorno de una casa con encanto. Dispone de todos los detalles y servicios. Por poner un pero, aunque hay dos chimeneas, no dispone de calefacción. Buena atención de Sylvie. En verano, con mejor tiempo, supongo que se estará de maravilla. Para repetir.
Eusebi
2016-02-14T00:00:00Z
Room Type
Entire home/apt
---
Property Type
House
---
Accommodates
8
---
Bedrooms
Ayguatebia Talau, Languedoc-Roussillon, France
This is a beautiful 3 story, fully renovated stone house. There are 3 bedrooms and modern bath on the 2nd floor. The 3rd floor is a large open kitchen and living area with a glass sliding door that opens onto a beautiful terrace with a panoramic view. My place is close to great views, parks, canyon, river, hot springs. You'll love my place because of the light, the quietness, the mountains, the views. My place is good for couples, solo adventurers, families (with kids), and small groups.
The was no one to welcome us, we had to wait for 30 minutes and make 6 calls to get in touch. This is a ghost town, no services at all. We had many issues with powe supply and heaters which did not work, general cleanliness!. And no fireplace/no breakfast/no reliable wi-fi... It was a big mistake to go there. Regret to have rent it!.
German
2017-01-01T00:00:00Z
(Pour les plus pressés, le résumé est en dernière ligne) Si vous cherchez une expérience insolite d'hibernation dans un igloo vous êtes au bon endroit ! Nous avons séjourné dans ce chalet 2 nuits. Nous étions 3 adultes, 2 "grands" enfants (4 ans et 5 ans) et 2 autres enfants en bas âge (1 an et 2 ans) qui dormaient dans des lits parapluie. La propriétaire n'habite pas sur place et délègue la logistique à Martine, une voisine dans le village. À notre arrivée, nous constatons que les 2 radiateurs du salon ne fonctionnent pas. Martine essaye de nous aider mais sans succès. La température dans le chalet est de 11 degrés. Nous constatons ensuite que le four ne fonctionne pas non plus ! Heureusement Martine propose très gentiment de faire cuire notre poulet chez elle et nous ramène un petit chauffage d'appoint, faisant monter la température du chalet à 14 degrés ! Champagne ! Mais attention, c'est pas fini... Nous utilisons les plaques de cuisson pour faire cuire le riz et à ce moment les plombs sautent ! 1h30 plus tard (et après 11 coupures d'électricité !), nous avons pu faire dîner les enfants. On en rigole aujourd'hui, beaucoup moins sur le moment... Nous avons échangé avec la propriétaire (sympathique au demeurant) par message, et même par téléphone, mais aucune solution n'a pu être trouvé : le lendemain, malgré différents tests sur les équipements électriques et sur le compteur, ni les chauffages ni le four ne fonctionnaient. Et le compteur a encore disjoncté 4 fois dans la soirée alors que nous avions dû acheter nos repas à l'extérieur car nous ne pouvions pas cuisiner dans le chalet. À notre départ nous avons laissé la cuisine propre (contrairement à ce que la propriétaire a laissé sous-entendre !! Incroyable !!) et comme convenu nous avons laissé les 50€ à Martine pour le ménage. Au final, en plus de la gêne et de l'inconfort de la situation, nous avons dû prendre tous nos repas à l'extérieur, ce qui a entraîné des frais supplémentaires et nous sommes reparti avec un enfant malade. La propriétaire nous a remboursé seulement 50€ (sur les 300€ du séjour !!) Ouch ! Heureusement Airbnb est intervenu pour régler la situation et nous avons récupéré la moitié de la location. En conclusion, pour l'été : peut-être. Pour l'hiver : NON.
François
2016-12-30T00:00:00Z
Room Type
Entire home/apt
---
Property Type
House
---
Accommodates
6
---
Bedrooms
Thuès-Entre-Valls, Languedoc-Roussillon Midi-Pyrénées, France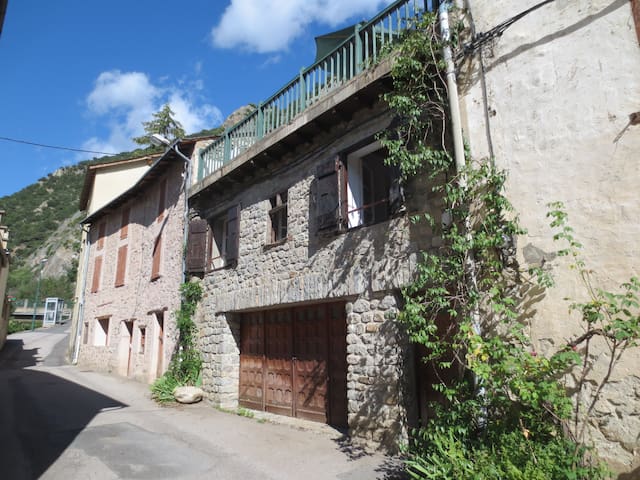 This house, located in Ayguatebia Talau, is ideal for 8 vacationers. It offers 3 bedrooms, a furnished garden, a terrace and WiFi.
This house, located in Ayguatebia Talau, is ideal for 8 vacationers. It offers 3 bedrooms, a furnished garden, a terrace and WiFi. The lounge is perfect for unwinding after a day of exploration. Curl up on the comfortable sofa and enjoy a good book or take advantage of the amenities on offer, including WiFi and a Hi-Fi. The kitchen is well-equipped for cooking up your favorite meals. Enjoy your feast around the dining table which seats 8 or outside, on the terrace or in the garden enjoying views of the mountains and the garden. The house has 3 comfortable bedrooms, 1 including a double bed and a bunk bed, 1 including a double bed and 1 including a double bed. The bathroom is fitted with a bathtubs, a shower and toilets. The house features a vacuum cleaner, cleaning products, a washing-machine and ironing equipment. Notice that the cleaning, bed linen and tourist tax are included in the rental fee. Please bring your own towels. Parking is available onsite and is private. Smoking inside is not allowed. Pets are allowed on demand. Parties are not allowed.
This house, enjoys a privileged location that will allow you to enjoy your stay in the area. Many activities await you in the surroundings such as Hiking, Skiing, Mountain biking and Hunting. Saint Pierre dels Forcats slopes are 22 km away. from the house.
Room Type
Entire home/apt
---
Property Type
House
---
Accommodates
8
---
Bedrooms
Ayguatebia Talau, France
Ce gîte de montagne classé 3 épis, est loti dans le hameau d'Evol, classé parmi les plus beaux villages de France. Vieilles pierres, lloses, poutres apparentes ... donnent à ce gîte beaucoup de cachet et du caractère. RDC: Grand séjour avec cuisine équipée. 1 chambre (1 lit 2 pers), wc. 2e étage: 1 chambre (1 lit 160 + 1 lit 1 pers), salle de bain communicante (douche et baignoire, wc). Parking communal à 200. Espace barbecue communal.
R+2 lit principal 160/200 lit enfant 80/190 R+1 canapé lit 160/190 lit 140/190 Machine à café senseo et A filtres Lave linge et sèche linge cave de gauche accès depuis extérieur Bois en supplément 1€ la bûche 80€ la stère 10€ la brouette Parking A 100m
The host canceled this reservation 14 days before arrival. This is an automated posting.
Alastair
2015-10-12T00:00:00Z
Très bon séjour chez Sébastien Jolie maison avec beaucoup de charme et tout ce qu'il faut pour une famille Ne pas hésiter à y faire une halte
Julie
2017-02-19T00:00:00Z
Très bien accueillis Le charme de ce village tout en pierre , calme, avec des voisins discrets et agréables Le rêve pour un séjour à la montagne, en famille, recherchant la tranquillité et voulant profiter de la nature tout autour , avec de magnifiques promenades à faire , rivière proche que l'on entend couler toute la nuit : de quoi se laisser bercer et bien dormir :-) Et même des monuments à visiter à proximité. Tout était parfait pour nous 5
Anne-Sophie
2016-07-24T00:00:00Z
Nous (4 amis) avons loué le gîte pour un WE ski et plongée sous-glace aux Angles. Le gîte est très bien équipé, les produits de première nécessité sont fournis (idéal pour un WE). Le gîte est dans un petit village très calme et superbe. Nous n'avons pas rencontré le propriétaire (qui n'est pas sur place) mais tout était organisé pour notre arrivée. Les échanges avant notre arrivée avaient permis de tout caler (réponses très rapides à nos questions). Nous avons passé un WE très agréable.
Régis
2017-02-26T00:00:00Z
Très bon gite pour une famille, vous serez au calme dans le charmant village d'Evol. Le gite est vraiment très bien équipé, et Sébastien nous a bien accueilli. Un excellent séjour.
PIERRE
2016-07-15T00:00:00Z
Très beau logement, nous avons passé une agréable séjour. Amis de la tranquillité ce logement est fait pour vous.
Edouard
2016-11-01T00:00:00Z
Sébastien tiene una casa muy bonita, en un pueblo pintoresco, ideal para visitar con niños. Lo hemos pasado muy bien en su casa y explorando los alrededores. Muy recomendable para un viaje en familia.
Barbara
2017-02-05T00:00:00Z
Una casa preciosa, grande y con encanto, justo a la entrada de uno de los pueblos mas bonitos de la zona. Sebastien fue muy agradable con nosotros y estubimos muy a gusto.
Dèlia
2016-08-28T00:00:00Z
Room Type
Entire home/apt
---
Property Type
House
---
Accommodates
5
---
Bedrooms
Olette, Languedoc-Roussillon, France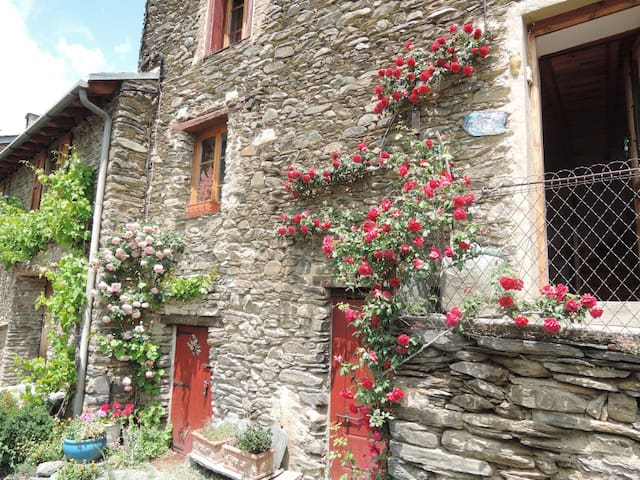 You will relax and enjoy the fantastic light of the south in this beautiful Chalet. unforgettable Panorama , Direct access to the nature, very Chilled place, great Mountain feeling . first Ski-Stations in 10Mn , Nordic Ski 500M.
In nature , quiet. Fantastic views of the valley and mountains. 6 downhill ski resorts within a radius of 20 kms , allowing to vary the destinations. Direct access to the Nordic area Capsir . Gr increases to 100 Metres . composition : O level : Living room, dining room, kitchen with dishwasher , front and back terraces , a bedroom with a double bed, bathroom with shower , separate toilet. Level 1 : Large open room with 4 single beds. Level -1 : 2 bedrooms with double beds bathroom , shower, toilet.
From the cottage , you have direct access to multi-day walks . on-site activities : hiking, snowshoeing, cross country skiing, horse ride . Within a radius of 10 km: downhill skiing, mountain biking, archery , ETC ... supermarket 15 Mn by car. grocery store in the village center .
The reservation was canceled 46 days before arrival. This is an automated posting.
Léa & Stan
2014-11-12T00:00:00Z
This was a beautiful place to stay, superb views and so peaceful. Isabella was very kind and welcoming, and most helpful
Catherine
2015-06-27T00:00:00Z
Comfortable house, and amazing views, so close to the ski stations
David
2017-01-03T00:00:00Z
Le chalet se trouve dans un décor magnifique, en pleine nature, au calme. La description correspond à la fiche mais attention si vous avez des enfants en bas âge, il y a deux escaliers assez pentus qui ne sont pas sécurisés par des barrières. L'acceuil est chaleureux et s'adape à votre heure d'arrivée. Idem pour le départ, l'heure est très flexible et c'est très agréable.
Gaelle
2015-04-02T00:00:00Z
Chalet bien situé entre les stations de Font Romeu et les Angles. Très bon état du chalet avec tout ce qu'il faut dedans (vaisselle, jeux, lave-linge,...)! 3 vrais chambres avec lits doubles et une chambre en mezzanine avec 4 lits simples (plutôt pour des enfants). Vue superbe. Accueil très agréable. A recommander.
Jennifer
2016-03-13T00:00:00Z
Décor magnifique avec vue imprenable. Le chalet est très fonctionnel et super bien équipé. Les stations de skis et les restaurants ne sont qu'à quelques kilomètres. Le calme est au RDV. Un grand merci à Isabelle pour sa gentillesse et sa disponibilité. Nous reviendrons.
NICOLE
2016-02-14T00:00:00Z
La casa és tal cual se ve en las (URL HIDDEN) una zona muy tranquila y la casa está genial. Y ellos unos grandes anfitriones.
Maribel
2017-01-29T00:00:00Z
Muy buen sitio para ir en familia, poco espacio con amigos. Faltaban utensilios básicos para la casa
Maria
2017-02-05T00:00:00Z
Room Type
Entire home/apt
---
Property Type
House
---
Accommodates
10
---
Bedrooms
La Llagonne, Languedoc-Roussillon, France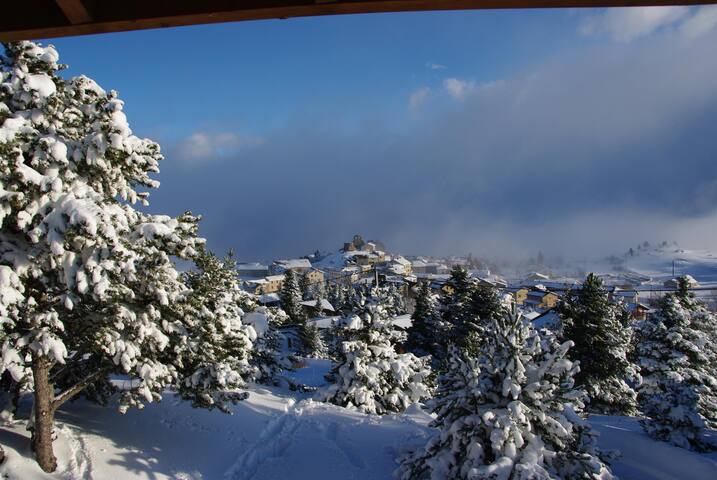 Totalmente renovada casa de la combinación de piedra, madera y hierro. apertura, el espacio de vida hermosa a una terraza de 30 m2 cubierta de pizarra jardín salvaje de 800m2 sin vecinos al sur. Un remanso de paz en la entrada de las gargantas del Carança.
Terraza + jardín
Cerca de la entrada de las gargantas del Carança en una pequeña aldea.
La maison est idéale pour séjourner dans la région. Nous étions 2 couples et avons suffisamment de place pour bien profiter de la maison. Le jardin est grand et calme , même si les gorges , avec une grande affluence, sont juste à côté, on se sent isolés. Tout est très fonctionnel , tout en étant charmant. Paule est une hôte parfaite, qui a su s'adapter à nos contraintes de planning de dernière minute, nous la remercions chaleureusement . Nous avons rencontrés plusieurs de ses amis dans le village, ce qui a renforcé la sensation de bien être du sejour
Laure
2016-08-15T00:00:00Z
Accueil chaleureux malgré notre arrivée tardive. Tout était impeccable
Markus
2016-07-24T00:00:00Z
accueil très chaleureux cadre très agréable maison aménagée avec goût
Michel
2016-08-07T00:00:00Z
Ha sido una linda experiencia. Una casita mágica en medio de un pequeño paraíso!! Fantástico para los niños!!
SOFIA
2016-08-24T00:00:00Z
Room Type
Entire home/apt
---
Property Type
House
---
Accommodates
4
---
Bedrooms
Thuès-Entre-Valls, Languedoc-Roussillon, France
new house in Saint Pierre dels Forcats 66210, 5 bedrooms, sleeps 12, comfort, ground, 1600 m, 1 km from the slopes of Cambre d'Aze, 20 km from Spain and 50 km from Andorra. rental week minimum during the winter holidays
The house was fully equipped. We had all we needed. It was very convenient for three families with kids. It has an small supermarket closeby where you can find basic things. The house has heaters, washing machine and dishwasher. We feel great! It has a good location if you want to go to Lac des Bouillouses, Font-Romeu... The neighbourghood is very quiet
Mariona
2016-01-05T00:00:00Z
RAS
Vanessa
2017-03-19T00:00:00Z
Estancia genial!
Eva
2017-03-05T00:00:00Z
una casa encantadora, rustica, tranquila, comoda i molt ben equipada (rentadora, rentaplats). La casa estava neta i compte amb una bonica cuina sala d'estar on hi ha una estufa que t'acompanya els vespres freds d'hivern. Comunicació amb l'anfitrio perfecte. les persones que et reben quan arribes són encantadores. Tot molt correcte!
Mireia
2017-01-22T00:00:00Z
La maison correspond bien au descriptif. L'équipement est complet et s'il manque quelque chose (pour nous, une grosse cocotte pour cuisiner des plats pour 10) un petit coup de fil à Claire et hop ! c'est réglé. Merci ! Nous avons passé un excellent séjour dans cette maison qui est très bien située pour pratiquer le ski ou simplement la marche aux alentours.
Patrice
2016-02-20T00:00:00Z
L'entorn és tranquil i agradable. La casa està ben conservada i les habitacions són àmplies. Per 10 persones és correcta però només hi ha dos banys i això és just. Cal millorar la neteja en tots els aspectes.
Marta
2016-07-09T00:00:00Z
Super séjour Agréable maison Propriétaire très gentille et disponible
Laurine
2016-07-04T00:00:00Z
Très bon accueil. Réponse rapide et très pro de notre hôte. 5 chambres doubles bien agencés et de taille moyenne. Cuisine équipée et bien équipée.
Ngoc
2016-08-07T00:00:00Z
Room Type
Entire home/apt
---
Property Type
House
---
Accommodates
12
---
Bedrooms
Saint-Pierre-dels-Forçats, Languedoc-Roussillon, France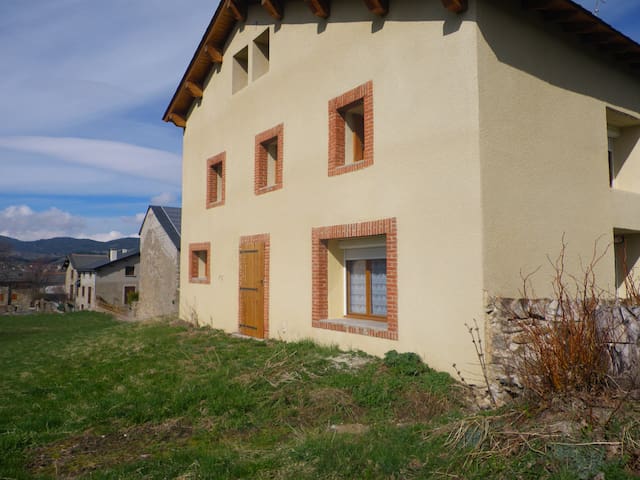 Spectacular South-facing mountain views. Superb walking – all levels. Flower meadows, lakes, grottos, gorges, abbeys, Carther castles. Famous "Little Yellow Train" descends to medieval Villefranche 11 SKI RESORTS Visit our website SNOWDENS INFO
Retains most of the original 18th century features. Previously a farmhouse, is rustic in style and intimate, with exposed beams, stone, and stripped pine. Living/Dining room with fitted kitchen (dishwasher, gas hob, electric coffee maker, oven, microwave, fridge & freezer etc), large cosi-corner, TV, CD player and a pretty enamelled wood-burning stove. Covered balcony with panoramic mountain views. Bathroom, washroom, 2WC's. Well equipped laundry with washing machine. Ski-locker. Picnic table and built-in barbecue, garden, parking. 2 double, 2 single beds. Electric heaters throughout. Free Wi-Fi connection.
We had a wonderful time in Gite in Sauto Met warmly by our hosts who showed us around the property. Lots of information available for the local area - very useful for us as this was our first visit. The accommodation was exactly as described, with the added benefit of having all we needed at hand to live comfortably, even board games, maps. We visited at end of summer with warm days and cold nights, so enjoyed eating on the terrace with wonderful views, and spending a very cosy night in with the wood burner keeping us so very cosy. Would love to visit in the winter! We have used Airbnb many times and would definitely recommend this accommodation to others.
Lucy
2015-09-21T00:00:00Z
Le gite est très confortable et nous avons beaucoup apprécié son emplacement et les balades à faire depuis le village. L'accueil a été parfait !
laure
2016-02-21T00:00:00Z
Muy linda la casa. En las fotos no se puede apreciar lo que en realidad es: hermosa. Y muy cómoda para ir con los niños, a pesar de las escaleras. Había espacio para todos. Muy bien equipada. Recomendable. Muchas gracias Graham.
El
2016-01-10T00:00:00Z
Room Type
Entire home/apt
---
Property Type
House
---
Accommodates
4
---
Bedrooms
Sauto, Languedoc-Roussillon, France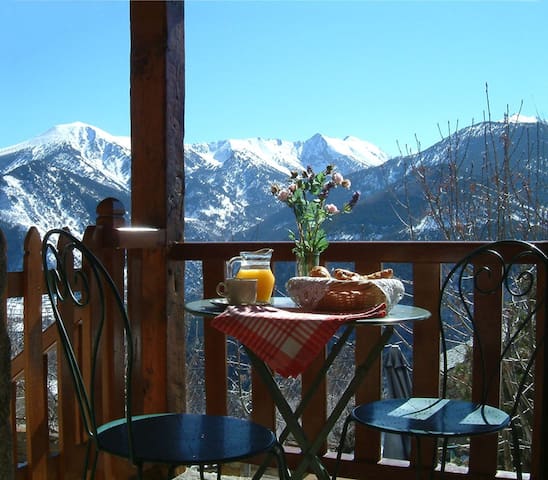 Apartment on 3 sides with patio and garden at 500m from the ski slopes and forest, well equipped comfortable 2 bedroom sleeps 8 Terassa y las pistas 500mde garden of esqui 2 habitationes 8 personas todo comodidad Ay that there traer sabanas toallas
500m from the slopes the winter and mountain summer calm
Quiet dead end street
La casa de Michel es muy (URL HIDDEN) tiene ningún pero.nosotros repetiremos seguro.
Player
2017-02-28T00:00:00Z
Una casa fantastica en una ubicacion perfecta para esquiar o conocer las montañas de Cambre d'aze
Marc
2017-03-05T00:00:00Z
Pueblo muy tranquilo, con poca vida. La casa está genial, incluso mejor que lo que aparenta en las fotos. Temperatura perfecta con la calefacción. No tiene wifi. Estancia para 8 personas apretadas, 6 perfecto!!.
Aurora
2017-01-07T00:00:00Z
Tres Bon voyage . L'appartement est parfait pour se rendre au ski dans la petite station à côté .
Rudy
2017-03-12T00:00:00Z
La casa está muy bien, limpia y con todo lo necesario, incluso pudimos utilizar la barbacoa en el jardín. El entorno es muy tranquilo y Michel muy amable.
Marta
2017-04-09T00:00:00Z
Nous avons passé un excellent séjour. L'appartement est TOP, il y a une belle vue sur les pistes. Nous avons adoré, nous reviendrons !
Lucinda
2017-01-15T00:00:00Z
L`appartement est grand et meme a 8 on est bien. Merci
Edyta
2017-02-25T00:00:00Z
Un appartement que je conseille fortement très spacieux très éclairée grand confort y a tout même avec un bébé. Merci pour l accueil même si on a pas pu rencontrer le proprio merci à ce monsieur .
Marlene
2017-03-19T00:00:00Z
Room Type
Entire home/apt
---
Property Type
House
---
Accommodates
8
---
Bedrooms
Saint-Pierre-dels-Forçats, Languedoc-Roussillon Midi-Pyrénées, France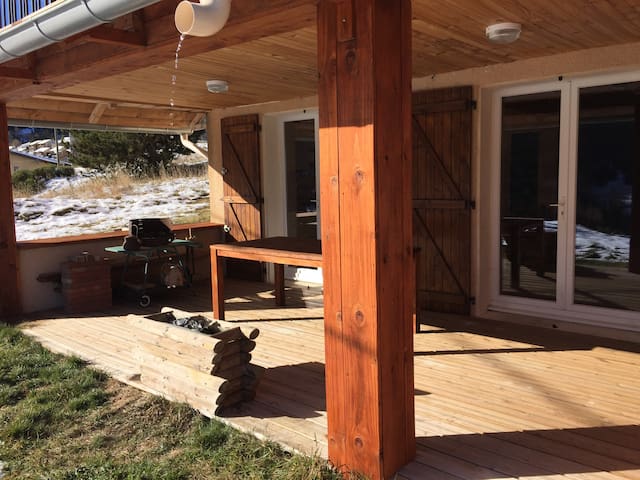 Ground floor: entrance + WC + cellar 1 floor: courtyard with BBQ, table and lounge area kitchen, dining room, living room TV (TNT) Level 2: two bedrooms bed 160 and a room bed 140 + bathroom with toilet Level 3: open space with game room, TV and dormitory 4 beds in 80 - Access by a steep staircase is not suitable for a young child toilet and washbasin Additional Photos and additional information by email.
Room Type
Entire home/apt
---
Property Type
House
---
Accommodates
6
---
Bedrooms
Nyer, Occitanie, France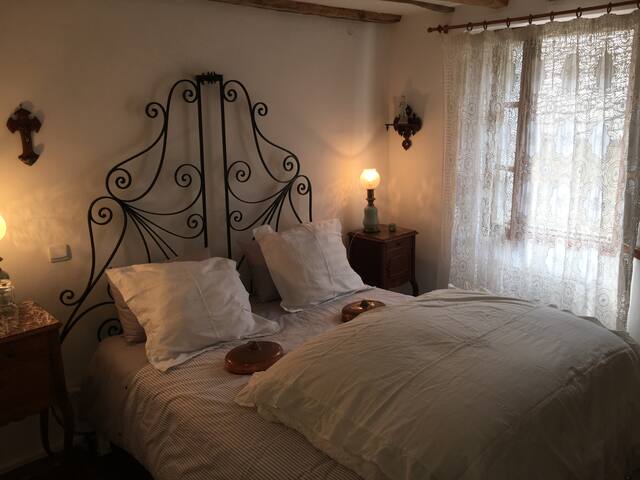 Ayguatébia-Talau - Airbnb
:
Average

4.46

out of

5

stars from

230

guest reviews
1

–

18

of

236 Home Rentals
Enter dates to see full pricing. Additional fees apply. Taxes may be added.