A & M House: A fantastic place where you can relax on your well-deserved family vacation . The house consists of two bedrooms, one with a double bed " king size " , the second bedroom has twin beds . You can enjoy private pool, sound system in all rooms , bathroom with shower , fully equipped kitchen with Hob, oven , microwave , dishwasher and small appliances washing machine , so you do not miss you the comfort as if in your own home .
We had an amazing stay in Madeira at the A&M house. It was exactly like the pictures: a perfect place to relax for a few days. I would highly recommend it.
Matthew
2016-10-21T00:00:00Z
A&M house is set in a quiet village location in the hills with stunning views of the ocean. Yet, you are a few minutes away from the beach. We loved the spacious, modern feel of the property which has everything you need for a comfortable stay. Although we came in October we were able to use the pool too which was lovely. We liked the personal touch of the welcome basket and the friendly communication with the owner and his housekeeper Sarah. Definitely a place we would like to come back to and discover the beautiful island of Madeira even more.
Stephanie
2016-10-16T00:00:00Z
We were absolutely satisfied with the A&M House. The accomodation was very clean and well equipped. The view from the terrace was magnificent. We also received a very warm welcome including a welcome basket. A Car is recommended. I would not hesitate to come back!
Oliver
2016-10-09T00:00:00Z
The house in fabulous, exactly as it looks like from the pictures. It is very spacious, modern and comfortable. The view from the terrace is wonderful. Unfortunately we didn't meet Alexis, Sandra gave us the keys and showed us the house. She is very friendly and helpful! I'd definitively recommend the house!
Laura
2016-11-08T00:00:00Z
There was a welcoming package as we arrived which was very thoughtful and the house was easy to find. The beds were perfect, large and comfortabel. The kitchen was convenient and the rooms were clean, pool water was a bit cold though. Good location!
Anne
2016-09-24T00:00:00Z
This home is as close to perfect as it is possible to be . It is exactly as it appears on the photos and spotlessly clean. Stunning location with every room having glass walls looking out to sea and into the beautiful Madeiran sunsets each evening. There are splendid restaurants nearby and it is an easy drive to anywhere on the Island. The pool area is very private and has the best sun loungers I have ever had the pleasure to lie on . Just a magical place on a magical island . I would wholeheartedly recommend it and am already planning my next trip .
Ian
2017-03-17T00:00:00Z
Property was exceptional. Extremely clean, well equipped and of a high spec. Exactly as shown in photos. AirCon and heating is now installed in both bedrooms. Welcome pack appreciated. Views and pool lovely.
jan
2017-04-02T00:00:00Z
The view is beautiful, and the house is very modern, clean, and well laid out. Alexis left a gift basket with madeira wine, a mug, and some local treats, which was really nice. It's a little difficult to get to due to the steep hills and windy roads, so I'd recommend having a GPS. Thank you for a great stay!
Michelle
2016-11-16T00:00:00Z
Room Type
Entire home/apt
---
Property Type
Flat
---
Accommodates
4
---
Bedrooms
Arco Da Calheta, Madeira, Portugal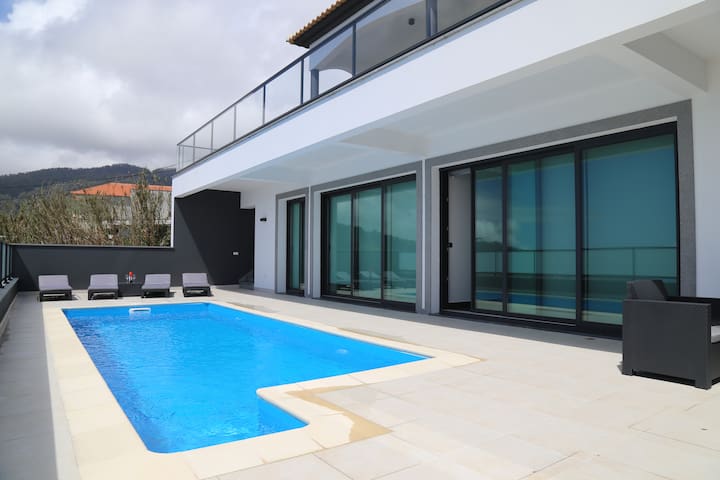 Location— Location – Location - Casa Serena Apartments This spacious fully equipped holiday rental apartment, with a breath taking south facing sea view, are located in the sunny south west of Madeira, on the side of the valley overlooking the banana plantations and the village of Arco da Calheta. Only five minutes by car to the Vila da Calheta with its beautiful beach and marina; you will also find a hotel, shops, restaurants and large supermarket.
Room Type
Entire home/apt
---
Property Type
Flat
---
Accommodates
2
---
Bedrooms
Arco da Calheta, Madeira, Portugal
House located in the middle of Arco da Calheta, close to the Church, is a two bedroom House,with a shower/WC, kitchen and a open living room. The beautiful terrace and balconie is the must of the house where you can have sun baths and a nice view.
Teixeira House has the best view in Arco da Calheta. The beautifull Atlantic Ocean and the Mountains can be seen by the terrace.
Arco da Calheta Arco da Calheta is a civil parish in the municipality of Calheta in the Portuguese island of Madeira. The population in 2011 was 3,168,[1] in an area of 14.70 km².[2] Arco da Calheta is the largest parish in Calheta in population. The parish of Arco da Calheta is surrounded to the north and west by the parish of Calheta, and east by the municipality of Ponta do Sol (specifically the parishes of Canhas and Madalena do Mar), fronting the Atlantic Ocean along its southern border. Buildings are found in the amphitheatre-shaped valley, as well as on the escarpments overlooking the community, alongside Calheta (in Calhau Grande) and Madalena do Mar (Achada de Santo Antão). Its landscape within this semi-circular valley was the basis for its name; the early settlers, owing to the band/arch of settlements with the valley, baptized the region the "Arch of Calheta", or Arco da Calheta. A band of laurisilva forests subdivides the parishes built-up area from the barren vegetation of the mountains. Das primeiras colonizadas A configuração dos seus montes, em semi-círculo, a lembrar um arco, acabou por motivar os primeiros povoadores a darem o nome à freguesia do concelho da Calheta: Arco da Calheta. A freguesia do Arco da Calheta foi um dos locais mais antigos da ilha da Madeira a ser colonizada e a receber as primeiras explorações agrícolas após o descobrimento. O povoamento, maioritariamente feito por portugueses, ocorreu entre (PHONE NUMBER HIDDEN). Situada à beira–mar, entre as ribeiras do Ledo e do Luairão, a freguesia do Arco da Calheta confina com as freguesias da Madalena do Mar, dos Canhas e da Calheta. A freguesia, desmembrada da Calheta em 1472, ficou com sede na capela de S. Brás. A Igreja matriz foi reconstruída em 1744. O Arco da Calheta conta actualmente com cerca de 4.000 habitantes. Tem como actividades económicas, agricultura e agro-pecuária, indústrias de serração de madeira, carpintarias, serralharia civil, panificação, fabrico de blocos, comércio e prestação geral de serviços. Quanto ao clima, no Verão é muito quente e no Inverno, um pouco mais rigoroso. Como Chegar A partir do Funchal entre na Via Rápida no sentido Funchal - Ribeira Brava continue o percurso até a Calheta, na Estrada Regional 101. Basta seguir as indicações. -Actividades Tradicionais e Cultura Popular Charolas -Monumentos Arquitectónicos, Conventos, Igrejas, Capelas, Fortes e Fortalezas Capela do Sagrado Coração de Jesus Capela de Nossa Senhora da Vida Capela de Nossa Senhora da Conceição Capela de Nossa Senhora do Loreto Capela de Nossa Senhora da Nazaré Igreja Paroquial do Arco da Calheta -Praias, Piscinas, Ribeiras, Cascatas na Madeira Praia da Fajã do Mar Praia da calheta -Festas Religiosas e Arraiais na Madeira Festa de Nossa Senhora da Conceição Festa de São Brás Festa de Nossa Senhora do Loreto
We enjoyed a lot our stay at Cecilia place. It was exactly as it was described. Great view, calm place with 2 super friendly dogs that our baby enjoyed a lot. Although we did not have much contact with Cecilia, as we were received by her husband we can't complain for a single thing. Both of them were very responsive with no problem attitude. For us as a family with a little baby, we found Cecilia very helpful with arranging all the small facilities for our daughter that are normally difficult to bring along as we travel. Seems to be a minor thing but made a very positive impression on us. Summarising, great place, well-equipped with great view, also perfect for families with small children. P.S. Small detail, but very nice - on our arrival we were welcomed with tasty cakes and a bit of wine ;).
Robert
2015-10-02T00:00:00Z
We had a great time in this place. The appartment was big, clean, with a great view. The kitchen is well equipped and has everything necessary to cook. We were really treated like kings, with cookies, a honey cake and madeira wine awaiting us at our arrival. We are definitely happy to have chosen this place.
Sylvain
2015-12-16T00:00:00Z
Cecilia is a very nice and friendly person. She did everything to make our stay comfortable so we have enjoyed being to your appartment soooo much. Thanks again from Germany - Hope we could come again - Good Luck - Udo & Ute
Udo
2014-08-17T00:00:00Z
We had a great time at Maria Cecilia's house. She created a private house were it feels like home. Everething you need is there. Lovely terras with great see view. Maria is really friendly. And makes really nice cake and bread!
Mijnie
2016-08-27T00:00:00Z
A great place to stay in Madeira. A stunning view over the village and the sea from the terrace, easy to park, well equipped, two steps away from the shops and 5min from the sandy beach of Calheta. You will find everything you need to have a nice stay. Cecilia was lovely. Absolutely recommended !
Aurélien
2016-10-17T00:00:00Z
We loved the house and the beautiful terrace with a great view. The house is big and Maria Cecilia was very kind with us, we had all we need. Moreover the position is great to visit the south west area of Madeira. Obrigado Maria Cecilia!
tommaso
2014-08-26T00:00:00Z
Lovely accommodation with stunning views. Well recommended
Gerald
2016-12-23T00:00:00Z
We stayed here a week and really enjoyed this place. For travellers with car, Arco da Colheta is a great place to stay as it is quite central but quiet as well - exactly, what we needed. We found it very easy to get to all the main parts of the island from here. Cecilia is a great host: she greeted us with fruit and cakes (such a bonus!) and was super helpful to us when we needed help of a local. We really appreciated her time which she could have spent doing her own things instead of helping us. Human kindness is priceless! Although we didn't spend much time at the flat as we would leave early in the morning and come back in the evening for dinner, we thought the flat had more than we needed. The kitchen has all the appliances one may have in their own home, there was also a hair dryer, an iron and and an ironing board, and a washing machine for those who might be staying here for longer. All very useful appliances for demanding visitors. It was a very enjoyable stay. We are only sorry that it wasn't warm enough for us to have had an opportunity to enjoy the veranda and the barbeque. Thank you, Cecilia! Thank you, Madeira! You were fantastic.
Natalija
2017-03-21T00:00:00Z
Room Type
Entire home/apt
---
Property Type
Flat
---
Accommodates
4
---
Bedrooms
Arco Da Calheta, Madeira, Portugal
My space is close to art and culture, white sand beach, supermarcados, mountains, beautiful landscapes and parks. You will love my space because of the location, the views, soccego and warmth. My space is good for couples, solo adventures, getaways and families (with children).
The host canceled this reservation 2 days before arrival. This is an automated posting.
Chris
2017-02-09T00:00:00Z
Room Type
Entire home/apt
---
Property Type
Flat
---
Accommodates
2
---
Bedrooms
Arco da Calheta, Madeira, Portugal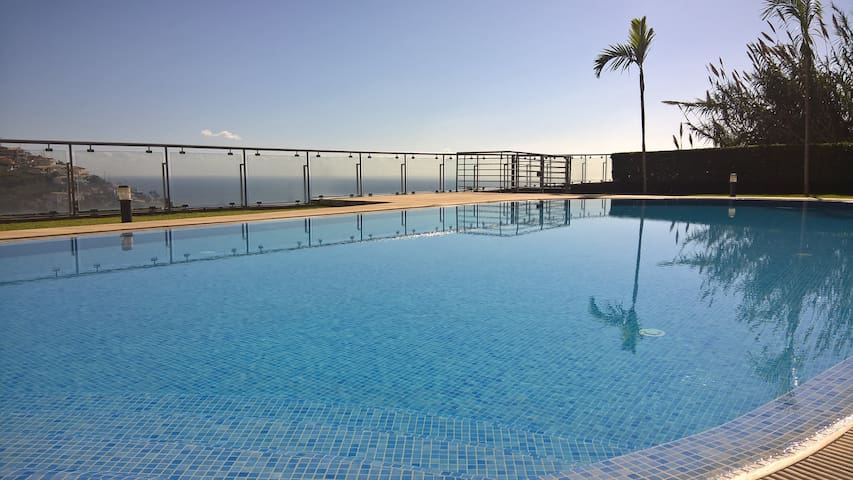 We are a couple of 60 who decided to lease the top of our house, independent is our home, we guarantee a stay as in your home! The area has good access to the sea and the natural beauty of the coast, making it the place of choice
Marlène very kindly met us in the village and introduced us to the apartment. We had a lovely stay and the views from the balcony are fantastic, especially at sunset. The sun loungers were definitely a good idea. We were even given fresh fruit and eggs by the owners! We had a hire car for our stay which I'd recommend as it's a pretty tricky place to access otherwise. Madeira is a fantastic island and we can't wait to visit again.
Danny
2016-03-30T00:00:00Z
It is a very good budget stay in a rural area of Madeira high up the sea. Authentic place and very nice people! Everything was in the apartment what we needed. Clean, friendly and tidy :-)
Susanne
2015-08-13T00:00:00Z
Marlene met us at the taxi stand in Arco da Calheta - although we think she should better indicate the church/main place as meeting point, because our GPS had some difficulties to find the taxi stand (and the taxis are at this main place). The apartment is nice and as described - just a little dark because there are no windows in the bedroom, bathroom and the kitchen and it smells humid. we were missing one or two good knifes, a dehumidifier and a line to hang up wet clothes and towels. We only saw Marlene at the beginning, the main contact is with her parents. They are very friendly, helpful and discreet but they only speak Portuguese and Spanish what was not a problem for us. Marlene also speaks much better Spanish than English. All in all good value for the price. many thanks to your parents Marlene !
Birgit
2016-08-04T00:00:00Z
Nice apartment, with nice ocean view. Unfortunately, there is no sun on the terrace in the morning for breakfast. Apartment has a real oven, washing machine, ironing board,... Marlene suggested to meet us at the taxi stand to make sure we found the place as apparently gps shows people the wrong way (we didn't have gps).
Nathalie
2016-05-04T00:00:00Z
The view from the balcony was truly amazing, unfortunately the bedroom didn't have a window and the flat was humid, while it was foggy outside. Marlene's mother was very kind - brought us fresh eggs. great location to explore the west side of Madeira.
Jana
2017-03-30T00:00:00Z
The apartment had a great view from the little balcony and we enjoyed watching the sun go down.
Lydia
2017-02-18T00:00:00Z
Small flat enough for 2 persons. Nice quiet area. Perfect view from balcony. Possible to park car on street near the house. It was a little bit cold but small heater is available. Thanks, Marlene!
Mikhail
2017-03-10T00:00:00Z
We had a great stay at Marlene and her family's apartment. Lovely views down to the coast from the sunny balcony, the perfect place to watch the sun go down. The apartment is so spacious! Marlene is a great host, really friendly and helpful. Marlene's parents who live in the house below are lovely also. Many thanks!
Beth
2016-05-29T00:00:00Z
Room Type
Entire home/apt
---
Property Type
Flat
---
Accommodates
2
---
Bedrooms
Arco Da Calheta, Madeira, Portugal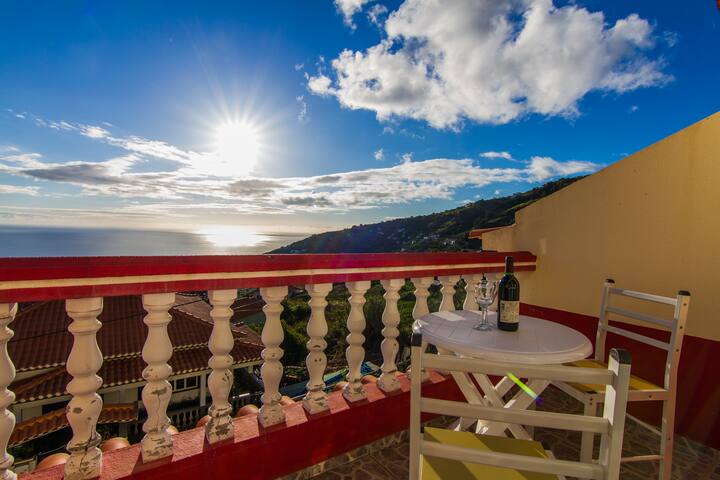 Fully furnished for the perfect self-catering holiday - there is a luxurious en-suite toilet & shower, modern fitted kitchen, lounge with big 5 seater chaise couch, flat screen TV with cable, WIFI, BBQ area and luscious garden with tables and chairs to relax or enjoy sundowners. Enjoy the panoramic ocean views, nature and have a very relaxing quiet stay in this private ground floor apartment. Ideal for couples, small families and individuals.
Exquisite 1 bedroom holiday apartment to rent. Casa do Louro has 2 separate holiday apartments and is ideally located in a quiet, very private section of Arco da Calheta. This modern fully furnished ground floor apartment with stunning sea and mountain views is situated in Arco da Calheta only a few minuted drive from Calheta Beach. The spacious lounge and bedroom have stunning views of the garden, Arco da Calheta and sea. The apartment features a spacious bedroom with en-suite shower, a modern fitted kitchen, lounge with big 5 seater chaise couch, flat screen TV with cable, WIFI, outdoor BBQ area and Comfortable sunbeds should you wish to stay and take in the views while you sunbathe. The outdoor tables and chairs also allow you to sit and enjoy sundowners or a light meal. Private parking with the outside areas of the house having external lighting.There are plenty of places to relax and enjoy the peace and tranquillity. Arco da Calheta has a number of restaurants, bars and supermarkets. Calheta beach is just a few minutes drive away and has a selection of shops, restaurants & small bars. Property Features Mountain views Sea Views Outdoor BBQ Garden Furniture Sunbeams Private Parking WiFi Cable TV Washing Machine Fridge Coffee Machine Microwave Kettle Washing Machine Linen & Towels 1 double bed Blender Mountain views Sea Views Local Activities & Attractions Calheta Beach Paragliding Levada Walks Scuba & Snorkeling Boat Tours Sugar Cane Factory
Arco da Calheta is the sunniest area of Calheta and a gateway to beautiful and scenic walking trails where you ca go on nature walks. The neighbourhood is quiet with magnificent views
The appartement is very modern and clean. Everything you need is available. The view is amazing! Thank you so much again!
Lorena
2017-02-02T00:00:00Z
The host canceled this reservation 39 days before arrival. This is an automated posting.
Patrick
2017-01-10T00:00:00Z
We really enjoyed our stay in this flat ( very sunny, well furnished and well placed !) We will definitely come back!
Sophie
2017-01-17T00:00:00Z
We had a wonderful stay at Casa do Louro. The house looks exactly as the pictures. We had breakfast in the garden and in the evening we enjoyed the view and the sunset. Duarte is very helpful.
Janine
2017-03-11T00:00:00Z
We had a wonderful time staying here in this newly refurbished apartment with beautiful sea view. Everything was brand new as we were the first guests, it is a very well equipped flat with a small barbecue outside and sunloungers. We enjoyed breakfast outside each morning and walking to the local shops for groceries. Our contact, Mumsie, was a brilliant communicator before and during our stay and very quick to respond if we needed anything. Would happily recommend this lovely place.
Cecilia
2016-12-31T00:00:00Z
We had a good time in the apartment. The view is amazing and the furnishing new. Even though we were late due to problems with our flight Duarte waited for us and the communication was easy all the time. There aren't many things to do in the neighborhood, but if you are looking for a quiet place to relax and book a rental car, it's perfect.
Ulla
2017-03-18T00:00:00Z
All I have to say is simply amazing! I was very happy to be Duarte's first Airbnb guest even though I was a bit apprehensive booking an apartment with no reviews. The pictures don't do it justice- the decor was magnificent and views were simply amazing. I loved the location - close to amenities and yet still very private and I loved the fact that I could park my rented car in the yard which is very rare in Madeira! Even though I was out visiting family for most of my stay , the apartment was well equipped and I cannot think of anything that I needed that was not available. I'll miss the coffee machine and my morning expressos :) I enjoyed my stay and definitely staying here again when I'm in Madeira, only this time I'm bringing my boyfriend because the apartment was just too big for me alone !
Maria
2016-11-22T00:00:00Z
Après quelques difficultés pour récupérer les clefs, Hôte disponible, a l'écoute et réactif. Logement bien équipé tout était prévu pour accueillir un bébé. Une vue à couper le souffle. Merci pour ce super séjour.
pauline
2017-02-11T00:00:00Z
Room Type
Entire home/apt
---
Property Type
Flat
---
Accommodates
2
---
Bedrooms
Arco da Calheta, Madeira, Portugal
My space is close to family activities. You'll love my space because of the views, the location, and coziness. My space is good for couples, solo adventures, business travelers, efamílias (with children).
What a lovely and peaceful place to stay! We would love to come back just for the view, the friendly people and the beautiful nature all around. Thank you!
Christian
2017-02-28T00:00:00Z
The apartment is great, the view on the sea is unforgettable!
Clara
2017-03-29T00:00:00Z
La casa nueva a extrenar. Limpia. Bonita. Exactamente como sale en las fotos. Nos llamaron los anfitriones antes de llegar para preguntarnos la hora de llegada. No lo encontramos a la primera y les llamamos. Salieron a buscarnos a donde estábamos. Los anfitriones viven justo en el piso superior por si hace falta algo. Libertad total de movimientos. No tenemos ninguna queja. Hay garaje para el coche de alquiler.
Monica
2016-08-25T00:00:00Z
L'appartement est situé sur les hauteurs de Calheta dans un quartier très calme avec vue sur l'océan. Endroit parfait pour visiter toute la partie ouest de l'ile (le reste de l'ile n'est pas très loin non plus, tous les sites sont à moins d'une heure de appartement...) Nombreuses randonnées à proximité. Ivone et Garry nous ont donné beaucoup de conseils sur les randonnées et les chose à faire sur l'ile et ont toujours été disponibles pour répondre à nos questions.
Sylvain
2016-09-08T00:00:00Z
Room Type
Entire home/apt
---
Property Type
Flat
---
Accommodates
4
---
Bedrooms
Arco da Calheta, Madeira, Portugal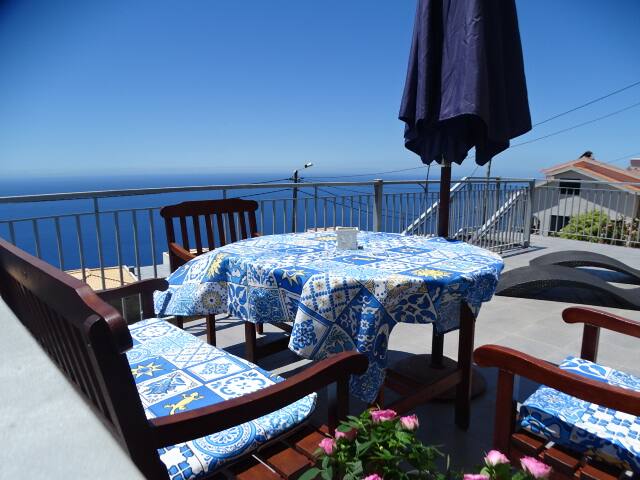 Apartment Celia has stunning view over the ocean and Mountains . It is ideally located for touring the island , with easy access to the North and its fabulous landscapes via Ribeira Brava. Porto Moniz and its natural swimming pools .
Very nice place with very friendly and helpful host. It's great to have anything you need to have a nice and pleasant time. We enjoyed the two terasses very much. One in the morning one for the afternoon. Highly recommended!!!
Achimowicz
2016-03-24T00:00:00Z
Very hospitable and caring host. The appartment was really nice, clean and functional. The little extra: the two sunny terraces to enjoy to Maderian sun from the breakfast to the aperitif!
Léna
2016-06-29T00:00:00Z
Nous avons été bien accueilli par Garry. Sur la table nous attendait une corbeille de fruits (bananes, fruits de la passion, goyaves...) et une bouteille de Madère. Appartement conforme aux photos. Petit plus très agréable la douche avec vue sur l'océan. Environnement calme et agréable.
franck
2016-12-31T00:00:00Z
Le logement était conforme aux photos. Garry est venu à notre rencontre pour trouver le logement avec beaucoup de gentillesse mais nous n'avons eu aucun contact avec Maria. Pour le mois de février l'intérieur n'était pas très bien chauffé et le soleil peu présent sur la terrasse. Endroit calme et situé pour la visite de l'ile
GERARD
2017-03-11T00:00:00Z
Séjour très sympathique. Bon rapport qualité/prix. Nous avons été bien accueillis. La maison et la terrasse étaient agréable.
Marie
2016-02-27T00:00:00Z
Room Type
Entire home/apt
---
Property Type
Flat
---
Accommodates
4
---
Bedrooms
Arco Da Calheta, Madeira, Portugal
This is a 1 bedroom house located in Arco da Calheta. The property has 1 bedroom, 1 bathroom and a kitchen with laundry area etc... The property was recently decorated with nice furniture. The house also includes TV and internet. The penthouse terrace allows you not only to sun bath, but as well as to enjoy your meals overlooking the ocean, the fruits, vegetation and banana farms and appreciate the "sun sets" over this beautiful scenery. In a few minutes you can reach the Levada Nova and Rabacal
Room Type
Entire home/apt
---
Property Type
Flat
---
Accommodates
2
---
Bedrooms
Arco Da Calheta, Madeira, Portugal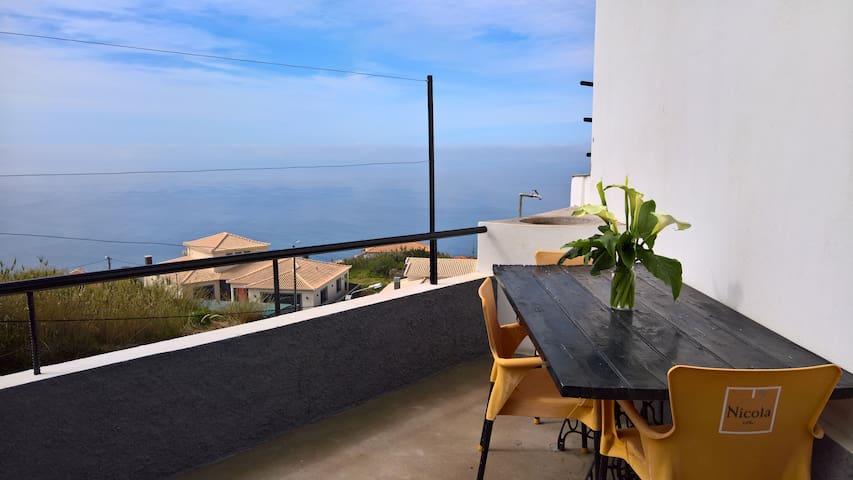 The "Casa Annie 2" is a paradisaical place of total relaxation, enjoy the panoramic views of the sea and mountains, the nature of Madeira.
The studio character is underlined with a traditional pagoda and outdoor terrace, deck chairs and table with chairs for a fantastic 'al fresco lunch.'
Room Type
Entire home/apt
---
Property Type
Flat
---
Accommodates
2
---
Bedrooms
Arco Da Calheta, Madeira, Portugal
Mao-Cheia house is a one bedroom apartment situated in a very quiet place in Calheta. You can reach the nearest beaches (Madalena do Mar and Calheta) in just 10 minutes. You can also get to the mountains in 10 minutes. Snack Bar on top of the apartment where you can meet the owner and try our famous poncha of Madeira while enjoying the views from the bar .
Mao-Cheia house is a one bedroom apartment situated in a very quiet place in Calheta. It is a 1 bedroom apartment 1 bathroom with shower . It has a sofa bed in the living room if you wish to bring another person .
. The house has a fantastic network of trails and levadas. 2 (Madalena do Mar and Achada) of more than 200 trails intersecting the basaltic mass of the island, taking hikers into a rare natural world. Along these irrigation channels you will come across the fauna and flora species found almost anywhere else in the world, the traditional Madeira Laurel Forest, which was declared a World Natural Heritage.
Lurdes, Joseph and Garry made us feel really welcome. They were incredibly helpful and generous. The apartment was spotlessly clean, well equipped and very comfortable with lovely views. We chose this apartment because it is in quiet place but there is a small supermarket and Pizzeria nearby and Bar Africana just upstairs for a coffee, snack and chat! There are some buses but we would recommend renting a car which Garry will happily help you organise before you arrive.
Hilary
2017-03-24T00:00:00Z
Room Type
Entire home/apt
---
Property Type
Flat
---
Accommodates
2
---
Bedrooms
Arco da Calheta, Madeira, Portugal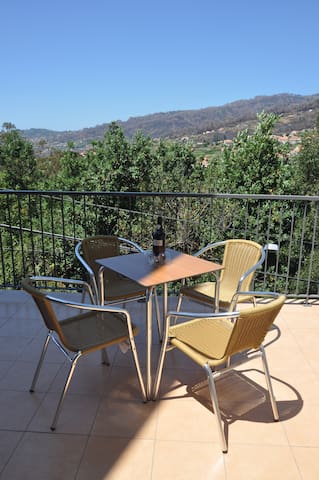 Apartamento Teixeira é um Apartamento com 2 Quartos situado em um lugar muito calmo no Arco da Calheta .. Você pode chegar às praias mais próximas ( Madalena do Mar ou Calheta ) o serras em apenas 10 minutos de carro .O terraco e partilado entre 2 apartamentos . Vistas deslumbrantes sobre o mar e serra .
We spent excellent week on this magnificent island. This accommodation has there a lot to participate for its situation, its comfort, its cleanliness, its terrace and its magnificent view on sunsets.
Loïc
2017-02-20T00:00:00Z
We spent 5 nights here and it's a great house for exploring the middle/west of the island, it has everything you need and the terrace is perfect for enjoying breakfast and the evening sun. A word of warning that as you can see in the pictures the roof is low in some places but even at 192cm tall this wasn't that great a problem. I'd stay again!
David
2016-03-09T00:00:00Z
Its a really nice play to stay, I will definetly recommend it. The only thing which is not really as described is that the wonderfull terrace is not just for this apartment, it is a shared place with the other apartment in the back. On the terrace there are actually 2 tables for both apartments. Tank you very much.
Oana Corina
2016-07-24T00:00:00Z
A really nice place to stay!
Conny
2016-03-19T00:00:00Z
Superbe séjour à Arco de Calheta. L'appartement est conforme aux photos sur le site. Très bien situé sur l'île si vous louer une voiture, très beaux paysages vers la mer et vers les montagnes ! Grande terrasse pour les petits déjeuners et repas, pour flâner aussi après une journée randonnée. Séjour idyllique et calme mais cependant quelques fois perturbé par le clocher de l'église et les aboiements des chiens des alentours. Merci à Garry, le frère de Maria, pour sa disponibilité et son sourire! Nous reviendrons !
Emilie
2016-06-05T00:00:00Z
Room Type
Entire home/apt
---
Property Type
Flat
---
Accommodates
4
---
Bedrooms
Arco Da Calheta, Madeira, Portugal
Centrally located, modern 2 bed apartment in the heart of Arco da Calheta. The 2nd floor apartment offers fabulous views across Arco Da Calheta towards the sea and across the to the mountains. The living room is bright and spacious with plenty of natural light streaming in from the glass windows. There is a plasma TV with international channels, free WiFi. The kitchen is modern and well equipped should you wish to rustle up some holiday meals. Both bedrooms have double beds and large wardrobes
Casa do Louro has 2 holiday apartments and is centrally located in the heart of Arco da Calheta. The apartments have amazing aerial views of the local area. This 2nd floor apartment is spacious, modern, fully furnished and big glass windows that let in natural light in and gives amazing views from anywhere in the house. The flat has two double bedrooms, with good-sized double beds and plenty of space to hang clothes and store luggage. The master bedroom has sliding doors leading out into a balcony. The second bedroom also has a double bed, wardrobe space and doors leading out into the garden. The newly built flat has free WiFi, spacious, open-plan lounge and fully fitted kitchen. The lounge has a huge couch. From the lounge you'll be able to enjoy view of Calheta through the glass doors. The lounge leads to a balcony where you can enjoy sundowners and relaxation, with lovely views of Calheta, sea and mountains. The bathroom is in between the bathrooms and has a walk-in shower with a glass screen. Towels and linen are provided for you.
Arco da Calheta has excellent amenities and you will be close to everything. Lots of cafes, supermarkets, bars, restaurants, either for dining out, or for take-away meals but also quiet in the evenings so you get a good night's sleep. The area offers a wide range of activities like levada walks, museums, surfing, paragliding and a few minutes drive away you will find the nice beaches of Calheta where you can sunbathe and swim.
Room Type
Entire home/apt
---
Property Type
Flat
---
Accommodates
4
---
Bedrooms
Arco da Calheta, Madeira, Portugal
2 bedroom flat on the top floor of the house with optional use of the garage on the ground floor. House is located on the lovely village of Arco da Calheta, a warm haven on the south of Madeira Island, it has an enjoyable and breath taking view over the village of Calheta and the sea. Sunsets from here are something unforgettable and the quietness of this place is total. 10min drive from the beach & 20min drive from the city of Funchal, but there are local amenities just across the road.
Room Type
Entire home/apt
---
Property Type
Flat
---
Accommodates
4
---
Bedrooms
Arco da Calheta, Madeira, Portugal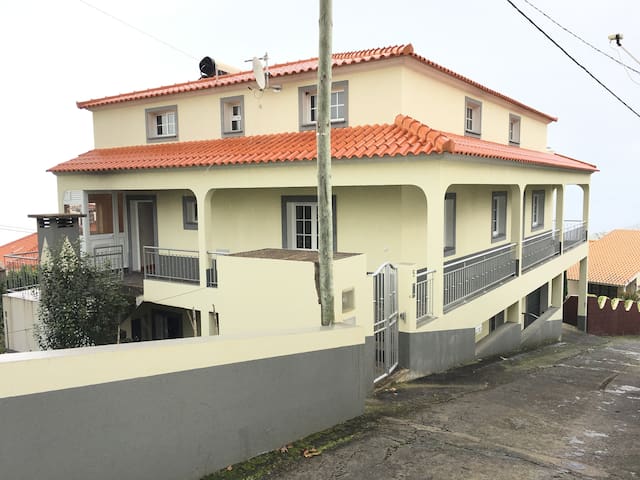 The Serramar house offers all the amenities for a relaxing holiday. It has two apartments, each with a kitchen, a comfortable living room, two bedrooms and a bathroom.
Room Type
Entire home/apt
---
Property Type
Flat
---
Accommodates
4
---
Bedrooms
Arco da Calheta, Madeira, Portugal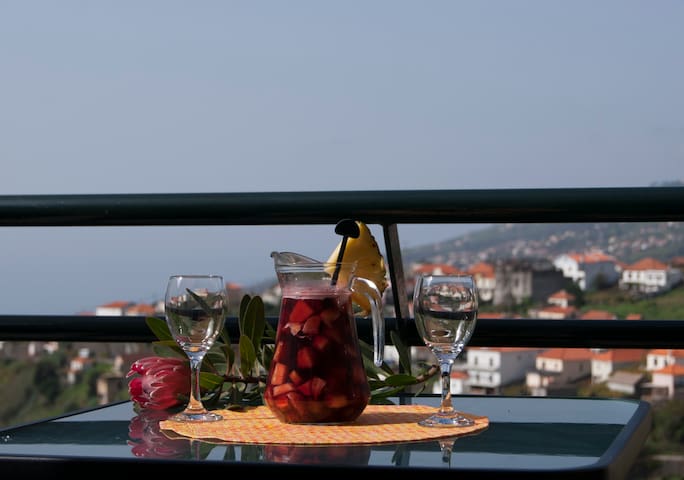 My place is close to public transport, the city center, parks, and art and culture. You'll love my place because of the outdoors space, the,the light, the ambiance. My place is good for couples, solo adventurers, business travelers, families (with kids), and big groups.
Room Type
Entire home/apt
---
Property Type
Flat
---
Accommodates
6
---
Bedrooms
Arco da Calheta, Madeira, Portugal
Very peace located modern apartment with 2 bedrooms. The area of the garden is nice and flowes and planted exotic plants. Was built in the year 2000, the accommodation on the ground floor - so not stairs. The ground floor consists of a Hall of distribution, two bedrooms where the master bedroom is large and output to the outside, has a bathroom equipped, living room and the spaced dining area in the modem kitchen
Room Type
Entire home/apt
---
Property Type
Flat
---
Accommodates
4
---
Bedrooms
Arco Da Calheta, Madeira, Portugal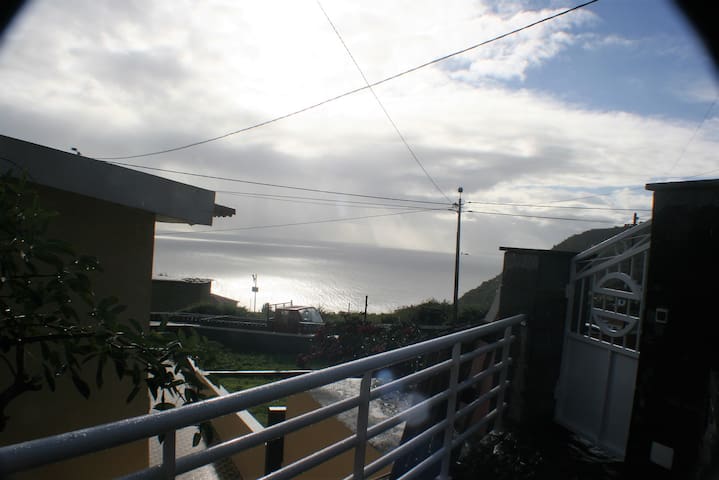 Casa Da Tenda , Vistas Deslumbrantes sobre mar e serra. É uma localização ideal para explorar a ilha, com fácil acesso para o Norte e as suas paisagens fabulosas via Paul da Serra o Ribeira Brava. Porto Moniz e as suas piscinas naturais. Big Game Fishing e golfinhos a partir da Calheta Marina. O terraço da casa oferece uma vista panorâmica fabulosa e panorâmica do oceano. Um verdadeiro paraíso onde você começa uma vista para o mar e as montanhas. Lavadas apenas 5 min de carro.
Room Type
Entire home/apt
---
Property Type
Flat
---
Accommodates
4
---
Bedrooms
Arco da Calheta, Madeira, Portugal
1

–

18

of

101 Flat Rentals
Enter dates to see full pricing. Additional fees apply. Taxes may be added.