Our apartment is in an ideal location, for rock climbers. We are very close to bouldering areas, climbing spots, nice pools for swimming, the Siurana reservoir..., and if you want to go to the beach for the day it's only 30' drive
El apartamento es pequeñito pero muy acogedor. Está compuesto de una cocina con todo lo necesario, nevera y una mesa con cinco sillas de madera, Un baño grande con ducha. Una habitación con literas para alojarse 6 personas aunque el precio es para 4 (a partir de 4 hay que pagar un precio adicional) El apartamento se encuentra en la primera planta de la casa. Es una planta baja (no hay escaleras) Mucho terreno fuera (5000m cuadrados) para relajarse, mesa de ping pong, slak line (cinta para hacer equilibrios), dos mesas de madera para picnic Accesible a tan solo 900m metros de Arbolí y muy tranquilo, solo se oyen los pájaros...
Arbolí es una zona muy tranquila y muy bonita. El lugar perfecto para realizar excursiones y actividades de montaña. En el pueblo hay un refugio de nueva construcción, un restaurante donde se come muy bien y una pequeña tienda muy arreglada donde se puede comprar lo necesario y productos locales. No perderse la excursión als Gorgs de La Febró, los avencs, una excursión por el pantano o un baño o kayak, el descenso de barranquismo dels gors, la ferrata del Montsant o la de la Mussara, una visita a Siurana o una iniciación a la escalada en la Sierra de Prades considerada como el mejor lugar del mundo para muchos para practicar la escalada deportiva
Honestly I am not exactly sure how to describe Albert... He lives in his beautiful house with his his girlfriend Lydia and his incredibly welltrained dog messi. He knows pretty much all there is to know about the area he lives in, and he is incredibly kind and welcoming, in short the perfect host. Normally this would be where I would end my recommendation I mean who could ask for more than the perfect host? But for us Albert became more than the perfect host, he became a legend that we will tell other people about for many years to come. We came to Spain primarily for rock climbing, and Albert is without a doubt the most knowledgeable and strongest climber any of us have every climbed with. So for anyone out there that are looking to do rock climbing I cannot recommend Alberts place enough.
Tue
2015-06-27T00:00:00Z
We stayed at Albert's climbing house for 5 days for a new year trip. The house is extremely cozy and Albert was a wonderful host. He welcomed us and our friends who were not staying in the house and could always help us with suggestions for climbing and other activities. I would definitely recommend his place not only for climbers but also for people who want to spend some days in a beautiful house with stunning surroundings :)
Aiva
2016-01-03T00:00:00Z
We had such a great time at Alberts place! He was very helpful and welcoming to us. He knows a lot about climbing in the area and gave us any useful tips! We visited Arboli during a week for climbing holiday. The house is situated very convenient close to many great crags in the area. There are to big bunk beds and one normal sized bed. It's a quite small place but offers everything you need including bathroom and kitchen. Also, the garden offers rest day activities like slackline, table tennis, pool and even a boulder wall! I would highly recommend this place!
Nils
2016-03-27T00:00:00Z
We had a wonderful stay in Alberts house, it is an amazing location. You are in the middle of the mountains with walking paths from the house and the village arboli is very close by if you need anything. We were given a warm welcome by Albert, who is a very nice host. He didn't stay for the weekend, so we had the giant garden all to ourselves. The garden is great, lots of places to play for the kids, hammocks to relax in and a big barbecue. The kids loved the chickens and the eggs were delicious! Also the house inside is really nice, there is a double bed bunk bed (and a separate single bed), our kids really liked their little den at the bottom. It's really well equipped, there is everything you need.
Marleen
2016-02-07T00:00:00Z
"What you see is what you get", but more than that! The apartment was exactly like its description; it is small, but everything you need is there, with a modern bathroom. The owners have a big garden where you can relax at different places and experience silence, have a swim in the pool (especially great for the children now in summertime) or try the climbing wall. Albert and Lidia made us feel at home and were very helpful; they told us which places were interesting or nice to walk or visit. We could take the eggs from the tree chickens that are allowed to stroll around the house. They have a friendly and playful dog named Messi. Our children have joined a three days climbing course organised by Albert with his organisation for Rock Climbing Holidays, he is a guide and climb instructor and does that together with Lidia. The children regretted it when their adventure ended after three days. So in a few words, we spend a really nice holiday time at this place which we hope to repeat once again.
Miquel
2016-08-07T00:00:00Z
A good accomodation for climbers. The host told us he is getting the apartment bigger in the next weeks!
Davide
2017-01-08T00:00:00Z
Albert was a really welcoming host during our stay. The appartment is quite small but cosy and provides everything you need. We were five people and stayed for 10 days for a climbing holiday. He waited for us until we arrived from our late flight from Barcelona. Albert knows the area very well - where to climb when it's windy, or rainy and where to go on rest days. The garden is great with hamocks and a slackline and a lovely dog, chickens and rabbits. We really recomend the Rock climbing house and would defenitly come back.
Magdalena
2016-02-17T00:00:00Z
Quiet and peaceful place idéal for lovers of nature and childrens. Great hosts
Ben
2016-08-11T00:00:00Z
Room Type
Entire home/apt
---
Property Type
Flat
---
Accommodates
4
---
Bedrooms
Arbolí, Catalunya, Spain
You'll love my space for views and location. My accommodation is good for couples, adventurers and families (with children).
Peaceful and quiet. Friendly and helpful host. We stayed for a week climbing in crags around. If it had wifi it would be real gem.
Radoslaw
2017-03-11T00:00:00Z
Very nice and tidy flat in Arboli. Apartment was a bit cold but overall very good experience.
Stefano
2017-03-26T00:00:00Z
Quiet apartment in beautiful village. Great views. Basic furnishings and equipment, but it has everything you need. Great hot shower. Owners run a hotel very close by, so check-in and check-out is easy. The hotel also has wi-fi and a restaurant. There's a small village shop close by which has most necessities. Owners are friendly and helpful (and let us check out late, which was much appreciated).
rohini
2017-02-21T00:00:00Z
Perfecto
Christophe
2017-03-19T00:00:00Z
Rebeca y su familia fueron muy agradables y nos recibieron muy bien. El apartamento es como en la descripción y en las fotos, muy bonito y acogedor, ideal para parejas. Vistas preciosas sobre el pueblo y las montañas. El pueblo pequeñito, ideal para descansar y para hacer excursiones a pie por la zona. También está muy cerca del Priorat para acceder al Montsant. Sin duda si volvemos por la zona repetiremos en este apartamento.
Nuria
2017-01-07T00:00:00Z
Es una zona muy bonita y el piso es acogedor.
Juan
2017-01-05T00:00:00Z
Room Type
Entire home/apt
---
Property Type
Flat
---
Accommodates
4
---
Bedrooms
Arbolí, Catalunya, Spain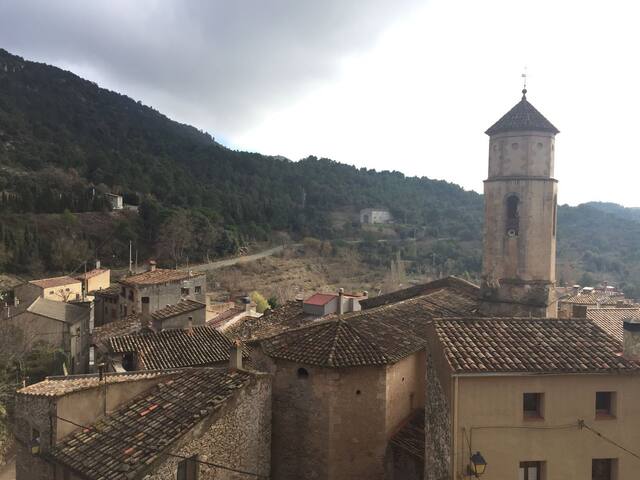 Sweet and comfortable apartment with bath and kitchen. The backyard it's the place for a true countrysite feeling! It comfortably fits 4 (1 double bed + 2 single). Perfect size for couples. The house is located in a quiet street close to the GR-7 and amusing hiking routes, forests, rivers and climbing areas. Arbolí has a nice restaurant and a fabulouse shop where you can get local wines, nice cheese, bread and all the basics. Also we have a small park and a swimgpool.
Silence, confortable and independent apartment. Backyard, garden and basement aviable. The backyard is a wonderfull place for resting o eating on the sunlight. The street is calm and the mountains are all arround. Climb, trekking or bike are the most wonderfull activities arround.
Arbolí Is a small village between the Priorat and Mediterranean sea. There finishes the road and begins the forest. Chaired by Gallicant, a handsome hill of volcanic origin, the landscape is green and rocky. From the top of the hills the views go one further of the Ebro river. It's possible to contemplate the Delta, the Montsant, the sea and Serra de Prades. The most esteemed view is the natural castle of Siurana with the misty mountain of the Montsant in the back, calm and relentless. In the fields: almond trees, hazels and cereals, vineyard and olive trees. In the forest: pines and oaks. For the land runs roebucks, wild boars, rabbits and foxes; for the sky blackbirds, red breast, cucuts and the crooked. The Gorgs and the Avencs of La Febró, the river Siurana and the River the Valley, the village abandoned of Gallicant and the forests of La Devesa in the time of the mushrooms are the most popular treks. In the evening the sky turns on red and the views of the last horizons in Terra Alta are just poetry.
Staying at blais place was nice and clean
martin
2015-12-06T00:00:00Z
Blai was a great host and we really enjoyed our stay. He was very helpful with telling us where is nice to visit and some great walks. The countryside around the apartment is beautiful. I recommend visiting Siurana in particular. Would love to visit again one day.
abbi
2016-12-07T00:00:00Z
Blai was a wonderful host and Arboli is a charming place. We had a freat weekend there and thanks to Blai´s recommendations, we have been able to see and experience the best things around! Blai´s lovely little house and amazing garden provided for a perfect holiday and we are very grateful for all the tips :). We can recommend the place for all peace&quiet and nature lovers (oh and wine too!). Merci Blai!
Joanna
2015-05-04T00:00:00Z
Hi All! We strongly recommend Blai's place. Blai is very hospitable, knows a lot about the region, its history, culture and nature. The house is very well located, just few steps from the hiking trials and very very comfortable. There is also an impressive library, hopefully you'll have a chance to check it after an intensive day in the mountains, during drinking a glass of delicious local wine from Blai's collection.
Mino
2015-04-20T00:00:00Z
We wanted to keep it a secret! So good was our experience and Blai the best host ever! It's a lovely place in a lovely village.
Tsjerk
2015-06-02T00:00:00Z
Everything was perfect. Blai picked us up from Les Borges del Camp where our train arrived and took us back there again. He was very friendly and helpful at any time. The flat is located in a lovely small village, everyone is very friendly and open. The flat has everything you need, including a new and fully equipped kitchen, towels, beddings, heating, etc.. We even received some locally growing fruits and vegetables as a present. There is a garden where you can chill or have something to eat. The landscape around Arboli is stunning. This is a place to relax, enjoy nature and take long walks. Overall, an absolute recommendation.
Giuliano
2015-08-03T00:00:00Z
Blai was a very good host very welcoming. The complimentary bottle of wine was considerate. The apartment was clean and simple which is all we needed. The village of Arbolí was friendly, quiet and an ideal location for trekking in the mountains.
Jo
2016-08-05T00:00:00Z
The house was small but comfortable and Blai made a pleasant and accommodating host. The shady garden was our favorite hangout when we were not hiking the dozens of beautiful hikes and walks starting right at the house. Warmly recommended for the enterprising holiday maker.
Miriam
2016-06-10T00:00:00Z
Room Type
Entire home/apt
---
Property Type
Flat
---
Accommodates
4
---
Bedrooms
Arbolí, Catalunya, Spain
Recently renovated house in the village of Arbolí (Tarragona), in a magnificent rual montain area, known for hiking, climbing and other outdoor adventure activities. The climbing center of Siurana is hardly 10 Km away.
The house is located in the center of a village with a population of about 100 people, amidst a natural mountain region that is known for hiking, klimbing and other outdoor activities. The village public parking place is next to the house. The public village pool is only 50 m from the house. One street away, you can find all the activities and tourist information in the "Mountain Shelter" (Refugi). The climbing center of Siurana is hardly 10 Km away. If you would like to visit the Salou or Cambrils beaches for a day, they are only some 40 mites away by car.
Arboli is a charming rural village in an amazing mountain landscape. The house lacks some more common space for such a large capacity of rooms ( it is a tube structure) . Great food on the bar at the main square.
Marta
2017-01-01T00:00:00Z
Nuestra estancia en la casa de Antoon fue muy confortable. La casa estaba bien equipada y limpia, tal y como se ve en las fotos. En todo momento estuvieron atentos de que tuviéramos las comodidades necesarias. En un enclave natural y con opciones de actividades deportivas y ocio, se nos hizo corta la estancia en el pueblo de Arbolí, un lugar que sin duda alguna tiene un encanto ideal para desconectar.
Sergio
2016-08-16T00:00:00Z
Nous avons profité du grand nombre de chambres avec 9 personnes dans cette grande maison à 4/5 chambres et 4 sdb.
Cécile
2016-11-10T00:00:00Z
Room Type
Entire home/apt
---
Property Type
House
---
Accommodates
8
---
Bedrooms
Arbolí, Catalunya, Spain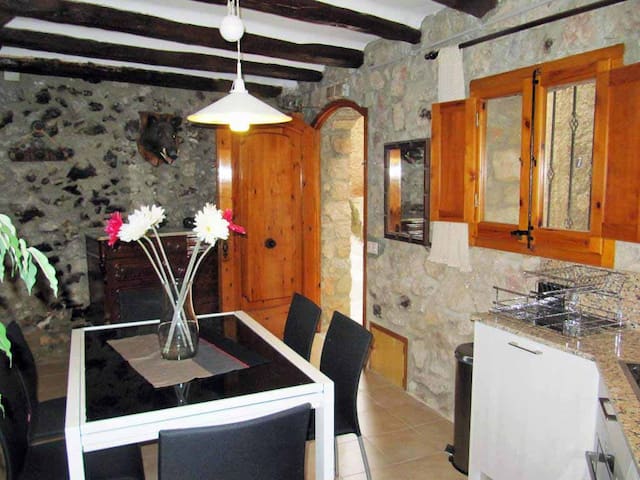 Fantastic views, near the towns of Siurana and Montsant Cornudella of, and 36km to Salou where the Port Aventura theme park is located. Wide range climbing both like hiking. Ideal for nature lovers and tranquility in a relaxed environment. Municipal swimming pool in summer and playground.
tranquilio and the neighborhood is very nice
The host canceled this reservation 2 days before arrival. This is an automated posting.
Maria
2016-12-29T00:00:00Z
To start with Ana was very friendly and welcoming. Though it was hard to communicate without spanish language skills. Her house was nice and simple, but a bit cold in the wintertime. There were a couple of problems and misunderstandings. First of all Ana wanted more money than Airbnb reqiured. Probably that is because she also rents her house out through another website where the price depends on the number of people. Spanish skills would have helped a lot in this case! The toilet of the house caused some problems, but Ana reacted quick. In the end Ana wanted us to pay for a chair, that she thought we broke (we did not!). Arboli is a beautiful place and we enjoyed our christmas and new years eve.
Ida & Ohrsten
2016-01-03T00:00:00Z
Très bon séjour !
marine
2015-10-27T00:00:00Z
Room Type
Entire home/apt
---
Property Type
House
---
Accommodates
4
---
Bedrooms
Arbolí, Catalonia, Spain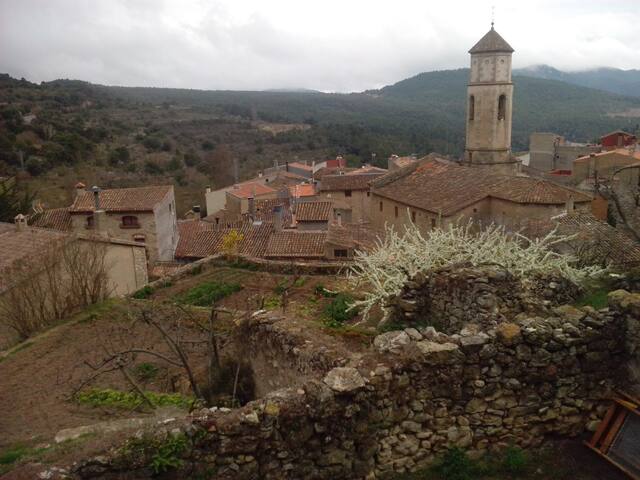 Perfect to wander private rooms in a quiet mountain village to and climb. The lake nearby is ideal for swimming and kayaking a go. Siurana, a famous climbing area is nearby.
Room Type
Private room
---
Property Type
House
---
Accommodates
2
---
Bedrooms
Arbolí, Tarragona, Spain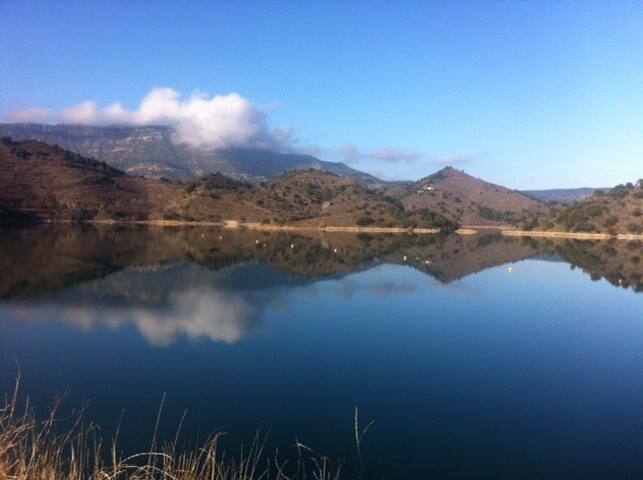 La casa se encuentra en el pueblo de Alforja, justo entre la montaña: Prades (28 km), Siurana, paraiso del escalador (20 km), el Priorat (20 km), el Montsant (15 km), ...) y la playa: Salou (15 km), Tarragona (20 km), Cambrils (20 km). Port Aventura está a 22 km. Está a unos 12 km de Reus, una ciudad con edificios modernistas y mucha actividad comercial.
Alforja. Tarragona. Spain. Casita de unos 50 m2 en el pueblo. Hay un pequeño jardín en la entrada y la vivienda está en la primera planta. Es muy luminosa y tranquila. Tiene dos habitaciones (una de matrimonio y una con dos literas). La decoración es simple y de colores claros.
Situada en el centro del pueblo, es tranquila, pero con los servicios básicos muy cerca.
Lovely spot just in the foothills of the prades mountains. Great for biking climbing and running. House was lovely and clean, would highly recommend
jonny
2016-05-30T00:00:00Z
Very nice spot in a unique setting. This is a great place to stay and feel what it must have been like to live in these small pueblos long ago. Nice walk into the mountains with wonderful views down into the pueblo below. Church bells a nice addition to the town. Small grocery just down the street with a good selection of fresh food.
kelley
2015-07-22T00:00:00Z
La casa es tal y como se ve en las fotografías, todo muy limpio y recogido. Cuenta con todo lo necesario para la estancia de cualquier familia. El pueblo es un lugar muy bonito y tranquilo rodeado de preciosas montañas, ideal para pasar unos días de descanso. Hemos disfrutado mucho de nuestro paso por la casa de Nuria y esperamos poder volver algún día.
Jesus
2016-08-26T00:00:00Z
Todo perfecto!
Ariadna
2016-04-17T00:00:00Z
Estuvimos en la casita de Nuria unos días de calma y rutas por los pueblos y sierras del Priurat. La casa está fenomal y muy equipada. Ideal para una paraja o pequeña familia. Lo hemos pasado muy bien. Gracias por todo y hasta la próxima.
Ignacio
2016-05-19T00:00:00Z
Fantàstica caseta al casc antic d'Alforja, ideal com a porta d'entrada al Priorat i molt aprop del mar i una ciutat tan maca com Reus. La Núria ens ha tractat fantàsticament i marxem amb ganes de tornar més dies! Gràcies per tot.
Rafa
2016-05-02T00:00:00Z
Propriétaires charmants, maison conforme au descriptif, petite mais très propre. hôtes très arrangeant car nous sommes arrivés très tard....
Sebastien
2016-08-15T00:00:00Z
Nuria a bien communiqué avec nous. Dès qu'elle a su que son appartement ne serait pas disponible pour nous (à cause d'un petit problème), elle s'est arrangée pour nous en trouver un autre, à 3 maisons de chez elle. L'appartement était vraiment superbe, avec beaucoup de charme. Le village d'Alforja était remarquable avec des gens très sympathiques. Nous avons mangé de fantastiques churros à quelques minutes de l'appartement, fabriqués dans une petite roulotte à l'entrée du village. Mémorable!
Claire-Émilie
2015-10-11T00:00:00Z
Room Type
Entire home/apt
---
Property Type
House
---
Accommodates
4
---
Bedrooms
Alforja, Catalunya, Spain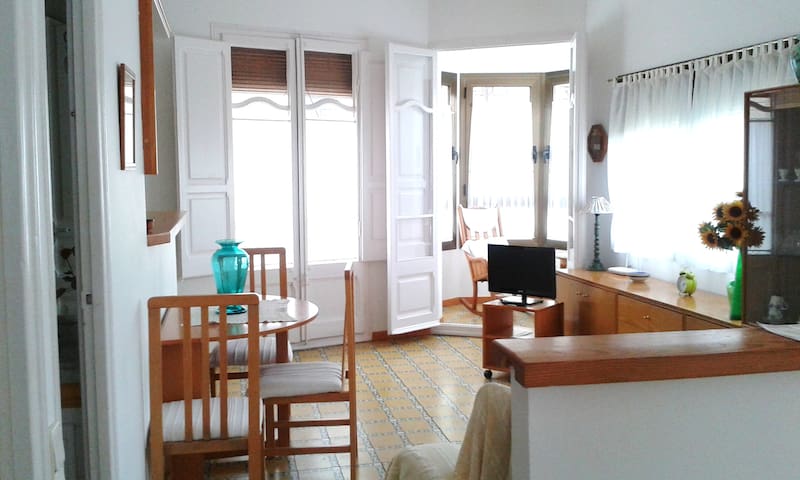 Our rural house is the escape from the Matrix. Indulge in the quiet peace of the valley. Explore your personal boundaries with mountain biking, rock climbing, hiking, paragliding and wine tasting. Nourish your body and soul with 100% plant-based, organic cuisine.
Room Type
Private room
---
Property Type
Bed & Breakfast
---
Accommodates
4
---
Bedrooms
Alforja, Catalunya, Spain
Antique & restored house with two studios , with a kitchenette, double bed, sofa bed and private bathroom . Ideal for 1-2couples and a child, climbers and other nature lovers. Chill-out room for both studio guests. Code: (HUTT-009620)
In the house there are two large rooms for the guests. "Anabólica" is a 28m2 studio, with private bath and kitchen, plus a chill out room for the use of all guests
Cornudella és un poblet petit situat entre Montsant i Serra de Prades. L'encant justament és l'entorn amb una natura espectacular: pantà de Siurana, la muntanya i les parets d'escalada, poblets petits i amb encant com Arbolí, Albarca o la Morera. Apart de la vida (URL HIDDEN) de la població, l'ambient del poble s'anima d'escaladors d'arreu del món que s'(URL HIDDEN) a la vil.la per a gaudir de l'escalada i la muntanya. Terra de vins amb coneguda denominació d'origen
The host canceled this reservation 3 days before arrival. This is an automated posting.
Monica
2015-09-30T00:00:00Z
Such a great place in a charming local town. Jose was a great host. The place was clean and it was fun to feel like a local for a couple of days.
Kate
2016-08-08T00:00:00Z
We had a lovely time in the catalan hills. Stunning countryside, great hiking and a lovely airb&b. Looks exactly as it does in the photos, the hosts were friendly and the apartment clean. Certainly recommended.
Tristan
2016-05-31T00:00:00Z
Jose and Mireia are generous and warm and did everything to make our stay comfortable. The studio can be a bit damp but that is the nature of old buildings and did rain a lot. Although a cozy in size, the flat is well equipped and has what you need as well as wifi and decent hot shower.
mike
2016-12-09T00:00:00Z
Really good small and simple stay with all the things you need for exploring the fascinating outdoors of Montsant de Cornudella and Siurana. Very welcoming owners!
Remi
2015-12-09T00:00:00Z
Thanks for a pleasant stay. Nice apartment. Flexible landlord.
Øivind
2015-11-18T00:00:00Z
Great Stay in Cornudella, comfy place, excellent host, stunning surroundings !
Joyce
2016-05-17T00:00:00Z
Jose's place is great; it is simple but has everything you need and it is situated close to Siurana's climbing spots and shops are nearby. Jose and his wife were very friendly and welcoming, and they made everything comfortable and easy for us.
Line
2015-11-25T00:00:00Z
Room Type
Entire home/apt
---
Property Type
Flat
---
Accommodates
3
---
Bedrooms
Cornudella de Montsant, Spain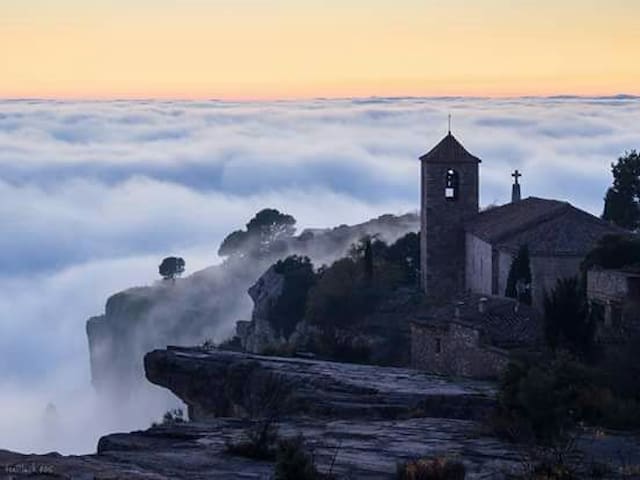 Ignasi's lovely house it's a great place to stay. The hose is very clean with a great terrace for a sunny breakfast and an astonishing view in to the mountains. The hose is great located with walking distance to bars, restaurants and stores in Cornudella and a short drive to many climbing spot. Ignasi is very helpful and has great tips for climbing spots and sectors as well for food in the village. Thanks Ignasy for the great time.
Simon
2016-04-02T00:00:00Z
We had a great time in Ignasi's place. Great location to all the Siurana crags, recommendations to crags and routes considering the weather, etc. Very clean house and super friendly guy who provides everything you need! We will be back again and again for sure!! Highly recommend!!
Koji
2016-10-31T00:00:00Z
Siurana climbing house is a great place to stay for climbers: 10 mins to Siurana, 40 mins to Margalef and close to other good climbing spots. The house was clean, comfortable and had everything we needed. The perfect place to meet new friends and share common spaces. Ignasi is so kind and friendly!
Maria Sofia
2017-01-07T00:00:00Z
Ignasi is the perfect host - friendly, knowable and his place is comfortable and has a good location close to everything and still it is calm without any traffic. Ignasi keeps the house in real order, it is very clean, warm and with good beds. We'll love to come back one day.
Tore
2017-02-26T00:00:00Z
A very nice house with a high standard. Well equipped kitchen, always clean and a good atmosphere. The owner is a fanatic climber who doesn't hesitate to recommend routes and places to go.
Tina
2015-12-26T00:00:00Z
Ignasi is the the bomb (amazing)! His climbing house was great. He went above and beyond to make our stay the best. He let us borrow the guide book and went through all the sectors that would be best for us. He spent time with us chillian and talking story. We stayed longer so we could spend more time in this climbing paradise. Ignasi was a great communicator, his rooms and beds are comfy and clean and as well as the whole house. We hope to come back in the winter to get the full experience. You must stay at his place. Thanks Ignasi
Drew
2016-06-07T00:00:00Z
Ignasi and his home are great! Ignasi is very helpful and accommodating, as well as super knowledgeable about the climbing in Spain. The house is very clean and Siurana is pretty much, like, one song's length away on your "Let's go climbing/driving to the crag" playlist. You can see Siurana from the breakfast table. Plus, it's a short walk to town for groceries, a drink, or to the climbing shop for another pair of climbing shoes. That being said, besides the endless climbing within a 45 minute drive, Ignasi's backyard is at the foot of Monstant, a large ridge line topped with even more climbing but also trails to run and hike on. This place is definitely worth the money and you'll have a hot shower, which is priceless.
Antonio
2016-04-22T00:00:00Z
A very good place to stay, friendly host, clean house, comfortable beds/bedding, well functioning kitchen and taking care of green values by recycling. Climbing topos available!
Tommi
2016-12-17T00:00:00Z
Room Type
Private room
---
Property Type
House
---
Accommodates
2
---
Bedrooms
Cornudella de Montsant, Catalunya, Spain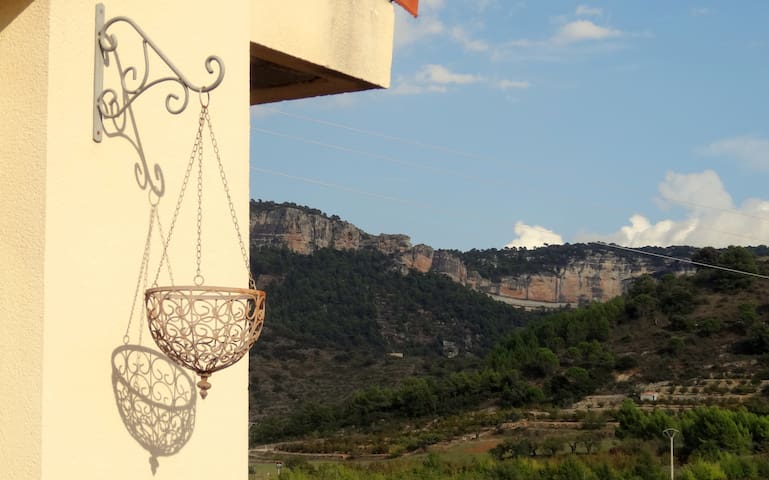 "Tom's place " is set a stones throw from the heart of the Spanish sport climbing epicentre- Siurana. Ideally situated in cornudella de montsant which has local amenities, all the major climbing areas are within 15 mins. The modern self contained apartment is a perfect base for your climbing trip, a place to relax, wake up fresh and feel good to head out for a great days climbing.. Very well suited for groups of friends, couples and families.
Tom's place is great. We traveled with two and four year old girls and it's right next to the two playgrounds in town. Elevator access is a bonus when you're tired from a long day of cragging with kids. SUPER comfortable beds and a very quiet building. It seems like most other tenants are weekenders. We were there for a month and rarely heard others. Great view of the wine cooperative. Heater was incredibly warm. Hopefully Tom will provide a backup in the future to avoid having to run to the gas station. Bathroom fan was broken, which caused some mildew/mold issues that were difficult to control. Since Tom recently remodeled the place, I'm sure he's planning to fix it after our departure. With two little kids, my standards of clean may be a bit higher than others, but the shower glass had a thick layer of soap scum, the floor mat was stinky (I washed it) and the mop bucket had left over dirty/rotten water in it. Other than that, the sheets were clean, kitchen and utensils clean, great furniture.
Ginnie Jo
2017-04-02T00:00:00Z
Una estada fantàstica. Molt bona situació. L'apartament correcte i en Tom molt amable. Moltes gràcies! Segur que repetim!
Marta
2017-02-27T00:00:00Z
Apartamento nuevo, como se muestra en las fotos. Ideal para ir a los diferentes sectores de escalada de la zona. Tom muy amable y servicial. Gracias!
Merce
2017-02-20T00:00:00Z
Room Type
Entire home/apt
---
Property Type
Flat
---
Accommodates
4
---
Bedrooms
Cornudella de Montsant, Catalunya, Spain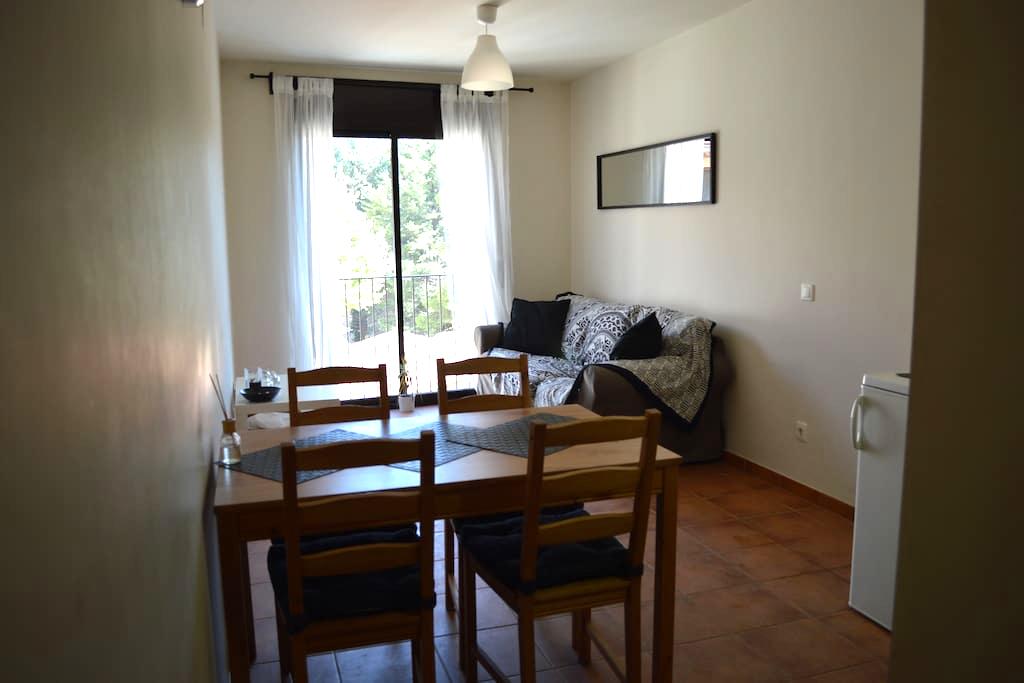 Segon pis en una casa de poble d'estil modernista, totalment reformat. Zones àmplies i lluminoses, amb tots els serveis del poble accessibles a peu. El poble d'Alforja és a tocar del Priorat, força proper a Siurana de Prades, i alhora a poca distància de Port Aventura o de les platges de Cambrils.
Apartament tranquil, situat a una distància ideal entre la Costa Daurada i el Priorat, en un poble que conserva l'ambient tradicional rural, envoltat de pinedes, avellaners i oliveres. Pis espaiós, totalment renovat i decorat amb cura. Preus decreixents segons l'estada. Situada en un entorn natural ideal per a sortir d'excursió, fer escalada, descobrir rutes culturals, comprar vins i oli, o gaudir de la platja sense patir les aglomeracions del litoral. La casa consta de dos espais tipus loft, un amb sala d'estar, menjador gran i llit de matrimoni, i l'altra tota amb terra de parquet, amb una altra sala d'estar que té un sofà-llit doble, un petit menjador, una cuina totalment equipada, i un dormitori de matrimoni. Hi ha dues llars de foc, un lavabo amb wc i un altre amb banyera. També hi ha una cambra amb la rentadora i espai de rebost. Sobre el pis hi ha un terrat comunitari per estendre la roba amb unes vistes molt boniques sobre el campanar. S'accepten mascotes sempre que no ocupin l'espai del parquet. Més imatges a l'enllaç: (URL HIDDEN)
Elia was very helpfull at all times. It is her uncle and aunts place and they were also very nice and forthcoming. (Her aunt works in the bakery in Alforja :-)) The apartment is kinda unique with only to very large rooms and a very spacious feel. Very good experience I must say.
Rasmus Aamand
2015-01-25T00:00:00Z
Elia is very kind,she gave us all the infomation and advises we need. The house is very welcoming, but it is divided in two big spaces and you'll not have a lot of privacy. Ok accomadation also for climbers. Alforja is only 20 minutes by car from Cornudella de Montsant.
Lucy
2016-01-03T00:00:00Z
Our experience at Elia's place in Alforja was excellent. The place is beautiful and quite large. We had all the amenities of home with only a little trouble accessing internet. Her communication was fast and helpful if we were in need of anything. We really enjoyed our stay and would recommend Elia's place!
ashley
2015-02-22T00:00:00Z
We had a nice stay in Elias house. The apartment was cozy and we enjoyed the fireplace :) During our arrival we had some communication problems where to meet. A problem was that we could just use one of the two described bathrooms. This was a little annoying. The apartment could have been a little cleaner, some shelves were dusty and a part of the kitchen interior seemed to be not that clean. We stayed in Alforja for some rock climbing in Siurana and Margalef. We drove 20 minutes to Cornudella, from there again 5 to Siurana. Driving to Margalef needed more time, 1 hour and 20 minutes. So in conclusion its good for climbing in Siurana, but maybe a bit far for rock climbing in Margalef.
Nora
2017-01-05T00:00:00Z
Atfer a little language difficulty we settled in fine - the apartment is lovely and the situation is perfect for both the hills and the beach; I especially like this area of spain as the scenery is fantastic, and as a former climber it reminds me of the fun I had before kids! The village has all that is needed for a stay away, and has a very rustic feel, away from the bustle of the coastal resorts. All in all a super stay and thank you Elia
jonny
2015-06-28T00:00:00Z
Appartement de style rustique dans le centre du village. Grand et bien équipé. Accueil sympathique. Central pour accéder au littoral ou au parc du Montsant.
Jean-Francois
2015-06-12T00:00:00Z
Très bon séjour à Alforja. Élia s'est rendue très disponible pour répondre à nos questions. L'appartement était bien situé. Nous avons pu profiter de la piscine municipale, c'était très agréable !
Delphine
2015-08-14T00:00:00Z
Precioso piso!!. Nuestras hijas se lo pasaron en grande y nosotros también. Todo correcto, te sientes como en casa. Gracias por todo.
Javier
2015-06-01T00:00:00Z
Room Type
Entire home/apt
---
Property Type
Flat
---
Accommodates
6
---
Bedrooms
Alforja, Catalonia, Spain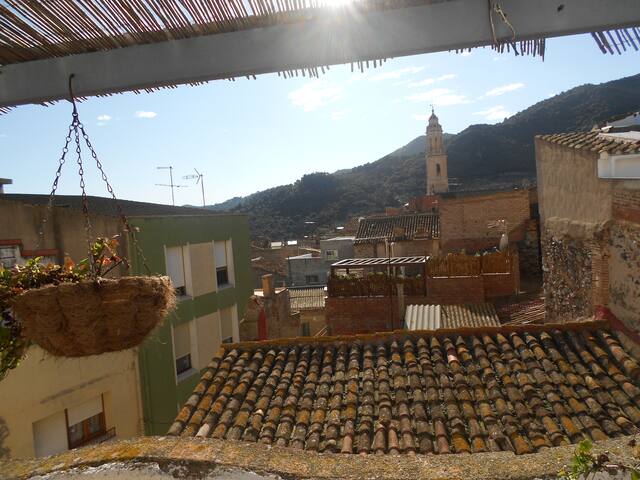 perfect for couples and families (with children) accommodation. The house is very cozy to enjoy a few days of tranquility in the countryside. Hiking, biking, cotxe, climbing, swimming in calm waters, enjoy good wines of Priorat, excellent cuisine ... they are some of the many activities you can do in this idyllic setting. Video Area: (URL HIDDEN)
incredible scenery, great wines, good food, tranquility, exercise, nature 100%
The host canceled this reservation 7 days before arrival. This is an automated posting.
Benjamín
2017-04-07T00:00:00Z
Room Type
Private room
---
Property Type
House
---
Accommodates
8
---
Bedrooms
Cornudella de Montsant, Catalunya, Spain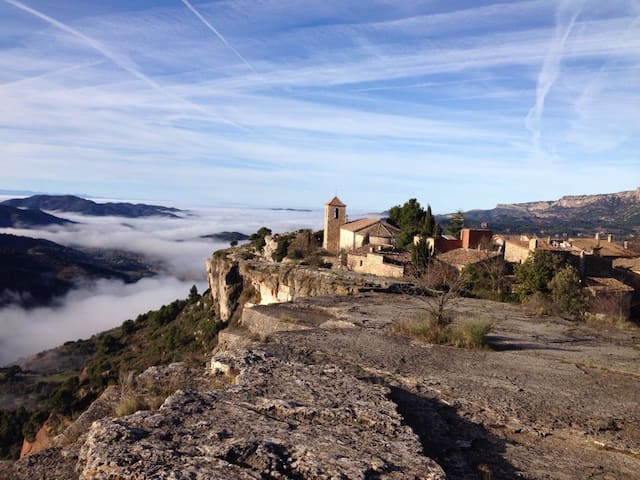 large modern fully equipped and very sunny house with a garden. Ideal for wine tourism, climbing and senderismo.Ubicada in the top of the village next to the pool with all services cerca.Vistas Montsant, vineyards and Siurana.
House ideal place to find tranquility. Large spaces that have terraces with spectacular views Siurana and Montsant. Ideal for couples with children
Quiet location in the upper town where begins the road GR Grau Montsant. Near the municipal swimming pool. A 1 minute walk from the town center
Very spaceous and cozy, yet modern house in the beautiful, traditional town of Cornudella de Montsant surrounded by the Montsant and Siurana massives. Perfect option if you seek a bit more luxurious stay than the camping area in Siurana for your climbing trip;) Floor heating 5/5
Paavo
2017-01-08T00:00:00Z
La casa estava una mica bruta i desordenada. L'aigua calenta no anava bé i la mestressa es resistia a posar la calefacció, alegant que ells estan a 17 (URL HIDDEN) és la vivenda habitual, tenien totes les seves pertinences ens els espais que utilitzavem. El jardí està per fer.
Lluís
2016-10-23T00:00:00Z
Nous étions trois adultes et un enfant à profiter de ce grand logement qui permet parfaitement d'accueillir 6 personnes. Nous avons beaucoup profité de la grande terrasse carrelée qui donne sur une vue montagneuse magnifique. Nous avons d'ailleurs souvent déjeuner ou dîner sur celle-ci. La salle de bain à l'étage est très grande et très pratique. Les couples peuvent en profiter simultanément (2 douches italiennes et 2 lavabos). Toutes les chambres de l'étage ont accès à une terrasse, ce qui permet vraiment de profiter du paysage. De la chambre parentale, il y a une vue magnifique sur la piscine municipale qui est à 2 minutes à pieds de la maison et très facilement accessible. Autre élément très appréciable: la qualité des équipements proposés. En effet, la cuisine est équipée à la perfection, les seules choses qu'on aurait souhaitées et qu'on a pas trouvées, ce sont quelques flûtes à Champagne. Le lave-linge et sèche linge très facile à utiliser. Autrement, le village de Cornudella de Montsant est très agréable, on y trouve quelques bons restaurants et quelques commerces de proximité. Les routes pour accéder au village sont de très bonnes qualités. La région du Priorat possède de bons vins et de bonnes huiles d'olives (notamment l'huile artisanale de Escaladei). Il est également possible de se rendre à la plage très rapidement. Les hôtes se feront un plaisir de vous renseigner.
jerome
2016-08-18T00:00:00Z
Hemos estado un breve fin de semana en la zona de Montsant, que es espectacular y muy recomendable. La vivienda de Betlem, además de contar con todas las comodidades y ser unos anfitriones magníficos, se encuentra ubicada en la mejor zona. Cornudella es el epicentro de la comarca, y en un lugar tranquilo, a escasos metros del centro del pueblo. Altamente recomendable hospedarse aquí.
Juan Luis
2016-07-31T00:00:00Z
Room Type
Entire home/apt
---
Property Type
House
---
Accommodates
6
---
Bedrooms
Cornudella de Montsant, Catalunya, Spain
El Molí del Pont dispone de 4 alojamientos rurales de diferentes capacidades. El Farinal dispone dos plantas, en la primera, cocina, comedor, sala de estar con chimenea, en la segunda 1 dormitorio con cama de matrimonio, 1 sencillo y baño completo. PT-000161.
La casa esta totalmente equipada y preparada para hacer su estancia agradable, dispone de calefacción, chimenea y zonas exteriores comunes.
El alojamiento esta ubicado en el Molí del Pont, molino harinero de la villa de Cornudella, situado en plena naturaleza, al pie del Montsant, cercano a las zonas de escalada de Arboli y Siurana, al lado del rio Siurana y a 1.200 metros del pantano de Siurana. Se respira tranquilidad y silencio, las noches estrelladas son un espectáculo y los cantos de los pájaros nos invitan a relajarnos y disfrutar del entorno
We went to Cornudella with the purple of climbing, and El Farinal was a really good base as it is close (10-20 minute drive) to the crags in Siurana. Pep was so kind to meet us in Cornudella in the middle of the night, as our arrival got delayed. The apartment was even nicer than we expected. A downstairs kitchen and living area, two spacious bedrooms (one with two beds), all in a rustic and cosy style. The house is located about 5 minutes outside of Cornudella, it is very peaceful and quiet, be aware you will need a car to go into town. We really enjoyed our stay!!
Ingunn
2015-10-20T00:00:00Z
Room Type
Entire home/apt
---
Property Type
House
---
Accommodates
3
---
Bedrooms
Cornudella de Montsant, Siurana, Catalunya, Spain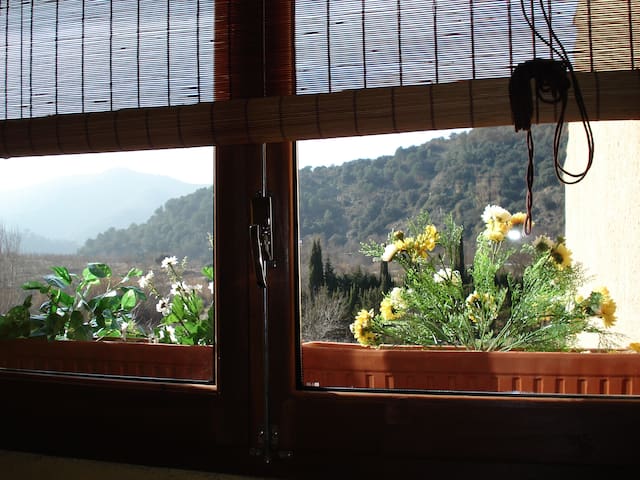 Cornudella is the foot of the Sierra del Montsant and to the crags of Siurana. ideal for climbing, hiking and enoturisme area. A few km Siurana Reservoir, where in summer you can practice water activities is
Floor with two bedrooms, one double and one with bunk beds, with capacity for 4 people, has kitchen, bathroom and terrace. sheets and towels included in the price. Holiday Home HUTT-008378, upon arrival the amount of the tourist tax (0.50 including VAT, per adult, children free up to 16 years) bill.
infatil a few meters park, Bodega Cooperativa, 50 meters, supermarket, bar and bakery. quiet and central district.
Montse was very flexible regarding our arrival and departure time. She was also always willing to help, if we had troubles. The apartment itself was very nice, and the kitchen was well equipped. Everything was clean and the beds were comfortable, no complaints!
Jimi
2017-01-02T00:00:00Z
Totalmente recomendable, sitio acogedor, buena ubicacion y muy limpio.
Ana
2016-09-04T00:00:00Z
Llegamos y Montse nos acompañó y enseño la casa. Montse es muy agradable y simpática y no solo se dedica a enseñarte la casa sino a guiarte en todo lo que le consultas sobre alrededores. En el viaje estaba acompañada de mi madre, mi hijo y mi marido. En el pueblo encontraras calles estrechas llenas de un encanto especial y decoradas con millones de plantas... La casa de Montse se encuentra en un primer piso que se accede por unas escaleras. Es una edificación nueva y muy cómoda y presentada muy limpia. El apartamento tiene todo lo necesario para sentirte como en casa (menaje de cocina, ropa de cama con extra en mantas, toallas, TV, bañera, ...) La vivienda tiene dos dormitorios (uno de matrimonio con acceso a una amplia terraza y un segundo dos camas/ literas), sala de estar unida al comedor y con una ventana que da mucha iluminación natural. La cocina dispone de todo lo necesario para preparar comidas, tomarte un té o desayunar tostadas. En el armario de la sala hay juego para entretenerse despues de la cena :) Como resumen ... es un apartamento lleno de detalles para que tu estancia sea muy agradable. Josep, Adrián, Mari y Elena
Mari y Elena
2016-10-23T00:00:00Z
La casa es exactamente igual que la que aparece en las fotos. Estaba limpia y acondicionada para la estancia. Hemos quedado muy contentos y seguro que repetiremos.
Javier
2016-12-07T00:00:00Z
La casa e` accogliente, pulita, fornita del necessario per cucinare e letti confortabili. Situata al centro del paese dove puoi facilmente accedere a negozi e bar.La signora Montse sempre disponibile e gentile. Torneremo sicuramente.
rossana
2017-03-16T00:00:00Z
Room Type
Entire home/apt
---
Property Type
Flat
---
Accommodates
4
---
Bedrooms
Cornudella de Montsant, Catalunya, Spain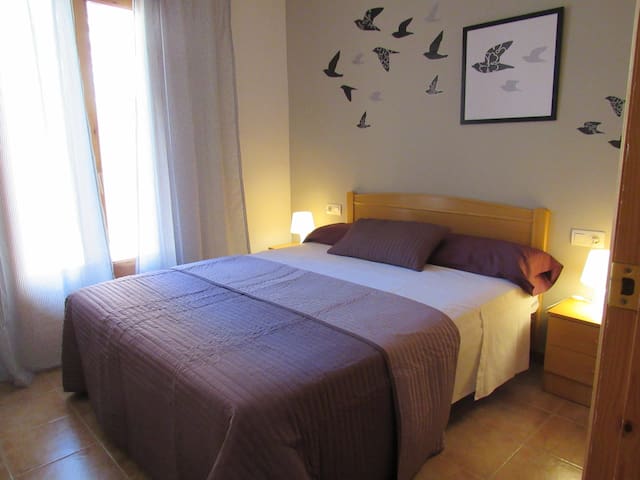 The house is located at the edge of Cornudella de Montsant in the Priorat region, land of climbing & winery. 5 min drive to the best climbing areas and schools: Siurana and Montsant and 40min to Margalef. Main beaches are 35 min away. There are a reservoir 2 km from the house where you can swim and do kayak.
Cal Torrellas is an 50m2 apartment with one room with double bed and two single beds on a mezzanine. There are private kitchen and bathroom. Blankeds and towels are included, also soap and shampoo will provided Also you have acces to a private terrace Siurana viewing at main entrance. You can park close to the house.
It's located outside the village, in a quiet place (we are just two houses in the neighborhood), but is just ten minutes walking to down town. In the village you can feed store, small supermarket, bakery, restaurants and a climbing shop with a bar. There are many wineries. Also a doctor, pharmacy, library, turistic information, post office and petrol station. There is also two park with playground for children and also a public pool open in summer And a indoor wall for raining days (pay entrance at climbing shop)
Such a fantastic place! We had some trouble finding the house but Eduard drove down the road immediately and picked us up in the village. He lives in the house next to it with his wife and son. They are a super friendly couple and really helpful. We were welcomed to the house with a bottle of wine that was local to the area. The house has everything you might hope for in an apartment. All of the essential cooking and cleaning supplies, washer, drying rack, great shower, heater for the cold months, etc. the place is exactly as displayed in the pictures. Very cute small house that will comfortably sleep 4 people. It's a short 5 minute stroll to get to the village where you can find multiple small grocery stores, a bakery, butcher, etc. luxury living for any climber or hiker that wants to explore the beautiful country side of siurana! I'd highly recommend this place and would absolutely stay here again.
Pascal
2016-06-10T00:00:00Z
Eduard and Monica's place was great, even better than expected! It was perfectly situated for climbing in Siurana. Would recommend!
Cynthia
2017-03-31T00:00:00Z
We felt so welcome! We arrived late at night to a full spread of food for dinner and breakfast and even some wine and beer. Monica and Eduard were so friendly and responsive with all the questions we had, and the climbing guides they lent to us for all the crags in there area were invaluable. I would go back again anytime.
Amelia
2016-10-09T00:00:00Z
I highly recommend this apartment. It is beautifully decorated and equipped with everything necessary for a comfortable stay (even a clothes washer so you don't have to overpack!). The location just outside of town is private and quiet with a large, safe parking spot. We were treated with a sunrise over the cliffs and village of Siurana each morning. The property is surrounded by olive and almond trees, giving it a country feel, but everything in town is within a 10 minute walk. We came to climb, so the numerous guidebooks on loan were a huge plus. We would definitely recommend this place to friends and look forward to our next stay here.
Jennifer
2017-03-27T00:00:00Z
Eduard and Monica's apartment in Cornudella is fantastic. The place is a 10-minute drive to climbing in Suriana; which made it a perfect base for my husband, 23-month-old daughter and me. We climbed most mornings, and then were able to come home quickly for afternoon naptime. Eduard and Monica went out of their way to make our two-week stay wonderful. They had a pack n play, a high chair, many puzzles and toys including a bucket and shovel waiting at the apt for us. What a big help! Some great things about the apartment are that you can easily walk to the small "down town" to get a coffee, go to the bakery, or supermarket. We were also thrilled to go to 'story time' at the library. There are two parks right in the center of town where we spent each night playing before dinner (we literally walked to town twice a day-what a treat ☺). There is also a climbing shop alongside a "climbers restaurant" where we had a few super affordable meals and visited with the many climbers that were exploring the area. There may be cheaper places to rent in Cornedella but none are as ideal for a young family that climbs a lot. We cannot wait to come back to this apt!
Erinn
2016-01-01T00:00:00Z
Eduard & Monica made us feel really welcome, and their apartment is brilliant - a great mixture of old & new. The place was super clean, and had everything we needed for our stay. The location is great too - just on the edge of the village. We really appreciated the late checkout on the last day too.
Simon
2015-11-03T00:00:00Z
We spent a fantastic week at Cal Torrellas, rock climbing and wine tasting. The apartment is lovely, completely new with all the amenities you could want and the hosts are superb- welcoming and very helpful. We were a couple but it would also be great for a small family or small group with the beds in the loft which we didn't use at all. We found the location (a two minute walk to the village of Cornudella) to be ideal for everything we wanted to do, and very peaceful. Awesome view of Siurana from the kitchens and private patio.
Erin
2015-10-16T00:00:00Z
We stayed at Cal Torrellas for a month of great climbing in Siurana, Arboli, and Montsant. The apartment is fantastic. Location: on the edge of town, making it super quiet, but close enough to easily walk to the bakery every morning. Beautiful views of Siurana. Amenities: fully equipped kitchen with nice pots and pans (we cooked a lot), microwave, and washing machine. Pellet stove for heat requires some maintenance, but not bad (occasional cleaning/vacuuming). The wifi was very good - especially important for me as I had to work when not climbing! Big private front patio. A map of town and climbing guidebooks were provided, which was a big help. Caveats? While secluded from the rest of the world, there is not a lot of privacy inside the apartment. There is no door to the bedroom, just a sheet hanging in the doorway - worth considering if you have guests. Overall, it was great and we hope to stay here again!
Maria
2016-04-02T00:00:00Z
Room Type
Entire home/apt
---
Property Type
Flat
---
Accommodates
4
---
Bedrooms
Cornudella de Montsant, Catalunya, Spain
House located at the foot of Siurana and Montsant, ideal for nature lovers and outdoor sports such as climbing, mountain biking, hiking and runnig. Also wine tourism area of high interest.
The house has three bedrooms, two with twin beds and a double bed. The price shown is the price of a room.
The house is on a quiet street on the outskirts of the village. Great views of the mountains of Gritella (Siurana) and Montsant.
Ignasi was always quick to respond to my questions, and very helpful. As a climber visiting a new location for the first time, I was really grateful that he had guidebooks available for the area, including even guidebooks that we were allowed to take with us. The room was no frills, but everything we needed. Everything was neat and clean. We enjoyed meeting other climbers who stayed at the house at the same time.
Helen
2017-01-07T00:00:00Z
The location of this place is perfect for climbing near Siurana. Unfortunately we were there at a cold time, and so the house was very cold and there was a lot of condensation everywhere. It was also very hard to dry wet clothing or towels. Ignasi is a nice guy with a flexible check out time, which was cool.
Michelle
2016-11-26T00:00:00Z
Cornudella de Montsant is a great little town, with some fun places to eat, fun touristy things to do nearby (visit wineries, monasteries, etc.). There is a popular bakery in the middle of town which is perfect for coffee and all kinds of yummy pastries. Access to climbing in Siurana and Margalef is quick and easy. Ignasi is friendly, enthusiastic about sharing his knowledge of the climbing areas with his guests. Also, you can cook in the kitchen, which is nice if you don't want to go out to eat for all your meals. I would definitely recommend his place for climbers!
Alana
2016-10-26T00:00:00Z
The nice house is a perfect host for climbers. By car you are in 15-20 minutes at a great variety of rock sectors, Ignazi is a very good climber and can recommend lots of spots. He has all the climbing guidebooks for the region and is a very friendly guy. The rooms a typical small, but there are two bathrooms, a big livingroom an two terraces you can use. If you want to be for your own, you have space and if you need some advices, Ignazi is also there. For climbers it is the perfect spot to stay.
Stefan
2016-04-18T00:00:00Z
Ignasi was a great host, really accommodating and helpful with local climbing tips. His home was super cozy and clean. We loved Siurana and plan to return and stay with Ignasi again soon. Gracias por todo!
Olivia
2017-01-22T00:00:00Z
This is an excellent place to stay and explore Cornudella and the Siurana region. The house itself is very clean. The kitchen is well stocked and the patio is a beautiful spot to eat breakfast while looking at the surrounding mountains. It is likely that you'll be sharing the house with other guests, but it's a great way to meet your international neighbors - everyone was very respectful and quiet. Ignasi checks in to make sure everything is in order. You can walk to "downtown" Cornudella in 5 minutes. Parking is easy outside the home. Would definitely recommend a stay here.
MahtingErika
2017-03-13T00:00:00Z
The house was really nice, clean, full kitchen (fully equiped) and matched all expectations of the description. I was there to climb and the location is excellent! Ignasi is really cool and friendly and knows all the routes in Siurana :) I would definitely go back when i visit Siurana again!
Fernando
2015-11-15T00:00:00Z
All perfect. Nice clean room with a nice terrace. Ignasi helped us with everything we asked. We woul dbe glad to come back!
Yannick
2016-03-29T00:00:00Z
Room Type
Private room
---
Property Type
House
---
Accommodates
2
---
Bedrooms
Cornudella de Montsant, Catalunya, Spain