AIRBNB'S "#1 MOST WISHED-FOR LISTING WORLDWIDE!" for 2016 Suite of three beautifully furnished rooms set amongst the trees. Just minutes from downtown, this secluded property is an urban retreat like no other. The treehouse is the subject of innumerable articles, blogs and was recently featured on Treehouse Masters Ultimate Treehouses.
We are honored to have been named in 2016 as Airbnb's "#1 most wish-listed property in the world"!!! Thank you! Centrally located within the heart of intown Atlanta, the treehouses are a hidden gem. The subject of numerous TV and magazine features (including "Treehouse Masters: Ultimate Treehouse IV"), they are often described as being the most relaxing, romantic, dreamy and unique place you'll ever stay. What could be better than falling asleep in the trees and waking up to birds singing around you--all within the city limits? The treehouse consists of 3 separate rooms, each connected by rope-bridges. Descriptions of the 3 rooms are below. Living Room: Antique furnishings including 80 year old butterfly-filled windows; antique furnishings, and a balcony overlooking an acre of lush woods. Bedroom: Sleeps 2. The Loblolly double bed is fitted with the world's best bedding - cozy, organic linens from Parachute. The bed is equipped with wheels so it can either be rolled out onto a platform that overlooks the stream below or inside the room. Vintage decor and natural artifacts add as much to the comfort of the setting as they do to its charm. Deck: Open to the elements and immersed in thick greenery, the deck surrounds the "Old Man", a 150 year old Southern Short-Leaf Pine tree--the largest of the 7 trees that support the treehouse suite--who watches over the property and its guests. BATHROOM IS LOCATED IN THE BASEMENT/LOWER LEVEL OF OUR PRIVATE HOME. GUESTS WILL HAVE EXCLUSIVE ACCESS TO IT DURING THEIR STAY. The treehouses and main house share a lot and are within a 30 second walk to one another.
The neighborhood is a quiet, residential place. While our lot is located in a particularly peaceful, private and lush part of the area, it is important to remember that it is in the middle of intown Atlanta. And while very private, you can see other residential buildings from the treehouses.. While you may hear the occasional siren, normal neighborhood noise or train whistle during your stay, the most common sound is that of silence broken only by birds, frogs and the wind in the trees.
I had a delightful 2 night stay at the tree house. The tree house offers the best of both worlds-it's peaceful and a great place to relax, yet it's also close to lots of dining options. I loved it!
Meredith
2016-06-22T00:00:00Z
The treehouse was everything we could have hoped for. Peter was an exceptional host. The bed which rolls out so you can sleep under the stars was awesome!!! And for being in the woods there was no mosquitos! I highly recommend this location.
Bridget
2016-06-27T00:00:00Z
The treehouse looks in real life just as it does in the pictures and is a truly unique experience. Peter was very accommodating and even thigh the weather wasn't great (lots of storms in the area) we were still able to enjoy the treehouse and the feel of being in the middle of nature. There isn't too much noise from the neighbouring houses so you get the feeling of being secluded.
Jenny
2016-05-04T00:00:00Z
Who knew somewhere so peaceful was located right in the heart of Atlanta! Katie and Peter are fantastic hosts - they've thought of everything to make your stay comfortable and relaxing. Their dog Daisy is an absolute sweetheart! Rain or shine (we had some of both), the treehouses are magical. Don't let a little rain scare you away...The afternoon showers and rain at night may have been my favorite thing about our stay! When you're planning your stay at the treehouses, my advice is NOT to make plans. Just stay. Experience the treehouses. It will be the most restful, magical, and childhood-fulfilling vacation of your life!
Emily
2015-04-20T00:00:00Z
My wife and I had a wonderful two day stay at Peter and Katie's treehouse to celebrate our first anniversary. Peter was very welcoming on arrival, orienting us with house, providing us a bottle of wine and introducing us to the old man of the forest. He also graciously provided us coffee and tea on the mornings of our stay. The treehouse itself is open to the forest. There is an eclectic mix of found glass doors and windows that overlook a creek and lots of greenery. From the treehouse, it seems like you're staying in Peter Pan's hideout instead of a Buckhead neighborhood. It's an extremely unique experience. The decor of the house is whimsical, with lots of gauzy drapes and Christmas lights that really enforce the Neverland feel. The bed rolls out of a set of bay doors so that you can look up into the forest. It makes it feel as if you're really sleeping out in the forest. For our trip, the weather was immaculate; we only had to use the provided fans before night fall. Overall, the stay was absolutely fantastic. We will certainly continue to return as long as Peter and Katie allow! Thanks, Anthony and Alexis
Anthony
2016-09-14T00:00:00Z
We had the most magical couple of days staying in Peter and Katies treehouse. As stunning as the pictures are none can truly capture the phenomenal essence of this place and its impact on your soul. In addition to be warmly greeted and looked after by Peter, we were treated to a lovely food and wine hamper. Our first night was spent with the bed rolled out under the stars, which was a truly refreshing experience. The second night we were lucky enough to snuggle up as a thunderstorm rattled outside, it was divine. Peter was a wonderful host. Him and Katie have created an adult wonderland in their backyard. Should we ever be in Atlanta again we will be stopping by for another visit!
Keely
2017-03-22T00:00:00Z
Wow! I saw a few years back a few friends of mine had visited the treehouse and then posted the experience to (SENSITIVE CONTENTS HIDDEN)- immediately interested I went to air bnb to get in on the action- however this unique spot was booked solid for at least a year. Recently around Christmas time I saw some availability for April and immediately booked. Upon arriving you are driving through any regular suburban style neighborhood so you think," this isn't the right place." As soon as you pull down the driveway you are immediately taken to another place. Spiritually, and physically- it just is an out of this world experience. Peter asked a few times if I was okay because you are so taken back by what your seeing (but not in a bad way!) The treehouses felt fresh, and clean and were filled with wine, snacks and fresh flowers. For a chilly night the bed warms up! Every particular detail was though of and it was transparent to me that Peter just wanted to create the best experience possible for whoever is staying. I have nothing bad to say about my experience other then I wish I stayed longer. Until next time!
Ashley
2017-04-03T00:00:00Z
Amazing! We watched fireflies before drifting off to sleep. This is a must stay.
Tom
2017-03-30T00:00:00Z
Room Type
Entire home/apt
---
Property Type
Treehouse
---
Accommodates
2
---
Bedrooms
Atlanta, GA, United States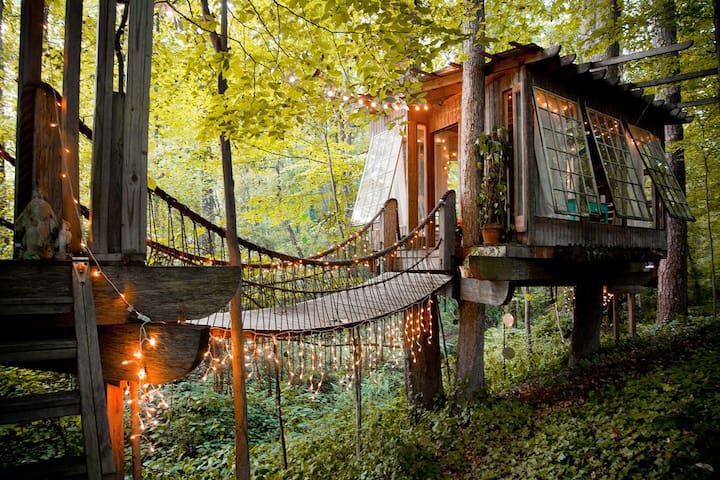 Charming and romantic,' Round' Cottage on the Santarella Estate in the Berkshires in Western Massachusetts. Formerly, the cottage was sculptor Henry Hudson Kitson's summer studio on the Santarella Estate. The two-story cottage has a charming bedroom with 35 foot high conical ceiling with canopied bed upstairs with views through massive, multi-paned "mill windows" to the trees and sky and out to the lily pond. The downstairs sitting room looks out on the babbling brook and lovely gardens.
Now open year-round! Charming, One Bedroom Cottage, former sculpting studio on the Santarella Estate in Tyringham, MA. Known as the "Silo Studio" Cottage. There is a bedroom with canopied queen bed upstairs and a sitting room with window bench-seat, coffee table, table and chairs, kitchenette area with wet bar with Micro/Fridge coffeemaker, toaster and bathroom with shower are downstairs. Fall asleep to sounds of the babbling brook and views to pond and forest from the large screened openings upstairs, like living in a "tree-house". Accommodates two only, fully furnished, all linens, towels included. There is Satellite DTV and Wireless Internet on site. The cottage is situated on four acres including lovely gardens, beautiful lily pond, running brooks and 2 acre woods. Absolutely unique, one-of-a-kind experience! Please Note, the cottage has traditionally been a three season rental from approximately March- November, however, due to much interest and demand, we have recently added a larger capacity pellet stove and made winterizing efforts and plan on keeping it open for guests interested in a winter experience in the cottage! Please keep in mind that access to our grounds may be limited with the accumulation of snow in winter months. During predicted extreme weather events, we will gladly work with guests to change reservations as we are always concerned for their comfort! Our lovely grounds are open to our guests. There are garden paths, babbling brook with stone bridges, loveliest of lily ponds, stone bench seating area with 'chiminea' and firewood for guest's use. There are two acres of woods with a loop trail as well. The town has an exceptionally beautiful Swimming Pond about 2 miles away which our guests may use. There are BBQs and picnic tables and it is often deserted. While we do have a pet friendly policy, prior approval and acceptance of our rules and policies is required before a pet may stay with you in our accommodations. There is also a $25.00 additional pet cleaning charge. The cottage is located on the Santarella Estate surrounded by gardens and storybook architecture. Santarella is located in the Tyringham Valley, tucked away 3.5 miles from Mass. I-90, a lovely and magical place where one feels like they have stepped back in time. This is definitely a place to 'get away from it all', enjoy quiet, rural surroundings close to the Appalachian Trail and Tyringham Cobble for hiking and many lovely ponds for swimming or kayaking. Vehicle is necessary. Grocery and other shopping at 3.5 miles.
Tyringham Valley was one of the original settlements in Western Massachusetts. It is mostly agricultural conserved land giving it a very rural, bucolic and idyllic character. The lovely 'Hop Brook' runs through the middle of the valley which is sparsely populated with mostly historic homes, making one feel like they have stepped back in time. An original, beautifully preserved Shaker settlement sits on top of the hillside opposite Santarella, overlooking it. At the far end of the valley, the gracious columns of the burned Ashintully mansion overlook the entire valley and are all that remain of the gilded-age estate which has beautiful preserved formal gardens, great to visit and hike. The Appalachian Trail is 2.25 miles from the cottage.
It is a really lovely cottage!!! A very wonderful experience and the hosts are very helpful. Would definitely go there again.
Hanying
2017-01-06T00:00:00Z
Would highly recommend this place. Gorgeous and secluded, yet minutes to the town of Lee and other area attractions. Perfect for a make your own adventure trip!
Connor
2017-04-02T00:00:00Z
The Silo Studio is fantastic! Makes you feel like you stepped right into a fairy tale. Highly recommended. Denise and Dennis are wonderful hosts. We had a great experience.
Sean
2017-04-05T00:00:00Z
The silo studio was magical and the area is right out of a storybook. Denise is super helpful and knowledgeable and easy to get ahold of when needed. I would definitely recommend this place for a romantic getaway.
Shawn
2017-03-24T00:00:00Z
We had an enjoyable, cozy stay on a few cold winter days; the tiny house was comfortable and charming and by far one of the most unique places I have ever stayed.
Maureen
2016-12-27T00:00:00Z
We arrived on a Sunday and stayed in the Silo Studio Cottage. We were the only guests and loved that Denise and Dennis were so gracious with their time and suggestions. The estate is so scenic, nicely located near charming New England towns. Denise recommended lots of restaurants for every taste. Dennis is such a great craftsman and did a wonderful restoration. It was our Anniversary and there was a bottle of bubbly chilling and when we needed something it was addressed promptly. We hope to be back in the future!
John
2016-09-13T00:00:00Z
Denise was a wonderful host. She shared some great recommendations for things to do in the area and some nice restaurants. The cottage was everything you'd expect and more. There was a bottle of wine waiting at our arrival which was an extremely nice touch. We definitely want to come back to this amazing spot.
John
2016-11-06T00:00:00Z
This place was absolutely breath taking! Me and my fiancé had a wonderful time, the silo studio cottage is everything expected and more. The host Denise was very helpfully and wonderful. I will definitely be going back.
Sylwia
2015-12-30T00:00:00Z
Room Type
Entire home/apt
---
Property Type
Guesthouse
---
Accommodates
2
---
Bedrooms
Tyringham, MA, United States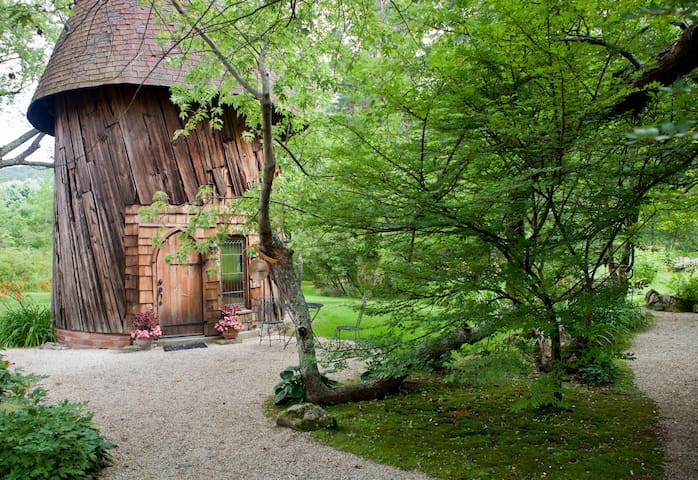 In our beautiful screened Pondhouse - feel the breeze as you sleep - see the stars at night while comfy in your cozy warm bed, with candles burning nearby. Hike nearby trails, sit by the fire, unplug from the world! Relax & Rejuvenate! AND - If you have friendly dogs who get along with other dogs you can bring your dog! (s) This is screened only - this is why we are only open from mid April - Nov. 1. It is a 'glamping' experience, perfect for those who like to camp but want to be more comfy!
As you can see from our stellar reviews - the pond house has been a fantastic, transforming, magical vacation for many people! It is much more than just a rustic get away in the country. It is actually an EXPERIENCE. I will save some of you time right here, by saying this is not for everyone. No electricity. It is screened only. No walls! You will hear animals in the woods. The bathroom is a 2 min walk. No kitchen. No stove. There is an outdoor fire pit. It's glamping! You take chances with the weather. We've had guests love a cozy rainy weekend and guests book an extra day in Oct. when it was 30 degrees. Still interested...? Read on! Oh and if you are planning this as a surprise? I strongly suggest that you KNOW that your partner will love this. I've seen a few surprises not work very well. Glamping is not for everyone! A fire pit (stocked with paper & chopped wood or chop your own! ) a few steps from your door is a great place to hang out and enjoy the feeling of camping - and then you get into a super warm cozy bed with a down comforter, and lots of warm blankets. People arrive from the city and seem transformed the next day, after breathing fresh air all night, and being lulled to sleep by the sounds of nature. This is a step up from camping. It's Glamping! Dogs (that are well behaved! ) are WELCOME! We love dogs and our dog Charlie is a fantastic host. But your dog must get along with other dogs. GLAMPING means - Glamour Camping! And that is just what you are doing when you stay in our beautiful Pond House. Even with cooler temps it's still fantastic and I am more willing to book single nights. Please just ask! I had a family of 5 last year who had booked 2 nights Oct 30, and stayed an extra night! The water in their water bottles was frozen at night. That's how cold it got. They still LOVED it! This amazing screened pond house sleeps 5 or more with a queen bed, single couch bed, and queen futon couch, and we can put out more pads/sleeping bags as well. It does not have a bathroom, but you have the use of a full bathroom & shower in our studio building, a 2 min. walk away. (You might share this bathroom if we have guests in our guest room in the studio building.) It works great to book both rooms so you can leave all your stuff in the studio and not mess up the pond house with stuff. Happy to give discounts for both. Just ask. This gorgeous space is extremely special, some say even magical! Handmade out of Hemlock trees from our woods by my husband - artist Peter Kitchell, the pond house is surrounded by beautiful grasses and trees. The frogs and peepers will lull you to sleep at night, ( if they are too loud we have earplugs! ) and the stargazing is amazing. It is a completely dark sky with no light from nearby towns or cities. Just you, the stars and the planets. There is a row of long linen curtains on one side to give your more privacy, but that really is more for effect & comfort as no one is around to see or bother you. There is no electricity - but plenty of candles! Make a fire outside to roast marshmallows or cook a whole meal, there is a grill over the fire. Recycled paper plates & utensils, small fridge, electric teapot, coffee press, coffee & tea for your use are in the hallway by the bathroom. All you need for the fire is provided. Comfortable warm bedding and towels are provided. Even if it is chilly at night, snuggled in your warm bed you will be just fine! Like camping, this is really for heartier folks. No Wi-Fi or cell service in the pond house! Come to unplug! Board games and cards are great to bring. But there is wifi and a land line you can use at the studio. No nearby transit. Sorry! It's the boonies. You need a car. The 'neighborhood' is very quiet - the peepers at our nearby pond and sounds of the woods will be the only thing you will hear at night. Peter and I are both artists with our home and studios in 3 buildings about a 2 minute walk from the pond house. We are good at respecting our guests privacy but are also happy to chat with you and answer any questions. I've made a great list of places to eat ( includes notes on which are dog friendly & vegan!) If you are a dog person, our dog Charlie will be happy to go for walks with you, and will provide lots of love and affection. It you bring a dog you may not leave it in the pond house while you are gone. This is truly an amazing place. Come check it out! Ashfield about 8 min away. You MUST go to Elmer's for breakfast! The best pancakes in New England. Country Pie for Pizza The Lakehouse - Ashfield - Right on the lake. Great scene at night at the bar or hang on on the deck overlooking the lake. Shelburne Falls is about 12 minutes away. WHERE TO EAT ( fancy and amazing) Gypsy Apple Bistro, 65 Bridge Street, ((PHONE NUMBER HIDDEN); Blue Rock Restaurant, Sh Falls ((PHONE NUMBER HIDDEN), SO good. Vegan options. theblu(URL HIDDEN) Mocha Maya's, ( good coffee) 47 Bridge Street, ((PHONE NUMBER HIDDEN), (URL HIDDEN) Enjoy the beauty of the woods on our property of 40 acres or the many nearby trails and parks. We are located within 30-45 minutes of six colleges and many attractions in the Pioneer Valley, as well as North Adams and Williamstown. There are a few amazing restaurants nearby in Shelburne Falls and great pizza in Ashfield. We will be happy to give you all kinds of info on the best places. Check out galleries and artists studios in Shelburne Falls, walk across the gorgeous Bridge of Flowers, take a raft trip down the Deerfield River with Zoar outdoor (possibly guided by our son who works there! ) Check out the amazing glacial formations the "Potholes." In the summer swim and sun at Ashfield Lake, check out the Ashfield Farmers market on Saturday, or see amazing summer theater at Double Edge Theater.
It's quiet. It's the country. Ashfield is closest town about 8 min away. Sh Falls is about 12 min away. Great site for hikes. (URL HIDDEN)
Let me begin by saying this is one of the most special places I've ever been lucky enough to visit. Gayle and her husband created something magical, and are very kind to share it. If you are in the area, you would be crazy not to stay with them!
Ryan
2014-07-14T00:00:00Z
The Pond house is all that it's cracked up to be and more-- it is so so lovely, as other people have said, it's even more beautiful than the photos. the beds are so comfy and cozy and the views from every seat in the house are spectacular. Gayle and Peter and Charlie are wonderful hosts-- invisible except when you want them and then magically they are right there. The recommendations for meals were perfect and Gail even got us a spot at the super wonderful Elmers for breakfast on father's day! We sat and watched the birds come and go from the pond as the light faded -- truly a wonderful escape but plenty of shopping and fun nearby. Thanks so much Gayle and Peter and Charlie for the care and love that has gone into the pond house.
cheryl
2015-06-22T00:00:00Z
The pondhouse was a wonderful and peaceful break from everything stressful in life. It was the easiest camping I've ever experienced and very relaxing and much more private and comfortable than a campsite. My husband and I loved every minute of it. We did have some lightning/thunderstorms and it was still great! Gayle and Peter were lovely hosts and I would go back in a heartbeat.
Samantha
2016-05-31T00:00:00Z
We had such a great, relaxing time at the pond house! It's a real glamping experience - you're basically in the outdoors but surrounded by a bug screen which is excellent, and the bed and blanket and candles etc. make the whole thing feel so luxurious. Peter and Gayle are wonderful hosts - very accommodating, helpful with directions, etc. They even provided us with extra beach towels when we forgot some! We had to cut our trip early because my boyfriend had broken his toe just a few days earlier (unfortunate timing), but we did spent one lovely night and morning at the pond house, relaxing and reading and playing board games, and it was just what we needed to get out of the city and unplug.
Jessica
2015-05-31T00:00:00Z
The Pondhouse is truly a magical place, absolutely stunning! It was quite a cold snap this weekend (it even snowed) but we were able to stay warm and cozy cuddling up with the ample blankets they provide. Gayle and Peter were wonderful hosts, just how they describe in the listing, very friendly and helpful but completely respectful of our privacy. And we had delicious meals at both Elmer's and the Ashfield Lakehouse! Both were welcoming, relaxing, and with wonderful chefs. Overall a perfect weekend! :)
Alice
2015-10-18T00:00:00Z
What an amazing escape from reality. The pond house exceeded our expectations by a long shot. Gayle and Peter couldn't have been better hosts but the real rockstar of our stay was Charlie, a truly amazing and unique dog who really made it hard for us to leave. Would definitely stay again.
Harrison
2016-09-13T00:00:00Z
My husband and I had a wonderful stay at the pondhouse. We were able to unplug and enjoy the lush surroundings, hear nature all around us, and cook outside too. It was certainly Micah, enhanced by Gayle's soothing decor. We can't wait to go back!
Claudia
2016-06-23T00:00:00Z
The place was gorgeous! It's exactly as pictured, very spacious and comfy. Gayle and Peter were considerate, helpful hosts; Peter helped us find hiking routes nearby and let us borrow Charlie, which added to the fun. We can't wait to come back next year!
Erin
2015-09-21T00:00:00Z
Room Type
Private room
---
Property Type
Cabin
---
Accommodates
5
---
Bedrooms
Ashfield, MA, United States
Featured on Tiny House Hunters, but far from tiny! Stays comfortable and warm in winter months and refreshingly cool in the summer. This floating abode was gutted & completely rebuilt using reclaimed materials, sweat, & love. You'll find her spacious, comfortable, & peaceful. The location of this boat is for people looking for tranquil, private, and quiet getaway. Enjoy coffee & cocktails on the large deck overlooking the harbor.
Featured on FYI Network's Tiny House Hunters! Very spacious houseboat with vaulted 12' ceiling in the main cabin (living room). Sleeps 3 comfortably. Lots of room to move around with a queen size bed in the Captain's Quarters (Bedroom) and a twin bed in the living room that's a day bed. The boat is located downtown in a PRIVATE slip at Seabreeze Marina. This accommodation is for people looking for peace and tranquility in a unique and beautiful houseboat. The setting of the marina is quiet and secluded. In your private slip, you'll have a stunning view of Charleston Harbor and the Ravenel Bridge. FAQ: Q: Bathroom, explain! A: The boat is equipped with a house sized water heater ensuring you get hot water throughout the boat. Know, however, that you are staying on a boat. Long hot showers can be difficult. But you'll always have enough hot water to enjoy a 10 - 15 minute shower. The boat has a full sized toilet and we ask that you ONLY always use marine grade toilet paper (included) to ensure it never clogs. Q: Heat? AC? A: Our boats are equipped with BOTH heat and AC. No matter the time of year you visit you can be assured that you will be staying in a nice comfortable environment! Q: What to expect that's different than a hotel? A: It's a boat, it is a unique FUN experience. There may be noises and smells that you'd expect from a boat. Pumps, motors, ocean water, etc. Q: Wave action? A: The marina has a sea wall which dilutes the waves. There is still a small amount of wave action and you'll feel a slight rock from time-to-time. If there's a bad storm or the wave action gets to a point that your stay is no longer enjoyable, we will work out alternative accommodations for you. Your comfort is our top priority. This offer is only if there is abnormal waves due to major storms. 99% of the time the marina is almost totally flat and calm. Q: Handicap accessible? A: No. You'll need to get on the boat which requires a 1-2' step and there are steps on the boat. The deck stairs are steep and you'll need to be sure footed. Q: Space? A: You'll find the layout of the boat extremely spacious and comfortable.
Extremely safe and private marina in downtown Charleston. The entrance to the marina is shared with the Port Authority which has a 24/7 guard. There is a train which blocks the road to the marina leading into the port authority but it only comes 1-2X per day. Sometimes it can block the roadway for up to 20 minutes but that is infrequent.
The boathouse made our trip to Charleston! Although we stayed during January with record-breaking cold weather, Justin and Shauna set us up with plenty of space heaters and when we needed them they responded immediately (even while being overseas). We had a very comfortable stay - we wish it was warmer (summers would be amazing staying here) because the resort amenities are amazing! Definitely will consider staying here again-it's the perfect location with beautiful views and the boat is impeccably decorated!! Thank you Shauna and Justin!
Andrea
2015-01-10T00:00:00Z
The houseboat is every bit as adorable as it seems in the pictures. I was looking for a unique getaway for my two teenagers and myself, and this was definitely it! We had so much fun! Tip: don't run the hairdryer and the AC at the same time. :) We caused a breaker to trip, but when we reported it to the property manager, she had it handled very quickly. We would definitely stay on the boat again. Thank you for allowing us the opportunity to rent such a fun place!
Carla
2016-04-02T00:00:00Z
We had reservations for the boat the first week in June for 2 nights. The boat is a cute idea and is as described in the listing. However, the air conditioner that is in the boat was undersized for the space and even after keeping all of the windows closed for several hours while the air was running, it was still close to 80 degrees on the boat. Opening all of the windows provided a nice breeze, however, since most of the windows do not have screens, we couldn't keep the bugs out and were getting bitten. As a result, we wound up getting a last minute hotel room at the Marina hotel and a room in the city for the second night. We let the hosts know and that we checked out early, but haven't heard back.
Mark
2015-06-03T00:00:00Z
Had an amazing time staying on the houseboat, the shuttle from the hotel to Charleston was a lifesaver!
Kaela
2015-02-01T00:00:00Z
This was my first airbnb experience and I can not be happier. While staying on a boat isn't the traditional lodging choice, this was everything I expected and more. As a boater, you know what you're getting when living aboard, so the style and decor just was fabulous. Justin was so great and would "over communicate" and answer any questions via text, which I prefer. I got the opportunity to meet him as he came to the boat to bring a bike as an addition to the boat. There wasn't anything I didn't enjoy and only wish I could stay longer. The bed was awesome, the shower perfect, there was a refrigerator and perfect lighting at night. It's truly a mini condo on the water. I hope to come and stay here again!
Gabrielle
2015-05-21T00:00:00Z
The houseboat is big and beautiful. The location is really a ideal for sightseers. The privacy was a plus for us on our honeymoon. Even with a few details missing, we made the best of it and enjoyed our visit to the Holy City.
Peter
2015-10-11T00:00:00Z
Neat little houseboat pretty close to downtown Charleston. We took an Uber downtown everyday for about $7.50 each way (though it was interesting trying to direct the Uber driver to the boat). It is somewhat close to the train tracks, but the whistle is pretty faint so not an issue at all. The owner did provide a couple of bikes, but unfortunately the tires were flat & no pump nearby. Also, you can't take this boat out (as you might've guessed) and it doesn't have a dinghy or kayaks (which would've been awesome to take to the bars on Shem's Creek). There are a couple of neighboring boats & people who fish off the shore, so it sometimes feels a little less private than I would've expected. One last thing is that there is technically Wifi, but the password isn't on the "welcome" instructions so you'll need to ask the owner. That said, the Wifi is extremely slow, so I wouldn't bother. All in all, a fun time & an interesting experience which I would suggest if you've never lived on a houseboat & want to try it out...
Jason
2015-12-14T00:00:00Z
My mother, sister, and I had a great time staying on Justin's boat. We were not expecting there to be so many other house boats around us with people staying in them, but we hardly noticed them all weekend. The marina is a very small and private so we felt really safe the whole time. The boat is the perfect size for 2 people, but we still didn't feel too crowded with the three of us. I got a text message right before we showed up saying that he was doing maintenance on the boat and we wouldn't be able to check in on time, but luckily he was done in about 30 minutes so it was no big deal. Justin was in and out of the marina all weekend doing work around the dock so he was constantly available for us to ask questions. The marina is less than 2 miles from King street and the rest of downtown which was great, but getting to come back to a quiet marina was even better. The view of the bridge from the boat was beautiful. Overall had a great time, and would definitely think about booking again.
Hannah
2017-03-26T00:00:00Z
Room Type
Entire home/apt
---
Property Type
Boat
---
Accommodates
3
---
Bedrooms
Charleston, SC, United States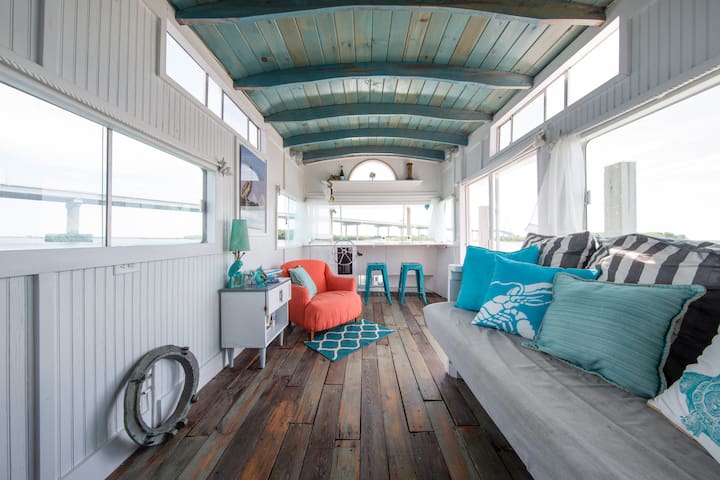 Cair Paravel Farmstead transports you into another realm. Come experience living in a round structure filled with amenities- fully equipped kitchen, deep tub, heating and AC, shared hot tub and seasonal salt water pool. Great for couples, friends, and families. A ten minute hike gets you into Shenandoah National Park Back Country or explore our 58 acres on numerous walking trails. Visit Charlottesville,historical sites, explore caves, or play in rivers in central Virginia.
- SAVOR THE PEACE AND QUIET - CELEBRATE NATURE - Welcome to Cair Paravel Farmstead! Located 2000 feet up in the Blue Ridge Mountains up a mile and a half state maintained gravel road, our 30 ft. diameter Blue Ridge Yurt Company yurt has everything you could ask for: a romantic getaway for two or an escape for friends and family up to six. Perched on the mountainside above the barn you are able to see and listen to the farm creatures. It is a delightful experience to try to identify the various sounds coming from the barn and the surrounding forest. Amenities in the yurt include full kitchen, bathroom with separate shower and bath, HD TV with local stations, Blu-ray DVD player, iPod dock in the bedroom, handicap accessibility including a ramp onto decking, gas grill, fire pit, and outdoor charcoal grate. Please note that though child-friendly (Baby Bliss cloth baby chair, sippy cups, child's plates, Gerber Graduates eating utensils) the yurt is not child proof (a safety kit provided for your use). For your convenience a Pack N Play set-up and baby monitor are available for an additional charge. Cair Paravel is a sustainable farm that seeks to apply the principles of permaculture and biodynamic agriculture with the goal to maintain a minimal footprint upon the earth. Our water is supplied from two artesian deep wells and is clear, pure mountain water which is amazing, right from the tap. The posted standard rate is $185/night/one bed. Additional guests are $30 per person. Weekends we have a two night minimum. Maximum occupancy 6 persons including infants. Rates may vary dependent upon season, holidays, and/or special events. NO SMOKING PERMITTED. We are sorry but NO PETS due to the livestock located on the property as well as allergens being trapped in the cloth inner structure. For more information about our farm keep up with us ...friend us at....Cair Paravel Farmstead.
There are many area attractions and activities- hiking in the Shenandoah National Park, visiting Monticello or Montpelier, following the Monticello Wine Trail or the Brew Ridge Trail, and checking out the work of Virginia Artisans in the local shop: Noon Whistle Pottery. We are close to both Charlottesville and Harrisonburg. For other activities and attractions check out our guidebook. If you are considering hiking take a look at Hiking Upward. The site has great maps and descriptions of the trails as wells as a great rating system.
What a delightful place! We were greeted by Whitt delivering our dinner basket..filled to the brim with wonderful fixins'. The yurt is better than the description. The drive up to the yurt was no problem for our MiniCooper (we had considered using our 4WD SUV after seeing some previous (URL HIDDEN) problem)The yurt was clean with fresh linens and towels...including "beach" towels for the pool and hot tub. Everything about the yurt, the trails, etc was top notch...we will return.
Edward
2015-09-18T00:00:00Z
Our stay at the Blue Ridge Mountain "Yurt" B & B was everything we hoped it to be and more! Whitt and his family were fantastic! The yurt was amazing and we found ourselves getting some much needed rest and relaxation in the mountains of Virginia. Whitt was able to accommodate our non grain diet with no problems and the food was delicious! My wife and I are someday hoping to live in a yurt and Whitt was great about answering questions about the yurt itself and the building process! We would highly recommend Whitt to everyone!!!!
Mike
2012-08-09T00:00:00Z
My boyfriend and I ventured off to the Yurt for a nice weekend getaway. It was exactly what we needed and then some. The yurt is amazing, clean, and just plain eye catching. The animals are great, loved the visits from all the dogs one at a time every morning. The farm tour was great and we loved the Artisans Tour. There is so much to do in the area and it is the perfect place for a romantic weekend away, or a family trip. We will definitely be back this spring. P.S. BEST eggs for breakfast I've ever had!
Jackie
2012-11-12T00:00:00Z
I went with three friends for my birthday weekend and had a BLAST at the yurt. Whitt and his family were unbelievably kind hosts. The yurt and surrounding property are beyond gorgeous. My friends and I had a delightful time and definitely will be back soon.
Sarah
2012-11-19T00:00:00Z
Just a perfect experience. We were looking to get away from DC for a weekend and we have never experienced such incredibly hospitality. Awesome hiking, amazing food, and a truly unique experience. We couldn't have asked for more!!! Thanks Whit!! We will be back for sure!
Sam
2014-01-27T00:00:00Z
If you're looking for a getaway from city life, this is it! From the views of the Blue Ridge Mountains surrounding you, to star gazing from the hot tub, this place is fantastic. The yurt itself is beautiful, spacious and feels like a home away from home immediately!
Katie
2017-03-29T00:00:00Z
We had an amazing time at the yurt! The grounds were beautiful and Whitt was very accommodating and helpful.
Erin
2016-09-12T00:00:00Z
We had an absolutely amazing experience at the Blue Ridge Mountain Yurt. Whitt was extremely attentive and made sure that our experience was a true delight. From the comfort (and beauty) of the yurt to the delightful farm tour, everything about our stay was great. We visited during an extremely cold weekend and we were pleased to find out the yurt had excellent heating. We were very comfortable the whole time. It also slept the 5 of us very comfortably. The walks around the yurt were beautiful, and we loved making use of the year-round hot tub. We definitely hope to come back in other seasons to experience even more of what the location has to offer. We also adored meeting the animals on the farm. The dogs were especially friendly (and so fluffy!) In addition to checking in with us throughout our stay, Whitt helped us plan ahead for an impending snow storm! We moved our car to the bottom of the mountain ahead of time and Whitt was nice enough to shuttle us down to it the next morning. It was really thoughtful.
Amanda
2016-02-15T00:00:00Z
Room Type
Entire home/apt
---
Property Type
Yurt
---
Accommodates
6
---
Bedrooms
Stanardsville, VA, United States
Coastal Maine farm and cottage very close to the ocean. Scenic views, less than 1 hour from Bar Harbor and Acadia National Park. Great area for hiking, biking, boating, arts, etc.. Small kitchenette, private building, nice shower and bathroom.
Beautiful coastal area - very good biking, hiking and kayaking. Sailing crusies on the bay are also available. Interesting and stimulating cultural events and some great places to eat and shop. The cottage is private and includes a sleeping loft, futon couch on the ground floor, small kitchenette, bathroom with hot shower, and a baby grand piano. This is a musician's perfect getaway to practice, compose, record, and delve into the music within.
Please click on this link - 30 Stunning Photos and Great Reasons to Experience the Maine Coast: (URL HIDDEN)
Perfect! This cute studio was everything we needed to come home to after a day exploring at Acadia. Sweet loft setup and breathtaking sunrises are some of the highlights. Had an excellent stay here.
Shantal
2017-04-01T00:00:00Z
Cozy cabin, great views, kind host. We really enjoyed our stay!
Amy
2016-12-30T00:00:00Z
Alan made us feel very welcome on his property, and the cabin was the perfect accommodation we were looking for. The space was clean, unique with fun instruments everywhere, and stargazing at night was a joy. We were very comfortable, wifi was fast, and the location was convenient to the town of Bluehill which was fun to walk through to look at art galleries, shops and admire their library. Alan was wonderful in recommending good lobster shacks, an art walk in Bluehill and an unforgettable jazz performance in the Surry Opera House on his property. Lastly, Acadia National Park was conveniently located nearby, which proved ideal for hiking and photography.
Elaina
2015-09-06T00:00:00Z
The farm Alan's place is on is spectacular- beautiful and with loads of history. I enjoyed my writing retreat- perfect spot for it!
Betsy
2014-12-04T00:00:00Z
Great place to get away for a period of time. As a musician I spent most of my time relaxing or working on things, and this was the perfect place to do so.
Chris
2016-12-24T00:00:00Z
Unforgettable experience! The best Airbnb experience we've ever had. Alan is a wonderful host, he took care of all of our needs and provided us with all the information needed in order for us to travel around Surry, Acadia National Park, and the surrounding area. Alan's coastal Maine cottage is exactly as described, the pictures are accurate, it is an amazing clean cottage with a very hot shower, small kitchen, with music instruments and books. The atmosphere at Alan's place is extremely unique, Alan was such an amazing & fascinating host, he showed us magical places near his cottage, visiting Surry Arts at the Barn (guided by Alan) was impressive and meaningful. Even though our visit was off-season there were plenty of interesting activities, beautiful places to visit and attractions. We will definitely come back again.
Uri
2017-01-06T00:00:00Z
House is as described. Nice and cosy! Alan is a very friendly person! We had a very good time with him.
Charles
2016-06-29T00:00:00Z
We had a wonderful weekend getaway staying in Alan's cozy cottage in a gorgeous setting -- very short walk to the bay trail where we snowshoed along the water. Loved learning about the history of the property, home of the Surry Opera Company! Super excited about Alan's plans for the site. Alan was very helpful in providing us suggestions for food and trails, and he gave us a tour of the property which was lovely. Thanks Alan for sharing this beautiful space!
Adrien and Daniel
2015-01-19T00:00:00Z
Room Type
Entire home/apt
---
Property Type
House
---
Accommodates
4
---
Bedrooms
Surry, ME, United States

Walk to Belle Isle, 6 min drive to downtown! A spacious 1BR corner loft overlooking the river and two parks. Lots of light and beautiful view. Convenient location off Jefferson Ave and Detroit's Riverwalk. Gated parking for one car. First time visitors to Detroit and city regulars will enjoy using my loft as a base of operations. I've been a contributing author to Wildsam Field Guides, an eclectic guidebook publisher, and have great recommendations for most cravings in this unique city.
[This loft is often booked. If it is, have a look at my three other spaces near by, including my sailboat. Just click on my profile picture to find them.] This loft is beautiful, open, and full of light. A perfect retreat in Detroit. I grew up in Montana, lived in India for a few years, and ran a journalism startup in Detroit called Jaunt, so I have decorated my place with remnants of my travels. I also contributed to a Detroit guidebook called WildSam Field Guides, so I can help you put together a good itinerary or fill any holes you might have. I mostly live on my sailboat during the summer and I teach Marine Science on a sailing school vessel. The loft is all open except for the bathroom. The bedroom is separated by a wall without a ceiling. The kitchen has all the basic essentials and utensils plus coffee, tea, cereal, oatmeal, etc. for breakfast. I have an HDTV with Blu-Ray, Roku, Netflix, Amazon Prime, and an HD OTR antennae for NBC, ABC, FOX, etc. Then there's the bed. Queen and super comfortable - I splurged on the bed because good sleep is really important to me. For extra guests, there is a queen pull-out sofa in the common area. The apartment can accommodate up to four (two in each queen bed) but you're starting to get a little cramped. I will decline requests for greater than four people unless you have a special circumstance. There are two A/C units: one window-mounted right next to the bed and the other in the living room space. They do a good job on the loft 90% of the time, but if the sun is glaring and it is scorching hot, they won't be able to create the refrigerated A/C frigidity we are used to with central air. The bedroom unit works perfectly if you shut the door to the common area. In the winter, you can turn the heat up as much as you like and make it toasty warm.
I moved here in October, 2014 from the nearby West Village area where there are a few great new restaurants, like Craft Work, Detroit Vegan Soul, and Red Hook Coffee. The loft is on the Riverwalk, which is a bike/walk trail connecting you to downtown and Eastern Market via the Dequindre Cut, a converted rail line that runs off of the Riverwalk. I am also walking distance to the Belle Isle bridge. The building is kitty corner to a Coast Guard base, a U.S. Federal building, and the offices of a private security firm. The streets are lit and other residents of the building are frequently coming and going. I have always felt that the area around where I live is quite safe.
Beautiful loft, rustic, western inspired. Lots of space and very bright. I did not meet Thane but he made himself very available if I had any questions. He also gave me a very helpful list of his favorite spots.
Zeeshan
2015-09-07T00:00:00Z
The communication leading up to the trip was phenomenal! Thane also took the time to leave us a thoughtful gift to take home and remind us of our trip to Detroit.
Daniel
2016-10-11T00:00:00Z
Fantastic host.
James
2014-10-22T00:00:00Z
Loved the place. Thane has good taste.
Felicia
2016-07-17T00:00:00Z
We couldn't have been happier with our stay at Thane's loft. It looks and feels exactly as pictured and really added to our overall Detroit experience. A few earlier reviews mentioned concerns with soundproofing, but we didn't have any issue with this (especially given this is a corner unit). Thane prepared a great list of recommendations for us, which we took full advantage of. We wouldn't hesitate to stay here again and would recommend this listing to any family, friend, or fellow Airbnb members. Thanks for sharing this space with the Airbnb community Thane!
Corey
2016-05-09T00:00:00Z
Thane's loft looked exactly like the pictures.. The place was very clean and smelled good! The loft is located on the river front and the view is breathtaking...we loved the place so much and would highly recommend it. Thank you Thane for being such a great host!
Bill
2016-02-10T00:00:00Z
Communication with Thane was easy and timely. His loft is in a beautiful building in a great location, and we enjoyed exploring Detroit from this comfortable home base.
Kirsten
2015-07-13T00:00:00Z
Great location. We were able to use our bikes to navigate the city because the apartment is right on the River Walk. The apartment was clean and comfortable. I hope to stay here again!
tommy
2016-09-19T00:00:00Z
Room Type
Entire home/apt
---
Property Type
Loft
---
Accommodates
4
---
Bedrooms
Detroit, MI, United States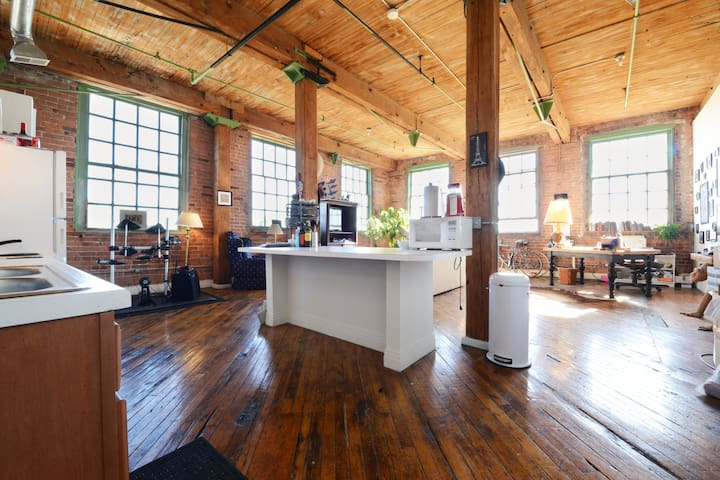 A beautiful, open, airy loft space housed within a completely renovated 1926 industrial building. Centrally located on Woodward Avenue in New Center to tons of local restaurants, bars, and coffee shops in New Center and Midtown. Relax, you're home.
This is a modern loft apartment housed within a completely renovated 1926 building that originally housed graphic artists for General Motors, and other companies. Designed by famed-Detroit architect Albert Kahn, you'll notice the signature art-deco front-facade and incredible lobby of the building. All the character of the loft is still intact, from the concrete floors, brick exterior wall, and the mushroom columns Albert Kahn was known for. Home includes a large kitchen, front load washer and dryer, incredibly fast internet with wifi and one bedroom with a queen-sized bed. This building is incredibly peaceful, quiet, and relaxing; while being just blocks away from anything you'd want to do in the city. Kitchen includes gas stove/oven, stainless steel sink, refrigerator, toaster, pots, pans, coffee maker, and any other utensils you need to call Detroit home for a few days. You'll find a single bedroom (this was originally a studio unit, but has been converted into a completely-walled one bedroom unit). Beautifully comfortable queen bed, small dresser, and chair. The main bathroom includes a subway tile shower/tub, sink, and any towels and amenities you'll need to make your stay perfect. Awesomely comfy white cotton sheets are included in the bedroom. The living room includes a couch (can be used for extra sleeping space, but isn't a pull-out), coffee table, and two chairs. 50" HDTV is hooked up to an Apple TV with Netflix. Outdoor space includes a small patio (which you'll enter from) with two bistro chairs and table. Enjoy the sunny back-alley of the building with a drink of your choice from the fridge. Local spots within walking/biking distance include the incredibly beautiful art-deco Fisher and Albert Kahn buildings; Midtown Shopping (Shinola, Willys, Nora, Hugh, Carhartt, Fellow Barber, City Bird, Nest, and more); the mid-century gardens and campus at Wayne State, and more. Local attractions include the city and public art, Belle Isle with its beaches, waterpark, Albert Kahn designed conservatory and aquarium, and trails. The world is your oyster. Restaurants nearby including fast food, Northern Lights Lounge, Falafill, Dangerously Delicious Pies, City Wings, Motor City Brewing Works, Jolly Pumpkin, and more. The loft is all yours while you're here. Enjoy, relax, and hang out. I prefer text and AirBnB message for communication. Taking photos during your stay? Make sure you #thatdetroitloft.
Awesome location right on Woodward at the Midtown/New Center border. Just a few blocks either way to a ridiculous amount of inspiration, character, activities, and restaurants. Take in the Detroit Institute of Arts, or check out the art-deco skyscrapers of New Center.
Our host made it really easy to be guests. The condo had everything we needed and more. We would definitely stay there again.
Joanna
2015-07-27T00:00:00Z
Fantastic space! Absolutely loved our time here! Easy parking and close to everything. We'll be back!
Brandy
2016-10-10T00:00:00Z
Killer pad in and a great location. It was an easy walk to Ford field for the Lions game. Everthing we needed was there, Jesse checked in a few times to see if we were cool....would do it again..
Jim
2016-11-25T00:00:00Z
Jessie's place is great. My wife and I visited Detroit for the weekend from Chicago and had a great time. Went to several of Jessie's recommendations in Corktown & Midtown. Visited Motown Museum as well. It's a great location, nice furniture / well designed, easy parking, and looks just like pictures! Thanks a lot!
Nick
2016-10-16T00:00:00Z
The apartment was really gorgeous and super spacious/comfortable! Jesse was helpful and responsive. We felt very safe with the police station right next door. There was ample parking and we were able to quickly drive/uber anywhere we needed to go. Highly recommend!
Sarah
2016-08-04T00:00:00Z
I can't recommend Jesse's place enough!!!!! Everything looks exactly as it does in the photos! My girlfriend and I enjoyed using the kitchen to make dinner, lounging on the couches, and listening to the records.
Ryan
2016-01-18T00:00:00Z
We had a great weekend at Jesse's place- everything was perfect!
Andrea
2016-09-13T00:00:00Z
We truly enjoyed staying at the loft. It was as described, clean and very cozy, loved the patio for morning coffee. It is close to everything we wanted and needed to do. Thank you for making it available
Pina
2015-07-28T00:00:00Z
Room Type
Entire home/apt
---
Property Type
Loft
---
Accommodates
4
---
Bedrooms
Detroit, MI, United States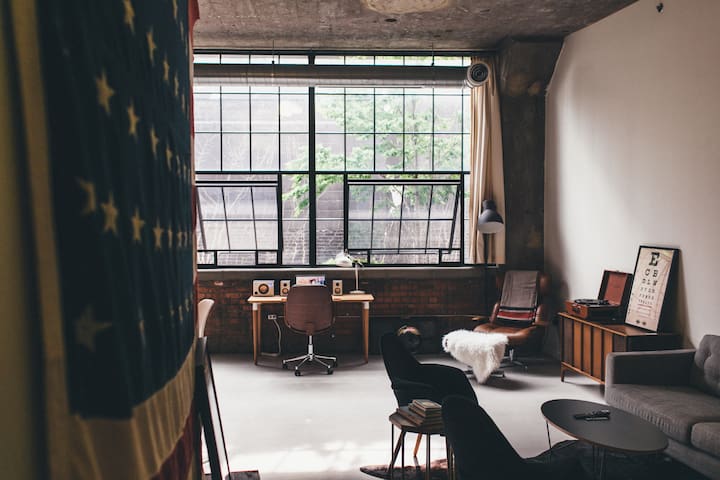 Welcome to Woodbridge Farm! ...a friendly, spacious & quiet neighborhood, close to all of the happenings in/around Detroit. Enjoy the newly renovated 2nd floor of our 1884 Historic house. The apt is cozy w/ yummy architectural/design details.
WOODBRIDGE FARM: We love it here! ...very special and unique. The street is filled with Urban Pioneers and creative types; artists, musicians, gardeners, and makers. You will find that most homes sit on larger pieces of land, giving Woodbridge Farms a unique feel. Many of the houses in the area have undergone impressive renovations, and for the others the renovation is underway. We have completed the interior renovations of this home, and soon we will start renovation on the house next door, which we also own. From the outside they look a little rough, but keep coming back and you will be able to witness the transformation! US & OUR RENOVATION PROJECTS: We are longtime Detroiter's. We are committed to the City, and we are so happy to have been a part of the revitalization of Detroit. We love old homes …and we love to renovate them! Zac is a general contractor, and Renee is an Interior Designer. Together, we have been restoring old homes in Woodbridge for the last 15 years. LOCATION: You are a short walk/drive from Detroit's midtown area, where you will find a variety of restaurants and shopping. Both Corktown and Downtown are within a few miles. It is a very quiet neighborhood, conveniently located to all major freeways. Lots of parking. THE LISTING: Newly renovated, with the best of care. Open plan kitchen, dining, and living. King size bed with fine linens and nice pillows. The bedroom windows are opposite the sun rise. It is a very peaceful space, bright, open and fresh. We are sure you will love the apartment. It is clean and private. We have an office on the first floor that is completely separate from the space. Zac is typically there M-F 9-5 should you need to fax ,copy or have any questions. If you have any special requests we will do our best to accommodate you, if given a bit of notice. We live 2 blocks away from the apartment should anything urgent come up.
This is one of the most amazing Airbnb's I've stayed in. Detroit is my passion so it was great to see those who share my passion in growing Detroit. The house is amazing and true Detroit architecture. It was easy to navigate, easily accessible, clean, roomy yet cozy, and just overall beautiful. I cannot wait to stay here again!
Natalie
2016-08-23T00:00:00Z
Photos do this location no justice. The apartment is designed very well and provides a positive space for creativity.
Mar
2017-03-10T00:00:00Z
It was so great. We had to go back a second time!
Kirstin
2017-03-30T00:00:00Z
We really loved staying here. The apartment was stunning and well situated. The neighborhood was quite and it didn't even feel like we were in the city. The apartment is beautiful! Its spacious and bright. We highly recommend this apartment if you want to see a lot of Detroit from a central location you cannot do better than this place.
Jonathan
2016-12-04T00:00:00Z
Beautiful, clean, light, my dream apartment! Easy to check in, since we didn't have to coordinate meetup times, with their easy lock box for keys. If you're there during the weekday, just be aware that it's a working office below and you can hear everything, as if they're in the same room as you. Kinda rough in the mornings if you're coming from a very different time zone. Other than that, I had a fantastic stay and absolutely recommend this space.
Mickey
2017-03-29T00:00:00Z
I would highly recommend Zac and Renee's place! The location was perfect, since a lot of what we planned was less then a 10 minute drive away. The apartment is beautiful! I felt right at home.
Raquel
2016-12-11T00:00:00Z
We were in town visiting my husbands family in nearby Northville. As this was my first time in Detroit, we decided that being closer to downtown would give us the chance to more readily explore. I came across Zac & Renee's listing and it looked to fit our needs perfectly. I'll echo what many other guests have stated - communication was prompt and full of all the information necessary. They were proactive and generous with their recommendations. The apartment is fantastic, very comfortable and really quiet. We sank into the couch to read, setup our laptops on the picnic table and generally lounged as much as we explored the town. There were some folks working on the house and we never heard a peep. We got the wonderful bonus of having Taco the cat come visit a few times throughout our stay. He's gentle, sweet and was a great companion. Everything is there for a short or long term stay. Woodbridge Farm will definitely be our top go-to whenever we find ourselves in Detroit.
Nina
2016-07-01T00:00:00Z
My teenage son and I stayed at Zac and Renee's place. It is exactly as described and reviewed. It is airy, large and welcoming. As city dwellers we were not at all put off by the neighborhood which is clearly in transition. There are a number of beautiful homes amidst homes which are in various states of disrepair. It was interesting to see what's going on there and get a sense of what's happening in Detroit these days. We had great meals downtown, went to a couple Tigers games, rented bikes along the waterfront, explored 8 Mile, Groose Point and the Ford Museum. A wonderful few days in Detroit that has us wanting more. Thanks Zac and Renee!
Lauri
2016-04-28T00:00:00Z
Room Type
Entire home/apt
---
Property Type
Apartment
---
Accommodates
2
---
Bedrooms
Detroit, MI, United States
Upstairs from Slows BBQ and on the same block as Astro, Sugar House and Gold Cash Gold, this two-bedroom neighborhood inn provides an immersive, welcoming travel experience in the heart Corktown, Detroit's oldest neighborhood.
A small-scale, design-focused Detroit inn, Honor & Folly is reminiscent of the way folks used to travel: a few beds above the village pub or restaurant. You'll be immersed in this historical neighborhood that's also at the forefront of the city's current revitalization. Featured in Martha Stewart Living, Food & Wine, Bon Appetit (made the 40 "Best Food Lovers Hotels in America" Awards), The Globe and Mail, Details Magazine, Conde Nast Traveller UK, and Afar. With a prime Corktown location, you'll be situated smack into the middle of one of the most thriving, charming and walk-able neighborhoods in the city—right across from the city's most beautiful icon of urban decay: the old train station. Admire it up-close or enjoy the beautiful view through the big living room windows—you can even see the Ambassador Bridge! Sharing a block with Slows, Astro, Gold Cash Gold and Sugar House, Honor & Folly also offers plenty of other nearby bars, shops and restaurants within a quick stroll (I provide guests with a list of my favorite recommendations), as well as easy access to downtown. The well-appointed space is decorated with goods made by Detroit and Midwest-based designers and artisans—much of which is also for sale. There are two bedrooms, each with a queen bed and its own bathroom, for a capacity of four people, with additional possible sleeping arrangements for kids. From time to time, Honor & Folly is used as a community space, hosting workshops or events, but you will have the space entirely to yourself during your stay. OTHER AMENITIES: outdoor balcony | local design | fully stocked cooking kitchen | potential to arrange custom catering, private dinner parties, etc.
A wonderful flat and location.
Clynton
2015-03-14T00:00:00Z
What a great space! We had so much fun exploring Detroit and using Meghan's loft as home base. The place was absolutely perfect! Meghan is so kind and helpful with great tips about what to do and see in her city which she is clearly passionate about. Hosts like her and spaces like hers are why we love Air B&B! Thanks so much!! We will be back.
Marie
2015-02-07T00:00:00Z
Thank-you for the use of your lovely flat. We really enjoyed the location. Also thank you for responding to our initial enquiries iso timely. We would reccomend you to others quite happily.
John
2016-02-08T00:00:00Z
Honor and Folly made us want to move back to Detroit! My friend and I are natives and we rediscovered the emerging energy of Corktown and it's environs. What a fabulous location on one of the hottest hippest blocks in town. And the place is beautiful: urban modern reclamation of beautiful 1800s architecture at its finest. We loved our little porch overlooking the freeway and felt a part of the town's resurgence just being here.
Diane
2016-08-09T00:00:00Z
This was our second stay at Honor & Folly, and it was as great as the first. Everything is perfect, really.
Cyrus
2016-05-09T00:00:00Z
What a wonderful loft and location. Really enjoyed my stay. The innkeeper is very attentive and the space is very unique. I ate at Gold Cash Gold and had a great dinner. The area is cool and this is a great place to stay.
Hashem
2016-04-29T00:00:00Z
The space was absolutely beautiful, and Meghan provided LOTS of thoughtful recommendations about what to do, see, where to eat in Detroit, how to travel/park. Truly she thought of everything. You couldn't ask for a better location - right in the center of a block of Corktown where there is lots to see. If you are looking to get a good sense of Corktown, stay here and spend some time in the neighborhood; you will learn a lot, eat/drink really well, and at the end of the day, go back to a super comfortable apt.
Dani
2015-09-16T00:00:00Z
Megan was professional and quick to respond to all my questions. The apartment is spacious, comfortable, well furnished and well appointed. However it has an odd layout with an internal bedroom, it is also between two busy roads (the noise of the air-conditioning fans drowns out most of the sound of the traffic), and the kitchen lacked some items of equipment. More for young professionals perhaps than young families. So, on the whole we felt it was slightly over priced at $215 plus a $50 cleaning fee. I guess there aren't very many people providing similar suitable accommodation in Detroit. The area was interesting, though the local trendy bars and cafe's etc all felt expensive and decadent in comparison to the rest of Detroit.
Tom & Jaqui
2015-08-25T00:00:00Z
Room Type
Entire home/apt
---
Property Type
Apartment
---
Accommodates
4
---
Bedrooms
Detroit, MI, United States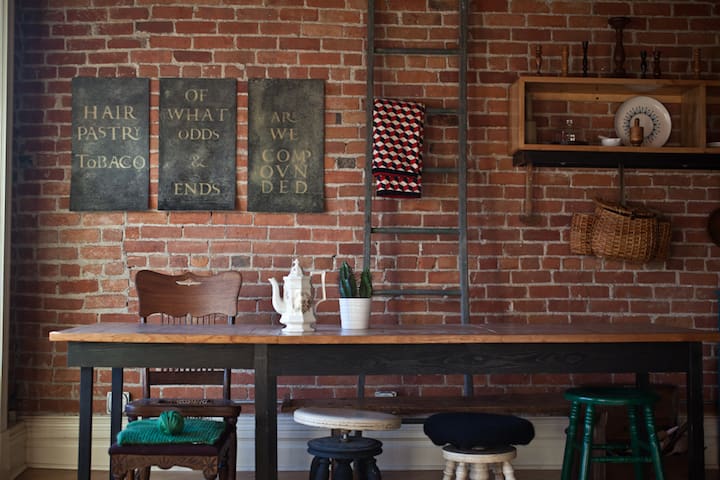 This building is a "soft-landing" for creative professionals seeking a home-base while filming movies, producing albums or making culturally relevant contribution. We love to host large groups from across the globe. Last year we hosted 1000+ guests!
This 12 unit lofts building offers panoramic views of the city! Located in the Albert Kahn designed warehouse district, this building sits in the cradle of America's Industrial Design Revolution. Each unit ranges from (PHONE NUMBER HIDDEN)SF. First floor units are two story lofts and second floor units are three story lofts with private roof terraces. The units are fully furnished and include items such as: 50 inch flatscreen tv's, Keurig coffee maker, tea distiller, pots, pans, plates, towel and WIFI of course!
This two story warehouse was constructed in 1914 by Jam Handy. After a successful career as an Olympian athlete, Handy pioneered visual learning and contributed immensely to the areas of motion picture production, film technology, and telecommunications. Many of the building on this block were part of his film production complex that produced 7,000+ films. This building and neighborhood continues to be a welcoming place for industrial design thinking. Henry Ford invented the Model T two blocks away, Motown's Hitsville 8 blocks away, Shinola headquarters 5 blocks away, and the list goes on…
Great space, awesome instructions, and good amenities. Unfortunately, however, all marred by the wifi going out during our first night. I contacted the host several times through airbnb, text, and even by phone, but never received a response. The wifi was never fixed.
Sam
2016-07-07T00:00:00Z
Kyle, Let me start off by saying how impressed my group was with the lofts. Both lofts H and J were clean, spacious and well lit. During our stay we entertained a large group of family members for an afternoon brunch, yet we never felt cramped. This place, in my opinion, is ideal for events of ALL SIZES. I thoroughly enjoyed my stay. I would recommend your place to all of my friends and colleagues. With warm regards, Julian
Julian
2016-07-12T00:00:00Z
The process of entering the building seemed a bit convoluted, albeit necessarily so, considering the nature of self check in. The loft was even larger than the photos give it credit for. It was a very unique space and I would definitely recommend it to anybody looking for a creative getaway.
Doron
2016-10-03T00:00:00Z
Great place and professional host. We had a few minor items with the physical space but felt like they'd be addressed in advance of any visit. Would definitely come and use again.
Joe
2016-11-20T00:00:00Z
These lofts, y'all. They're somehow even more impressive and spacious and full of great light in person than in the photos. We were traveling in a pack of 12 friends and this space (+ the unit next door) was perfect for us to hang out, eat cake, listen to music, and nap between brunch and bars without bugging each other one bit. Sunsets from the roof, parties at the warehouse next door, snacks and drinks from the gas station across the street - I'm kinda bummed I'm not still there. And the hosts! So helpful and nice and ready to provide whatever we needed. Sleeping arrangements for such a big group could easily have been a nightmare, but they gave us easy options that turned out perfect. Added bonus: the beds are super comfortable and there's pretty good pressure in the showers.
Rebecca
2016-04-19T00:00:00Z
We truly enjoyed our stay in Detroit. The loft was beautiful and spacious and the beds were comfy and cozy. Thank you for the awesome binder of suggestions on good eats and things to do; Heidelberg Project, The Motown Museum and Katoi were definitely highlights for us. The neighbourhood was exactly what we pictured and we really liked the art and culture that came with it.
Marcus
2016-10-02T00:00:00Z
The loft was great, tons of space and very near downtown. Kyle was very quick to respond and sort any concerns I had. Will definitely stay again!
Doran
2016-10-28T00:00:00Z
This was such an amazing space! Everything was a pictures. The loft was beautiful, clean and Kyle was a great host. Highly recommended!
Desiree
2016-09-16T00:00:00Z
Room Type
Entire home/apt
---
Property Type
Loft
---
Accommodates
16
---
Bedrooms
Detroit, MI, United States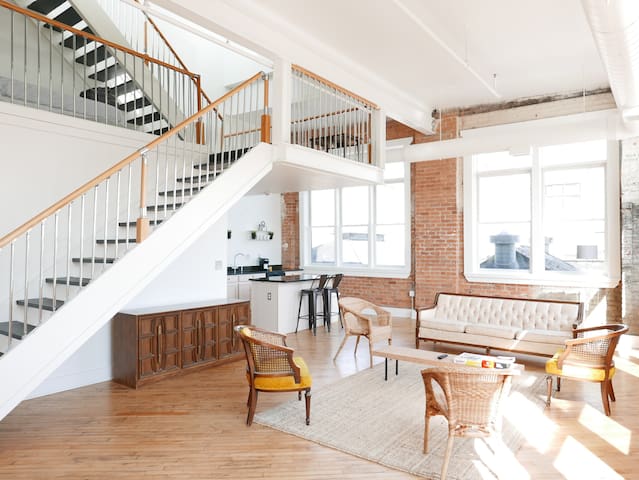 Beautiful, inspiring and peaceful. 5 minutes to town and a world away.
A peaceful retreat awaits you in the trees just outside of West Asheville's "locals" downtown! Walkable to Haywood Rd and all our excellent neighborhood restaurants, art and yoga studios, farmers market and pubs. Or you can borrow a bike from us and zip into town. This is a quiet place to write and rest or just commune with the big oaks around your private deck. The studio apartment is below the main house which has its own entrance and outdoor space. Our family lives above and we are very respectful of your privacy. The studio is SMALL one room space (12x15) but well equipped with a hot plate, under counter fridge, small table and 2 chairs and a queen size bed. You have your own small bathroom with 3x3 shower and toilet. Bathroom sink is in kitchenette. A laundry room is right next door and is also available. If you are looking for an unique space that is peaceful and quiet but part of a vibrant creative community you will enjoy staying with us and we will enjoy hosting you!
West Asheville is the best! Quiet and neighborly, it's not like downtown Asheville with hotels and so many tourists but you can get there or the parkway or the Biltmore very quickly by car. Downtown, five minutes, everywhere else, ten minutes. We have our own downtown in West Asheville and there's many excellent restaurants and music venues within walking or biking distance.
We spent 2 nights in the downstairs studio and the location and layout were perfect for us. We could make a simple breakfast in the kitchen before heading out to explore. We would definitely stay again. It should be noted there is a $75 cleaning fee unless you clean the apt yourself.
Christopher
2014-07-10T00:00:00Z
We had a great stay! Everything was clean and Jakub and Maria were very pleasant hosts. Thanks!
Kaitlyn
2016-04-11T00:00:00Z
The view is beautiful, relaxing and just what I expected. The studio apartment was clean, roomy and my girlfriend and I enjoyed sitting outside in the morning's listening to the birds sing while we drank our coffee. Asheville is an old and cute hippie town. Everyone is friendly and the food is very yummy. My girlfriend and I spent 3 nights and 4 days in Asheville, we went shopping, ate in the local restaurants and cafe's and drove out to Madison county to zip line and water raft. I recommend for any one who wants to get away from the city and wants to be one with nature, to stay at the West A'ville Sanctuary. We want to come back with a group of my friends and family to stay at the main house either in the fall or spring.
Laura
2015-06-17T00:00:00Z
Jakub & Maria's property is absolutely stunning. The apartment is well designed and clean, and offers many wonderful nooks to relax in the middle of the woods. We even had the opportunity to barbecue for dinner one evening, and they were very gracious to lend us some of their personal tools. I would highly recommend this place to anyone who is looking to enjoy a truly zen experience.
Jessie
2016-06-15T00:00:00Z
This place is amazing! Great location, minutes from downtown and other fun areas. The room is very cozy, located right under Jakub and Maria's home which included a private bathroom, kitchen and two balconies. Great view as well! Neighbors were very friendly! Would definitely recommend this place to anyone looking for a private getaway in Asheville :)
Naomi
2017-01-05T00:00:00Z
We rented the small studio apartment for a few days' relaxation in Asheville and it was a perfect choice. It's located on a quiet street and surrounded by woods with a stream running through a wooded backyard. Compact, private and convenient to West Asheville's commercial district. Access to laundry and a little kitchen setup (with everything needed for some light cooking) in the studio were definite bonuses. We'd stay there again in a heartbeat. Thanks!
Eric
2014-07-12T00:00:00Z
Maria and Jakub's sanctuary in the trees is a rare gem. The studio comes with two generous private patios that are surrounded by trees. It is hard to believe that this quiet and beautiful space is literally a 3-minute drive from the popular west asheville stripe of restaurants, cafes, and small local shops. Maria and Jakub were excellent hosts - they're quick to respond to my inquiries prior to our arrival, and left us detailed instructions and recommendations of things to do in town.
Seimi
2016-09-06T00:00:00Z
We spend three nights at Jakub and Maria's place and it was fantastic. Check in and check out was very easy and everything you needed was there. Next time, we will stay with them again! Thank you.
Lilian
2016-05-27T00:00:00Z
Room Type
Entire home/apt
---
Property Type
Apartment
---
Accommodates
2
---
Bedrooms
Asheville, NC, United States
The cabin is a great place to escape from it all! The custom made cedar hot tub is hot and ready all winter. Cold, snowy nights make for excellent tub time!! Inside the cabin is warm and has the comfort of home. Want to ski? Two ski resorts are 30 minutes from us.
Nestled in the hilled forest behind our home, the Vermont Tree Cabin (16' by 12', 190 sq ft) is a great, quiet place to get away from the hustle and bustle of everyday life. While lounging on the deck or hot tub, you will be able to enjoy the calm and serenity of the outdoors, but still have the comfort of home in our authentic cabin lodging. Built in 2004, the cabin was temporally used as a home for our family while we built our house. The cabin has been completely renovated with custom tile shower, rustic hickory floors, knotty pine walls/ceiling, a kitchen area including a sink, small refrigerator, microwave, waffle maker, coffee maker, HD TV, DVD player with small selection of movies, good cell service (ATT & Verizon), 500 gallon custom cedar hot tub, Wireless internet, gas grill, rock fire-pit, picnic table and a 250 sq. ft. deck that is built into and around oak trees. One of our greatest amenities of the cabin is the custom built, white cedar hot tub. Maintained at 100- 104F degrees, the hot tub is ready for your use all year round, 24 hours a day; all you need to do is slide the cover off, relax and enjoy. While relaxing in the tub, be sure to enjoy watching the flames of a fire from the fire pit right off the deck. Our other amenities and services are as follows: Bedding – One full size memory foam bed and one single cot that can be included upon request. Food – Coffee, tea, waffle mix (make your own), Vermont maple syrup and instant hot cereal included Parking – private driveway and parking area for cabin guests. The cabin is completely insulated and heated, so we invite you to enjoy it any time of the year. Maid service - We do not provide turn down service or housekeeping in the cabin during your visit, but will make adjustments upon request. As we are located in the North East Kingdom of Vermont, the area offers many activities and events for your enjoyment. Our area is well known for some of our Ski Mountains and Resorts including Burke Mountain and Jay Peak. There are many other outdoor activities including boating and paddling, fishing, hiking, snowmobiling, etc. But don't forget to check out some of Vermont's well-known covered bridges, sugarhouses, breweries, and farms well. PS, It's great exercise walking from the parking area to the cabin. It's only 150 feet away but a beautiful uphill stroll on a mix of well-lit paths and stairs.
The Vermont Tree Cabin was wonderful! Andrew was great at communicating, responding to our inquiries right away. He met us and showed us around even though we arrived a little before 10:00pm and gave us an additional hour in the morning for checkout. The waffles were delicious and the hot tub a surprisingly comfortable and relaxing experience on a below freezing night. We'd love to come back and see it during a different season--thanks Andrew and Marilou!
Jenny
2015-02-22T00:00:00Z
We stayed for 3 nights in the cabin and it was an amazing time! The cabin is very well equipped, very clean and comfortable. We could relax and were totally in the nature but you didn't feel like that because the cabin has everything you need to make your stay a gorgeous adventure (TV, WiFi, hot tub (!!!), coffee, tea, ingredients for waffles, Fire Place,...). Andrew was very very friendly and helpful. We can totally recommend the cabin for holidays and would be glad to come back one day.
Kristin
2014-09-05T00:00:00Z
Really enjoyed our stay here. Andrew was an incredible host. I'm looking forward to another visit!
Jennifer
2015-11-28T00:00:00Z
Marilou and Andrew are fantastics hosts to a piece of paradise in beautiful Vermont. It is the kind of place you want to keep to yoursefl, close to the best hiking and biking in New England, it offers and oasis of calm and plenitude. We can't wait to be back!
Martine
2012-08-20T00:00:00Z
This was the best experience I could have imagined. Every inch of the place was perfect, thoughtful, detail oriented, quality, and full of magic. I find myself dreaming of it a week later. The hosts couldn't have been better - it was a total fantasy stay. Thank you from my bottom of my heart!
Shannon
2016-02-05T00:00:00Z
Our entire trip to the Vermont Tree Cabin was outstanding. Andrew was very responsive and helpful- especially because we booked it less than a week in advance. The cabin was in excellent condition upon arrival and all the details were thought of! There was extremely fast internet and TV, coffee and tea, as well as all the ingredients for delicious waffles. We more than recommend this location for a vacation!
Jon
2015-06-22T00:00:00Z
Andrew was incredibly helpful and accessible, the cabin was great (as advertised), and we had a great stay. We are already planning our next visit to this beautiful cabin!
Will
2016-02-27T00:00:00Z
Andrew greeted us warmly upon arrival. We were absolutely amazed at the creativity and skill with which Andrew had made the tree house. He provided all the ingredients and encouraged us to make waffles. We will certainly look for a waffle machine for our home! Our days ended watching the moon from the hot tub. Another thing now on our wish list.
Guy & Jeanette
2015-10-24T00:00:00Z
Room Type
Entire home/apt
---
Property Type
Cabin
---
Accommodates
3
---
Bedrooms
Waterford, VT, United States
Nestled in the foothills of the Adirondack Mtns. and just 9 miles from Saratoga Springs, NY, boasting quiet solitude. The winding staircase leads to the sleeping area and covered porch which offers a great spot for reading, writing or reflecting. Please keep in mind that our treehouse is meant as a quiet retreat for 1-2 people.
This private wooded setting offers many unique features such as: private parking, outdoor kitchen and dining with charcoal grill, hot and cold running water and outdoor lighting. The circular stair case leads to a comfortable sleeping area including a double and single bed plus a loft above. Just outside the sleeping quarters is a covered porch for reading, writing or reflecting. Electric heater and fan are included. Please bring your own sheets (1 full size, 2 twin size beds) and pillow cases. Blankets and pillows are provided. Full bathroom is just a few steps away. Please bring your own towels and toiletries. (paper goods and shampoo are provided) The outdoor kitchen is closed from November 15 - April 15th. However the refrigerator and microwave will be available. Water during this time can still be obtained through the indoor bath just a few steps from the tree-house.
Saratoga Springs is an eclectic city that offers something for everyone. At the Saratoga Spa State Park is public swimming, mineral baths, golf and walking trails. Concerts are held at the Saratoga Performing Arts Center. There are many museums in the area, including the Children's Museum at Saratoga, Museum of Horse Racing, Museum of Cars. The Saratoga Race Track is also in town with both a flat track and harness track horse racing. Yaddo gardens is an artist retreat where the beautiful grounds are open to the public. Congress Park is a small and beautiful park and home to the indoor carousal. The famous Cafe Lena is in the heart of the city, famous for its well known artists and poets.
I'm usually skeptical of overwhelmingly positive reviews, thinking that they were submitted by friends or family. This deserves every compliment and then some. While my husband was impressed with the construction details, I appreciated the ambiance and cleanliness. Tom truly thought of everything and went out of his way to make sure we were comfortable. Suffice it to say that for the price of a motel room, this tree house experience provided so much more than just lodging.
cathy
2015-10-03T00:00:00Z
Tom's place was so great. It was a beautiful treehouse in some really gorgeous woods. If you like star-gazing, this place is a must! The forest had incredible energy and the outdoor kitchen and patio were superb. Would definitely stay here again!
Mark
2016-03-30T00:00:00Z
Tom was an excellent host, and his treehouse an even more excellent experience. The entire property was very well maintained and many thoughtful details are apparent in both the construction of and upkeep of the treehouse, porch, and outdoor kitchen. Tom was very informative and thorough upon our arrival and then gave us complete privacy for the remainder of our stay yet replied promptly to any messages we sent. He even provided firewood for us one night to have a campfire in the nearby fire pit. We highly recommend Tom and his treehouse and will definitely be back!
Kristi
2014-10-17T00:00:00Z
Tom was very nice and responsive. We arrived late at night and still accommodated us. The treehouse was very well built. Would definitely come back again!
Helen
2014-11-17T00:00:00Z
I surprised my boyfriend with a weekend stay in Tom's beautifully made treehouse. Tom was kind enough to accommodate our late check-in and made us feel very welcome. It was truly a relaxing experience being nestled in the woods. We recommend this to anyone looking for a once-in-a-lifetime experience. Thanks again for your hospitality, Tom! We can't wait to visit again!
Joyce
2016-04-18T00:00:00Z
Tom was great and our stay was fun! Highly reccomend bringing supplies to make a fire and smores! :)
Sabrina
2016-07-21T00:00:00Z
We had such an amazing time in the tree house! it was warm even though it was chilly outside at night and Thomas helped us find some beautiful hiking in the area. We definitely want to go back soon!
Jessie
2016-04-25T00:00:00Z
This treehouse is a work of art! Sitting on the covered porch among the trees, reading a book, sipping coffee - it's relaxation at its finest. The attention to detail in the craftsmanship of the treehouse, the kitchen, the walkway, etc is what sets this apart.
Shari
2016-06-09T00:00:00Z
Room Type
Entire home/apt
---
Property Type
Treehouse
---
Accommodates
4
---
Bedrooms
Middle Grove, NY, United States
This is a studio apartment across the street from Detroit's Selden Standard where Head Chef Andy has recently been nominated, for the third year, a James Beard semi-finalist. We are walking distance from the DIA, Wayne State campus, and the Charles H. Wright Museum of African American History.
This 1880s Gothic-Victorian Mansion was renovated in 2015. Everything is new, clean and modern. There is a queen sized bed, ample closet space, a full kitchen and private bathroom. The space gets great light.
We have a great location in Midtown Detroit, many great bars, restaurants, and shops are within walking distance. Popular nearby attractions include the DIA, MOCAD, Chartreuse, Jolly Pumpkin, Hop Cat, Motor City Brewing Works, Great Lakes Coffee and Whole Foods.
It was a whole new Detroit experience and I really liked it. The appartement was clean, warm and very nice designed. Entering was also very easy and the Neighborhood is very nice. There are several good restaurants around and even some shopping opportunities. I will definitely come again.
Lennard
2016-01-12T00:00:00Z
Sarah's apartment is exactly as advertised, spacious, clean, and everything you need. The neighborhood was my favorite part with so many cool restaurants and bars in short walking distance. Sarah was easy to communicate with and on the ball with any questions we had. 5 star stay. Would definitely stay again.
adam
2015-11-28T00:00:00Z
We had a great time at this beautiful studio apartment. Very clean and bright space and Sarah was accommodating to all of the questions we had. I would highly recommend staying here and would definitely stay again on my next visit to Detroit!
Karah
2015-06-29T00:00:00Z
Beautiful small and lovely apartment. Well situated, tastefully decorated, extremely comfy. Exactly as shown on the pictures. Sarah was quick to answer and very amiable. Keyless entry was perfect. Parking in front, close to restaurants and bars. Only wish we could have stayed longer!
Maripierre
2015-07-23T00:00:00Z
The apartment was immaculate. It is exactly as described and shown on the site. The house manual instructions are flawless. It was a complete pleasure to stay.
Harsha
2015-07-09T00:00:00Z
Sarah was extremely quick and communicative during the whole booking process. The space was well appointed and very clean and organized. It's in a great part of Midtown near plenty of restaurants, bars & shops. I'd recommend this place to anyone traveling to Detroit!
Jack
2015-07-25T00:00:00Z
A cool space with all new features. Details such as a nice smelling candle and all-natural ingredients shampoo and conditioner make it even better. Full kitchen and washer and dryer are great to have.
Clynton
2015-10-07T00:00:00Z
The studio apartment is absolutely beautiful. The location is ideal for anyone wanting to check out Midtown, with bars and restaurants just a short 2 block walk away. Would recommend Sarah's place to anyone!
Drew & Brittany
2015-09-12T00:00:00Z
Room Type
Entire home/apt
---
Property Type
Apartment
---
Accommodates
2
---
Bedrooms
Detroit, MI, United States
Enjoy the luxurious condo living and the stunning city & lake view in the heart of Toronto with FREE PARKING. Right next to CN Tower, Rogers Center, TIFF, and ACC. 55" TV with cable and Netflix, Gym, hot yoga, squash, hot tub, 25M lap pool, steam rooms, spa, BBQ and outdoor lounge.
A luxurious, new one-bedroom, in the heart of the city! All the stores you will need for food and drink are within a minutes walk. Banks, restaurants, and bars are within walking distance as well. There is a street car line within blocks to take you as far as you need to go. - Large, open-concept kitchen with high end appliances and tons of counter space - Living room with comfy seating that turns into a double size pull out bed - Free WiFi - Bedroom with a comfortable queen size bed - Bathroom fully equipped with everything you need - In-suite one unit washer and dryer
A lively, entertaining area where there's always something going on. - Located around some of the city's best restaurants, bars and attractions - Steps to a ton of amenities (groceries, drugstore, coffee shops, convenience store, movie theatres, parks, etc)
The condo was great! It was in mint conditions upon arrival, the view was amazing and it was only a 5min uber to king and spadina which was very convenient for the night life. I had a great stay! :)
Brunela
2017-01-21T00:00:00Z
The condo was beautiful, great location, easy access to the entertainment district. Alper was very accommodating as well. I would definitely stay here again in the future.
Alyssa
2016-10-11T00:00:00Z
This place is fantastic - Stay here over any hotel in the city, especially for the price. Communication with Alper was incredible. I've stayed in AirBNB's all over the world and this was one of the most well kept places I've been to. Everything you need and it's right in the core. Book it!
Patrick
2017-01-23T00:00:00Z
Had a great stay at this place. It was closeby to the ACC, CN tower and Ripley's. Condo was very clean and comfortable. Our host was very responsive, friendly and quite helpful.
Krystle
2016-11-25T00:00:00Z
We stayed at this gorgeous apartment in October 2016 ! Perfect location within walking distance to the centre and has an excellent upmarket supermarket attached to the complex just around the corner of the block. My boyfriend made use of the gym facilities which he said were really good and we made use of the parking which was very handy. Alper is a great host he could not have been more helpful if he'd of tried ! Brilliant place would recommend to all we had a very enjoyable first stay in Toronto !
Stephanie
2016-11-04T00:00:00Z
This is an excellent choice for your stay in Toronto whether it is for business or pleasure. Alper is an outstanding host. Honestly, we would have loved to be able to sit down and have dinner with him! He couldn't have been more responsive to our every need. The availability of a parking space is extremely helpful. The condo is so beautifully decorated. Everything has clearly been well thought out. Do remember that you are in the city, and that you will have some noise that rises from the street. But, it wasn't enough to cause a problem. It has outstanding access to public transit; and the local market, Sobey's is a very short walk around the corner. We went almost every day. We had breakfast one morning on the balcony with beautiful views of the lake. The condo has a full kitchen with refrigerator and freezer, which is very helpful, as well. We definitely recommend Alper's place!
Joanne
2016-10-04T00:00:00Z
Alper was very helpful and accommodating. The location was perfect, very clean and exactly like the picture. I would definitely recommend!
Jade
2016-08-22T00:00:00Z
Realy nice place , just near the CN tower, the place was clean
Quentin
2016-10-26T00:00:00Z
Room Type
Entire home/apt
---
Property Type
Condominium
---
Accommodates
4
---
Bedrooms
Toronto, ON, Canada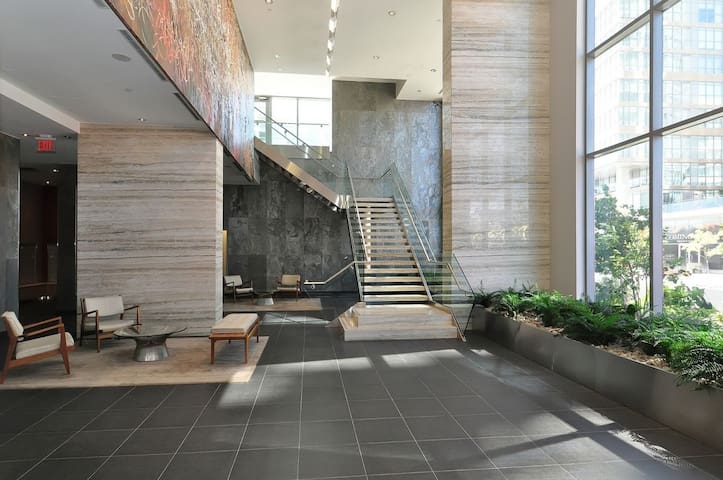 Enjoy a brand new basement apartment in DC with free parking! Amenities include a spacious bedroom with queen bed, living area with TV and Netflix, modern marble bathroom, washer/dryer, and kitchenette (no stove). A guest parking permit for on-street parking is included upon request!
Hardwood floors, exposed brick walls, marble bath, full washer-dryer, and privately controlled AC. A huge comfy couch is in the living area. Kitchenette does not include a stove. The bathroom is small but functional. A double air mattress with linens is provided for a 3rd/4th guest. A baby crib with sheets is available, too!
Bloomingdale is just north of the US Capitol building. You can see the Capitol dome from the driveway.
Kevin was a fantastic host! This is a beautiful, private and roomy space that is perfect for couples or longer stays. The keyless entry makes it a breeze to check in and out for those with busy schedules. A super comfy bed and climate control at your fingertips makes it hard not to rest well for a full day of sightseeing. The space has been gorgeously renovated and stocked with nice linens and refreshments that made getting up and winding down easy. It was a treat to find lively, eclectic bars and restaurants within a few blocks, and Bloomingdale couldn't be a more charming DC neighborhood within walking distance from downtown, and the Mall.
Erin
2016-04-25T00:00:00Z
Kevin made us feel very welcome. He was easy to reach and at home when we arrived. His brand new English basement was really "brand new" and spotlessly clean. There were drinks waiting for us (water, soda...) and even some yogurt. The bedroom was very comfortable and the whole place is neatly furnished. The neighbourhood is very nice, there are a couple of restaurants/bars only 5-10 min away. You can take the bus or the metro (15 min walk) downtown. This place is better than any hotel and we would give more than 5 stars if we could!
Thomas
2016-07-30T00:00:00Z
Kevin's place was great for a week in Washington D.C. The decor made it feel welcoming and the complementary snacks and beverages were a nice touch! The apartment is about a 15-20 minute walk to either the yellow or red Metro stops, so it is easy to get anywhere in town. Kevin also provided some suggestions for restaurants within walking distance to the place. The Thai place (Aroi) that others have mentioned was great. The bed was very comfortable and I had no problem sleeping. Overall, I would love to stay here again on future trips to D.C.!
Joseph
2016-06-11T00:00:00Z
The apartment was fantastic! We spent one night there, and it was a welcoming, cozy place to lay our heads. When we first got there, I noticed the fridge had a couple Cokes and beers in it which was an awesome surprise after 8 hours of driving. We spent the afternoon exploring the sights at the National Mall. This location is perfect for doing that! We chose to walk the 2 miles to the National Mall, and it was a lovely walk although it did take us through a bit of a sketchy part of town. We didn't have any trouble, but I wouldn't recommend it at night. The good news is that an Uber cost us less than $7. Kevin left a little packet of nearby restaurants, and we tried Aroi for dinner, a Thai restaurant just a 5-10 minute walk down the street. I highly recommend it--delicious food and lots of it. At the end of the night, we found the bed to be SUPER comfy. Overall, this was a wonderful stay.
Kelley
2016-05-29T00:00:00Z
This place was great! Everything looked the same as depicted in the photos. The space was very comfortable. Everything was very clean and organized. It's in a great location! I will definitely be back if I need a place to stay in the future!
Meghan
2016-12-04T00:00:00Z
My staying with Kevin was awesome. The city is really nice and the basement is too. The bed is comfortable, the restroom clean and the place is perfect for a business or pleasure trip. It's really easy to get to the downtown.
Esteban
2016-07-02T00:00:00Z
The basement unit was well appointed with nice extras like coffee in the room, water, etc. bed was very comfortable. The unit is very quite as well so getting a good nights sleep is not a problem. Would enjoy staying here again.
Cody
2016-06-03T00:00:00Z
I could not more highly recommend this location. My wife and I spent an evening here, and every one of our expectations were exceeded. The apartment is spacious, clean, and well decorated. As a host, Kevin was attentive and professional. On my next trip to DC, I will make every effort to secure another reservation in this apartment.
Brett
2016-06-22T00:00:00Z
Room Type
Entire home/apt
---
Property Type
Townhouse
---
Accommodates
3
---
Bedrooms
Washington, DC, United States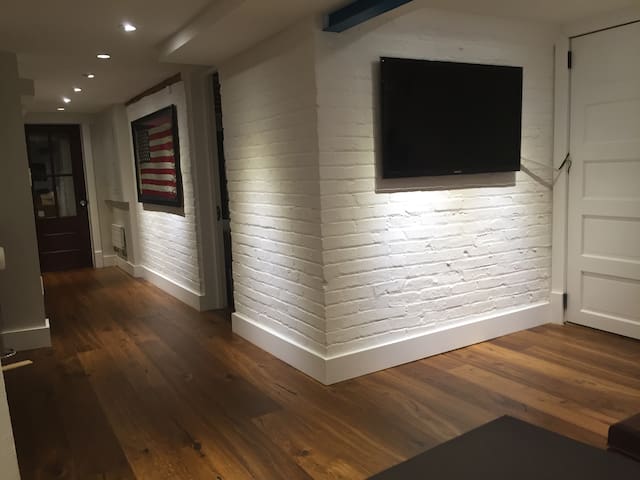 If you like to cook, hike, swim, visit farmers markets and be surrounded by animals, this is the place for you. Woodridge is a rural community located in the southern Catskill Mountains. It is the place to get away from it all.
The dome is an incredible "Glamping" space and guests are required to BYOBed. Bring air mattresses, camping air pads, sleeping bags, pillows and towels. There is a wooden floor in the dome and screen windows for airflow and to keep out bugs. For an extra fee the Dome can be used for workshop space, shoots, rehearsal space, or sleep over parties :) For guests who stay in the dome, there are outdoor double hot showers, a sink, and a claw foot bathtub. Also, a complete outdoor kitchen and grill, fridge, sink, and big fire pit are available for your use. We are located on a farm in beautiful Sullivan County, close to Bethel Woods, the Catskill Park, Neversink Unique Area and Sam's Point. There are many animals on the farm. Merino sheep, angora goats, angora rabbits, oberhasli dairy goats, chickens (running free so please leash dogs!), one cat and a dog named Lali. We have a greenhouse and vegetable garden, a pond for doggies to go swimming, and a lake across the street. There is a full-service recording studio on the premises as well as a fiber arts workshop space. The fiber from our Angora bunnies is shorn and hand-spun into winter accessories. In June, a vintage clothing store is opening on the property. Come and browse through Ambika Boutique's collection of vintage clothing, shoes, bags, and hats. Check out is no later than noon on Sunday as there is a weekly yoga class at 12:30. It is donation based and anyone may join. Bring a mat!
Sullivan County was the site of hundreds of Borscht Belt hotels and resorts, which had their heyday from the 1920s through the 1970s. When air travel became more attainable, the area's tourist industry declined and left many camps and resorts vacant. Recently, many artists and small farmers have moved into the area and are working to bring it back culturally and economically. The county is extremely diverse with a mixed population that is similar to that of the South Williamsburg area of Brooklyn. The natural offerings given by this area are prized by residents. There are hikes that will lead you to rivers, waterfalls and look-out points. Lakes are everywhere and offer great fresh water swimming. The Basha Kill wetland is the largest wetland (over 3,000 acres) in southeastern New York and is home to a diverse population of wildlife and plants. Many beautiful and sustainable farms are close-by and welcome visitors. Information can be found in the guidebook.
The geo Dome was very cool! and Joshua was great.. we had everything we needed. the outdoor kitchen was super awesome!
Rebecca
2016-10-31T00:00:00Z
Grounds beautiful. Perfect place for a peaceful getaway.
Jenday
2016-10-13T00:00:00Z
Joshua was wonderful. He really made us feel like home while still being on a retreat. his property is beautiful, and so was the energy. Thank you so much, Josh! hope to come back soon.
christina
2015-06-09T00:00:00Z
As usual, we had the best time at Josh and Ambika's farm. The Geodesic Dome was AMAZING. Josh and Ambika could not have been more accommodating and welcoming. We had quite a large group (13), and Ambika was patient and helped me with the planning process. We also were able to bring our dogs, who LOVED being on the farm. We are turning this into a yearly trip and can't wait to go back! Thanks J&A!
Bette Ann
2014-08-04T00:00:00Z
The dome is amazing! My friend and I booked a last minute weekend trip, looking to escape the craziness of Manhattan, and it delivered. It's the perfect glamping experience, letting you fall asleep to stars and wake with the sun, while sleeping on hard ground! Joshua is a fantastic host - super responsive, kind and accommodating. I definitely recommend the dome and his other properties to anyone looking for a getaway.
carolyn
2016-06-13T00:00:00Z
My stay at the Geo Dome was amazing! Josh was very friendly and accommodating, he welcomed us when we arrived and gave us a tour of the farm. It is idyllic and beautiful, a great retreat from the city. I couldn't recommend staying here more!
Jen
2015-06-18T00:00:00Z
My friends and I had a wonderful time at the Geo Dome! We are all architects and Buckminster Fuller fans, so the dome itself was the real draw for us. It certainly delivered, and the site could not be more idyllic! Josh was a great, attentive host. He made sure we had a tour of the farm and all of its charming features upon arrival (even though we arrived later than scheduled.) And he made sure to check in occasionally to make sure all was well. We could not have asked for anything more.
Ashley
2015-05-23T00:00:00Z
Josh is a wonderful host and his property is magical. He allows you to feel welcome to enjoy the space and gives you the knowledge you need to respect it. The site is close by to a nice walking path and lovely watering hole / small waterfall. Certainly a domestic form of camping with the dome (ie this isn't really camping because everything except for a bed is set up for you). Would definitely stay here again, perfect for low maintenance, large groups.
Jeff
2016-08-08T00:00:00Z
Room Type
Entire home/apt
---
Property Type
Yurt
---
Accommodates
16
---
Bedrooms
Woodridge, NY, United States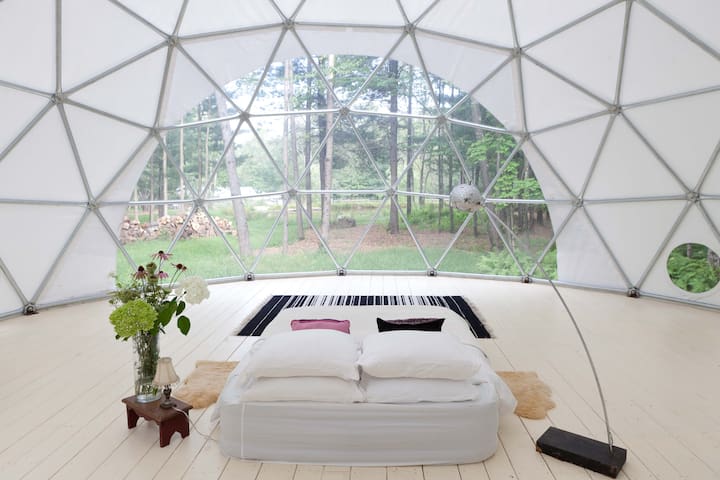 Enter dates to see full pricing. Additional fees apply. Taxes may be added.