Our private apartment is a lovely retreat on a country road with mountain views. Come rest and rejuvenate in our quiet getaway or enjoy a scenic walk. We offer a full efficiency with wifi, Dish, and flatscreen TV for your enjoyment. Full kitchen, washer, dryer, and private patio for your use. We are located just three minutes from Sweet Briar College, 20 minutes from Liberty University, and 20 minutes from the Blue Ridge Parkway. Close to restaurants and downtown Amherst. Various orchards and historical landmarks dot the landscape. Come and enjoy!
We loved staying here! It was so cozy and inviting. Nedra was very welcoming and helpful.
Ciara
2016-11-27T00:00:00Z
We thoroughly enjoyed our stay. The lodgings were spacious, clean, and inviting and gave our out-of-state college student the opportunity to feel "home" while being so far from home. The b&b was the perfect retreat from the bustle of college life. Nedra was gracious and so accommodating with our schedule. Thank you so very much. I feel like you've given us a gift.
Lisa
2016-10-31T00:00:00Z
I had an excellent stay at Bubba and Nedra's charming country home. I was welcomed upon arrival and made to feel right at home. The basement space was exactly as advertised with a comfortable bed in the bedroom, direct tv in the den, kitchenette, and full bathroom with a walkin shower. Beautiful views of the Blue Ridge mountains, kind hosts, and clean and comfortable amenities. I had a wonderful stay and would recommend it to anyone looking to stay in the area
Jeff
2016-10-23T00:00:00Z
Nedra's place is lovely. We enjoyed our stay very much. Close to I81, very scenic drive through the mountains.
Venus
2016-12-23T00:00:00Z
Perfect for a weekend get-a-way, beautiful area.
Lindsay
2017-02-12T00:00:00Z
Nedra was a perfect host. We came to Amherst to visit our friend and this home was absolutely lovely. Everything was beyond our expectations and we will definitely stay here for our future visits!
Devin
2017-01-23T00:00:00Z
Very tranquil setting!
Stacey
2017-03-24T00:00:00Z
Lovely and cozy retreat! Perfect location for anyone visiting Sweet Briar. Nedra's apartment has everything you could wish for and more for a relaxing stay.
Morgan
2016-12-04T00:00:00Z
Room Type
Entire home/apt
---
Property Type
Flat
---
Accommodates
3
---
Bedrooms
Amherst, VA, United States
18th century restored cabin with beautiful views of the Blue Ridge Mountains. Watch the sun set in a quiet setting, surrounded by 150 acres.
The cabin was perfectly located--beautiful surroundings, secluded but close to hiking and not too far from Lexington and Amherst. The cabin itself was wonderful--rustic, but very well outfitted very well outfitted. I would highly recommend staying here.
Will
2017-03-22T00:00:00Z
We enjoyed the remote location, very quiet & secluded, with hiking on site and Nat'l Forest trails within minutes. The cabin is very nicely done with modern conveniences, comforts and a feeling like home. Janis made us feel very welcome and was promptly responsive. This was one of our all time favorite stays.
David Jill
2016-08-07T00:00:00Z
This is a very nice little cabin in the woods and great for anyone who likes the rustic feel of an authentic era building with modern amenities. Everything was reasonably perfect and I recommend this place highly(URL HIDDEN)
Karl
2016-11-20T00:00:00Z
The cabin was a fantastic place to relax and I'd recommend it to anyone. It has been beautifully preserved and it's a great joy to behold. Stay there if you have the opportunity to.
Landon
2016-09-07T00:00:00Z
This place is ahhhhmazzing! What a beautiful, quaint getaway! We will be back, for sure!
Shannon
2016-09-19T00:00:00Z
Janis and Sam do an amazing job. The cabin is beautiful and charming and includes everything one would need. My husband and I and our young son spent a week here and couldn't have asked for a better experience. The view of the mountains is amazing. I am always looking for remote locations but rarely are the places we rent very quiet. We live in the city, so this is just what we needed. No phone or Internet reception was a bit of a surprise, but probably good for us!
Lynn
2016-09-04T00:00:00Z
Slightly tricky to get to (but Janis provided excellent directions) and no cellular or internet (so write directions down before you get up in the area)! But what a reward! Beautifully set up a hill, looking down and across to lovely mountains. Working wood fireplace, cozy kitchen. Perfect for a weekend getaway (or longer)! Janice was a very helpful host, available quickly by phone or email, though we didn't meet her. I would highly recommend this place for a couple or two friends if you want quiet and solitude in a very picturesque house!
Maya
2016-12-30T00:00:00Z
This is the most idyllic mountain retreat! The cabin is gorgeous - it manages to be rustic and authentic with every modern convenience, including a lovely and well-equipped kitchen. The view is astounding and over the years this has become the place we consistently feel the most at peace. There are great spots nearby for hiking and biking and cute towns to explore within a 30 minute drive. It is hard for them to compete with the beauty of the cabin, (URL HIDDEN) honestly hard to leave the front porch! It is the perfect place to spend the afternoon with a blanket and a book or to stargaze at night. Janis is a fantastic host and we cannot say enough great things about her and this amazing place.
Heather
2016-12-05T00:00:00Z
Room Type
Entire home/apt
---
Property Type
Cottage
---
Accommodates
4
---
Bedrooms
Amherst, VA, United States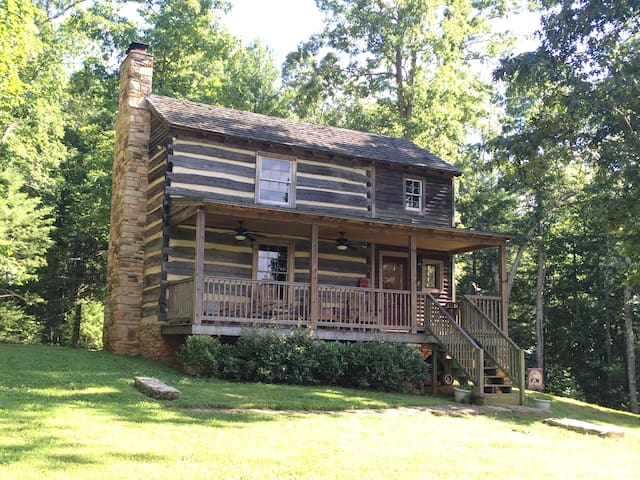 Located on Fairview Estate, and listed on the National Historic Registry, this fully renovated Cottage has lots of charm, and fronts a spectacular panoramic mountain range! Pet friendly, full-service kitchen, 2 porches and a romantic swing. Wild peacocks roam the grounds, and includes use of a wonderful outdoor hot tub.
Rural panoramic space, and the property is surrounded by over 300 pastoral acres, and a bold, commanding mountain view.
We really enjoyed our stay at this cozy cottage. Jennifer was a perfect hostess and ensured we had everything we needed.
Dan
2016-04-06T00:00:00Z
The cottage was a perfect getaway for our ladies (+a baby) weekend! Spacious rooms, great porches, and a stunning location. We explored the area and found great hiking and a great brewery just down the road. We didn't meet Jennifer, but she was very responsive and easy to get in touch with. We felt very welcomed and enjoyed the weekend immensely. Thanks!
Abby
2014-07-14T00:00:00Z
Excellent place to stay with kids. We were 4 adults and 2 toddlers and a teenager. It was cold and rainy so we spent a lot of time inside, but no one felt cramped or stuffy. Great views from the porch and kitchen. We were wishing we had been there in warm weather to take advantage of the screened in porch dining area. With toddlers, you can't beat having peacocks and a friendly horse on-site. Kitchen was really well-equipped for stay-in meals. Place was clean, comfortable, felt like a personalized nice cabin and not overrun with cluttery decorations and breakables like some "get-away" places. and, you can't beat a hot tub by a horse stable. great internet service and very tasty tap water. Only down side was that we would love to have stayed longer!
alyse
2015-01-04T00:00:00Z
Fairview cottage is cosy, quaint and amazing! We really enjoyed our visit and would definitely book to go again. The house is historic and indeed charming. It was comfortable and inviting. As described the view was spectacular. The grounds are beautiful, peaceful and refreshing. We even got to meet one of the peacocks :) The cottage is down a long driveway away from the road which allows you to really feel like the mountains are your own. There is a pretty bed and breakfast opposite the cottage, but other than that there is just fields and mountains around you - gorgeous! The temperatures were really low the weekend we were there but the cottage was warmed up by heating and a fireplace before we arrived, making it extra cosy. There were also a large number of blankets and the bedding was so warm and soft. We even managed a snowy trip to the hot tub which was lots of fun. The kitchen was really well stocked with utensils and gadgets (even a waffle maker!). Would def. recommend a visit here! Great place!
Rebecca
2016-02-15T00:00:00Z
Quite simply, I loved it here. Jennifer's place was so peaceful, so relaxing, so comfortable that I felt like I was in a fairy tale. I had originally booked two nights and loved it so much that I arranged to stay a third. I could stay forever in fact. And, Jennifer was a fabulous host...very responsive, very accommodating. I can't wait to return.
Alexandra
2016-07-21T00:00:00Z
Jennifer did an amazing job at making our weekend so memorable and fantastic! There was work being done on the cottage so she upgraded us to the main house which turned out to be a HUGE blessing. She was very friendly and made sure we knew where to go hiking or out to a local winery. She had a nice bottle of wine waiting for us when we arrived. The grounds are absolutely amazing as well. I enjoyed all the wildlife including the horse, peacocks, humming birds, gofers, and much more! I highly recommend this place!
Christine
2015-06-14T00:00:00Z
The house was very cosy almost like the little house on the prairie. The view was stunning. Jennifer helped with tips about what to see.
Natasha
2014-11-27T00:00:00Z
We enjoyed a lovely 3 night getaway at this cottage with our small dog and 3 year old daughter. Both enjoyed the sunshine, yard, and neighboring cows. We loved the scenery on drives to wineries. The views from the front porch are picture perfect and Jennifer was very communicative when we had a question. All in all it was a great escape!
Karri
2015-03-24T00:00:00Z
Room Type
Entire home/apt
---
Property Type
Cottage
---
Accommodates
6
---
Bedrooms
Amherst, VA, United States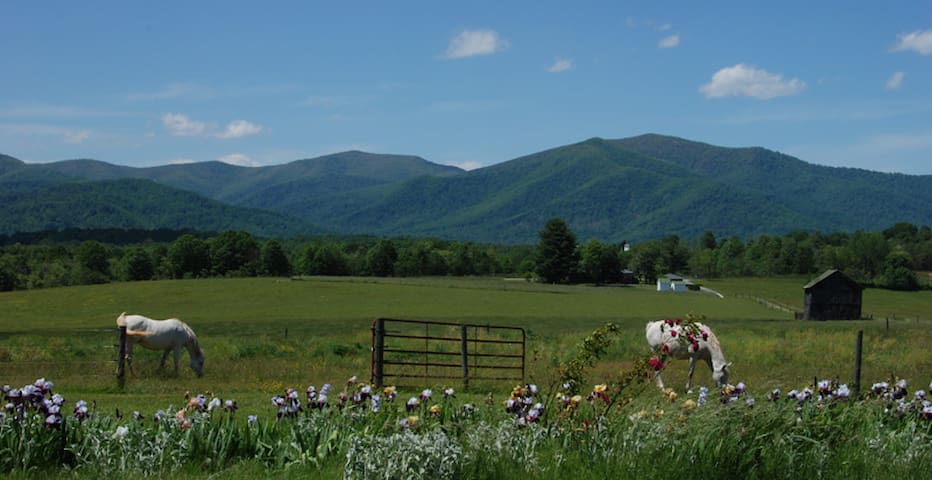 Quiet home with private bedroom and bathroom located between Lynchburg and Charlottesville. Comfortable shared areas include kitchen, living room, deck, porch, and laundry. Convenient parking in driveway. Great location for visiting students or taking intensive classes. Rural location, beautiful setting and only 3 miles to main VA highway (29).
Our home is located near the Blue Ridge Parkway and the Beautiful Blue Ridge Mountains. While we are a bit rural, the location is very convenient for main routes to Harrisonburg, Charlottesville, Lynchburg and more. We are no more than 30 minutes from Liberty University, Randolph College, Lynchburg College, VES and a little further to VMI and UVA. There are MANY day trip options for history and beauty in this area. The room has windows that look out into the woods and a bathroom right next door that is private to you. The bed is a comfortable queen sized bed.
Gorgeous country setting but still convenient to highways. You will pass horses and rolling meadows on our road.
Room Type
Private room
---
Property Type
House
---
Accommodates
2
---
Bedrooms
Amherst, VA, United States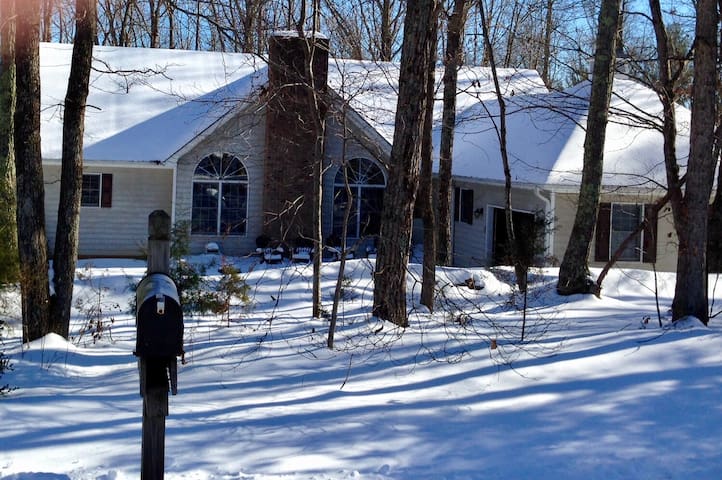 Do you need a place to reconnect with nature? We have just such a place! A lovely, two-bedroom Log Cabin with all the comforts of home that we call "Hummingbird Haven". Nestled in the woods at the edge of the George Washington National Forest in Amherst County, Virginia. Don't be surprised to wake up to deer foraging on the grasses outside the bedroom window or loads of hummingbirds zooming around the deck. There are also opossum, raccoon, fox, rabbit, wild turkey, blue birds, gold finch, grosbeaks, Red Tail Hawk, Bald & Golden Eagle and too many other birds to mention here. The North Fork of the Buffalo River runs through the lower end of the property as well. This is a Protected "Natural" Trout Stream with Brook & Rainbow Trout." Hummingbird Haven is a 2 Bedroom, Bath & 1/2, Living Room, Kitchen/Dining Room Combo with a surrounding Sunroom and 14' X 16' Deck. Below you will find Recreational/Creative places and activities near the cabin. Although we tried to be thorough, this is by no means complete. Nearby Activities Buffalo River (one of the last natural trout streams in Virginia) walking distance George Washington National Forest 3 miles Appalachian Trail 4 miles Mount Pleasant National Scenic Area 7 miles Staton's Falls 6 miles Blue Ridge Parkway 10 miles Panther Falls 12 miles Crump's Little Orchard 13 miles Morris Orchard 14 miles Town of Amherst 14 miles Safari Park 27 Miles Rebec Winery 19 miles Saunders Brothers Orchard 19 miles Lexington 21 miles Dickie Brothers Orchard 21 miles City of Lynchburg 27 miles Crabtree Falls 25 miles Montebello & Virginia Fish Hatchery 28 miles Natural Bridge 30 miles Wintergreen 32 miles Farmers Market - Nellysford - 8am - 12 Noon Saturday's from May - October - 32 Miles Peaks of Otter 53 miles Fly Fishing In the Area From 10—45 minutes There are Also Three Lakes within 15 minute drive, Mill Creek, Thrasher and Stonehouse Lakes (Amherst County), that provide great lake fishing for Bass, Bluegill, Crappie, etc. Let me know if you need additional information.
The cabin is situated in a 100+/- acre subdivision on the east side of Fletcher Mountain. Our property is about 20 acres, mostly wooded at the edge of the George Washington National Forest.
1.) Joe is an amazing host, extremely helpful, very pleasant to talk to, and a joy to be around. He would preemptively do anything and everything that could have made our trip more enjoyable in a prescient manner. 2.) This is one *really* comfy cabin in a very scenic part of Virginia. Would highly recommend to anybody seeing as both the location and the cabin itself have much to offer for any type guest in any season.
Felix
2016-02-14T00:00:00Z
Joe's place was absolutely great! We had an easy time finding it and arrived to a warm welcome from Joe. The cabin has everything you need for a relaxing weekend in the mountains. The kitchen is well stocked to cook, beds are comfy, and views are breathtaking. The blue ridge parkway is close by as well as some cool hiking trails. We hope to be back next year!
Kyle
2015-10-31T00:00:00Z
258 B We had delightful week long visit at "Hummingbird Haven" this time! Somehow we managed to arrive during the Joaquin Hurricane! A special "thanks" to Joe & his friend for cutting a fallen tree on the road to the cabin as we waited. We had lots of rain and two days of sunshine! We did make it to Buena Vista and Lexington one day and spent another sunny day relaxing in the beautiful sunroom! Joe & Margo are outstanding hosts and cater to your every need! The cabin is adorable, inviting and filled with every amenity you can possibly think of for a comfortable stay! The cabin is immaculate and all pics are accurate as seen on Airbnb! The queen bed in the master bedroom is beyond comfortable!! We truly enjoyed our little chats with Joe & Margo. They make you feel like "old friends", yet also respect your privacy. If you're looking for a "back to nature" experience, look no farther... Hummingbird Haven is the perfect getaway!
Margo
2015-10-06T00:00:00Z
Joe welcomed us and showed us how everything works in the cabin. Everything worked as described, making for a comfortable stay.
Paulette
2015-11-29T00:00:00Z
Joe was very welcoming. He lives across the street and greeted us upon arrival and gave us a tour.
Kristen
2016-03-13T00:00:00Z
Great cabin in a beautiful location! The host could not have been nicer! We found everything we needed and had a wonderful time. I hope we get to come back! Wood stove in the sunroom was awesome.
Douglas
2014-05-19T00:00:00Z
Everything about Hummingbird Haven is better than described. Step into a clean and cozy cabin, sleep in the comfy bed, wake with provided coffee, watch birds (yes, hummingbirds), butterflies, and deer from the room surrounded by screen/sliding glass, and cook in a well-equiped kitchen. Stay as many days as you can...I stayed a month. The owners are experts in the area's things-to-do. Unfortunately I had a fall during my hike but my hosts helped me get my car, checked on me each day and even helped me pack when I left! If you are going to be away from home, healthy or injured, these are people you want nearby.
Marleen
2014-08-24T00:00:00Z
Our stay at Hummingbird Haven was very relaxing & we enjoyed our time there. Very peaceful in the woods! Joe was a great host and very helpful!
Jackie
2016-09-01T00:00:00Z
Room Type
Entire home/apt
---
Property Type
Cottage
---
Accommodates
4
---
Bedrooms
Amherst, VA, United States
1850 SQ FT. Conveniently located in Central VA wine country between Charlottesville and Lynchburg. Approximately 30 miles east of historic Lexington. Nearby activities include: skiing, hiking, golf, and colleges.
3 Bedrooms (K, Q, T + Q sleeper sofa in loft) 2 Baths Well-equipped kitchen w/DW and Microwave and breakfast bar. Great Room with Beautiful stone fireplace Dining Room with table that seats 8-10 Covered front porch with swing Large deck with gas grill and patio furniture 3 TVs, 1 DVD player Just added a firepit
Great location, Spacious Log Home. 45 min to Charlottesville, 25 minutes to Lynchburg, 45 minutes to Lexington. Many historic tourist sites. Numerous wineries and breweries close by. Skiing at Wintergreen 30 minutes away. Enjoy hiking on Appalachian Trail or through the George Washington National Forrest. Sweetbriar College, UVA, Washington & Lee, VMI, Randolph, Liberty and Lynchburg Colleges are all near by, great location for parents weekends.
We had a wonderful stay over a long weekend. The house is a treasure. Out on the mountainside but close enough to town for supplies...we would LOVE to come back!
Jennifer
2016-02-14T00:00:00Z
We celebrated a 60th Birthday Surprise Event with a small group of family and friends in the lovely cabin. Everything was gorgeous, sparkling clean and every item I needed for the dinner party was readily available. Joyce and Jamie were the best host I have dealt with in a long time. Extremely helpful and accommodating in the planning so the event would turn out perfectly and it did! We travel a great deal US and international and I would give them an A+ on everything. Such a treasure for us so close to home. We will definitely be visiting this cabin again in the future.
Tammy
2017-02-12T00:00:00Z
We had an absolutely wonderful time at Joyce and Jamie's cabin. We chose their home to celebrate a friend's 30th birthday and couldn't have picked a better spot. The house is beautiful, spacious and clean. There's a fireplace in the living room which we used to make smores and stay warm. The bedrooms are spacious (Although the couple sleeping on the pull out ended up having to sleep on an air mattress - most pull outs are not super comfortable). There's also a fire pit which we unfortunately weren't able to use because of the rain and wind (next time!). They also made us feel SO at home by welcoming us to use items in the cabinets and fridge. We would certainly come back any time!
Amruta
2016-01-17T00:00:00Z
My friends and I stayed here for 4 days and 3 nights and it was wonderful. Beautiful log house with more than enough space for 8 people. A fully stocked kitchen, bathrooms and bedrooms. The view of the mountains was amazing and it was so quiet and peaceful. We ran out of a few food items and made a quick 10 minute drive to the Food Lion. So many memories were made here, I definitely recommend this cabin!
Diamondnia
2016-12-21T00:00:00Z
If you're looking for a get-away cabin, this is the place! House is new / modern (if you can call a log cabin that) and with all the amenities including multiple satellite flat panel TV's (though who has time for TV with the Appalachian Trail and Natural Bridge nearby, not to mention an expansive deck perfect for grilling!?) Jamie and Joyce are extremely hospitable hosts and were a joy to work with. House is easy to get to from DC area, at roughly 3 hours if traffic cooperates, almost straight down Hwy 29 through Charlottesville. Remote enough to feel "off the grid", though small town amenities are just 10 minutes away in Amherst.
robert
2015-09-07T00:00:00Z
Hosts very communicative and helpful.Cabin very well equipped and comfortable.Well positioned for touring both sides of the mountains.
janet
2016-08-06T00:00:00Z
Lovely cottage, exactly as advertised. We had a great time.
Becky
2016-06-20T00:00:00Z
Loved loved loved this cabin!! The location was amazing. It was tucked away in the woods with gorgeous mountain views, but near enough to neighbors so that we didn't feel overly isolated. It was an easy and lovely drive from where our kids are attending Liberty University and so much more comfortable and enjoyable than a hotel. I cooked every night in their amazingly well equipped kitchen with all new appliances and we spent hours upon hours on the front porch chatting and watching our younger kids play in the ample front yard.
Amy Rhinehart
2015-09-21T00:00:00Z
Room Type
Entire home/apt
---
Property Type
Cottage
---
Accommodates
8
---
Bedrooms
Amherst, VA, United States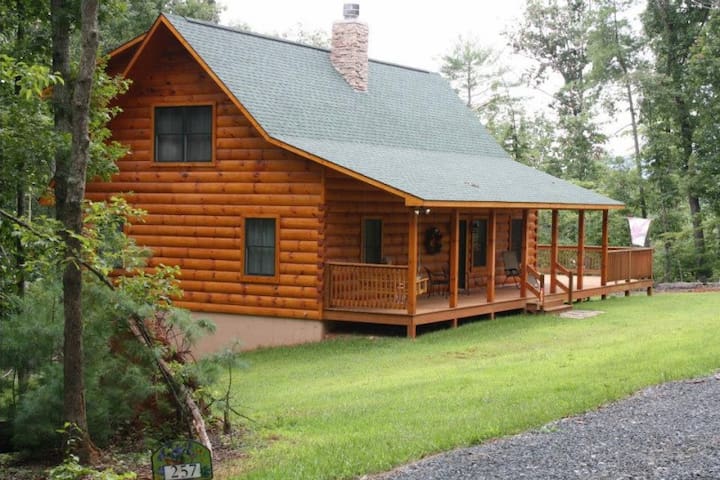 Our home is situated on 105 wooded acres with hot tub, plenty of walking trails, stocked fish pond, outdoor pavilion, and outdoor spaces for campfires! Home boasts a spiral staircase leading to the bedroom and bathroom.
Our home is situated on 105 wooded acres with hot tub, plenty of walking trails, stocked fishing pond, outdoor pavilion and fire pit for campfires! This home boasts a fantastic layout which provides maximum use of space giving you the comforts of home you'd expect! The main floor has leather seating area with pull out sofa, a fully stocked kitchen and electric fireplace for those cool evenings! The focal point of our home is the wrought iron spiral staircase! Upstairs is a small desk space for working from home, or drafting handwritten letters. The Master bedroom with Queen sized bed, (a roll-away bed is stored in the closet for additional guests ) and the full bathroom with shower and washer/dryer. There is WiFi and Satellite TV's for your convenience in both the bedroom and the living area. This house is small on size, big on charm!
This gorgeous cottage is nestled in a wooded area of Appomattox VA with convenient access to Lynchburg and Liberty University. There are plenty of walking trails, fishing in the pond, opportunities to see all kinds of wildlife, and enjoy evenings around the campfire or at the outdoor pavilion. Lynchburg has a variety of activities including taking in an LU sporting event, visiting the Tower Theater or snow skiing/ tubing at Snowflex. Appomattox County is full of historic sites to visit including Appomattox Court House Historical Park, the McLean house, where the Civil War was concluded, and the Museum of the Confederacy. Visit some local favorites include Baine's Books and Coffee, and Granny Bee's restaurant for home cooked meals. Holliday Lake State Park located just a short 10 minute drive away, has a lovely beach area, fishing and paddleboating with a snack shop for ice cream treats after a day of swimming at the lake. The James River State Park in nearby Gladstone VA provides plenty of fishing, swimming and river tubing opportunities! Take a 15 minute drive to Amherst VA. Stop for breakfast at What A Blessing Bakery, then spend a few hours antiquing at Warehouse Antiques or Lou's Antique Mall as well as the quaint boutiques, and shops located there. While there, take a tour at Rebec Vineyards, grab lunch at a local favorite The Briar Patch. Don't miss a day trip to Farmville VA to visit the Robert Russa Moton Museum or take a pottery class at Mainly Clay. A definite must do is the Farmville High Bridge and you can rent some bikes for the ride at High Bridge Bikes and take in a meal at restaurants like Fishin Pig, Uptown Cafe or some Japanese fare at Shogun Steakhouse.
The cottage was perfect for our trip to Appomattox. It was very peaceful, tidy, and relaxing. Heather was very helpful and her directions led us straight to the cottage which is tucked away from the main road.
Genevieve
2016-06-13T00:00:00Z
It was a great place to relax. The hot tub was very nice once we were able to use it. There were a lot of bugs outside, but that is to be expected. Great secluded location. Nice clean place.
Joseph
2016-07-04T00:00:00Z
The cottage was as described. It smelled brand new and was very clean. The kitchen was well equipped with pots, skillet, plates, bowls, glasses, silverware, cleaning towels, oven mitts and the like. The living room was very comfortable and the "fireplace" made it very warm and cozy. The winding staircase came out onto a landing that provided a space for the roll-away bed to be placed. Off the landing was the bathroom straight ahead and to the left was the bedroom. The bathroom as the rest of the cottage was very clean, and had a washer and dryer. The bed was comfortable and provided a good night rest. We used the room air conditioner in the bedroom, and it kept the temperature pleasant. The porch in the front and the fire pit in the back made for pleasant outside areas to enjoy the nature all around the cottage. Woods are in the back and side of the house with the front looking out over two ponds at the bottom of the hill. The home is in a very private location. The hot tub was relaxing.
Kathleen
2016-05-16T00:00:00Z
Heather communicates quickly and is efficient in helping with all of your needs. Great little house to get away from it all, yet close to Lynchburg where you can find many good restaurants. The house is brand-new and Heather has an eye for decorating. Take a few steps out the back door and you're at the firepit with chairs. Easy to have a family campfire meal and then retreat inside to the cool expandable kitchen table for dinner. You'll have a special time whether it's a romantic get-a-way for two or a relaxing family vacation.
Rebecca
2016-02-29T00:00:00Z
We loved the location - secluded and quiet in a serene setting. We loved the cottage - cozy, clean, and welcoming. Heather was very friendly and checked in to make sure directions were understood and to find out if there was anything we needed. Thank you for the great getaway!
Zakk
2016-03-20T00:00:00Z
This cottage is very intimate with beautiful country furnishings.
Silvia
2016-03-25T00:00:00Z
The host provided excellent directions to the place which was important due to its location. All the essentials were provided for a perfect experience. I can't imagine finding a place that would provide the peace and quiet this place did. It was an awesome stay and I do plan to return.
Stan
2016-03-18T00:00:00Z
Heather has a wonderful purpose-built cottage outside of historic Appomattox, VA. It sits on farm land that has been parceled out, so there are very few neighbors. The building and mostly everything in it are like new. The kitchen is among the better stocked of the VRBO/ABNB listings I've been to, and the bed is comfortable which is an absolute must for me. This is a great place to get away for a weekend, there's no WiFi so just curl up on the leather furniture in front of the "fireplace" and relax. Heather was friendly and communicative, and I would recommend this location.
Marcos
2016-02-07T00:00:00Z
Room Type
Entire home/apt
---
Property Type
House
---
Accommodates
5
---
Bedrooms
Appomattox, VA, United States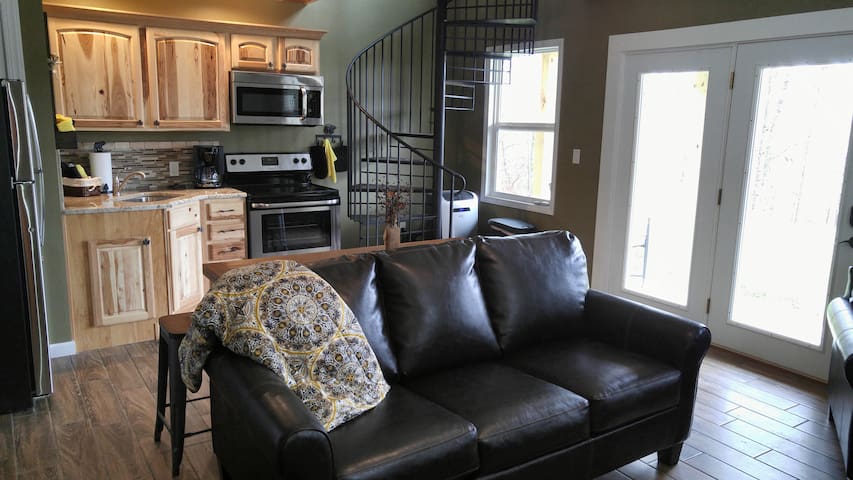 Welcome to our cottage in the foothills of the Blue Ridge mountains. You are sure to enjoy our nicely furnished house, appropriate for a couples weekend getaway, or a family vacation. Hiking, skiing, antiquing, and wineries and breweries close by!
Our cottage is comfortably furnished with enough room for a family, but cozy enough for a couples get away. Explore the wonderful mountains and other local highlights, but save some time to relax on the back or front porch, cook a great meal in our well appointed kitchen, or read a good book in the library!
Massies Mill is a small community located near Crabtree Falls. Our cottage is located on a horseshoe shaped road, which has a mixture of farms, homes and open land. The setting can be described as rural. Our place sits on 2 acres, which leaves you lots of private space.
I would highly recommend staying at the cabin in Massies Mill if you are interested in the Wintergreen resort, Va area. My friends and I had such a wonderful experience! Our host was so gracious. Every little detail was thought of and she went above and beyond expectations to truly make us feel welcome. The cabin was beautiful! It was so charming and welcoming. Everything was in immaculate condition, very clean and the beds were comfortable. This was actually my first time using Airbnb since I usually go with hotels. I was going with friends and we thought it would be fun to stay together and we were so glad we chose this cabin. We honestly could not have had a more pleasant experience and can't wait to go back!!! The area is so quiet and peaceful. Truly a great relaxing weekend getaway. Would highly recommend!
Tiffany
2016-02-01T00:00:00Z
Absolute perfection! From the first contact for booking, to the final day of our trip, Karin was the perfect host! We had a small group of ladies that came up for a bachelorette weekend. She left us little baked treats, fresh herbs, and fresh fruit. Not to mention the bottle of champagne dressed in bridal attire with a sweet congratulatory card for the bride. Also, the house was stunning. Extremely clean and accommodating with a beautiful view. I would HIGHLY recommend this Karin and her beautiful home for your next stay.
Chelsea
2016-08-21T00:00:00Z
This cottage far expected our expectations . It had everything we needed and more. The views were breathtaking. Karin was the perfect host and went above and beyond . It was better than home !! Will definitely go back
Rebecca
2017-03-12T00:00:00Z
The cottage is located in a secluded rural hill, and you have a lot of space to yourself. Everything in the cottage is very new and charming, and we found ourselves right at home. Karin was an amazing host, and provided everything we needed for our trip and more, even providing breakfast for us. The area is also beautiful, with multiple natural wonders to explore if you enjoy hiking and the outdoors.
Alex
2016-03-16T00:00:00Z
Our stay at the cottage was wonderful. The surroundings are quiet and beautiful and the cottage was clean and cozy. We'll definitely be back - it's great for a small family or a ladies weekend getaway.
Debbie
2016-09-06T00:00:00Z
Karen welcomed us with delicious pumpkin bread and a beautiful, well-appointed cottage. Everything was better than described. We had a wonderful stay!
Georgia
2016-10-20T00:00:00Z
The cottage was beautifully appointed displaying Karin's decorating abilities. We were her first Airbnb guests and everything was in perfect order, to include a well stocked kitchen. The location is remote & perfect for hiking, exploring the Blue Ridge, and staring at the starry sky. Just remember to bring any groceries you may need in the short term, like fresh bread!
Sharon
2015-11-09T00:00:00Z
The cottage was perfect. It was remarkably clean and beautifully decorated and far exceeded our expectations. Everything right down to the living room lamp being on when we arrived in the dark, the kitchen being well stocked, and all the soap smelling lovely made it feel like home. Karin is easy to communicate with and exceptionally gracious and helpful. The location is easy to find and close to much to do, and yet feels out of the way and restful. We were smitten and plan to be back!
Emily
2016-01-18T00:00:00Z
Room Type
Entire home/apt
---
Property Type
House
---
Accommodates
8
---
Bedrooms
Roseland, VA, United States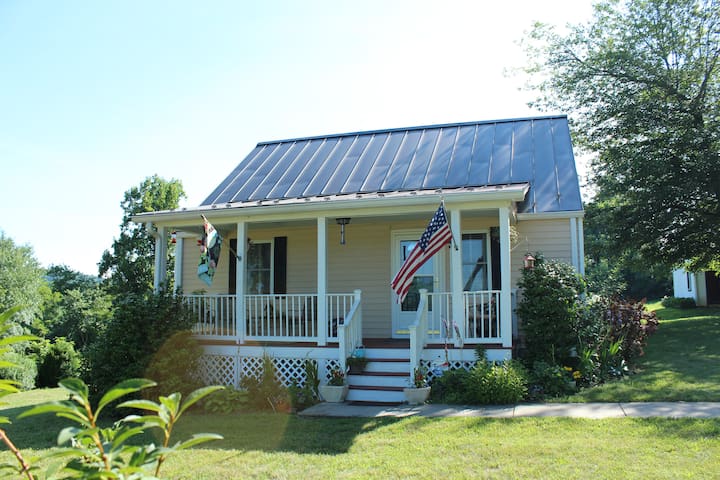 This home is 20 mins from LU's campus; close enough to get everywhere, far enough away from the Commencement crowds. We are LU alums and happy to open our home to our extended LU family. The home is spacious and clean. Everything you need for your extended family to enjoy a celebratory Commencement weekend together! It's the perfect home to host a graduation party to celebrate your grad! We can even offer in-home catering services (for an additional cost) to take one more chore off your mind.
Room Type
Entire home/apt
---
Property Type
House
---
Accommodates
11
---
Bedrooms
Monroe, VA, United States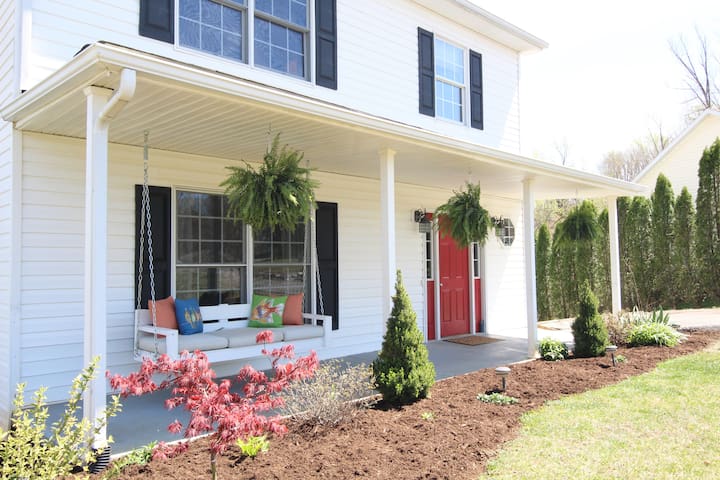 Fairview Estate is on the National Historic Registry. A one-of-a-kind local landmark,classic Italianate architecture with a spectacular panoramic view! Peacocks roam the grounds. The entire house or individual rooms is available. Fairview is magical! Fairview offers a spectacular, panoramic view that will be remembered. Listed on the National Historic Registry, it has a timeless appeal that reflects its distinctive 1867 Italianate architecture and historic nature. Fairview is on its way to becoming … a Blue Ridge favorite for romantic getaways, family gatherings, and elegant, affordable weddings … a rare retreat offering rest, relaxation and rejuvenation. Can you fall in love with a place? We think so. Come see for yourself! (URL HIDDEN) Large Hot Tub that seats 7 to 8 adults, under the stars, facing the bold, mountain range Jennifer (the owner) is frequently on the property, and is supported by a small, dedicated team that love guests and extending hospitality! Blue Ridge Parkway Crabtree Falls Devil's Backbone Spy Rock Over 20 nearby Wineries and Breweries Rural, pastoral area Spectacular hiking; Piney River close-by; amazing views abound.
Blue Ridge Parkway Crabtree Falls Devil's Backbone Spy Rock Over 20 nearby Wineries and Breweries
This house truly allowed us to achieve the mountain get away , mini retreat , vacation we needed. While we never actually met Jennifer we had excellent communication via email back and forth with her and the caregivers were available to also answer some small questions that came up. The house was easy to find even at night in the pouring rain. It was clean and the bedrooms were beautiful. The hot tub was easy and ready to use & there truly were peacocks on the property that wondered right up to the porch. The house has a cozy , enchanted, romantic ambiance, and Jennifer has done a great job decorating with interesting and charming vintage pieces throughout the house. I kind of thought the current pictures on line did not do it justice as it better than the picutres. We are already talking about coming back next year. We all LOVED the house , its has a nice mix of elegance, historic and rustic charm.
Mary
2016-10-12T00:00:00Z
We had an AMAZING time. Will absolutely be back.
Carley
2016-05-31T00:00:00Z
Awesome house, great experience, we hope to be back next year!
Maria
2016-07-05T00:00:00Z
Wonderful place for relex.....amazing.....
Ricardo
2015-08-27T00:00:00Z
Jennifer is a wonderful host and Fairview is completely magical. The house is very clean and we really enjoyed exploring all the rooms and property. I would highly recommend Fairview for family or friend gathering.
Gary
2016-10-04T00:00:00Z
Hostess was able to give us early check-in. Renting the entire house added to the privacy. Fairview is sited for marvelous long views. We spent hours on the porch admiring the incredible beauty. The place is everything described and more.
edward
2016-06-15T00:00:00Z
We loved our extended weekend at Fairview. Jennifer, our host, went above and beyond to make sure anything we needed we had. She answered any questions we had about our reservation in a timely manner. The location of the house was perfect! We had a surrounding view of the blue ridge mountains. It is rural enough that we felt secluded from the busyness of life, but within a 20 minute drive to any of the activities we wanted to do. The historical plantation has all the charm and character of an older home, but has all the updated amenities & an AMAZING kitchen to prepare meals in. I wouldn't hesitate to stay here again. In fact, this may be a yearly retreat for our group.
Amanda
2016-10-24T00:00:00Z
Overall our experience at the house was good. We LOVED the area, the view and the unique features of the property and Jennifer was very responsive to our questions. The purpose of our trip was for a company retreat and mini vacation. We found the house to be as described but with some possible improvements to be made as well including increased wifi speed (could not buffer videos) and cleanliness of the house (lots of bugs and dust). We really hope to return to visit again and enjoy the spectacular Virginia mountains :)
Luke
2016-06-05T00:00:00Z
Room Type
Entire home/apt
---
Property Type
House
---
Accommodates
12
---
Bedrooms
Amherst, VA, United States
My place is close to: Monticello / Poplar Forest Natural Bridge UVA / Sweet Briar / Liberty / Randolph / Lynchburg Colleges Appomattox Courthouse and Battlefield Liberty Mountain Snowflex / Lahaye Ice Center Craft Beers (Nelson County) Veritas Vineyard and Winery Rebec Vineyards Jefferson Vineyards Crabtree Falls You'll love my place because the farm is situated at the foot of High Peak Mountain. My place is good for couples, business travelers, families (with kids), and big groups.
What an extraordinary find. The historicity of the home, the accessibility of the owner, the embrace of the Blue Ridge Mountains--all within a quick drive to the necessities such as food, gas, etc--allow for a restorative breath amidst the chaos of everyday. The home and decor are exquisitely simple, the AGA cooker solid and warm, and the outdoors drew us out onto the expansive porch and wandering paths again and again. I rose with the sunrise every day, but only to take advantage of each moment to simply be. What a gift.
Alissa
2016-11-13T00:00:00Z
Stayed with Pat for a short weekend away from the city, and I couldn't have asked for more. She was an amazing host with a beautiful property. I look forward to staying with her again.
Matt
2016-10-02T00:00:00Z
Pat's home was incredible. It was really the key to our perfect trip. The location is ideal, close to hiking but secluded on a beautiful winding country road. We enjoyed the grounds, playing yard games, walking the property and relaxing on the beautiful front porch. The house is very spacious and truly felt like home. The kitchen had everything we needed for cooking. Each room was clean and comfortable, and we were grateful to have three full bathrooms. Pat is a wonderful hostess. She went out of her way to make sure we had accurate directions and felt totally welcome. We cannot recommend her and her home highly enough. Our entire family built a memory that will last a lifetime over the weekend we spent at Heart of High Peak, as well as the nearby hikes (Spy Rock and Crabtree Falls) and on the Blue Ridge Parkway.
Kelby
2016-10-16T00:00:00Z
Patricia was very available to us and our needs. The house was beautiful as the picture shows, and we enjoyed the area with hikes and waterfalls. A great weekend with friends !
Barbara
2016-10-23T00:00:00Z
Heart of High Peak is absolutely fantastic--beautiful, removed from the city, and surrounded by mountains and countryside. For Civil War buffs, this place is for you! The farm is a short drive a way from multiple battlefields and museums, including Appomattox Courthouse. Patricia was wonderful--she made sure I had clear directions to Heart of High Peak (which can be hard to find at night), was flexible, and easy to communicate with. I would highly, highly recommend staying here!
Susannah
2016-10-09T00:00:00Z
Room Type
Entire home/apt
---
Property Type
Guesthouse
---
Accommodates
5
---
Bedrooms
Monroe, VA, United States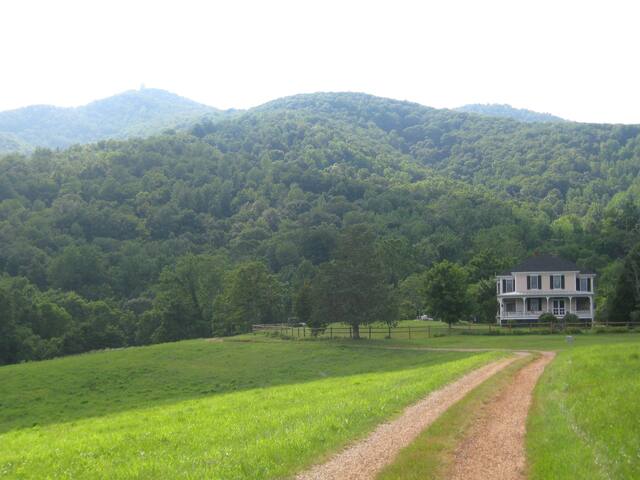 Enjoy a relaxing stay on a working farm convenient to Liberty University. Our renovated 1930's farmhouse features a king bed, queen bed, and 4 twin beds. Take in the fresh air as you look across the farmland and apple orchards from the porch and back deck.
Fabulous place to rest and relax. Beautiful scenery. Privacy.
Jill
2016-11-27T00:00:00Z
This is a very nice farm house. Orchards and pastures are around it . Farm store is near the house. Air is fresh, stars are beautiful, deers occasionally run pass the road . The host is kind and hospitality. The only pity is communications with outside. There isn't internet service at all, and the phone service is very poor. Only can get phone service occasionally. However we do enjoy our time staying there.
津
2016-08-19T00:00:00Z
Fantastic farmhouse located in a beautiful part of Virginia. Perfectly situated to be remote enough for solitude but close enough to amenities and entertainment for kids and adults alike. We loved it!
Aaron
2016-07-10T00:00:00Z
Excellent get away place.
Tino
2016-09-30T00:00:00Z
Room Type
Entire home/apt
---
Property Type
House
---
Accommodates
8
---
Bedrooms
Monroe, VA, United States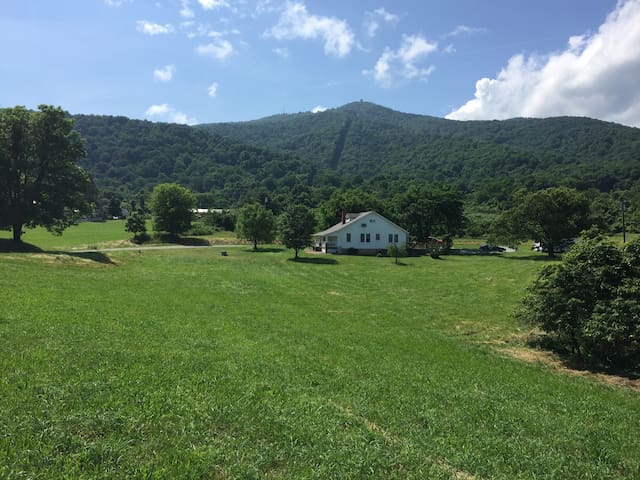 A brand new downstairs apartment with exterior entrance, private drive, full kitchen and home theater. In five acres of wooded seclusion, you can relax next to the Cascades of Harris Creek, watch deer in the yard, spot owls, bats and eagles or build a campfire and listen to the rushing water and rambling freight trains in the distance. All this and only 20 minutes to Liberty University and 10 to Downtown Lynchburg. Just three hilly, winding miles to Walmart, Food Lion and Redbox.
Eaton's Edge sits on the most beautiful stretch of Harris Creek. We are 20 minutes to the concerts, sporting events, intensive courses, and theater productions offered at Liberty University, Lynchburg College, Randolph College and Sweet Briar. 10 minutes to the Lynchburg Historic River District with its cobblestone streets, antique shops, walking trails, restaurants and nightlife. Strap one of our kayaks on your car and head to Monacan Park for a paddle on the James River. On your way back, drive another mile on Elon Road to the famous Woodruffs' Pie Shop where you can enjoy a meal, pie, coffee and good conversation with the locals. Locals never miss a chance to stop at Sluggo's Sundae Drive for the best ice cream in central Virginia. Stock up on spices and cooking supplies at Anderson's Amish Market. It is a very special place. For wonderful hiking, fishing and horse back riding, Lower Otter Pond, access to the Blue Ridge Parkway and the Appalachian Trail are all close by. Whether you want to launch a family exploration of Liberty University, Lynchburg and all that Amherst County has to offer or you need a quiet, private, comfortable place to stay during a weeklong intensive course, Eaton's Edge is ready for you.
Our neighborhood is very quiet and full of wildlife. Harris Creek weaves its way between all the houses up on the ridges. Each 5+ acre lot is heavily wooded and many lots are not developed. The deer, turkeys, pileated woodpeckers, owls and eagles abound. The road is bumpy, hilly and winding. The bridge is simple, but rated for 15 tons, so don't let it scare you. No trolls have been sighted beneath it, but... you never know. A walk to the mailbox is one mile. There and back is two. It is a great walk. You can also take a turn on Leftwich and give yourself a longer workout. The hills will getcha'.
You won't find another place to stay that has a more gracious host than Jennifer! She has a very sweet personality and knows how to be a great host on her property. The living area was plenty large enough for our family of 7 that stayed and was by far the cleanest of any of our stays. She has added many little touches to make the stay comfortable and enjoyable. We spent most of our days at Liberty while we were there, but did get a chance to go down to the creek, which is very pretty. We definitely made a good choice in staying here and would definitely stay again if in the area. Thanks Jennifer! Oh, and the kids loved the mattress heaters!
Chris
2017-03-17T00:00:00Z
We enjoyed a great quiet and comfortable weekend getaway with our family. The river/creek running through the back of the property is just beautiful and has our boys asking when we can come back!
Glenn
2017-01-30T00:00:00Z
Jennifer is a great host!!! His little son is the same;) Kids enjoyed a lot with the home theater and the river at the back of the house. We had fun with snowtubing at Liberty mountain with the free groupon coupon she provided. Thanks for everyting!!!Hope to see you again.
Ferda
2017-02-12T00:00:00Z
What a wonderful blessing to find this treasure! While traveling as a family, accommodations can make or break a trip.... this definitely started its off wonderfully! There was something for all from our oldest to our little one. The river was a wonderful place to explore and relax by, found we didn't want to leave! A short drive to Liberty Univ (which is what brought us to the area) We loved watching movies by the fireplace while enjoying popcorn! Heating pads on all the beds was a fun treat too! Jennifer you are a great host! Kids are already asking when we can go back! THANKS for making our first airbnb stay so wonderful!!!
Amy
2017-03-06T00:00:00Z
Jennifer is exceptionally nice; the place is quite clean and comfortable; and the river is truly gorgeous. A bit out of the way and further from town than anticipated, but still a truly wonderful place.
Kurt
2017-02-18T00:00:00Z
If you love nature and hiking, this is the place for you. There is internet if you need to check email, but no serious web surfing and streaming. Leave your TV teeth at home! Great hosts.
Pieter
2017-02-04T00:00:00Z
I really liked the place and the outdoor (URL HIDDEN) was peaceful with sounds of water...although you could here some noise inside coming from above that's to be expected and not a bother at all..the host were very hospitable and quite friendly making for a very comfortable atmosphere..I will tell any friends I know heading to that area to definitely stay here..
Mark
2017-03-25T00:00:00Z
We just had a wonderful stay ! Thank you very much jenny and all your sweet family and your kind boys ! The house is cozy and the countntryside arund the house is amazing. One of our best stay in the region ... We'll surely come back !
max
2016-12-02T00:00:00Z
Room Type
Entire home/apt
---
Property Type
Flat
---
Accommodates
8
---
Bedrooms
Madison Heights, VA, United States
The Boat House coined this name because of her shiplap walls, stairs up to the main deck, and "tiny house" feel. This is a simple space, on a family friendly street! Sit outside on the stoop - relax. Take a walk down Boston Ave, across the triangle, and down Woodland Ave - lovely architecture all around. Enjoy Magnolias or other eateries on Rivermont with just a two minuet walk.
This is historic, very well lit, basement from the early 1900s! You'll get to see the old furnace system and pipes that run through the basement, no longer in use. You will notice that the kitchen does not have a sink. There is a nice utility sink in the laundry room. You will also see some areas where pipes are exposed. 312 Boston Ave is one of the only homes in the area representing a front and back yard stone area from Greenstone Quarry, no longer a working quary today. There is also a greenstone path that was used for gardening at one time by the Garret Family, a partially excavated path can be seen. The Garret family owned the home for most of the 1900s.
The neighborhood of Rivermont. Everyone in Lynchburg who's knows the area knows, Woodland! Great people, families, lived here for years. Drive slow for kids.
Room Type
Entire home/apt
---
Property Type
House
---
Accommodates
3
---
Bedrooms
Lynchburg, VA, United States
Cozy 1 bedroom apartment in our 100+ year old craftsman near downtown, walking distance to Randolph College and all that Rivermont has to offer! Private entry, comfy queen bed, kitchen, bath and large living area with cable tv and wifi. Great place to call home for a couple nights or an extended stay!
We hope our apartment will feel like a home away from home and we will do everything we can to ensure you have a comfortable stay!
One of the oldest neighborhoods in town, fantastic homes and friendly people, the house borders Riverside Park just off the James River with great walking paths and trails. Grab an espresso, a nice salad or bottle of wine down the street at Magnolia foods, there's awesome wood fired pie and an excellent draft list at Rivermont Pizza or snag an outdoor table at the Corner for happy hour and people watching!
Room Type
Entire home/apt
---
Property Type
Flat
---
Accommodates
2
---
Bedrooms
Lynchburg, VA, United States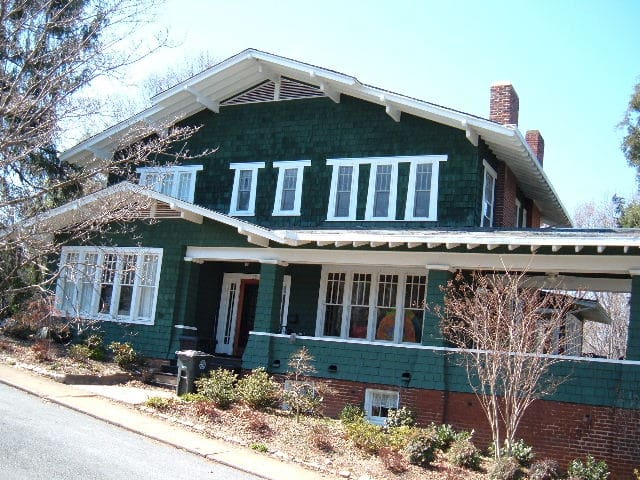 Located on one of Lynchburg's most exquisite streets. Private entrance, queen bed and sofa bed, full kitchen and amenities to match, green laundry room on premises free for use, less than 10 min. to LU & LC, walk to Randolf, & close to VES.
This flat is located in a beautifully restored 1907 Georgian mansion. The master bedroom was once the ladies sitting parlor, the bathroom was the servants' staircase, and the kitchen and living room were part of the original kitchen. You'll enjoy the vintage charm as many of the original features have been maintained, while enjoying modern amenities. The mansion is located within walking distance to local dining, Riverside park, Randolph College, and just a few miles from downtown Lynchburg. You are welcome to lounge on the large front porch. We provide a green-laundry room that is free to use from 9 am till 9 pm. The kitchen is a full kitchen with all the amenities.
Location, location, location. Rivermont is the magical area of Lynchburg. It houses Lynchburg's most elegant vintage homes. A beautiful place to take a run or a quiet walk in the park just a block away. You'll be close to Blackwater Creek trail.
We had a wonderful stay. The home was nicely decorated and comfortable. Good location. Red communicated well and checking in was smooth and easy. We would recommend.
Katy
2016-06-22T00:00:00Z
Our stay was perfect! The flat was so well designed from the layout to the vintage/ modern decor, which made it feel so cozy and welcoming. The space was very clean and we felt right at home. It was raining the first morning of our stay, so we laid in bed and watched netflix, which is included! The neighborhood was very quite and easy parking and is just a little over a mile out of downtown. Our host was so accommodating, friendly and easy to get in touch with. We will definitely be staying hear on our next stay in Lynchburg and highly recommend it to everyone!
Paula
2016-05-23T00:00:00Z
Comfortable...Elegant....Affordable... I was elated when I discovered that the flat was available during the Liberty Graduation weekend. Shortly after my discovery, I contact Red and she approved my request within hours. We arrived slightly later than the agreed upon time and Red was very accommodating. Upon entry into the home my mouth dropped. It's even more charming that the photos! The bed was comfortable, she gave us access to hot tea, cofee, and water. She really hit the bullseye... Red you are a talented decorator/designer!
Linda
2016-05-16T00:00:00Z
Thank you so much for hosting my friends! They were so effusively complimentary of their experience, and should any other friends or family visit me in Lynchburg in the future, you will be the first choice for their lodgings!
Claire
2016-06-12T00:00:00Z
Red was an excellent host! The flat was wonderfully furnished and exactly what we were expecting! Also, Red was very accommodating and willing to let us have an early check-in. Would love to stay here again!
Nick
2016-06-11T00:00:00Z
Beautifully decorated. Vintage charm
Susan
2016-11-25T00:00:00Z
Arriving at the house, I was already impressed with its looks. Once I entered the flat, it got even better. It was wonderfully decorated and had all the amenities you could want (and more). The location was convenient to all areas in Lynchburg. Red was a wonderful host and responded to my messages quickly. I would highly recommend staying here!
Michael
2016-10-07T00:00:00Z
Red's apartment is absolutely perfect for LU intensive students. Easy to get to. Like being at home!
Victoria
2016-11-18T00:00:00Z
Room Type
Entire home/apt
---
Property Type
Flat
---
Accommodates
4
---
Bedrooms
Lynchburg, VA, United States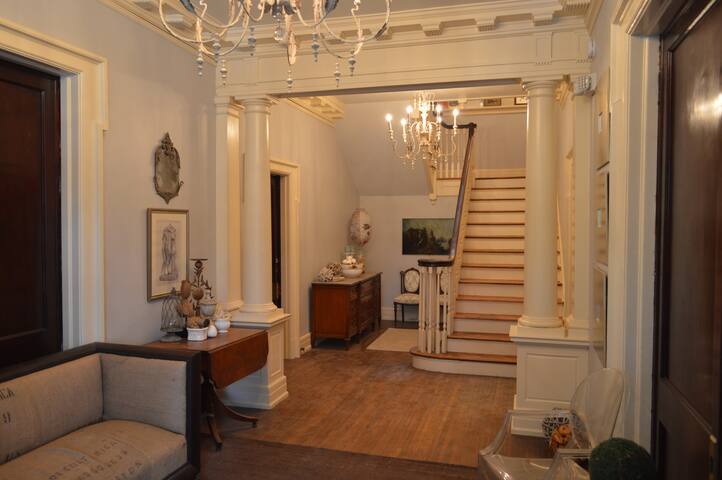 Our place is close to all local colleges including Liberty, Randolph and Lynchburg College. Also near family-friendly activities and many food and shopping options. You'll love the Barn Studio. It offers a unique and private setting tucked away within the safety of a local residence. There is a great pasture that has access to a trail leading to a creek. The Barn Studio is furnished with comfort in mind. The Barn is good for couples, solo and business travelers, and families (with kids).
Get ready for a wonderful place to relax and enjoy Lynchburg, Virginia! This is a fully furnished studio apartment at the top level of our adorable barn. The Barn that once housed three horses in the stalls below is now a space where we entertain. The apartment has a full bathroom and a cozy queen bed. It is nearly the size of three standard Hotel guestrooms. There is also a futon couch that can be used for a bed. The dining area has a table for four, microfridge, microwave and Keurig coffee maker. In the Barn area and outside we have ping pong, darts, games, cornhole, can-jam and a playground for kids.
We are situated in a wonderful, established part of Lynchburg. You will not be disappointed in the neighborhood. The people and location are fabulous.
What a gem! A lovely studio apartment in a lovely setting. Matt and his wife were kind, responsive, and welcoming. The Barn Studio was comfortable and spacious. My three children and I stayed overnight and my only regret is that we could not have stayed longer. If I am ever traveling to Lynchburg, I will be sure to reserve the barn Studio again!
Douglas
2016-10-02T00:00:00Z
Our stay at the barn studio was wonderful! The space is clean, homey and welcoming. Matt was very accommodating and would check in to see how our stay was, making sure we weren't in need of anything. The bed was very comfortable. Complimentary, water and candy were a nice touch. We will definitely stay again next time we visit Lynchburg!
Kristy
2016-10-23T00:00:00Z
This was by far the best airbnb I have ever stayed in. The barn was ADORABLE and perfect for a night in Lynchburg. All communication was extremely prompt - Matt responded within 5 minutes of every message I sent! Amazing place - I would highly recommend!
Melissa
2017-04-01T00:00:00Z
Matt has created an incredible hideaway surrounded by trees. Downstairs is designed like a horse stable but transformed into open air gathering areas. Upstairs is a clean and well finished great room. The bed was super comfortable. The floors appear to be recovered long leaf pine. The view was of the surrounding trees giving the feel of being in the forest. Matt was waiting at our arrival time and available for questions. Thanks Matt!
Jay
2016-10-21T00:00:00Z
I really enjoyed the private space over the barn. It was quite and cozy!
Judith
2016-10-01T00:00:00Z
A lovely space and host. You will not regret escaping from the craziness of life here!
Sarah
2016-10-16T00:00:00Z
Great space! Hosts were extremely helpful, even making sure I arrived with no problem. Very comfortable place and I'd stay again!
Eva
2016-10-15T00:00:00Z
The family was as nice as can be and provided a wonderful atmosphere. A very clean place and close to many restaurants. We highly recommend this barn studio. We can't wait to visit again!
DeAnn
2016-09-25T00:00:00Z
Room Type
Entire home/apt
---
Property Type
Flat
---
Accommodates
3
---
Bedrooms
Lynchburg, VA, United States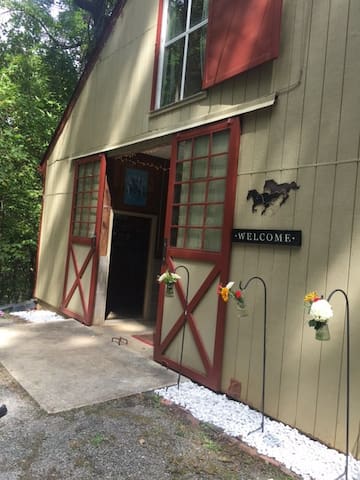 Cozy home near Liberty University, Lynchburg College, and Randolph College. Enjoy all the comforts of home and the convenient Lynchburg location of this classic family-friendly cape cod.
Downstairs bedroom has full bed and connecting bathroom with stand up shower. Master bedroom has a plush king bed and plenty of space! The second bedroom upstairs has a Queen air mattress and the room also makes a great sitting area with a comfortable chair and lots of natural light! Upstairs bath has a beautiful claw foot tub so you can relax after your long days visiting the college or hiking. We also have many candles to add to the experience, if requested. Basement has been made into a bedroom area and has a large pull out couch with a bedside table. The pull out couch has plenty of room for 2 people to sleep. There is an exterior entrance leading to our fire pit. Washer and dryer are also in this area with detergent included. Kick back on our comfortable couch in the living room and enjoy the experience of a 55 inch TV and DVD player. We also have Hulu, Amazon prime, an array of DVD's and books available for use while visiting. The couch in the living room also makes a good sleeping area and we have extra blankets and pillows we can supply upon request. Kitchen stocked with cooking supplies and basic cooking materials (flour, sugar, cooking spray) There is a breakfast nook in the corner to enjoy your provided coffee, tea, or hot chocolate. The comfortable sitting area on the front porch is a great place to enjoy watching the neighborhood. In the evening, you can all come together for s'mores around the fire pit and enjoy our families yard games, like corn hole and Kan Jam. Feel free to inquire about any coolers or lawn chairs needed for your stay. We may surprise you! There is conveniently wireless internet throughout the house. Our house is full of enjoyable games and books that you are welcome to borrow during your stay. If you want a home away from home for your family....this is your stop!
Our neighborhood close to everything in Lynchburg! It is one of the most convenient locations and takes minutes to get to nearby colleges and attractions. Grocery stores and restaurants nearby. Our neighborhood is in the middle of town, so life here is not country living. We have some noise during the day but our neighbors have been very respectful at night. It is a very safe location and you will often see families going for evening strolls down our side walks or children playing on our streets. The house is 4.2 miles from Liberty University and 0.5 miles from Lynchburg College. It is 2.7 miles from downtown Lynchburg.
Convenient location, great place, great hosts. The only negative is that the upstairs bath/shower is a bit tricky, but not a big deal. It was comfortable, clean, and has a great book collection!
Richard
2016-12-03T00:00:00Z
Courtney and Bryce responded to email inquiries very quickly. The house was very clean and neat. The chocolate chip cookies were a hit! The handwritten note left for us upon arrival was a welcoming personal touch.
Sheila
2016-10-29T00:00:00Z
This home was beautiful & comfortable for our large family. My kids especially enjoyed the games & the kitties :) With 4 children, hotel stays are stressful, & here we were able to relax, play, sleep, & cook just as if we were home. There was even hot chocolate to enjoy during the cool evenings! This was our first AirBNB experience, & we will definitely want to stay here again if we return to Lynchburg.
Alicia
2016-05-15T00:00:00Z
We were in a panic looking for a place to stay at the last minute for a college visit to Liberty for our daughter. All the hotels were booked or way too expensive. We decided to try Airbnb for the first time, and Courtney and Bryce's home came up in our search. We were able to book the house in less then 12 hours! Courtney was super quick to communicate, and they made sure the house was ready for us when we arrived at 2 in the morning. The first thing we saw when we opened the door after a long drive was a hand written welcome note and a big plate of cookies, which was a big hit with the whole family! Definitely recommend their lovely home! Great hosts, and much less stressful then trying to shove all of our stuff into a small hotel room.
John
2016-11-13T00:00:00Z
The house was very nice, everything was well kept, and we enjoyed our stay. The house was represented well in the pictures; however, the surrounding neighborhood is a little run down.
Kevin
2016-08-01T00:00:00Z
The cottage was perfect for a one night stay with my two siblings and cousin. The place was clean and Courtney and Bryce were easy to set everything up with. They even left us flowers to take to our grandmother to celebrate her 99th birthday!
Jonathan
2017-03-12T00:00:00Z
Courtney and Bryce were prompt in their responses. Their home was beautiful and welcoming. They made us feel right at home even providing homemade cookies and blueberry scones and fruit for breakfast. Our daughter attends Lynchburg College and it was a perfect place for our family to stay while visiting her. We will definitely stay there in future visits.
Jill
2016-10-23T00:00:00Z
Courtney and Bryce are excellent hosts who offer a clean, well-kept home in Lynchburg, Va. My family of six stayed for the weekend and everything was perfect. Good air conditioning, wi-fi access, nice TV with Netflix, and, best of all, the hosts left us homemade cookies, which were simply delicious. The hosts were kind enough to allow us to bring our crate-trained dog, and when we entered the home, we found, along with the cookies for humans, treats for dogs! Communication was quick and clear before, during and after our stay. This home is now on our favorites list.
Mark
2016-09-24T00:00:00Z
Room Type
Entire home/apt
---
Property Type
House
---
Accommodates
8
---
Bedrooms
Lynchburg, VA, United States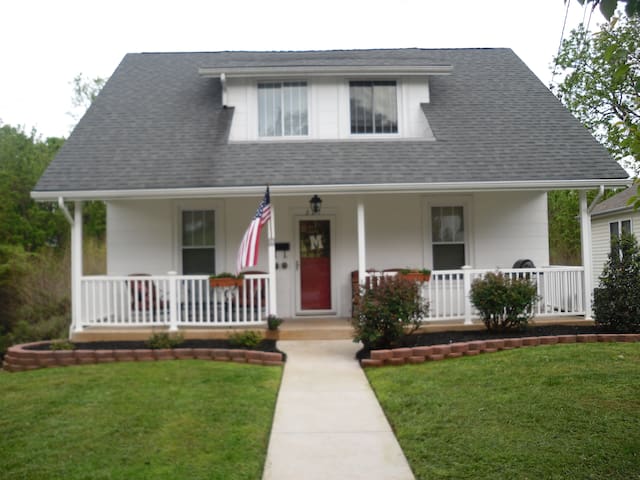 Enter dates to see full pricing. Additional fees apply. Taxes may be added.