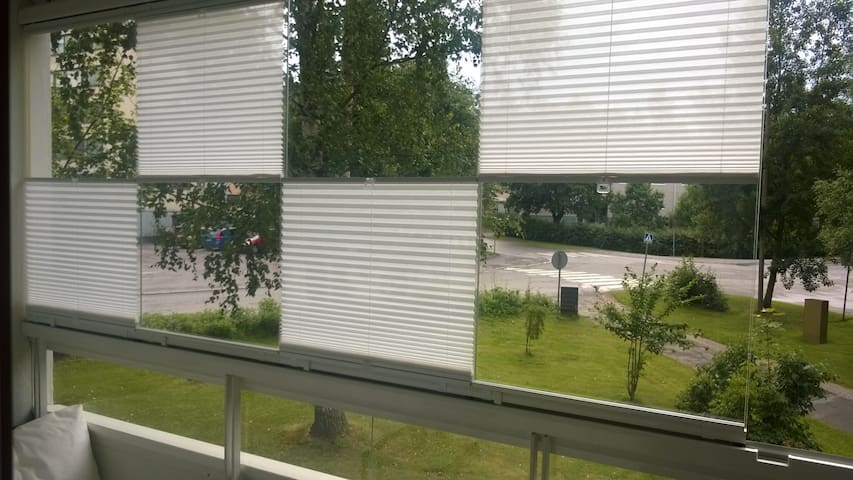 Located nearby the city center (5 min walk to train station) this fully renovated apartment surrounded by green parks has a fully equipped stylish kitchen, lovely bedroom with king-size bed, spacious living room with 65" TV and a glassed-in balcony with large sofa.
Other things to note
Smoking is allowed on the balcony.
---
---
Always communicate through Airbnb
To protect your payment, never transfer money or communicate outside of the Airbnb website or app.
Learn more
---
---
---
---
A clean, spacious and cozy apartment. We only stayed for a single night (on our way home from the airport), but Vitaly prepared a wonderful dinner (and also left food for the breakfast in the fridge) :) Vitaly's been very sociable and easy-going, and we truly felt ourselves at home while staying in his apartment, and our stay was remarkably pleasant. Thanks to Vitaly's hospitality we drove home refreshed and very pleased.
---
The apartment was super and even better than described. Very good location and neighborhood. Vitali is a really friendly guy and a wonderful host! He picked me up at the train station near his apartment and he made me feel just like I was at home. He was also very helpful and he could be reached all the time.
---
这是我们一家第一次到欧洲旅游,更是第一次到芬兰,在对这个国家一点不了解,和因计划改变匆忙订房的情况下我们遇到了Vitali。好不夸张的说是他救了我们,让我们不至于第一个晚上就无地儿可住。Vitali把自己的一整套公寓腾出来给我们,还在晚上11点特意跑一趟为我们开门,详细介绍了房子的每一个地方,每一样东西如何使用,大楼内有哪些设施怎么用……没想到这么高大热情开朗的大男孩还是这么细心仔细的人。Vitali的公寓比照片看上去的还要好很多,干净,时尚,方便,设施齐全,周围邻居也是超级安静,唯一能听到的就是偶尔关门的声音。从他家走路到火车站真的只要十分钟,再多走五分钟就有两个超大的超市,生活出行都非常便利!在他家住了12个晚上,我们特别放松,完全像在照顾自己家一样。Vitali非常有礼貌,他只来拿过一次自己的东西,来之前都会告诉我们时间,平时有什么问题和他沟通,他都回复的特别及时。总之因为Vitali的热情和周到,让我们在芬兰的十几天感觉特别温暖。我们非常推荐他的房子,不过也希望住他房子的人一定要爱惜,就像爱惜自己家一样爱惜这么漂亮的一套公寓。
---
Vitali把自己的一整套公寓腾出来给我们一家住,还在晚上11点特意跑一趟为我们开门,详细介绍了房子的每一个地方,每一样东西如何使用,大楼内有哪些设施怎么用……没想到这么高大热情开朗的大男孩还是这么细心仔细的人。Vitali的公寓比照片看上去的还要好很多,干净,时尚,方便,设施超齐全,周围邻居也是超级安静,唯一能听到的就是偶尔关门的声音。从他家走路到火车站真的只要十分钟,再多走五分钟就有两个大超市,和Kerava市区的各种饭店商店,生活出行都非常便利!在他家住了12个晚上,我们特别放松,完全像在照顾自己家一样。Vitali非常有礼貌,他只来拿过一次自己的东西,来之前都会告诉我们时间,平时有什么问题和他沟通,他都回复的特别及时。总之因为Vitali的热情和周到,让我们在芬兰的十几天感觉特别温暖。我们非常推荐他的房子,不过也希望住他房子的人一定要爱惜,就像爱惜自己家一样爱惜这么漂亮的一套公寓。
---
Response rate:
89%
Response time:
within a few hours
Explore other options in and around Kerava
More places to stay in Kerava: