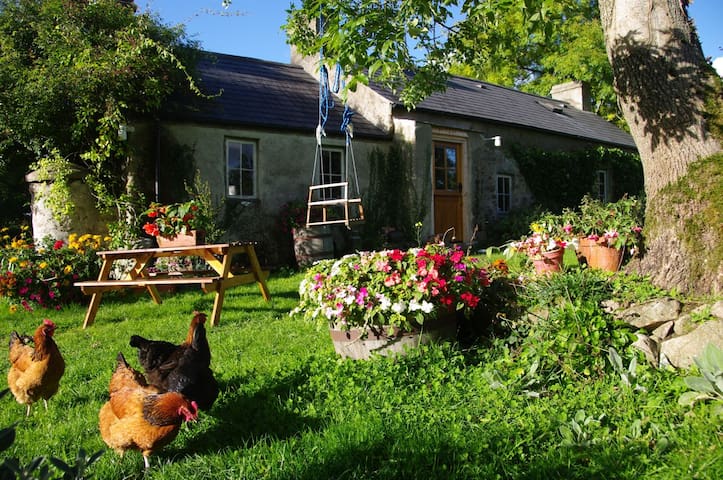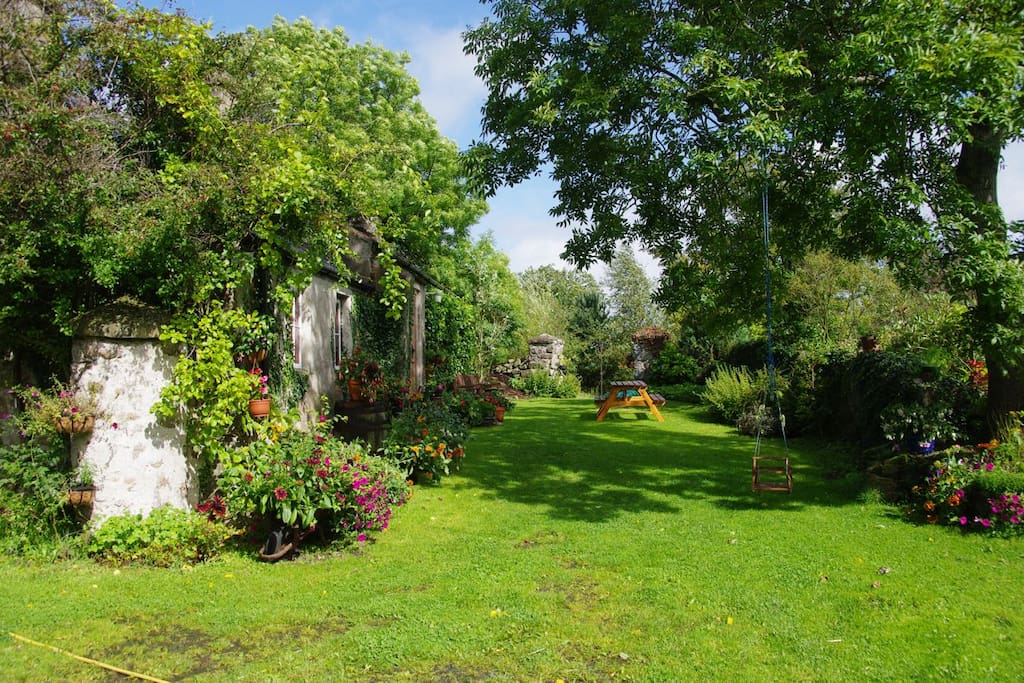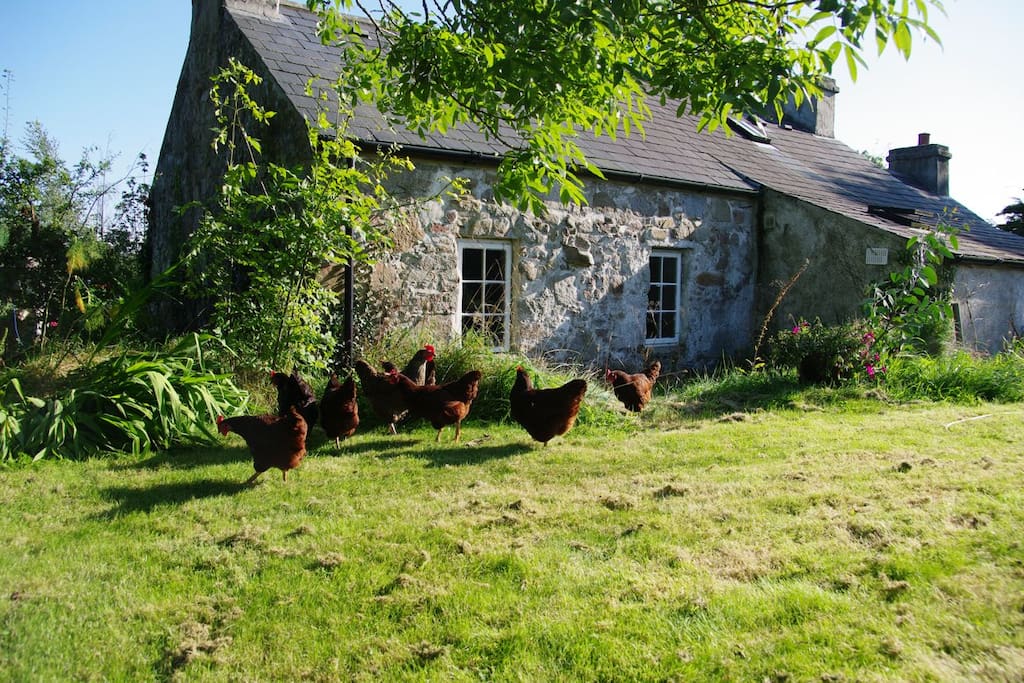 About this listing
Old fashioned, rustic Irish cottage and gardens, featuring all the traditional elements you expect --like a wood stove, wildflowers and chickens -- as well as many modern luxuries you will love, like internet, underfloor heating and a hot tub! The host lectures in European history and speaks many languages fluently: Wir sprechen Deutsch! Nosotros hablamos español! Nous parlons français! Falo portugues! Ya magu govorit rusiski yiazik!
The space
Behold Tullyquilly Cottage, where you'll enjoy nature, animals and the splendour of a lost way of life. You'll never find another like it, and you'll never forget your time here. The heart of this rural smallholding is a renovated, traditional stone cottage, built in 1758 and located in south County Down, roughly between Belfast and Dublin. Situated in the foothills of the Mourne Mountains and only twenty minutes from the Irish Sea, the farm sits on a 2 acre site which is given over to an exotic arboretum, orchard, native woodland and an organic vegetable garden, including polytunnel. The host lives in an eco-studio located 100 yards from the main house. Though the property is fairly rustic, all amenities are here: excellent heat, running water, wifi etc., to say nothing of the Johnny-on-the-spot host and his charming daughter, never mind the salt-of-the-earth farmer neighbors who will stop in on horse or tractor for a cuppa (or the hens who are always up for a treat or a fuss!). AirBnB accommodation is in the main cottage, which has a sleeping loft for two adults and a few children (king bed plus futon) and more sleeping space below the loft on a hide-a-bed and sofa. Bringing an even bigger crowd? Ask about use of the Country Cottage - pictures attached. You will also find a fully stocked country kitchen with an aga and a generous-sized dining table. For heat, there is a wood stove, and underfloor heating throughout. The bathroom is new, clean, pine-paneled and features a shower, toilet, radiator and a sink window that looks across a field with sheep and cows grazing. For your musical enjoyment you will find a tuned upright piano and vintage twelve- and six-string guitars, a banjo, mandolin, violin, cello, mountain dulcimer and xylophone. For the children, a wide range of toys is available, including an enormous set of vintage Fisher Price Little People. We have attached pictures of a few of our sets but many more await you. Taking advantage of the enormous main room in the cottage, it is possible to create an entire Little People civilisation. This is our favourite rainy day activity.
A word on the bed and bedding. You will be sleeping on a recently purchased, high-end, medium-firm, pocket spring mattress that is combined with a 75mm 'pillow top' layer of gently supportive memory foam. This is serious mattress for sleeping and many people have commented on its superlative comfort. Bedding is all cotton or French linen plus down pillows and down duvets. We clean the cottage thoroughly prior to the arrival of new guests, but we never use chemical air fresheners. Fresh cut flowers are much more our style.
Outside, enjoy the hot tub and help yourself to garden produce year-round, plus fresh eggs from the hens. Jump on the trampoline! Play ping pong! Try the tree swings. Pick some flowers or aromatic herbs at your leisure and bring them in to the kitchen to add your own finishing touches to this charming home. Watch out for Vixen, our friendly resident fox. You might see her early in the morning when she makes her rounds.
This is a comfy/cozy cottage out of a storybook surrounded by the quintessential child's dream of a Secret Garden. Enjoy delicious, healthy meals based around ingredients grown in the numberless permaculture vegetable, salad and herb beds, or in the forty-foot polytunnel. In season, have a campfire under the stars; a complete cook-out can easily be organized. As an added bonus, you will find bicycles en site for your use and even two open Canadian canoes.
This address requires some effort to reach (40 mins by car from Belfast; 80 minutes from Dublin, a bit longer by bike or train/bus), but thus far no one has been disappointed. Be sure to bring in some groceries, as the nearest shop or restaurant is two miles away. We keep stocked all your basic cooking ingredients like flour, spices, oil, etc, and usually there is plenty of garden produce for salads and sides. You can save a lot of money by cooking in and eating from the garden.
Sitting far from the road, Tullyquilly Cottage possesses a rare, old-world charm in an idyllic setting that is heart-breakingly beautiful. Everyone who comes here immediately falls in love with the place and is sad to leave.
Spring and Summer 2017 are now open for bookings. Wonderful fruits and veggies coming out of garden soon, help yourself.
Guest access
The cottage and the farm -- everything. Hot tub too but there you're in charge. It is wood-fired. I will clean and fill and you can heat it at your leisure. You will need to source your own wood (easily done locally). It's a year-round outdoor activity, extremely pleasant and rare, and nothing like stepping into a plastic container of hot chemicals in an airport hotel "leisure center". In the kitchen, we stock all essential staples so just bring in some fresh groceries and you'll be ready to cook or bake anything. We also believe in drinking only the best coffee, so if you're into good coffee, expect to find a coffee grinder, freshly roasted beans and various brewing systems to suit your tastes.
Interaction with guests
It really depends on my work situation. Sometimes a lot, sometimes not so much. If you want your privacy you will have it. If you want to hang out, I'll try to be available.
Other things to note
Hot tub is wood-fired and the guest must organise as s/he sees fit, i.e. source wood for heating. This is not difficult but requires some planning ahead. This is a rustic cedar tub that you heat with a submerged stove. To heat for a weekend might require twenty-five pounds worth of firewood and kindling. I used to heat the tub for visitors, but many neglected to use it and for that reason I now leave it to the guest. The weather largely determines the attractiveness of the tub and this can change rapidly in Ireland...
---
Room type: Entire home/apt
---
---
Always communicate through Airbnb
To protect your payment, never transfer money or communicate outside of the Airbnb website or app.
Learn more
---
Check in time is 2PM - 9PM
Write something in the guest book. Play the piano. Try out the dulcimer, probably the easiest serious string instrument to play, but no less beautiful. Pick berries. Pick a few apples. Harvest some lettuce or carrots. Make a little fire and curl up with a book. Collect eggs each day for breakfast or lunch but when you do, don't forget to feed the hens!
---
Moderate
Cancel up to 5 days before your trip and get a full refund, including service fees.
---
---
Our family of four had an amazing time at Danny's cottage. Very personal and unique Airbnb, we have never stayed anywhere like this before. Beautiful rural location that was fun for both adults and our 5 and 10 year old boys. The boys got to run around a farm and take care of chickens while we relaxed and cooked up fresh eggs the boys collected. Danny provided tons of great information about the cottage and the area. Cows to one side, sheep on the other - it was a perfect trip for a city family looking to unwind. Many interesting things to do within 20-30 minutes including neolithic stones and caves as well as hikes and the beautiful eastern coast. All easily accessible. Thanks for a wonderful stay and we hope to come back again.
---
Danny is just the best Airbnb host we've met yet, and we've met a lot! He is just genuinely motivated by the desire to share Tullyquilly with others. My husband and I stayed here for one relaxing week and we did so much, yet so little: hiking in the Mourne Mountains (inspiration for C.S. Lewis' Narnia), visited Green Castle by the sea along with many country pubs, all within easy driving distance. But the best was Tullyquilly itself. It got to the point that we didn't want to leave it for excursions: caring for the chickens, watching them while drinking coffee in the morning, wandering the neighbouring fields of sheep, watering the garden, reading so many books (Harry Potter was actually a great fit for the setting! Who doesn't wanna believe in magic in the land of leprechauns?) We actually read our kindles while in the hot tub. Did the 1500-piece puzzle (so fun!) Collected eggs. There's something very satisfying in waking up to care for the animals that are going to give you your food for the day. Thanks for everything Danny! Can't wait to bring our future children back here. "Not til we have lost the world, do we begin to find ourselves." --Thoreau
---
This place was amazing we loved every minute of it! Danny was an amazing host he really opened his home up to us and gave us free run of the place! We enjoyed being able to pick fresh fruit and veg from the garden! We got to look after the chickens and particularly enjoyed looking after the chicks! We have an 8 month old and he enjoyed all the new sounds and sights! The place is beautiful and we hope to be back! We only wish we had looked earlier in the summer and stayed longer! Place is even big enough to bring some family or friends next time! We didn't leave the whole weekend cause there was plenty to do! We enjoyed the hot tub, building a camp fire and enjoying the sun in the gardens! Would definitely recommend this place for families! Plenty for the kiddies to do and space for the parents to relax!!! Thank you ever so much Danny! Also want to mention how good he was on the email if u had any questions he was quick to reply!
---
What an experience! The kids spent three days feeding and watering chickens, collecting eggs and hugging donkeys. (Unfortunately for successive guests, Danny Is having to give up the donkeys to a new home). We were left in charge of the chickens and watering the plants (and eating produce!) While we were there the flowers were blooming in profusion. The Mourne mountains are right at the doorstep, but beware you might have to wrestle the kids away from the farm! If your family needs a big dose of country life this is a truly unique opportunity. Be sure you have good directions for how to find the place! Also note that this is a working organic farm, and you may need to overlook some less than pristine bits of the outdoors, like the cardboard boxes waiting to be mulched up. The cottage, however, is perfectly lovely and we all loved our stay there. We totally adored the suspended clothes dryer rack in the kitchen and the gardens gave us big ideas for our own yard. Very comfortable accommodations. We were not able to spend much time with Danny and yet still feel like we made a new friend! Definitely hope to be back.
Dear Robin and Family, Thank you so much for going to the trouble of leaving this thoughtful, detailed and helpful review. I'm thrilled you enjoyed your stay and that you found the cottage comfortable and even "perfectly lovely". Wow --that makes me feel good. I do regret we didn't get more time together, as I know we would have had a lot in common. FWIW, I found your girls delightful, real personalities and I'm sorry they didn't get to meet my daughter. As for the less than pristine environs, after you left I not only gave away the donkeys )-: but also cancelled my cardboard arrangement with the furniture store. However, within days I was regretting this. The cardboard, not the donkeys. And I rang them and asked that they keep delivering. I have found no other way to keep down weeds, nettles and thistles without resorting to Round-up or constantly having the farm buzz with weed eaters and mowers. The idea is to create a permaculture site that is self-regulating, not requiring either strimmers or rototillers. But I agree that the cardboard is unsightly. If you only knew how many tons of the stuff has already done its job, has sunken into the earth, repressing weeds and allowing beautiful flowers and vegetables to flourish in their place! Do stay in touch and remember me to your folks, the girls and to Steve. Danny
---
Fantastic, helpful host. Nothing is too much trouble. Cottage is wonderfully rustic. I must warn you though, come prepared for a relaxing, quiet and peaceful time far from the hassle of normal day to day life.
Dear Greg, Many thanks for your very generous feedback, all the more so since, during your stay, the shower was on the fritz. I've since repaired it, and have also seen to some other things you kindly (and very thoughtfully) brought to my attention, so thank you for that, and for your visit. I hope you return.
---
Danny offered to meet us in town to show us the way to the cottage, but it wasn't necessary. His directions made finding the cottage easy. The cottage is cute but basic as I expected. It would be adorable with a little decorative skills applied. We weren't able to let the chickens & ducks out of their run while there because of what they might do to the newly emerging plants in the garden. We were given the job of feeding, watering the birds and collecting eggs as well as being friendly with the donkeys - perfect few days respite from driving and touring since we had a 12-year-old with us. The location is nice and convenient to nearby activities - hiking and mountain biking, visiting nearby coast as well as Belfast.
I'm so delighted you had these perfect days at the cottage, and that you enjoyed such lovely weather -- so rare in Ireland. One minor quibble though with your public review: this cottage is quaint, cute, rustic and old, but there's nothing "basic" about it. A basic cottage is one where you find a salt shaker in the kitchen, two towels and a bar of Dial in the bath, an old mattress ten years past it, and in the living room, a cheap six string guitar missing the A and the D. I've stayed in these -- there was north of Santa Fe that was "cute but basic", and a Russian dacha outside Moscow, just after the fall of Communism -- that wasn't even cute. Tullyquilly is just the opposite. My cottage is rather elaborately stocked: you get all the towels you want, and I replace them every year. I stock high quality soaps, nothing cheap. The kitchen has just about every ingredient you need to start cooking right away; you get real, gourmet coffee beans and a coffee grinder and French press; you have six or eight high quality musical instruments tuned and ready to play, including very unusual, high end things like banjos and dulcimers. There is a very good tuned Monington upright. The mattress in the loft is an excellent, new, King-size pocket-sprung star -- I'm surprised you didn't mention it. Many others have. I haven't even mentioned the library of guide books nor the board games and puzzles, nor the many many toys for children. We may have some work to do around here to improve the experience, but I've been at this six years and I am not offering anything basic, much less accepting anyone's description of the property as such. I'm sorry but I'm worked too hard and I'm rather too proud! Thanks again for giving me the opportunity to discuss your experience and please come back. Danny
---
Northern Ireland, United Kingdom

·

Joined in September 2012
I'm a lecturer in history teaching at a university in Belfast. I also have an organic farm in South Co Down.
Response rate:
100%
Response time:
within a few hours
Exact location information is provided after a booking is confirmed.
Explore other options in and around Rathfriland
More places to stay in Rathfriland: