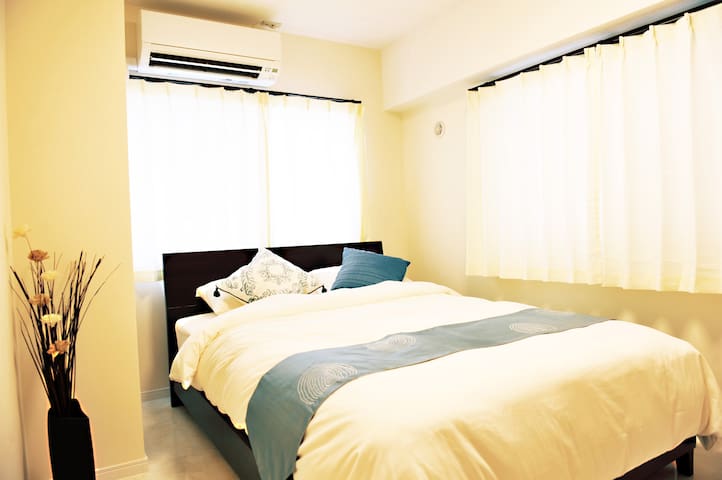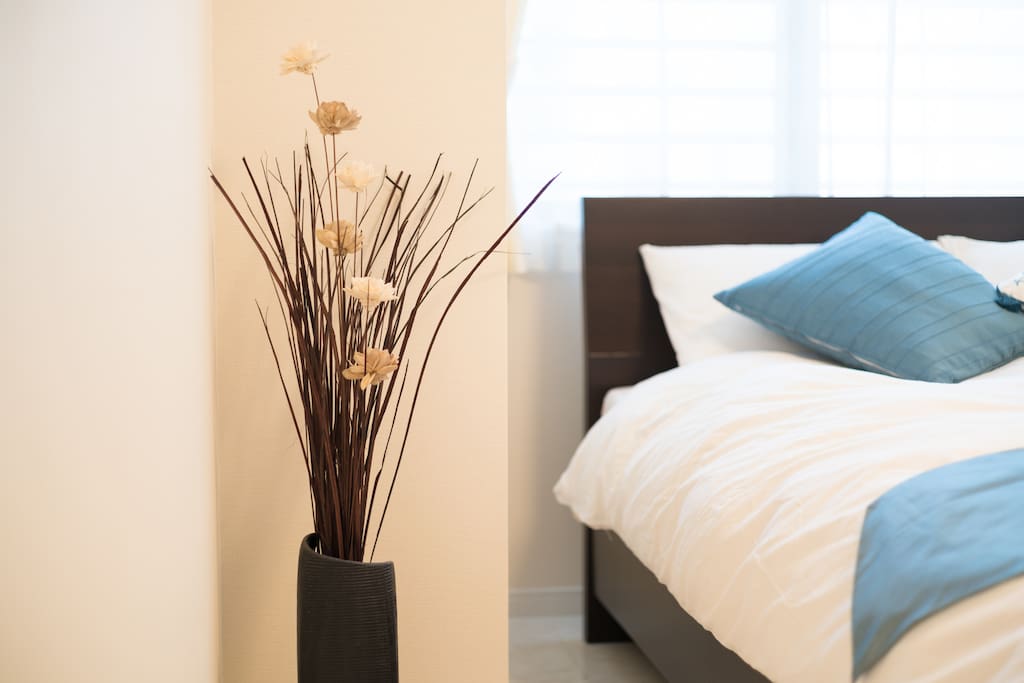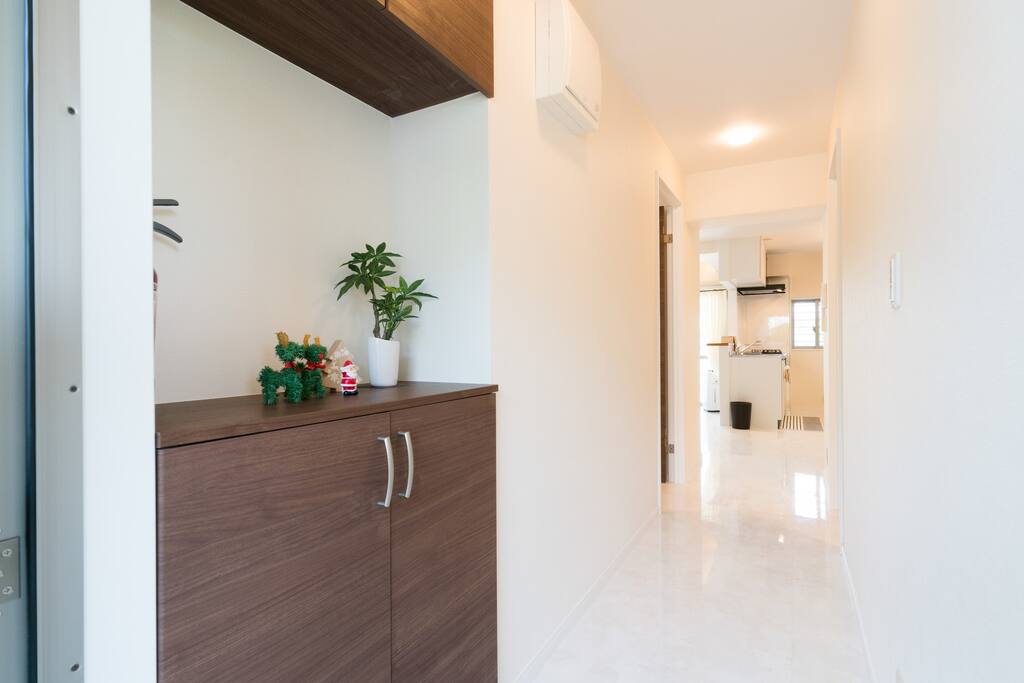 See northern Okinawa from Nago! Room A
Thanks for looking! This is an apartment in Nago-City which makes it ideal for seeing all that northern Okinawa has to offer. The apartment is furnished with black and white interior and appliances that gives it a clean and modern vibe. Come enjoy with your friends and family :)
* You will be renting one apartment unit on the second floor of the building.
Features:
Kids 3 & under stay free
Parking
Internet
Pocket Wi-Fi
Close to Nippon Ham Fighters training camp
The space
There are a lot of natural areas you can explore in the northern part of Okinawa. Why not come home to a clean and modern apartment to relax after a time out in the wilderness? There's a table in the living space for you and your friends to enjoy a nice meal, and even a kitchen to cook your favorite Okinawan dish! Below is the description of each section of the apartment.
Living room: The TV and the table are in this room. This is also where we ask guests to place the futon (floor mattress).
Kitchen: Coffee maker, microwave, toaster oven, and various cookware are available for those who want to try their hands at Okinawan cooking.
Room 1 & 2: Both rooms are fitted with a double bed. Both room s are also equipped with AC so even hot Okinawan nights are won't be a problem.
Bathroom & restroom: The bathroom has both a shower and a bath tub. The laundry machine and dryer are available just outisde the bathroom, so guests may do their own laundry. The restroom is separate from the bathroom.
Balcony: You can see the river from the balcony and enjoy the view. We have a camping chair for you to use so you can enjoy the scenery with a cold glass of beer! *No smoking on the balcony please
If there's anything else that you would like to know, don't hesitate to message us!
Guest access
All areas are open to guests.
Interaction with guests
We won't meet in person, but feel free to contact us via Airbnb or e-mail.
---
---
Extra people €15 / night after 4 guests
Weekend Price €77 / night
Always communicate through Airbnb
To protect your payment, never transfer money or communicate outside of the Airbnb website or app.
Learn more
---
Common spaces
2 floor mattresses
---
Check in is anytime after 4PM
チェックイン時間は、16:00以降です。電話での対応は21:00までとさせていただきます.
禁止事項
・宿泊予約者以外の利用(発覚した場合は1人につき¥5000請求致します。) ・室内での喫煙(発覚した場合は¥30000の罰金を請求致します。)
・ペットの持ち込み ・花火、揚げ物、BBQ ・宿泊予約者以外の利用は禁止です。
・室内は禁煙です(室内での喫煙が分かった場合300ドルの罰金を申し受けます。)
お願い
・近隣は一般のご家族が住まわれていますので、夜は静かにご利用ください。21時以降は近所迷惑防止のため音を控えてください。
・使った食器は、洗って元の場所に戻してください。
・布団リネンのシーツ、枕カバー、布団カバーは滞在1回ごとの貸し出しですので、ご自分で洗濯して使用してください。
・タオルはバスタオル、フェイスタオルともお一人につき1枚ずつのご用意になっています。
・ベランダを含め、屋内は全面禁煙ですので、喫煙なさる場合は駐車場でポケット灰皿をご持参の上、近隣に迷惑にならない場所でお願いします。 ・節電・節水にご協力お願いします。
・出かける際には施錠をし、キーケースに鍵を戻すようにしてください。紛失した際は、別途¥40000ご請求させていただきます。
・アメニティ、備品のお持ち帰りはお断り致します。発覚した場合、別途ご請求させていただきます。
・お部屋への荷物の郵送は出来ません。
Check-in time is after 4PM, we can only answer phone calls until 9PM.
Prohibited
・The house is only for Airbnb guests who booked it. No uninvited guests. (Penalty fee of $50 per person)
・The whole house is non-smoking. if you want to smoke, please smoke at the parking lot. Including in the balcony (Penalty fee of $300 for smoking inside the house).
・Please take your shoes off before entering the house and use the slippers.
・No pets allowed.
・Do not hold any events or parties.
・Do not play with sparklers, smoke cigarettes, and cook BBQ or deep-fried food.
Request
・The apartment is located in a quiet residential area and has many residents and guests in the adjacent units. Be a good neighbor and keep the noise down; especially after 21:00.
・We ask you to clean the dishes and place everything back in its original location before you leave.
・Do not flush anything other than toilet paper. In particular, do not flush tissue paper or plastics as it may clog or damage the toilet pipes.
・Linens, pillow cases and the duvet covers will be handed once, so please keep using the ones you're given by washing it by yourself.
・One bath towel and an ordinary towel will be handed to each person.
・Save electricity and water to reduce costs. Thank you for your cooperation.
・Please keep the front door locked every time you go out and replace the room key in key box. Losing the keys will result in a $400 penalty in order to cover replacement costs.
・The air bed is for one person only.
・Do not leave food in the fridge when checking out.
・Do not take the amenities with you. We will request money for missing amenities.
・Please do not send packages to the address. We will not be responsible for missed or unclaimed packages, nor will we ship them to your home address.
체크인 시간은 16 : 00 이후입니다. 전화응대는 21:00까지입니다.

금지 사항
· 숙박 예약자 이외의 사용 (발각되었을 경우는 1 인당 ¥ 5000 청구합니다.)
실내에서 흡연 (발각되었을 경우는 ¥ 30,000의 벌금을 청구합니다.)
애완 동물의 반입
불꽃, 튀김, BBQ
· 숙박 예약자 이외의 이용은 금지입니다.
실내에서는 금연입니다 (실내에서의 흡연 나타났다 경우 300 달러의 벌금이 부과됩니다.)

부탁 말씀
· 인근은 일반 가족이 살고 있기 때문에, 밤 시간에는 조용히 이용하십시오. 21시 이후는 소리를 크게내지 마십시오.
· 사용한 식기는 씻어 원래 위치로 되돌려주세요.
이불 리넨 시트, 베개 커버, 이불 커버는 숙박 1 회 당 대여이므로 직접 세탁하고 사용하십시오.
타올은 목욕 타올, 페이스 타올도 한분 당 1 개씩 준비되어 있습니다.
베란다를 포함한 실내는 전면 금연이므로 흡연하시는 경우 주차장에서 포켓 재떨이를 지참 후 이웃에 폐가되지 않는 장소에서 부탁드립니다.
· 절전 · 절수에 협력 부탁합니다.
· 외출시에는 키 케이스에 열쇠를 넣어주십시오. 분실시에는 별도 ¥ 40000 청구하겠습니다.
· 용품, 비품을 가지고나가는 것은 금지입니다. 발각 된 경우 별도 청구하겠습니다.
* 객실에 짐 배송은 불가능합니다.
· 숙박시 나오는 쓰레기는 타는 쓰레기, 타지 않는 쓰레기, 캔, 병, 페트병으로 나누어 버려주세요.
캔, 병, 페트병은, 안을 잘 씻어주세요.
페트병과 병을 버릴 때는 라벨과 뚜껑은 분리하여 타는 쓰레기로 버려주세요.
쓰레기는 실외에 두지 마십시오.
登记入住是在下午4点以后,电话应答服务至晚上9点。
禁止事项
・住宿预约者以外人员利用本酒店(一经发现,每人收取5000日元的费用)
・室内吸烟(一经发现收取30000日元的罚金)
・携带宠物进入
・烟花,油炸食品,BBQ(烧烤)
・住宿预约者以外的人员禁止利用
・室内禁烟(在室内吸烟一经发现收取300美金的罚金)
请求配合的事项
・因为附近有一般住户居住,在夜晚利用时请保持安静。21点以后为了不给附近住户带来困扰请控制音量。
・使用过的餐具,清洗后请放回原位。
・被褥亚麻布的床单,枕套,被罩在每次住宿都是借出的,请自行清洗。
・毛巾分为浴巾和面巾两种,为每人各准备一条。
・阳台和室内都是全面禁烟,如果吸烟的情况下请携带便携式烟灰缸在停车场吸烟。请在不给近邻带来困扰的地方吸烟。
・请您协作节水节电。
・出门时请锁门,将钥匙放回钥匙盒内。钥匙丢失的情况下,会另收取40000日元的费用。
・一次性的清洁用品,备用品请不要带走。一经发现会收取额外使用金额。
・不可以邮寄快递至房间。
・在住宿期间的垃圾,请按照可燃垃圾,不可燃垃圾,罐子,瓶子,塑料瓶进行分类丢弃。
・罐子,瓶子和塑料瓶,请将瓶内清洗干净。
・塑料瓶在丢弃的时候,请将标签纸盒瓶盖作为可燃垃圾进行丢弃。
・垃圾请不要放在屋外。
---
---
---
---
沖縄生まれ、沖縄育ちのTakaです!奥さんと息子と娘の4人家族です。
休みは公園で遊んだり、海岸沿いを散歩したりと、家族時間を楽しんでいます、とにかく、沖縄の自然や、人が好きです。
趣味は、バスケットボールや身体を動かすことです。また、旅好きで、休みが取れたら良く旅行をしています。子供が大きくなったら、夫婦で色んな国へ行きたいですね!

建築物に関わる仕事をしているので、お部屋のインテリアもシンプルで飽きのこない部屋づくりを心掛けました。

大好きなこの沖縄で、思い出づくりのお手伝いが出来れば幸いです。
Response rate:
100%
Response time:
within an hour
Explore other options in and around Nago
More places to stay in Nago: