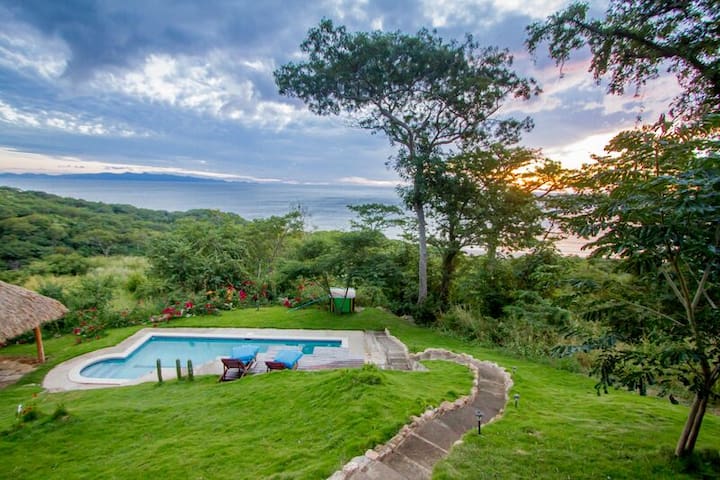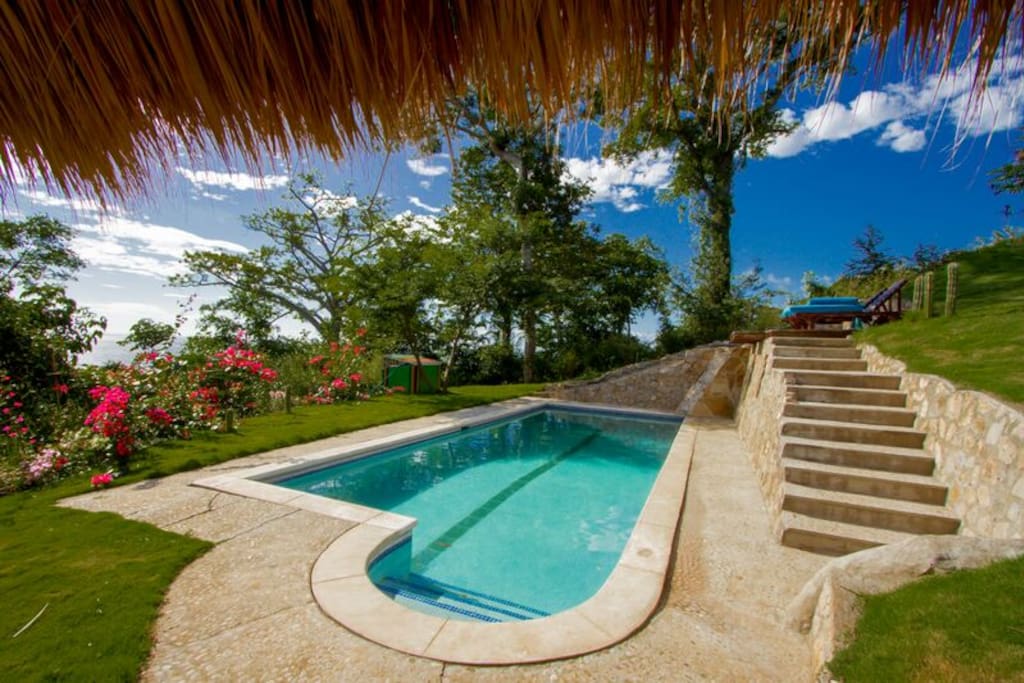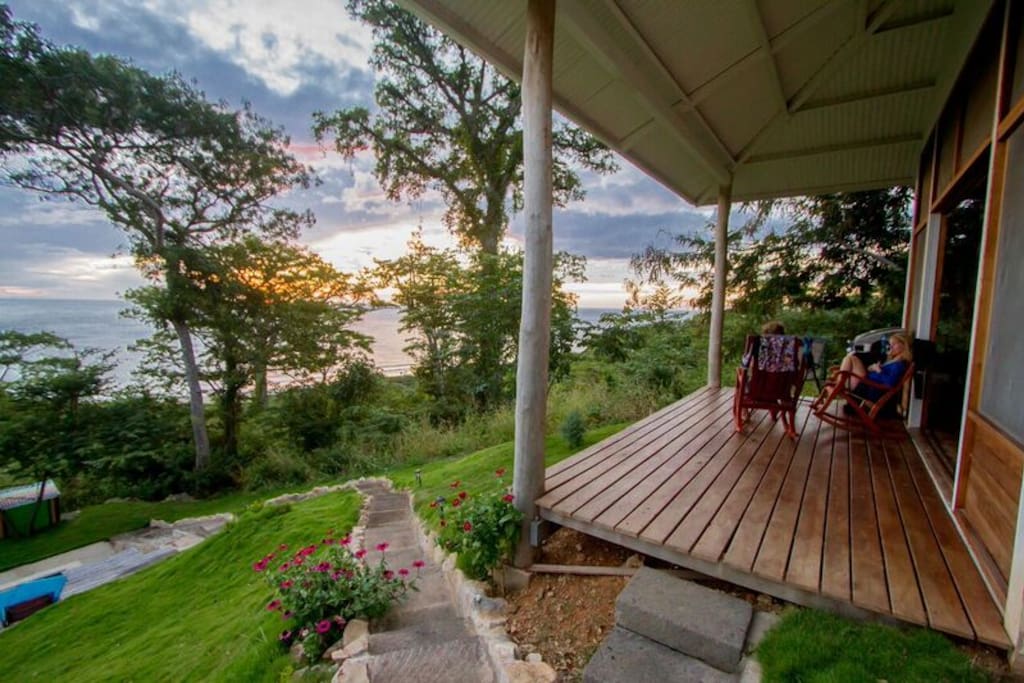 Spectacular location above Playa Yankee Beach
**FAMOUS SURFING, AMAZING VIEWS**
Do you love nature, and views that will keep you captivated 24 hours a day? Consider visiting our home set above the famous Playa Yankee Beach and surfbreak.
Just ten miles south of a cute tourist town, San Juan Del Sur, we neighbor the famous Orquedia Del Sur Five Star Boutique Inn! After searching the world looking for the most beautiful views, we found them. Guests consistently give our location top billing!
The space
You will find many properties advertising they are at Playa Yankee, but actually, there are very few properties that are really located at this famous beach and surfing hot spot.
If you like what you see in this ad, and feel you will appreciate what we offer, then please consider visiting our beautiful property perfectly perched above Playa Yankee Beach! It's a short trot down to the beach! You won't believe our views!
We are one of the only properties really at this famous Playa Yankee location. You will find many properties advertising they are at Playa Yankee, but actually, there are very few properties really located at Playa Yankee. If you really want to be at Playa Yankee, you can be rest assured you have come to the right place. You will understand why when you visit our home in this magical area.
Please inquire for our competitive rates for airport rides and ride rates for the area, definitely a better deal and much more comfortable than the taxis.
Facing the famous Playa Yankee surf break known all over Central America for being one of the best surf breaks around. At our property expertly situated for the best views, you will have the pristine and expansive Playa Yankee beach on a silver platter(URL HIDDEN)*** American Way magazine says in "Undiscovered Country" that Playa Yankee is where people in the know "come looking for powerhouse waves.(URL HIDDEN) ***
Our waves are not always big and honestly, Playa Yankee much of the time is great for swimming, body surfing, and beginner surfers(URL HIDDEN)
UNBELIEVABLE LOCATION AND SITES TO BEHOLD(URL HIDDEN) At our property at Playa Yankee you will get spectacular views of Costa Rica, incredible sunsets, and nights listening to the waves as you watch the fishing boats flickering on the expansive ocean showered with moonlight and stars. It is a natural, spectacular, and vibrant place for sure.

While we are not far from the hustle and bustle of San Juan Del Sur, we are protected from the obnoxious noise and pollution that is all too common in San Juan Del Sur. We were for a short time staying in San Juan Del Sur while we built our home, and if you value fresh air and peaceful, quiet nights, you will want to be at our home for sure.
Best of both worlds because at our home you will find pristine nature everywhere, and at the same time, you are close enough to town to go out and enjoy restaurants and shopping.
Please note that due to seasonal water shortages, we sometimes are not allowed to water our grass but to keep it alive, and it may not always be green due to this seasonal restriction. This will not be an issue during the rainy season, but during the dry season the grass may not be watered as much as we would like due to water shortage restrictions.
In our area as well there are restaurants, yoga, and a spa, as well as other cool beaches to visit. I do recommend having a car as walking to places not within a mile can be uncomfortable in Nicaragua's heat. But if you like to walk, we have long walks all around the development where you will see the most beautiful birds, howler monkeys, etc., as well as the long and expansive Playa Yankee Beach. Our property is the perfect place to spend an incredible vacation.
Above Playa Yankee beach, our property consists of a large one bedroom house, with a large day room with two day beds.
The house provides the perfect set up for a couple, and with the two extra beds in the day room, it can sleep up to four.
We also have a cabina on our property that we rent, and it has a queen size mattress which sleeps up to two people comfortably. This cabin if available, may be added to your reservation if your party consists of more than four people, or if your party would like more space. The house, plus the cabin sleep six.
We can help facilitate horse back riding from our doorsteps. The horses come to you, and from our house is the most exquisite horseback riding experience you can imagine. The gentleman who brings the horses takes you on a wonderful ride, and his rates are drastically lower than what you will pay elsewhere. Not only that, you won't be in a group with people you don't know. This horse riding experience is curtailed for you.
While we may provide you contact information for the gentleman who brings the horses, please know that we only recommend this experience as we have enjoyed it ourselves, and have many guests who have really appreciated it.
Our beautiful home has cathedral like ceilings, and views from every angle. Many of our windows are simply covered in screens providing you with a breeze that makes air conditioning for the most part, pointless. The direction of the wind varies though so there may be a handful of days you will wish the whole house was windows, but then there are days where you will wish every window was covered in glass. Thankfully though our home was designed by our good friend, a master builder who owns, built, and developed the famous eco resort Costa Dulce, and has lived (and surfed) in the area for a long time. He knows the area as well as anyone, and is known to be a bit of a building genius. He designed and built our home to take advantage of the Nicaragua breeze as best possible. Enjoy the healthy fresh Nicaragua air, it's life giving.
Our property has extraordinary views from every point.
There you will discover a spectacular paradise with 180 degree panoramic views all over. Surfers love our house since the view is perfect for determining when the surf conditions are ideal. No need to leave the house in vain. Our open air house is a nature lovers dream come true!
The house's kitchen and dining room are open and airy. You can dine on the gigantic dining room table made of organic wood, and accompanied by six matching chairs; or on the wooden deck with the best views in the area.
The main house has a beautiful wooden deck adjoining the open and airy living room and there is a covered deck off the master bedroom as well.
Our cool cabina that shares the property and we rent as well, if available when you book, may be added to your reservation if for example you would like the whole property to yourself, or your party is larger than four people.
The cabin sleeps up to two people comfortably. It has a queen sized bed, a sitting área, full sized bathroom, and even a coffee and tea service area with a stove top burner, counter and sink.
The cabina also has a lovely covered deck where occupants can enjoy the day watching the surreal beauty of the área.
There is a stainless steel gas bbq on the property for grilling.
On the property for our guest's enjoyment is a wonderful swimming pool larger than most in Nicaragua, and definitely large enough for two people to swim laps at the same time, a relaxing rancho, and seriously pristine nature everywhere. We recently added parallel bars, a pull up bar, and a sit up bed near the pool. A vacation at our property can be a health transforming experience! *Depending on the season we may change the style of outdoor chairs and outdoor gym structures. This has to do with many factors, like wind for example.
Of course no vacation is fun without internet, and we went big here too. In our opinion, based on trial and error and others experience, there is one internet provider in Nicaragua that is top notch. They are expensive but in our opinion, worth every penny. Once you have stayed elsewhere in Nicaragua, you will really appreciate our fast as lightening wifi!
We have modems in both the house and cabina too, so no need to worry when everyone is using the internet in the mornings and the evenings.
We have satellite televisión in both the house and cabina, and have just switched companies so now we have more English speaking channels!
In the house there is a large locking cabinet.
Plenty of free parking in the front of the house.

Where we are, Cantamar de Yankee, is in an exclusive community, with a security entrance onto the development, in an already safe, quiet, and peaceful area.
We want you to enjoy the spectacular area and nature, but most of all, we want you to have a carefree and safe vacation.
Check-in time is 4pm and check-out time is 11am.
We hope you will let us know if you have any questions. We look forward to our guests having a wonderful vacation at our home.
5 Star reviews!
Alan H. said...
Mar 18, 2017
Arrived late and were welcomed like it was not a problem. Clean and comfortable all was ready. First impressions were amazing. The location is incredible. The stars were so bright and stretched down to the horizon where the twinkling lights of the fishing boats out on the Pacific Ocean seemed to mirror the stars. We will definitely come back again.
This place has it all!
Amazing views of the ocean, a pool, and easy access to the beach - this place has something for everyone. We rented a car and got fantastic instructions that were super detailed so we were able to get right to the front door with ease. If you're a traveler who is looking for a "next level" place to relax, this place is for you. If you surf, you're in luck because the beach down below the house has some great waves. Animal lover? You'll see and hear howler monkeys near the property, and the bird-watching is fantastic! The town of San Juan del Sur is a 15-20 minute drive (although since the roads have recently improved that time might lessen), and it's a nice little place to shop, have dinner, and enjoy a chill vibe. The pictures don't lie, this place is FOR REAL and it's simply awesome.
Stayed: January 2017Submitted: February 2, 2017Source: (SENSITIVE CONTENTS HIDDEN)
Amazing spot for a friendly group
This place is amazing. I had the pleasure of staying here for 3 nights with some close friends from home and some of our Australian friends. This could not have been a better spot to hang out and get to see great people again.
On our first night, after cooking a great dinner all together, my friend proposed to his girlfriend and we had an epic party until the early morning!
The next night was new years and although we were a tired lot, again we saw the sun rise.
Although the house is a bit out of town, our hosts organized a ride to the house in a big land rover that fit not only us, all of our food and bags, but another nice couple and their newborn child. It only takes about 20 mins from town and the drive is beautiful.
You have it all at this location. Seclusion, amenities, a pool overlooking a beautiful sunset and lots of room. I couldn't have been happier.
It was also super easy talking with the owners. They went above and beyond.
If you are looking for a place for a couples getaway, a group reunion or seclusion, look no further.
Stayed: December 2014Submitted: March 30, 2015Source: (SENSITIVE CONTENTS HIDDEN)
Recommended for: Families with young children, Girls getaway, Tourists without a car, Adventure seekers, Age 55+, Romantic getaway, Families with teenagers
PHILIPPE P.
Superbe vue, maison tres confortable
Une vue incroyable, au milieu des singes, perruches et peroquets. On a meme eu la chance de voir un kinkajou pendant une bonne heure a proximite de la piscine. Le suv est obligatoire pour accceder a ce coin d eden.
Stayed: October 2015Submitted: Octob(PHONE NUMBER HIDDEN)Source: (SENSITIVE CONTENTS HIDDEN)
Recommended for: Families with young children, Sightseeing, Tourists without a car, Age 55+, Romantic getaway, Families with teenagers
Bassco
Czech Republic
Great Vacation
If you like a restful and fun atmosphere, this is the right place, located away from the city, self sufficient and very peaceful. Perfect place for tranquility and meditation. I'm proud to show my friends the pictures of those unforgettable 4 days of vacation at the southern pacific coast of Nicaragua, including one of the most isolated beaches I've known. We had the chance to surf, play beach tennis, fish and watch, from the deck, a family of whales migrating north... What else could I ask for?
Si desean un ambiente de descanso y diversion la casa es el lugar indicado, alejado de la ciudad en un lugar autosuficiente y lleno de Paz, Tranquilidad y meditacion, estoy orgulloso de ensenarle a mis amigos las fotografias de esos cuatro inolvidables dias de vacaciones en las costas del pacifico sur de Nicaragua con la playa mas privada que conozco. Tuvimos Oportunidad de hacer surf, jugar tenis en la playa, hacer pesca y ver desde la terraza de la casa una familia ballenas emigrar al norte......... que mas puedo pedir?
Stayed: May 2015Submitted: August 27, 2015Source: (SENSITIVE CONTENTS HIDDEN)
Recommended for: Sightseeing, Adventure seekers, Romantic getaway, Families with teenagers
Charlton A.
Los Angeles
Great Place!
This is a wonderful place to stay. The pool, beach and location are perfect. The view is stunning. You can hear the the birds, monkeys as well as the harmless chirping geckos. (In a previous review there was a comment about scorpions. There are NO scorpions). It is a quiet location. Yankee beach has great waves and was not crowded. It is a great place to spend a quiet vacation.
Stayed: June 2015Submitted: August 18, 2015Source: (SENSITIVE CONTENTS HIDDEN)
Recommended for: Families with young children, Sightseeing, Adventure seekers, Age 55+, Romantic getaway, Families with teenagers
Jesper W.
Toronto
Great House, Amazing views and super friendly and helpful host!!!!
My girlfriend and I had the pleasure of staying for a week over March Break with our 3 boys (7, 14 and 16).
The views alone from the house, which are unbelievable, makes renting this house worth while on it's on. However it pretty much has any amenity you can desire and is super comfortable and spacious.
Yankee beach is a short walk down from the house and is pretty much your own private beach paradise. Think we saw a total of 8 to 10 ppl over our entire stay.
Although the house it's about a 20 min drive from town (San Juan Del Sur), it's totally worth it. The other area beaches are easily accessible and we drove over to Maderas Beach (our favourite) almost daily.
Great hosts, super helpful, checking in with us both prior and during our stay.
Prior to our trip we were a bit concerned about security both in Nica as a whole and at the house, but never once on our entire trip did we not feel safe and secure.
I'd hope yo be back in San Juan Del Sur within to long and would definitely look to stay here again.
Have a great trip...
Jesper
Stayed: March 2015Submitted: March 26, 2015Source: (SENSITIVE CONTENTS HIDDEN)
Recommended for: Families with young children, Adventure seekers
Heide W.
Great house - Sensational view - Relaxing holiday
We just came back from 3 weeks Nicaragua, the first 2 weeks we travelled around what was quiet interesting and exiting. So the last week was really necessary to relax and this definitely was the right place for this.
It's a very special house, well done with a sensational view. We didn't miss anything and had also the pleasure to know the owner who was there. He is a nice simpatic guy e cared for us that we feel well.... like also the housekeeper Gilberto and his wife Lucia.
During the day we loved to visit the different beaches and the lively little town San Juan sul Sur ... and jump with the waves in the pazific. Real swimming in the moving sea was not possibile, but for this we had the great pool at the house and we really enjoyed it.
Sitting on the deck at the sunset, with a pleasure temperature, near the sky with brilliant stars and a huge panorama in (URL HIDDEN) does not need more and we enjoyed every day of our staying ... it was only to short.
Thank's also to Nicole for the nice and easy communication.
Stayed: February 2015Submitted: March 19, 2015Source: (SENSITIVE CONTENTS HIDDEN)
Joan & Craw
Brooklyn, NY
We Can't Stop Talking About Our Glorious Stay!
We have stayed at many gorgeous (SENSITIVE CONTENTS HIDDEN)s over the years and this was perhaps the very best. With decks at different levels and a cabana right next to the pool, there is always a comfy place for a stunning view of the ocean whether you want sun or shade. Huge screened windows let you take in the beautiful scenery, hear the ocean and the howlers, and feel the fantastic breezes from anywhere in the house. We had the great pleasure of being there when the owner, was also there. He helped us through lost luggage, a forgotten credit card and introduced us to the best local restaurants and sights. What a place. We miss it terribly!
Stayed: February 2015Submitted: March 10, 2015Source: (SENSITIVE CONTENTS HIDDEN)
Recommended for: Adventure seekers, Romantic getaway
TJ and JR
San Diego, CA
Private peaceful retreat
We have truly enjoyed our stay, the house sits up above a gorgeous beach Playa Yankee. The house staff greeted us when we arrived, showed us where everything we needed was then left us to the piece and quite of the area but was close if we had questions. The views, the views from when you first walk in then all the way through the house and to the gorgeous pool there are spectacacular views of the Pacific ocean, Costa Rica in the distance and breaking ocean waves at the shore. The kitchen is well set with all you need to cook with and there is a great propane bbq as well. At night you could here the monkeys in the distance and in the day watch all the different birds. The pool is solar heated so the temp was very comfortable. The house is in a gated community to so we felt very safe coming and going. We have enjoyed our stay there so much that we have reserved again for our next visit. The owners are very nice and easy to communicate with. We would highly recommend this home for a beautiful peaceful get away from all the noise of the city.
Stayed: August 2014Submitted: Septemb(PHONE NUMBER HIDDEN)Source: (SENSITIVE CONTENTS HIDDEN)
Recommended for: Families with young children, Sightseeing, Girls getaway, Adventure seekers, Romantic getaway, Families with teenagers
Spence or Sharon B.
Peaceful Nicaraguan Escape
Our first time in Nicaragua made such an impression--the people were warm and inviting and nature surrounded us at this home. We went to sleep with the sound of waves hitting the shore and woke to bird calls and monkey howls! The house is located off a long dirt road overlooking the ocean which is a healthy hike away. The house itself is well stocked with cooking supplies, a grill, everything we needed as we cooked there most days. It is a drive away to eat out so we held several small get togethers at home enjoying the fresh fruit, veggies, and local seafood. We enjoyed everything about this stay and are planning our return very soon!
Stayed: March 2014Submitted: August 7, 2014Source: (SENSITIVE CONTENTS HIDDEN)
Recommended for: Sightseeing, Girls getaway, Adventure seekers, Romantic getaway, Families with teenagers
Peace on Earth
If peace, relaxation and lowering your blood pressure are what you need, come to Pablo's Casa! If adventure, surfing, hiking, and exploring are what you seek, come to Pablos Casa! We stayed at his lovely, gracious, beautifully built home, 4 adults and 5 teenagers (we also stayed in the Cabana, a small cottage next to the house) and there was something for everyone! A short hike to the beach, and you are ensconced in waves and sand and wind and sunsets - which are also visible from the large deck of the home. This is a very private place - a place to unwind, and just be. Pablo's home is constructed IN nature, so you become part of the awe-inspiring Nicaraguan coast. This is a very safe place, very relaxed, with a pool that you may never want to get out of, and a kitchen that inspires you to cook. And if you like to see monkeys in the wild, this is the place for you! A short ride to town, which is close enough but also not too close!, was a part of our routine, to get groceries, fresh made bread, new novels and coffees at the cutest book store I have ever seen. The waves here are awesome, the beach is so private, and the atmosphere of the home is tranquil and calm. This was our best vacation ever...thank you Pablo! We will be back!
Stayed: March 2014Submitted: August 2, 2014Source: (SENSITIVE CONTENTS HIDDEN)
David J.
Surf & Beach Paradise!
This house has such a beautiful set-up overlooking one of Nicaragua's best beaches, with perhaps the best left in the country. Surfers can get wave after wave here and for a surf report all you've got to do is walk out to your amazing balcony with a perfect view of the beach and waves. The house is immaculate and has an amazing table/eating area, comfortable living area, fully stocked kitchen and a bedroom that lets in just enough light in the morning and all of the sunset in the evening. It's an incredible place to spend your days and an unbelievable place to wake up to everyday. The wifi was good and the solar power was awesome because you're not subject to the constant Nicaraguan power outages. The owner, Pablo, is a very very nice guy as well - he speaks perfect English and Spanish and took care of everything for us and went way out of his way to ensure our stay was super comfortable. I would definitely stay here again, in fact I am! I'll be returning this fall for sure!
Stayed: January 2014Submitted: July 22, 2014Source: (SENSITIVE CONTENTS HIDDEN)
Extra people €13 / night after 2 guests
Weekend Price €109 / night
Always communicate through Airbnb
To protect your payment, never transfer money or communicate outside of the Airbnb website or app.
Not safe or suitable for children (0-12 years)
Check-in is anytime after 4PM
We are so excited to be listed on AirBNB. Our home is a special, magical place, and we consider who will stay there as blessed, but also as blessings for our home. We have many five star reviews which are included here. After your stay, we hope you will have wonderful things to say as well. When making a booking request, please tell us a little about yourself, your travel plans, etc. We really appreciate the community feel of AirBNB, and we are excited to be a part of this warm and hospitable place.
2 nights minimum stay.
From Dec 01, 2017 - Feb 28, 2018 the minimum stay is 2 nights.
This home doesn't have any reviews. If you stay here, your review will appear here.
Hi, Thank you for looking at my piece of heaven on earth. I am a friendly professional who enjoys visiting Nicaragua for some much needed rest and relaxation. I speak Italian, Spanish, and English fluently, and I love to travel. Health and peace of mind are important to me so I have built my home in Nicaragua in a way that reflects those values. Like I say in my ad, a visit to my home can be a health transforming experience. I am a health coach on occasion and may offer retreats in the future where I will work with clients to achieve better health and state of mind.
Languages:
English, Español, Italiano
Response rate:
100%
Response time:
within a day
Explore other options in and around Playa El Yankee
More places to stay in Playa El Yankee: