Внимание, вместо дивана установлена шкаф-кровать. Полноценная кровать с хорошим матрасом шириной 160 см. Второй диван так же заменен на диван с ортопедическим основанием. Потрясающий вид из панорамных окон: с одной стороны река, с другой - море. В квартире есть абсолютно все, что необходимо. Недалеко от дома находится автобусная остановка, можно добраться до многих достопримечательностей самостоятельно. Там же находится ж/д вокзал. - Из развлечений, чтобы занять детей Play station
What guests are saying:
"Our family thanks Kirill for an excellent reception, for a wonderful apartment located in a beautiful and convenient place. The apartment has everything necessary for living with children on vacation (washing machine, dryer, ironing board, iron). The kitchen is fully equipped with all necessary electrical appliances, kitchenware. Cooking is a pleasure. Special thanks for the game console! I also consider the location of the apartment in Khost to be a good one. A few minutes by car and you - or in Sochi, or in Adler. Within walking distance to the embankment of the river, the beach, shops, cafes, markets."
Сдаю уютную студию в самом центре Хосты,возле продуктового рынка. Квартира новая,хороший ремонт, новая мебель.С\у с душем,ТВ, Холодильник, Кондиционер, Водонагреватель - всегда есть горячая вода. Возможно проживание от 1 до 4 человек . Идеально для троих взрослых, или семьи 2 взрослых + 2 детей. НЕ более!!! 5-7 человек не поместится!!! До моря 5-10 минут пешком. Так же по дороге к морю расположен парк с детскими площадками.
What guests are saying:
"Hello! My husband and I rested with Darya for the first time. The apartment is in excellent condition, all amenities, it is possible to cook at home, a roomy refrigerator and freezer, a washing machine in excellent working condition, there is a clothes dryer, hot and cold water is always +++, working Wi-Fi +++, two sets removable bed linen, towels large and small in sufficient quantities. Everything is thought out to the smallest detail! At the entrance there is perfect cleanliness thanks to the work and care of the charming concierge), two working elevators, 10 minutes to the sea on foot along the embankment r. Hosta Very close to the market, bakery, shops Magnet and Pyaterochka. For lovers of the mountains and their peaks): the view from the window on the mountains, Tiso-samshitovaya grove 20 min. on foot. Daria met and escorted us on her car, which is very nice. Daria was always in touch and quickly resolved any questions that might arise! We are happy to stay with her again and again!"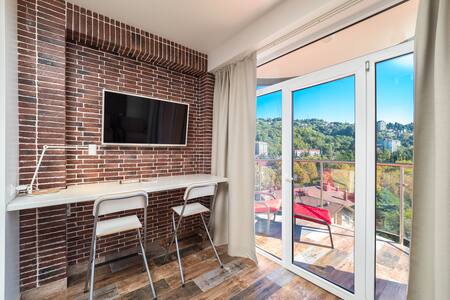 SUPERHOST
Entire flat · 3 guests · 2 beds · 1 bathroom
Сочи.Квартира,вид,на море,горы, центр Хосты(WI-FI)
Сдается современная новая квартира (студия),9 этаж 13-ти этаж.дома Ремонт только завершен. Дизайнерская отделка, многоуровневый свет, современная качественная сантехника, встроенная мебель, встроенный холодильник, встроенный 2-х метровый шкаф-купе. В квартире вся современная техника: новый кондиционер, индукционная плита, стиральная машина, плазменный телевизор, бойлер (горячая вода есть всегда). В квартире шикарный балкон с великолепным видом с высоты птичьего полета на море, горы, и реку.
What guests are saying:
"The apartment is very sunny, bright, with new comfortable furniture. Surprisingly spacious, albeit small. I was pleased with many lighting options in the evening. The kitchen has everything you need for cooking. A good bed, clean linen and towels, all blankets and pillows were stored in separate bags. Nice view from the balcony, enjoying the sunsets in the evenings and the morning sun. There were no problems with check-in and check-out; the hostess had good communication throughout the rest. The bathroom was cool due to lack of heating, but, we think, the hostess will soon solve this problem. In walking distance there are shops, canteens, a cafe, access to the sea, a railway station from which you can quickly reach Rosa Khutor, a bus stop, Tiso-Samshitovaya grove. To Adler and the center of Sochi by car 15-20 minutes. Everything is very close, excellent transport links. We were very pleased to return to this apartment after long walks, we felt at home. Many thanks! :)"