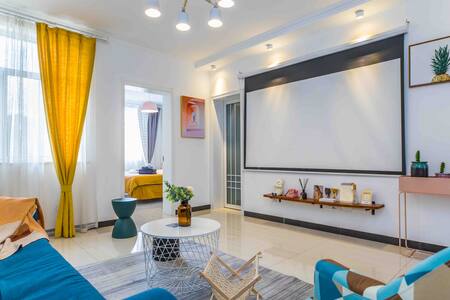 SUPERHOST
Entire apartment · 6 guests · 3 beds · 1.5 bathrooms
避暑山庄/雲上美宿 《北欧智能影院》布达拉宫 《爱奇艺VIP》普宁寺有车位 鼎盛康熙大典优惠门票
民宿坐落于避暑山庄,布达拉宫,班禅行宫,普宁寺周围景区附近! 北欧小清新的装修,配备了坚果J6S投影仪家用高清1080P智能微型无线wifi无屏电视家庭投影机!手机可投屏!爱奇艺会员免费看! 开机观影,待机,就是一台高档的音响设备,可连接手机蓝牙,安放自己想听的歌曲,音质超级超级棒! 配备舒适的大床和床垫,还有10cm的垫褥,高端60支高密度纯棉床品四件套!相信您一定会舒舒服服的睡个好觉!除此之外还有卧室的智能变频空调,挂墙液晶电视,三人沙发,即是沙发也是床,拉出来,可以达到宽2米长1.9米的双人床,即时尚舒适又实用,节约空间!单人沙发,北欧圆茶几,时尚挂毯!海信的双开门冰箱!免费的百兆光纤wifi,卫生间24小时热水,箭牌花洒,九牧马桶,最流行的黑胡桃色的进口实木浴室套柜,全自动洗衣机,美的智能大容量80升热水器!厨房烟机灶具齐全,苏泊尔热水壶,茶具齐全! 房子可以自助入住!门口是智能门锁! 《由于派出所要求,民宿暂时不能接待外国人,请谅解》
What guests are saying:
"The rooms are clean and well equipped, perfect for the whole family. Although there is no gas in the kitchen, the rice cooker and the induction cooker are all available. It is really hard to make a baby meal for your baby during the trip~ The homeowner is also very good at communicating, and the entry and exit of the community will be required to register, making people feel very at ease~ The location is slightly biased, it is more suitable for self-driving tour. The advantage is that there is no traffic jam at various attractions. The slightly troublesome is that there are fewer nearby restaurants. However, most of the restaurants that feel better are mostly near the attractions. Overall very satisfied, the projection effect is also very good, with the elderly children to play here live really worry, very convenient ~"
居于市中心交通便利,步行二十分钟到景点,设备齐全,干净整洁,装修精美,适合拍照
What guests are saying:
"Very nice house with a lot of space, cleanliness and everything. The host was very nice, knowing that we also bought two vats of drinks at the party, explained the location of everything carefully, and changed the new sheets"
Housing estate is clean and comfortable and for the 3rd floor, Convenient parking. Two rooms and one hall,with air conditioning,WiFi,Water Heater,Induction Cooker ,Hot kettle and Induction Cooker etc. You can see small pavilion on south mountain snow which is located in Imperial Summer Resort through window. You only need to spend fifteen minutes and walk to the summer resort.
What guests are saying:
"The house was very clean, the house was spotless, the pictures were consistent, the simple decoration was very good, very convenient, and there was a parking space downstairs. The location of the house is also very good, very close to the summer resort and supermarket. The landlord is also very enthusiastic, answering questions very quickly, and the advice is very practical."